Here's our TV dimensions guide including how to measure TV sizes, different flat screens and the best viewing distance.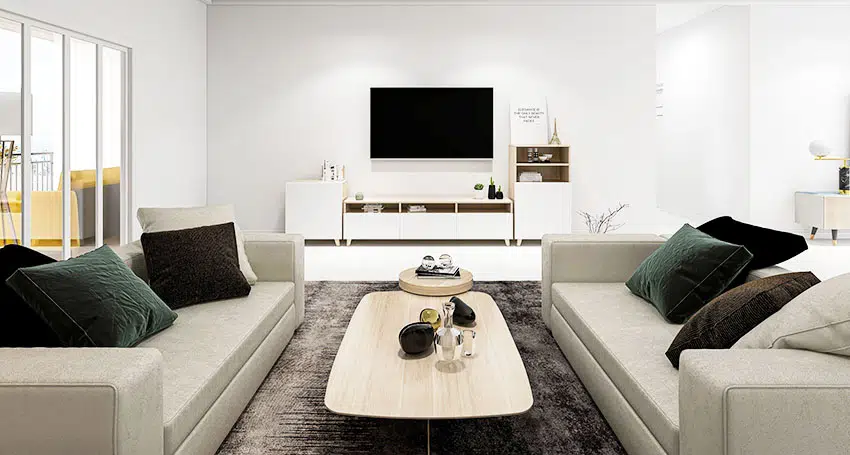 Televisions are a staple on a home, however big or small. It is not just a source of entertainment but also a source of information since this is where most of us read and learn about the latest happenings around us.
How do you decide your television size and what works for you? What are the dimensions available for flat-screen TVs? These are the only two questions that we will be answering in this article.
How to Measure TV Size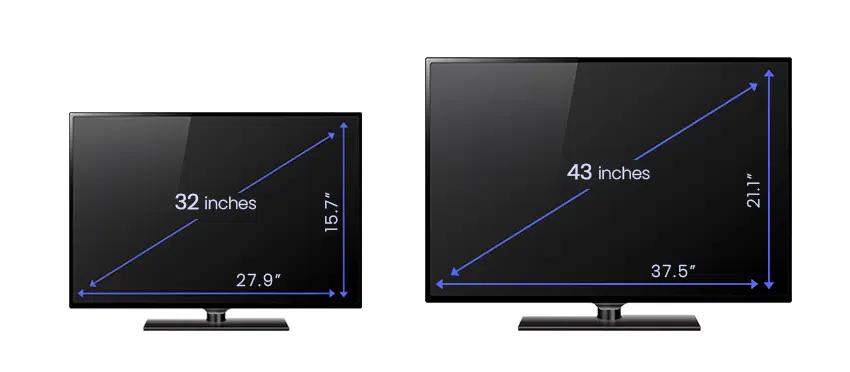 When considering upgrading your set, the correct way to measure a television is unexpectedly diagonally, from one corner to the next. In this way, you are leaving out the borders and are instead measuring the largest dimension.
Measuring this way will make distinguishing the size difference between televisions easier. Instead of measuring the width and length, all you have to do now is measure crosswise.
Flat Screen TV Dimensions
With the advancement of technology in the twentieth century, you seldom see houses with an old Cathode Ray Tube or CRT Television anymore. You know, that television with the bulky backs?
The widely available televisions in appliance and electronics stores are now flat-screen televisions. Innovation made it possible to shrink the old internal picture tube and replace it with the modern flat panel television that can have the ability to be mounted on walls.
Here, we guide you through different television dimensions to guide you on your next trip to the electronics store.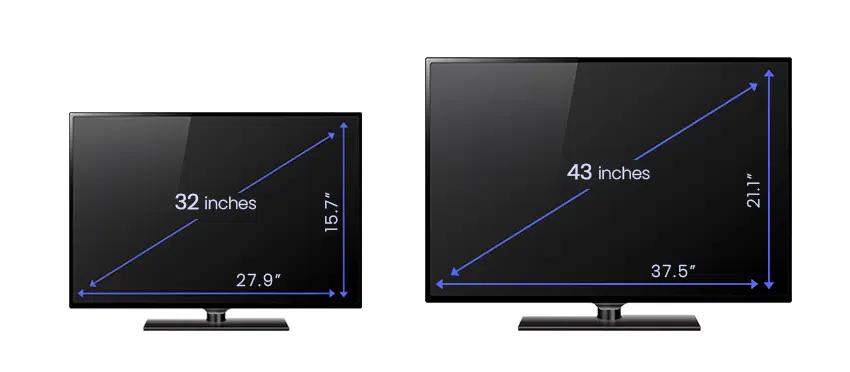 32 inch TV Dimensions
32-inch televisions are perfect for apartment and dorm room living and smaller houses. It's also an ideal monitor screen for your customized gaming PC set-up.
32-inch televisions have a viewing screen sizing to 32 diagonally, give or take some centimeters for the casing on the edges. 32-inch television has a length of 15.7 inches or 39.9 cm, while it has a width of 27.9 inches or 70.9 in centimeters.
43 inch TV Dimensions
43-inch televisions are a starter entry to larger size television. This size of television usually has the Smart technology settings that larger televisions generally boast. Many factors stem in choosing your next television, like the size of your living room, but ultimately it is up with the homeowners.
A 43-inch television is 43 inches diagonally. It has a length from top to bottom of 21.1 inches and a width of 37.5 inches.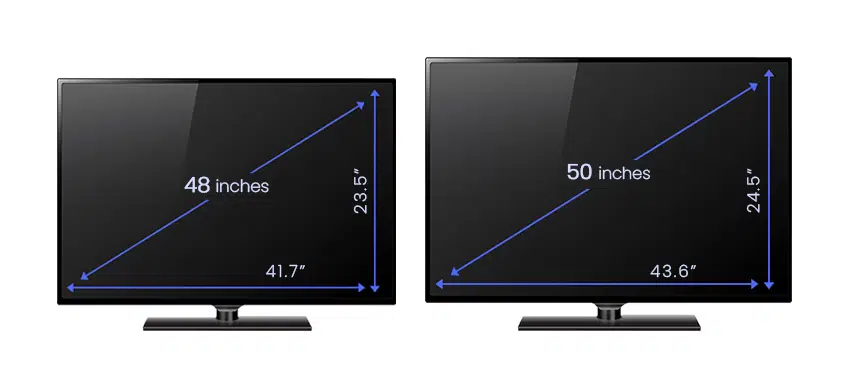 48 inch TV Dimensions
The bigger the television, the more specified it is. This could be true five years ago, but technical specifications are now modified to be equipped in smaller sizes, which is true for the 48-inch televisions.
This TV has a size of 48 inches diagonally and has a height of 23.5 inches and a width of 41.7 inches.
50 inch TV Dimensions
A 3840 x 2160 picture resolution is starting to be possible for television over the size of 50 inches. A 50 inches television with a 4k picture resolution will give you more detail, better overall image depth, better color, and more.
A 50-inch television has a diagonal length of 50 inches. It has a size of 43.6 inches or 110.7 centimeters from the upper left side to the upper right side, while it has a height of 24.5 inches or 62.2 centimeters.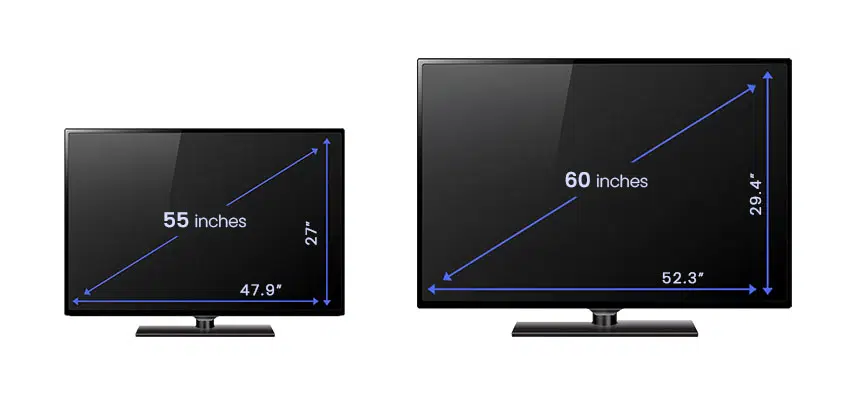 55 inch TV Dimensions
TVs with a 55 inches screen over will give you an outstanding home cinema experience. This TV size is usually almost entirely equipped with every possible digital innovation like connecting to the internet and so much more. It also has a superb picture quality that can make you see every detail as clear as day.
These TVs are 55 inches diagonally, and it has a width of 47.9 inches or 121.7 centimeters while having a height from top to bottom of about 27 inches or 68.6 centimeters.
60 inch TV Dimensions
A 60 inch TV will be perfect for entertaining many guests visiting to watch the latest NBA match or during a super bowl weekend while you feast on some chicken wings and beers.
Everyone will feel and experience the full impact of high-definition pictures on a big screen.
The length of this TV diagonally is 60 inches. It has a length from corner to corner of about 52.3 inches or 132.8 centimeters and a height of about 29.4 inches or 74.7 in centimeters.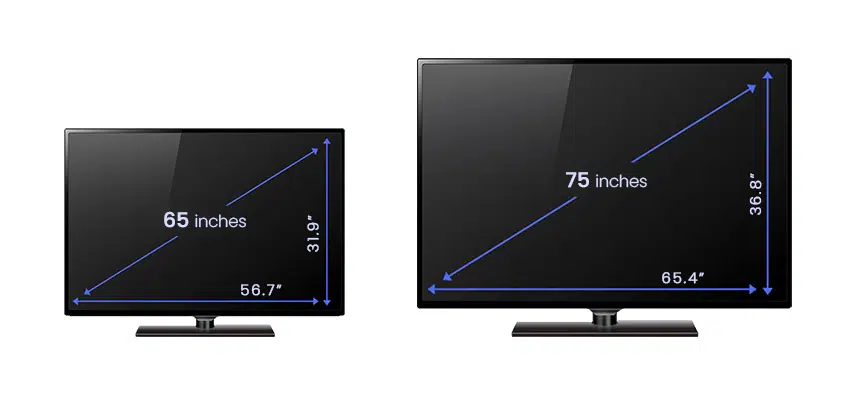 65 inch TV Dimensions
A 65 inches television will give you a superb and more cinematic viewing experience if you have the budget to pay for it and the space to occupy the place for it at your home.
The bigger size is a reason for it being more expensive, but the work to accommodate a high-definition display for such a massive screen is also accounted for.
The dimensions of this size of television have a length of 65 inches diagonally, a width of 56.7 inches or 144 centimeters, and a height of 31.9 inches or 81 centimeters.
75 inch TV Dimensions
A 75 inch television is perfect for bigger homes that are aspiring to have a home movie theater experience. Their size is excellent for larger viewing areas and an all-around better viewing experience because of their high resolution and advanced technology.
This television has dimensions of 75 in length diagonally. It has a width of 65.4 inches or in centimeters 166.1 and a height of 36.8 inches or 93.5 centimeters.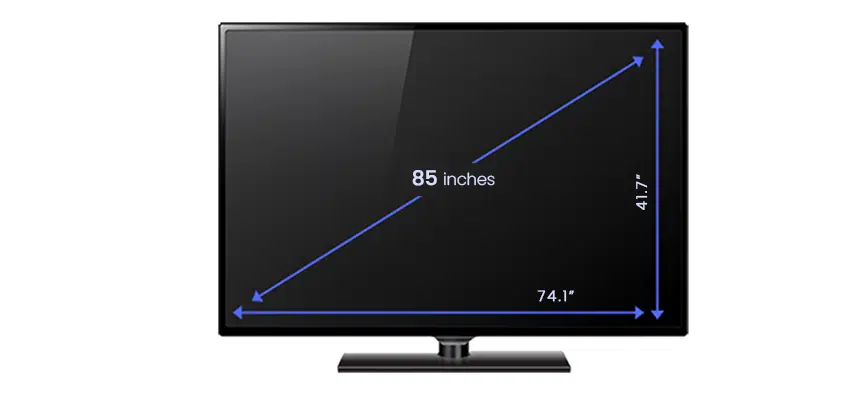 85 inch TV Dimensions
An 85 inches television is on the super-sized side. All possible advanced specifications are included in this fantastic piece of technology and more.
Depending on the brand you're going to purchase, this size of TV has the best picture quality and has an array of streaming sources for your perusal.
The dimensions of this size of a TV are the greatest. It has a diagonal length of 85 inches, a width of 74.1 inches or 188.2 centimeters, and a height of 41.7 inches or 105.9 centimeters from top to bottom.
TV Size Distance
The recommended distance between you and your TV depends on the size of your television. For a 55 inches television, the recommended viewing distance is 9.2 feet. For 65 inches, it's 10.8 feet. For 75 inches, it's 12.5 feet, and the space recommended for an 85 inch TV is 8.5 feet.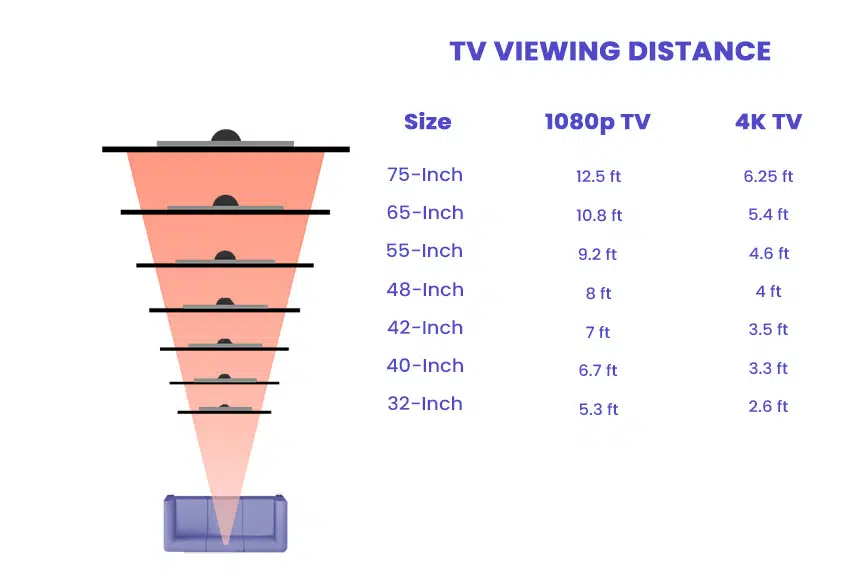 TV Distance Calculator
To use this TV viewing distance calculator choose between HDTV and 4K UHD TV, then select your TV size, and click calculate to get the results. The range provided estimates how far you should sit from the screen for the best viewing.
Consider that your TV specs may also affect the viewing quality. Plasma TV's for instance, have a slight edge over LCD panel technology.

What Size TV Do I Need?
Ultimately the size of your TV depends on many factors: the size of your place, your budget, viewing angle, the distance between where you will be sitting and where the TV is situated, and many more.
Consider the many factors before anything else. Remember that the saying bigger is better does not always apply in this context.
For more related articles, visit our guide on the best TV size for bedroom here.