Here's our birch hardwood flooring pros and cons guide sharing what it is, its hardness, durability and if birch flooring is a good choice for your interior design.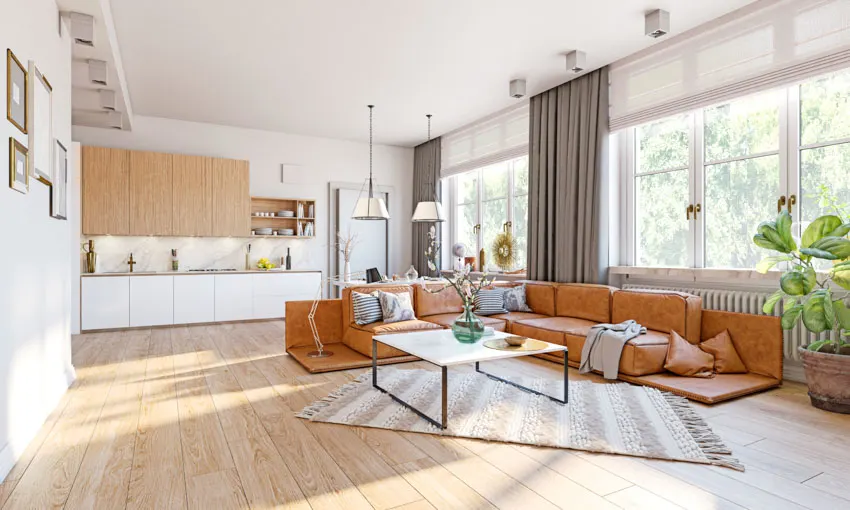 Deciding on the kind of hardwood flooring to install in your home requires extensive research of the pros and cons you can expect from the options. And with all the popular hardwood choices that homeowners list down, birch is one of the favorite ones. In fact, this hardwood flooring is a hot commodity that has become a trend today.
But what makes birch hardwood flooring an excellent choice in the first place? This is one of the factors you need to explore if you're thinking about choosing it for your own home. Learning as much as you can about birch can help you make a final decision.
What Is Birch Hardwood Flooring?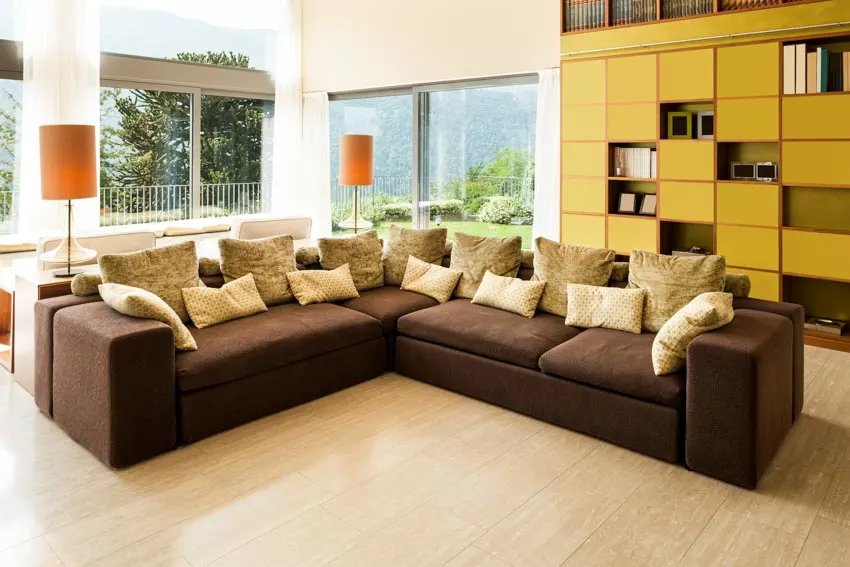 Birch hardwood flooring showcases a warm and rugged ambiance that would look stunning in your home. This species of wood is known for its natural curly and wavy wood grain patterns with a light color but offered in different shades.
There are different types of birch you can consider such as yellow birch or sweet birch, depending on your preference. Birch is excellent for long planks because of its fine texture and straight grain.
Native to both North America and Canada, birch is considered a hardwood tree with thin leaves and became famous first as an excellent material for canoes. Its sap is also used for medicinal leaves and wine-making.
If you choose birch hardwood flooring, you get to enjoy yellowish sapwood and reddish-brown heartwood. And depending on the birch subspecies, the grains can be straight with aesthetics that easily stand out with varying shades of red, brown, and yellow.
Two types of birch hardwood you may encounter are:
• Sweet birch: with light brown sapwood and dark reddish-brown heartwood
• Paper birch: light reddish-brown heartwood and almost white sapwood
Birch hardwood flooring is ideal for certain types of room in a house that would benefit from a bit of warmth and light offered by its aesthetics. If you're going for something refreshing and relaxing, you can match this flooring with cool tones. In general, though, this hardwood flooring is trendy enough to be used in different styles and ambiances.

Is Birch A Hardwood?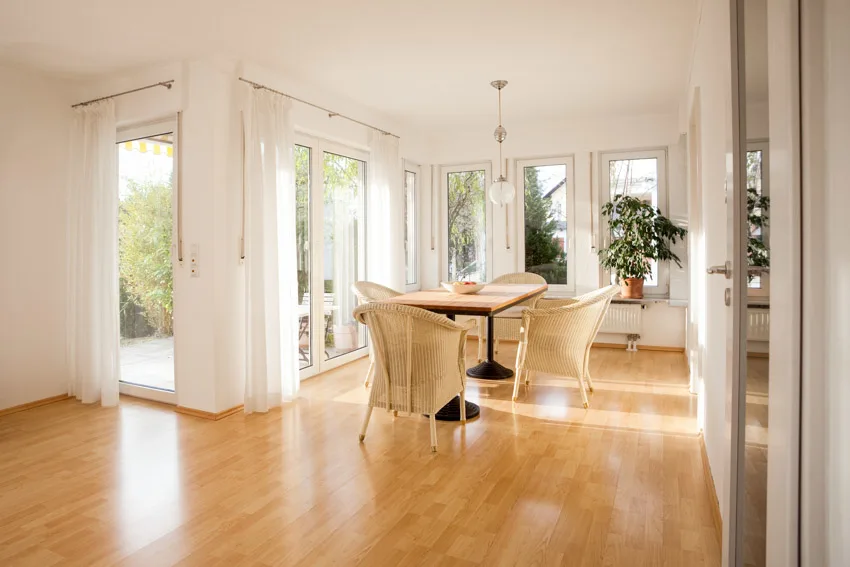 Many homeowners prefer hardwood flooring because of the authenticity and elegance it offers. More than just a welcoming and warm ambiance, hardwood also adds depth and style to a home's interior.
Birch is definitely a hardwood that is known for its hardness and durability. The most common birch subspecies, red and yellow birch, have a Janka hardness rating of 1290, referring to moderately hard wood. There are other subspecies that you can check out if you're going for something that's harder than that.
Besides its hardness and durability, its aesthetics is sought-after due to its grain's uniformity and minimum visibility. Despite a light appearance, it is striking to look at. To be sure that you're choosing the right hardwood flooring though, exploring its pros and cons is still the best step to take.
Birch Hardwood Flooring Pros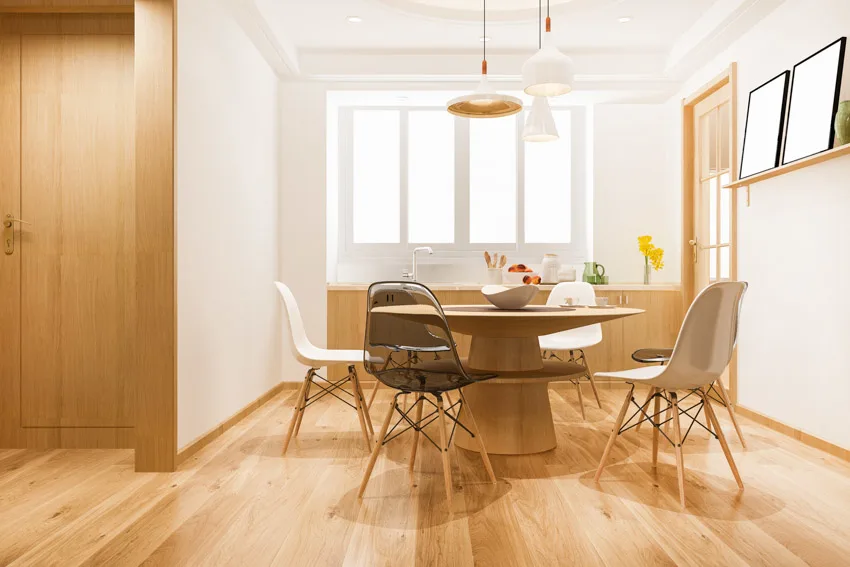 Choosing birch hardwood flooring only means that you've thought this through and weighed the pros and cons that come along with this decision. If you haven't yet, these are the benefits of using this hardwood flooring that you need to learn about:
• Warm and refreshing aesthetics that stand out: Birch hardwood flooring showcases different shades of yellow and red, depending on the subspecies involved. It offers inviting wood floor patterns and welcoming ambiance perfect for any kind of home.
• Highly flexible and versatile: Birch has aesthetics that can easily be matched to other elements in the home. The hardwood is available in a variety of sizes, styles, and finishes.
There are also different subspecies you can explore, including the following:
1. Red birch
2. White birch
3. Yellow birch
4. Black birch
• Affordable: Compared to other types of hardwood floors, birch is more inexpensive.
• Comfortable: This hardwood flooring has a fairly compact grain arrangement, delivering a soft and powdery feeling when you walk on it.
• Extremely durable: Birch hardwood is capable of taking extreme pressure without getting damaged in the process. A moderately hard flooring, birch is considered a durable choice especially when its price point is considered since other cheaper wood flooring may be prone to dents and scratches. It is also durable enough to handle wear and tear.
• Fairly resistant to rot: This hardwood is strong and durable enough to resist rotting but make sure that you are properly cleaning and maintaining the flooring at the end of the day.
• Environmentally-friendly: Compared to other wood, birch grows rapidly on open grounds, which means that using it as the flooring will not affect the environment as much as other wood species and can easily be replaced and reused as a sustainable material.
• Easier and more convenient to install: Birch hardwood is more convenient to work with and nail down so if you're doing your flooring DIY, you will have it easier to accomplish.
You can use these advantages to be the main reasons for you to choose birch among all the other hardwood flooring options you are considering.
Birch Hardwood Flooring Cons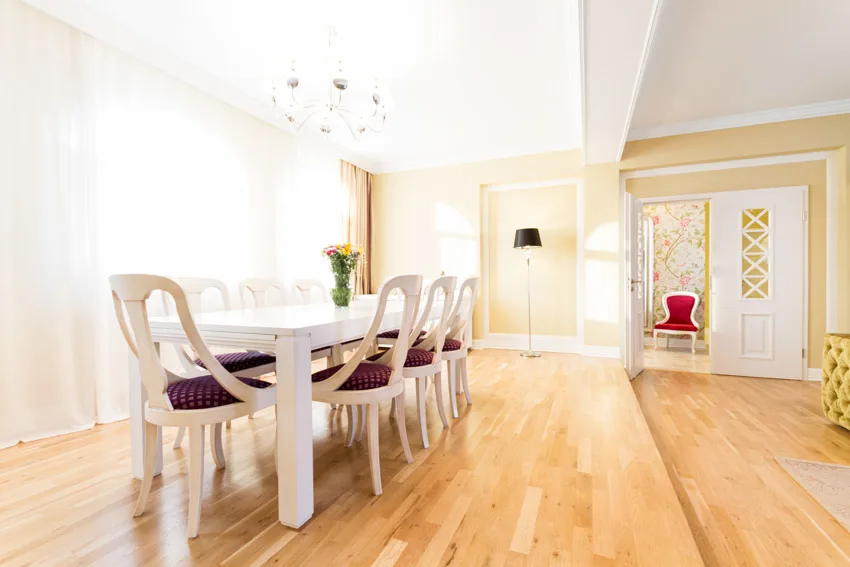 With all these benefits and advantages, there will always be pitfalls on the other side of the coin. While rejoicing over the benefits is acceptable, choosing this hardwood flooring based on those alone is a bad idea.
Here are the disadvantages you need to consider as you weigh your options.
• Not durable enough for any heavyweight: While birch is considered a hardwood, it is lightweight compared to others and not durable enough for heavyweight pressure.
• Prone to denting and scratching: With its moderate hardness, birch hardwood flooring is prone to denting and scratching, making it a mismatch option for flooring in high foot traffic common areas like the kitchen and living room.
It is also not an ideal option for homes with children and pets running around daily. And if you choose this hardwood in those areas, the possibility of regular fixes and repairs can be costly, and replacing them can actually save you some money.
• Difficulty staining: Birch hardwood can have difficulty absorbing stains so if you are thinking about customizing your flooring to look darker, birch may not be an ideal choice. So if you're choosing birch hardwood for your flooring, make sure that you are content with its color and that staining won't come to mind.
• Prone to shrinking and gapping: This hardwood flooring tends to shrink when exposed to moisture so keep it away from areas that may deal with water like the bathroom, kitchen, and deck. Continuous exposure to moisture won't only result in shrinking but also in gapping and warping of the material.
The solution to this is to make sure that you regularly treat your birch hardwood flooring to protect it from these possible situations. And yes, it will cost you more on top of the actual price of the hardwood flooring.
If you believe that these disadvantages are worth experiencing along with the benefits they come with then birch hardwood flooring may be a good option for you. You simply need to make sure that you deal with these disadvantages with solutions that can make them bearable.
Birch Hardwood Flooring Hardness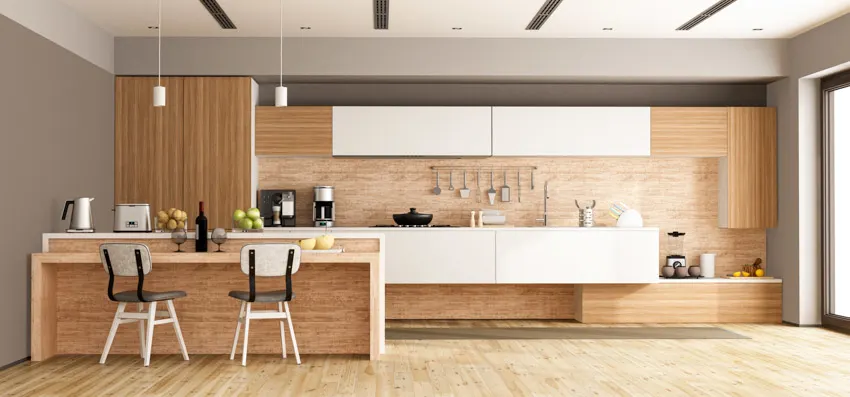 Birch hardwood flooring is incredibly strong when considering its price point, but weaker when compared to other hardwood options. Its bending and compressive strength, as well as excellent shock resistance, are worth taking note of, which is why it is popular to be transformed into high-grade plywood and used for cabinets, furniture, and yes even flooring.
To have a more precise measurement for hardness, considering their Janka Hardness rating is one way you can check out if birch hardwood meets your expectation with it.
There are several birch subspecies you can check out, including the following and their respective Janka Hardness ratings:
• Yellow birch: 1260
• Red birch: 1290
• Sweet birch: 1470
The Janka rating range of 910 to 1470 falls under the category of moderately hard, which is what birch hardwood is. This means that it's not a softwood that is significantly less durable but it's a hardwood that is comfortable to step on.
Birch hardwood flooring is durable enough against wear and tear but not hard enough that stepping on the surface will make you feel uncomfortable. Its hardness may not make it the ideal choice for living room hardwood floors or other high traffic areas in the home.

Does Birch Wood Scratch Easily?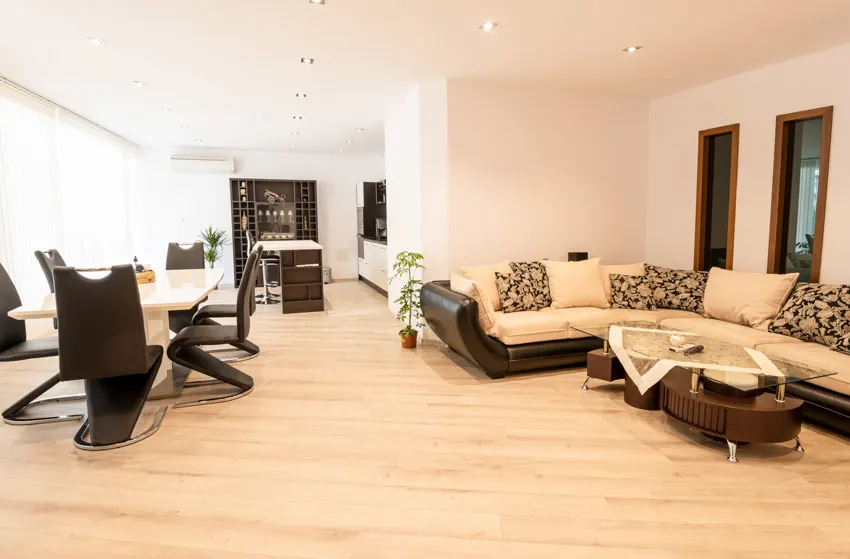 One of the pitfalls that you need to learn about birch hardwood is that it is prone to scratching. While it may be considered a hardwood, it is softer compared to other options under this category.
And there are specific circumstances where choosing birch hardwood flooring may be a bad option, including the following:
• If you live with pets and children
• If you install them in areas with high foot traffic (common areas)
• If you have the tendency to drop heavy things (like dishware and pots)
If you try and risk having a birch hardwood floor despite these instances, make sure you're ready for the regular repairs and the cost that come with it. And yes, you also have the option of replacing it when necessary.
Is Birch Wood Stronger Than Oak?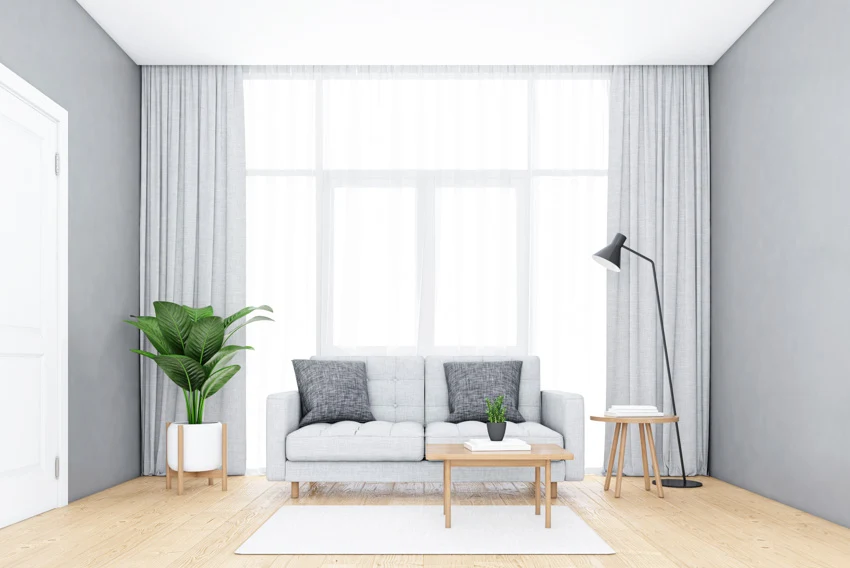 Despite the close similarities in several factors, birch wood is not stronger than oak hardwood flooring. To be fair though, birch is significantly more affordable than oak making it a strong hardwood option in its price range.
While birch is durable enough to be popular for furniture and flooring, there are restrictions when it comes to its hardness and durability. Compared to oak though, when comparing Janka hardness rating, birch falls under the range of 910 and 1470 while oak's softest option has the same rating as birch's hardest option.
Is Birch Good For Hardwood Floors?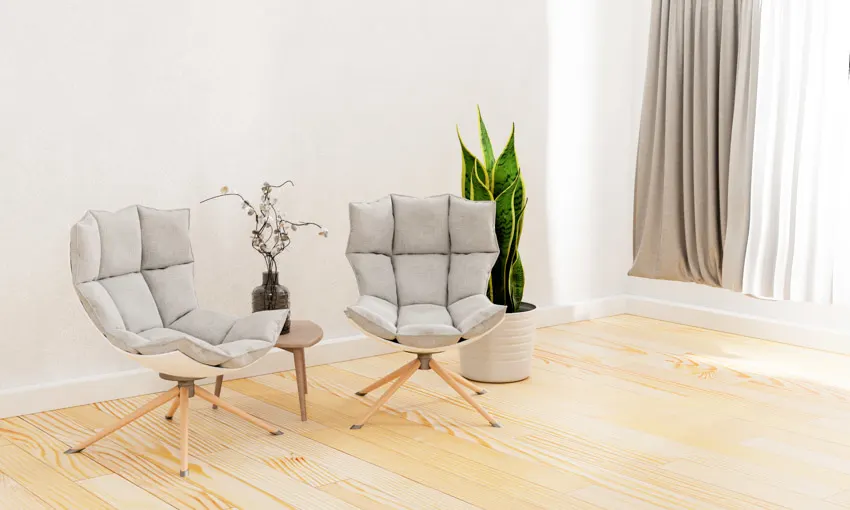 Yes, in the right situation birch is a good option for hardwood flooring. If you want to have hardwood flooring in your home but have a tight budget to spend, this is an excellent consideration. Make sure you take into account the costs of treatment, cleaning, repairs, and maintenance that can go along with this flooring.
Birch hardwood flooring looks stunning and feels comfortable but to protect its quality and possibly strengthen its lifespan, get it away from moisture as much as you can, as well as other factors that can affect its quality. Don't install it in areas with heavy foot traffic and if you have children and pets, try to restrict their access to this flooring.
See more related content in our article about cherry hardwood flooring on this page.