See kitchen peninsula with seating ideas, including how wide it should be, recommended sizes, and the best kitchen peninsula layout designs.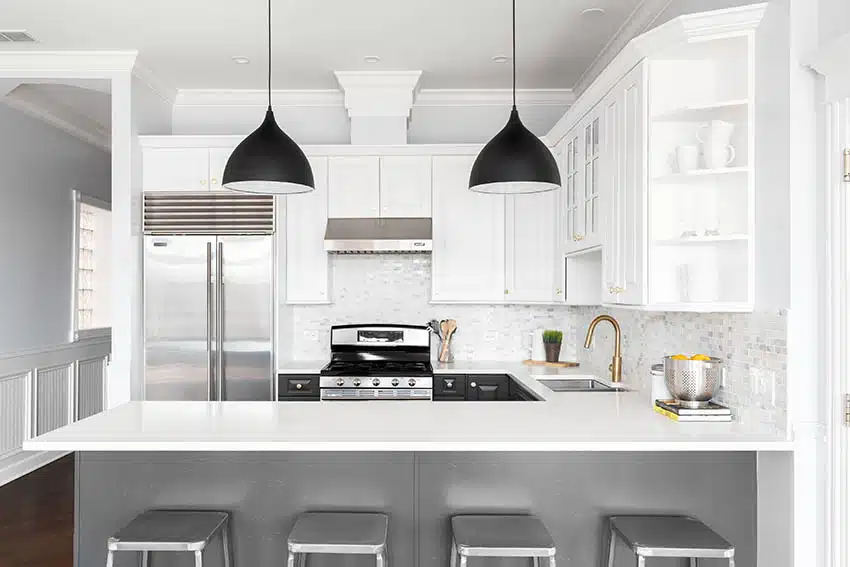 Many people might be confused by the difference between a kitchen island and a kitchen peninsula. While they can function the same, the placement is the main difference.
A kitchen island can be free-standing and is generally separate or disconnected from the rest of the other cabinets and counters in the kitchen. In contrast, a kitchen peninsula is an extension or is connected to the main kitchen counters and cabinets.
Functionally, both provide extra storage and counter space and are often used to provide a dining/bar area for the kitchen. Peninsulas are most commonly found in L-shape and U-shaped kitchen layouts.
What is a Kitchen Penisula?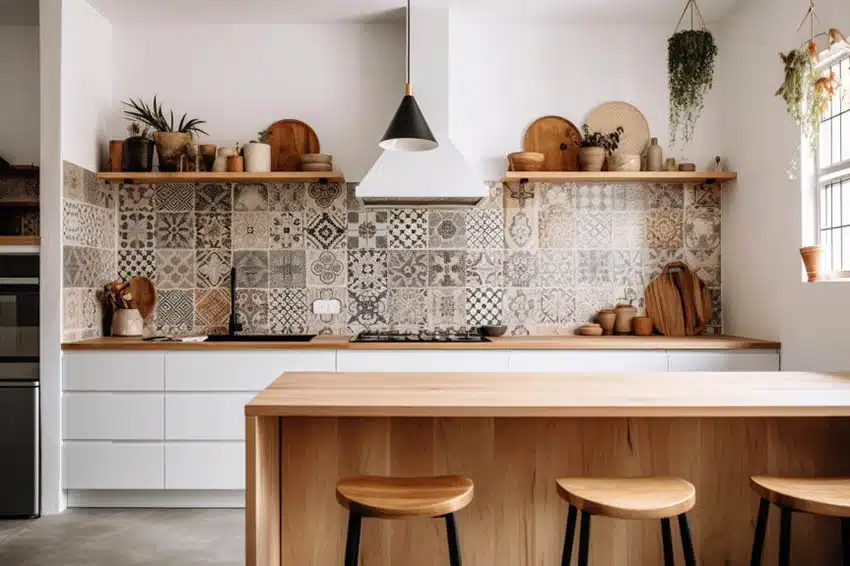 A kitchen peninsula has an extended countertop seamlessly attached to the rest of the cabinets and countertops in the room. Peninsulas are valuable for creating extra seating, meal prep, and workspace and often provide additional cabinet storage underneath.
Peninsulas often have a countertop overhang of 12″ to 15″, depending on how high they are from the floor.
Compared to a kitchen island with a standalone countertop, the peninsula can provide many advantages, such as more seating space, storage, and space for appliances and countertops.
How Wide Should A Kitchen Peninsula Be With Seating?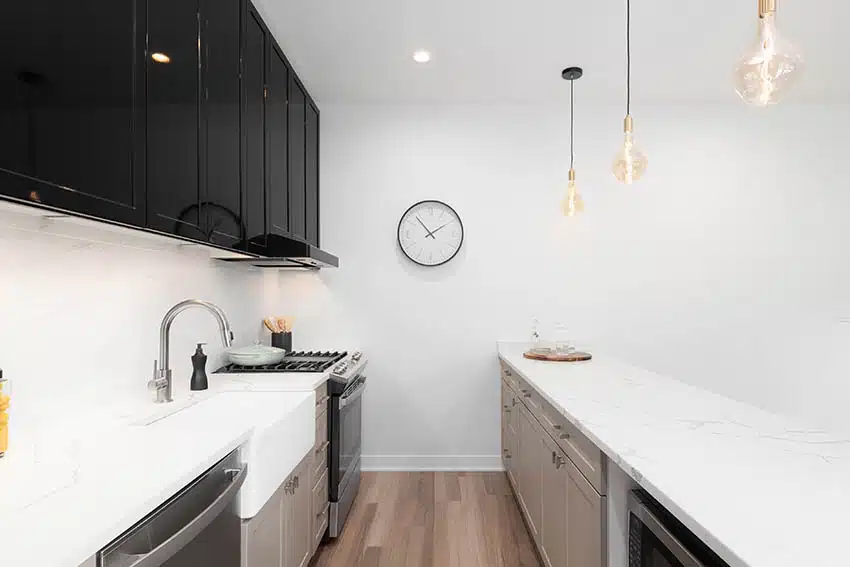 The ideal width for a kitchen peninsula with seating would primarily rely on the size and shape of your chairs or stools.
As a general rule, you can use 2 feet per seat to estimate. So if you want to seat four people, you need at least 8 feet or 96" wide peninsula counter space.
If you use barstools or chairs with wider bases, you would need a bigger allowance. On average, the stools can be between 15", 17" to 21" wide.
What Is A Good Size For A Kitchen Peninsula?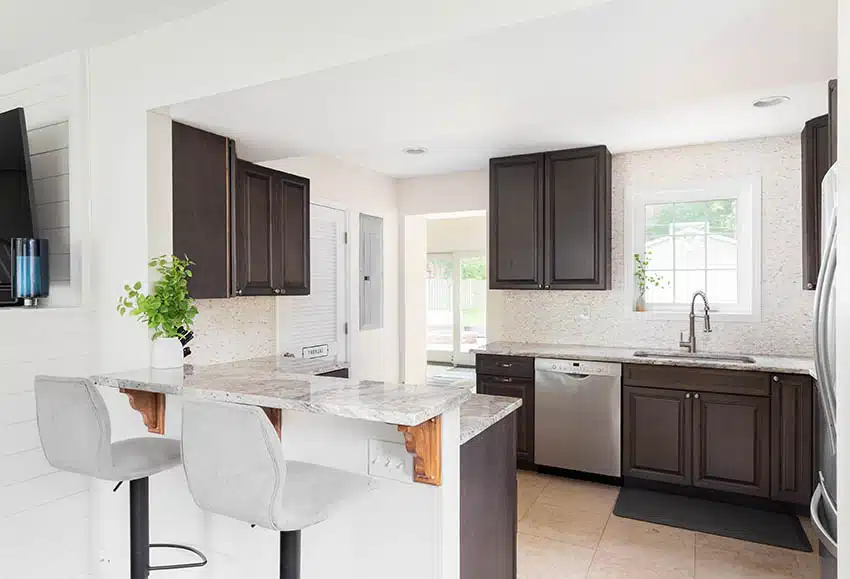 The recommended kitchen layout dimensions with a peninsula and seating included would largely depend on the following factors:
• Your space: what can fit in your kitchen space?
1. Clearances: you need to make sure you have standard clearances to ensure proper traffic flow in the kitchen. Ensure that the doors to appliances such as the dishwasher and fridge are not impeded.

• Function: is it just used for small meals?
1. Storage (For food, utensils, pots, and pans)

2. Display (pot racks, spice racks, decorative items)

3. Other functions (Eating meals, cooking, reading, homework)

Like a standard countertop, 24" is a good depth for a kitchen peninsula. Depending on your kitchen, you can make it smaller or bigger as is appropriate for your requirements.
Kitchen Peninsula Design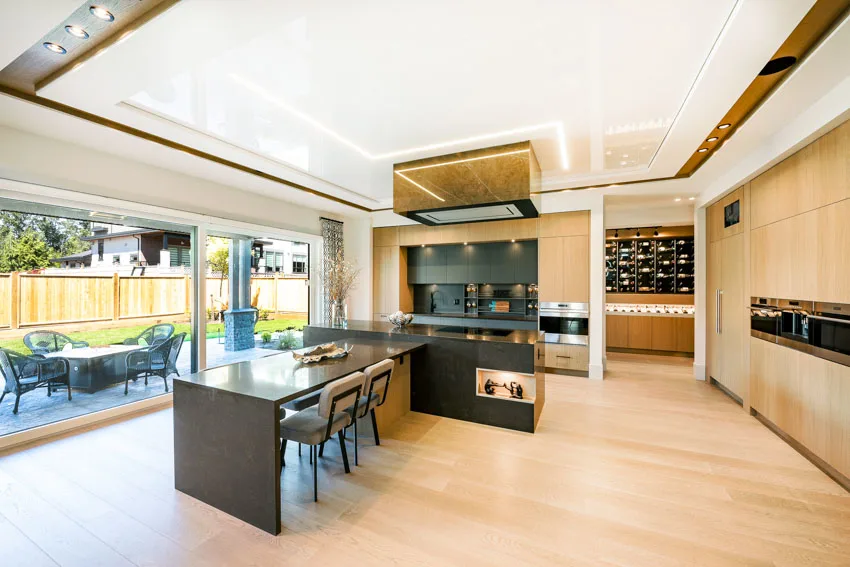 Using gorgeous modern kitchen designs, the peninsula in this example is uniquely placed perpendicular to the front center of the kitchen island, creating a T-shape. Because the kitchen is large and spacious this is very doable.
The kitchen peninsula was built in a dining table height, with a decent amount of depth and width to accommodate 2 seats on each side, as well as a storage space near the kitchen island side.
The matching material of the island and the peninsula makes it look like they're one big piece. See more kitchens with islands and peninsulas here.

Peninsula with Seating and Storage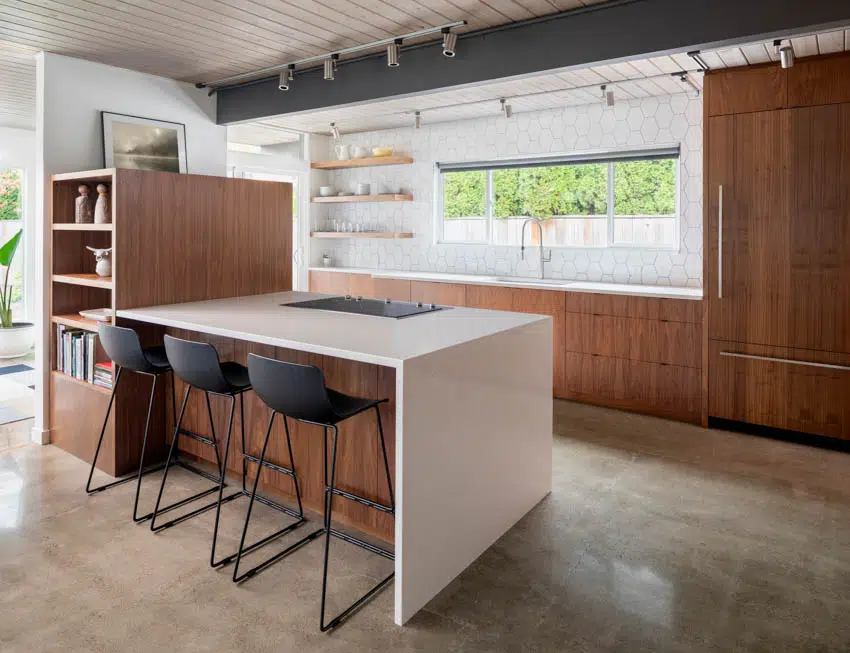 Another unique way to layout your kitchen peninsula is by placing it against a structural wall or column. A counter is built against a structural wall in this modern kitchen, with additional display/shelving.
The countertop is extended further to create an overhang and accommodate counter seating on the opposite side of the cooking hob. This is an excellent choice for those who love to entertain with family and friends while cooking.
Peninsula with Sink and Seating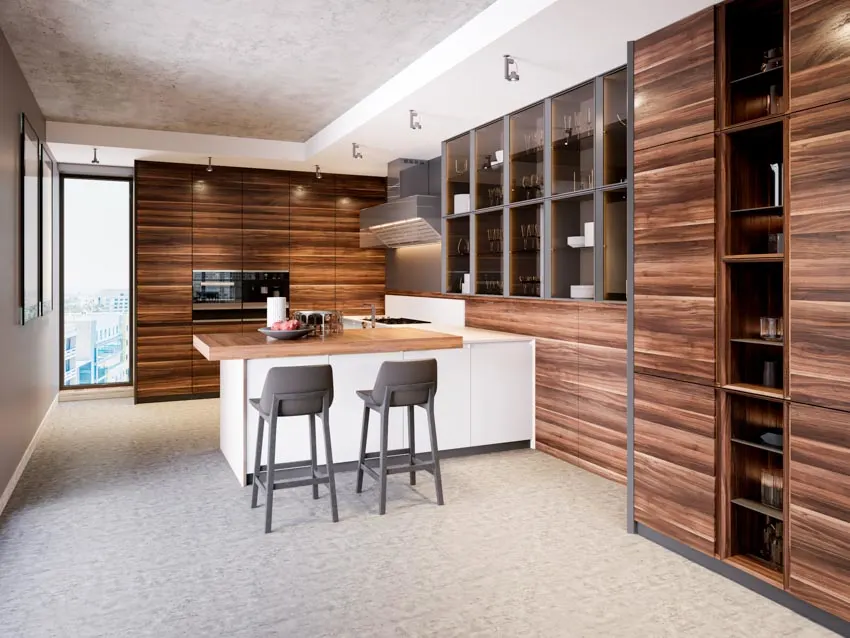 If you have a smaller kitchen space, this might be a good inspiration for your to look at. This simple U-shape kitchen extends one side of its counters to create a "partition", and then adds a solid wood overhang surface on top of the kitchen peninsula to serve as the surface for counter seating.
Not only does it provide the necessary overhang to accommodate seating, but it also helps add more color and texture to the otherwise plain white kitchen cabinets. See more kitchen peninsula ideas like this here.

Peninsula with Custom Countertop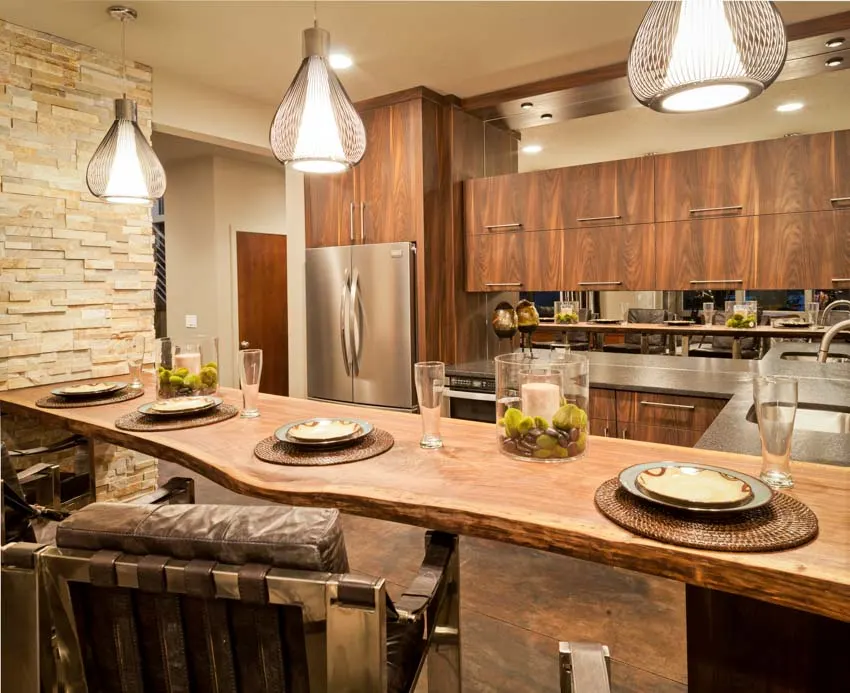 If you don't need extra storage space and prefer a more light and airy look, you can add an open-base peninsula like this kitchen, for example.
Instead of having a kitchen cabinet base on the peninsula, this kitchen used a live-edge solid wood. This makes a great conversation piece and the open design is perfect for laughter and creating memories.

This is done to create the kitchen's peninsula area and attach it to the kitchen's structural wall for support. This way you can enjoy the additional peninsula counter space, and at the same time, the kitchen still feels "open."

Peninsula with Stove and Seating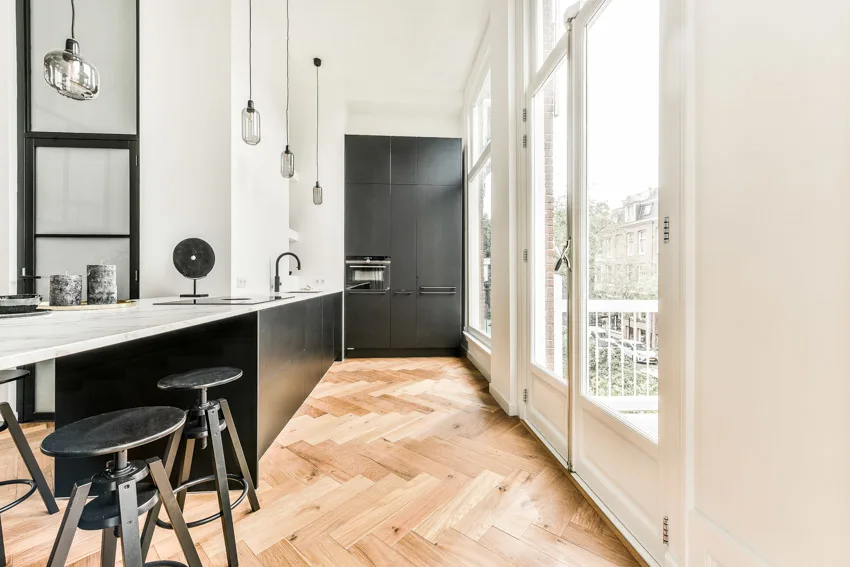 Another great idea for small galley kitchens like this is to extend the kitchen counter beyond the wall and use that extension as your peninsula.
You can also turn it into an L-shape if you don't have a space like this modern galley kitchen, but if you do, something similar with an open base would look gorgeous!
U-shaped Peninsula Design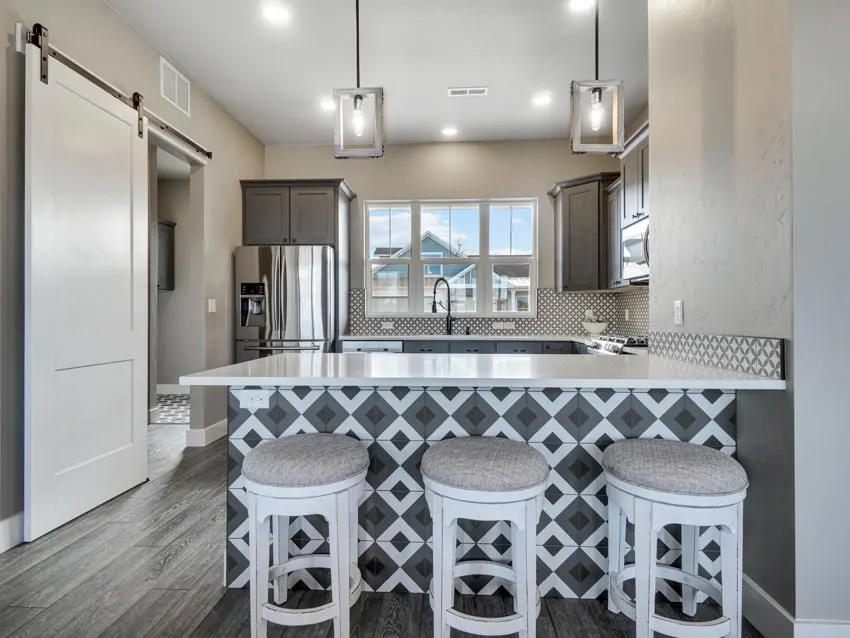 I would say this is a more classic style of peninsula kitchen featuring a U-shaped kitchen. The additional countertop is extended in depth to create an overhang, accommodating seats.
There are standard kitchen cabinets underneath, but it is only on the side of the kitchen, while the side of the counter types of bar stools is finished with Moroccan tiles.
Two-tone Peninsula & Cabinet Design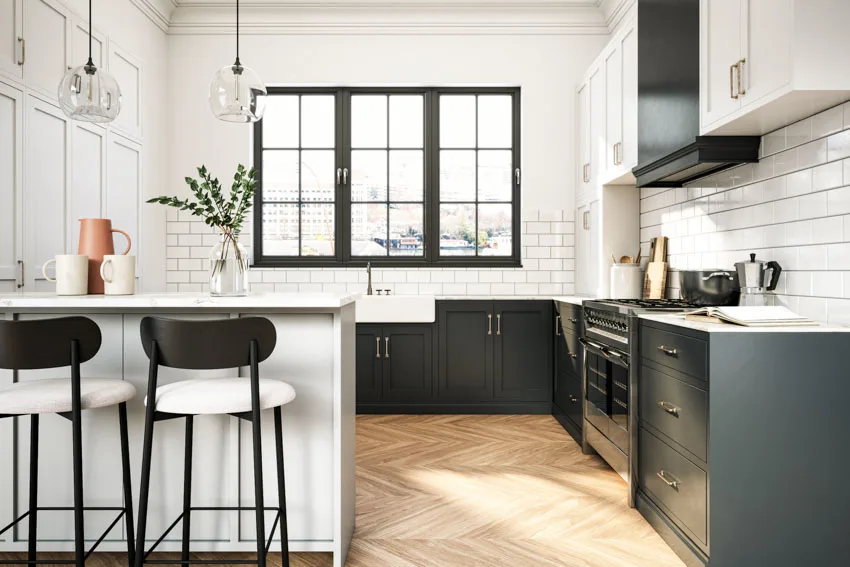 Another classic example of a peninsula kitchen, but instead of extending the peninsula from the side with a kitchen counter, it extends the peninsula from the kitchen's wall storage/pantry side.
To create a unified look, the base of the peninsula matches the color of the storage cabinets. The peninsula countertop is also a little bit narrower than standard counters, so this is a great alternative if you have limited space.
Small Peninsula with Seating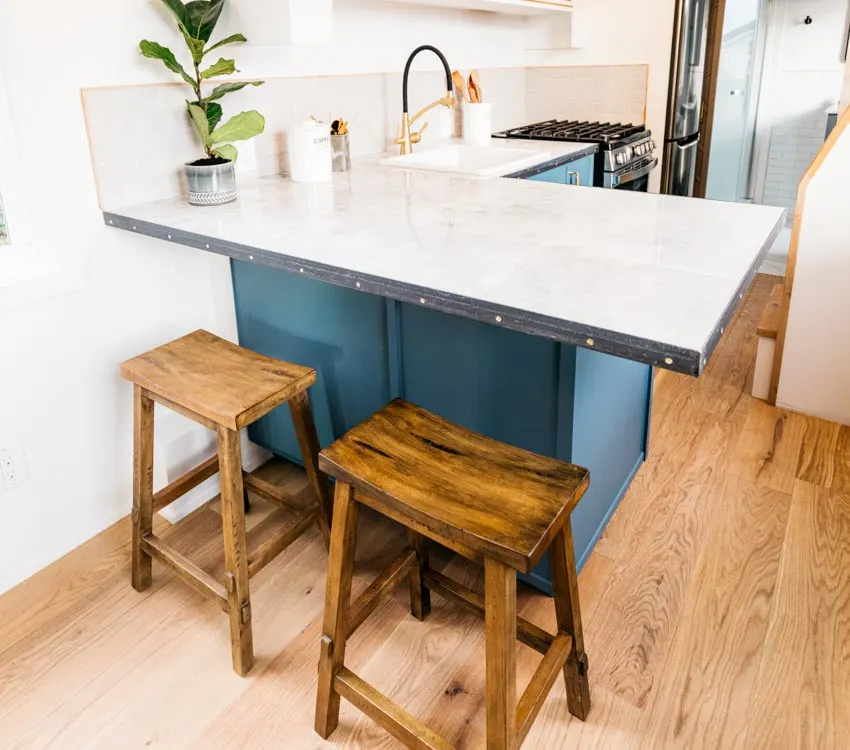 Another great inspiration for those with small kitchen spaces — this unique kitchen features a simple L-shape layout, in which one side extends as an overhang to create a small peninsula.
The peninsula is overhung on 2 sides, so you can sit up to 3 people in this small space or even up to 4 if you use smaller counter stools.
Open Plan with Peninsula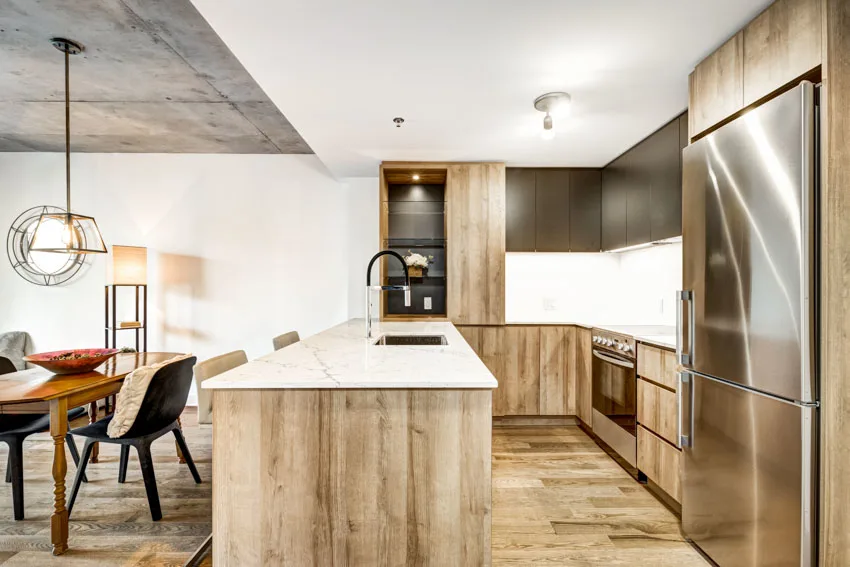 If you have an open-plan house, adding a peninsula to your kitchen is a great way to divide the space between the kitchen and the dining or living area. This family friendly design has a large seating area and allows those preparing food to engage in conversation.

Like in this rustic modern kitchen, the peninsula divides the small kitchen space from the dining area, and also adds an overhang for a small counter seating.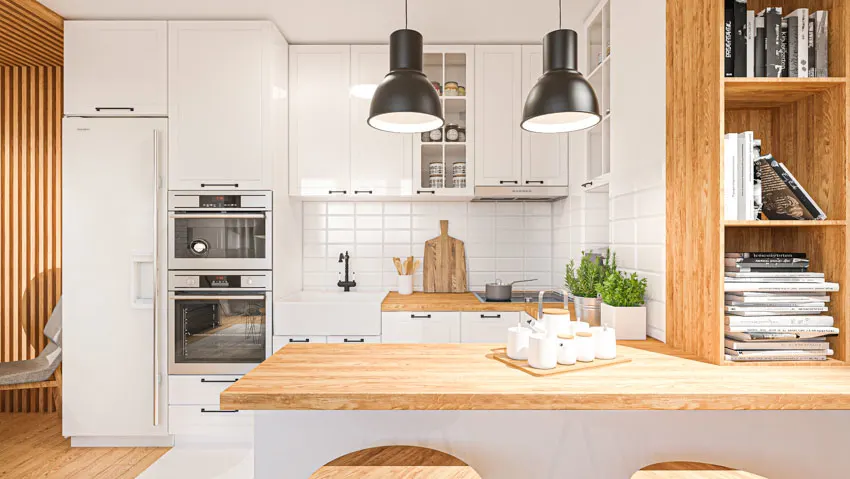 The combination of white cabinets with wood countertop makes for a lovely Scandinavian-inspired kitchen. This small U-shaped kitchen features a peninsula with a slight overhang for stools and also adds a bookshelf to take advantage of the wall the peninsula is against. This small peninsula is perfect for small spaces and comfortably sits 2 stools.
Modern Peninsula Design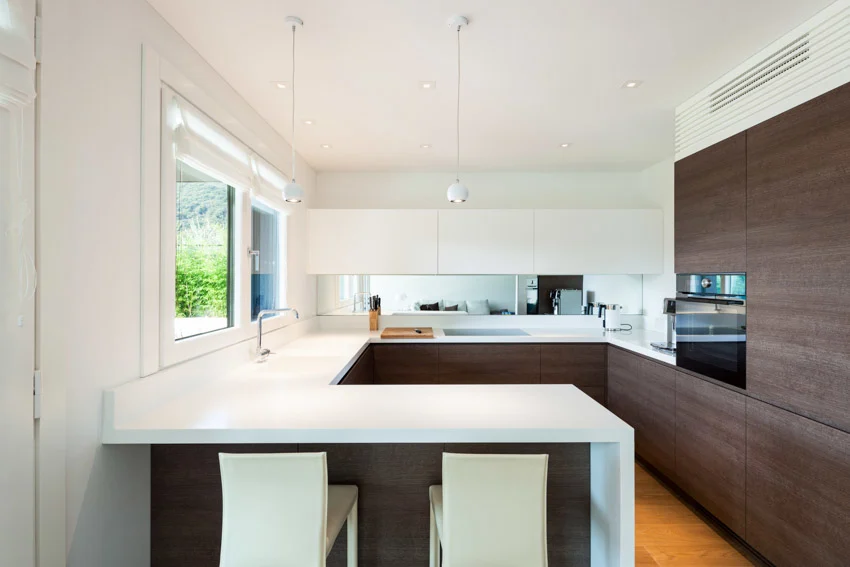 This small kitchen is designed to take advantage of every little space available for storage, which is why the kitchen "wraps around" the space.
Since the kitchen is quite narrow, instead of a kitchen island, a small peninsula that sits 2 is more appropriate as it provides additional counter space & seating without disrupting the traffic flow in the space.
See more related content in our article about the different types of countertops on this page.