Here's our peninsula kitchen design guide, including what it is, its evolution, layout options, galley designs, and the best design tips to consider.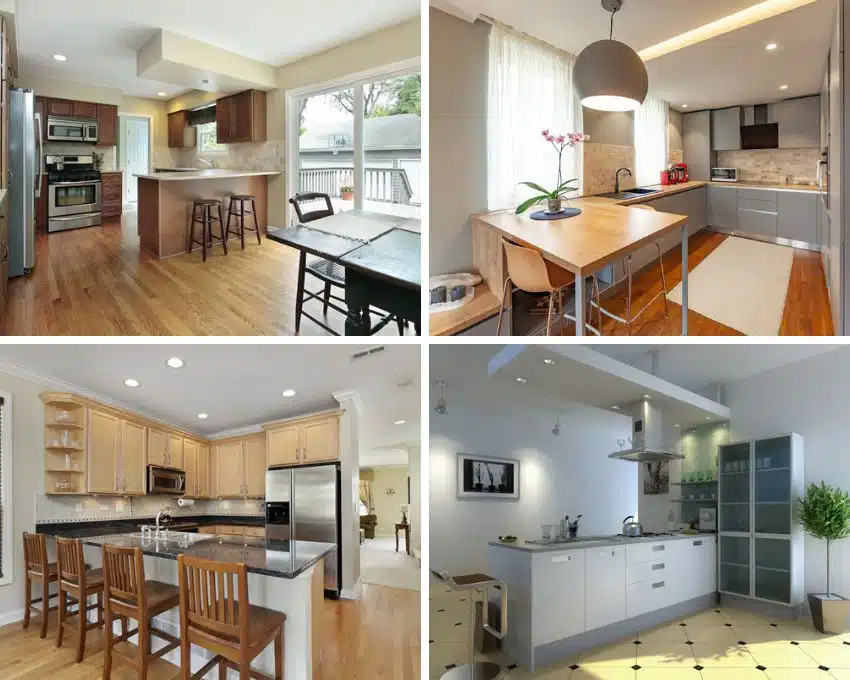 Get the key benefits of kitchen islands with less square footage with a peninsula kitchen layout. A space-saving solution for today's modern lifestyle, the peninsula kitchen layout offers flexibility, additional storage, and more.
From the drab and utilitarian room to the versatile modern household hub, the kitchen has become one of the most versatile spaces in a home. With this in mind, maximizing the full potential of the heart of the home is worth noting.
Get to know about the popular kitchen layout and weigh in the features of this modern kitchen configuration is the best design for your next kitchen build or update.
Quicklook: Kitchen Layout With Peninsula Types
• Kitchen Design Island And Peninsula
• L-Shaped Peninsula
• U-Shaped Peninsula
• T-Shaped Peninsula
• Galley Kitchen
• Small Kitchen
What Is A Peninsula In A Kitchen?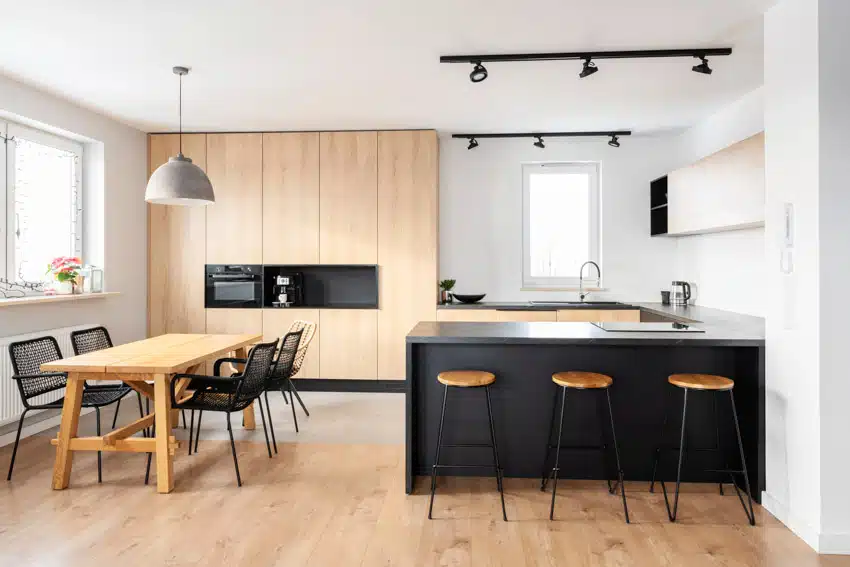 A peninsula is a kitchen unit with a bar counter extended perpendicular to a wall or a run of cabinets with its other three sides freely accessible. Storage units below, such as drawers and base cabinets, can be built-in a peninsula unit, and often the counter is used as a worktop or a serving area with stools.
An overhang on one or more exterior sides of the peninsula counters, combined with beautiful bar stools, creates the ideal seating space for quick meals or entertaining. The attached side of the peninsula defines the kitchen interior, limiting disruptions.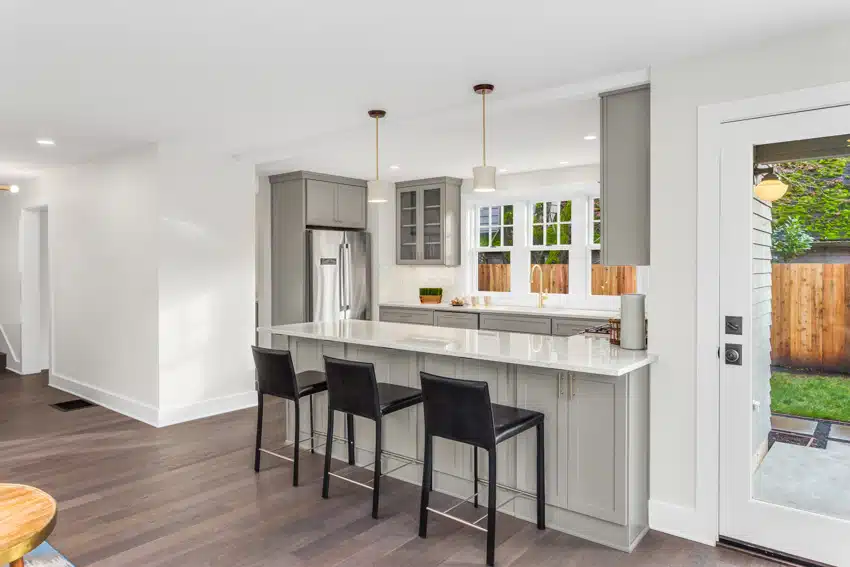 As with the island, a kitchen peninsula with seating offers a great opportunity for interaction during meal preparation. It is also a great solution for a small enclosed kitchen, where a wall can be removed to open the area up to an adjacent room without giving up on storage space.
Standard Peninsula Size
• Length: The recommended dimensions of a peninsula range from 70.8 inches or 80 cm to 74.8 inches or 190 cm in length.
• Depth: Meanwhile, the suggested minimum counter depth is 27.5 inches or 70 cm.
• Clearances: Aisles surrounding the peninsula should have 47 inches or 120 cm clearance, allowing two people to work side by side.
• Overhang: When opting for an overhang, the recommended protrusion from the base is 10 to 12 inches or 25-30cm to provide ample knee room for sitters. However, an overhang is unnecessary for peninsula layouts open below since the space can accommodate the knee room.
• Height: Most peninsula counter heights follow the standard kitchen height of 36 inches or 91 cm high. But when used as a seating or dining area, the peninsula should have a height of 42 inches or 107 cm. When planning a lower section, the standard table height is 30 inches or 76.2 cm.
Peninsula Uses
• Additional counter space: A peninsula provides additional counter space, which can be used for preparing meals, serving food, and entertaining.
• Added Storage: Many peninsula designs incorporate certain types of drawers and cabinets, providing more storage space for kitchen tools, utensils, and dishes.
• Improved Traffic Flow: Depending on the layout of your kitchen, a peninsula can help to improve traffic flow by providing a clear pathway between the kitchen and other areas of the home.
• Define Areas: A peninsula counter can act as a divider between areas in an open plan. This provides defining spaces while still allowing visual flow through the room.
• Additional Seating Area: A peninsula is commonly used to create a dining area, especially for smaller living units. Large kitchens add a peninsula mainly as a socialization hub as the host cooks and prepare food.
• Room for appliances: A peninsula can be used to house appliances, such as a sink, dishwasher, or cooktop, providing additional functionality and convenience.
• Create a Focal Point: Expansive kitchens can benefit from a well-designed peninsula that serves as a focal point in the kitchen, adding visual interest and volume to the space.
The Evolution Of The Peninsula Kitchen Layout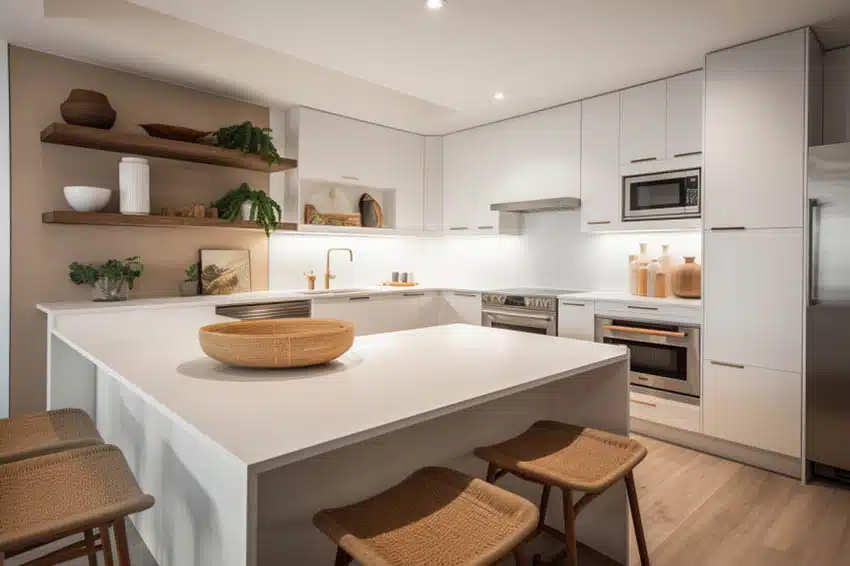 Peninsula additions became popular around the 1920s as homeowners began to incorporate more modern appliances and cabinetry into their kitchens.
The introduction of "Hoosier Cabinets," freestanding kitchen cabinets with built-in features such as a flour sifter and spice rack, helped to streamline the kitchen and make it more functional.
As kitchens became more integrated into the rest of the home in the mid-20th century, the peninsula became a popular design feature, providing additional counter space and storage while also creating a more open and inviting space.
In the 1960s and 1970s, the popularity of the peninsula kitchen grew as open-concept living became more popular, and homeowners began to incorporate features such as breakfast bars and casual seating into their kitchens.
Today, the peninsula kitchen remains a popular choice for homeowners looking to add functionality, storage, and style to their kitchens, and it can be customized to fit a wide range of design styles and layouts.
Kitchen Layouts With A Peninsula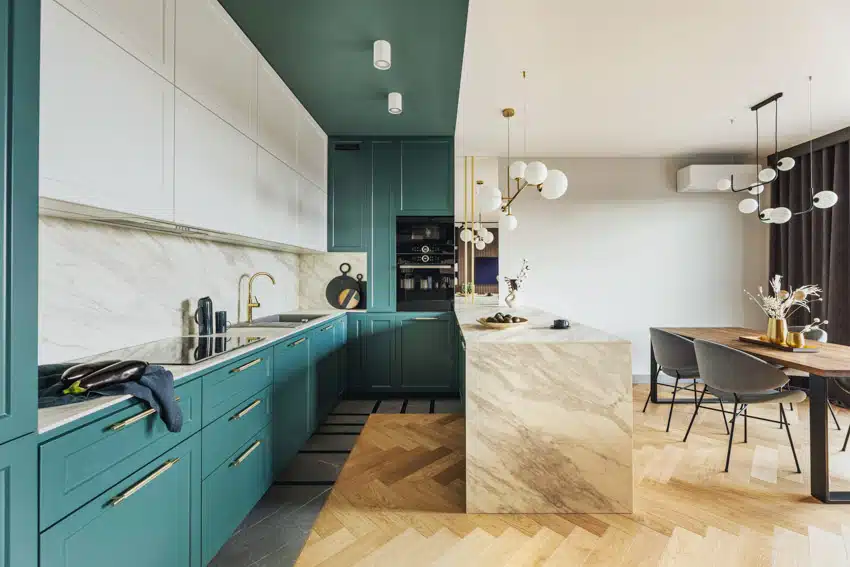 Here we share the different kitchen layouts with a peninsula.
Kitchen Design Island And Peninsula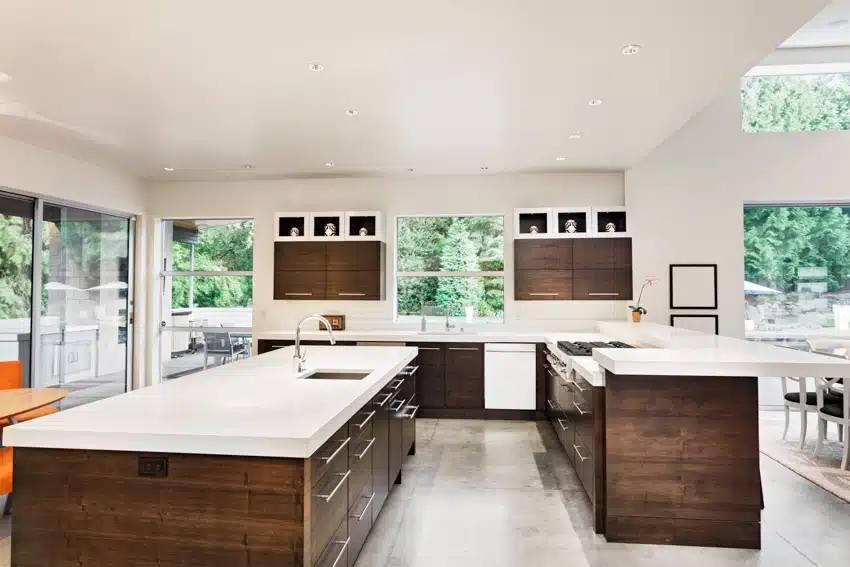 With an expansive kitchen, it is an opportunity to add a peninsula counter to the island creating multifunctional spaces. Adding a peninsula layout to a large kitchen can be less efficient, especially when the area has ample space for a kitchen island and is seen as a redundant space.
For instance, commercial restaurants with an open kitchen find that adding a peninsula creates a break to the enclosed area.
However, luxury homes can take advantage of having a kitchen with island and peninsula, while standard homes with a smaller island can expand the serving space with the peninsula layout.
L-Shaped Peninsula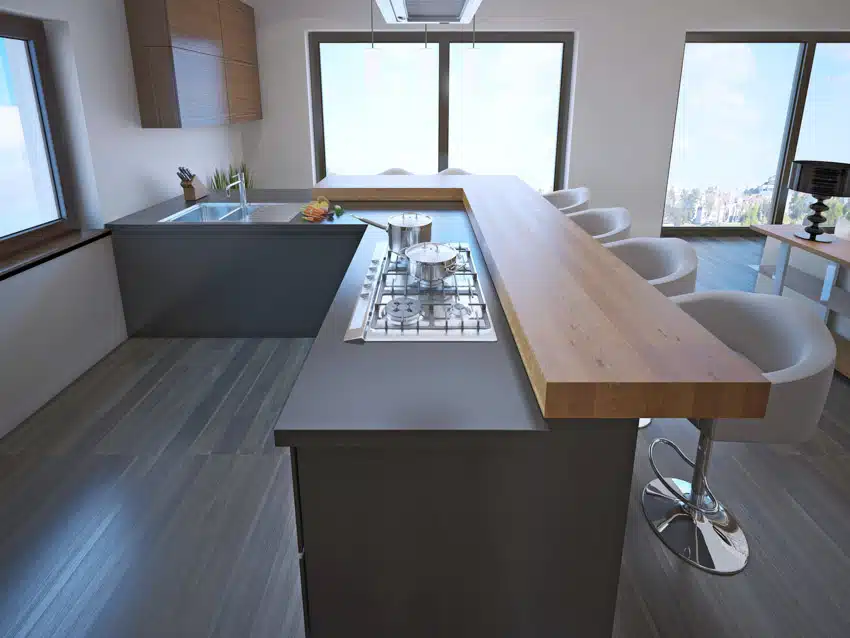 An L-shaped kitchen layout with a peninsula adds extra work space as well as smooth workflow. From a refrigerator or pantry to a sink or a counter to a serving, this layout cuts down serving time and makes the main work areas efficient.
A peninsula at the end of the L counter is a great design solution for kitchens with smaller areas. Small apartments or condo units typically have an L-shape kitchen with the end counter used as a serving area reducing the need to have a dining area.
U-Shaped Peninsula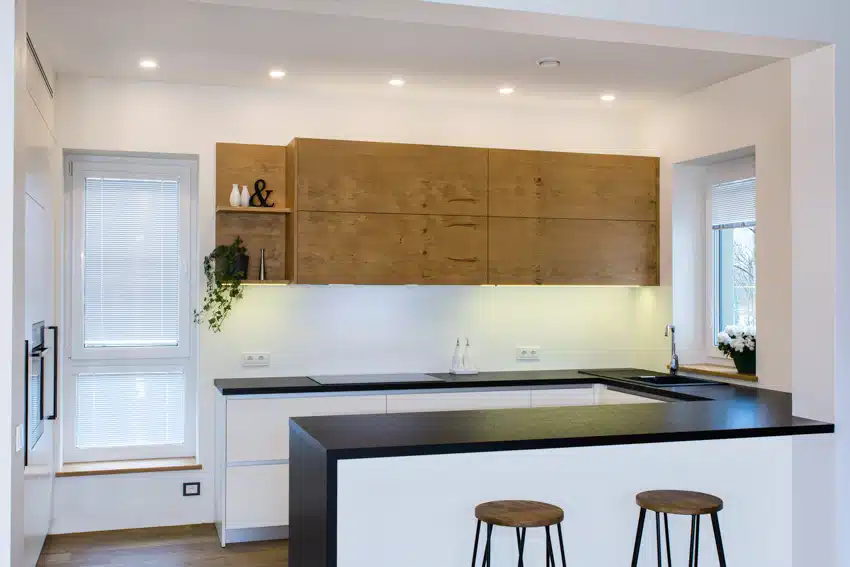 A U-shaped kitchen with a peninsula is recommended for kitchens with a large footprint and results from having an L-shaped kitchen and a work counter perpendicularly extending from the row of cabinets.
The popular design is visually appealing for homeowners with spacious kitchen layout dimensions as it maximizes the available space while maintaining accessibility to and from the work areas.
While it offers an uninterrupted work triangle, a U-shape layout can feel oppressive and cut off from the rest of an open plan. To offset, a peninsula opens up the space with that semi-boundary and inviting the areas on each side.
G-shaped – A derivative of the U-shape, the G-shaped plan adds an extra wall of cabinets and countertop that wrap around to become a peninsula – often, this peninsula is used as an eating area. – Rick Peters, Practical Improvements for Older Homeowners
T-Shaped Peninsula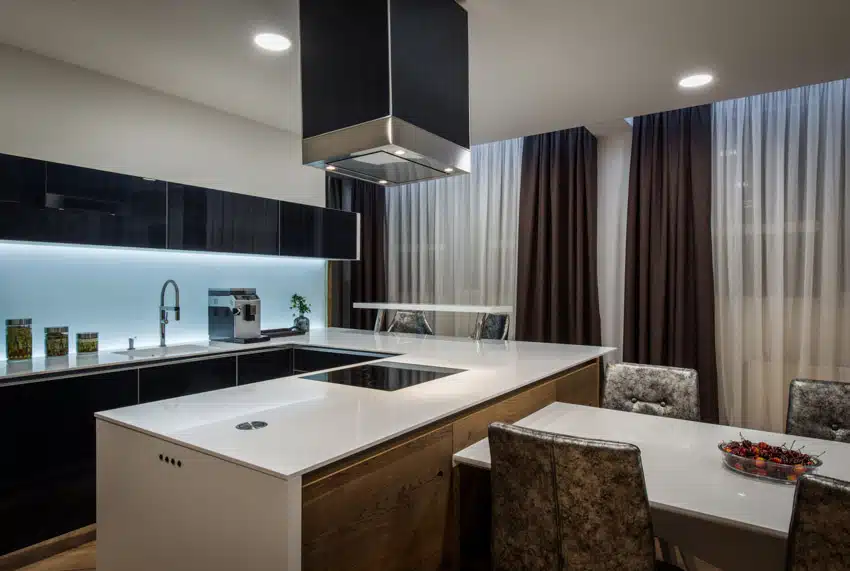 This design features a perpendicular extension, tangent to a run of cabinet counters that creates a T-shape, providing additional counter space and storage.
The T-shaped design can be created in a variety of ways, including with an additional countertop that extends perpendicular to the main peninsula or with a lower level of cabinetry that creates a table-like surface.
Galley Kitchen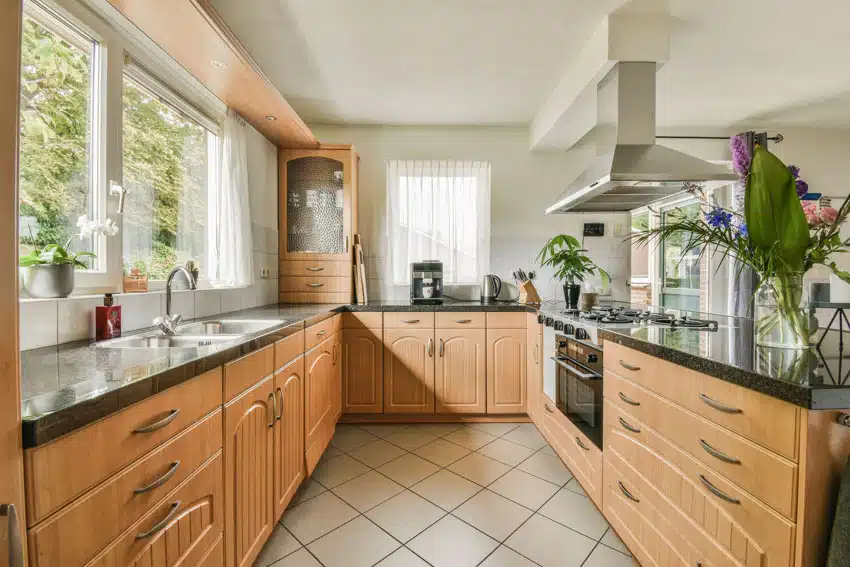 Inspired by the cooking sections aboard vessel ships, the galley has a longitudinal counter and cabinets parallel to a narrow aisle.
Since there is limited width to accommodate the length of a peninsula, most galley layout designs with an additional peninsula opt for the extension to start at the back of the cabinets or the main wall.
Extending from the main wall where the backing of the cabinets is attached provides a long counter for the peninsula.
Small Kitchen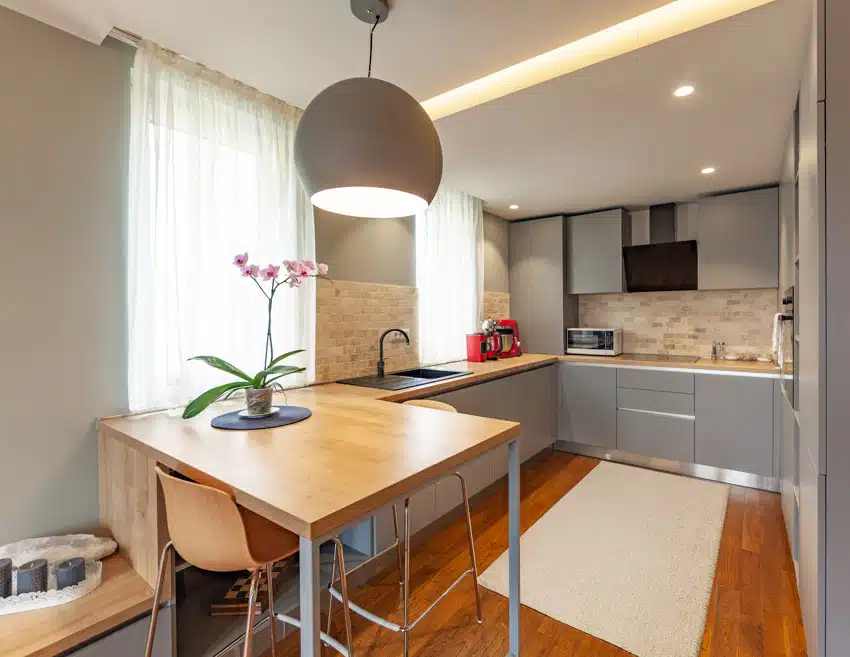 A kitchen is considered small when you have 70 square feet or less, typically with a single-row counter. Adding a peninsula to a small kitchen extends the workspace. Pull-out or foldable tables serve as peninsula counters for very small galley kitchens.
A peninsula doesn't necessarily need to extend directly from your kitchen counter. Instead, the peninsula runs parallel to your kitchen counter, attached to a tangent wall offset.
This layout works when a kitchen is backed into a corner and has enough space for a peninsula counter with a seating area.
The multipurpose counter also adds dimension to a small kitchen without taking up much square footage. Small kitchens are typical in smaller living units and are a practical substitute for a dining or study area.
Modern Kitchen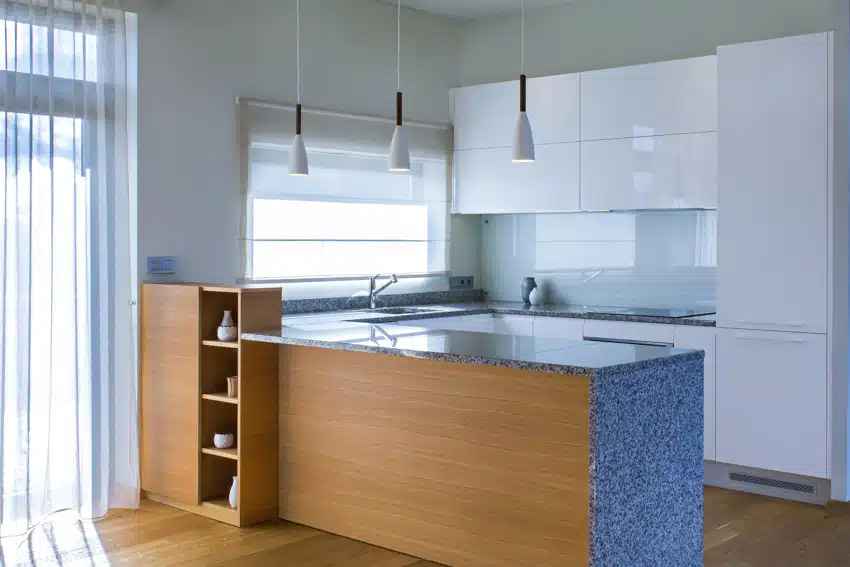 Due to its flexibility, the space-saving peninsula has become a popular add-on for kitchen updates. Moreover, there are many gorgeous kitchen peninsula ideas to add the extended counter without having an expensive renovation that works well with today's popular open plan.
Aside from the typical quarried slab, glass, metal, and wood materials are also popular options for the peninsula counter.
A glass or metal countertop allows visual flow and prevents an enclosed feeling of the kitchen area while adding a luxurious touch. Moreover, adding a different material for the peninsula can juxtapose a monochromatic look of an all-stone working countertop.
Layering materials can add dimension to a modern kitchen, but a waterfall design is a popular option when opting for a sleeker and cleaner appearance.
A waterfall countertop design where the countertop material is extended vertically down the sides of the kitchen island or cabinets to create a continuous, flowing look.
This means that the countertop material "falls" over the edges of the cabinets or island, much like a waterfall. This design can add a modern and sophisticated touch to a kitchen and can be made using various materials such as granite, marble, or engineered stone.
Fluted details are another popular design for peninsula counters. Usually made of wood trims or plaster molds, a fluted design creates a textured appearance to the sides of the peninsula counter.
These ridges can either be oriented vertically or horizontally, but the popular option is installing the details vertically as it contrasts the horizontal orientation of the counter, creating visual appeal.
How To Design A Kitchen Peninsula?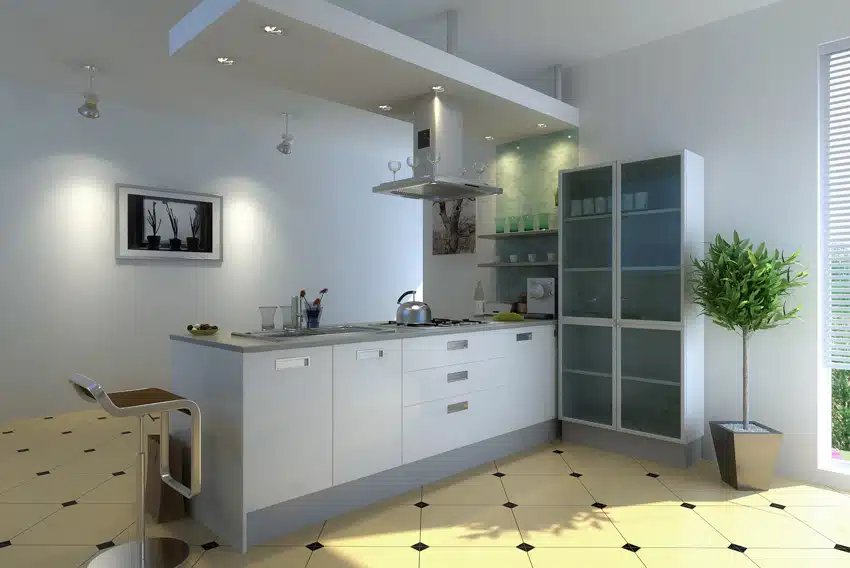 1. Study your Space: Before assigning the location of a kitchen peninsula, study the kitchen layout and how the peninsula will fit into the space.
A peninsula typically extends from one of the walls of your kitchen, forming an L or U shape. Make sure that adding a peninsula allows the flow of activities and disrupts traffic flow.
2. Select the Best Layout: The most efficient layout depends on the number of usual users and the intended functions of a peninsula. The shape is also essential.
A straight, rectangular shape is the most common, but a curved or angled shape can add visual interest. A curved ending to a peninsula counter prevents accidents in bumping into the corners of your counter and is best when the aisles are narrow.
3. Specify the Right Height: The height of your kitchen peninsula depends on its intended or primary use. If it is used as a bar to serve food or drinks, it is recommended to have a higher height of the peninsula than the counter.
The typical height of a peninsula used as a bar counter is 41 to 43 inches or 104 to 109 cm, and an ordinary table height is 28 to 30 inches or 71 to 76 cm. These serving counters are lower than your standard countertop height of 36 inches or 91 cm.
If the peninsula also acts as a food preparation area, add a height to the standard table and bar counter height. The option is to divide the peninsula into two sections, a half at height with the kitchen counter and the other half as a serving and eating area.
4. Material Selection: It is important to consider the materials beforehand. A material's weight can determine the right construction system to use, particularly when attaching to an existing wall or countertop. Materials should complement the rest of the kitchen layout. Consider using the same materials for the countertop and cabinets as the rest of the kitchen for a cohesive look.
5. Determine Storage Opportunities: The kitchen peninsula can be a great place to add extra storage. Consider adding cabinets or drawers underneath the countertop, or installing shelves above the peninsula, though make sure it has enough head clearance for serving and dining.
6. Enhance Space with Lighting: With an added enclosure, a kitchen peninsula will need adequate lighting for both function and style.
Consider pendant lights or recessed lighting above the peninsula for a stylish and functional touch. There are peninsula counters with sides made from glass or travertine tiles which can be highlighted by under-mount lighting or coved lighting.
7. Add Seating: Consider comfortable seating when using the kitchen peninsula as an eating area. Stools with half backrests are popular and can be easily drawn when needed. Modular chairs that can fit neatly against the peninsula siding to hideaway the seats are also popular.
How Big Should A Peninsula Be?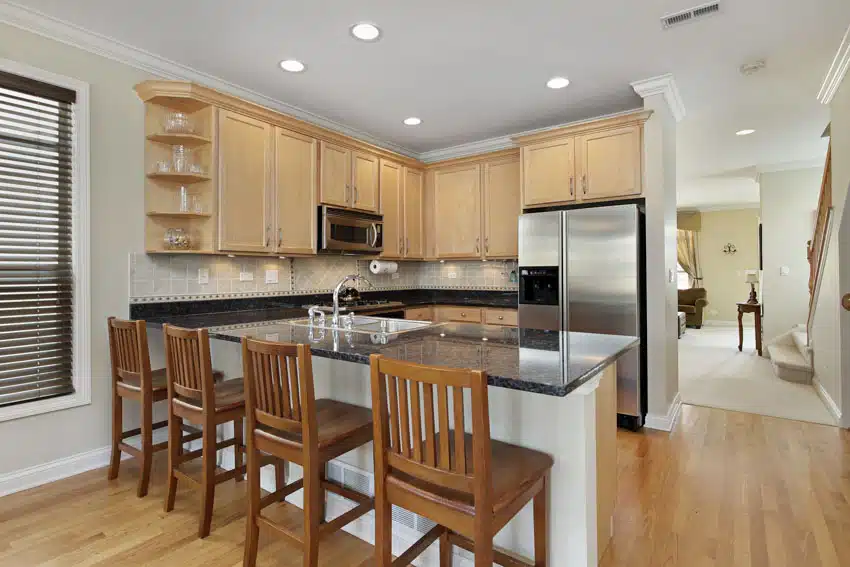 The size of a peninsula depends mainly on the available space and its main use, but eventually, the larger the kitchen, the easier to add a peninsula counter. However, smaller kitchens can still benefit from adding a peninsula with the right design approach.
Considerations: When determining the size of a peninsula, ultimately, the minimum dimensions, such as clearance and countertop width, should be considered. Observing local building requirements (if present in your locality) is also important.
The proximity and workflow of the main working areas, which include the sink, range, and preparation area, should be maintained when adding a peninsula island.
Other Considerations: It can create hard-to-reach storage, particularly for base cabinets. A tangent peninsula counter along the base cabinets of your main kitchen counter can create a blind corner.
At the same time, the base cabinet section nearest to the tangent wall can be hard to reach. The best solution is installing a turnstile, flat-front drawer, or pull-out drawer.
Remodel Tips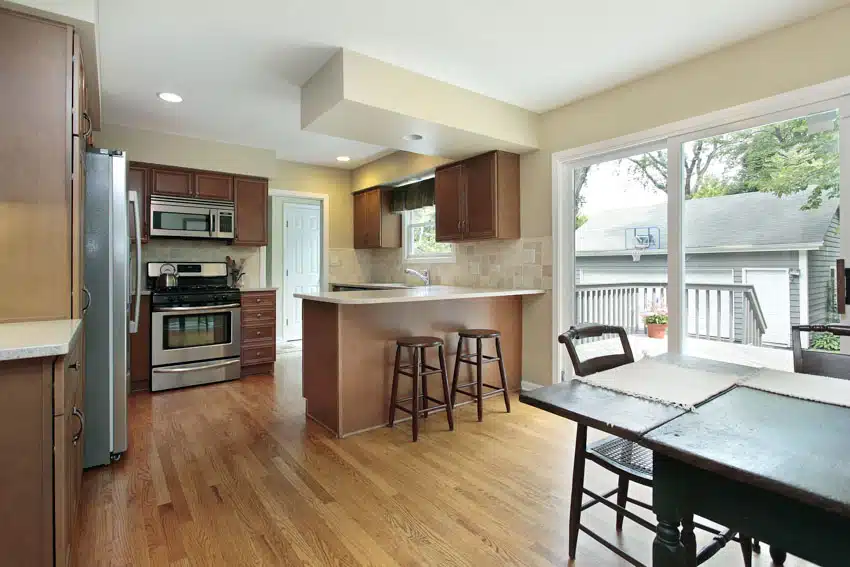 1. Use Counterbalance Plates for Discreet Support: When aiming for a granite overhang or opting for a deeper extension for your peninsula, installing counterbalance plates is a discreet way to add support. This is a great solution for a minimalist peninsula design.
2. Add a Sink: An under-mount sink creates a seamless finish to your peninsula and works well with wider widths of counters. Consider specifying a low divider for a double basin for that extra food-prepping area.
3. Cut a Corner for a Solo Seater: Cut the lower base cabinets for an existing L-shaped kitchen layout to make enough knee room for a solo seater.
4. Truncated Counter: While a full slab counter makes a modern statement, it can be unsafe, especially with limited space. The truncated corner removes that sharp edge making it safe for kids and adults alike.
5. Slight Elevation: When defining spaces between the working and dining areas for a peninsula counter, adding a slightly elevated section gives a stylish flare to the kitchen. Use a different material to define the spaces further.
6. Niche Sides for storage: A long peninsula counter provides ample space for open shelves. These niches can be an attractive display of collectibles or an added storage for plates and cups, which are easily accessible when serving.
7. Create A Reverse Seating: Peninsula counters are typically laid out with the bar counter style, but owners can add a more laid-back seating area by reversing the direction of the seats where the backrests are located against the countertop's front side. Add a sofa or a juxtaposing color or material to create visual interest.
8. Consider Hiring a Professional: Adding a peninsula can involve plumbing, electrical work, and other complex elements. Consider hiring a professional contractor to ensure the project is done safely and to specifications.
See more related content in our article about kitchen peninsula with seating on this page.