Here's our gallery of freestanding kitchen cabinets with different design styles with countertops, pantries, cabinet openings, their features, uses, and best freestanding cabinet ideas.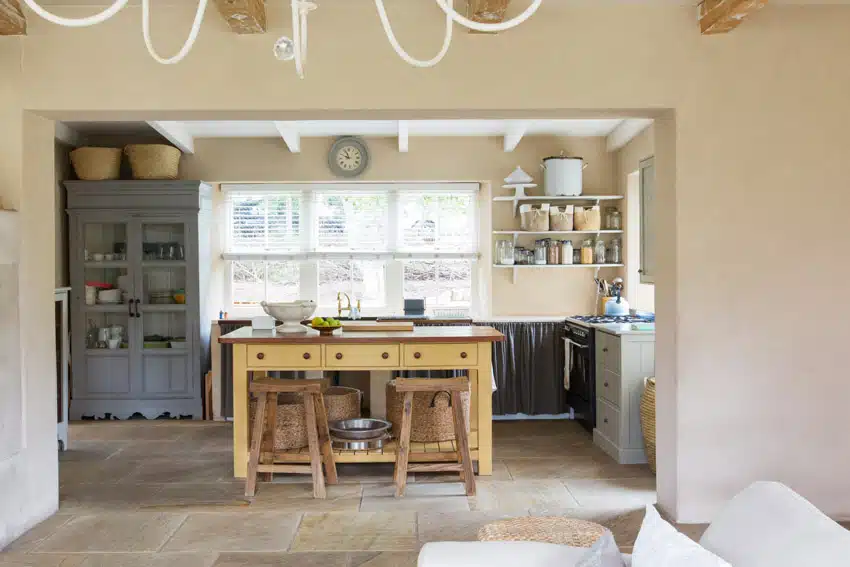 There has been a shift in the various modern designs you can consider as your options or ideas for standalone kitchens. Although it's unlikely that fitted kitchens will ever go out of style, there has been a recent change toward kitchens with a more casual appearance.
Freestanding kitchens can range from unfitted rooms to specific elements, such as a pantry cupboard or island on wheels. You can relocate these as your needs change or follow you from house to home. A freestanding kitchen is less expensive than a standard fitted kitchen. It makes it much simpler to modernize an already existing kitchen.
Moreover, if you are searching for kitchen design ideas that have character and individuality, adding freestanding pieces will transform the room from being fundamental to looking fabulous.
You can also have fully fitted freestanding kitchens, but they will have an unfitted appearance. It provides you with the advantages of both worlds, namely an effective utilization of space and a laid-back atmosphere. In this section, we investigate every possibility.
Freestanding Kitchen Cabinet Designs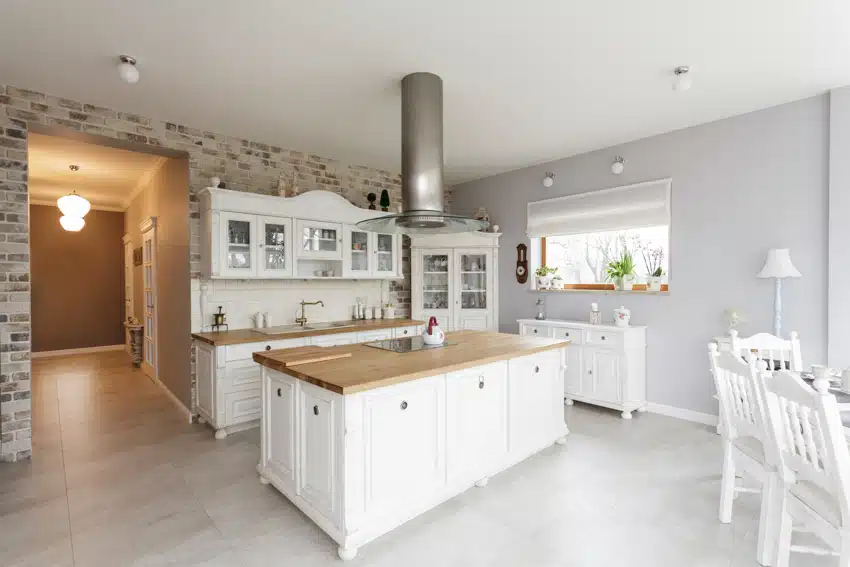 Cabinets that are freestanding offer several benefits, the most important of which is their classic appearance, which is currently quite popular among people remodeling their kitchens. Because this type of cabinet is not something you will typically find in kitchens, it provides the design with a point of interest that is otherwise absent.
You can also move them around, which contributes to their flexibility. Because they are generally not attached to a specific location, you are free to position them wherever you like in the kitchen (or anyplace else in the house, for that matter). Additionally, you may turn it any way you like because all sides have smooth finishes.
Because it gets its support from its legs rather than a toe kick, a freestanding cabinet does not have one. In contrast to regular base cabinets, this one has openings in the bottom that allow easy cleaning. Additionally, you can pull it out to access the rear and the area where it is standing, making it very simple to clean.
Now, you can purchase freestanding cabinets as stock cabinets only in a few colors and designs. If you have the financial means, consider taking this further and constructing them according to your specifications.
On the other hand, given the increasing demand for freestanding cabinets in the future, you may anticipate that more stock designs will be made available for purchase from cabinetmakers.
In conclusion, you can hire someone other than a professional to help you install the cabinets. Sometimes, all that is required is to unpack the cabinet and locate a flat surface to set the items.
Suppose you have an uneven or sloped floor. In that case, you may usually modify the height of the cabinet by using the leg screws on the cabinet's interior.
To create a more extended top surface, you can even screw or join two standalone cabinets to make one larger cabinet. But if you try to ensure that they are at the same level as one another, you won't need to do that.
Freestanding Countertop Cabinets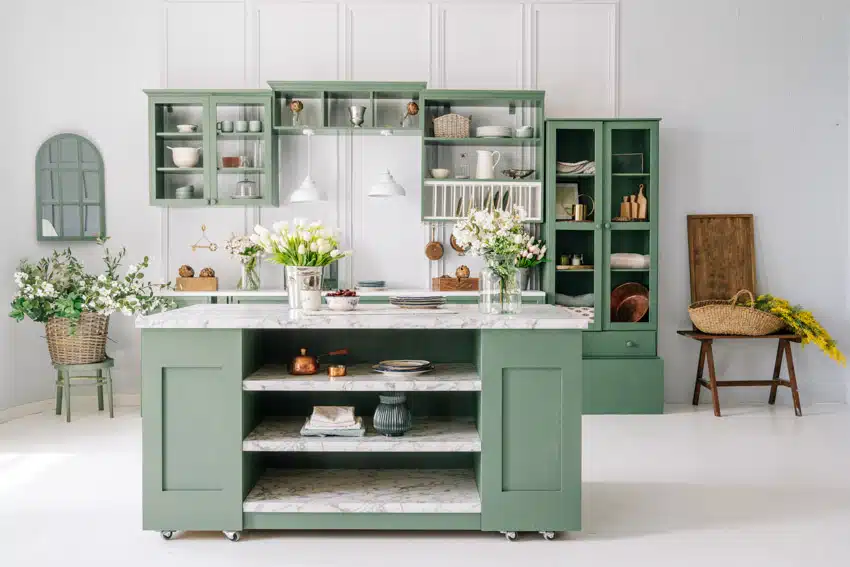 Do you require an additional tabletop to prepare food, enjoy quick meals and snacks, or display a fresh fruit bowl and a vase of flowers? You would benefit greatly from having a desk integrated into the types of kitchen islands you're using at home..
These freestanding units generally incorporate other helpful features, such as locking wheels, a drop-leaf surface, and a towel rack, in addition to the copious amounts of storage space they provide. They will undoubtedly become the kitchen's most noticeable characteristic because they combine aesthetics and practicality.
Freestanding Portable Kitchen Pantry Cabinet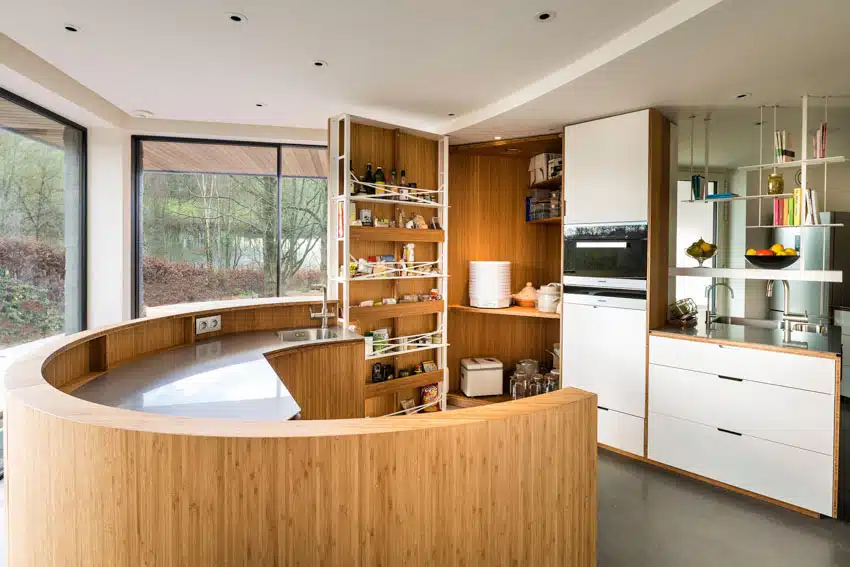 Imagine how much handier it will be if you can move your kitchen outside whenever you want to eat in the open air. It can be for a pool party, a barbeque, or another occasion. With a portable kitchen cabinet, however, this is not at all out of the question.
Despite this, pantry cabinets equipped with caster wheels can also be helpful for use inside the home. It is especially true if you love spending your time in the kitchen preparing meals, as this requires you to move around quite a bit.
You have to roll the storage unit to anywhere you need it, and everything you require will be right at your fingertips.
Freestanding Corner Cabinet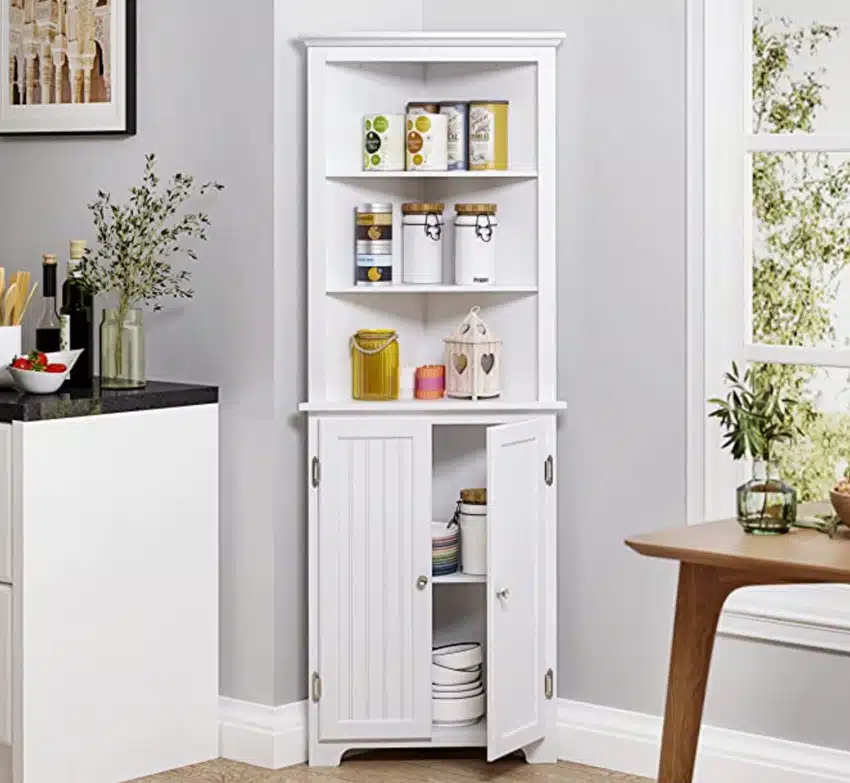 See this freestanding corner cabinet at Amazon [sponsored link]
You realize that your kitchen could use additional storage, but you need more room. Then it's time to put those empty corners of your room to good use.
It is common knowledge that cabinets that can be tucked into a corner take up very little floor space. It is despite having the capacity to store a wide selection of dry foods and other kitchen essentials.
It is important to remember that the deeper the shelves are, the more difficult it will be to reach specific goods. Instead, go for a piece with many layers of shallow depth, as this will make everything much simpler to access.
You can achieve a tidy and well-organized structure by classifying the goods stored. Read more about deep pantry storage tips here.

Freestanding Appliance Cabinet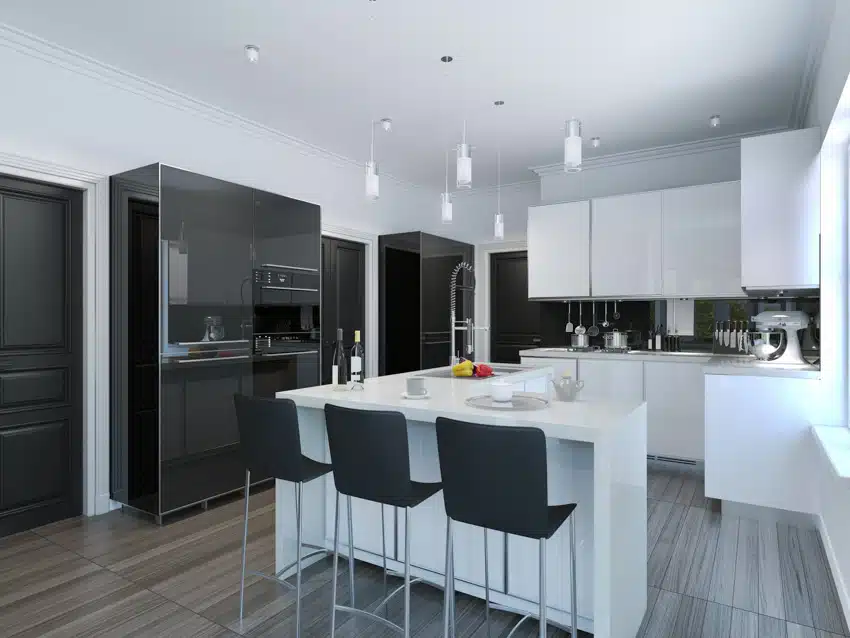 Do your home appliances take up excessive space on the countertop? If this is the case, a freestanding appliance cabinet is just what you should be keeping an eye out for at the end of the day.
This storage cabinet features a top that works wonderfully as a platform for different types of appliances in a kitchen, like a microwave, toaster, blender, or coffee maker, among others. As a result, there will be less clutter on the countertops.
Thanks to the roomy closed compartments and open portions, you can store all your cooking utensils, jars, and other kitchenware in a convenient location thanks to the roomy closed compartments and open portions.
In addition, there may even be sufficient space for decorations such as potted plants to be placed. Choose a freestanding kitchen appliance cabinet equipped with cable management to avoid the hassle of tangled connections.
Detached Cabinets with Glass Doors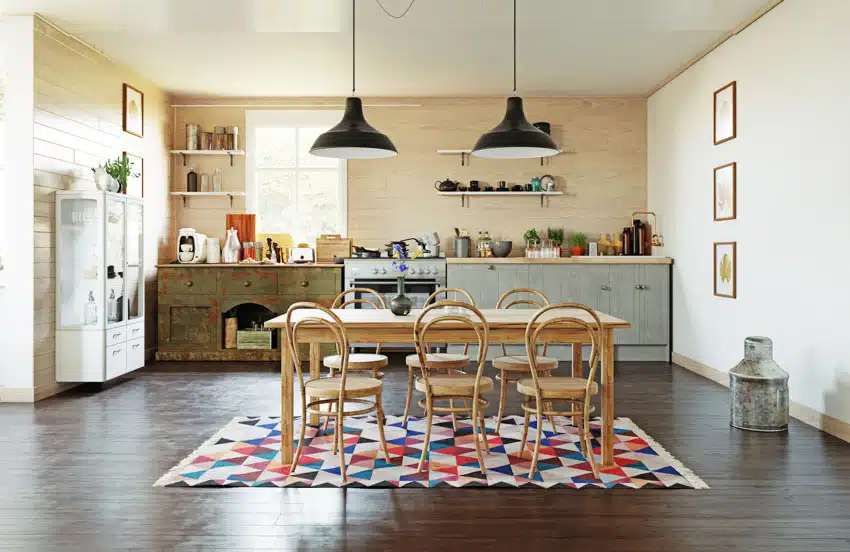 The fact that some kitchen cabinets come with glass doors demonstrates that not all cabinets have to have a standard and mundane appearance. Why not go for a furniture piece that will make a statement and liven up your kitchen simultaneously?
Not only will cabinets with glass doors lend an air of refined sophistication to the ambiance. But it will also allow you to exhibit your most beautiful tableware and canister sets. Look for cabinet doors composed of tempered glass to ensure they will last a long time.
Freestanding Base Cabinets
Look no further than freestanding kitchen base cabinets that don't have legs if you find the aesthetics of freestanding cabinets that stand on legs less appealing. These cabinets come with designs to be placed on the ground and mounted against the wall for stability.

Yes, they can be challenging to maneuver from one location to another. On the other hand, because their designs are so simple, they give the room a neat and consistent appearance; this means you can use them for any kitchen style.
In addition, they can frequently be attached to a wall to provide even more support. If you want to keep the storage in your downstairs pantry from wearing out too rapidly, you should avoid shifting it about too often.
Multipurpose Freestanding Cabinets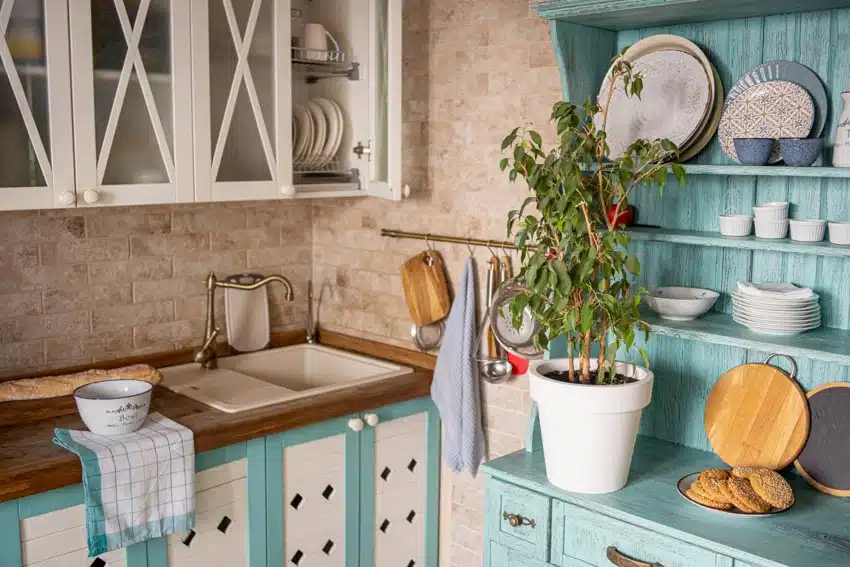 Cabinets designed to stand alone are among the most adaptable furniture you could ever acquire. Did you know that in addition to their utility for storing utensils and other items in the kitchen, these containers have a variety of other applications as well?
You can keep the cabinet in your home office to store your paperwork and books if that's where you like to keep them. For instance, when placed in the bathroom, they can function as storage for various bathroom knickknacks, such as towels, toiletries, and other miscellaneous items.
You may also use freestanding kitchen cabinets in the garage to organize your tool collection, gardening supplies, and any other garage accessories.
Freestanding Tall Cabinets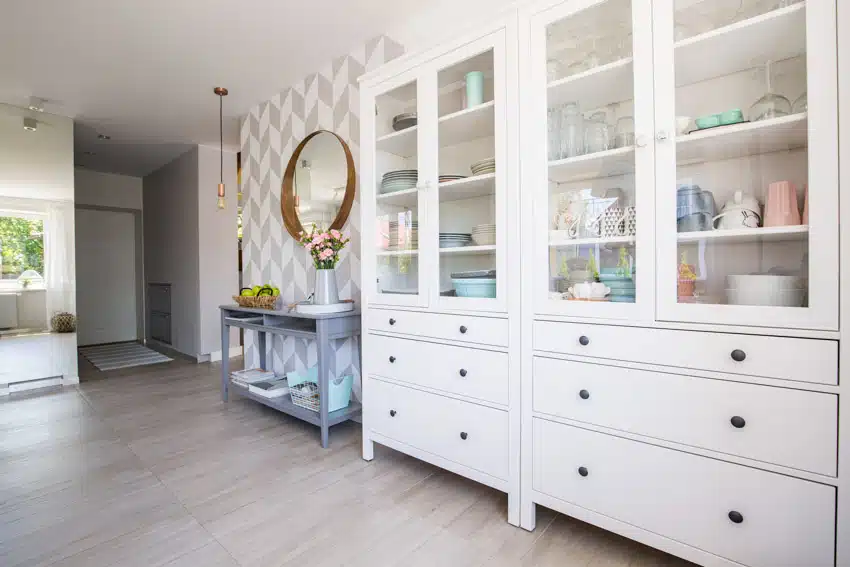 When space is already at such a premium, there are better options than purchasing large and cumbersome furniture. Fortunately, you can put up kitchen pantries that are only a few feet wide virtually anywhere. Some even have a design that extends from the ground up to the ceiling, making full use of the available vertical area.
These cupboards offer a respectable amount of storage because of the various shelves and cubbies that they contain, despite their somewhat compact appearance. A bonus has shelves that can be adjusted. If you do so, you will have more room for extended objects, such as utensils.
The top compartments may be impossible for certain people to access. Therefore, you must position the goods with the most excellent use lower on the shelf.
Freestanding Sink Cabinet
A pedestal sink is a freestanding basin and comes from a single, solid piece of construction. The structure and style of many pedestal sinks are simple enough and still manage to exude elegance. In addition, a wide selection of styles and options is accessible, all of which can work well with various interior design concepts.
In places with little floor space, such as more compact bathrooms, pedestal sinks genuinely shine. It is because the pedestal comes pre-drilled and tapped. The plumbing components are typically part of the pedestal.
The design of these types of kitchen sinks is kept uncomplicated and uncluttered due to this. The absence of a bottom cabinet results in a smaller vanity footprint, indicating that they call for a smaller amount of floor space. You can also find pedestal sinks with storage that offer the minimal amount of space for soap and necessities.

Freestanding Outdoor Cabinets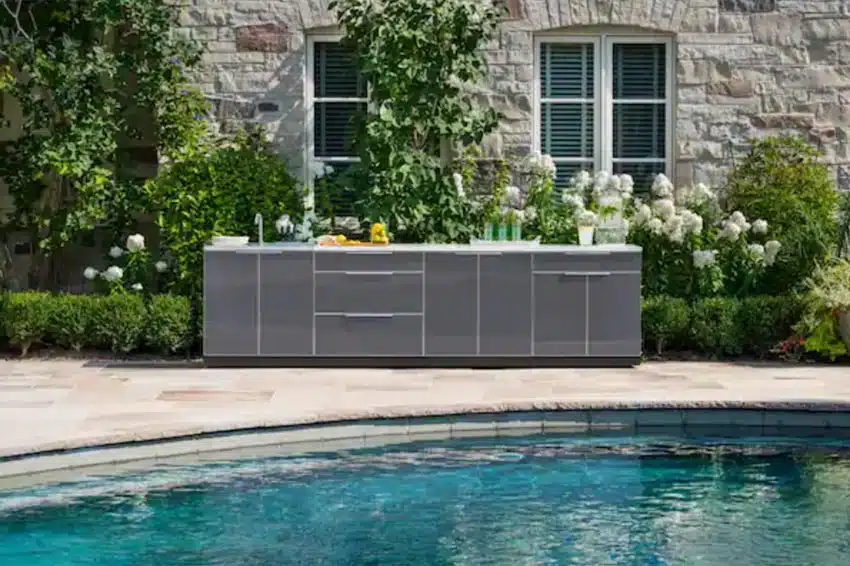 See this outdoor freestanding cabinet at Home Depot [sponsored link]
Stainless steel is an excellent material for freestanding outdoor kitchen cabinets since it not only does it resist the elements and insects. It also likely matches your grill and other outdoor appliances. Because it is the most resistant to corrosion and staining, the type or grade of metal commonly utilized in outdoor cabinets' construction is 304 stainless steel.
You can use regular freestanding cabinets, too. Your pots and pans will have a convenient place to rest, and your kitchen will seem more put together thanks to the addition of these shelves.
However, freestanding kitchen cabinets, especially those of the essential sort, have the potential to be useful enough for repurposing for usage in a range of other indoor and outdoor living locations.
Freestanding Type Cabinet with Elevated Legs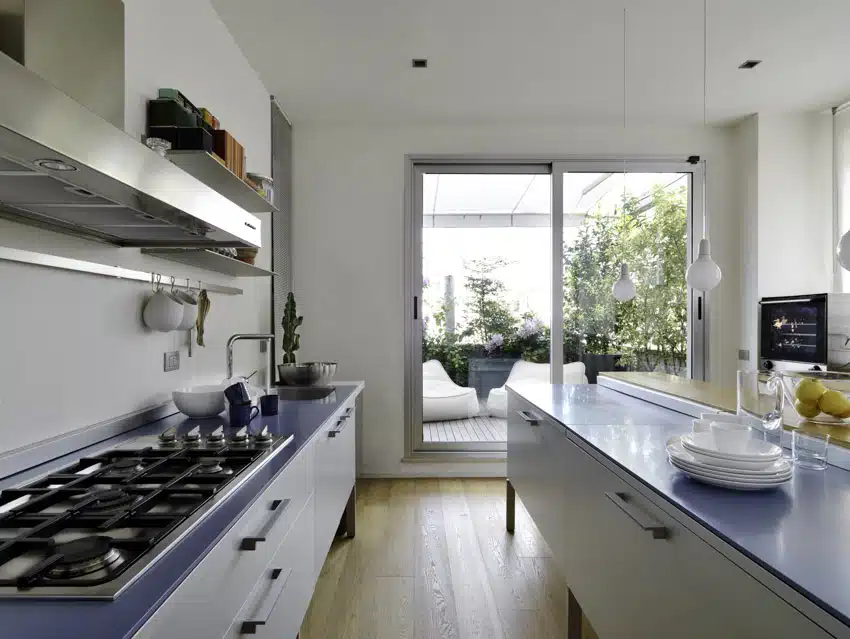 Regarding freestanding cabinets, the latest design trend is raising the legs. Why? To begin, given that the flooring below can be seen, they give the impression of a larger space within the kitchen itself. Consequently, the space will become more open and give the impression of being more significant.
However, this is different from where the benefits end, because it is easier to sweep, mop, and vacuum under elevated units, cleaning is a lot less of a problem when those units are in place.
There are many different types of legs from which you can select, including hairpin legs, traditional straight legs, and finely carved legs, among many others.
Where to Buy Freestanding Cupboards for the Kitchen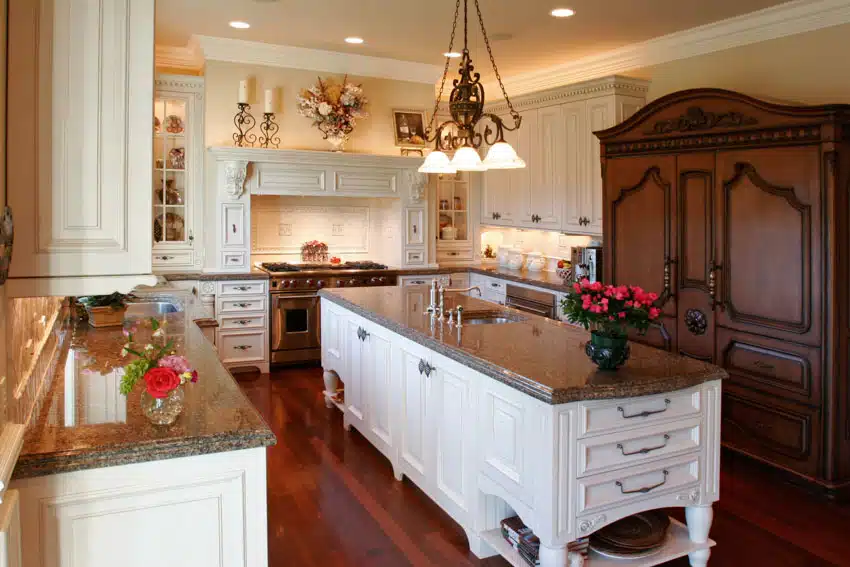 Choosing new freestanding kitchen cabinets is a significant component of the planning process for a complete kitchen renovation. The desire to save money is enormous regarding freestanding kitchen cabinets.
They take up an even more significant portion of the overall budget. However, it is essential to keep in mind that the cabinets will be among the elements of the kitchen that you will use the most frequently. Because of this, it is essential to select cabinets that are not only aesthetically pleasing but also long-lasting and hard-working.
Manufacturers of kitchen cabinets come with divisions into the following categories by the ordering and production processes of their products:
• Preassembled cabinets come in boxes with drawers, doors, and hardware installed. These cabinets come in many stock sizes and configurations. Still, acquiring specialized cabinets created to accommodate specific locations takes time and effort.
• Ready-to-assemble cabinets are like preassembled cabinets but transported in flat crates. On-site assembly is required. While this sounds time-consuming, RTA cabinets are cheaper and have lower shipping expenses.
• Semi-custom cabinets are preassembled yet come in numerous styles. Many wood types, stain colors, and door styles are available. These cost more but offer more possibilities than preassembled cabinets.
• Custom cabinet makers build each cabinet to your specifications. Local craftspeople typically manufacture custom cabinets, but some national companies transport them.
Kraftmaid: Because of its partnership with Home Depot, Lowe's, and various other home centers, Kraftmaid has become one of the most reliable and well-reputed brands in the kitchen cabinets industry.
You may also find local kitchen design companies that carry the semi-custom kitchen cabinets manufactured by Kraftmaid. In the beginning, Kraftmaid offered only a few different kinds of cabinets. Still, over time, the company expanded its product lines to cater to customers with various preferences. It is a well-reputed brand name in the industry of semi-custom cabinets.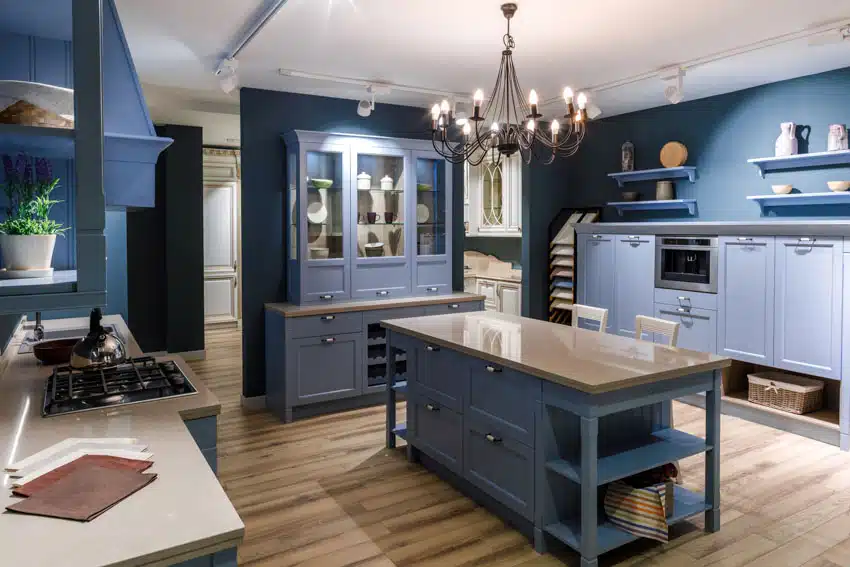 Merillat: Merillat is another major kitchen cabinet maker similar to Kraftmaid. Merillat, a firm with its headquarters in Michigan, is known for making little shifts in its product lines. Instead, the company prefers to adhere to tried-and-true designs with a wide range of potential customers.
You can purchase Merillat cabinets through retail channels, home centers, and local kitchen design businesses. Because fewer product options are available, these cabinets are for sale at a price comparable to but slightly lower than that of Kraftmaid.
Snaidero USA: The kitchen cabinet manufacturer Snaidero USA is well known for its high-end, European-styled cabinetry, a popular favorite by Italian design sensibilities. The company's namesake after its founder and current CEO, Dario Snaidero.
You may find products from the Elegante Bespoke Collection by Snaidero USA in premium households and commercial establishments looking for high-end kitchen cabinets.
IKEA: IKEA is one of the few physical stores that sell ready-to-assemble (RTA) kitchen cabinets in stock, in the warehouse or on the shelf, and ready for quick pick-up. This unique feature gives IKEA the unique distinction of being a rare store.
Suppose there is an IKEA store in the metropolitan area where you reside. In that case, the assembly of your flat-pack cabinets can begin within a few hours, as opposed to the days or weeks it would take to deliver the cabinets by freight. The fashions sold at IKEA seldom ever evolve.
However, you can always find affordable kitchen cabinets bundled with various other products, including worktops, sinks, faucets, fixtures, and even appliances. It is something that you can always bank on.
What Is a Freestanding Kitchen Cabinet Called?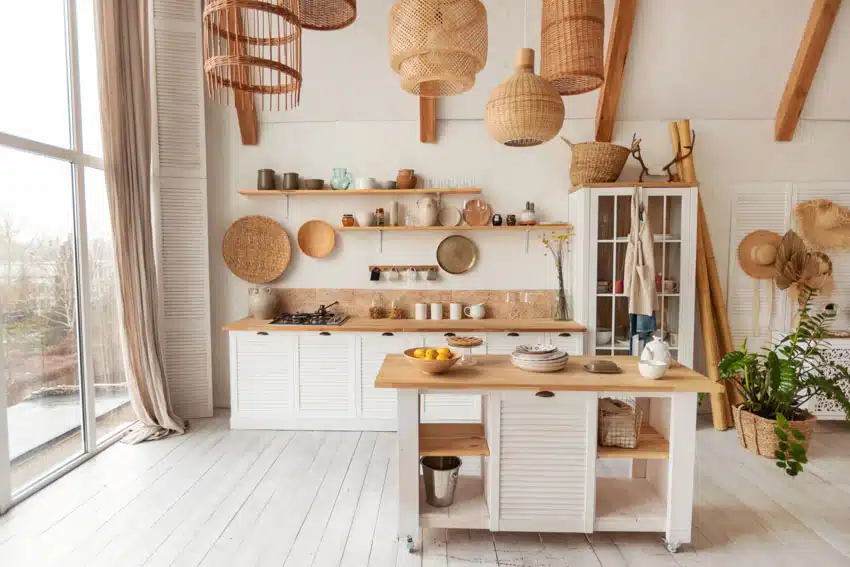 A Hoosier cabinet. In the early decades at the onset of the 20th century in the United States, when most homes did not have built-in kitchen cabinetry, this style of cabinets was trendy. In addition to its function as a freestanding kitchen cabinet, the Hoosier cabinet can also be a workstation.
Can Base Cabinets Be Freestanding?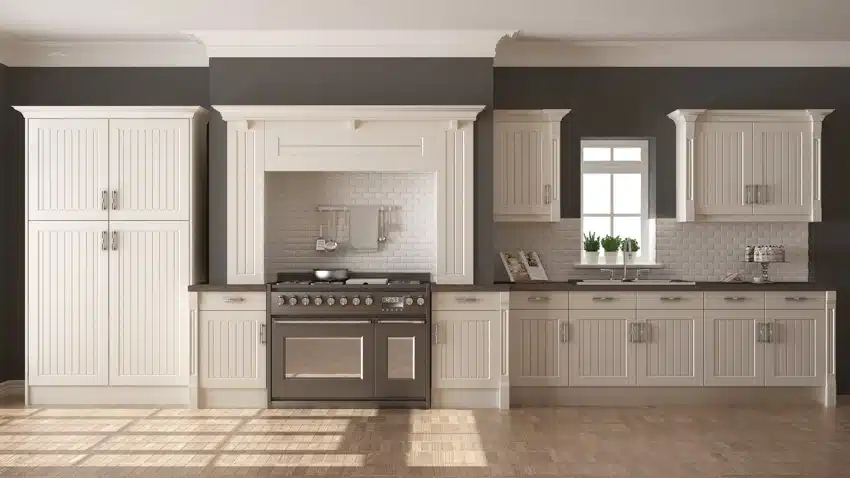 Yes, they can be. The traditional freestanding wall and base cabinets are still widely used, particularly in kitchen layouts with limited space.
On the other hand, many cabinetmakers now provide their customers the option of purchasing finished freestanding cabinets, making them equally as beneficial as many stock cabinets.
Are Freestanding Kitchens Cheaper?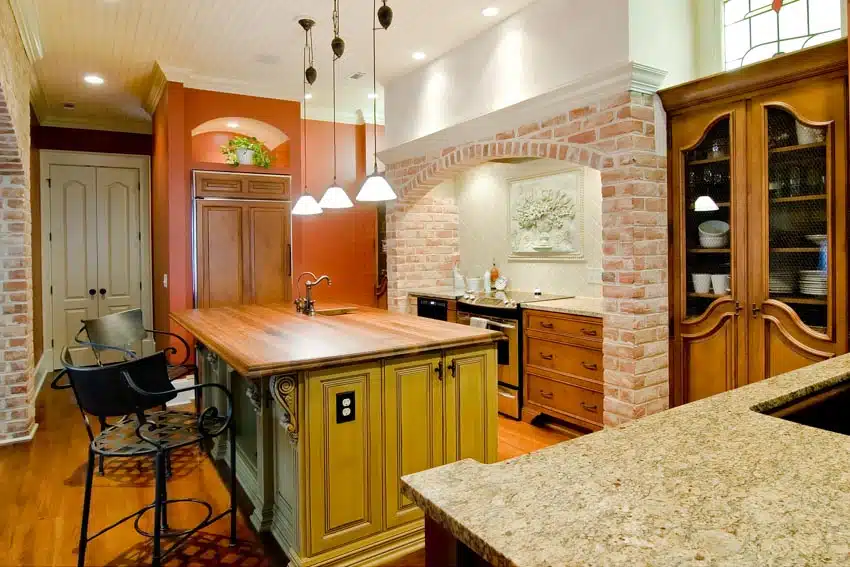 They are much cheaper. A freestanding kitchen is less expensive than a standard fitted kitchen. It makes it much simpler to modernize an already existing kitchen. If you are searching for kitchen design ideas that have character and individuality, adding freestanding pieces will transform the room from applying to looking fabulous.
A freestanding kitchen provides you much more versatility than a standard fitted kitchen. It can enable you to add on as you go, reorganize the units, and ensure that the space is continually functioning for your needs.
Traditional design aesthetics, antique furniture, and unique treasures from flea markets come to mind first when thinking about freestanding kitchens. Curating these kitchens can be highly cost-effective.
Nevertheless, it can be time-consuming due to the DIY projects typically required to get them in shape. You may turn to several businesses if you need more time or the patience to search through auction houses, fairs, and second-hand shops. Some of these businesses may surprise you by offering modern freestanding kitchen units.
How Do You Anchor a Freestanding Style Cabinet?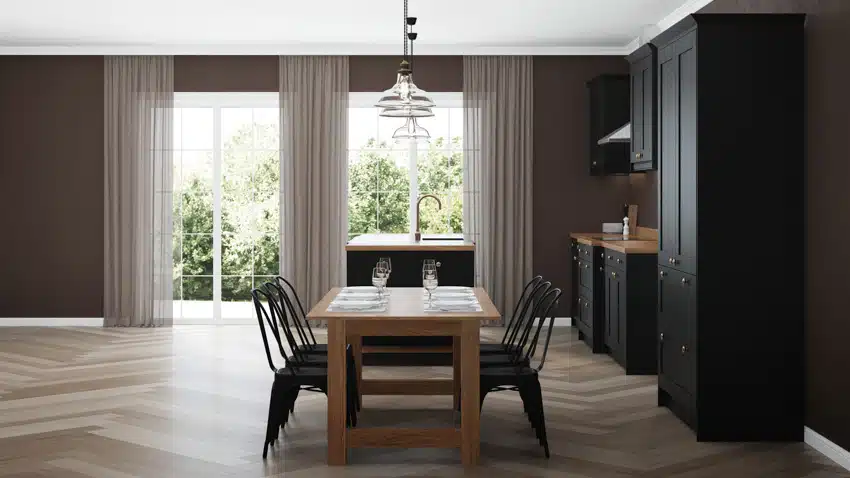 When securely attaching a freestanding cabinet to the wall or any surface area in the kitchen, toggle bolts are the best option to go with after all has been said and done. If the drywall is of adequate strength, a cabinet can be held in place by toggle bolts set correctly on the wall and above the floor.
Toggle bolts and the appropriate hardware allow you to attach a freestanding cabinet quickly and easily to a wall in minutes. Toggle bolts have two components: the machine bolt and the toggle, which resemble a bird's or plane's wings.
The machine bolt is the more traditional component. Because the toggle bolt's "wings" are spring-loaded, it is significantly simpler to insert it into the wall because you can compress the wings against the sides of the bolt.
Be careful when you thread the bolt through the toggle. Make sure it is far enough to keep the toggle wings split apart. But keep the length of the bolt short enough that it can pass through the cabinet's interior and the wall.
Start with your top measurements. First, move the tape measure inward three inches from the right wall of the cabinet, and then move the tape measure downward three inches from the top of the cabinet. When these two measurements intersect, make a mark with the carpenter's pencil. Redoing this process on the other side of the cabinet is necessary.
Then move on to your bottom measurements. Repeat this process on the cabinet's interior, beginning at the bottom of the freestanding cabinet and then working your way up to the top.
Note these dimensions on the wall that the cabinet will be sitting behind. Make notations on the wall indicating the measurement positions with the pencil.
Make holes with the drill fitted with the bit at each mark on the wall. Make sure, of course, that the bit is according to size. Use a drill bit 3/8 inches in diameter for a toggle bolt 1/8 inch in size. Use a drill bit measuring 1/2 inch for bolts measuring 3/16 inch in size.
Remove any debris from the drilled holes in the drywall. The hole can be made larger by inserting the screwdriver into the hole and turning it slightly. It helps remove any debris that has become lodged in the drywall.
Drill holes in the cabinet as necessary. When working with cabinets that have thin walls, it may be necessary to utilize a piece of sacrificial wood that you keep in place behind the cabinet.
At the same time, you drill through the cabinet and into the block of wood. It protects the cabinet's wood from cracking when you drill holes. Line up the drill holes on the wall with the ones on the cabinet. You can do this by pressing them against the wall and aligning the holes.
Install a washer onto each of the four machine bolts, then move the washers until they are flush with the bolt heads. Put the wing half of the toggle bolt between your thumb and forefinger and slightly squeeze it together until you can see the hole in the head that you will use to thread the machine bolt through.
On the other hand, thread the machine bolt into the toggle until it is about halfway through. When you compress the wings of the toggle, they should be oriented such that they are perpendicular to the screw.
Please ensure that the machine bolt has been threaded far enough through the toggle. It ensures you can prevent it from turning sideways against either of its wings. But ensure that it still has sufficient length to allow the toggle wings and most bolts to pass through the wall and the cabinet.
The toggle and the machine bolt will need to pass through the hole in the cabinet and the wall before it can spring open on the interior of the drywall. Pull the toggle wings flat against the cabinet wall as the machine bolt stays in position on the inside.
Put some pressure on the toggle's winglets, and then feed it together with the bolt through the opening in the cabinet. To ensure that the toggle goes through the cabinet and the drywall, use the hammer to give the head of the bolt a little tap until you fully insert it.
To keep the toggle pressed up against the interior of the drywall, pull the bolt's head in your direction of you. Employing the screwdriver, snug the machine bolt up against the inside of the cabinet until the washer and the bolt's head flush with the cabinet's surface. Repeat this process for each toggle bolt to secure the cabinet to the wall.
See more related content in our article about double stacked kitchen cabinets on this page.