Here are the types of cabinet hardware, including different designs for door handles, knobs, pulls, hinges, drawer slides, and kitchen cabinet latches.

Cabinets and other pieces of furniture you get for your home contribute to the aesthetic, style, and feel of your space. And yes, even the different components and hardware attached to them can play a major role in either supporting or degrading the running style.
While small, cabinet hardware should never be overlooked. Choosing the right cabinet hardware can even be a big makeover for the said piece of furniture. From a bold change to something subtle, you can accomplish both with the right cabinet hardware.
You can use different types of cabinet hardware, from decorative ones such as cabinet door handles to more functional ones like hinges and latches. Cabinet door handles add to the general look and vibe of the piece of furniture. Latches and hinges, on the other hand, need to be resilient and functional to allow the cabinets to be operational for a long time.
Cabinet Door Handles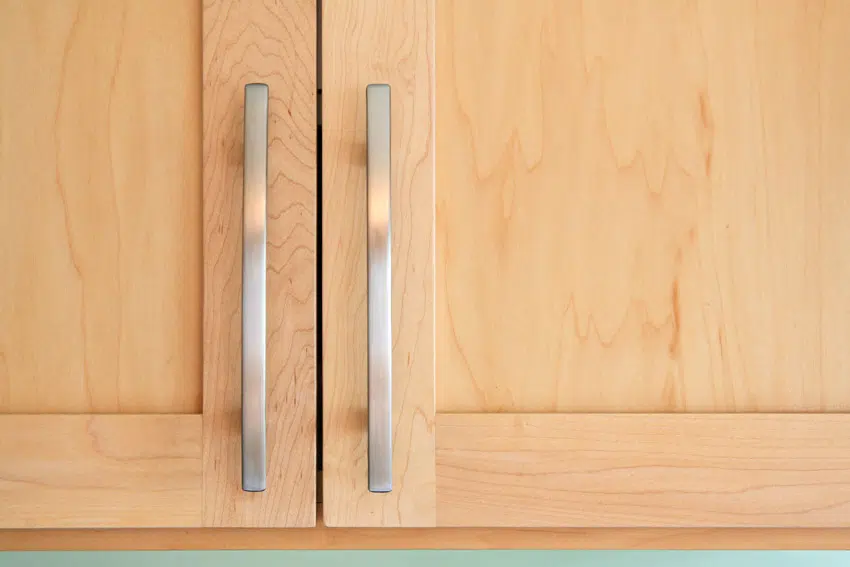 Cabinet door handles are types of hardware you'll typically find on furniture, specifically on the door, to help open and close the cabinet.
The most popular types of cabinet door handles are knobs and pulls and you can simply choose the one convenient for you to use and more compatible with your cabinet's general feel and vibe.
Knobs and pulls can be used to add value and aesthetics to your home's kitchen cabinets and the room in general. They are available in a wide variety of shapes and finishes to match your kitchen cabinet style.
While knobs, pulls and handles are usually used separately, the great thing about them is that you can mix them together if you want to to create a unique style. In fact, doing so can add a stunning visual component to cabinets.
| Type of Handle | Subtype | Description |
| --- | --- | --- |
| Pulls | Bar pulls | Straight, elongated handles, typically mounted horizontally on doors and drawers. |
| | Cup pulls | Half-circle or shell-shaped handles, usually mounted on drawers for a vintage look. |
| | Recessed pulls | Set into the surface of the cabinet, creating a clean, minimalist look. |
| | Edge pulls | Discreet, slim pulls mounted on the top or bottom edge of doors and drawers. |
| Knobs | Round knobs | Simple, spherical handles used on both doors and drawers. |
| | Square knobs | Square or rectangular design, adding a modern touch to cabinetry. |
| | T-knobs | T-shaped handles, providing a unique and stylish alternative to traditional round or square knobs. |
| Bail pulls | | Swinging handles attached to a backplate, offering an antique or classic look. |
| Hanging pulls | | Decorative handles that hang from a single mounting point, similar to a pendant on a necklace. |
| Novelty pulls | | These decorative pulls come in a variety of styles such as vintage, different shapes or materials to give a unique look. |
| Integrated handles | | Built into the design of the cabinet door or drawer, creating a seamless and streamlined appearance. |
Knobs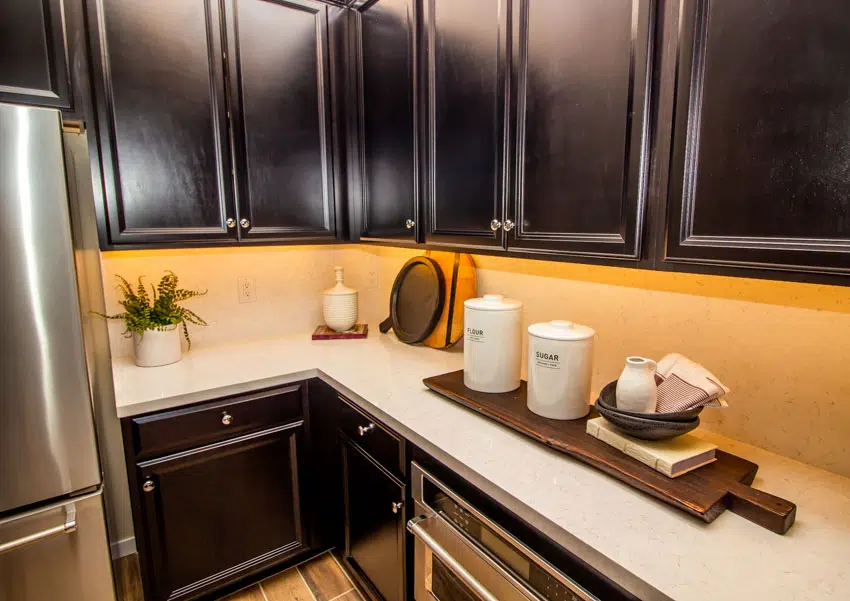 Cabinet door knobs are small handles attached to the door using a single screw and through one particular point on the surface. This hardware is used and held to open or close the cabinet door. If you're going for something more traditional and rustic, knobs are the ideal choice.
These door knobs for cabinets are available in various sizes, shapes, colors, and materials. Many would stick to a golf-size knob or something easily covered by a hand. Knobs are used to add aesthetic value to the cabinet, and the different shapes and colors make this possible.
What style and shape to choose is entirely up to you. To help with your search, though, here are some options to explore if you plan to install knobs on your cabinets.
Round Knobs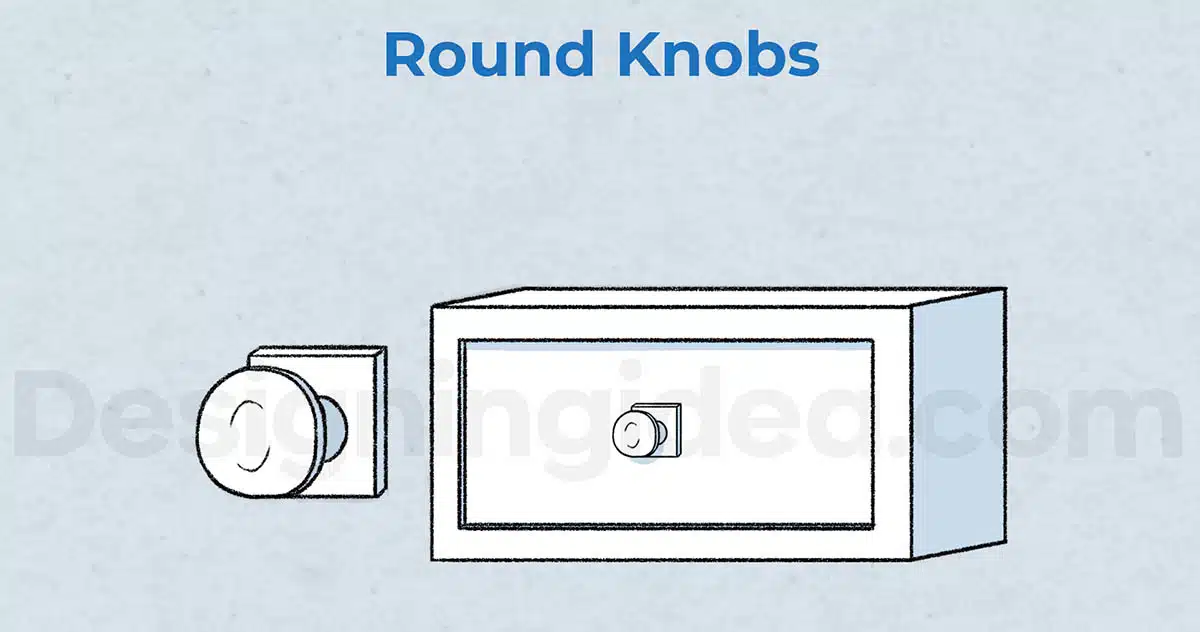 Considered the most popular type of knob, round knobs feature a classic style that can be added to drawers and cabinet doors.
And when it comes to style, they can vary from plain round knobs to highly decorative and ornate ones. While overall round in shape, it can come in different shapes, colors, materials, and textures.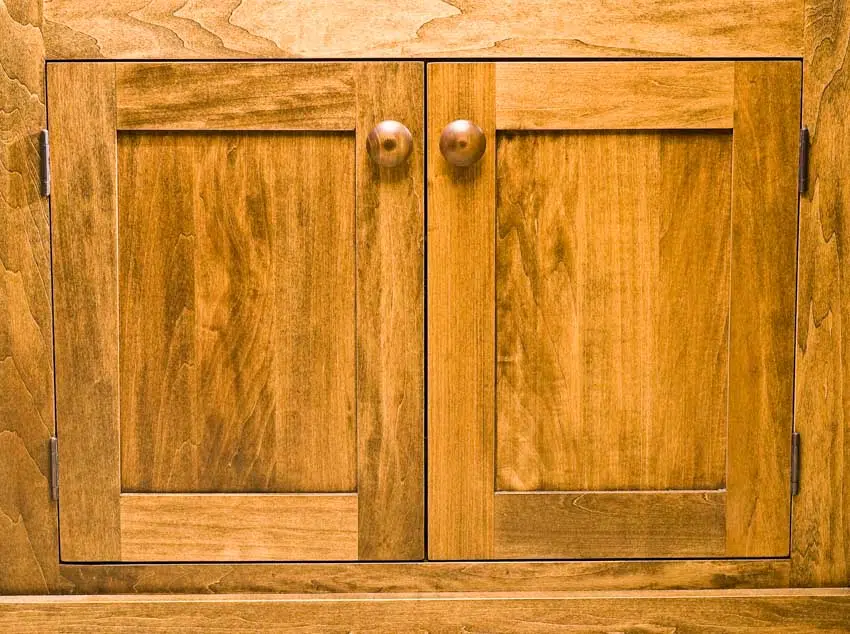 With its circular structure, you can easily hold the knob to open the drawer or cabinet. If the knob is too small, it may be difficult to grasp. The regular size in itself can already be difficult to hold on to for some people.
Square Knobs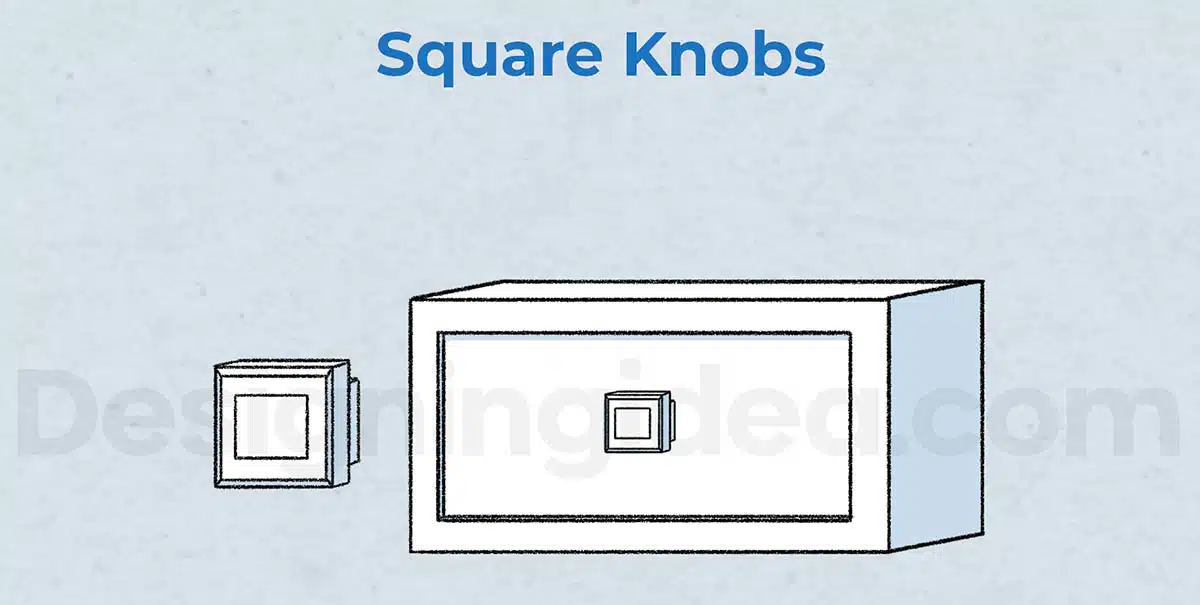 Going towards a more quirky shape for a knob, square knobs may be less traditional but it offers just the right amount of side for you to have a better grip on it.
It can go the other way around though in the sense that the edges may be too sharp for some people. To avoid discomfort, choose square knobs with just the right amount of curves along the edge.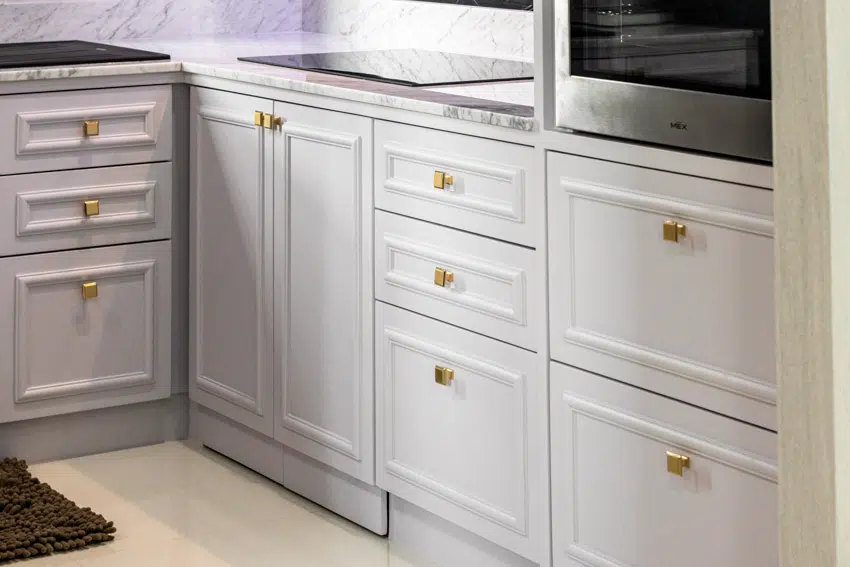 These square knobs offer a contemporary touch to the cabinet you're going to install them in. The geometric shape and sides provide a sleek and professional look that can match modern and minimalist styles.
Bar Knobs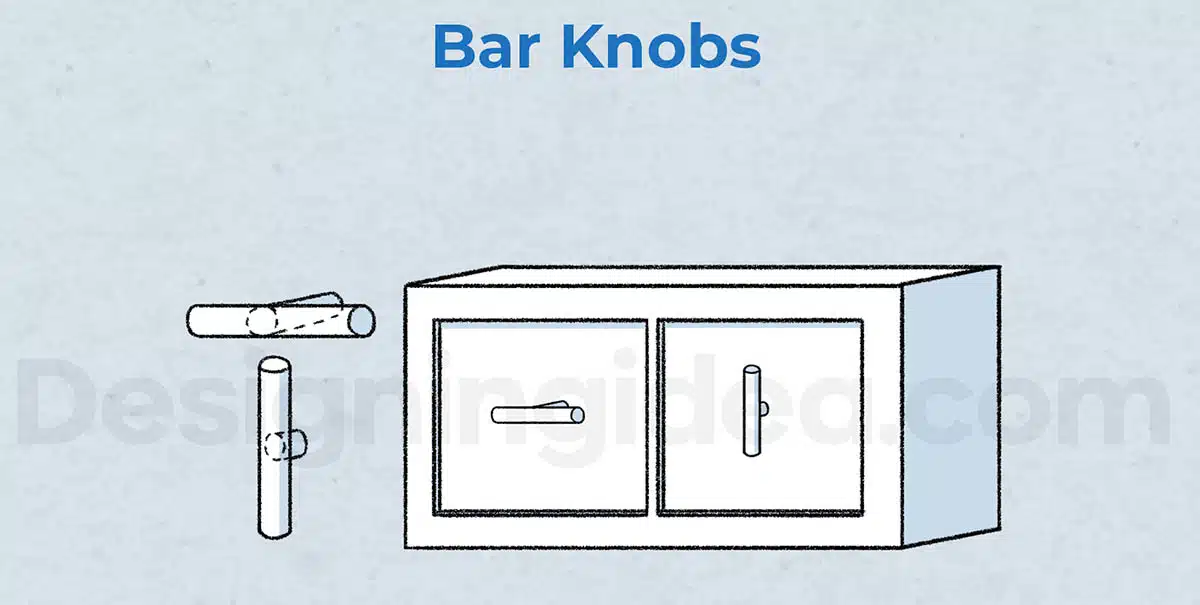 Also known as T-knobs or pull knobs, bar knobs are the ideal option for those people who struggle with their grips.
These bar knobs fall in between knobs and pulls since they technically look like short bars that you can grip by only using 2 fingers.
In terms of style and aesthetics, bar knobs have this contemporary and sleek look that fits well in modern-styled rooms. The most popular choice of finish for bar knobs are stainless steel.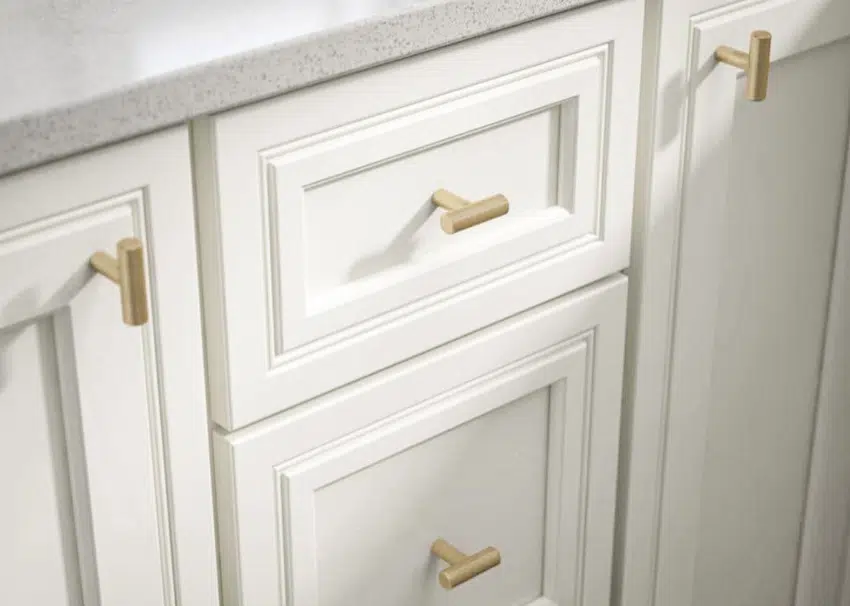 See this cabinet door bar knob at Home Depot [sponsored link]
Rectangle Knobs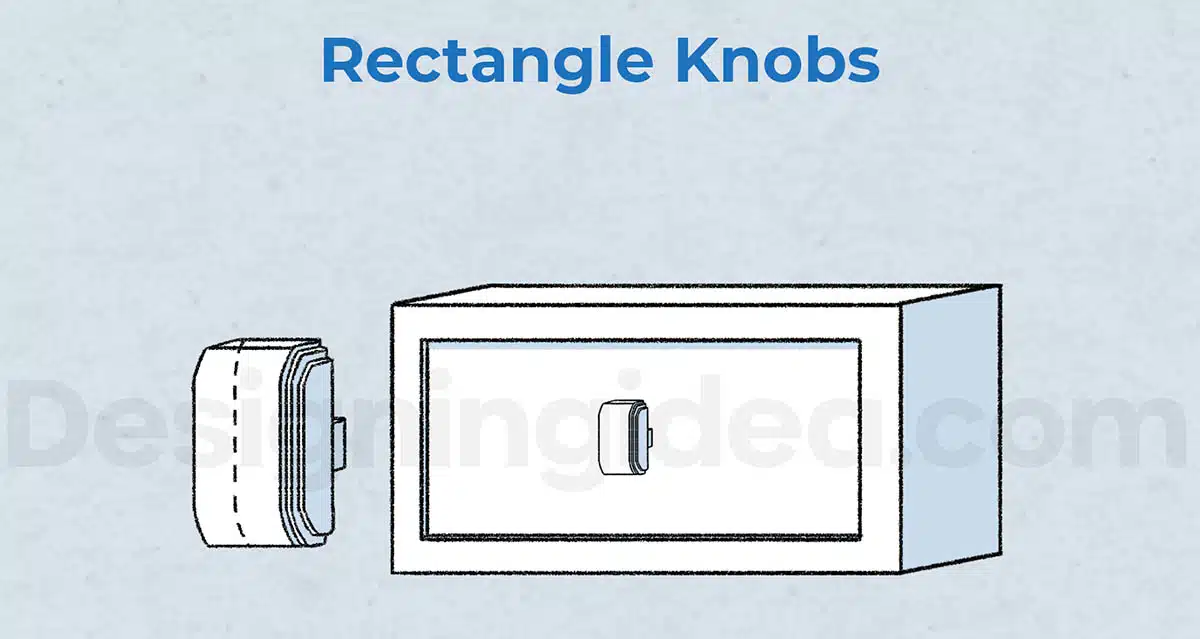 Rectangle knobs, just as they are named, have a rectangular shade that somehow looks like a mix between a knob and a pull.
It is regarded as a knob though since it only has one mounting point, which is the identifying feature that differentiates knobs from pulls. The good thing about rectangle knobs is that they're a lot easier to grab than square or round knobs.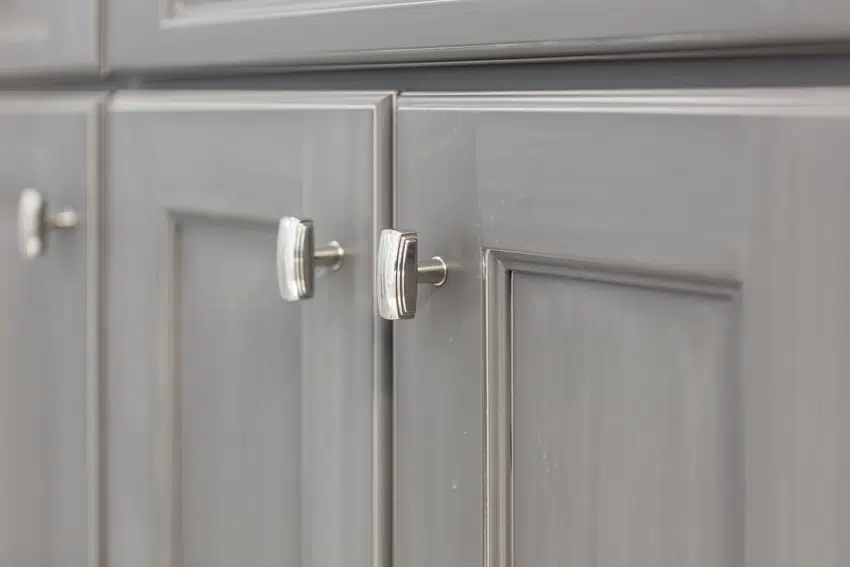 Rectangle knobs can be installed vertically or horizontally, depending on your preference. Make sure you take extra care with their alignment though since they only have one mounting point. Take into account the sharp corners.
Oval Knobs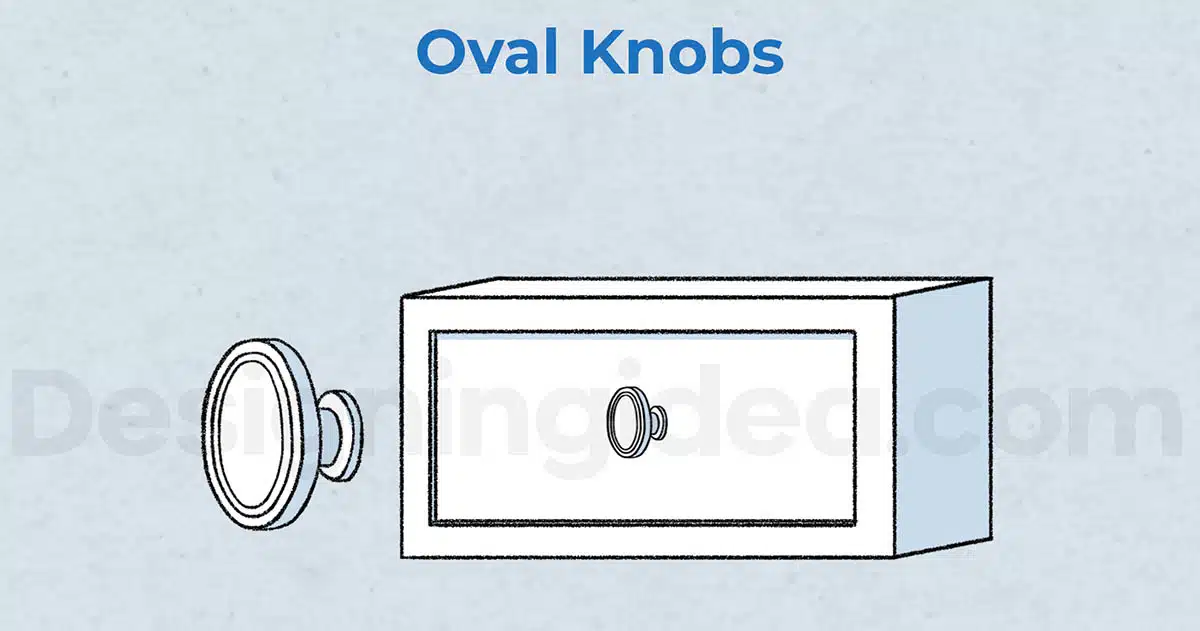 Oval knobs, also known as football knobs, can be used both for traditional and contemporary styles. If bar knobs are the in-between of round and square knobs, oval knobs fall between round and rectangle knobs.
They are also incredibly easy to grab on to compared to other types of knobs because of their oblong shape and smooth texture.
They both have simple and ornate designs so you have a wide selection to choose from if you're considering the aesthetics of your cabinets.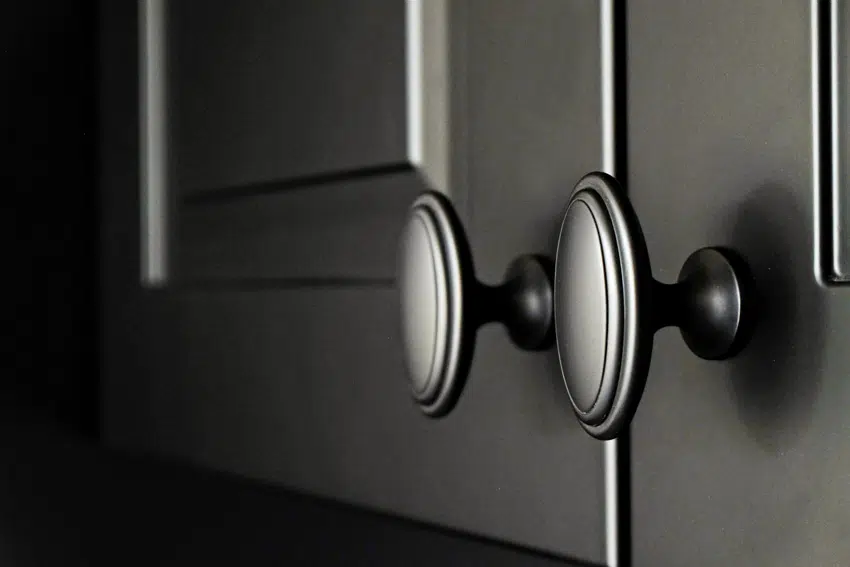 When it comes to their installation, make sure to line them up properly since you are given more mounting options to consider.
Novelty Knobs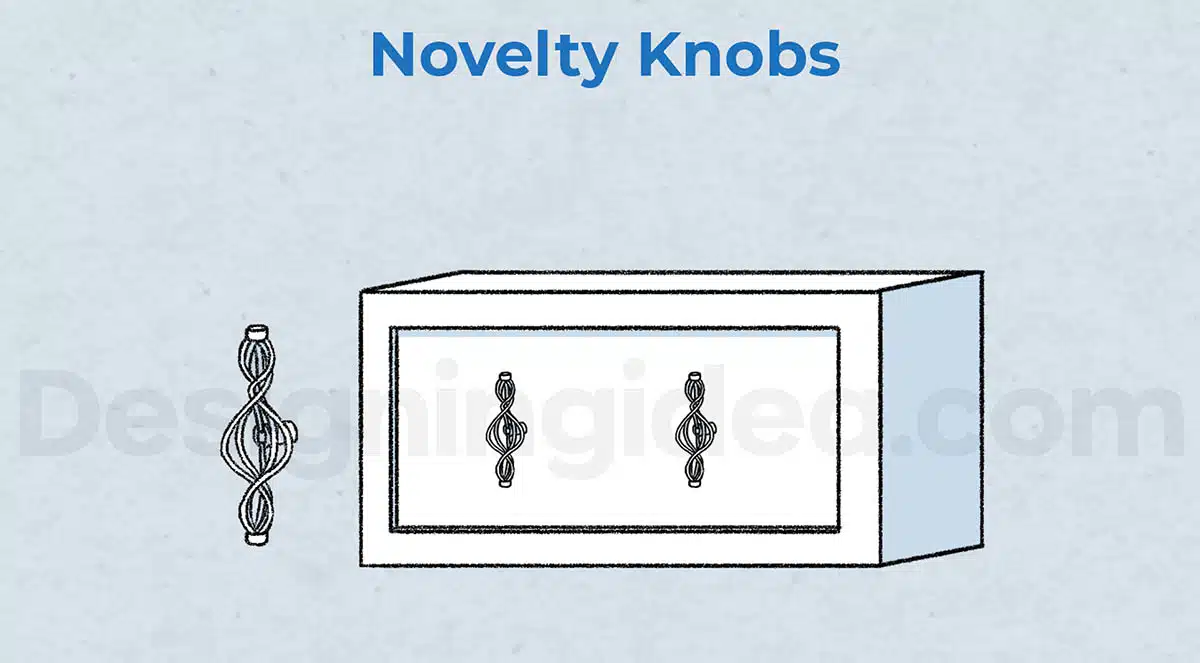 If you're looking for something unique and quirky for your cabinets, novelty knobs are the best option for you.
From stunning and romantic floral themes to butch sporty themes, you have a wide variety of designs you can find available in the market.
Novelty knobs can vary from one design and theme to another. This is the perfect choice for a themed bathroom or kitchen.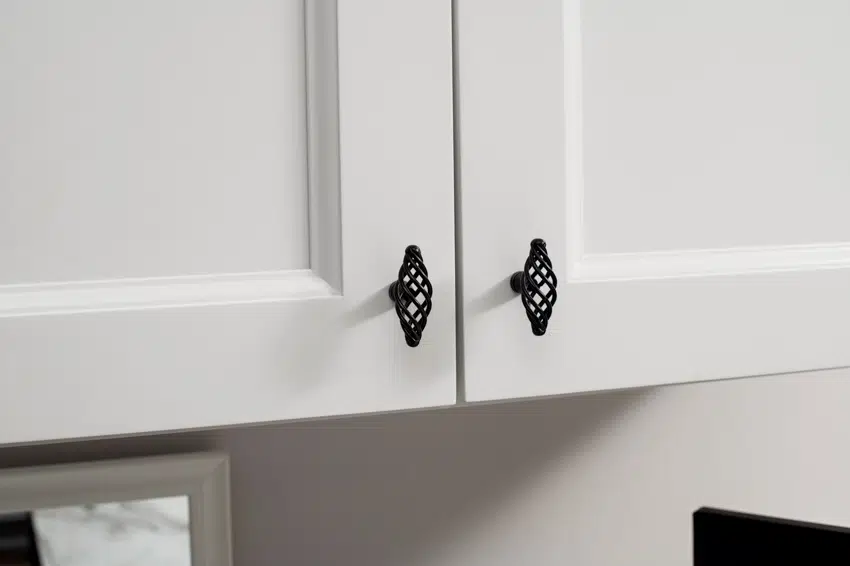 However, as you choose the design you want to incorporate, make sure you consider the functional and convenient use of the knobs so that you won't regret your choice later.
Pulls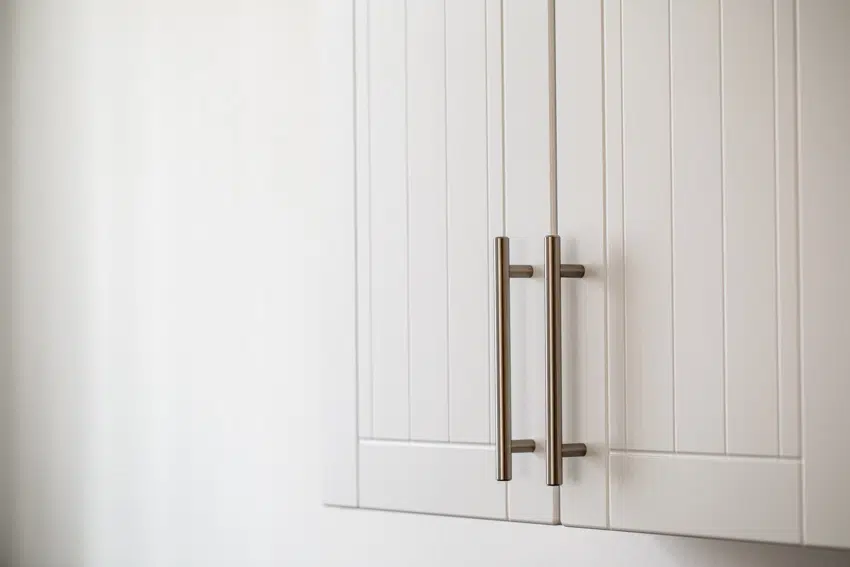 If knobs just don't work for you, another option to serve as your cabinet handle is a door pull. Cabinet door pulls are more commonly used for heavier cabinets and drawers. Most of them provide more space for better grip so if the drawer or cabinet door is a bit heavy, you won't have any problem pulling on it.
The major factor that differentiates pulls from knobs is the fact that it has two mounting points. Pulls also have better attachment and hold on to the furniture's door, making them easier and more stable to tug on.
Cabinet door pulls are available in different sizes and shapes, and despite having two mounting points, designs can lead to wide variations. There are pulls that can be used with 1 finger and there are those that would accommodate your entire hand for a more forceful tugging.
Bail Pulls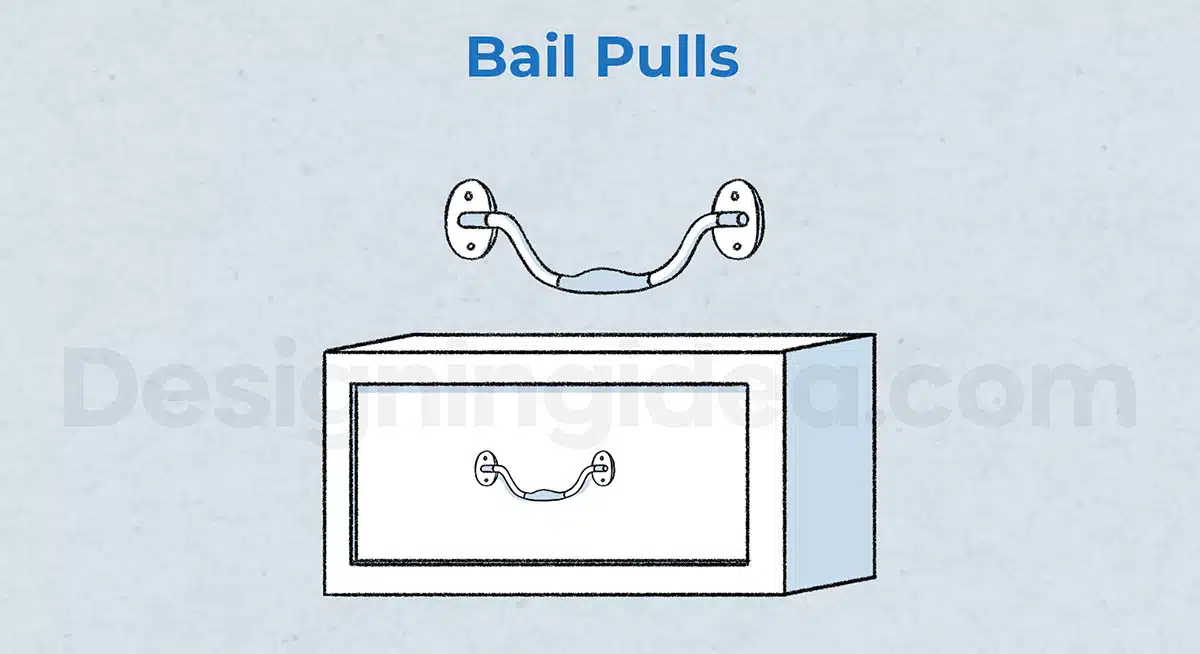 A Victorian-styled classic hardware, a bail pull is known for its curved cabinet handle and often sports a rustic and vintage vibe.
It also features an ergonomic version where it is large enough to accommodate four fingers. The downside with bail pulls though is that the surface is difficult to clean and the hinges tend to break.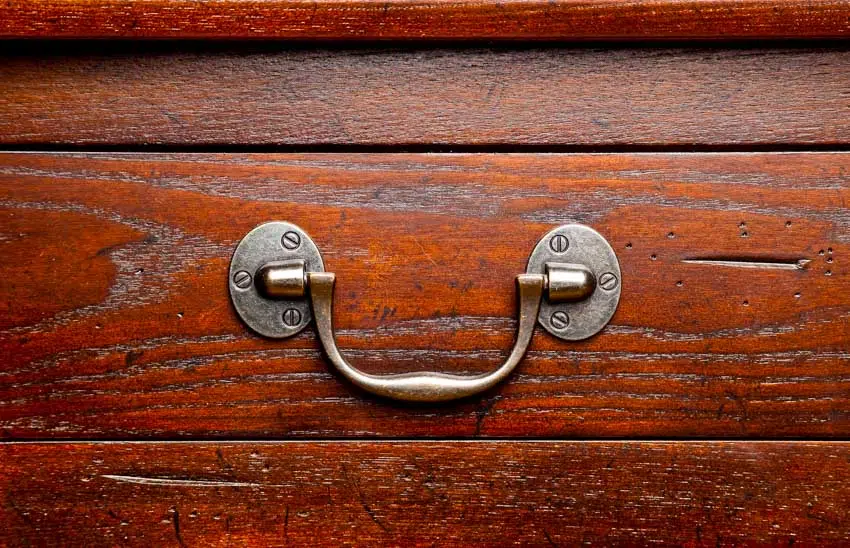 Picture of a bail pull on a vintage dresser.
Hanging Pulls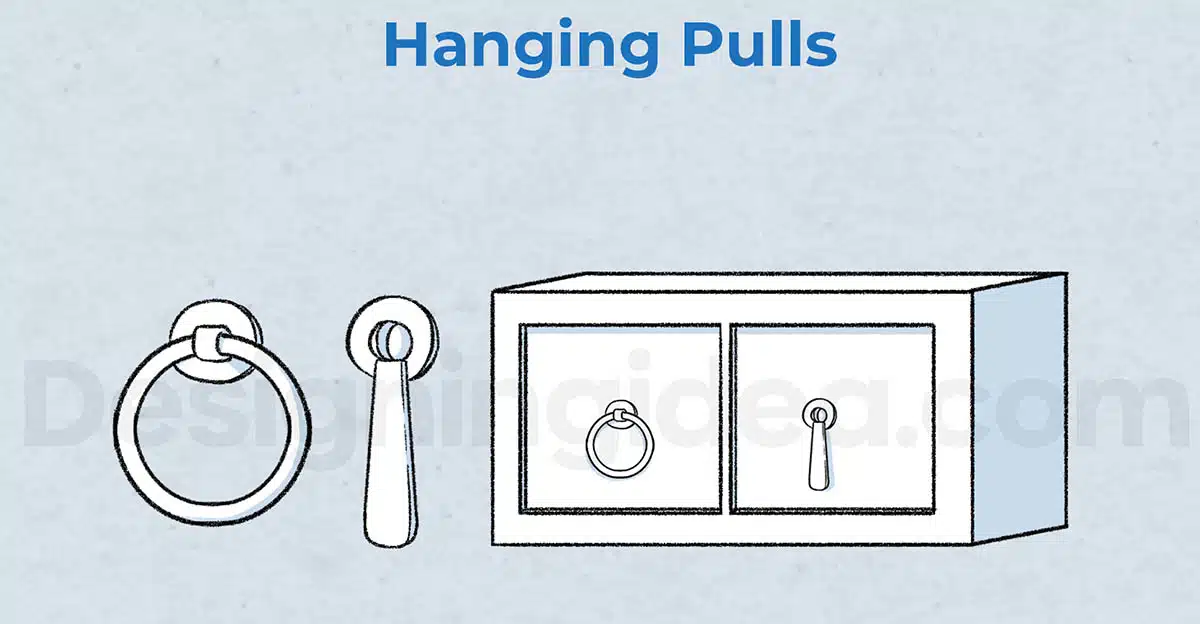 Also known as drop pulls, hanging pulls are cabinet handles that drop down and need to be lifted in order to open the cabinet door. The surprising thing about these pulls is that they can come with one mounting point instead of two.
While available in classic and modern styles, the former type tends to be more decorative and ornate.
Some of the drawbacks that you need to expect with hanging pulls are the following:
• Tends to break easily compared to other types of pulls
• A bit tricky to clean
• May interfere with other cabinets if it hangs too low
Two types of hanging pulls you can consider are ring pulls and pendant pulls. There former is easier to handle while the latter is a bit harder to grip.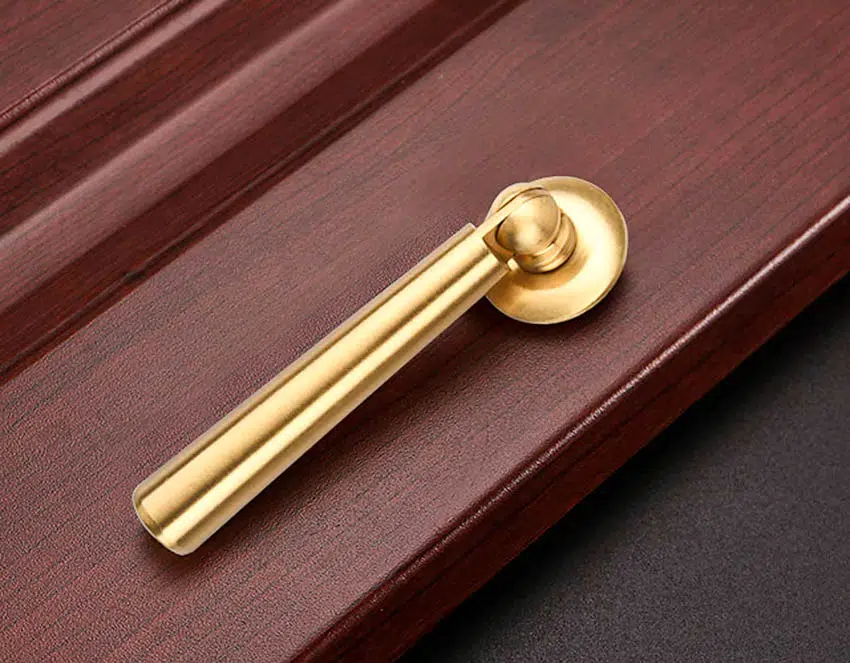 See this cabinet hanging pull at Amazon [sponsored link]
Cup Pulls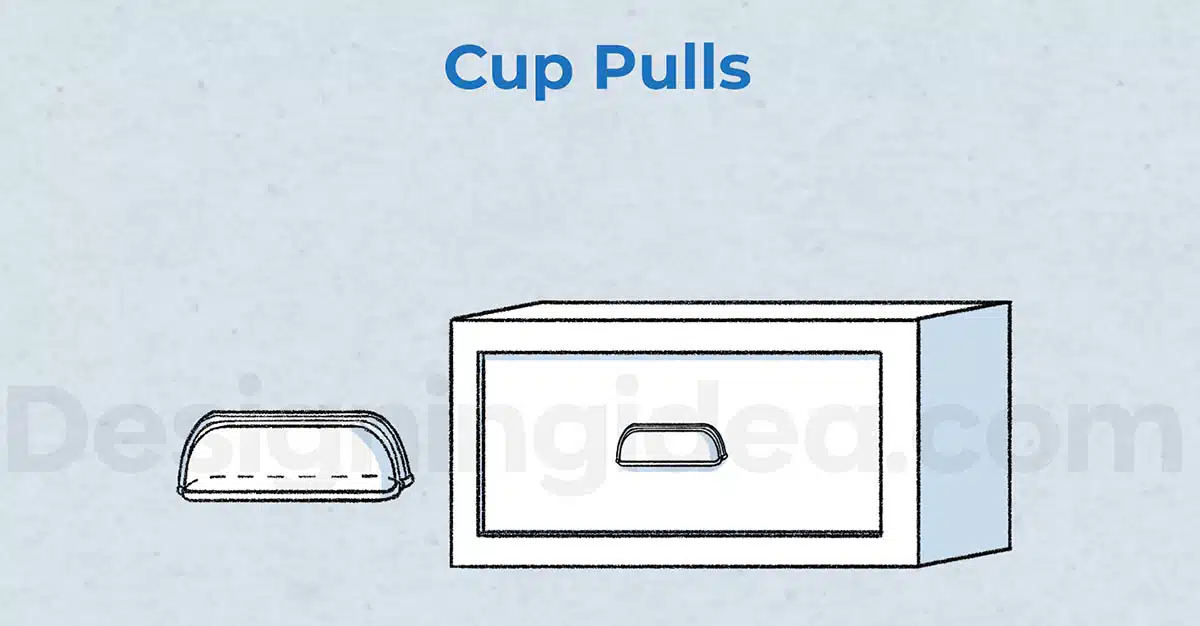 Cup pulls, known as bin pulls or half-moon pulls, sport a semi-circular shape that can be used by grasping the underside of the cup to open the furniture.
They are specially made for drawers and their mounting screws can either be hidden or visible, depending on your preference.
When it comes to designs, cup pulls are ergonomic considering the edges are smooth and grabbing on them is easier. They can be a bit challenging on the wrist though especially if they are attached to heavy and low drawers.
One thing you can do is to at least make sure that the cup pull you choose is wide enough to accommodate four of your fingers for more convenient usage.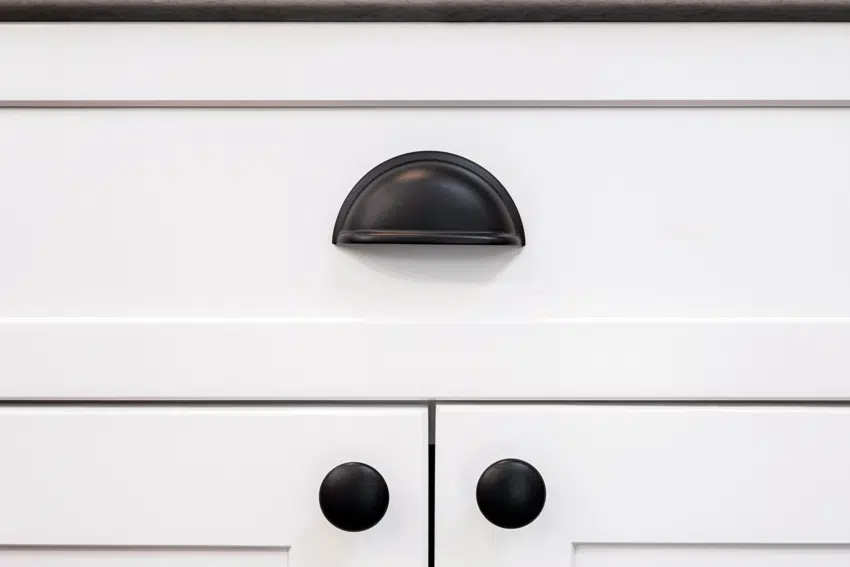 It may be a bit difficult to clean too since you need to clean its hidden underside without removing it from the furniture. Cup pulls come in a variety of designs but they are most commonly used in contemporary and modern farmhouse design-centric rooms.
Finger Pulls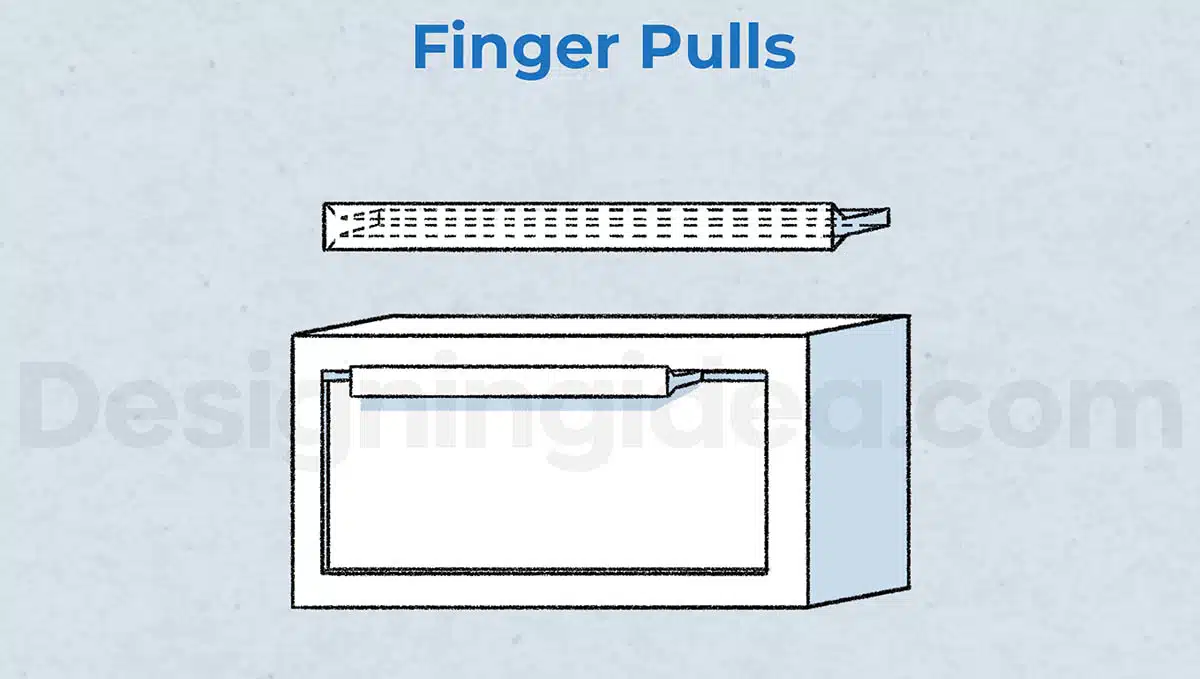 Also called edge pulls, finger pulls showcase both contemporary and minimalistic styles. They are usually installed at the edge of the furniture, which is how it got its name in the first place.
And while they have a similar design to cup pulls, they are flat in appearance and have a narrow lip on the edge that makes them easier to hold on to.
Same with cup pulls, finger pulls are ergonomic in design but can be challenging for your wrists. The difference though is that they are much easier to clean.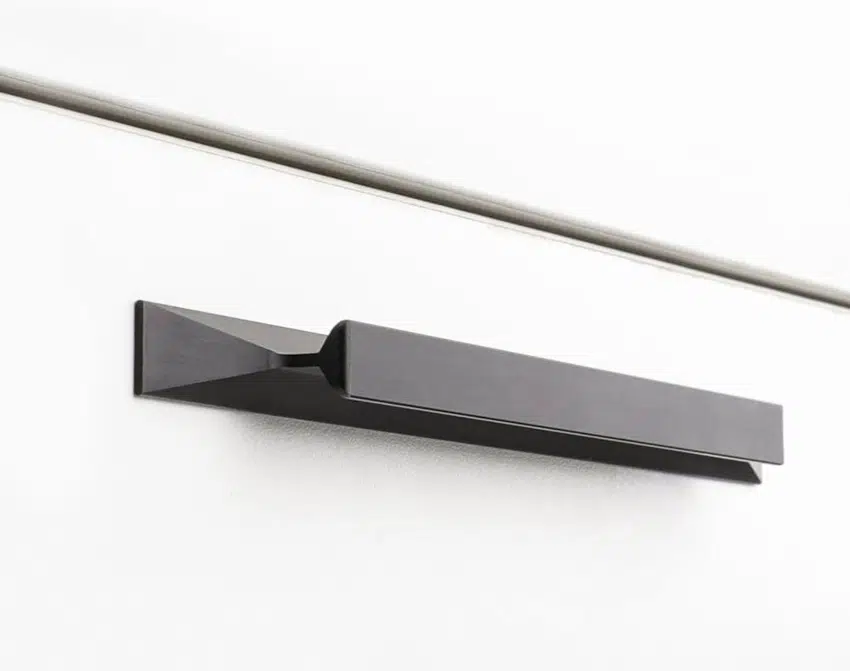 See this cabinet finger pull at Amazon [sponsored link]
Recessed Edge Pulls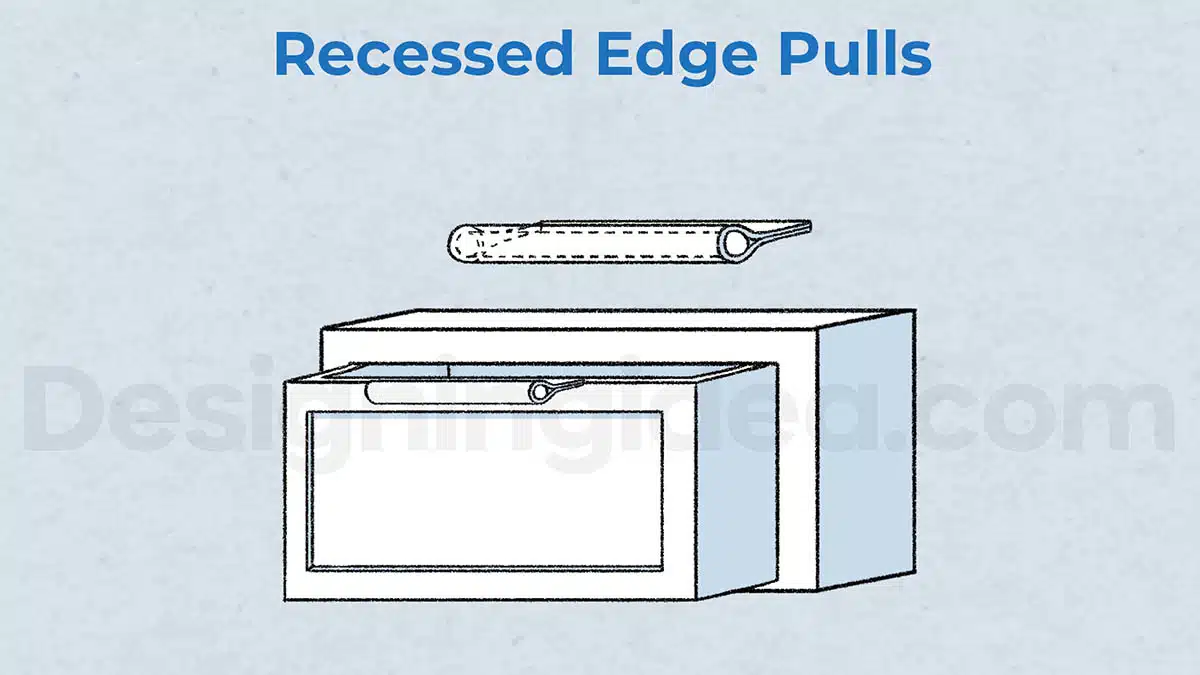 Kitchen recessed edge pulls are cabinet drawer and door handles that are concealed and installed directly into the frame of the drawer or door.
They are sometimes called hidden edge pulls and provide a modern, minimal look that showcase the cabinet rather than the hardware without disrupting functionality
These type of pulls come in various sizes, shapes, and finishes, ranging from stainless steel to solid brass. A recessed edge pull works well with custom cabinetry and furniture pieces with unique designs.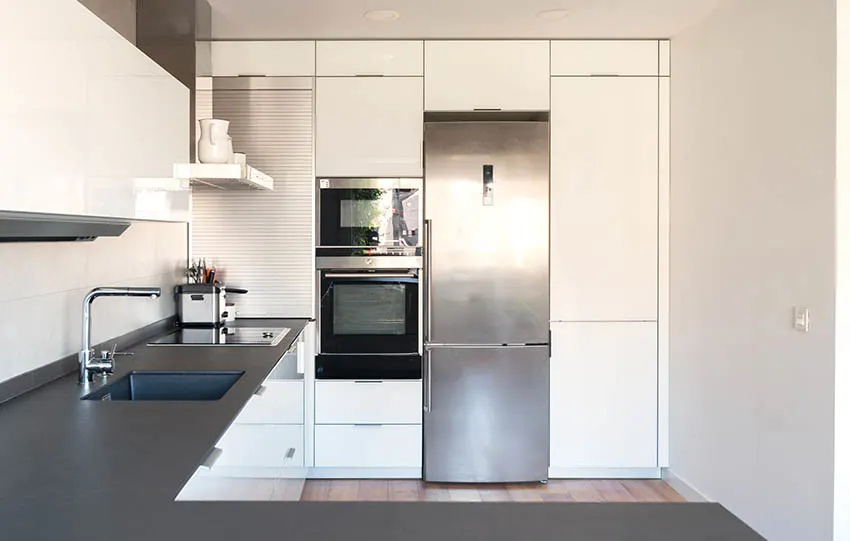 In addition to their aesthetic appeal, these pulls are incredibly durable and easy to use. they are generally attached at the bottom or top on cabinet doors and drawers to maximize their concealment to blend in with the openings.
Recessed Pulls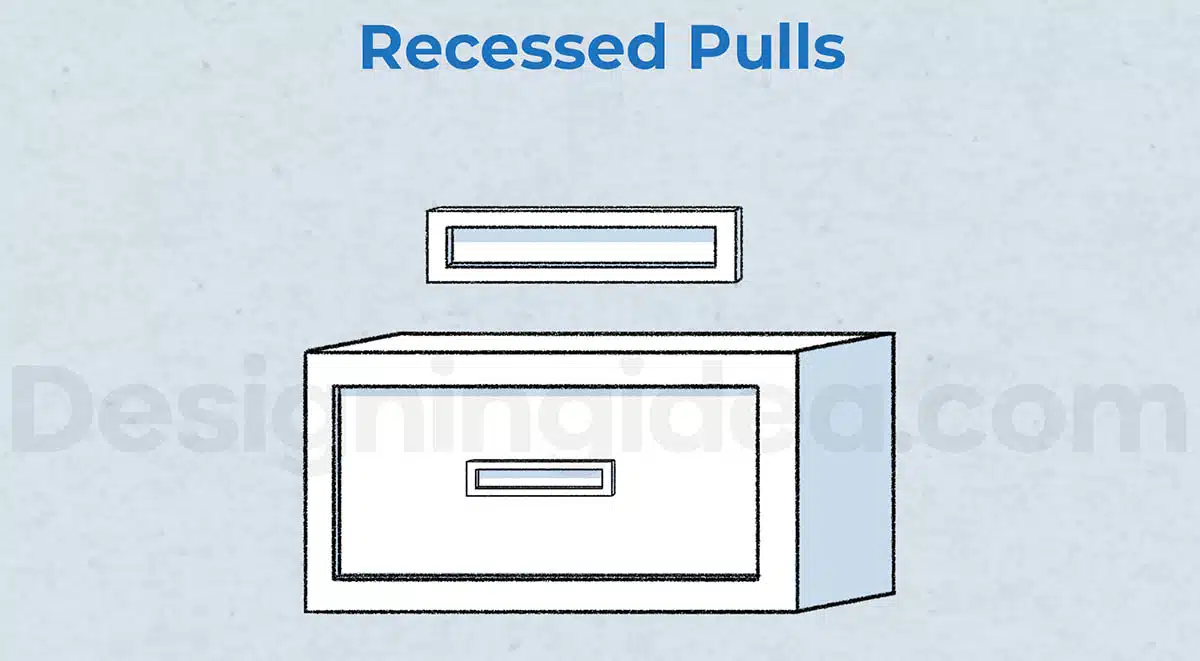 Recessed kitchen pulls are drawer and cabinet handles that are installed within the cabinet or drawer face itself, either flush to the surface or slightly recessed.
These type of pulls provide a stylish and modern look and work well with contemporary design styles, yet they can also be used to add an industrial or transitional touch to traditional cabinetry. Modern recessed pulls are typically made of metal, plastic, or composite materials.
Hinges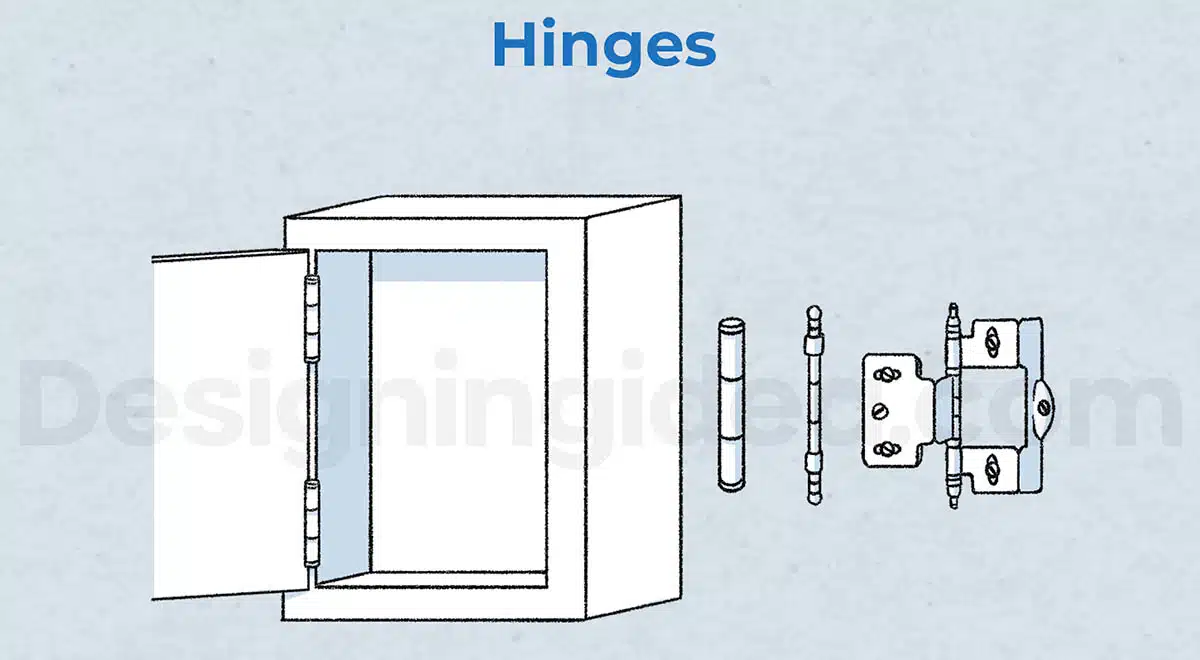 Compared to decorative knobs and pulls, kitchen cabinet hinges are more functional in nature, and function through the opening and closing of the cabinet doors.
They are responsible for attaching the cabinet door to the frame using more than two connected surfaces that rotate.
This vital element though has a variety of types to choose from. You can choose the ideal type for your furniture based on the kind of cabinet door you are working on and the size of the hinge you need for it.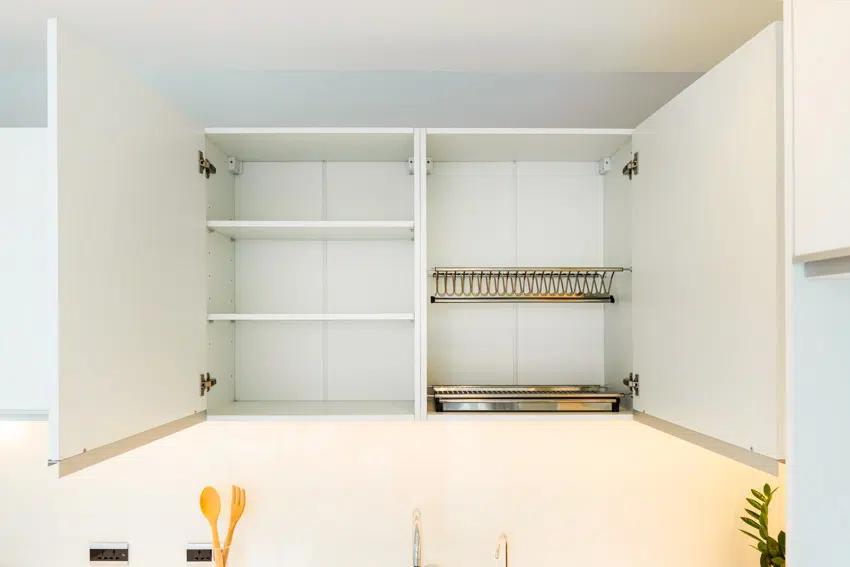 Explore this wide selection of hinges and decide which one can be installed in your cabinet.
Butt Hinges: Considered the most common type of hinge, butt hinges have two leaves that are kept together by a center pin.
One leaf is installed on the frame and the other on the back of the door. The joint will be visible from the outside whenever the cabinet door is closed.
Flush Hinges: Like butt hinges, flush hinges use the same components including the two leaves and center pin.
The difference though is that the leaf installed to the door can tuck into the one attached to the frame, resulting in a smaller gap between the door and frame. This features an overall seamless and clean look and takes up less space.
Inset Hinges: Inset hinges are mounted on the cabinet's exterior using a narrow bracket, where a single leaf wraps and connects at the back of the door.
With the fully visible bracket, these inset cabinet hardware types tend to be more decorative compared to other hinges and has a stylish finish.
Offset Hinges: Kind of similar to inset hinges, offset hinges also have a single leaf wrap to the door's back but the difference though is that the wrapping extends to the front.
This makes the entire hinge exposed when the door is closed. This is also the reason why compared to inset hinges, offset hinges come in a wide selection of shapes, sizes, colors, materials, and styles.
Face-frame Hinges: Widely-used, face-frame hinges are used for cabinets with a face frame around the opening.
One side is installed to the face frame and the other one at the back of the cabinet. They usually come plain and simple since these hinges will not be visible from the outside when closed.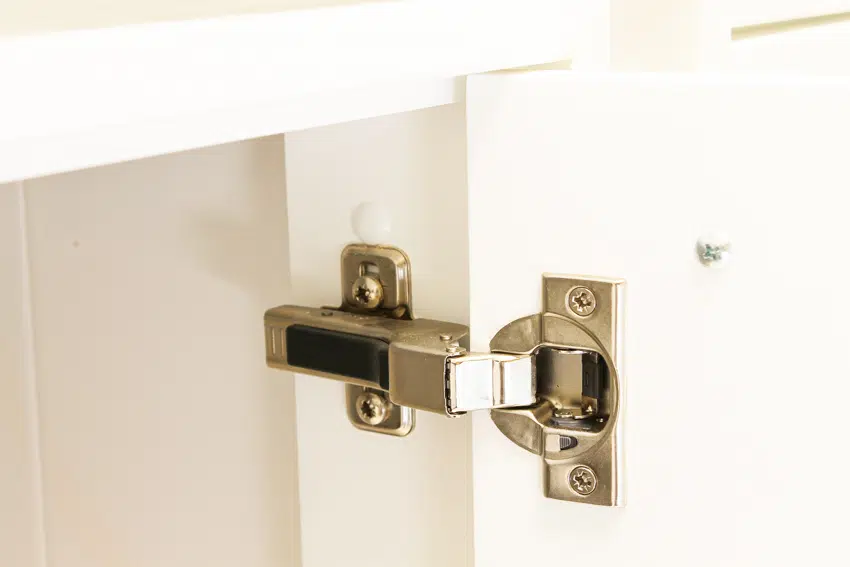 Frameless Hinges: Operating similarly to face-frame hinges, a frameless cabinet hinges can be used both for the face frame and inset cabinets.
It is ideal for those with heavy doors that a butt hinge just won't be enough. It is also a good option if you prefer the hinge not to show when the cabinet is closed.
Invisible Hinges: Invisible hinges, also known as concealed hinges, are small hardware where each side is connected and mortised into the edge of the frame and door. This hides the hinge entirely when the door is closed with only a faction seen when it is open.
Strap Hinges: Also known as T-hinge, a strap hinge has a narrow and long leaf that's attached to the door and pivots from a second leaf (Fastened to the frame of the cabinet). Since this hinge is completely exposed, many of the strap hinges are very decorative and stylish.
Wrap-around Hinges: Wrap-around hinges include a pair of leaves, where the first is attached to the back of the cabinet door and the second completely wraps around the cabinet frame and ends in the cabinet.
Similar to the standard butt hinge in concept, wrap-around hinges, though are able to support heavier doors and pieces of furniture. Make sure you look for a stylish finish for the hinges, though since the pivot point can be seen from the outside when the cabinet is closed.
Overlay Hinges: If your cabinet door is designed to install in front of the cabinet's frame rather than inset, overlay hinges will be your ideal option. Overlay cabinet hinges come in the following types:
• Full overlay: recommended if the cabinet door fully covers the face of the cabinet
• Half overlay: the option if two doors share a partition that allows each to open without interference from the other separately
Soft-closing & Self-closing Hinges: Soft-closing and self-closing hinges use a specific technology that guarantees quiet and smooth operation and prevents the cabinet door from slamming shut.
This closing action ensures the frame is protected from any damage that can possibly occur from slamming. This is a wonderful feature you can look into when choosing a hinge.
Drawer Slides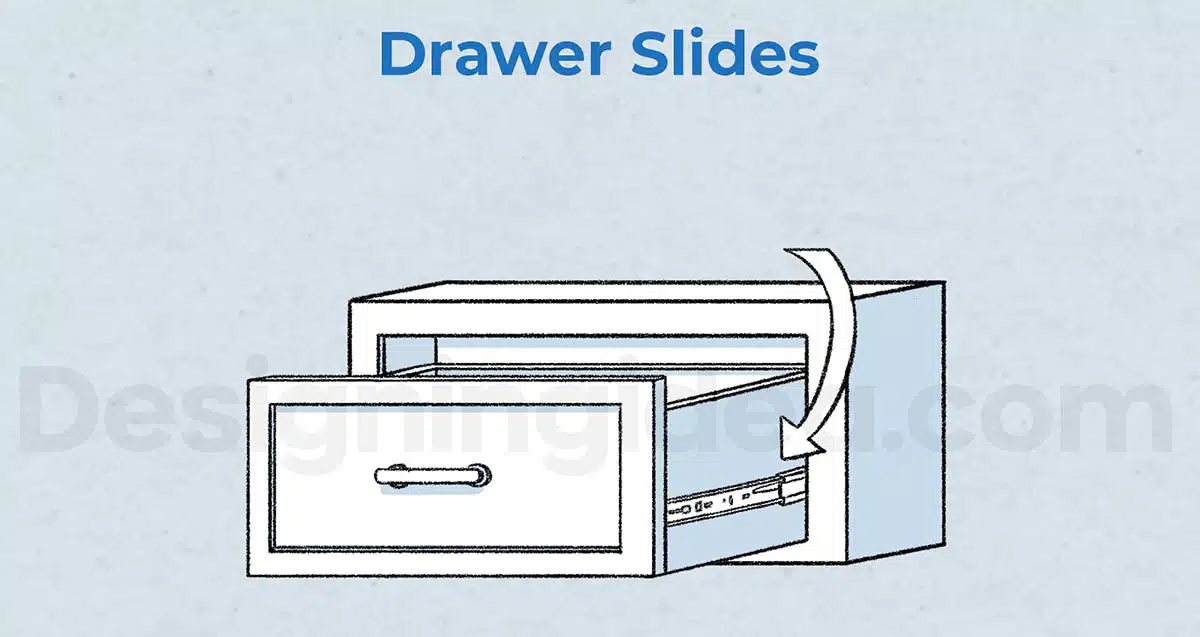 Drawer slides operate similarly to cabinet door hinges in the sense that it allows you to open the drawer.
Rather than having a cabinet door you can open though, you will need to pull on the entire drawer to open it, and the drawer slides make it possible to do so.
If you're looking into the options you can consider, here are the two most common types you can explore.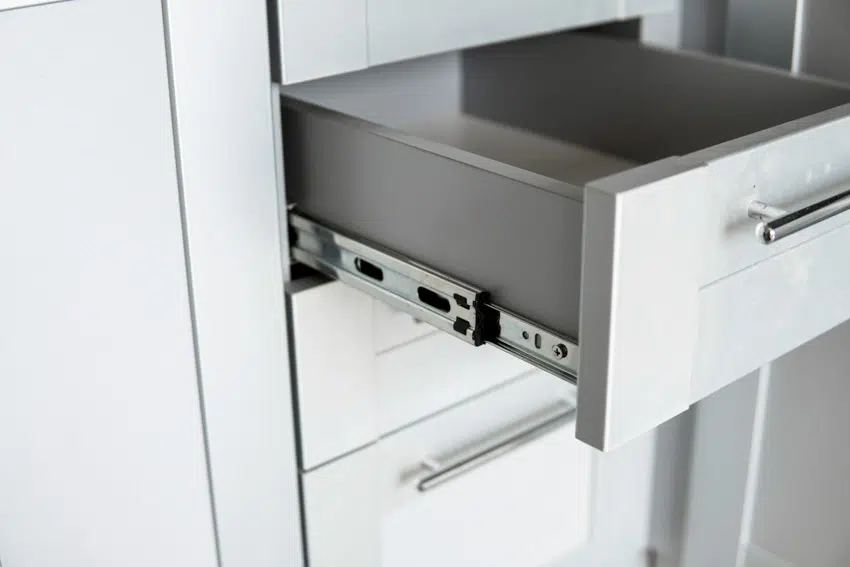 Roller Slides: The most common type of drawer slides, roller slides feature either an under-mount or side-mount configuration.
Most commonly used on lightweight drawers, roller slides have a pair of tracks where the first is mounted on the drawer itself and the second inside the cabinet. The tracks have nylon wheels that allow the drawer to slide open and close easily.
Ball-bearing Slides: Ball-bearing slides, compared to roller slides, are designed for heavier drawers. Rather than using nylon wheels like roller slides, these drawers use metal rails that support the piece of furniture better and have a higher quality feel to it.
The configuration is usually made from steel and helps the drawers to effortlessly, quietly, and smoothly glide open or close despite being heavy.
Most ball-bearing slides are embedded with the soft-closing or self-closing technology that protects the drawer from slamming shut and the possible damages that come with it.
Latches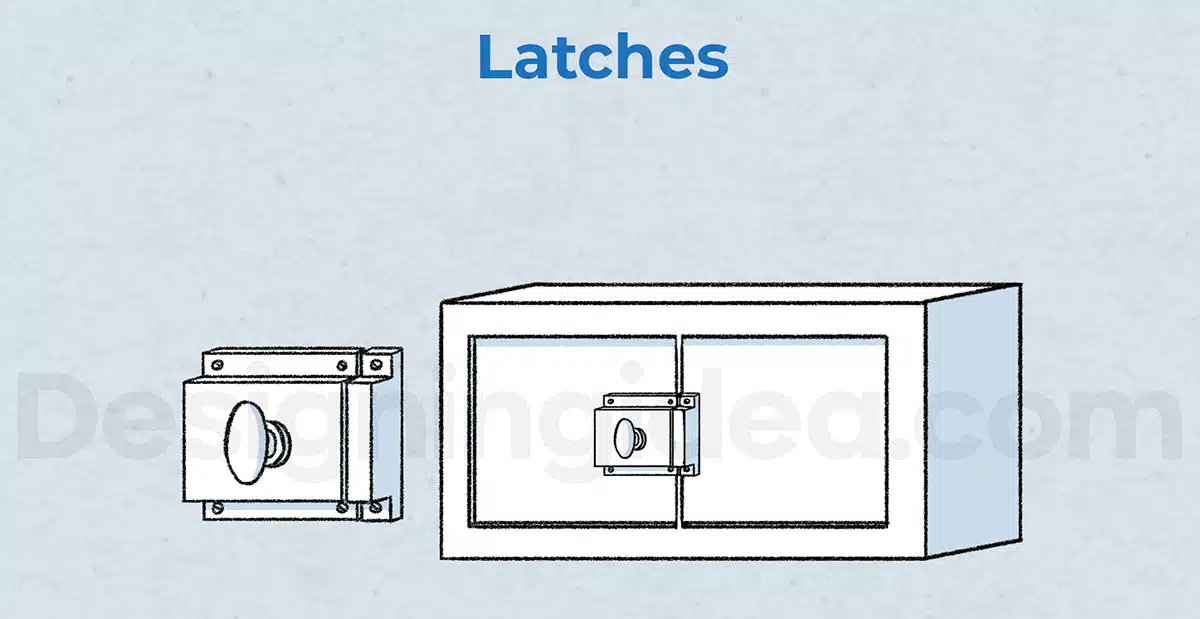 Latches are cabinet hardware that makes sure the cabinet door remains closed. Typically, they are attached to the cabinet's frame, holding the door in place from the outside using two items.
In simple terms, the two items latch together when the cabinet is closed, making sure that it stays closed unless you decide to open it.
Check out two major types of latches to know your options if you're also considering installing one for your cabinet.
Magnetic: Magnetic cabinet door latch is the most common type of latch, where a magnet is mounted to the furniture's frame, and a metal plate is installed at the back of the door.
The magnet and metal plate adhere to each other, effectively closing the cabinet. While this type is easy to install, it takes a bit of force to open the cabinet door from this type of latch.
Spring Roller: Ideal for homes with toddlers (for babyproofing your cabinets), the spring roller offers a more secure latch compared to its magnetic counterpart.
The configuration includes a pair of rollers closely positioned on the cabinet's frame and a metal prong mounted to the back of the cabinet door.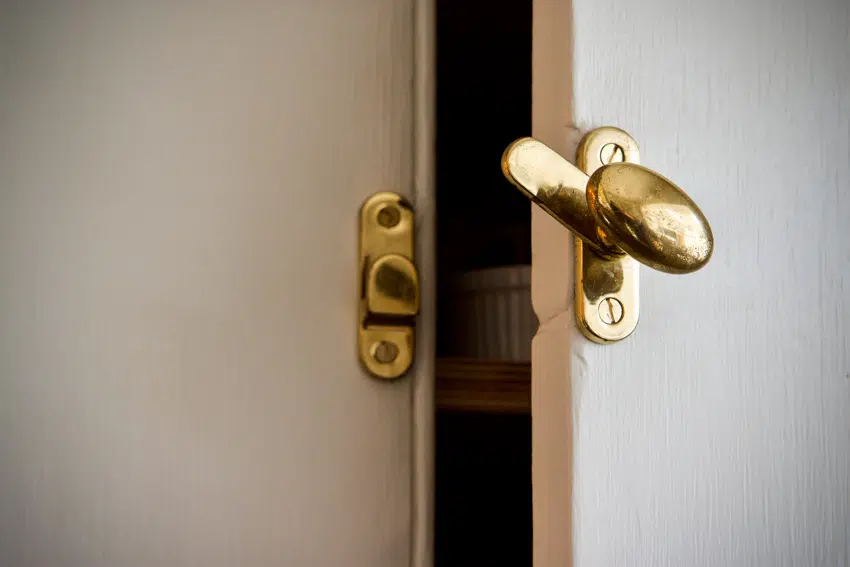 This metal prong can easily clip between the rollers, locking the door in place. Similar to magnetic latches, spring rollers will take a bit more effort to get it open.
Having locking catches is recommended for households with small children to help prevent accidental poisonings or injuries (Source: CPSC.gov)
Backplates
Backplates are decorative cabinet hardware you can mount and install either on the drawer's surface or the cabinet door. They are usually placed under a pull or a knob, acting as some sort of a backsplash for these two vital pieces of hardware.
Cabinet hardware backplates are an incredible way to accessorize your furniture without doing something big and drastic.
More than just having an element that matches well with the knob or pull, backplates offer a fresh and new look while at the same time strategically hiding the drilled holes from the mounting points.
Here are the two major types of cabinet backplates.
Knob Backplate: A knob backsplash has one mounting hole to accommodate the single mounting point of the hardware. If you're going for that, it can also work well with a single-mounted pull.
While most knob backplates are circular and only a bit wider compared to the knob, there are other shapes you can use, from square to oval.
Match the shape of the backplate to the shape of the knob you've chosen. Matching them will allow the knob and cabinet in general, to have a cleaner and more streamlined look.
Pull Backplate: A pull backplate features two mounting holes that fit well for the mounting points of the pulls. With this type of backplate, the most important thing to remember is that its installation needs a bit more attention compared to knob backplates.
You need to ensure that the center of the backplate matches the center of the pull, which can be a bit difficult if you don't make your measurements.
One thing that can make it easier is if you purchase your backplate from the same manufacturer you purchased your pull. Going for the package deal also doesn't hurt.
To better accommodate the variety of designs pulls have, pull backplates usually come in a long and rectangular design. Of course, you have the freedom to choose whichever design will be best for your cabinets. Remember that not all types of pulls are compatible with pull backplates so choose and match well.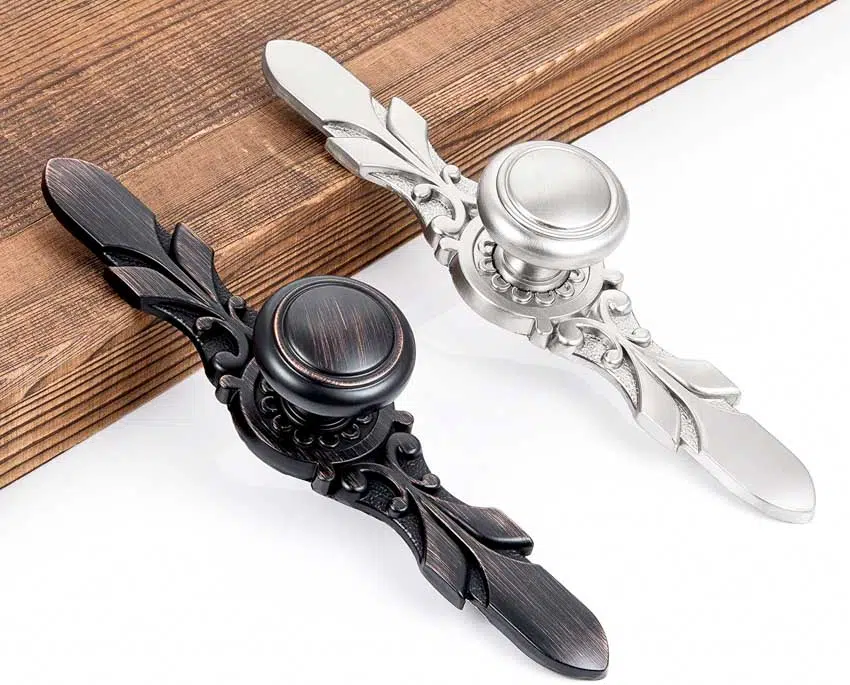 See this cabinet hardware backplate set at Amazon [sponsored link]
Cabinet Toe Kick – A cabinet toe kick is generally a recessed area under the cabinet that can accommodate your feet in order to get you closer to the countertops. These are often found in kitchens, bathrooms and pantries and can help prevent fatigue while standing and working at the counter.
A cabinet toe kick plate is a piece of wood that runs across the recessed area and often matches the finish of your cabinets. However, there are other materials available depending on one's needs and design style.
Styles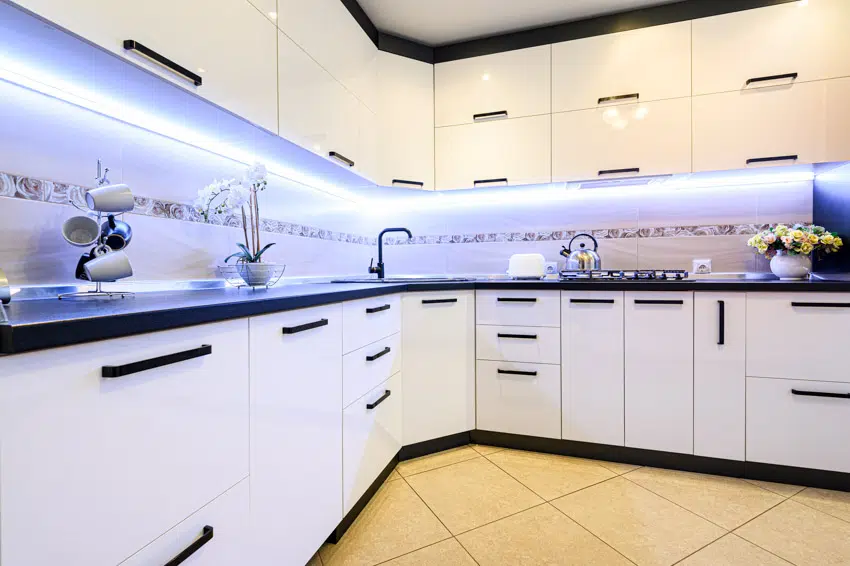 Styles always play a vital role in sprucing up whatever element you have at home. And yes, this goes the same way with your cabinets.
Whichever room you wish to place your cabinets, they should match the overall design and general style you have going in the room.
To help you with your options, here are some cabinet hardware styles you can consider.
Contemporary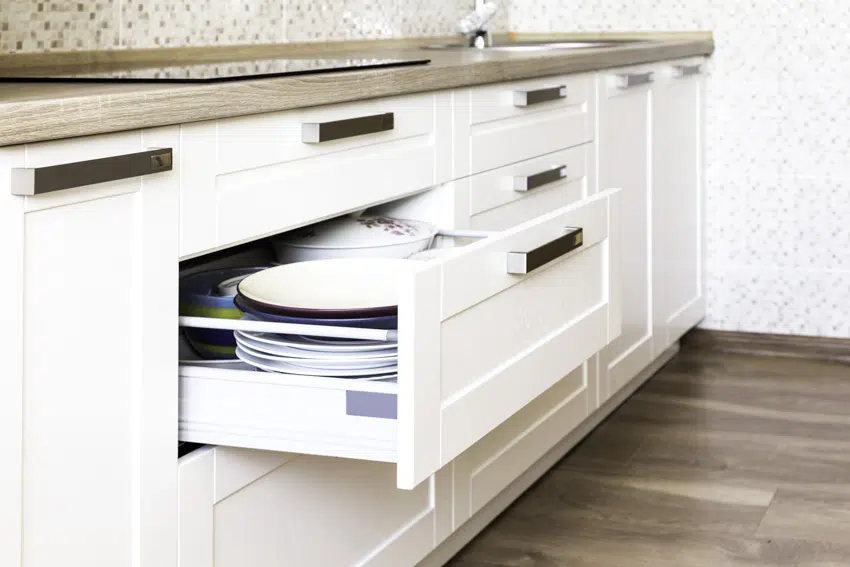 Contemporary style features clean lines, bold elements, and the usage of metallics. The sleek lines should be prioritized and if you plan to place the cabinet or drawer in a contemporary-styled room, keep the hardware options simple and streamlined.
You can go for something linear so rather than going for cabinet knobs, choosing pulls might be a better option. See more pictures of contemporary kitchen cabinets here.

Modern
For modern-styled cabinets, many see the integration of natural and artificial materials to be something trendy. Pair natural wooden cabinets with metallic or even glass knobs and pulls to provide texture.
Rustic
Rustic style usually translates to something aged and nostalgic, as well as something unfinished and unpolished. You can get this vibe by sticking with a hammered and handmade appearance. The great thing with rustic is that it features simplicity and less detail.
For rustic kitchen cabinet hardware, wooden knobs may be the go-to option, especially since the hardware is more antiqued compared to pulls. Going for the standard butt hinge may also be preferred if you want to go rustic all the way.
Traditional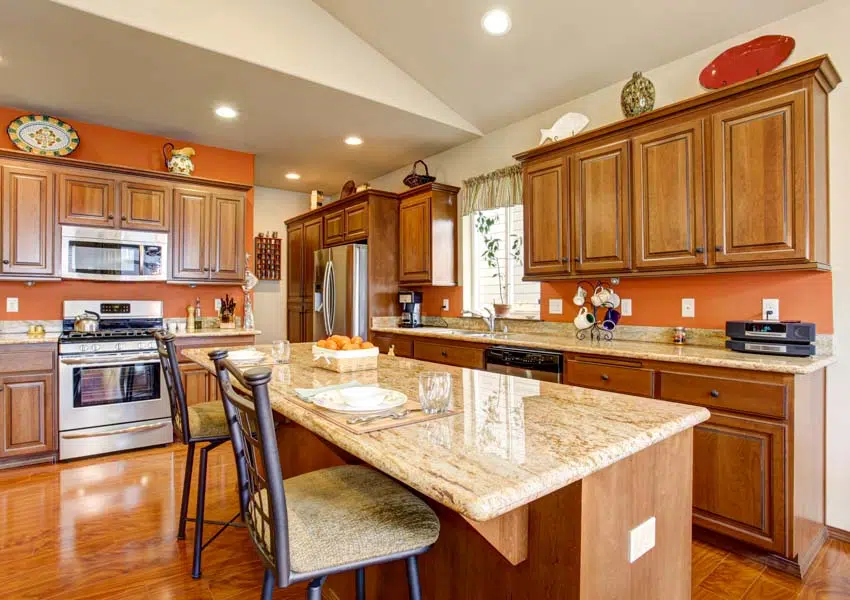 Traditional style cabinets is all about delicate details, curves, and warm and rich colors. Elaborate detailing on the knobs will automatically make them look traditional.
Two of the most preferred traditional cabinet hardware options are fancy knobs with intricate designs and decorative and ornate drop handles.
Transitional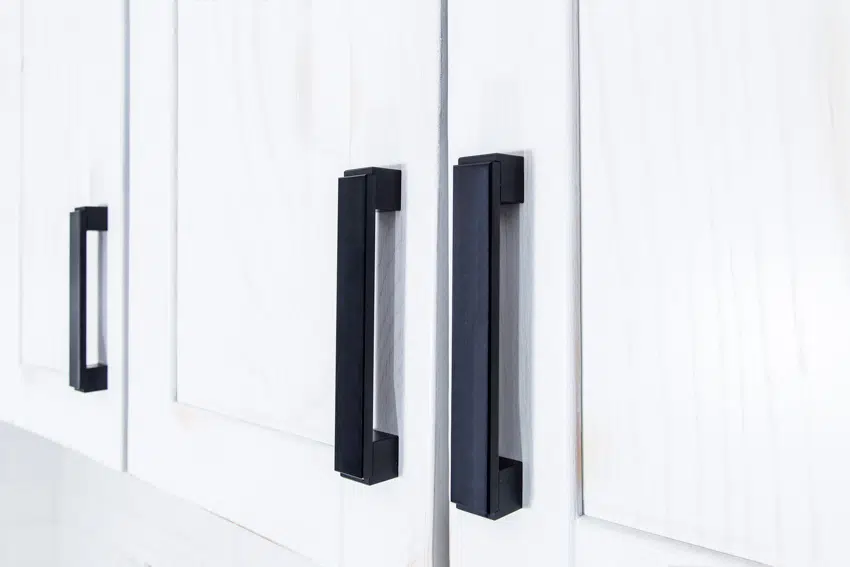 Transitional style is a timeless vibe and aesthetic that sprung from the mixture of traditional and contemporary styles. This particular style showcases classic traditional hardware shapes that do not have ornate detailing.
You can go for a cup pull or a knob that does not have intricate detailing and design on it. Make sure to take into account their respective backplates too.
Finishes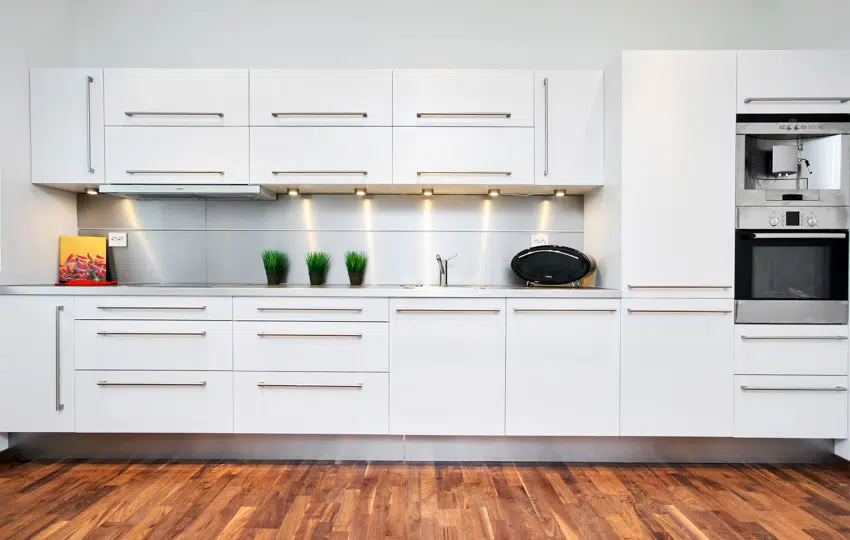 Besides the style you can choose for your cabinet hardware, you also need to take into account the finishes you can go for.
A cabinet handle's material will dictate the hardware's lifespan, and its finish will be the protective coating that will not just lengthen this lifespan but also add to the overall vibe of the furniture.
You can use different types of finishes for your cabinet hardware, and you only have to choose the one ideal for you. To give you an idea of what's in store, here are some finishes you can explore.
Stainless Steel: The most common option for quality cabinet hardware, stainless steel is popular because it will never fade to change color after some time.
This steel alloy with chromium is known for requiring minimal maintenance and its resistance to staining, scratching, and rusting.
This brushed and highly polished finish looks stunning and ideal for rooms with contemporary, modern, and transitional styles. It is also the best option for a hygienic environment like the kitchen.
Brass/Bronze: You can choose two metal options for your hardware's finish: bronze and brass. Bronze hardware is mostly copper with a bit of tin, zinc, nickel, manganese, aluminum, and other metals.
Brass hardware, on the other hand, is a mix of copper and zinc. The mixing of metals and elements allows the material to be stronger.
Bronze is expected to form this patina over time, making the hardware look more mature and making it a good option for rooms in rustic style. Brass will need a regular polish and clear coating to keep its luster look.
Chrome: Traditional chrome showcases a reflective and glossy finish that fits well in a classical-styled space and room. The metal core is covered with a thin chromium veneer for chrome hardware that usually comes with a matte finish.
If you choose this option and road, ensure that care and maintenance for chrome hardware are special and meticulous. Highly susceptible to marking and scratching, the hardware needs to be regularly cleaned and polished. Not the best choice if you constantly access your storage space.

Wood: When it comes to cabinets, wood is a standard building material, and this goes the same way for its hardware, particularly its knobs and pulls.
If you choose wooden hardware, you can either go for the raw or lacquered ones. The former can be painted or stained, depending on your preference.
You can also leave them raw, but this might drastically reduce their lifespan. The best thing about them is that they are easy to work on and can be sanded and shaped to whatever form you want.
Enamel: Another option you can choose for hardware finish is enamel. While this may not be a popular and known option, it can be considered especially since it features this translucent aesthetic that easily reflects light through it.
Porcelain/Ceramic: While porcelain is white clay, ceramic is baked clay. Both of these can be used for cabinet hardware but porcelain leans more on a very traditional scale.
Both porcelain and ceramic come in a variety of colors and designs. Porcelain usually comes with a traditional flower that's glazed onto them while ceramic can either be glazed or unglazed, depending on your preference.
Glass: If you want something romantic and luxurious to add to your cabinet, glass is the way to go. Because it can easily mimic crystals, it can be quite a bit elegant.
A simple glass knob, without added color or intricate detailing, is elegant on its own and can be installed if you're planning for a traditional or contemporary style. And if you want more pop and interesting aesthetics, you can add colors, unique shapes, patterns, and other details to the mix.
Stone: Stone is a bit difficult to use for a knob, especially for a drawer pull, but some actually work. If you want something unique, you can choose stone knobs.
You can get a smooth one or a highly textured one but remember that the former can be difficult to grasp but may look stunning while the other may be more convenient to grip but may fall short on the aesthetics aspect.
Hardware Placement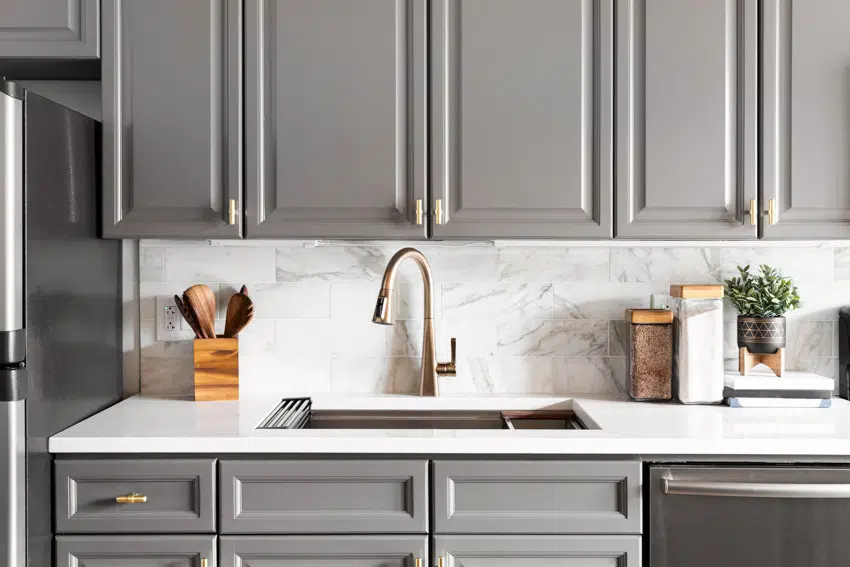 The placement of the cabinet hardware plays a vital role in how functional the cabinet and the hardware will be. While the hinges and latches may be obvious, knobs and pulls are entirely different.
Placing them too high or too low can affect how you will use them. And yes, that includes placing them too close to the side.
Check out this cabinet hardware placement summary to help you along the way.
| | |
| --- | --- |
| Type of Furniture & Placement | Knob Placement/Pull Placement |
| Lower Cabinets | Center of corner |
| | Top aligned |
| Upper cabinets | Center of corner |
| | Bottom aligned |
Knobs and pulls can be installed both in a drawer or a cabinet. If you're working in a drawer, you can easily find and install the center. But this will only work if your drawer is less than 24 inches long.
If it's more, you're recommended to add a second knob or pull (where both knobs or pulls are placed at a third from both sides.
If you will mount a knob or pull in your cabinet, make sure it's on the opposite side of the hinge and is 2.5 or 3 inches away from the bottom corner (if installed on the upper cabinets) and 2.5 or 3 inches from the upper corner (if installed in the base cabinets).
Cabinet Hardware Sizes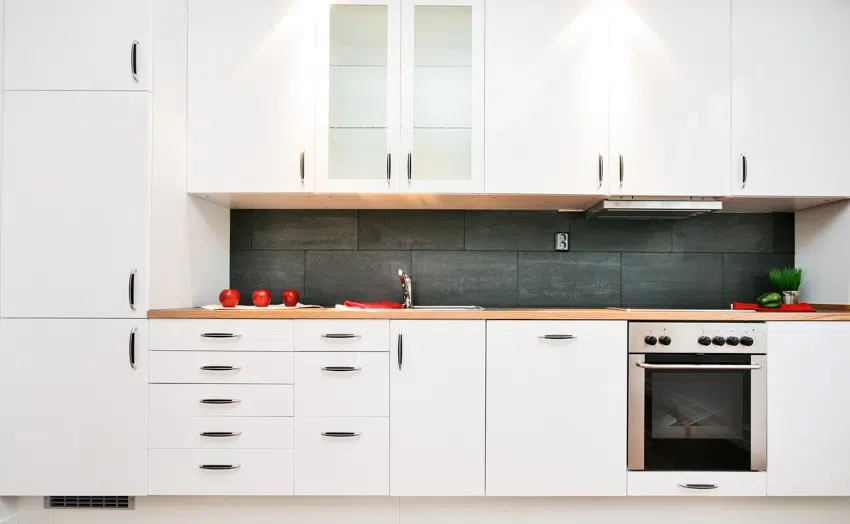 When considering hardware sizes, proportion and balance are important elements to consider. You will need large hardware if your cabinet door is oversized.
The same concept works for smaller cabinets and drawers needing smaller knobs and pulls. And while you can get as quirky as you want, it will still be a good idea to have some sort of proportion.
The good rule of thumb when it comes to proportion is at a 1:3 ratio. But this is only applicable for pulls. Knobs would have a different sizing consideration.
This simply means that the length of cabinet pulls should be 1/3 of the cabinet or drawer width. For instance, a 12″ drawer would have a pull that is about 4″ wide.
How To Choose Size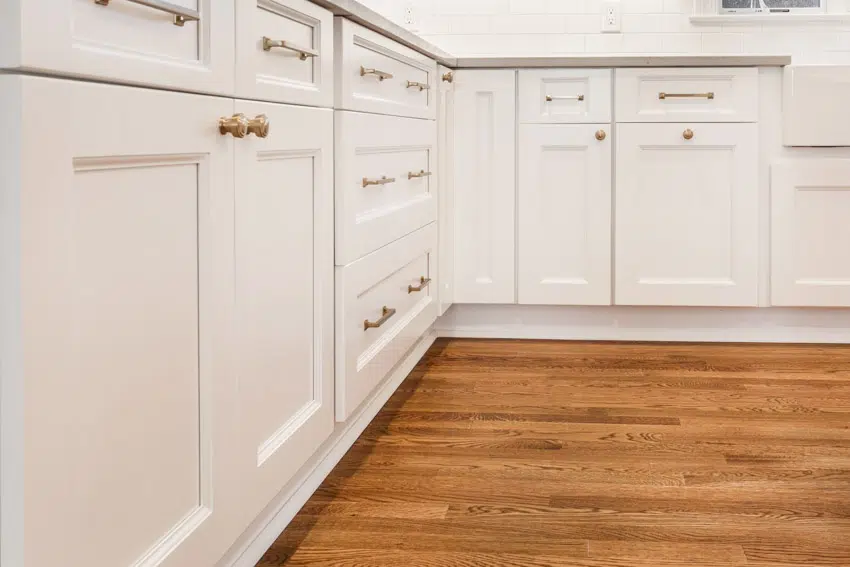 To serve as a guide, here are some of the most common sizes of drawer pulls and knobs.
| | | |
| --- | --- | --- |
| Sizes of the Drawer Fronts | Sizes of Pulls | Sizes of Knobs |
| 12-inch Drawer | 3-inch Pull | 1-inch Knob |
| 12-inch to 30-inch Drawer | 4-inch Pull | 1-inch Knob |
| 30-inch to 48-inch Drawer | 8-inch Pull | 1.5-inch Knob |
While this may be the general ratio, there are other factors to consider like styles. The 1:3 ratio is only good for traditional or transitional styles.
On the other hand, a contemporary style often demands longer pulls with at least a 2:3 ratio of the drawer front or cabinet doors. Read about kitchen cabinet sizes here.

How To Choose Hardware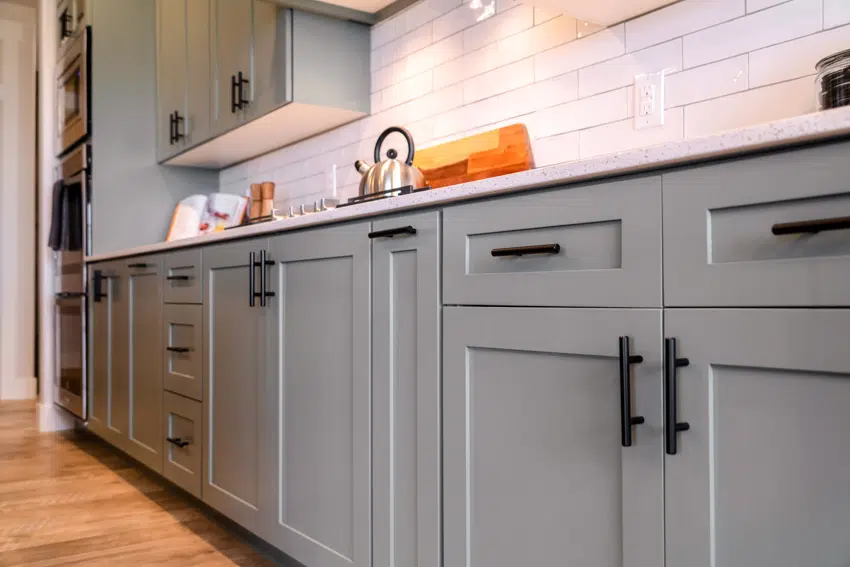 When choosing cabinet hardware, you always need to consider the different factors you prioritize in your search. Here are some of the most notable ones you need to consider.
• Type Of Hardware: One of the major discussions when choosing hardware is the competition between knobs and pulls.
If you want more hold on the furniture especially if it's a bit of a heavyweight, go for a pull type. If you're dealing with a small lightweight piece of furniture, knobs can work fine.
• Budget: if you have a limited budget, mass-produced hardware is guaranteed to be more affordable but if you have the budget to go for something luxurious, explore semi-precious stones and precious metals.
• Style: Whether you're designing a traditional, modern, or even eclectic room, you need to be able to match the different types of furniture styles you place inside.
And yes, this is also applicable to the cabinet hardware. Make sure to consider the hardware's material, finish, and color in your decision.
Also consider matching the finishes on shelving brackets, supports, kitchen island legs and any exposed nails or fasteners for a cohesive look.

• Personal Considerations: Consider every member of your family and their current circumstances in your decision. Will your grandma be able to open that cabinet? Do you need a latch to prevent your toddler from opening the drawers? Get personal and be practical.
What Color Hardware To Use?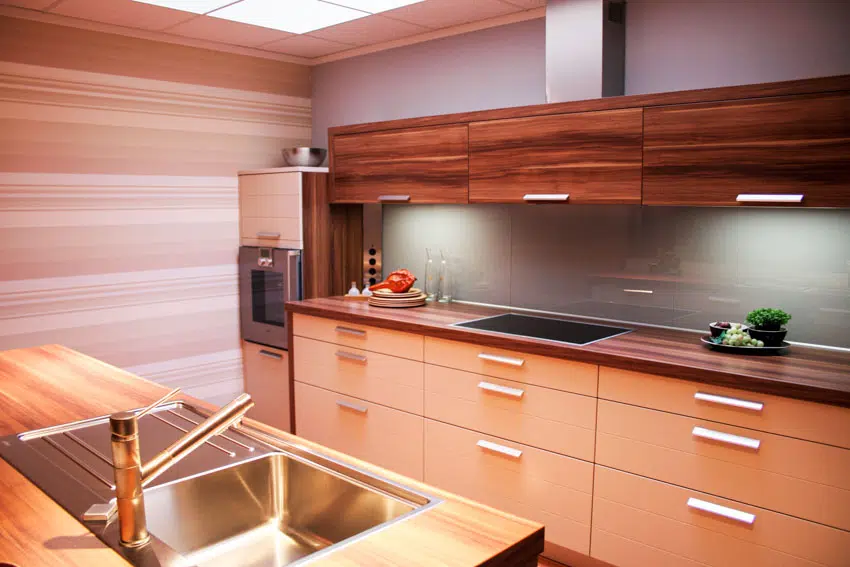 When dealing with the cabinet hardware's color, checking for the cabinets and the walls is always a good place to start.
For white cabinets, any color of hardware will stand out, and if you want something popping and stealing the show, going for knobs with bold colors or pulls in gold and metallic will be incredible.
For cabinets (or even the room's walls) with warm tones, the perfect colors are bronze, black, and gold for your hardware. A cold grey tone, on the other hand, can benefit from stainless steel, pewter, or silver hardware.
Make sure you also take into account other metal components found inside the room. These could be shelving, wall hooks, tables, bar stools, faucets, or other decor items.
You can match the tone of your cabinet hardware with them for a more unified look. Pay special attention to the lighting fixture and other appliances.
And finally, try it out first to make sure that what you've decided on will look incredible on the cabinet and in the room. Nothing beats having a close and personal look at an item to judge its worth truly.
Did we cover all of your favorite types of kitchen cabinet hardware, or were there any specific tips we missed? Let us know your thoughts in the comments.
Visit our resource on the best kitchen cabinet design software for more details about how to visualize different hardware in your kitchen before purchasing anything.