Here we share several ideas on how to lighten up a kitchen with cherry cabinets including setting up different lighting fixtures and tips to lighten up a kitchen with dark wood cabinets.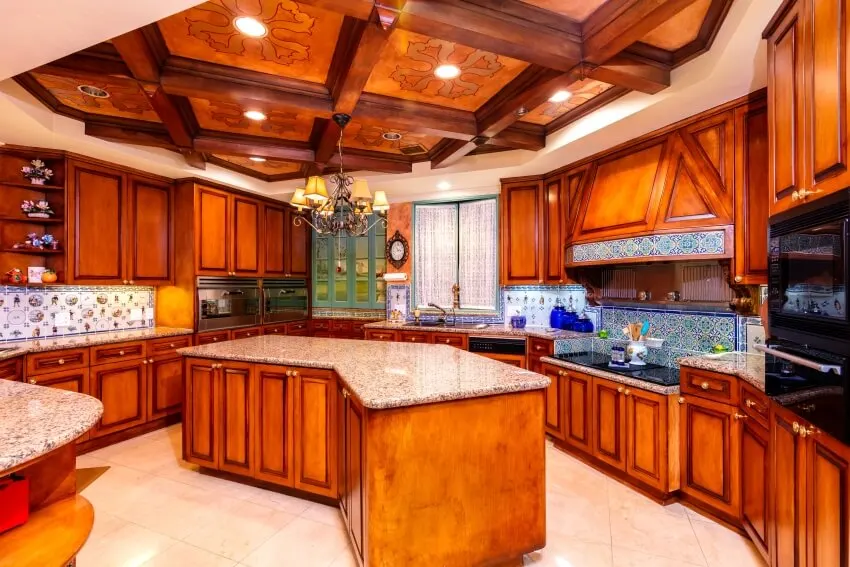 The kitchen is an area that requires good lighting because it's used for meal preparation and cooking food involves the need to see things clearly. Having cherry cabinets doesn't help with lighting up the area and the material even naturally darkens when exposed to oxygen and ultraviolet light over time.

How To Brighten Up A Kitchen With Cherry Wood Cabinets
If you want to lighten up your kitchen, there are three options to consider.
1. Rebuild the kitchen to include elements that can lighten up the kitchen
2. Makeover your cherry cabinets to lighten them up
3. Get rid of your cherry cabinets all together
The third option is an absolute last choice that you don't have to think about until it is necessary. The first two options are doable and can be accomplished with enough creativity, time, and budget.
Try out these two first before you're left with the desperate last choice you have of getting rid of the cherry cabinets.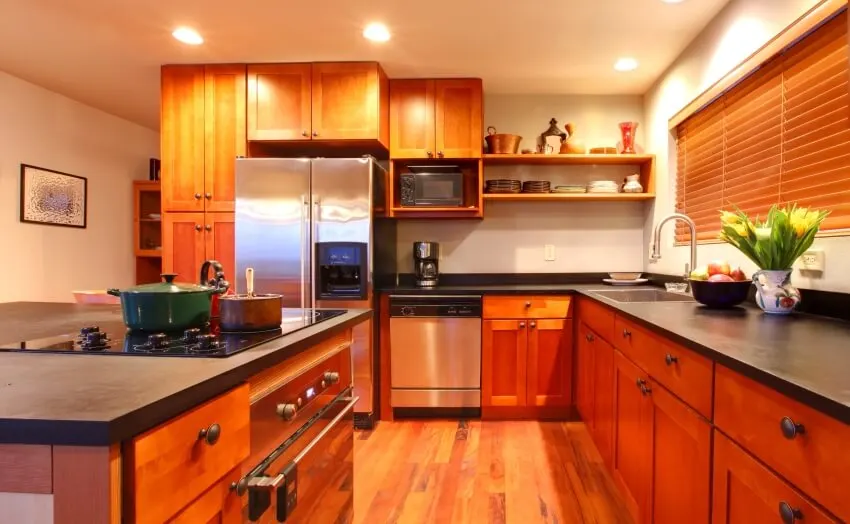 Lighting is an important element in the kitchen and if you want to brighten the area up, it is the best way to do so. There are several ways you can accomplish this goal and you can choose one or more, depending on your preference and the ambiance you're going for.
Overhead Lighting For Optimum Lighting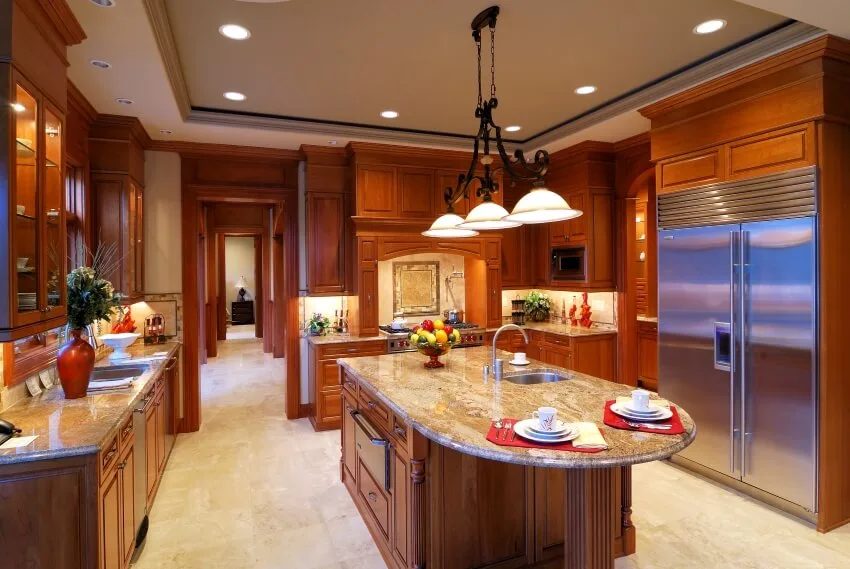 Overhead ceiling lighting offers the optimal illumination for the kitchen primarily because it spreads out to the entire room. You have the freedom to choose which light fixtures can do this job and at the same time produce whatever vibe you want your kitchen to have.
Some lighting options to consider are the following:
• Flush-mount Ceiling Lamps
• Pendant Lamps
• Track Lights
• Sem-flush-mount Chandelier
Install Pendant Lights Instead Of Recessed Lights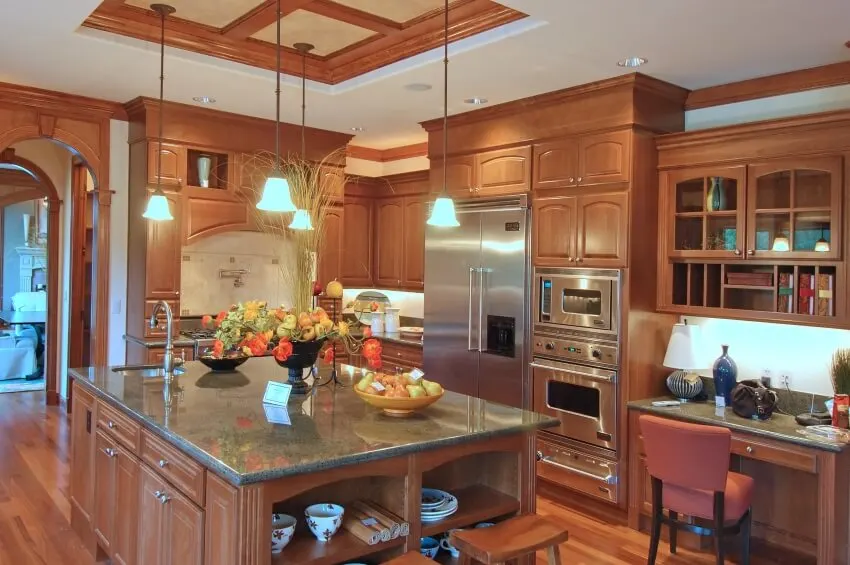 Brighten your kitchen by installing pendant lights rather than choosing recessed lights. Choosing pendant lights can bring light closer to where you work in the kitchen.
With this lighting fixture, meal preparation and cooking are made more comfortable and practical. And if you have recessed lights installed in your kitchen, you can swap them in the hardware or buy pendant conversion kit screws to transform your recessed lighting into pendant lighting.
Choose Brighter Bulbs And Lamps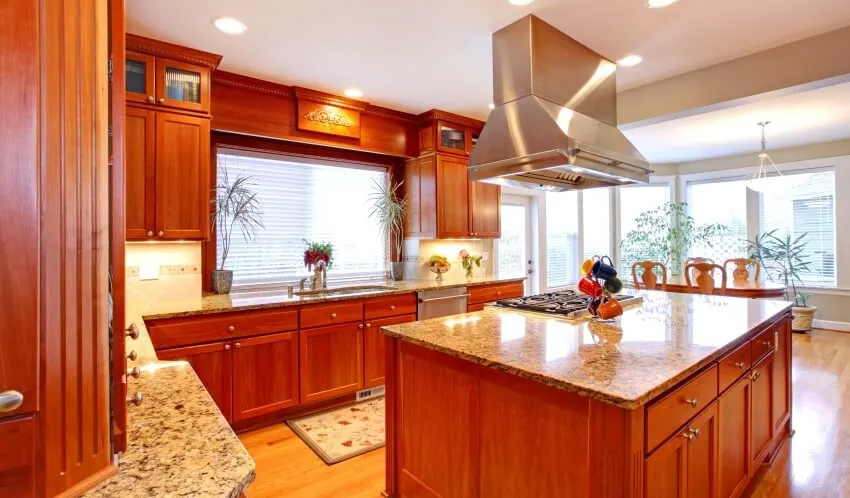 One of the most affordable changes you can do to brighten your kitchen is to choose brighter bulbs. Fluorescent tube lights or LED lights are energy-saving and at the same time considerably brighter compared to traditional bulbs.
Bulbs with 80 to 100 watts can do the job compared to the ones with 60 watts and below, which is what most kitchens use. This evens out the darkness that comes with the cherry kitchen cabinets.
Install A Hang Clamp
A hang clamp/clamp lamp is a good option if your kitchen has minimal overhead lighting and you don't have the time and budget for a renovation.
Convenient to use and flexible, you can easily clamp this lighting fixture in the ceiling or into the wall. Installation can use either a lock or nail.
Consider Under-The-Cabinet Lights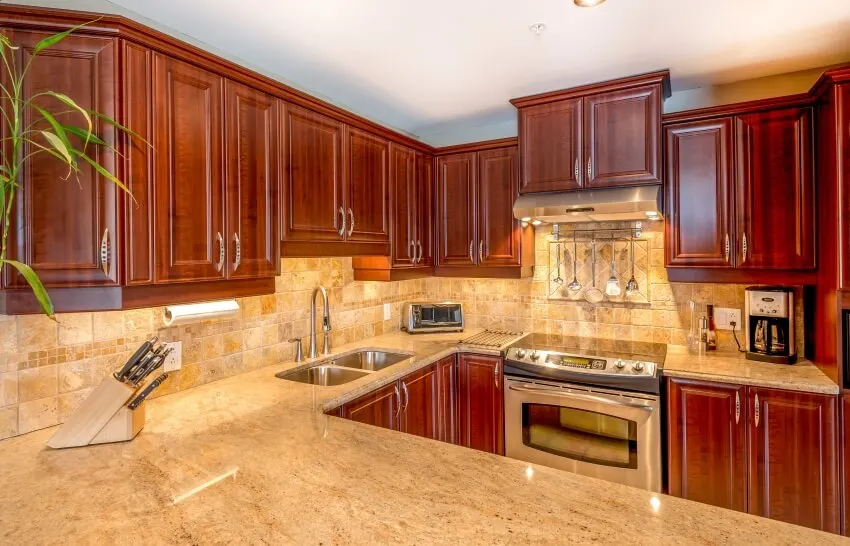 If you want to creatively brighten your kitchen and not just consider overhead lighting, under-the-cabinet lights are a good option, especially if your kitchen is a bit cramped and dark.
You can use LED light bars or fluorescent bars, whichever is more appealing to you, under the cabinet to create a wonderful effect. Using lights above the cabinets is another option if you want to add more ambient light to the room.
Fill Dark Corners With Light
Do you have a kitchen with dark corners? You can brighten your entire kitchen by simply lighting up these out-of-reach and empty corners. Under cabinet, pendants, modern rail or track lighting can help bring focused light to these dark areas.

Let In More Natural Light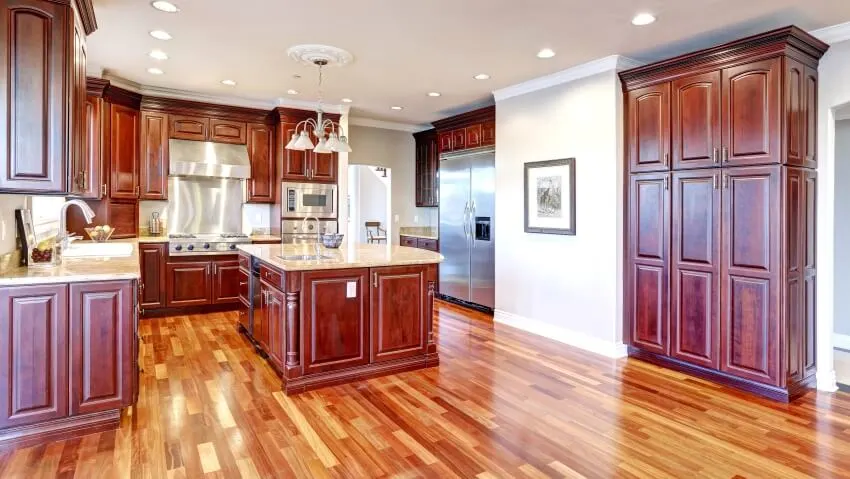 Natural light will always be better than artificial light so one way to brighten your kitchen is to let more natural light in.
Open your kitchen window curtains and check out other elements that block natural light from your room, including window sill and shades.
How Do You Lighten A Kitchen With Dark Cherry Cabinets?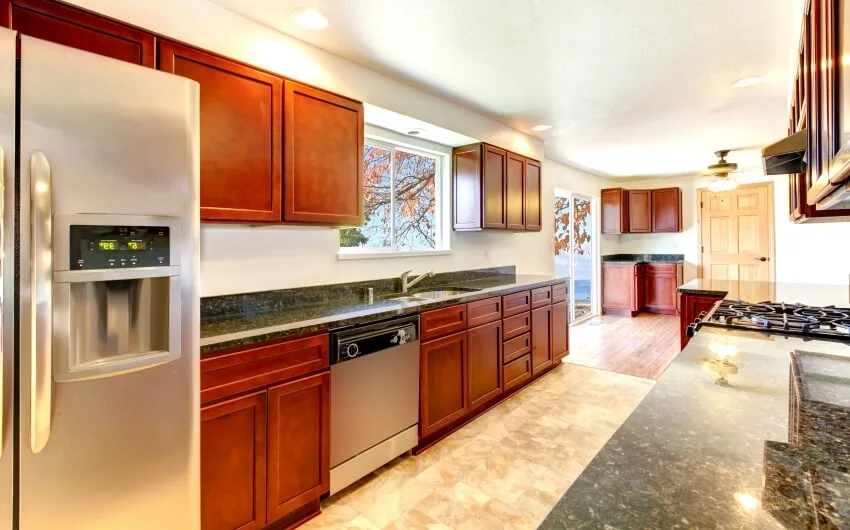 Besides lighting, there are little changes you can do in your kitchen to negate the effect of your dark cherry wood cabinets. Amazing as it may sound, these adjustments have a massive outcome when it comes to the brightness of your kitchen.
Add Mirror To Your Kitchen
A mirror, when installed in a room, creates this illusion that the area is brighter and bigger than it really is. To get this maximum effect, mount a mirror near or opposite the window that serves as the biggest source of light.
And you can use a mirror with a style that contributes to your kitchen's design and appeal. You can add an old wooden frame mirror to your rustic kitchen or a sleek and metallic-framed mirror to your modern kitchen. Another idea is to use a mirror backsplash to help add more light and reflectivity.

Use A Bright Accent Color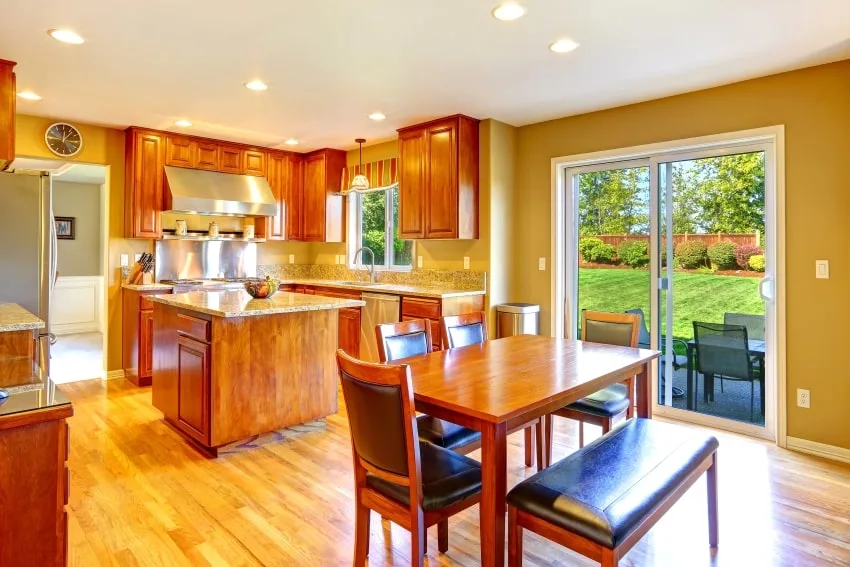 Brighten your kitchen by either adding light colors to the mix or changing its major color to a brighter shade. Bright hues and shades can change and lift the overall appeal of the kitchen and transform its gloomy vibe into a vibrant one.
You can use red, yellow, and white in your cherry cabinet kitchen, as well as light green, blue, and gray. Warm up your kitchen with vases, ceramics, and pieces of artwork in these light colors. You can also choose bold ones like hot pink and orange. Read more about paint colors that go with cherry cabinets here.

Bring In Some Metallic In The Kitchen
Adding something metallic in the kitchen can brighten the area because metal reflects light and bounces off the material. It will have the same effect that a mirror delivers to a room.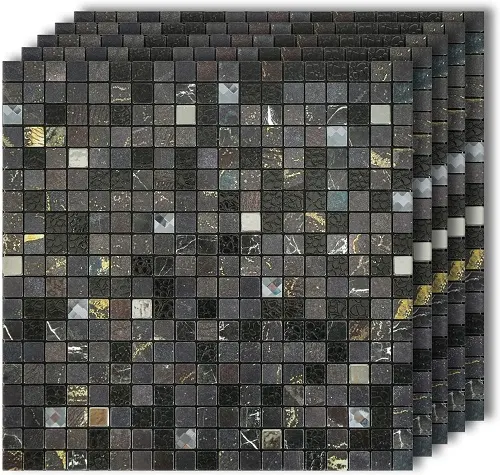 See this Peel and Stick Tile Metal Mosaic Backsplash at Amazon [sponsored link]
You can integrate something metallic through the following elements:
• Stainless steel sink or fridge
• Silver-surfaced backsplash
• Appliances with a metallic finish
• Utensils with a touch of copper, bronze, silver, or gold
Use White In Your Kitchen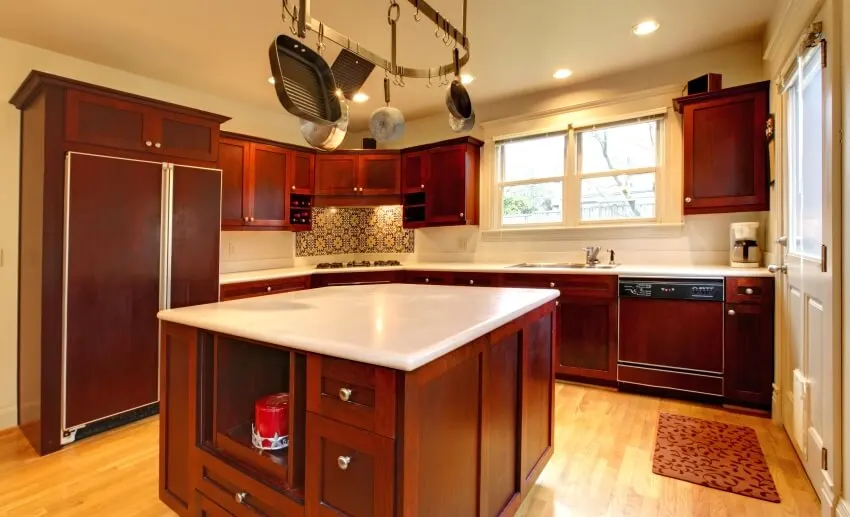 White is a classic option for a kitchen not just because it looks clean but also because it brightens up a room. This minimalist option is a popular choice for homeowners because of these reasons, especially for kitchens with low ceilings. Read our low ceiling kitchen lighting guide for more ideas.
To totally brighten your kitchen, whitewash the area including its walls, ceilings, countertops, and tiles. The great thing about this is that your dark cherry cabinets will stand out and serve as an incredible accent.
Consider Open Shelving
You can lessen closed shelves and integrate more open shelves into your kitchen, which can make the space look brighter and at the same time add storage space to the area.
You can also display your china and cool ceramics on these open shelves to add to the kitchen's aesthetic appeal.
Add Contrast By Choosing A Light Backsplash Or Kitchen Island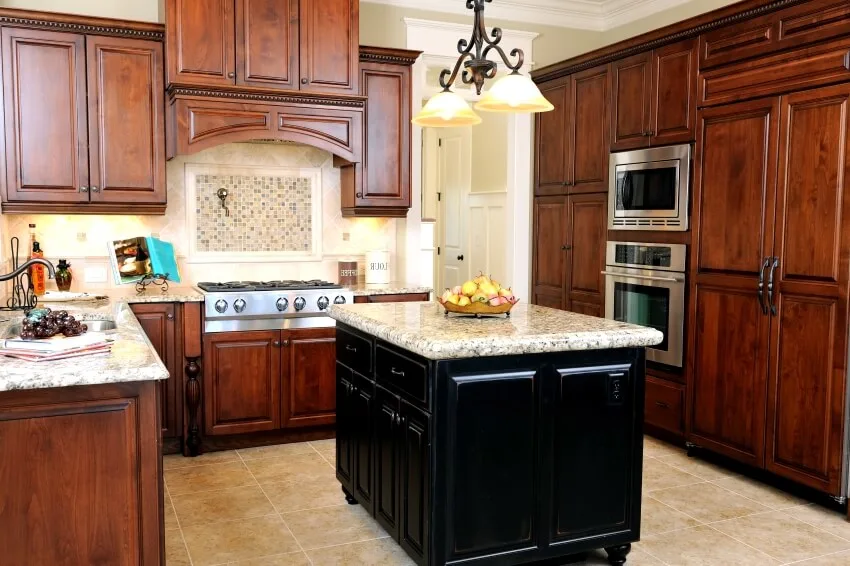 To even out your dark cherry cabinets, you can add a light backsplash balancing the colors in the kitchen. Your kitchen backsplash can serve as your tool to improve your kitchen's aesthetic at the same time and you can also choose a reflective surface for the light to bounce around the area.
If the backsplash is not an ideal option for you, your kitchen island can instead do the trick. Initiate a visual shift in the kitchen so that the area won't be gloomy. Even with dark cherry kitchen cabinets, you can transform your kitchen into a bright and vibrant area to work in by adding contrast to the room.
You can add contrast to the room through your backsplash or kitchen island but you can also use some decor or accessories to make this possible. This might be a better option than whitewashing the entire kitchen since accents can make sure that the area won't be boring and that it will have more texture and character.
Give Your Cabinets A Makeover to Brighten Them
Another option to brighter your kitchen is to give your dark cherry cabinets a makeover. Cherry cabinets are aesthetically pleasing and making the most of this feature is the way to go. Update the furniture's look and hardware to improve them.

Can You Lighten Cherry Wood Cabinets?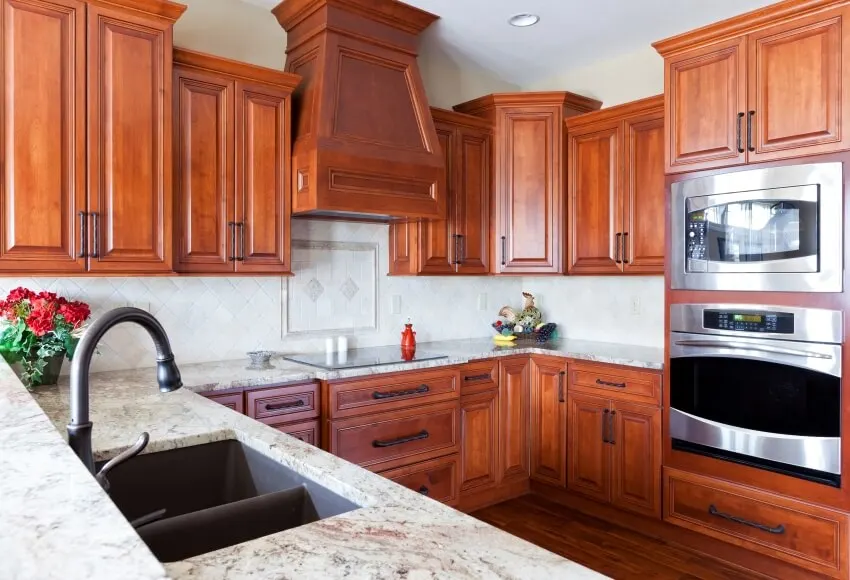 Cherry wood cabinets are made from a material that naturally darkens when exposed to oxygen and ultraviolet light. Since it's almost impossible not to expose these cabinets to these elements, they are expected to darken.
But is there a way to lighten them instead if dark cabinets are not to your taste? Yes, there's something you can do to lighten your cherry wood cabinets.
How To Lighten Cherry Wood Kitchen Cabinets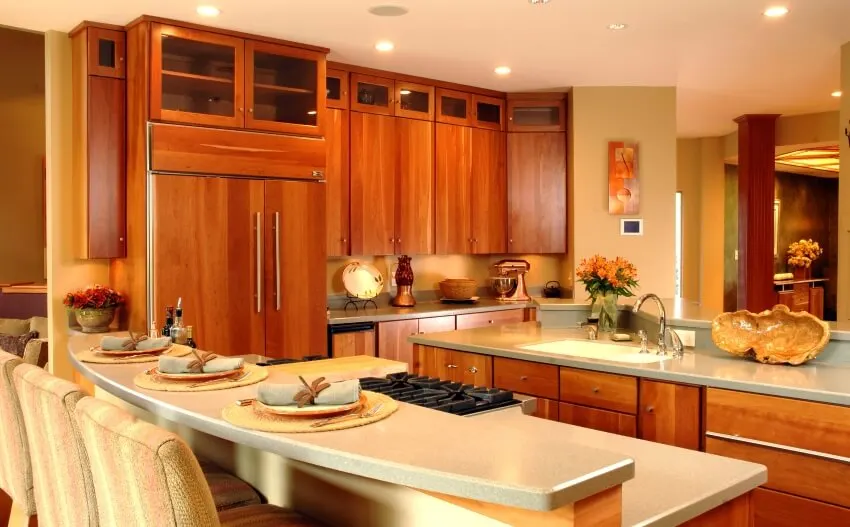 If you've grown tired of looking at your dark cabinets and you want something brighter but replacing them is too expensive for you, transform your kitchen cabinets with a brighter color instead.
When lightening your cherry wood kitchen cabinets, here are simple steps to follow.
1. Thoroughly clean your cherry cabinets and wipe down dirt and grease
2. Use a remover to get rid of the lacquer in the cabinets' surfaces and strip off the finish on them if there are extra coating
3. Use sandpaper to take out the dark stain and expose the fresh wood
After the third step, there are two directions you can go to. The first path is to immediately apply UV blocking lacquer on the wood to slow down the process of the wood darkening. This is only applicable if the original color of your cherry kitchen cabinets is light in color.
The second path you can take is to apply light-colored paint on your cherry wood cabinets. This can be a bit painful to do though since cherry wood is aesthetically pleasing on its own. But if you really want a different color for your cabinets, you can paint over it.
Visit our guide on how to brighten a dark kitchen for more related content.