This gallery shares lights above kitchen cabinets including the different lighting types, the best options, and tips on how to add lighting above a kitchen cabinet.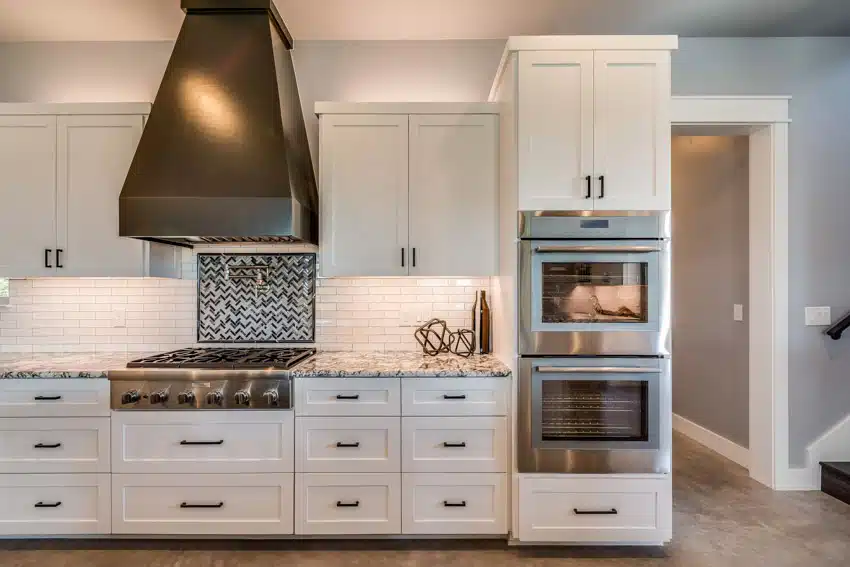 Lighting above cabinets is a terrific way to add illumination to your kitchen cabinets while also enhancing their style. It also aids in the addition of necessary light for near-cabinet tasks and awareness inside cabinets as well as the creation of attractive dramatic lighting with or without the use of ceiling lighting fixtures.
These over-cabinet lights come in a variety of styles and colors and are especially ideal for illuminating areas above cabinets. Lighting colors and finishes vary, making it simple to select the proper light for the job, whether it is highlighting display items or integrating lights into crannies and nooks.
Over-cabinet lighting makes it simple to generate a radiant mood in your whole kitchen. In this article, we will go over the different types of lighting fixtures that you can use above your kitchen cabinets.
Types Of Lighting For Above Cabinets
The lights above kitchen cabinets are a prevalent element in contemporary kitchens or wherever cabinets, shelves, or drawers might be improved, and they offer a professional touch.
These ceiling lights sweep away the dark shadows, creating an inviting environment and bringing to life a spot that is typically overlooked. To accommodate various designs and preferences, various lighting options are available for above-cabinet lighting. Below are some of the more popular options.

LED Lights Above Kitchen Cabinets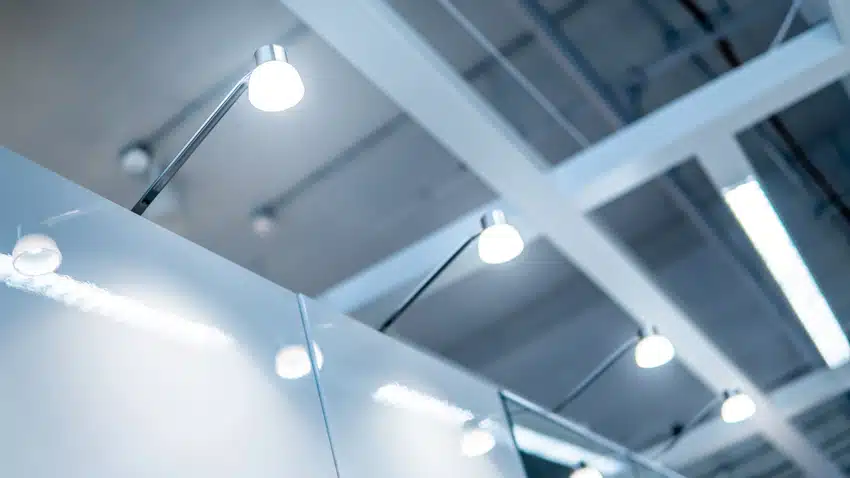 Skillful designers and homeowners throughout the world are recognizing that installing high-quality indirect lighting can bring practically any kitchen to life. Above-cabinet LED lighting is a widely known way to accomplish this.
It is just an easy do-it-yourself solution that will significantly enhance the visual attractiveness of any kitchen. LED lighting utilizes 75% less energy and lasts 25 times longer than typical incandescent lights because of its upgraded technology.
LED light fixtures above kitchen cabinets emit a large, pleasant glow that is more advisable to use than traditional overhead lighting systems and bulbs. Small, adaptable LED lights can be discreetly fitted to the top of any kitchen cabinet to offer a lovely diffused light source with no exposed wires or unsightly parts.
It is quite an ideal way to brighten your kitchen, especially the space around your kitchen cabinets. Furthermore, the above-cabinet LED lighting is available in a variety of designs, shades, and white hues to fit any layout.
The vast majority of them are also dimmable, providing you with complete control over setting the ideal ambiance. LED lights can last up to 50,000 hours and will not harm cabinets because they remain cool whenever you touch them.
It is obscured above the cabinets and provides over a decade of energy-efficient, attractive, and secure indirect lighting. Adding above-cabinet LED strip lights is another great way to add vibrancy to your kitchen or generate functional task lighting.
To meet every purpose, single-color, color-changing RGB, and configurable white LED strip lights are offered in weatherproof, shockproof, and indoor forms. You may use a remote, tablet, or computer to operate them, and their adhesive backings make installation easier.
String Lights Above Kitchen Cabinets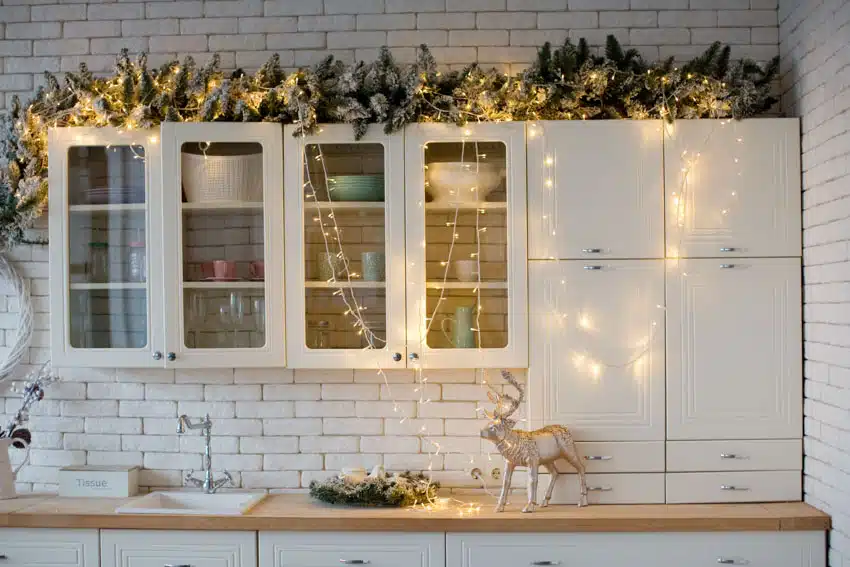 String lights are the well-known garland luminaire style of light. Transparent bulbs are suspended on a uniformly spaced cable. They can also brighten the area beneath them. You may even make it more appealing by hanging lights or decorations or by adorning the entire arrangement on your kitchen cabinets.
If your kitchen cabinets have a space between the cabinet's uppermost portion and the ceiling, string lights fitted in the recessed spot would be ideal. It can offer a striking element to the lighting design in your kitchen. String lights, which are made up of a continuous strand of tightly linked fixtures, provide continuous accent lighting with no overly bright spots or gloomy corners.
The best part is that if your kitchen already includes an outlet built above the kitchen cabinets, then all you need to do is plug in the subtle light and scatter it out. String lights above the cabinets will set the tone and atmosphere in the kitchen.
The illumination that above-cabinet string lights typically produce is white and warm, which is sufficient to appropriately illuminate even huge cabinets. It is normally carefully utilized and placed, and the brightness and concentration of the string lights can be adjusted.
Cove Lighting Above Kitchen Cabinets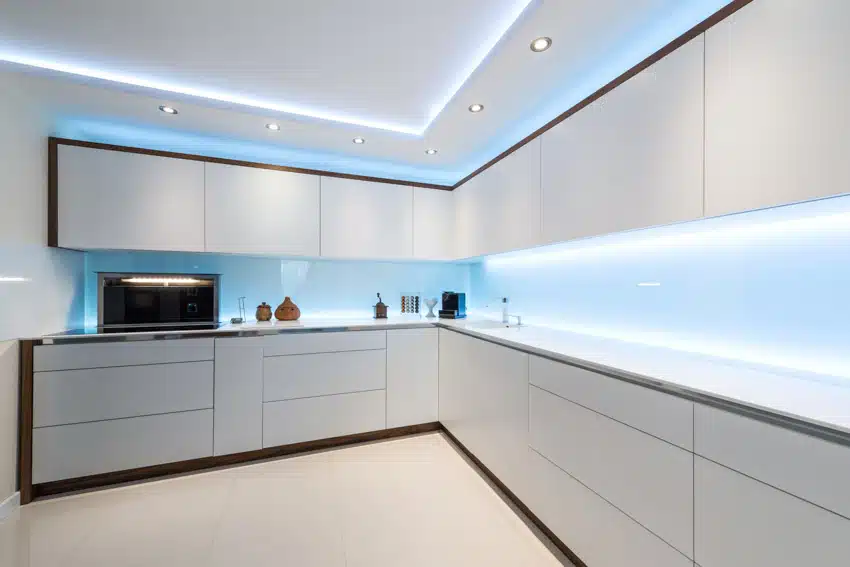 Cove ceiling lighting, a sort of uplighting that sends illumination to the ceiling surface from a cove solely on a single or even more corners of a kitchen to give general diffuse illumination, is among the most popular kitchen lighting strategies. This type of lighting is often installed on or built into a wall, but it can also be installed above a cabinet.
Cove lighting is among the greatest ways to softly illuminate specific areas of your kitchen cabinets. Cove lighting above cabinets can effectively highlight the layout of the kitchen for visible points of reference.
Moreover, cove lighting may be useful in bigger kitchens to emphasize certain items near cabinets. Cove lighting on top of the cabinets can accentuate cookware and other goods on exhibit in small kitchen layout dimensions, and well-placed cove lighting can make the kitchen feel more spacious.
A well-placed cove lighting between the ceiling and the upper kitchen cabinet is an excellent choice. In general, thin string lighting is concealed between the ceiling and the cabinetry's topmost surface. You will appreciate how the lights emphasize the sleek modern design and the sensation of openness of the area, making the full-height cabinets appear less overwhelming.
Kitchen Cabinet Interior Lighting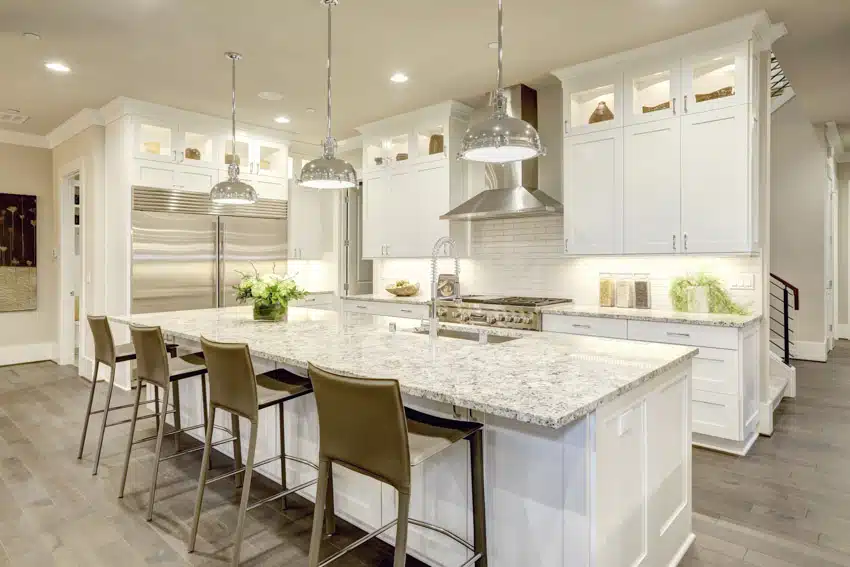 Kitchen cabinet interior light fixtures elevate the look of your kitchen. Interior lighting emphasizes goods on cabinet shelving thereby providing subtle mood lighting for your kitchen in glass-fronted or open cabinets. This lighting is ideal for displaying decorative items in your cabinets. A spherical light from above or a straight light hidden below the face frame is usually applied.
Moreover, motion-detecting lights are quite useful as well in kitchen cabinets with solid doors and can even be employed in deeper-base cabinets to assist you in finding items such as a pot cover that has made its way to the rear of the kitchen cabinet.
Interior cabinet lighting does not have to be restricted to rectangular fixtures or large pucks. Technology has advanced to the point where thin, unobtrusive strips can be placed without any electrical expertise.
Kitchen cabinet interior lighting, unlike under-cabinet lighting, is not intended to be the predominant source of illumination for conventional kitchen activities like preparing meals.
In many situations, particularly with glass kitchen cabinet doors, the lights that are put within a kitchen cabinet are employed for aesthetic purposes rather than practicality, primarily illuminating the cabinet's contents slightly when the central kitchen lights are turned off.
This style of lighting is similar to cove lighting in a way it offers a touch of an elegant and premium vibe to the kitchen without adding considerable illumination.
Whenever you open the cabinet door, a separate sort of cabinet interior light highlights the items of the cabinet, similar to certain stick-on, battery-powered lighting fixtures used in bedroom closets that do not include their separate hard-wired source of light.
Furthermore, a small motion-sensing interior light is also an excellent choice for deep kitchen cabinets or pantries that are not adequately lit by overhead kitchen lights. Several of these are fairly vivid and must be placed for maximum effectiveness while opening and closing drawers and doors or relocating the cabinet's items.
Kitchen Cabinet Track Lighting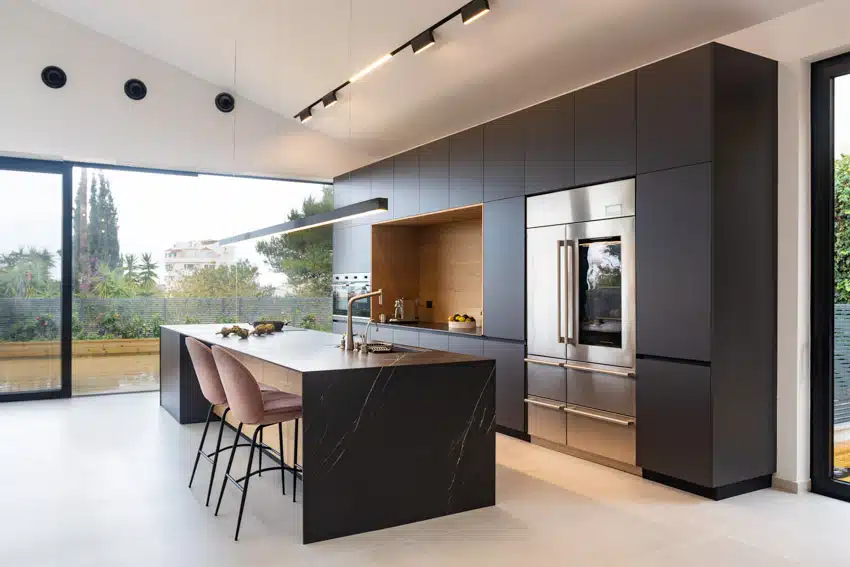 Kitchen track lighting is adaptable, affordable, and simple to reposition. It delivers task lighting precisely wherever you require it. Track lighting is therefore suitable for kitchen cabinets.
It appears to be the lighting option that can do nearly everything, from sleek, curved tracks with high-intensity halogen lights that flow around the kitchen to plain tracks with LEDs that brighten the cabinets.
To draw attention to track lights in your kitchen, you can choose a strong contrast in color from your cabinets. A matte black track light arrangement balances almost any kitchen style, offering a visual interest as well as practical, customizable lighting.
Best Lighting For Above Kitchen Cabinets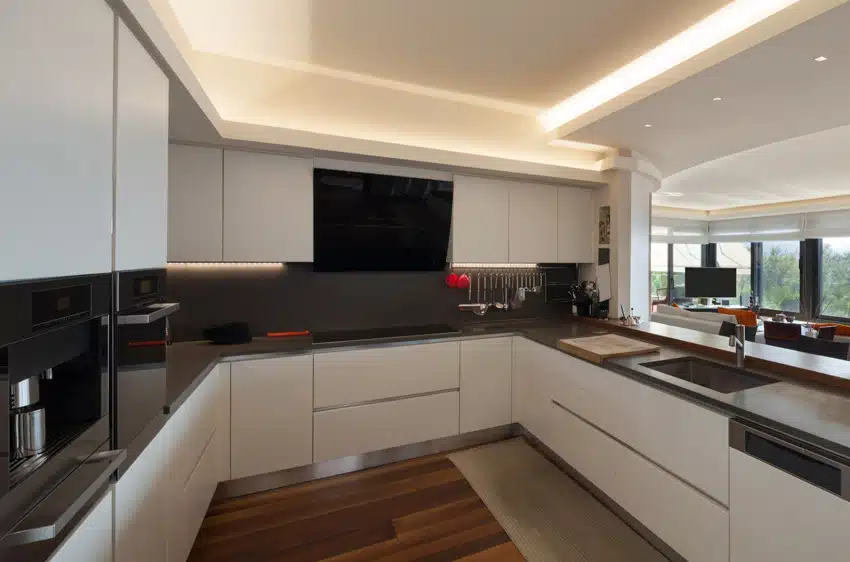 LED types of lighting fixtures are the best option for the above kitchen cabinets. They save energy, feature a long life expectancy, and do not get hot when being used. LED lights may also be dimmed, making them excellent if your kitchen cabinet lighting is also a part of the room's accent lighting.
They are also available in a multitude of colors in addition to white, which can end up making the lighting layout of the space more fascinating when utilized for glass-fronted kitchen cabinets.
In comparison to any alternative above-cabinet lighting solutions, above-cabinet LED lighting employs the same method as under cabinet lighting and will certainly last much longer, use less energy, be easier to use, and look absolutely stunning.
How To Add Lighting Above Kitchen Cabinets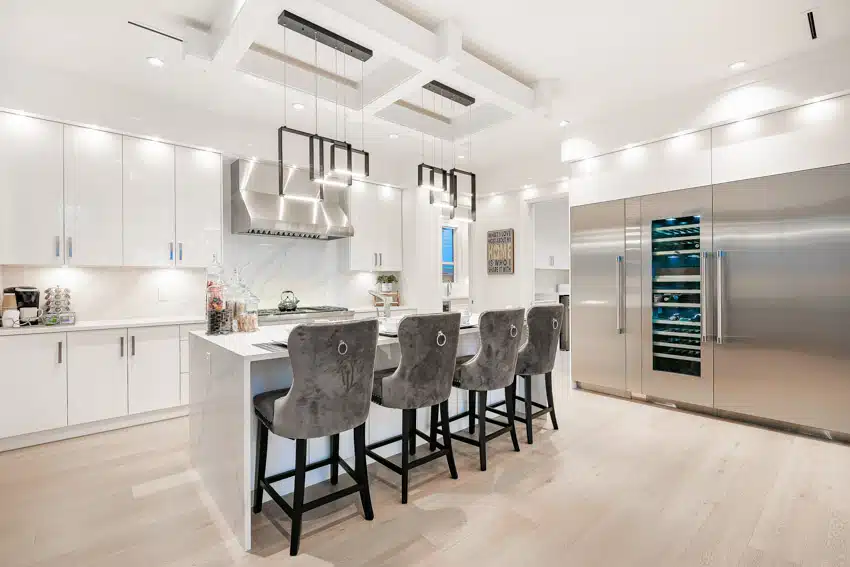 First, you have to determine what supplies you will need as well as how many you will need before you begin installing the above-cabinet lighting in your kitchen. Develop your customized installation plan.
If you think it is helpful, draw things clearly or create a list divided by area. Examine the number of cabinet junctions as well as the number of instances you will connect from one lighting section to another or to a piece of extra wiring.
It's also helpful to measure each section carefully so you have enough electrical cord. This way you can reach all of the area you want illuminated, or connected to the planned fixtures.
The easiest objects to remember are the bigger materials including power cords, controllers, and power supply units. Nevertheless, it is indeed easy to ignore the little things. Small objects can be anything from cable ties mounting units for holding wire or connections to double-sided adhesive sheets for controllers and terminal boards.
Hence, you have to plan how you will complete each step of the procedure, from connecting to an electrical outlet and wiring your power source to linking light fixtures to controllers and one another.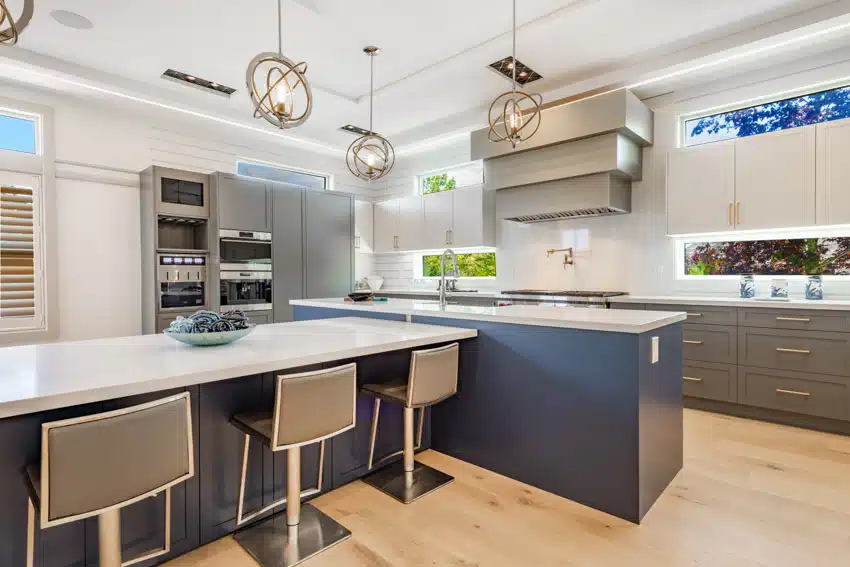 You also have to plan how you will be navigating around obstructions like kitchen windows or cooktops to decide what you will need. Once you have considered these things, you may not start installing the lighting above your kitchen cabinets.
Here are the above cabinet light installation steps you can follow:
Step 1: Create an opening on the top of your kitchen cabinets, just above the place where your power source resides.
Step 2: Start connecting your extra controller to the power source using a two-conductor power supply unit. Connect the power line to the controller located above your kitchen cabinet.
The power wire should be threaded into your kitchen cabinet from the top and inserted into the terminals on your extra controller where the power source lines are placed.
Including a secondary controller for your above-cabinet lighting panels or strips allows you to control them independently. However, you can use the zone controls to operate all sets of lights with a single controller.
Step 3: If appropriate, connect the controller to the top of your kitchen cabinet with a double-sided adhesive sheet.
Step 4: Connect the pigtail connector cables to the suitable areas on the controller then secure them. Attach the connector's opposite end to the base of your initial lighting panel or strip.
Step 5: Cut along the indicated cut line, reaching near the end of the cabinet when allowed, but leave room for an additional connecting jumper. Stretch the strip to the end of the kitchen cabinet.
However, the strips might be visible from various angles throughout the room. So, you have to lay out your lighting strips and observe them from a distance to make sure you prefer how they will look when they meet intersections.
Step 6: Remove the adhesive backing from the strip and fasten the connecting jumper.
Step 7: Fasten the other end of the connecting jumper onto the next length of the strip and attach the strip to your kitchen cabinet.
Step 8: Duplicate this procedure until you reach the corner cabinet. Gently bend the lighting strip to a 90-degree angle and keep installing it until you approach the end of your kitchen cabinets.
Talking about the lighting fixtures, it would be your choice what type of lighting you will like to install above your kitchen cabinets. But as aforementioned, LED lights are the most highly recommended option.
See more related content in our article about low ceiling kitchen lighting on this page.