Here's our guide to kitchen under cabinet lighting including popular types, cost and output needed.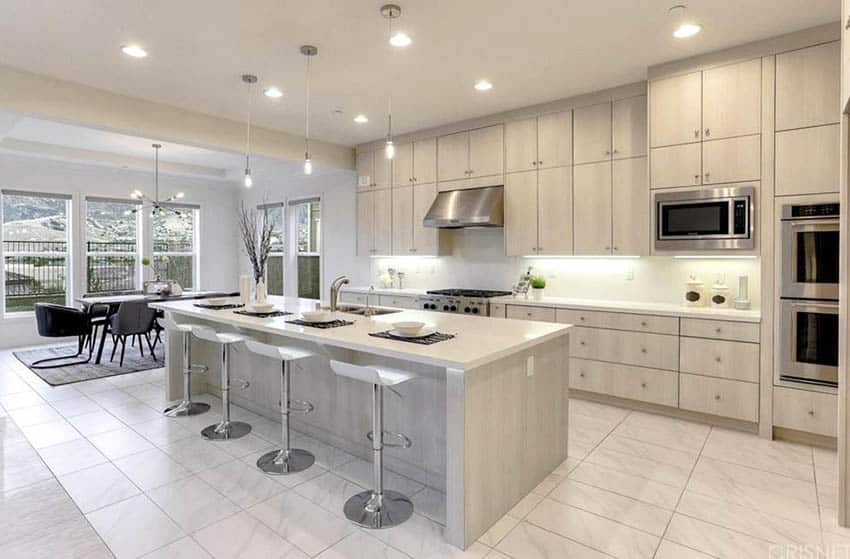 Kitchen under cabinet lighting, otherwise known as under counter kitchen lighting, is an example of what is thought of as "task lighting". This sort of lighting is placed in a way that helps you get tasks done, so that you can see your workspace and what you are doing more clearly.
Under cabinet kitchen lighting is not meant to be the main light source of your kitchen, they are more like accent lights in the sense that they are placed strategically in a place where you either feel you need more light to work or to enhance the room atmosphere.
Types of Kitchen Under Cabinet Lighting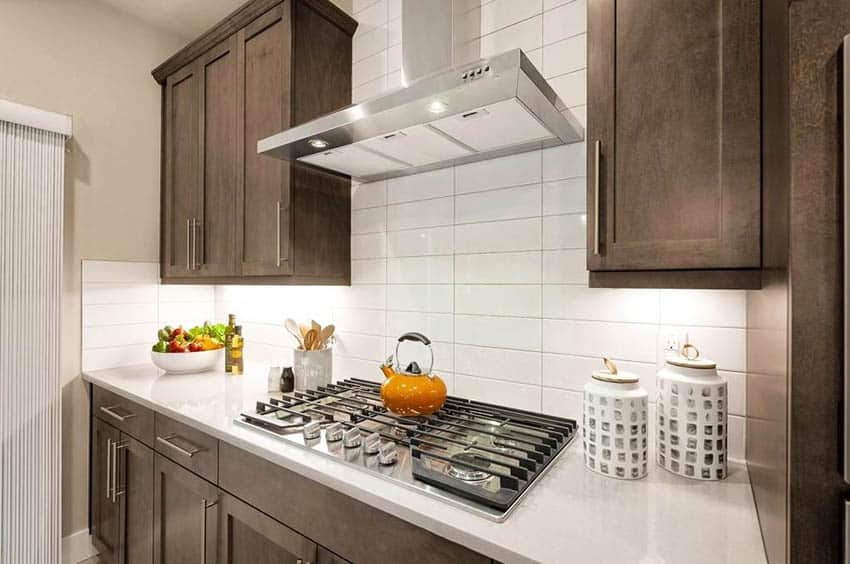 Under cabinet kitchen lights come in a variety of sizes and shapes. They are also classified by how you install them.
There are two primary types of under cabinet kitchen lights classified according to installation. These are plug-in lights and direct wire lights.
Plug-in Lights
These are light fixtures that are easy to install because they don't require you to install additional electrical wiring in your kitchen.
When you buy these fixtures, they come with a built in plug. The idea is, you just mount the light fixture wherever you want it and plug it in. Just make sure that the plug can reach an available outlet.
Direct Wire
These are light fixtures that need to be directly wired into your home's electrical system. You can't really do-it-yourself with these fixtures; for one thing, you will have to expose your room's electrical wiring to attach the fixtures wiring to it.
The advantage to direct wire lights is many people feel it look's "neater" as the wires are mostly hidden away. It also frees up the rooms electrical outlets for other things – like for appliances. Also, this way you can link up all your lights to a single switch or even a dimmer which some people find more convenient.
When it comes to form and function, there are also several types of under cabinet kitchen lights. Most of these come in both plug-in and direct wire variations.
Fluorescent Strips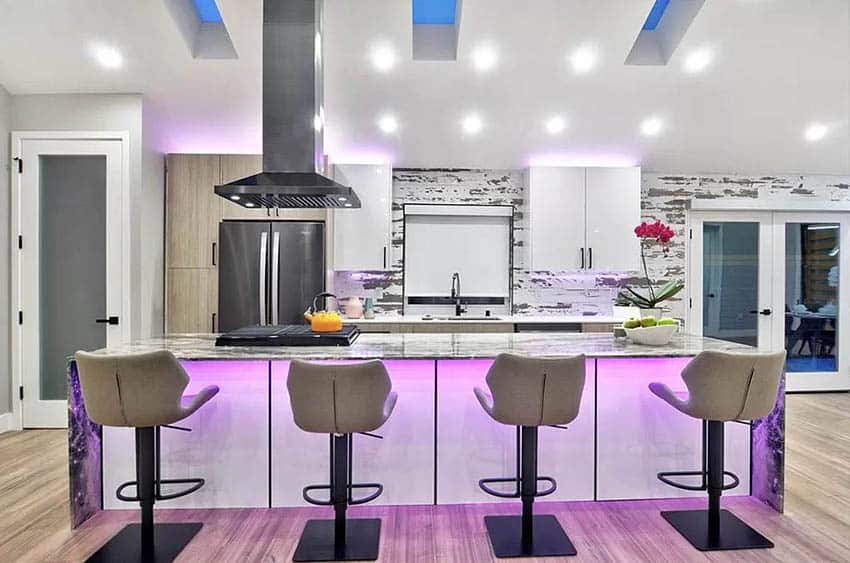 These are basically fluorescent tubes that are installed under the kitchen cabinets where they could shed light on the counters below. While these were a fairly popular type of under cabinet kitchen lights, they have recently begun to fall out of favor as some people feel like fluorescent lighting is to glaring.
One good thing about fluorescent strips that you should think about incorporating in your under cabinet kitchen lighting design is how they were installed. They were mostly installed at the angle where the kitchen walls met the cabinets. By keeping the light fixtures tucked away there, you ensure that they don't get in the way of anyone working at the kitchen counter.
Round Lights
Round lights are often called puck lights because they are supposed to resemble – in shape if not necessarily size – hockey pucks.
These round light fixtures are a popular choice for under cabinet kitchen lights as they provide a focused light onto the work spaces which some people prefer.
Many models of round light are easy to install by sticking to the surface and are easy to turn on with a single tap. They also often do not require wiring and run off of replaceable batteries.
The main problem with these is they often need to be turned on one at a time and they will need to be periodically have their batteries changed. Another factor to consider is their illumination output. Many types of round lights only provide around 50 to 60 lumens which is much less than the recommend amount for adequately lighting a countertop area.
Led Under Cabinet Kitchen Lights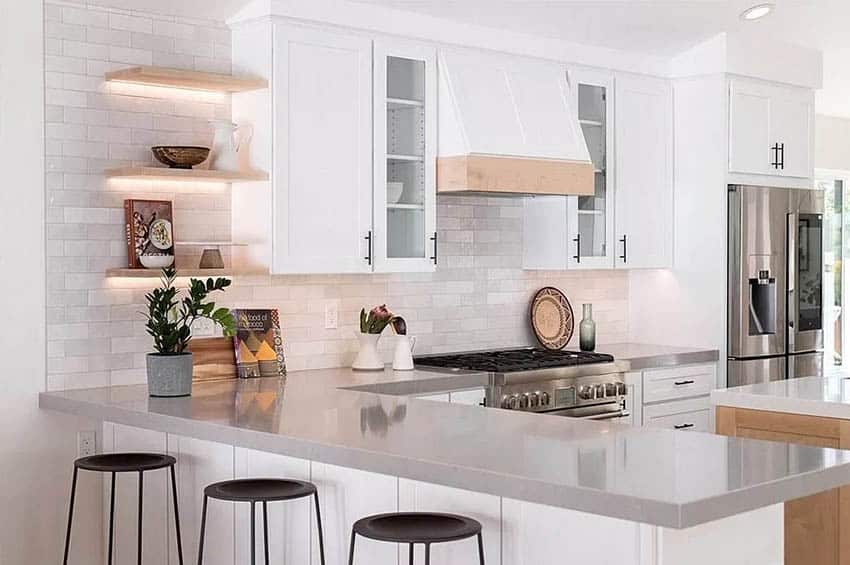 The advantage of LED lights is they have a longer service life, which means that they cost you less money to install and operate. They are also very energy-efficient.
One big draw to LED lights is they can come in a range of colors, producing warm and cool lights according to your personal taste. They also come in several levels of brightness.
When talking about kitchen lighting, another big advantage to using LED lights it emits very little heat. You can get strip lights and puck lights that use LED bulbs but there are also specific forms of lighting fixtures that specifically use LEDS.
Tape Lights
These lights are sometimes also called strip lights. They are an affordable and do-it-yourself option to installing under cabinet kitchen lights.
Tape lights are basically a strip of flexible tape embedded with LEDs. They can be secured to a surface with adhesive.
You can buy these lights in coils from hardware stores and when you spool them out, they are can fit almost anywhere. They often come with a plug attachment so you don't have to install additional wiring, just make sure that the plug attachment can reach a nearby outlet.
Rope Lights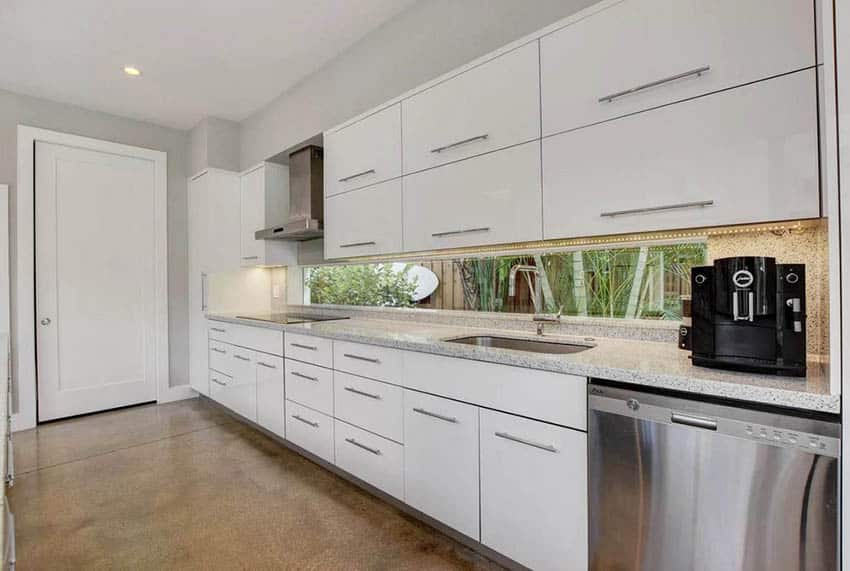 Rope lights are similar to tape lights in the sense that it's a "string" of LED lights. The difference comes in the size.
Rope lights come in a larger diameter than tape lights do. They are basically a strip of LED lights encased in plastic tubing. This tube can then be installed similarly to tape lights and also come with plug attachments.
What is the best under cabinet lighting for kitchens?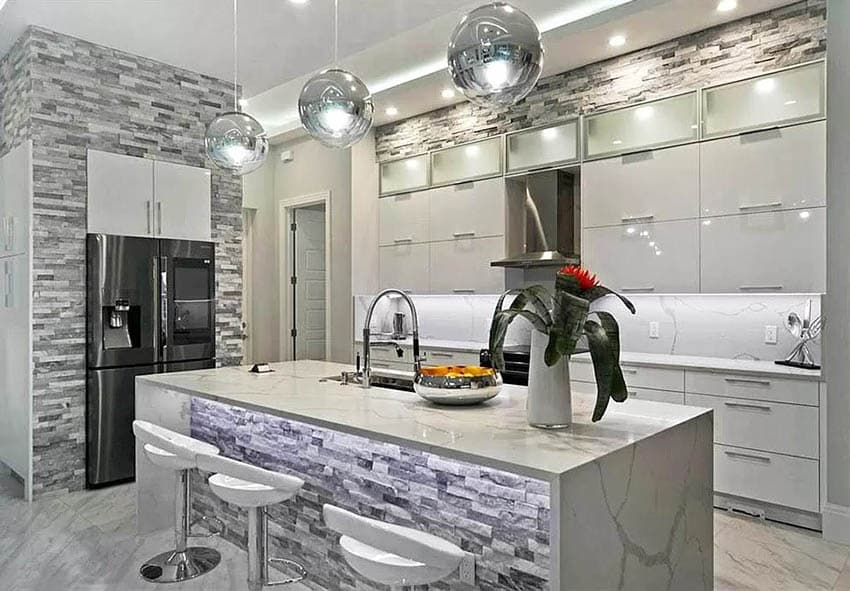 The shape and size of your under cabinet lighting fixture should vary according to the type of lighting that you are need.
If you want more light to illuminate your overall kitchen space, the best type of under cabinet lighting to have is strips as they shed light more evenly. If, however, you want to focus the light on a certain spot, it's best to use puck lights.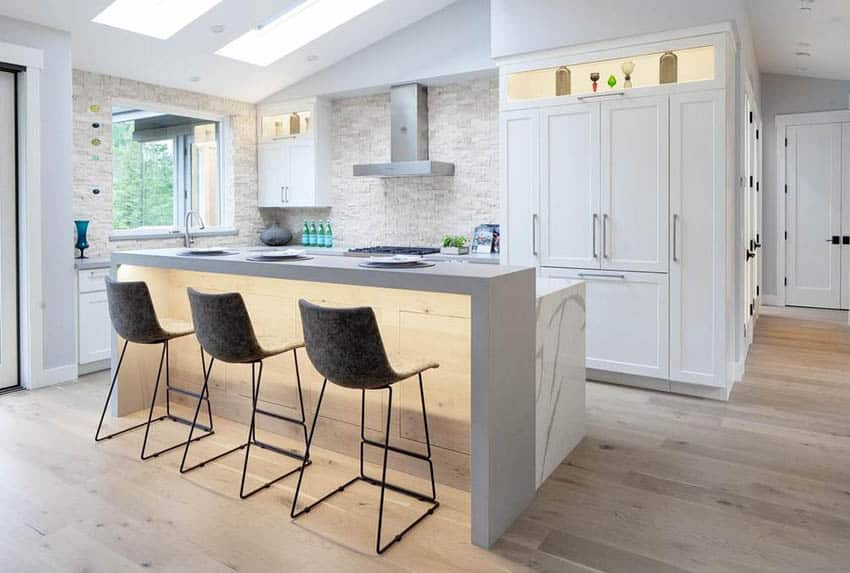 This kitchen island features under counter lights and cabinet niche lights to illuminate decor items.
How many lumens do you need for under cabinet lighting?
The number of lumens that you need of good under cabinet lighting will depend on what you are using it for. If you mainly want your under cabinet lighting to serve as accent lighting, you should go for 150 to 250 lumens.
If, however, the reason that you are installing under cabinet lighting is because you think that you need more task lighting, look for lights at 175 to 550 lumens.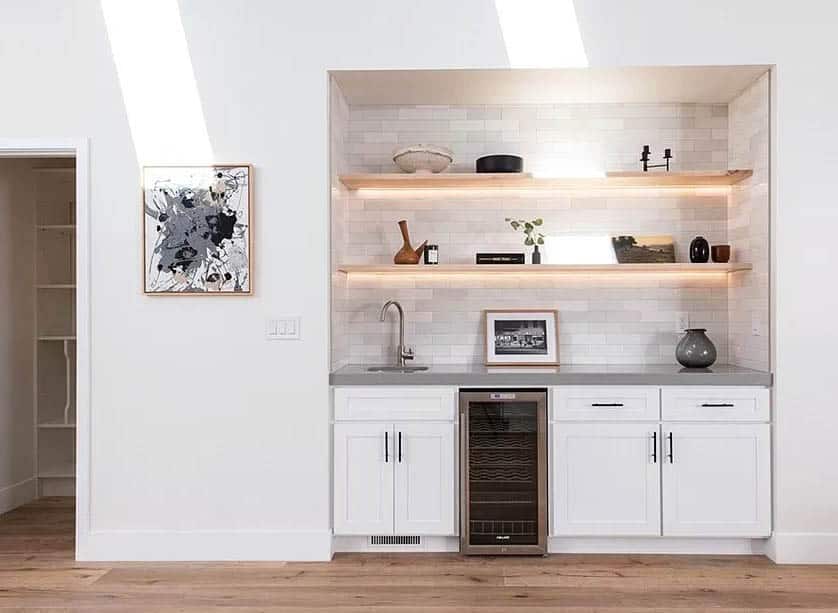 Under shelf lighting is another way to direct light right where you need it. This home wet bar uses under shelf lighting to add visual interest and help light the countertop.
How much does under cabinet lighting cost?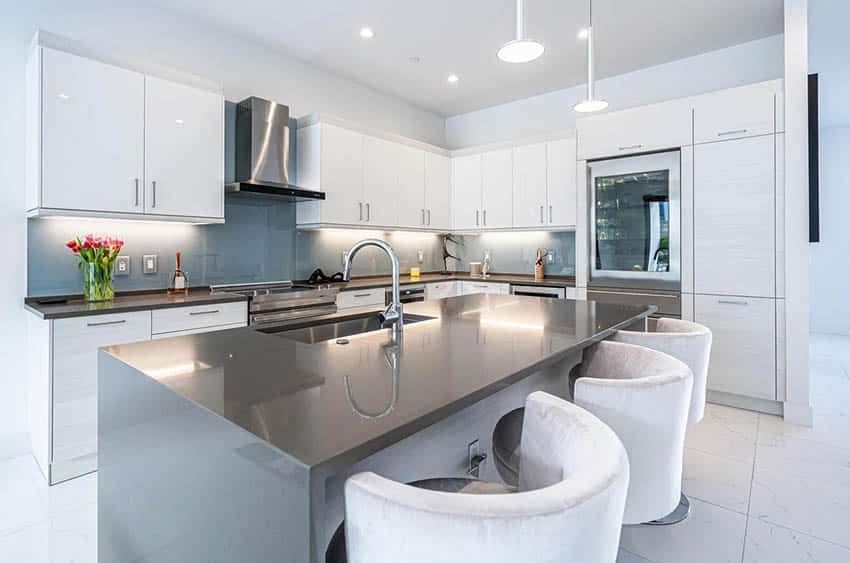 The average cost of a under cabinet lighting project is about $1,500 to $2,500. The total cost will be affected by the type of lights and the area to be lighted.
If you choose to get plug-in types of light fixtures, you can save on labor costs as you won't need to hire an electrician. An electrician will charge an average of $50 to 100 an hour for a under cabinet or under counter lighting project.