Here's our lamp shade sizes guide including living room, bedroom and office lamp shade dimensions and how to measure a lamp shade.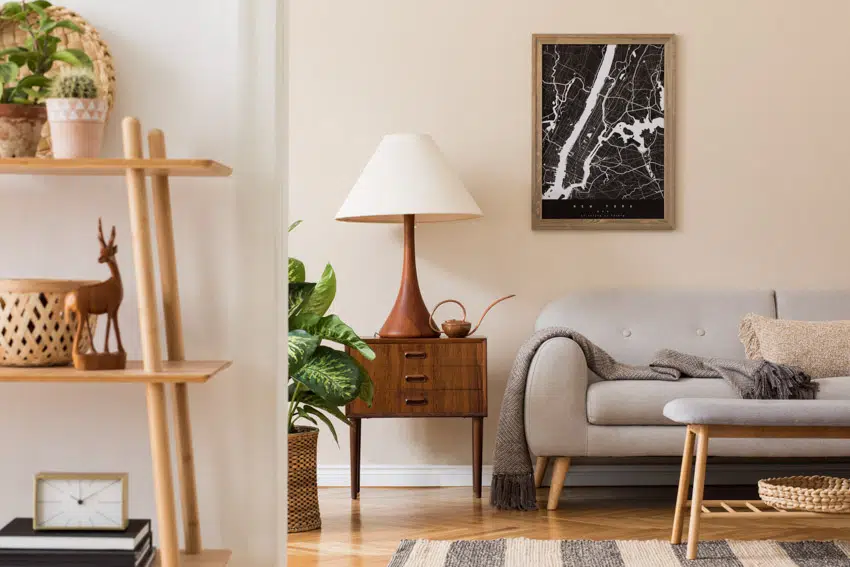 Are you looking to replace your lamp shade? Or perhaps looking to buy a new shade for your newly thrifted lamp base.
Here is a simple guide to help you get a head start on your search. Ready? Here we go!
Standard Lamp Shade Sizes
The standard lampshade that is used in a home is a table lamp, and a table lamp that would work in your living room may not work for the bedroom or even for your home office. So, what dimensions should a table lampshade be?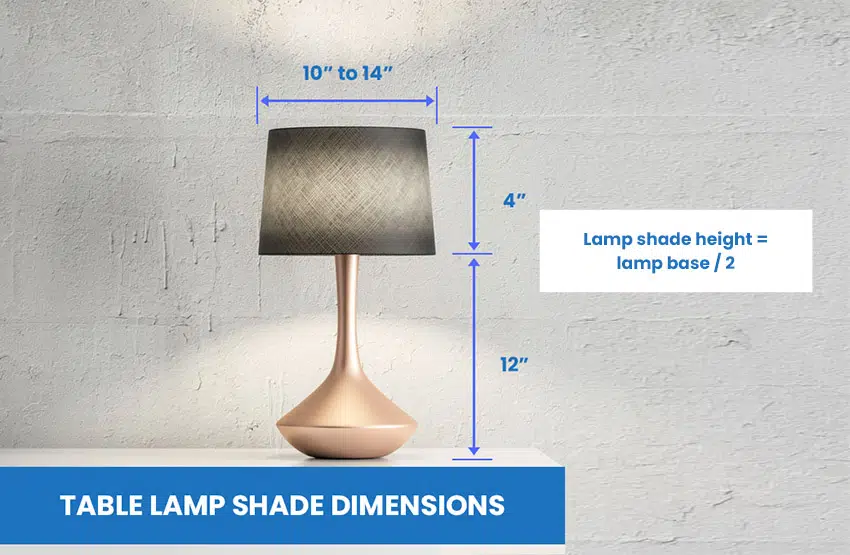 The first thing to know is the overall lamp and table measurement, especially for the living room where we mostly spend our free time at home.
It is important to remember that your lamp should not be 150 percent taller than the table it would be sitting on.
The second tip is the shade of the lamp's diameter should be no less and no more than two inches of the lamp's base length.
To illustrate, if you have a lamp with a base height of 12 inches, your lamp's shade diameter should be between 10 to 14 inches.
Lastly, the lamp shade's length from top to bottom should be ⅓ of the lamp's overall height. For instance, in a 12 inches lamp, the shade should be ⅓ its size or 4 inches.
Living room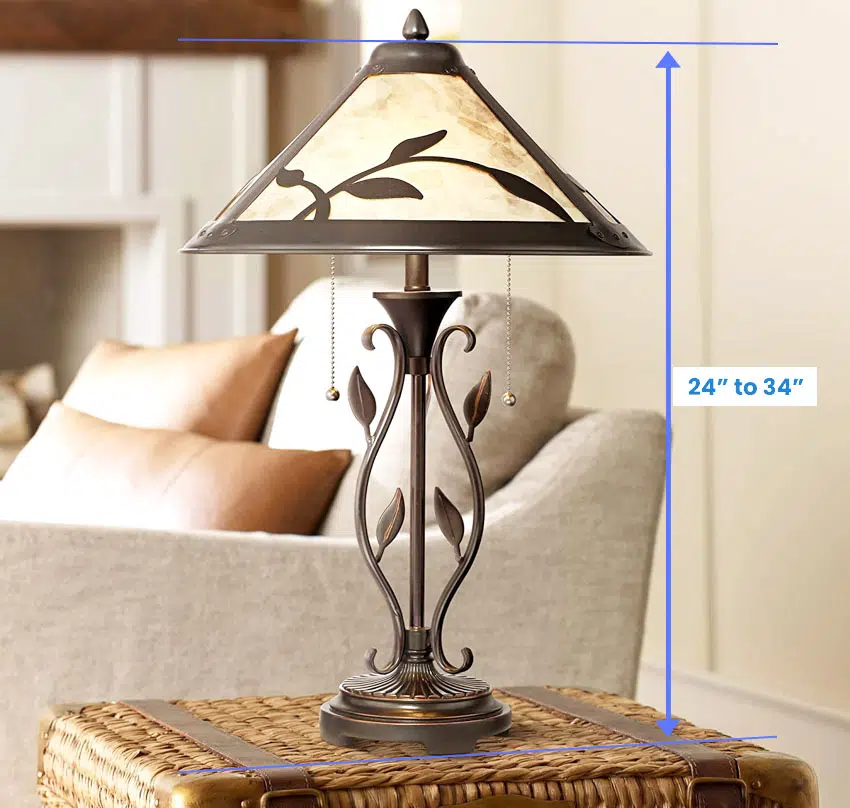 Almost every standard side table for the living room is somewhere between 28 to 30 inches so the ideal living room lampshade size is between 24 to 34 inches.
This measurement will make sure that the person sitting on the sofa has their eye leveled on the bottom of the lamp's shade.
Bedroom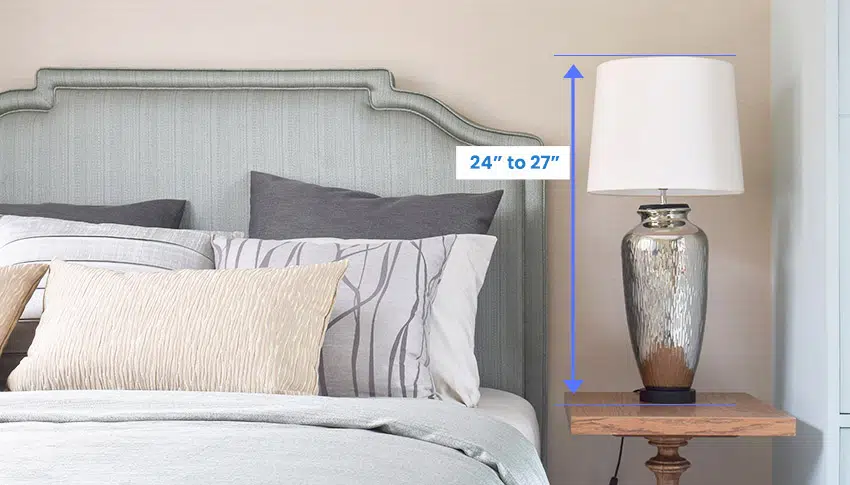 A main requirement for the lamp is that it should be accessible when you are seated on the bed, reading or conversing with a partner.
The ideal table lampshade for the bedroom is between 24 to 27 inches and the end of the lamp's shade should be leveled with your chin when you are seated.
Office Lamp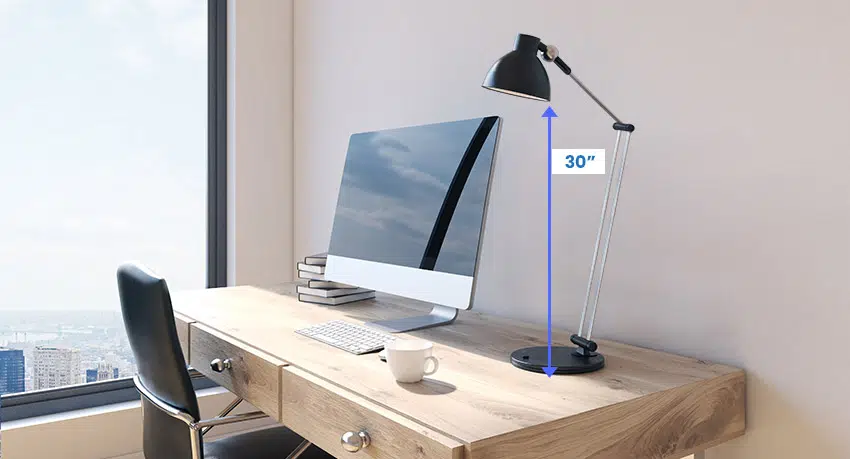 Office lamp is another ballpark entirely. Since this room's primary use is for you to work in it, more than adequate lighting is required.
This will mean that a taller table lamp that would exceed your height when seated is required to illuminate a wider area. A 30-inch lamp from the top to the base in a 32-inch table will do the trick.
Floor Lamp Shade Size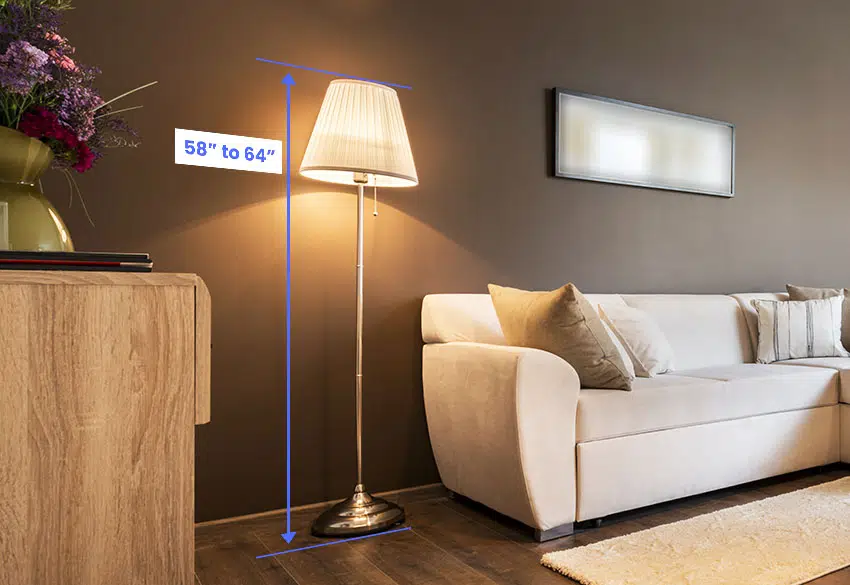 Floor lamps average to having an overall height of 58 to 64 inches and this measurement is based on the sitting height of an average person.
The bottom of the lamp's shade should be at your eye level when you are sitting on a couch or a chair.
A floor lamp will not only provide light for your room but is also a trendy addition to your home's interior. Be sure to measure your eye level when seated, and you can adjust it according to your needs.
If your sofa is smaller go with a shorter lamp, and if your sofa is taller, it's best to go with a taller lamp.
Lamp Shade Collar Ring Sizes
Shade collar rings allow you to add shade to your light fixture designs. Choosing a collar ring for your light is heavily dependent on the size or the diameter of your lamp holder or socket, so be sure to determine the size of your lamp holder first before adding a collar ring.
Lamp Shade Harp Sizes
The lamp harp is part of a lamp to which the lampshade is attached. It usually has two parts and that is the saddle which is situated under the lamp socket, and the harp itself which is made of a frame made of a lightweight material framing the bottom of the socket to a point above the bulb.
What Size of Lamp Shade do I Need?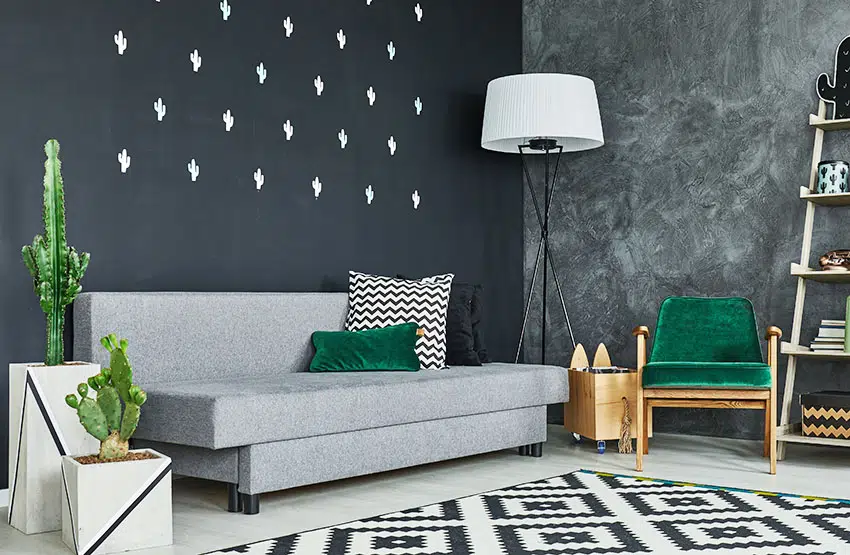 Deciding what size of shade that you need is dependent on many factors. Factors such as scale, style, and whether or not it will fit your lampshade. But once you get some numbers in place and you know what you want it will be easier. Here are a few key things to remember.
In choosing a lampshade, the first thing you need to determine is the lamp base's general shape. Make sure that whatever your base is, whether it is circular or angular, will usually look good if you opt for a shade shape that follows the lamp base's shape— a circular base for a circular shade and vice versa.
The second thing to remember is the width of a lampshade will look better if you follow or base it on the height of the lamp base. In this way, everything will look proportionate and symmetrical.
The third thing to identify is the shade of the lamp should be a third of its overall height, and the last thing is your lampshade should have a wider width than that of its base.
How to Measure a Lamp Shade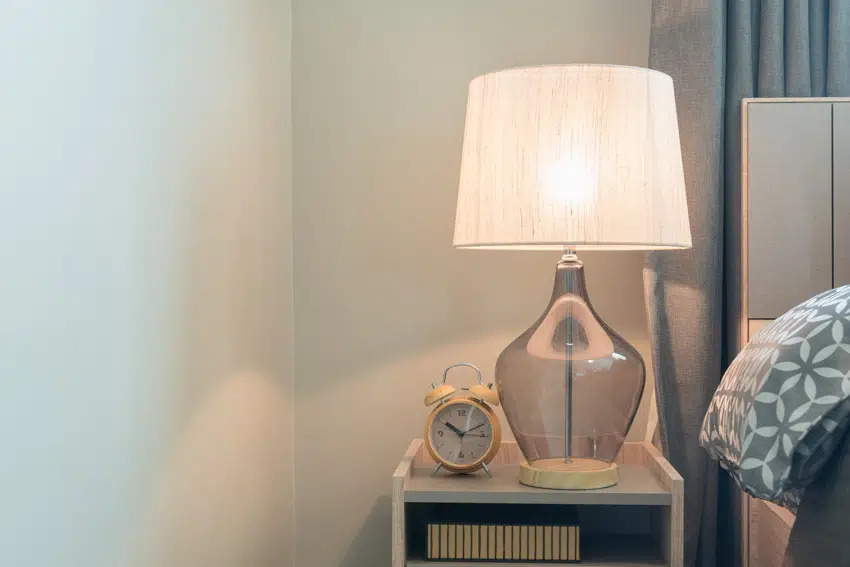 Have you ever thrifted or found the perfect lamp base on a thrift store or an antique market, and you're excited about finding just the right shade for it online? Where do you even start?
Simply eyeing what you need might lead to a lot of inconsistencies. Luckily it is fairly easy to measure what lamp shade you need.
All you need to do is measure the height and the width of the lamp's base. Once you have that, measuring your lamp shade's size will be foolproof.
Your lamp's shade size should be twice as wide as its base and a third of the height as tall as your lamp's height.
Thus, if you have a lamp with a total lamp height of 12 inches, you need a shade 4 inches high, and if your lamp's base is 6 inches, you need a lamp shade that is 12 inches wide.
We hope that this little compendium of guides, tips, and measurements helps you in your quest to find the right size of shade for your lamp. Good luck!
For more related content, visit our article about the types of lamp shades here.