Here's our patio size guide including average patio sizes and total square footage, different dimensions for tables & chairs, and how big a patio should be.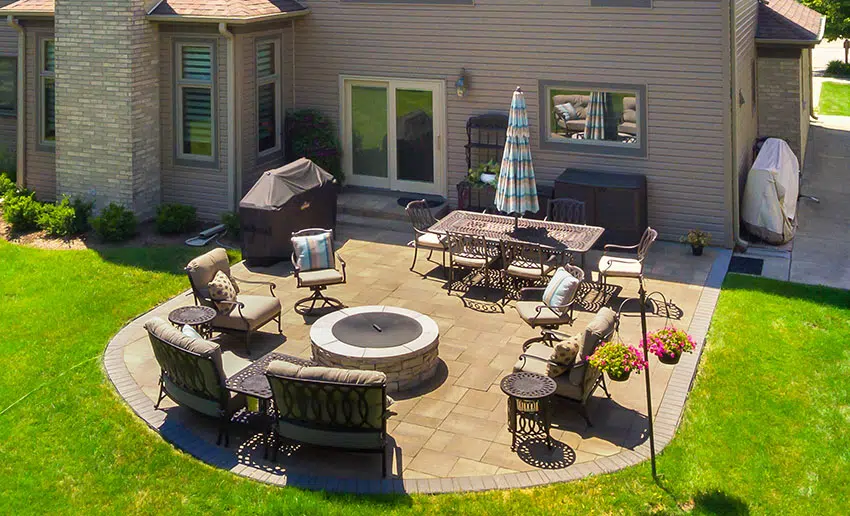 Ideally, the perfect home will have a sizable yard perfect for relaxing and basking in the outdoors every morning or afternoon. Although that reality is not always the case for most homes which makes considering the size available important before deciding on the perfect patio for a home to get as much out of the space as possible.
Personal preference and the available space in your backyard will dictate how big a patio will be. Still, there are general sizing rules any homeowner can look into to ensure that it will fit their needs and, simultaneously, make them spend less than they would need to.
Average Patio Size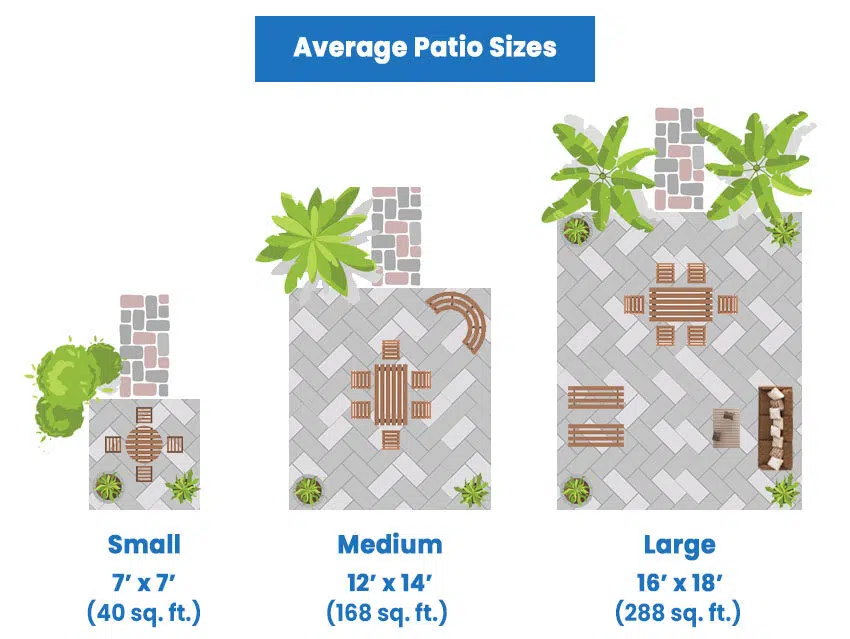 Many factors will decide what patio size you should choose, like is it for entertainment, or would you rather have a private sanctuary for reading or meditating? Even having children is an essential factor in their decision since some homeowners would like to designate a space on their patio as a play area.
There is no set standard size for patios. What they will have are set measurements for suggestions that will range from small, medium, and large.
Small patios will usually be 7 by 7 feet or about 2 by 2 meters. This size will be enough to accommodate a small bistro table plus two chairs anyone can use as a breakfast nest or a private knitting workspace.
Medium-sized patios are usually 12 feet by 14 feet or 3.66 by 4.27 meters. It is a perfect size if homeowners love entertaining because it can accommodate a full dining table with six to eight chairs.
Large patios are usually 16 feet by 18 feet or 4.88 by 5.49 meters. This is the perfect patio size if homeowners want to make their outdoor space into an outdoor living room that will have lounge chairs and a couch available.
Knowing the primary use of the patio and how much space a homeowner will have available for the patio is the first step to figuring out the ideal patio size and plan.
Average Patio Size Square Footage
One easy way to figure out measurement is by looking at the square area of the block of land to use for the patio. Usually, it will be easy to determine the total square meters of the space since all you will need to do is multiply the size of the width and the length of a room.
For a small bistro patio 7 by 7 feet in dimensions, the size in square meters is 40 square feet. Making sure that the space is functional and small enough to fit everything will be the challenge for this patio size.
A medium-sized patio at 12 by 14 feet will be 168 square feet in total. An excellent table for this outdoor dining space will usually be a circular round table at 48 inches in diameter.
A large patio at 16 by 18 feet will have a total square area of 288 feet. This space allotment for living room furniture should allow at least a 3 feet clearance space around each piece of furniture.
Covered Patio Size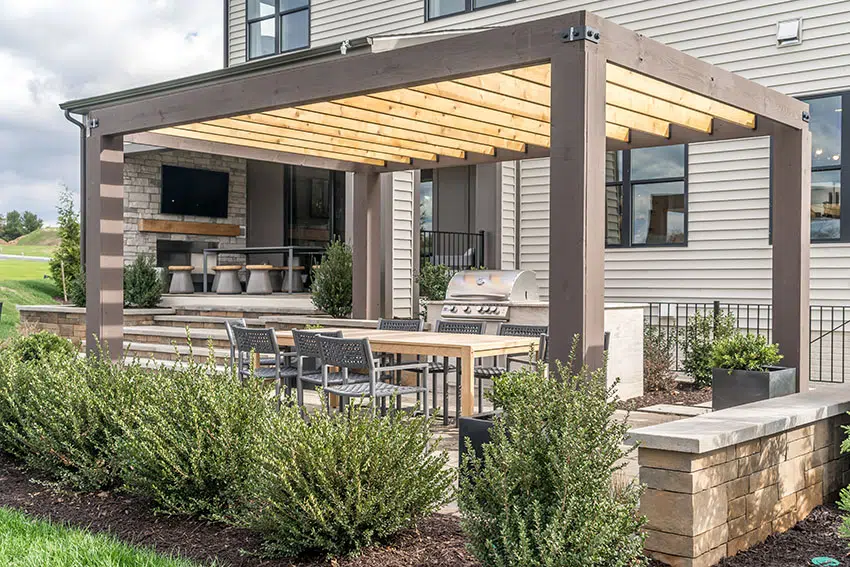 Covered patios are essentially patios with roofs over them, and it usually wouldn't affect the entire patio size. Homeowners can just follow the standard size suggestions or decide the size according to their space.
Patio spaces with roofing will usually be the larger patio size meant for entertaining or an extension of a homeowner's living room. Some of these patios will also have a fireplace or a fire pit for ambiance and warmth.
Outdoor patios dedicated to this purpose usually have pergolas or a gazebo for shade. These roofing are held by concrete columns that will stand in or outside the designated patio space.
Patio Size For Tables And Chairs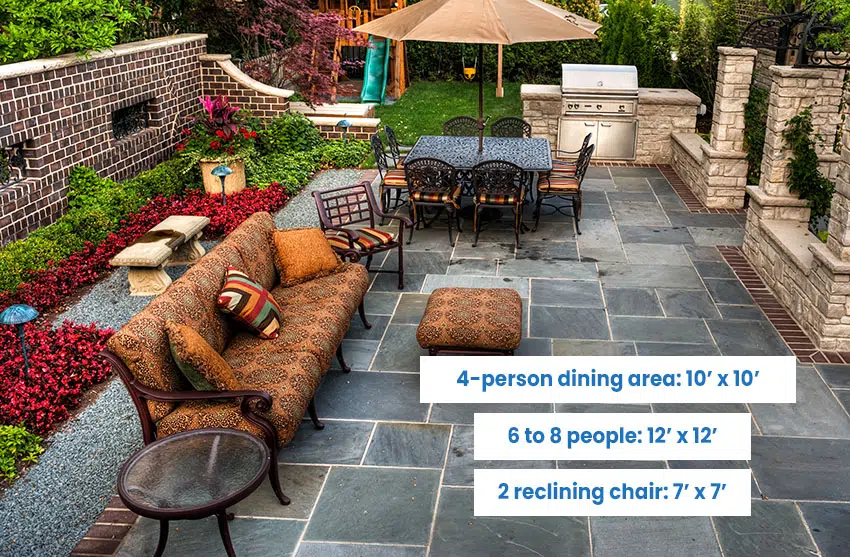 Although standard patio sizes are there to guide any homeowner, sometimes the set square footage will feel cramped because there is no consideration made regarding furniture space or foot traffic. Here are some guidelines to help.
For patios dedicated as a four-person dining area, a space of about 10 by 10 feet or 100 square feet will be enough. For six to eight people to fit in the patio, up the size to 12 by 12 feet or about 144 square feet. If any homeowner plans to use a rectangular table, the patio area should be 5 or 6 feet longer and broader around the table.
For small patios with a reclining chair, a space of 4 by 7 feet will be enough; up the chair by two and you adjust the room a little at 7 by 7 feet. Conversation areas for more than two people will be highly functional at 10 by 10 feet.
What Is A Good Patio Size?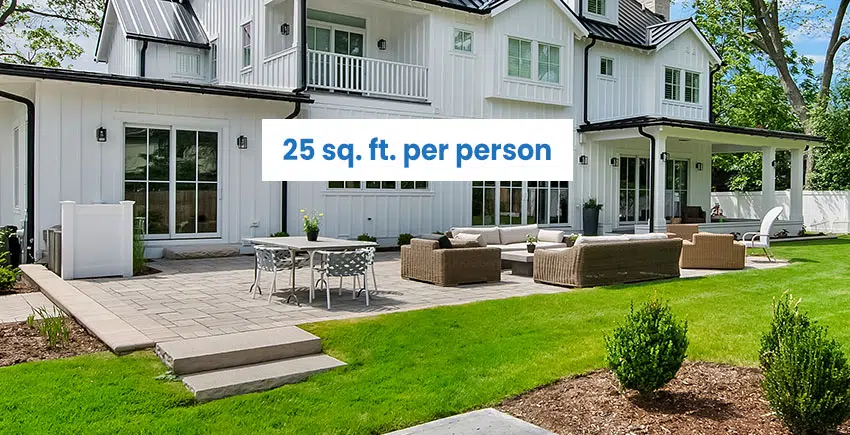 A good patio size will accommodate all the activities any homeowner would like to use their patio space for, from smaller operations like a private breakfast nook to more extensive functions like entertaining.
If the latter is what you are thinking of, a minimum patio size of about 550 square feet or about 51 square meters should be allocated. This will give every person in the space at least 25 square feet or 2.32 square meters to move around in the room freely.
If you want a patio to be big enough to hold at least 50 people for some reason, by using this method of measurement that will give each person at least 25 feet of space, the perfect patio for you will be a patio at 1250 square feet or about 116.13 square meters.
How Big Should A Patio Be?
How big a patio will be is a decision a homeowner should decide. There are factors to consider and questions to answer to aid this decision-making process.
The first thing is looking at what the patio will be used for. Often, patio sizes are not decided with the full knowledge of what they will be used for. A designer usually lists all the details a homeowner would like to include on their patio—features like a grilling station, fire pits, or a gathering zone.
The second is how many people it will hold at a single time. Is it for a few people, or will it be hosting regular parties like an event place? The last thing to regard is the total size of your yard.
Visit our patio table umbrella size guide for more related content.