Here's our grill dimensions guide including gas & charcoal grill sizes, average height and built-in grill & popular grill brand measurements.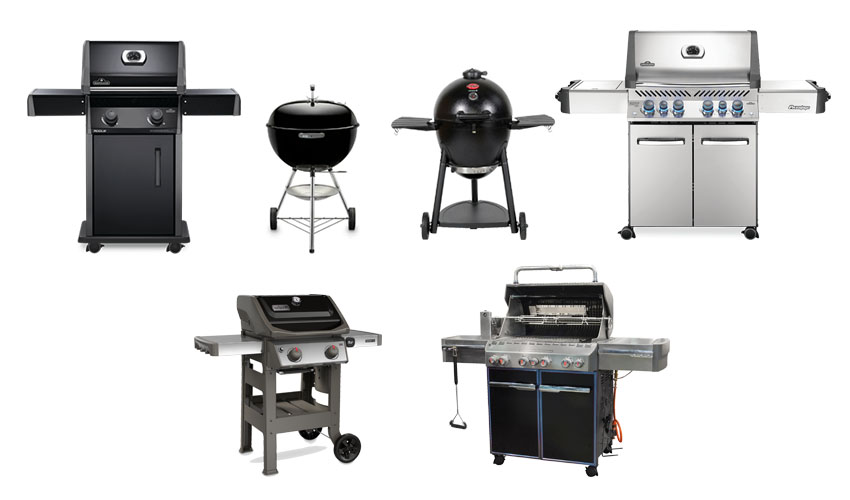 Homeowners who love to entertain and have guests may want a grill for appetizing BBQs. However, the challenge is the best barbecue size to get. At the very least, choosing a grill starts with the measurement of the cooking area of the grill, and that is determined by the amount of food being prepared.
Average Dimensions Of A Grill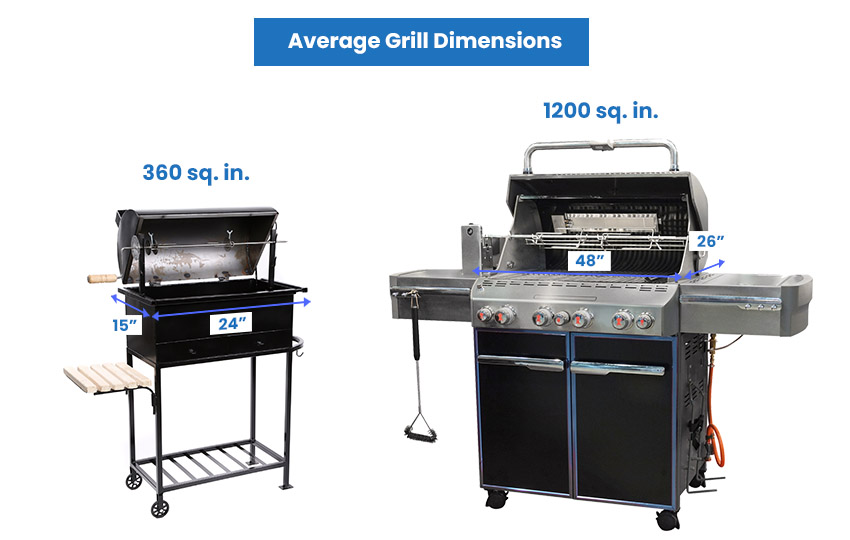 If you're opting for a small family gas grill, one usually measures between 400 to 500 square inches, but it can be up to 600 square inches in the cooking area for larger ones.
For the dimensions, the average size of a grill measuring 360 square inches can be 24 by 15 inches (width x depth), while larger ones, such as those with cooking 1,200 square inches, measure 48 by 26 inches (width x depth).
But if going for a gas grill, consider the number of burners, too. As for example, a 3-burner type can have a cooking area measuring between 450 to 500 inches, ideally for a smaller family.
Meanwhile, there are also types with burners totaling up to six, typically those with grilling area measuring between 550 and 650 inches.
To help with the selection, you might want to opt for the larger one if you like entertaining guests and you have enough space on your backyard deck or patio.
Grill Height

On the average, the height of an outdoor built-in grill is between 30 and 36 inches. This size range may be enough if you're planning to grill for yourself and don't entertain people as often.
Let's use an example. A Napoleon Rogue 365 is a small gas grill that suits people who only cook for their family. It is portable that it only measures 48 by 25 inches (width x depth) with a height of 48 inches.
A medium-sized one, like the Napoleon Prestige 500, is ideal for entertaining a crowd. It can grill up to 30 pieces of 4-inch burgers at the same time, and that's thanks to its 500-inch grilling area, with an extra 260 square inches for its warming rack. Its height is 50.25 inches.
Serving a large group? There is the larger Prestige Pro 825 that is 51 inches (closed) and 56 inches (open) and measures 94.25 by 25.5 inches (width x depth). For its size, it's very heavy at 469 pounds. That's why it's not portable, but then ideal if serving a large crowd for its large cooking area of 825 inches and warming area of 420 square inches, overall measuring 1,245 square inches.
Charcoal Grill Dimensions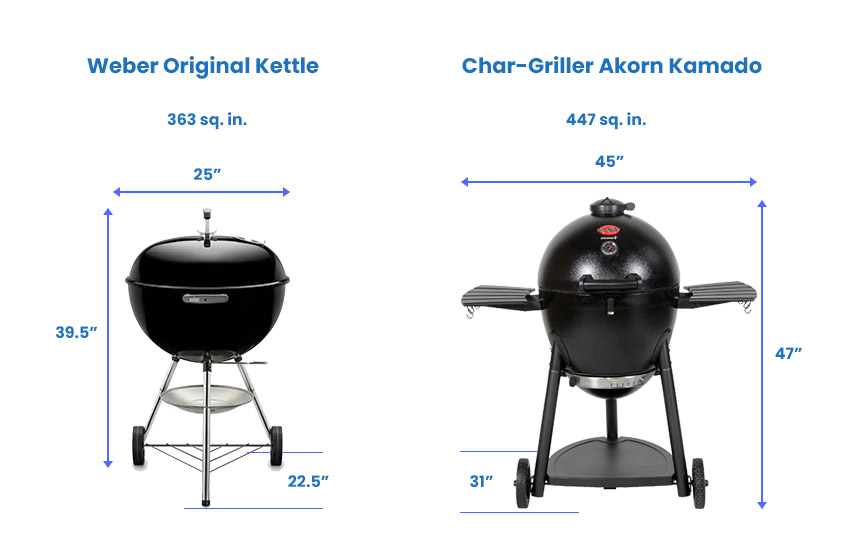 Depending on the manufacturer and model, charcoal grills have varying dimensions. For example, the Weber Original Kettle 22, which has a compact and classic design, has 363 square inches total cooking area and dimensions 39.5 by 22.5 by 25 inches.
It is for people looking for a budget option and a grill for smaller families, but definitely, it's not for larger families. On the other hand, there are also larger models like the Char-Griller Akorn Kamado Charcoal Grill with dimensions of 45 by 31 by 47 inches with a total grilling area of 447 square inches.
Built In Grill Dimensions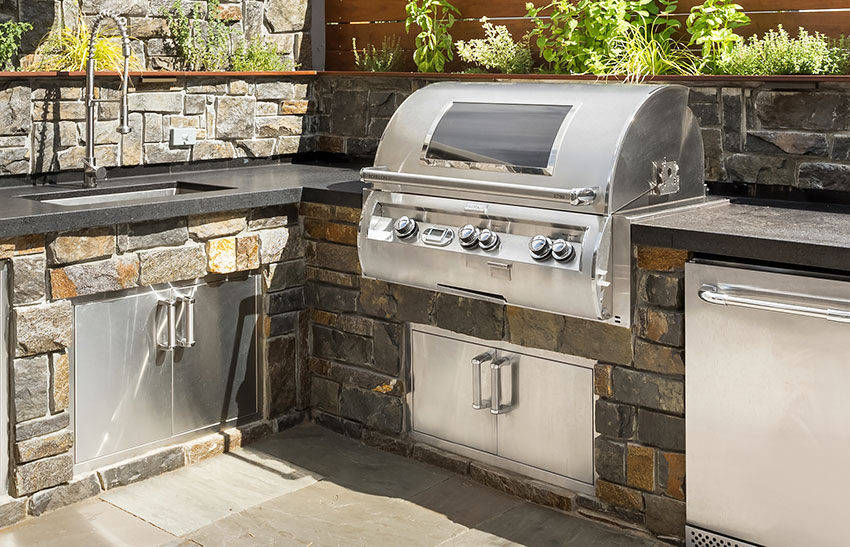 Typical built-in gas grills measure between 30 and 36 inches. For smaller-sized families, the 30-inch gas grill can be sufficient, but if entertaining a crowd more often, a larger one may be more convenient because it allows cooking a larger batch at once.
Best Size Grill For Outdoor Kitchen
The right size for an outdoor kitchen matters apart from the space where you intend to install and use your grill. If you have large outdoor kitchen space, then you'll be able to build a larger-sized grill without any problem.
However, you' should only opt for a smaller grill size if you have a smaller patio or deck space. See more outdoor kitchen ideas here.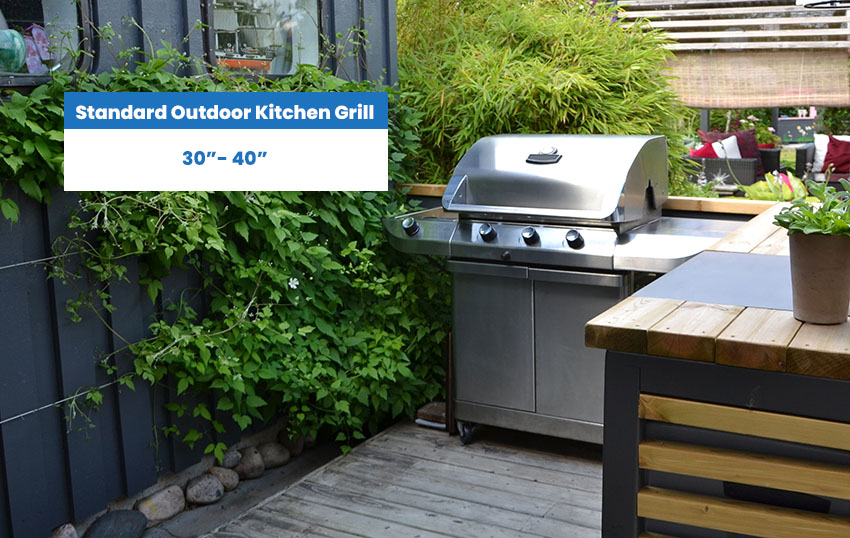 The standard grill sizes for outdoor kitchen ranges between 34 and 40 inches, which is common for what homeowners are looking for in a freestanding grill types.
For a smaller sized outdoor grill, it can have up to three burners or between four and five grills for larger ones. However, a grill for an outdoor kitchen may also be smaller or larger depending on preference, space, budget, and other factors taken into consideration.
For example, your kitchen peninsula or island is 10 feet long and your counter space is also limited. If you're choosing a 36-inch grill, it will occupy about 1/3 of your counter space for its 3-feet width.
In addition, your outdoor built-in grill shouldn't be on the island's exact end. From the edge, it must be a few inches away to ensure it is seated stably and properly.
With a 36-inch grill, your appliances would have between three and four inches space from each other, considering your kitchen island's materials and your grill. So in this case, there will be 42 inches that you're already using.
Plus, take note of the opening of the grill hood and ensure that there will be enough space for it. So, what is your counter's depth? For this, you might want an average of 3.75 inches behind the grill's surface.
This is to avoid the hood from bumping into the fence, wall, or anything else and ensure that it will open properly. For this, you should leave enough space of four inches when planning for your new grill.
You should be mindful of the grill size you're choosing with a limited outdoor kitchen space. Measure the space that the grill will take in your outdoor kitchen and think about any additional accessories to fit into the outdoor kitchen space.
For example, do you want to fit a storage cabinet under your grill, or do you want to install a sink? Do you want an additional side burner, or how about adding a cooler?
These are only some of the considerations to think about when choosing the best size grill for your outdoor kitchen. For more ideas about potential accessories see our outdoor kitchen must haves guide.

Weber Grill Dimensions
The answer to this depends on the model you're selecting. There can be smaller and larger ones available.
For example, the Spirit II E-310 Gas Grill measures 57 by 52 by 26 inches (height x width x depth) when the lid is open and 44.5 by 52 by 27 inches when the lid is closed. Its main cooking area is 424 square inches and its total cooking area is 529 square inches.
On the other hand, the E-210 measures 57 by 48 by 26 (height x width x depth) when the lid is open and 44.5 by 48 by 27 inches (height x width x depth) when the lid is closed.
Charbroil Grill Dimensions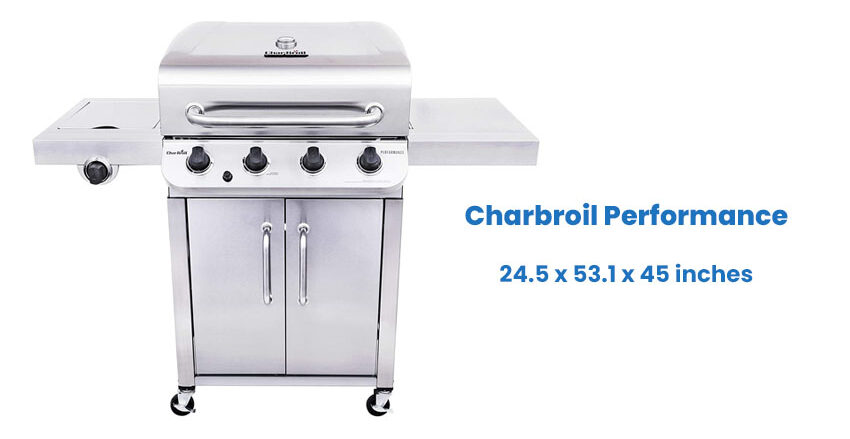 Charbroil is known for propane grills as well as for beginners. One of their famous offerings is the Charbroil 463375919 Performance. It has grill dimensions of 24.5 by 53.1 by 45 inches (depth x width x height) and with 23 x 18.5 inches (width x depth) for its primary cooking area.
If you're looking for enough space that lets you cook a larger amount of food at once, then it might be a good option for its 500 square inches of total space that is enough to cater to your cooking. When you add its drying rack and side burner, its total cooking area reaches 660 square inches.
What Size Grill Do I Need?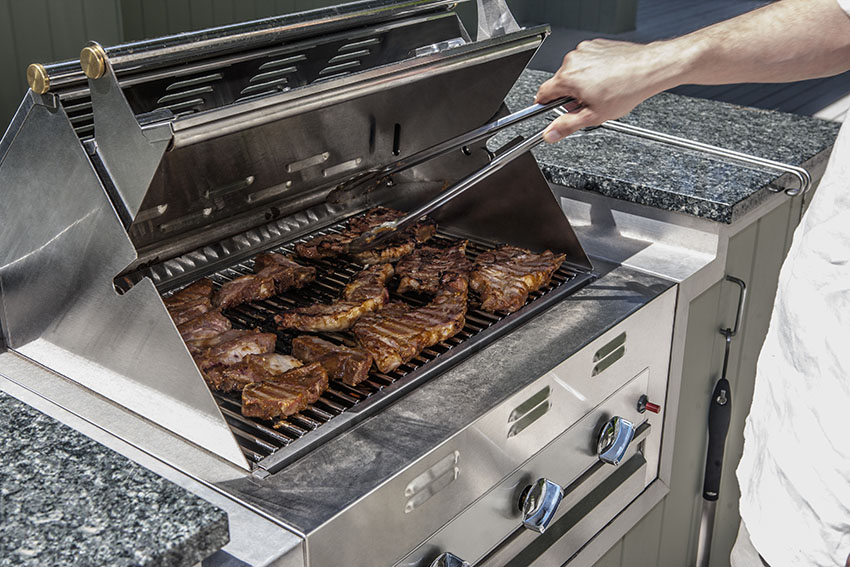 When choosing the right grill size, there are several factors to consider, and one of which is the number of people to cook for at once. As said earlier, there are smaller-sized grills enough for smaller families who don't entertain regularly.
In addition, you must also consider the number of dishes to prepare at once as well as where you intend to install and use the grill. All these things must be factored in when planning for the right grill size.
Let's illustrate it this way. You must allot 72 inches of grilling space for each person, and then multiply this to the number of people you're cooking for. For instance, you must allow for 216 square inches of cooking space for three people, and so on.
This is important to ensure that there'll be enough space and that the grill will not be overcrowded. Otherwise, overcrowding will lead to either underdone or overcooked dishes.
It is also important to pay close attention to the grilling area to ensure it can accommodate the amount of food you're planning to cook.
This is why you need to plan for the cooking surface area that should be equal to the grilling area's width multiplied by the length to get its square inches measurement. For the average household, this can range between 400 and 500 square inches, but up to 600 square inches for a larger family.
Grill Size for Family Of 4
A 30-inch grill would be enough for a family of four to six people. This size can accommodate two pieces of whole chickens weighing up to three pounds (with a rotisserie), 8-10 pounds of large meat cuts, and 10 pieces of 1/2-pound burgers at the same time. But if you enjoy entertaining guests, you might want to opt for the larger 36-inch grill.
Visit our pros and cons of pellet grills guide for more related content.