Here's our powder room size guide including vanity, sink, mirror and bath dimensions for different types of powder room design layouts.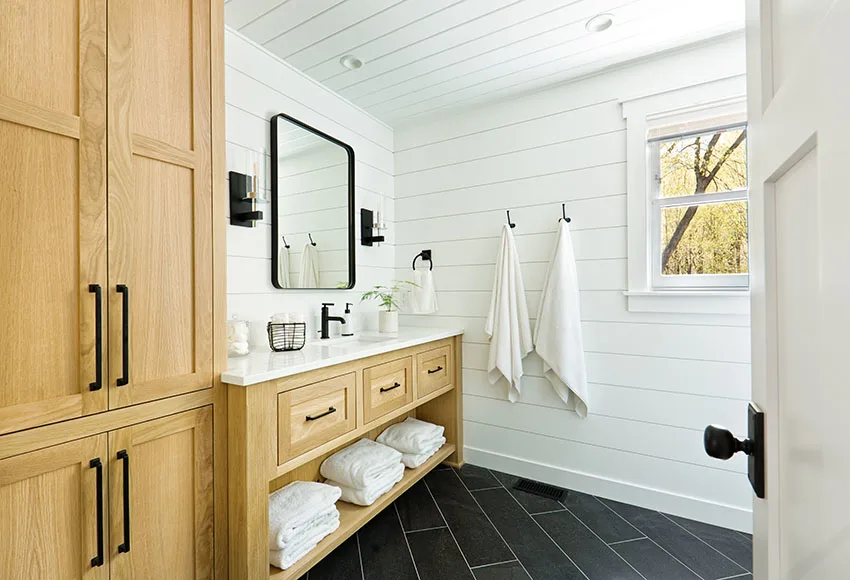 A half bath or a powder room is a great way to use extra space on your first floor that would serve a lot of function, especially if you have guests over for dinner. Not only are powder rooms great for accessibility, but they will also protect a homeowner's privacy. So how big should a powder room be?
This guide will give you all you need to know about powder room dimensions, from the size down to the towel rod.
Minimum Powder Room Size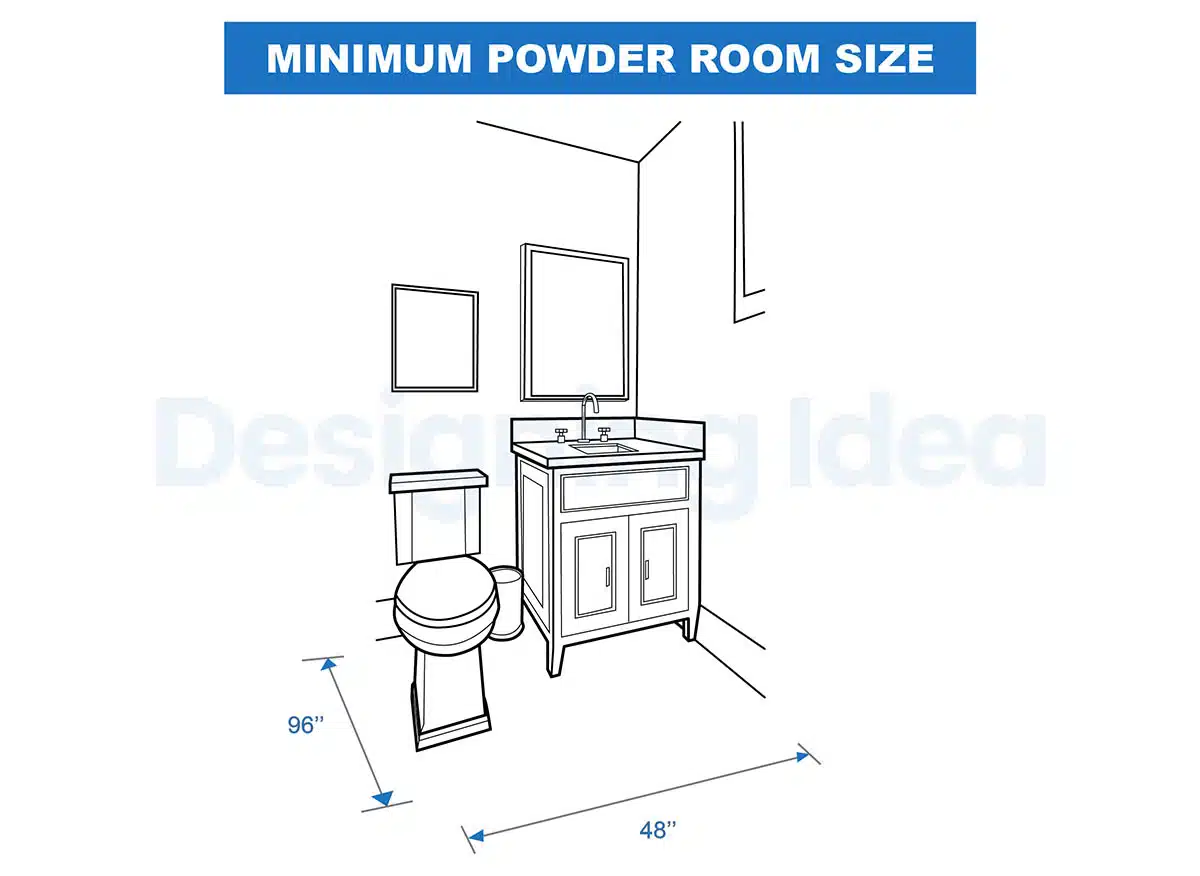 Powder rooms are half bathrooms, primarily with a sink and frequently with a toilet included. Powder room sizes will differ in every home depending on the overall size of the house.
Generally, the minimum powder room size is about 3 to 4 feet or 36 to 48 inches wide and 6 to 8 feet or 72 to 96 inches long. If you go lower than this of clearance size, going in and out of this space might be uncomfortable.
A powder room is a fantastic idea for your home, especially if you are fond of entertaining and having relatives and friends over. It is half a bathroom that your guest can use to freshen up.
Not only will it be convenient because it is usually situated downstairs where parties are happening, but guests will be spared from going upstairs and using one of your private comfort rooms.
Average Powder Room Size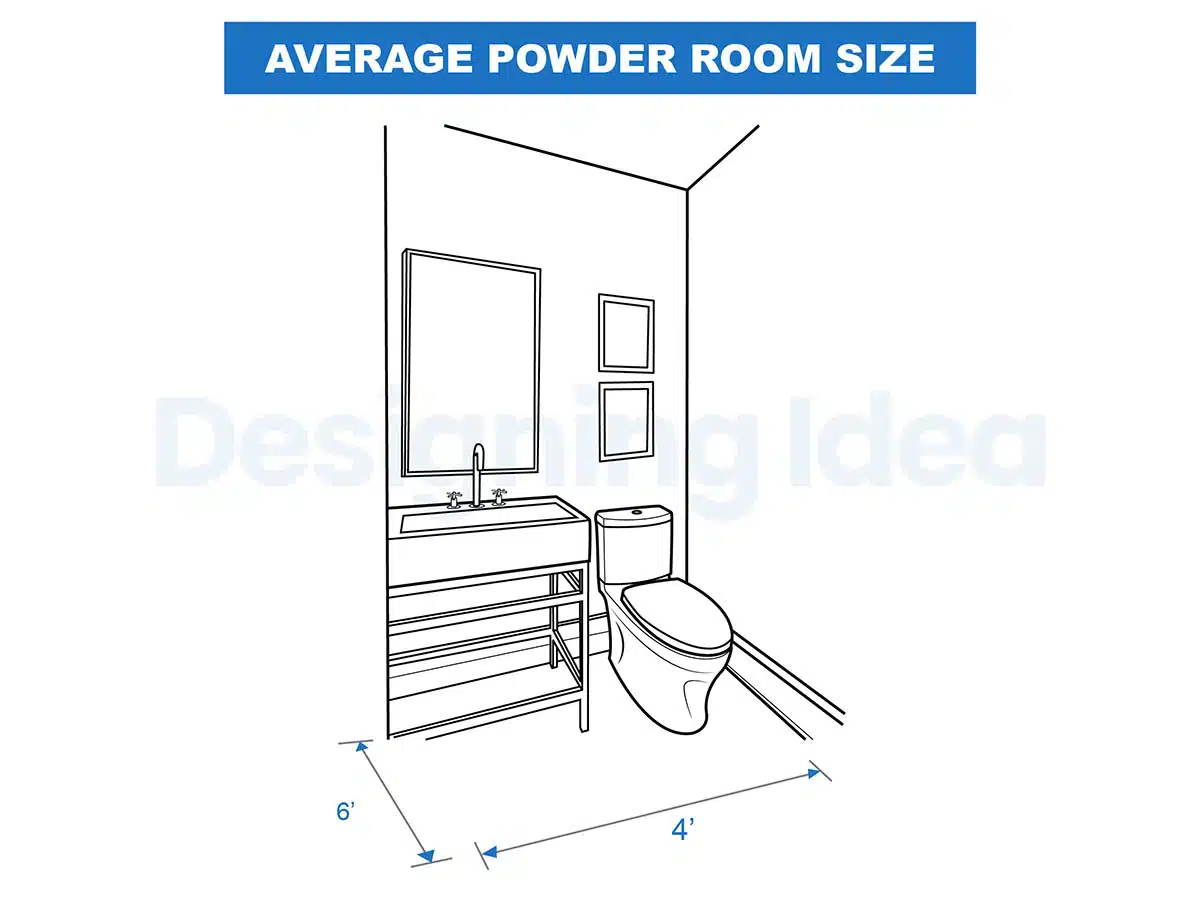 Powder rooms come in different shapes and sizes and could have anything from a little daybed to multiple counter spaces and sink with fixtures.
The average size of a powder room is about 20 square feet, with a width of 3 to 4 feet and above and about 6 feet or more in length. Anything lower than this width would be uncomfortable, especially for taller guests.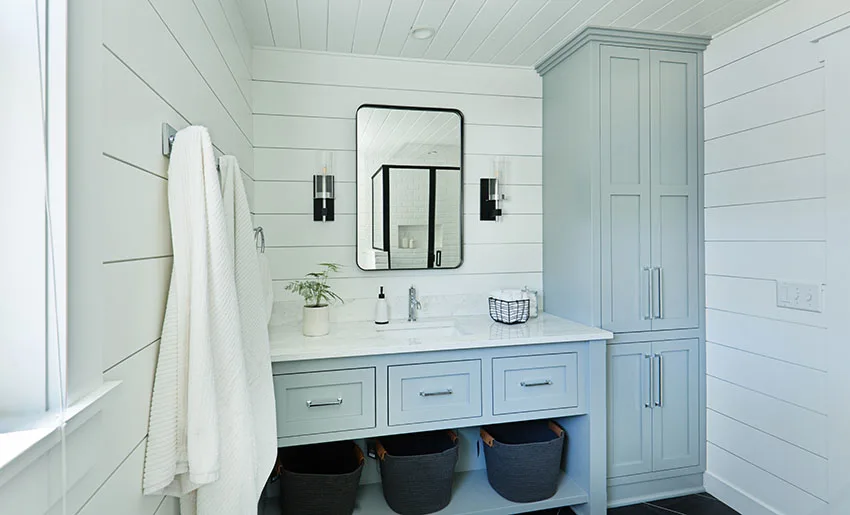 Even though this is the average size, your contractor will recommend other dimensions that could work for your home size. Also, make sure that your construction follows building code requirements that can be unique to every state, so consulting with your trusted contractor is advisable.
Powder Room Vanity Size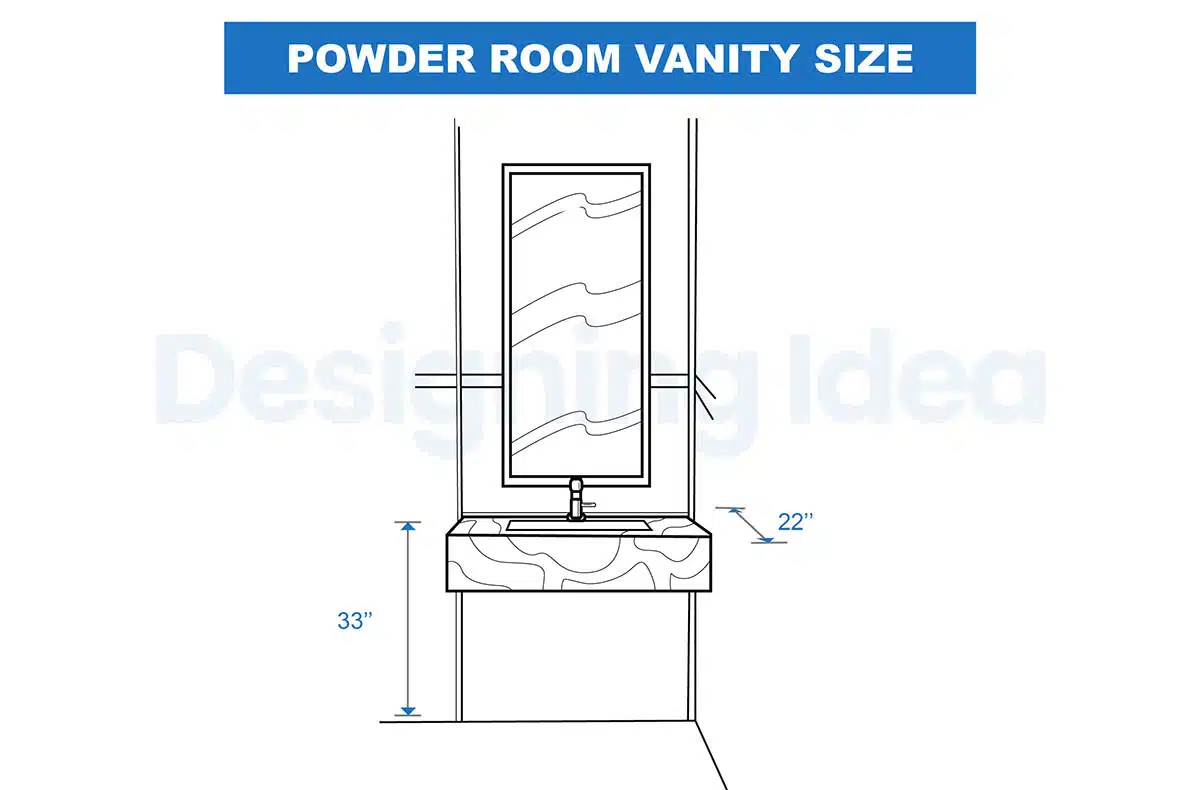 Almost every vanity will have an average depth of 20 to 22 inches. At the same time, pedestal sinks have a depth of 16 inches or 41 centimeters. Small vanities tend to start at 30″ in width, but can be found in sizes up to 36″.

Vanity heights are usually 29 to 33 inches, whether custom or ready-made ones.
A way to add personality to your powder room is by choosing the right décor, and the first thing one thinks of when powder rooms are in question is the vanity.
Vanities come with tops or counter space; they could be with or without sinks. If you have a larger powder room, a smart option to utilize space is to use more oversized vanities to store accessories like tissues and towels.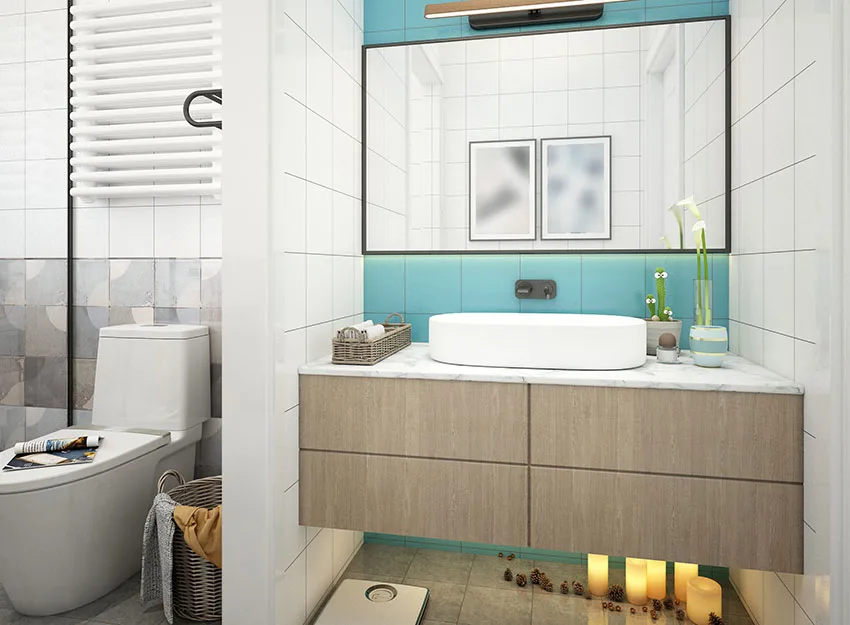 This floor plan utilizes a floating vanity installed in a wall niche with vessel sink to save space. See our bathroom vanity sizes guide here for more information.
Powder Room Sink Size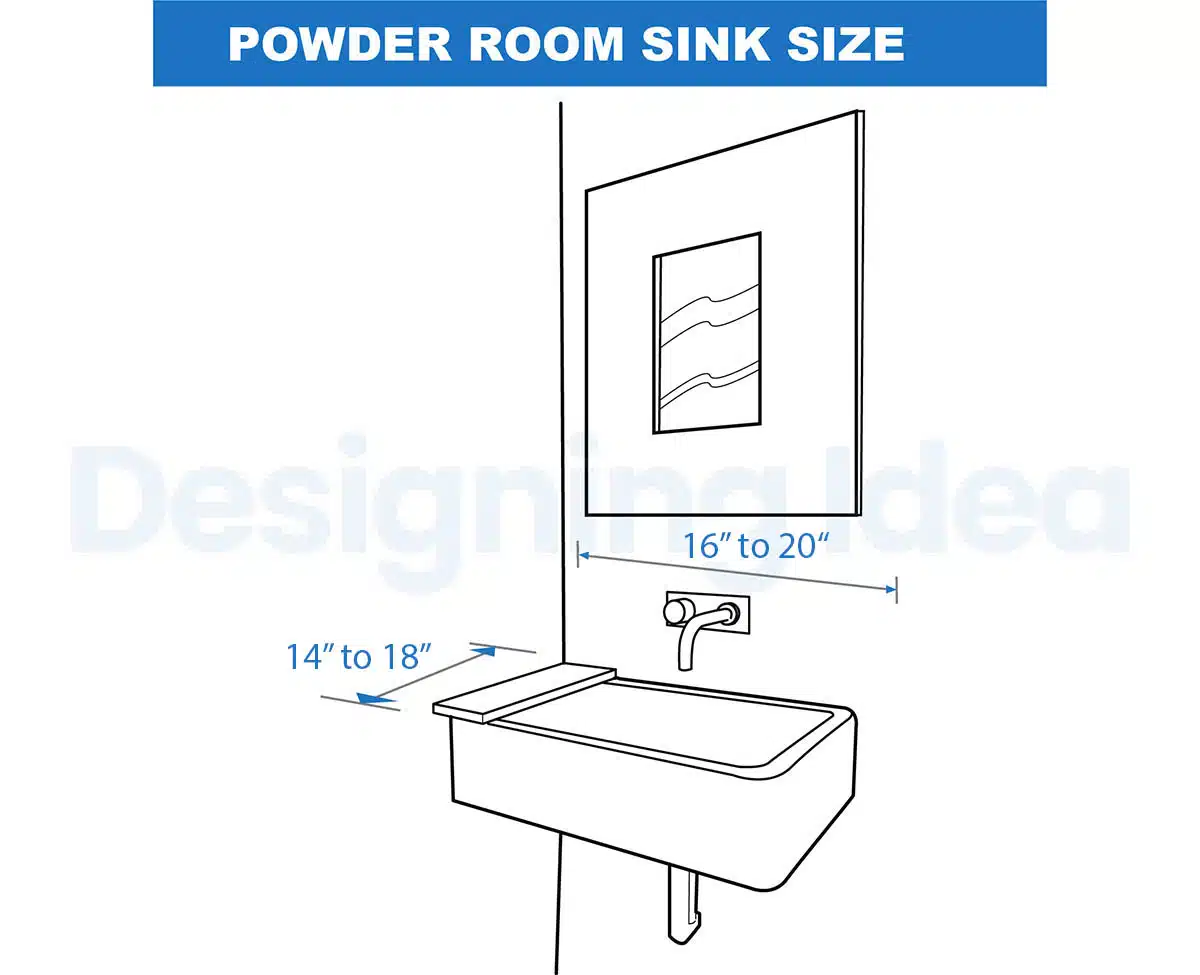 A lot of primping is done inside a powder room, and more often than not, a sink would be involved. If you have fallen in love with a vanity, but it is not built-in with a sink, a great idea is to choose a sink that would best fit your aesthetic and simply have it attached to your chosen vanity.
A standard sink for a powder room measures 16 inches to 20 inches wide and 14 inches to 18 inches from the back to the front edge.
Most standard vessel sinks measure 14 inches to 18 inches in diameter, if you are thinking of using a round one for your powder room.The depth is generally about 4 to 6 inches and they are installed at a height of 32 inches to 36 inches from the floor.

A rectangular vessel sink measures about 16 inches to 24 inches wide and 12 inches to 18 inches from back to front.
This size will be perfect for cabinets or vanities with at least 24 inches or 61 centimeters in depth. Go to our bathroom sink sizes guide here.
Powder Room Mirror Size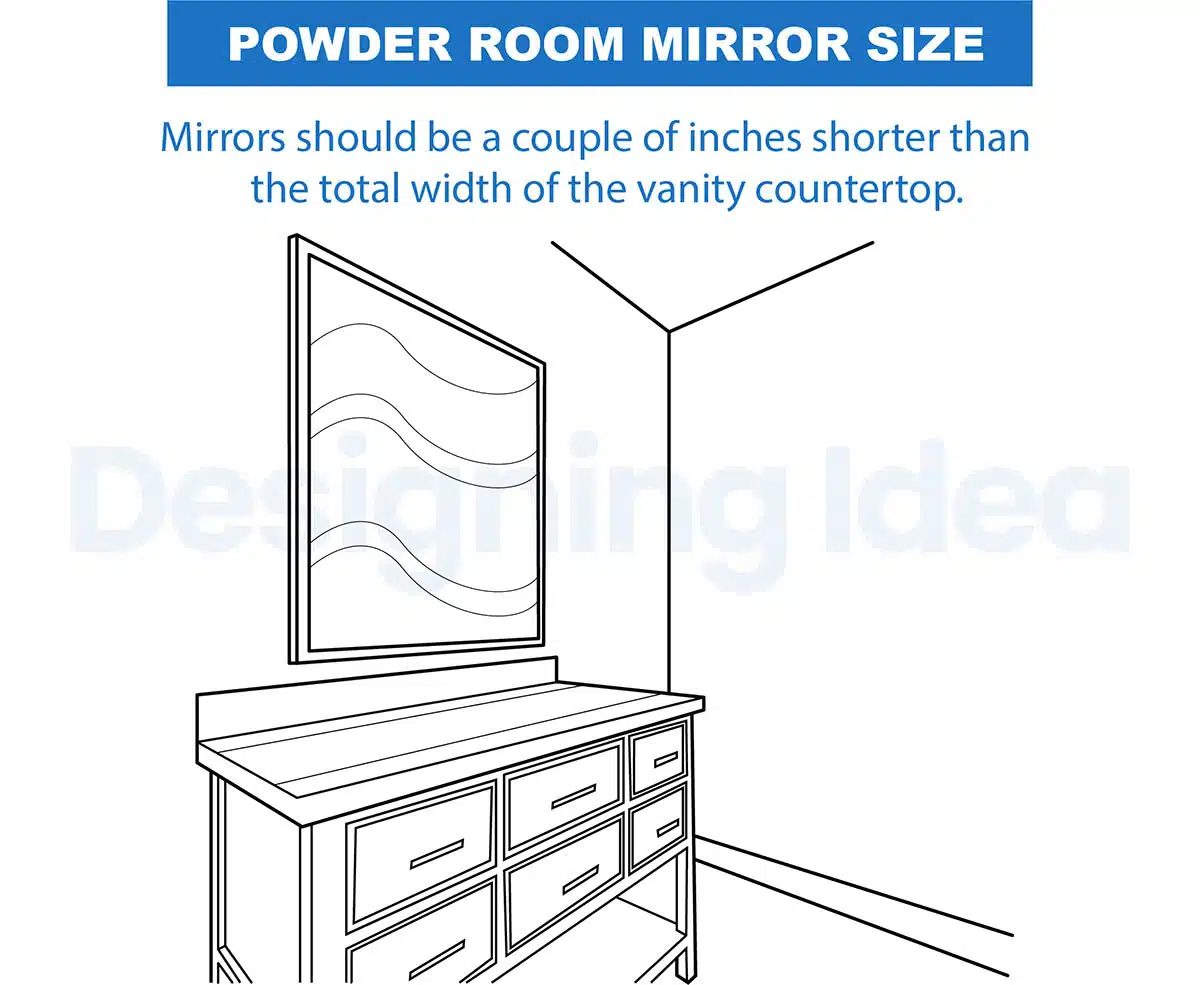 An essential part of a powder room is the mirror. It is also an easy way to add personality to a room since there are various options to choose from.
There is no set size for a small vanity mirror, but as a general rule of thumb, it should be a couple of inches shorter than the total width of the vanity countertop.
Whether you are more partial to the straightforward, solid framed types of mirrors, or are looking for a three-way mirror to add function and decoration to the room. You will never run out of choices as long as you have a vision for it!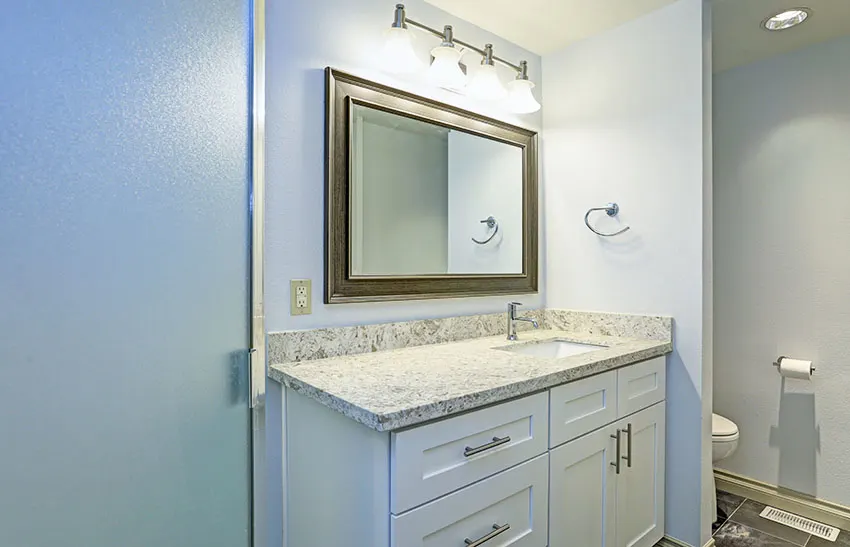 Your vanity mirror can run the entire space of your countertop or can just be affixed in the middle right above your sink — it's your choice! Just make sure that everything is proportioned and at eye length of the average adult height and you are good to go.
Powder Bath Dimensions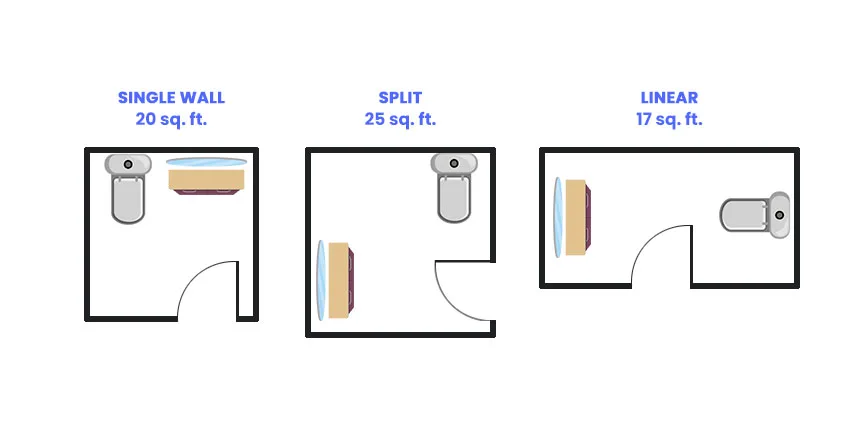 There are three types of powder room layouts that are most often utilized in most homes: the single wall, the split, and the linear powder room.
Any extra space, like the cupboard under your stairs or even the broom closet, can be transformed into your new powder room with these three usual powder room sizes.
The single wall room is the most common powder room, generally just 20 square feet big. They feature a layout with the toilet and the sink beside each other, thus the name.
The second is the split bathroom which uses up an average of 25 square feet of space. This type offers more room and can even include a small shower if you want one.
The third is the linear powder room which is longer than wider and usually uses about 17.5 square feet of space. This layout will separate your sink and toilet on either side of your room and the door in the middle.
What Size Towel Bar for Powder Room?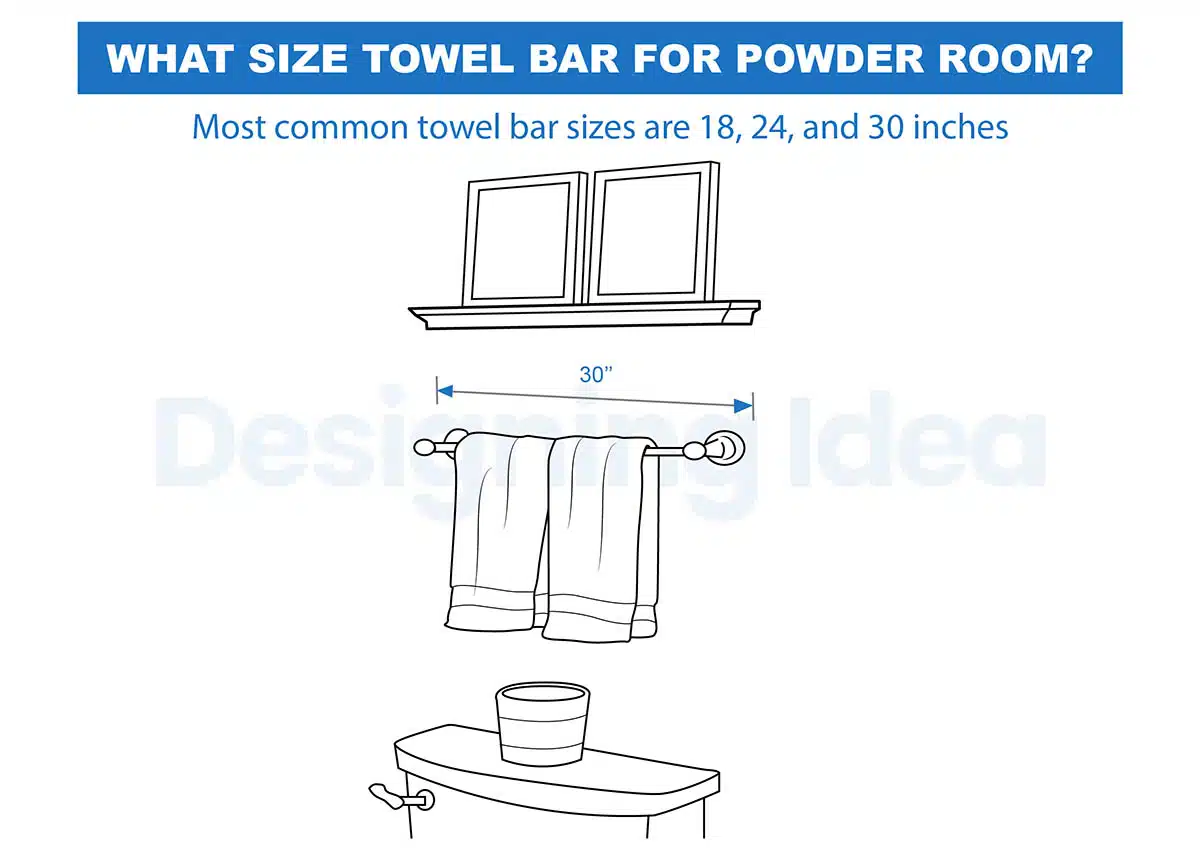 The most common towel bar for your powder is in sizes 18, 24, and 30 inches or 46, 61, and 76 centimeters.
Using longer towel bars for your powder room allows you to hang multiple towels in one rod. This is efficient because not every vanity has cabinets for storage. See the optimal towel bar height here.

How Big Should a Powder Room Be?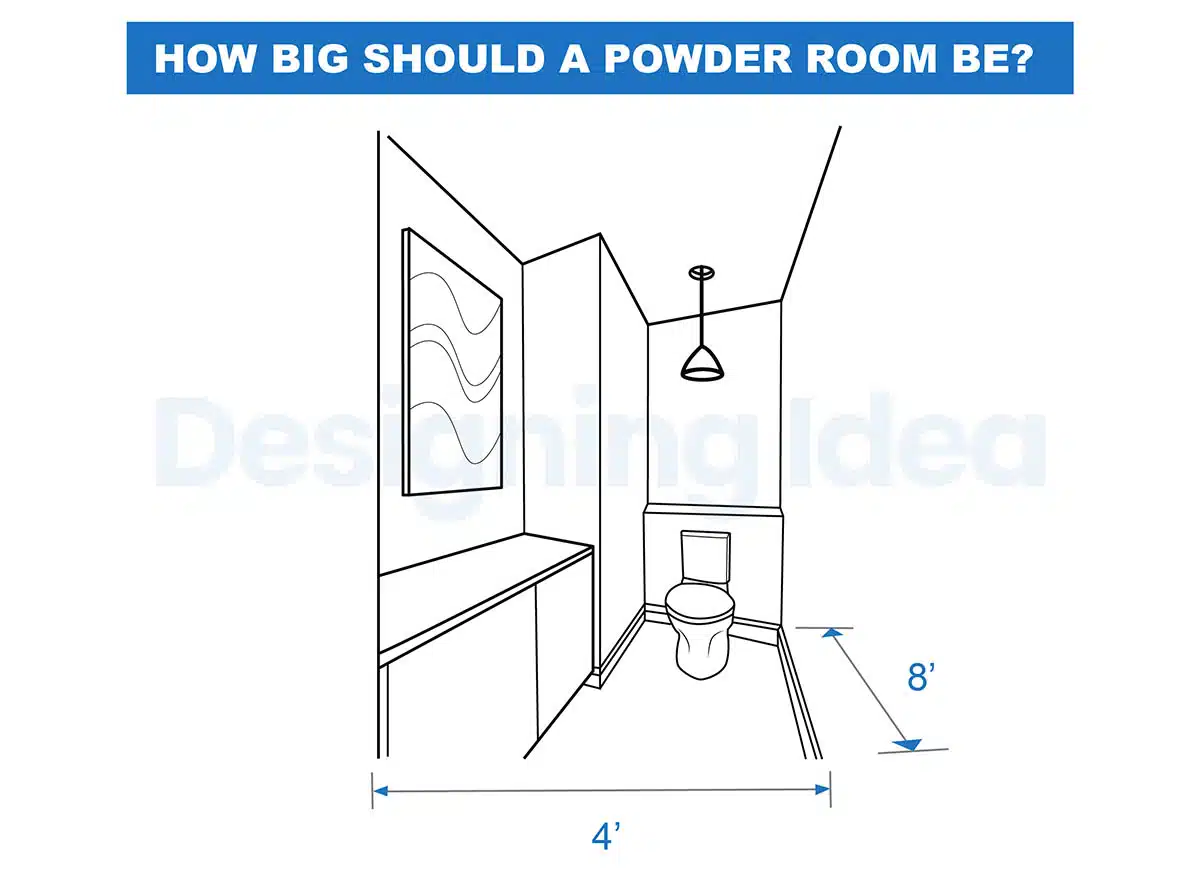 You can have any powder room size just as long you achieve the minimum requirement of 3 to 4 feet wide and 6 to 8 feet long.
This minimum size would give enough space to make the room play its function. Some powder rooms are bigger than the others, especially for restaurants and hotels, so make your addition as big as you think you need.
Visit our guide to bathroom sizes for more related content.