Here's our guide to bathroom sink sizes including different types of bathroom sink dimensions and how to measure a bathroom sink.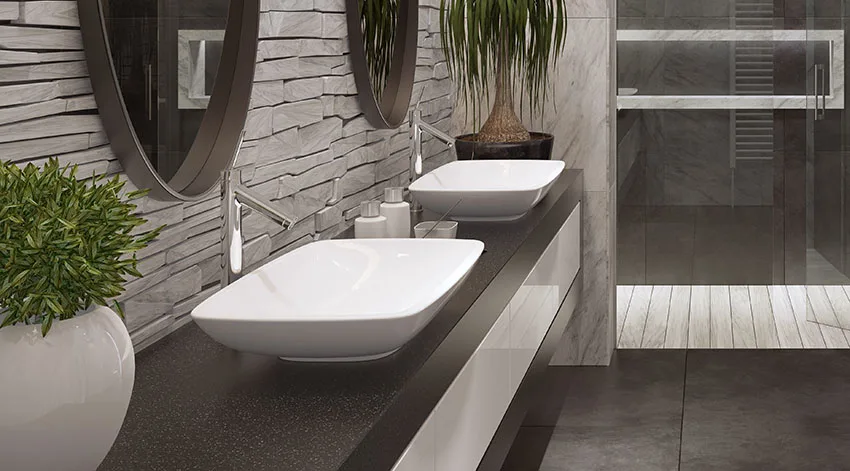 Not all sinks are the same. By comparison, bathroom sinks are more limited than kitchen sinks in terms of function. They are smaller and less shallow because they are mainly for washing your face and hands.
The bathroom sink you use can impact the overall look of your bathroom. However, choosing the right bathroom sink size is also crucial to achieving a more proportionate look.
Standard Bathroom Sink Size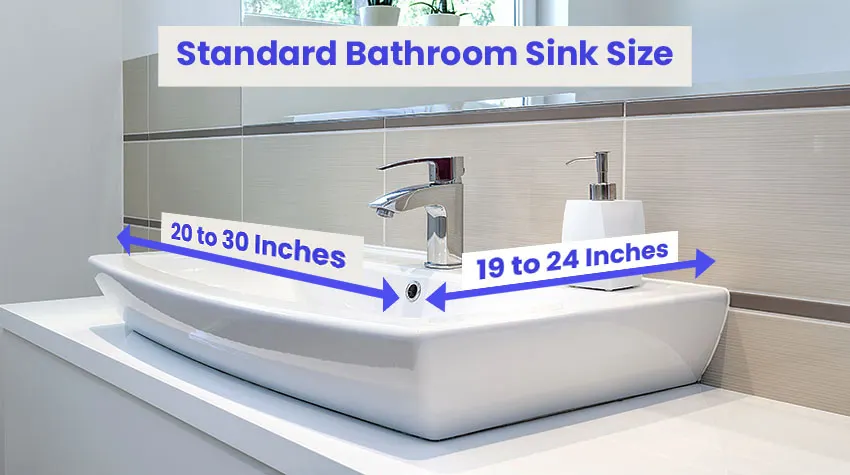 Shapes and uses determine the standard bathroom sink sizes we see in the market today. In an average bathroom size, sinks are 20 to 30 inches long. Their standard depth runs between 5 to 8 inches.
Oval and round sinks have a diameter between 16 and 20 inches, while rectangular sinks range from 16 to 23 inches long and 19 to 24 inches wide. The former is more traditional in style and the latter more modern.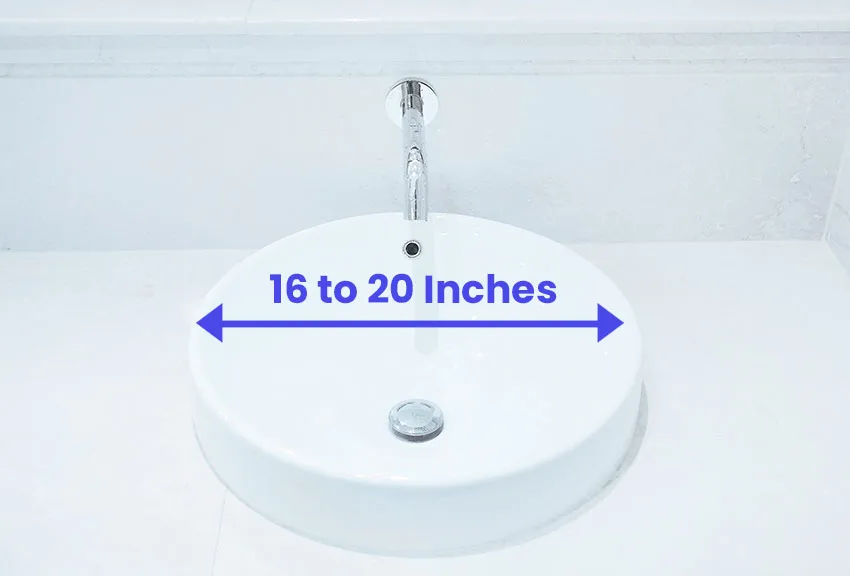 Keep in mind that the material and hardware used can also impact the overall size and aesthetics of your chosen sink. See more types of bathroom sinks here.

Undermount Bathroom Sink Sizes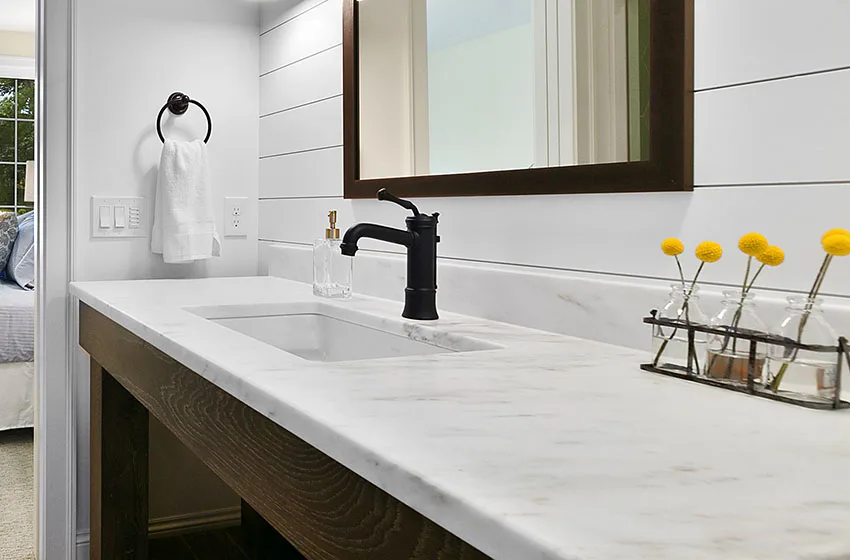 Rectangular undermount sinks measure from 12 to 20 inches long and 16 to 24 inches wide, while oval undermount sinks are 12 to 17 inches in diameter.
When installing, the undermount bathroom sink goes under the countertop layer. Undermount bathroom sinks help create a seamless aesthetic look on the counter, which is favored by many. They are also easier to clean.
But keep in mind that poor installation may still allow water to leak and form condensation under the counter.
Drop in Bathroom Sink Sizes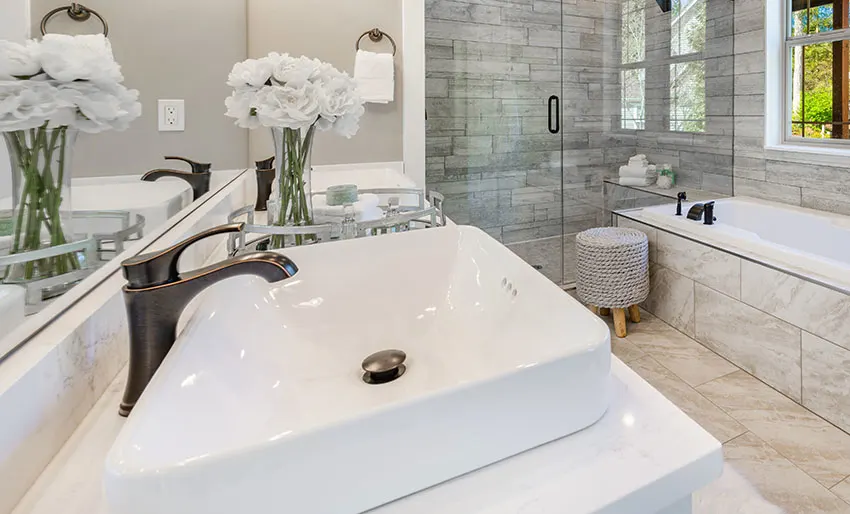 A drop-in bathroom sink is like an undermount sink, with only a difference in installation. Drop-in sinks have their lips or frames overlap on the counter, which takes away a few centimeters from your counter space.
They measure from 12 to 20 inches long and between 16 and 24 inches wide.
Drop-in sinks are popular because of their affordability over undermount sinks. They are also easier to install and are compatible with most countertop materials, including laminate.
The disadvantage is water can collect on the sides, requiring frequent cleaning to prevent molds.
Small Bathroom Sink Sizes
Small bathroom sinks or washbasins are any sinks measuring between 15 inches to 20 inches. But there are also petite sinks that are under 15 inches long.
Great for limited spaces, small bathroom sinks come in many forms, like vessel sinks, pedestal sinks, corner sinks, and wall-mounted sinks.
Vessel Sink Sizes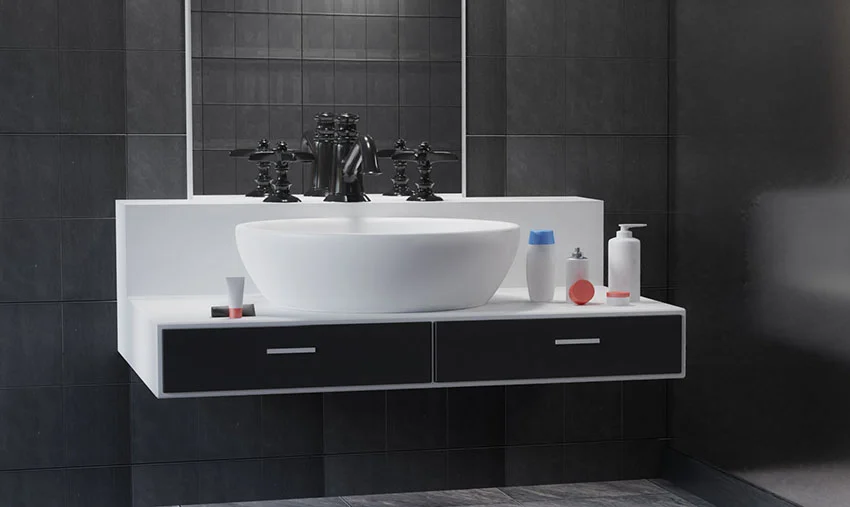 A trendy sink design in powder rooms, vessel sinks sit atop the counter or a console. This type of sink is reminiscent of the washbasin used centuries ago before direct plumbing was present in homes.
Vessel sinks can be as short as 13 inches or as long as 20 inches. They can also be round or rectangle, with the former being the popular choice.
Keep in mind that if you prefer a vessel sink, consider the height of your countertop. A vessel sink that is too high will be difficult to access for shorter people.
Unlike other sink types, vessel sinks will require taller faucets mounted on the vanity too. Water may also collect at the base of the sink's exterior, which is hard to reach when cleaning.
Pedestal Sink Sizes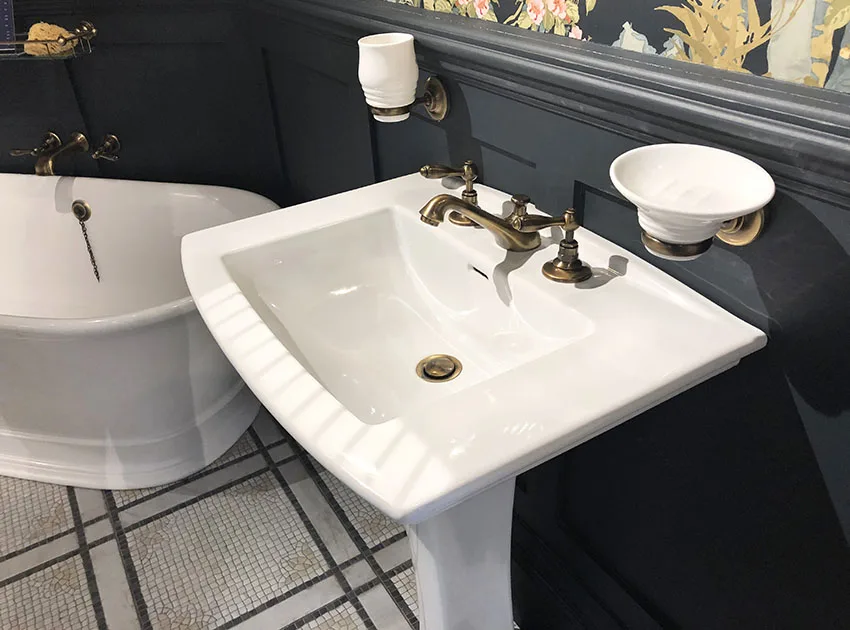 A pedestal sink's dimension is between 17 to 32 inches long and 14 to 22 inches wide. The total height of the sink, including the pedestal base, is around 29 to 33 inches.
Pedestal sinks are free-standing sinks recognizable for their long stems that keep the plumbing hidden from sight. If you are not concerned with storage space, then this is a perfect pick for you.
They are flexible in terms of designs that go well with modern and old-fashioned interiors. Copper and brass faucet valves are elegant additions to the sophisticated material of the sink in porcelain, marble, or even glass.
Wall Mounted Sink Sizes
If you are looking for a minimalist sink, a wall-mounted sink or floating sink can be your go-to option. Measuring 16 to 23 inches long and 22 to 24 inches deep, a wall-mounted sink doesn't come with a countertop. But you can attach a ledge above it if needed.
Without a bulky base, they can make small bathrooms appear spacious. However, installation can be more challenging as it will require sturdy wall support.
Wall-mounted sink pipes are exposed too, which a matching floating vanity can solve if it's an eyesore.
Bathroom Sink Drain Size
Most bathroom sinks come with a pop-up drain that lets you release or hold water in the basin in one press. When selecting a sink drain size, choose a size similar to or smaller than the hole in the sink.
Standard bathroom sink drain sizes are 1.25 inches, 1.5 inches, and 1 ⅝ inches.
The drain pipe size commonly used is 1 ¼ inch in diameter. A slightly bigger drain pipe at 1 ½ inch in diameter that requires more connection is also available.
When in doubt, check with your local building code.
How To Measure A Bathroom Sink
When replacing a bathroom sink, having an accurate measurement on hand saves you the hassle of going back and forth to the hardware store. Fret not, as completing this task is easy. Know first what kind of sink you want before measuring.

Drop-in sink:

Measure the overall length and width of your counter. Once done, you can measure the sink" length from the exterior of your sink, width from front to back, and height from top rim to bottom. Calculate the depth from the interior top edge of the sink to the bottom.

Undermount sink:

This is like a drop-in sink, except you have to measure underneath the countertop for the length, width, and height.

Vessel sink:

Since this sink will be on top of the counter, measure the width and length of your counter space. Then you can check the diameter of the vessel sink that can fit. Height is calculated from the top of the exterior vessel sink to the bottom.

Pedestal sink:

Include the dimension of the pedestal base in your pedestal sink measurements.
It's always a good idea to have a rough sketch of the shape of your sink with the dimensions for a comprehensive reference.
Match your sink with the right bathroom faucet. For a complete bathroom look, check out our curation of bathroom design ideas.