Welcome to our quick guide on kitchen counter measurements including height, depth, overlay and overhang for your interior design projects.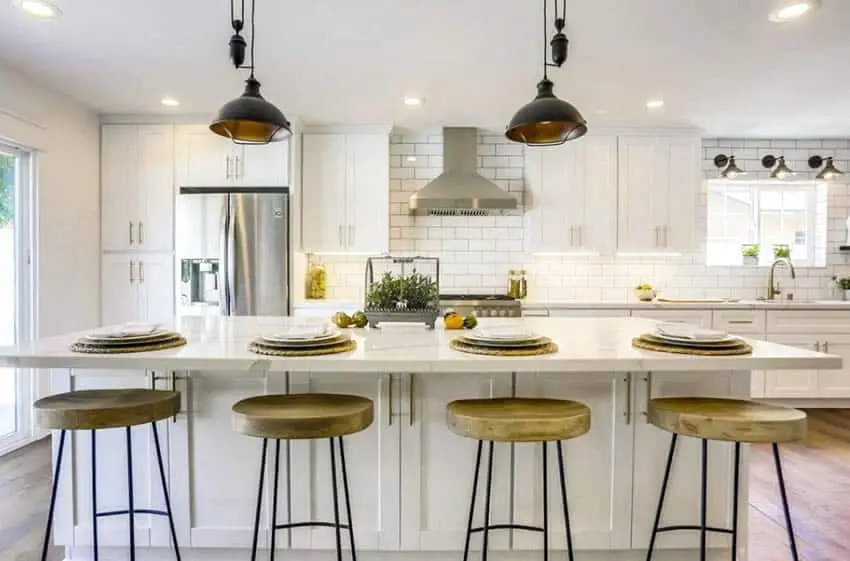 Your kitchen is a crucial part of your home. It's a place to make food, memories, and even spend time having drinks or snacks with friends and family. As such, it's important that you have your kitchen.
The first step to this is to get the measurements right for the components of your kitchen. To start, let's look at the measurements you need for one of the most notable features of your kitchen, the countertops.
Kitchen Counter Height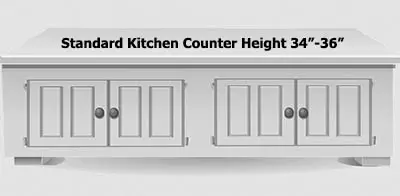 When it comes to kitchen counter height, the average measurement sits between 34" and 36". However, this isn't a hard and fast measurement. If you are taller or shorter than average, you might not find this comfortable. In this case, you can adjust the measurement so that your kitchen fits you.
When you stand at your kitchen counter, you should have about 3" to 4" inches under your elbow height for preparation surfaces. If the counter houses a cooking surface, you'll want to increase this to a 5" to 6" gap. This will help protect your face from substances like splashing oil.
If you need a surface for low-level preparation, you can drop the counter down to 8" below your elbow. This is a great choice if you need a spot where you'll frequently knead bread or roll dough.
Counter Height for Kitchen Island
When it comes to kitchen island counters, you have a few different options as to how tall they are. For instance, some homeowners prefer a countertop height on their kitchen island that matches their standard countertops. This standard kitchen island countertop is 34″ to 36″.
Counter Height for Breakfast Bar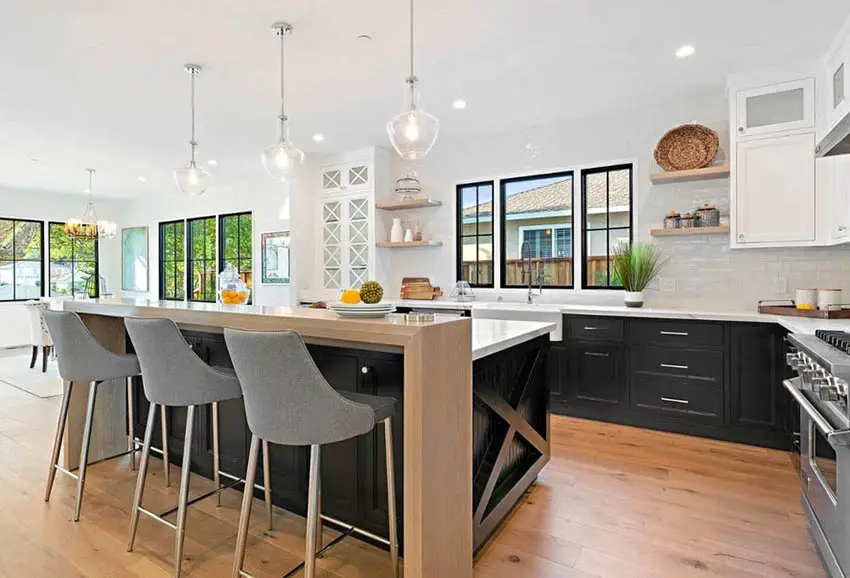 Alternatively, many kitchen island countertops are higher than the standard sizes. One example of this is if you're using your kitchen island breakfast bar for extra seating and eat-in dining, you'll want it taller than your average countertop. A kitchen island breakfast bar has an average counter height of 36″ up to 42".
Kitchen Counter Depth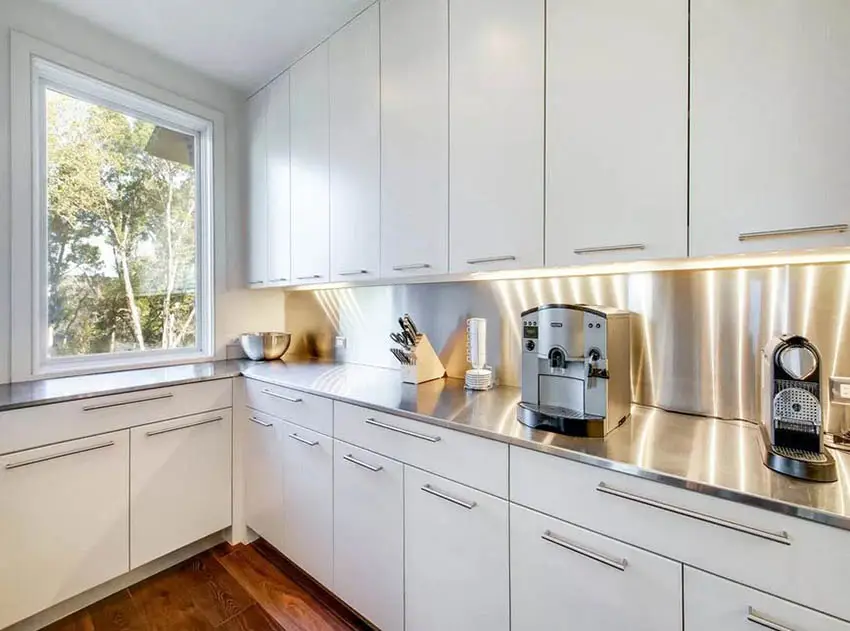 The depth of a kitchen counter refers to the distance that your kitchen counter measures from front to back. For many kitchens, this measures the distance that a countertop sticks out from a wall but it can also refer to the space that a freestanding counter section measures.
The typical kitchen counter depth measures in at around 24". Once again, though, this is only the standard and can be changed as needed. The exact measurements that you need will depend on factors of your kitchen such as how much cabinet space you need, the details in your backsplash, and the size of your appliances.
Kitchen Counter Overhang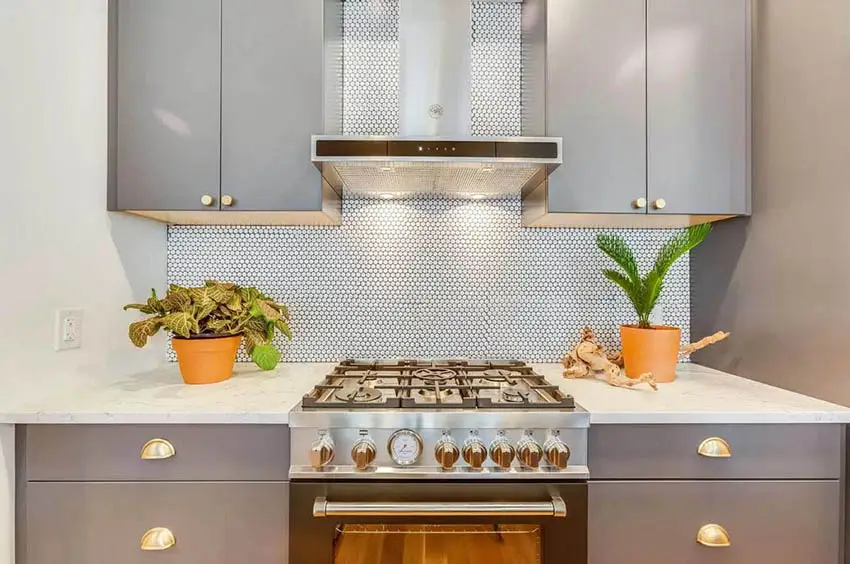 The overhang of a kitchen counter refers to the counter lip that extends past the base where the cabinets are. For the average kitchen, this measurement is around an inch and a half.
However, this is just the standard measurement. You can adjust this measurement to suit your tastes. For example, you might want your overhang slightly larger if you plan to place stools beneath it.
Kitchen island counters have a typically longer overhang. The overhang for these can be up to 12 inches as a standard.
Kitchen Counter Overlay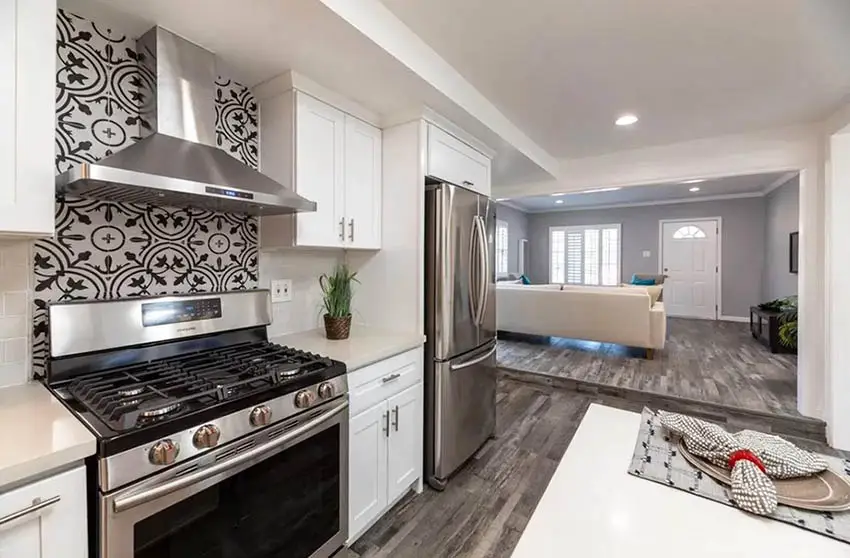 A kitchen counter overlay is a large slab that you place on top of your countertops. These are an advantage to homeowners because they often cost less than custom countertops. They are typically available in common materials such as granite, concrete, and engineered stone.
These overlay slabs are available in many sizes. The average slab has a thickness of between 2" and 18" with a width between 16" to 18" and a depth ranging between 26" and 26.5".
Kitchen Counter Outlet Height
There are plenty of kitchen appliances that need to be plugged in. This ranges from mixers to blenders and even larger appliances such as microwaves, toasters, and coffee pots. As such, it's important to have outlets that are easy to reach.
The standard outlet in a kitchen sits around 44″ to 48″ from the floor to the top of the outlet box. This is often between 8″ to 12″ from the countertop surface. Since these are highly visible outlets, it's a good idea to carefully make sure that the height for all of the outlets in the kitchen are equal. This helps to keep a symmetrical and clean appearance.
Kitchen Counter Outlet Spacing
You'll also want to pay attention to how the outlets in your kitchen are spaced. As mentioned before, you'll want your outlets evenly positioned for a clean, symmetrical look.
It's also best to position your outlets no more than 48" apart. This measurement comes from the length of the cord on most kitchen appliances. If the space between these outlets is any further apart, you may have a gap in your kitchen counter where you can't reach to plug in any appliances. You can create and visualize your own outlet layout by using one of the many kitchen design programs available.