Here we share the the benefits of a steam shower including pros & cons and bathroom design ideas.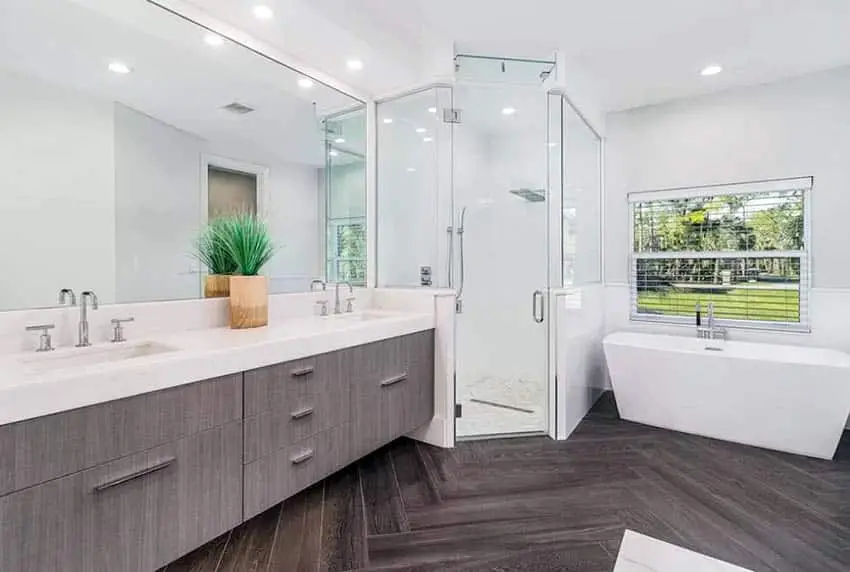 A residential steam shower is an affordable way to relax in the comforts of your home and potentially has very good health benefits. It is "Spa Day" redefined.
What Is a Steam Shower?
A steam shower is a glass enclosed standalone stall that offers typical features of a bathroom without a tub. which is sealed so that moisture doesn't leave the shower stall. A steam shower operates on cold water which passes from a water line and generates wet heat through a steam generator.
The generator's electric heating element then raises the temperature of the water to a boil at 118 degrees Fahrenheit. The steam from the boiling water is channeled through a pipe from the generator and released to the shower enclosure through the steam head with no risks of burns.
The steam produced creates a soothing, warm and moist environment which provides a chance to relax, comfort those stiff muscles and invigorate tired bodies without running hot water for an extended period.
It's important to determine the right size of steam generator for your steam shower enclosure. A generator too small for the steam shower space will not create a perfect immersive steam experience. Additionally, if the generator is too big, it can be wasteful as well.
Benefits of Adding a Steam Feature in Your Shower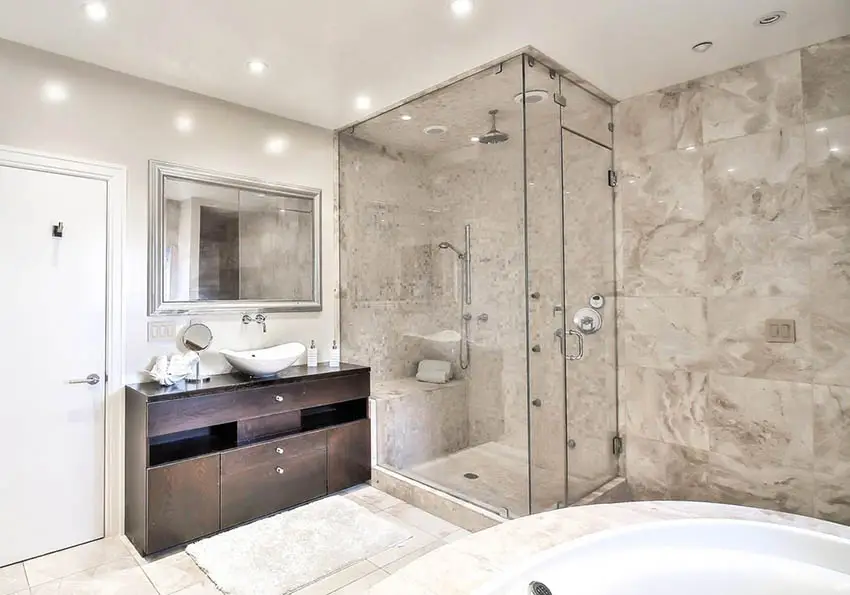 Everyone deserves indulgence especially at the end of a long and tiring day – when you want to relax those achy muscles and melt into a soothing cloud of steam; and emerge feeling renewed. Instead of having to go to a health spa, you can enjoy this kind of pampering in the comfort of your home by converting your ordinary bathroom shower into a steam shower.
• Steam promotes blood circulation. Warm steam and increase in perspiration, helps open small blood vessels and improve blood flow which easily delivers oxygen around the body and lowers blood pressure and keep the heart healthier. It also helps repair broken skin tissue.
• Steam is good for your skin. By opening pores allowing release of perspiration steam helps cleanse the outer skin as it releases trapped sebum. Warming skin by steaming opens pores allowing to rinse away dirt, dead skin cells, bacteria and other impurities that clogs the pores.
• Steam hydrates dry skin and lubricates the skin. The warmth and moisture help increase oil production which naturally moisturizes the skin. It also promotes collagen and elastin production which results in firmer and younger looking skin. Steam prepares the hair follicles for easy waxing and also make shaving easier.
• Steam relaxes the muscles especially after a workout. The heat from the steam can penetrate deep into the muscle tissue and help reduce muscle soreness and help soothes nerve endings.
• Can help loosen stiff joints. Warming up by using a steam shower before a workout helps prevent injury and helps to loosen up stiff joints which enables you to reach maximum mobility during workout activities.
• Steam reduces stress. Heat causes tension to melt away, making the body release endorphins and decrease the level of cortisol making you feel relaxed and rejuvenated. It may also help promote deep, restful sleep and increase potential for natural sleep patterns.
• Steam can aid in the removal of toxins. A steam shower can help remove excess toxins from the body and has shown to help the body get rid of excess sodium. It stimulates the reduction of metabolic waste products in the body.
• Steam helps improve your respiratory health. It gives relief from congestion in the sinuses and lungs, helps clear stuffy nasal passages and help loosen bronchial secretions. Steam soothes the throat and may act as a natural expectorant. Steam can be used to treat colds and may provide temporary relief of respiratory symptoms.
• Steam may help with weight loss. A steam shower may help burn extra calories in a 15-minute session at a 114°F temperature alongside a healthy diet and exercise. Sweating can stimulate the body and increase wellness along with losing excess water weight. (Do check with your physician regarding your health and amount of time in a steam room)
Cost of Steam Room Installation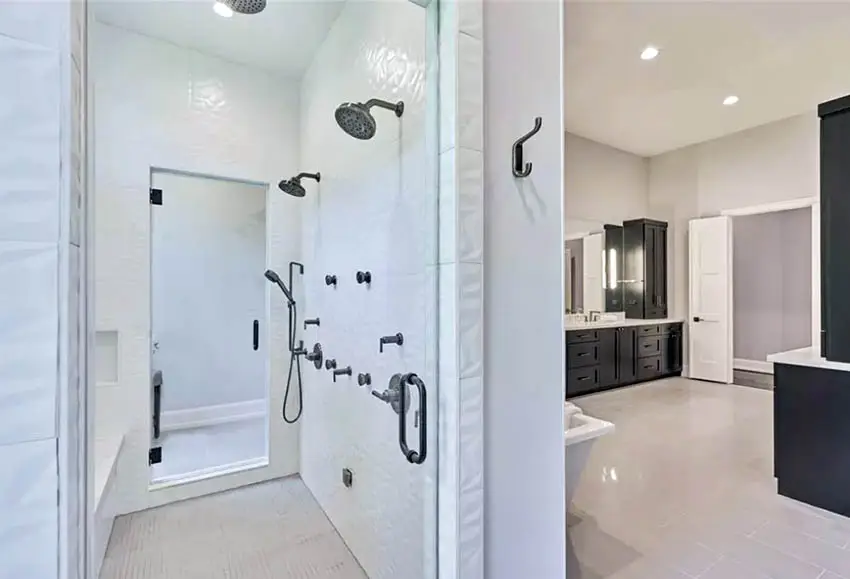 An average cost of a prefab steam shower insert for an average 3 feet x 3 feet x 7 feet enclosure is about $4,350. This comes with a 3-kilowatt generator complete with all required fittings which costs $3,810. Plus, labor cost for installation is about $540, which includes preparation of the site, assembling the unit, plumbing supply, connecting pipes to your drain and electrical wires which need to be hooked up to the generator's 220-volt electric cable and digital controls.
While a custom steam shower will cost an average of $4,000 to $14,200; cost will vary depending on the size and features of the shower stall. Materials including the steam generator can range between $3,000 up to $8,200. Labor cost for installation including the tilers, glass fitters, plumbers and electrician is an additional of $1,000 to $6,000.
Cost of Steam Glass Enclosure and Shower Door
It is important to consider the thickness and type of glass to be used. Half inch glass or 3/8-inch-thick glass is recommended. Clear glass is less expensive than rain glass. Glass wall enclosure would cost around $700 to $1,900 and glass shower doors cost $500 to $1,300.
Wall Tile Installation
For a 3 feet x 3 feet x 7 feet enclosure, the cost to install 12 by 12-inch wall tiles would be around $640 to $1,300.
Steam Generator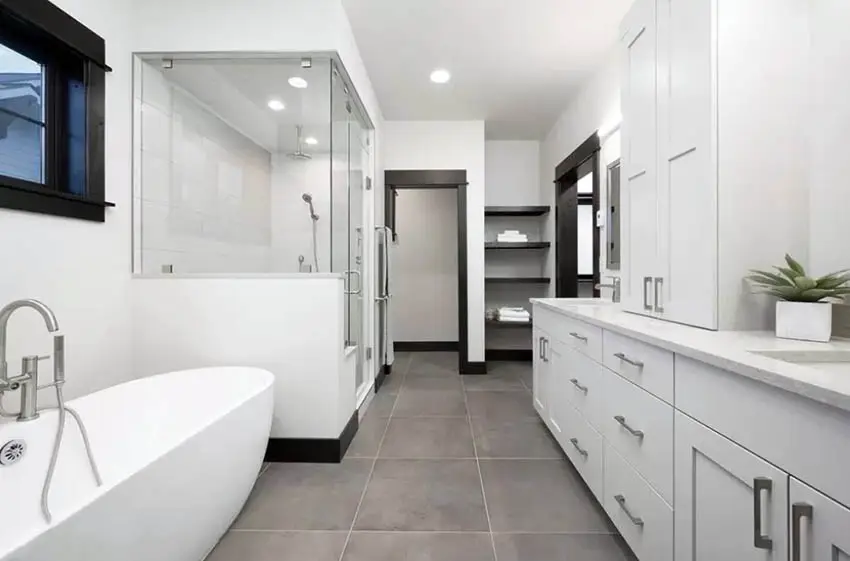 For a generator unit with a 90 to 450 cubic foot capacity having 4.5 to 12 kilowatts would cost around $500 to $2,000 depending on the power and volume. There are also packages available in the market which includes the control panel, pressure release valves and steam heads altogether.
There are also other price factors to be considered such as lighting, controls, materials, flushing and other extras such as sound systems, seating and aromatherapy oil wells.
Pros and Cons of Steam Showers
Steam Shower Pros – As discussed earlier in this article, steam shower reduces stress, heals your body, saves up space than a standard soaker tub, save money and time. Steam Shower also helps conserve water; a regular shower using a water-saving shower head will use up 50 gallons of water when being used for 20 minutes, whereas 20 minutes in a only uses 2 gallons of water.
More home buyers are considering purchasing homes with high-end features, which means that the addition of steam showers will have an increase in property sale value.
Spending a day in the spa means extra expense for membership fees as well as travel time; while by bringing the same elements of the spa into the home, homeowners will be able to enjoy all the benefits of a spa day within their own home. Many enclosures have showers with benches that enable you to relax and luxuriate just like a spa resort.
Steam showers use less space than a sauna or a steam room; and because these units are smaller, there is a minimal cleaning and maintenance for the homeowners.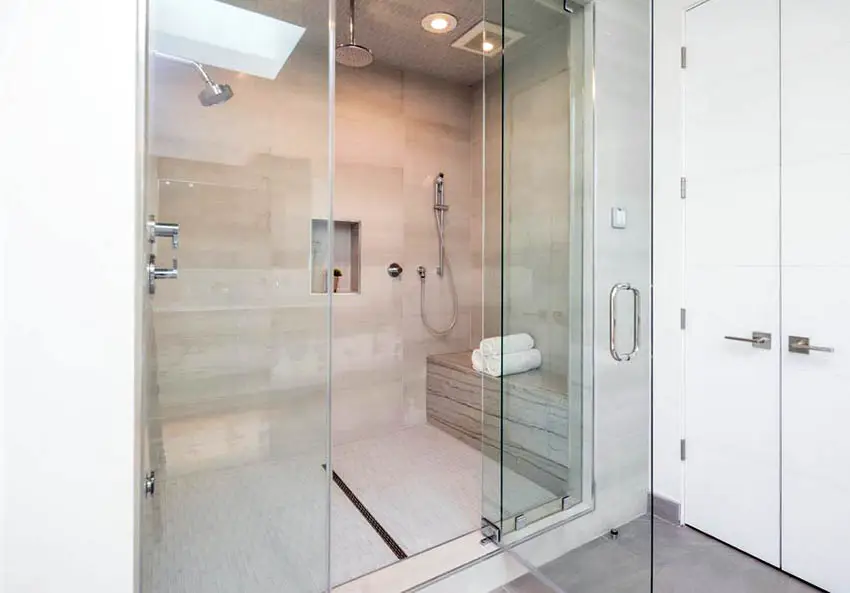 Steam Shower Cons – There are also risks associated with steam showers which you should be aware of before you go out and buy a steam shower for your bathroom.
The heat from the steam, there can be a risk of dehydration and so it is highly advisable not to spend longer than 20 minutes inside the steam shower enclosure. It is recommended to drink plenty of water before stepping into the steam shower stall.
Due to extreme heat people with certain medical conditions are advised to avoid them such as pregnant women, anyone with heart disease, those with very low or high blood pressure, those with diabetes, anyone with epilepsy, those taking antibiotics and users of mind-altering drugs such as stimulants, tranquilizers or alcohol. These people should not use steam showers without consulting a doctor first.
Certain types of bacteria and germs may grow and spread such as fungal infections that can thrive in warm and humid conditions due to the ideal environment provided by a steam shower stall. It is advisable that when you are inside a steam shower, wear a towel and shower shoes.
While steam shower certainly conserve water when in use, it increases electricity consumption as it heats up the water to produce steam.
Evaluate and consider how much you will utilize your steam shower daily since it is not cheap to install and you might end up spending more money than you'll get out of it.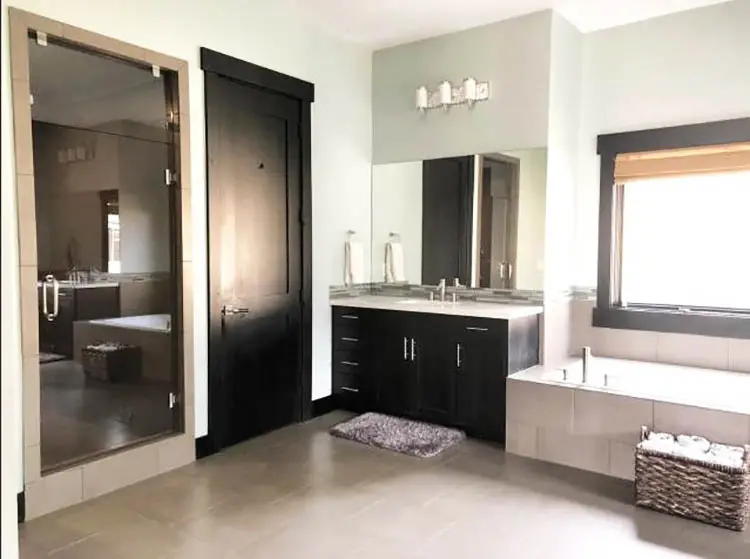 Finally, if you are not working with experienced steam shower contractors, there can be all kinds of water damaged related maintenance issues which can be caused by the large amount of moisture coming from your steam shower.
On a closing note, a steam shower is usually a great investment and may increase equity of the home. But it is more than just a luxury shower since steam offers many physical health benefits.
They can be an effective means to heal and treat several ailments since steam has remarkable healing qualities. Steam showers are nothing like normal showers; the experience afterward extend beyond rest and relaxation; it improves one's physical well being and mental health.
A lot of credit goes to modern technology for making it possible to have a spa-like experience and obtain the benefits of steam showers without leaving the comfort of your home. For more bathroom related content check out our article about walk in shower designs.