In this guide to painting bathroom countertops you'll see the pros and cons, steps on how to paint them, and tips on how to seal your bathroom vanity countertop paint.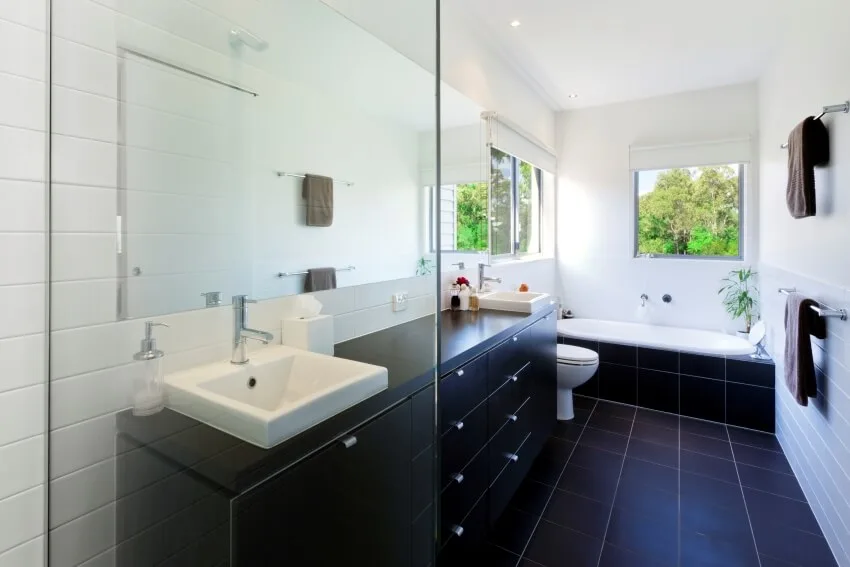 One of the downsides of bathroom remodels is that they can get quite expensive if you don't keep things in check. If you're constantly keeping an eye on your budget, one of the things that you can save on is saving your old bathroom countertops.
If your old bathroom countertops are still structurally sound but just a little dated and not fitting into the décor theme you have in mind, you can opt to just paint it. This can be tricky business though and if you do this poorly, this could lead to so many issues.
Painting your bathroom countertops is a great DIY option in place of taking it out and installing a brand new one. This will save you a lot of money and time and if done right, can definitely turn out to be well worth the effort. Here's anything and everything you need to know about painting your old bathroom countertops.
Can You Paint Bathroom Countertops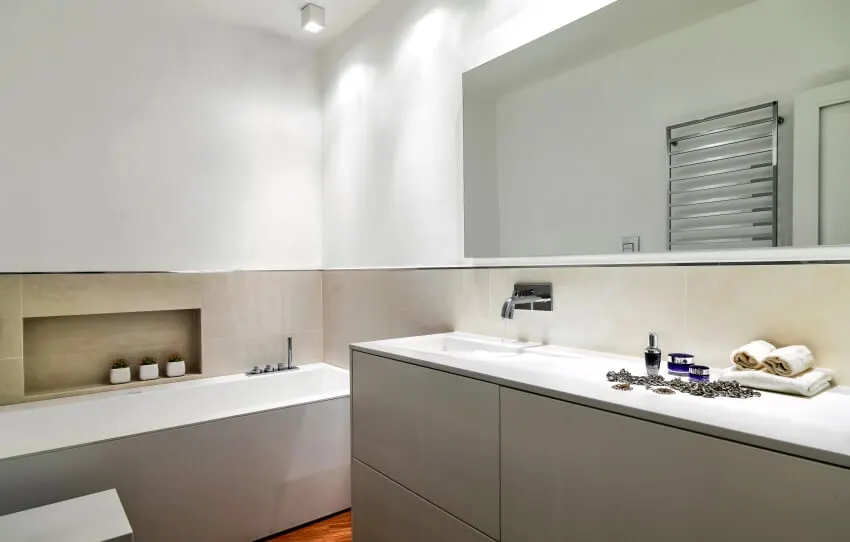 Yes, you can most definitely paint your bathroom countertops. However, what you need to know right off the bat is that the steps are very important and it requires precision and actual following through in order for you to be able to do it right.
Just opting to go over your bathroom countertops with some paint and a paintbrush could result to having your paint eventually come off. So more than anything, proper painting is the key to being able to successfully do this in the first place.
If you feel like you don't have the patience to go about this correctly, it would be best if you just pass on the project altogether. However, if you're determined to pursue the project, it may be a rewarding experience if you succeed.
We'd just like to put in a special note for you to not skip out on any major steps, especially sanding and the like. Skipping out on these little details could result to you losing time and money and having a lot of frustrations in the long run. No one wants a bathroom countertop with chipped or peeling paint, after all.

Pros And Cons Of Painting Your Bathroom Countertops
Below are the major advantages and disadvantages of painting your bathroom countertops.
The Pros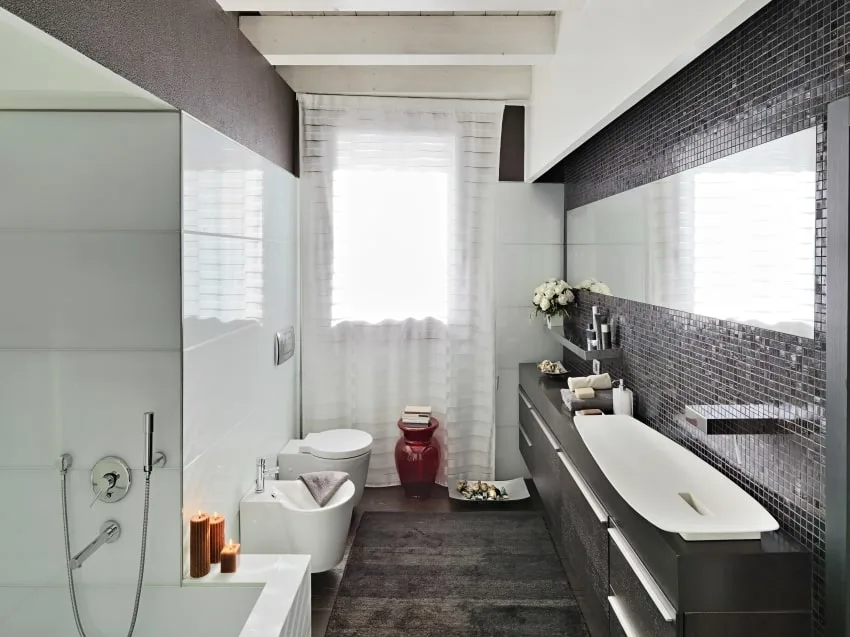 • Cost effective. Bathroom countertops, especially new ones, can cost a lot of money. This is why a lot of homeowners are exploring cheaper alternatives and painting them is as cost effective as it gets.
• Painting is easy. It's easier to accomplish such a project, either if you opt to do it yourself or hire a professional out for it.
• More design options. Compared to natural stone or countertop laminates, paint has so much more to offer in terms of color as well as design options. You can easily match it according to your bathroom's design theme.
• Easily changeable. You can easily change the paint color every few years or whenever you feel like it.
The Cons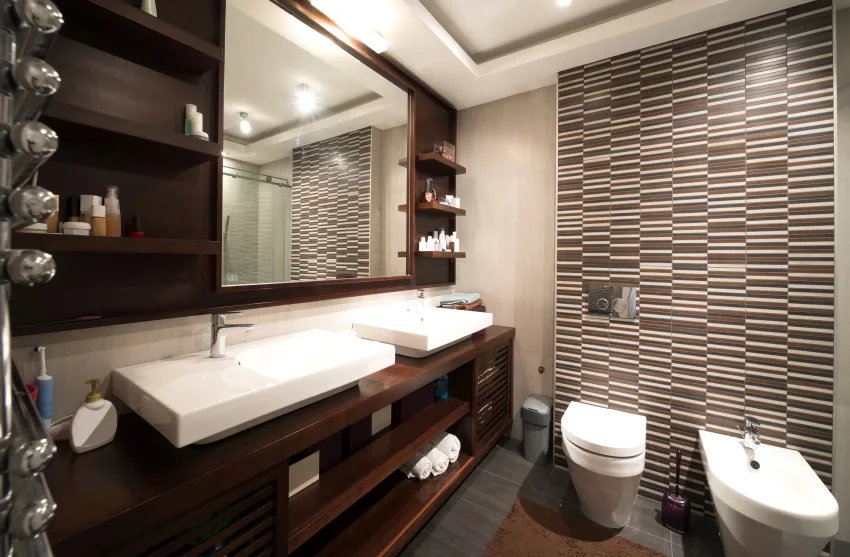 • Prone to damage. If the paint job is done poorly, it might end up chipping or peeling and it won't look good in the long run.
• Susceptible to heat and moisture. This is a bad combination in the bathroom that tends to get a lot of moisture as well as heat from the hot water. Extra work might be required for its upkeep.
• Might damage the existing surface. If you have an expensive countertop such as expensive natural stone slabs like quartz, it would be best to not paint it as it can damage the existing surface and might cause more harm than good.
How To Paint Bathroom Countertop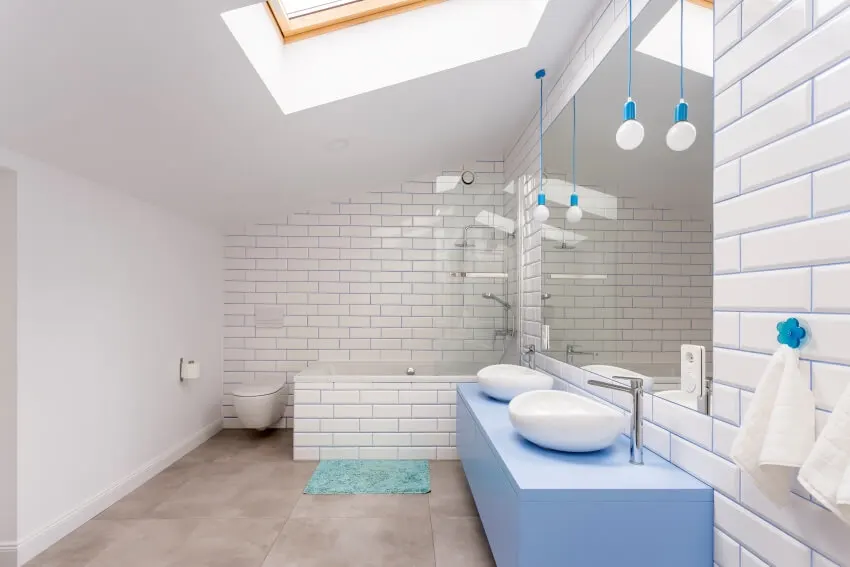 The painting process is rather easy and straightforward when it comes to getting your bathroom countertop painted.

Here are some basic steps to keep in mind for painting bathroom countertops:
1. Make sure that you have all of your tools and materials prepared. It's a bit of a hangup to have the need to stop the project because you have to run off to the store because you forgot something. Make sure you have everything ready before you actually start.
2. Clean your countertop thoroughly with some soap and water. Make sure that you scrub away all the dirt and debris and allow it to dry completely before you proceed with the next step.
3. Sand your countertop surface with a 220 grit sandpaper, brush off the dust, and follow through by wiping it down with a wet rug. Make sure that you let it dry before proceeding.
4. Prime your countertop surface with an acrylic primer. If you're dealing with a glossy countertop surface, it would be better to opt for a flash-bond primer. An alternative to this is a paint sealant.
5. After the first layer of primer dries, proceed with the second coat and let it dry as well.
6. Now it's time for the actual painting process. Apply 2 to 3 layers of either semi-gloss or latex satin enamel paint of choice. Make sure that you give it enough time to try properly in between coats.
7. Make sure that you seal the paint job once it's dry. This will protect it even more. Countertops are highly prone to abuse especially when in the bathroom so this is a required extra measure.
Painting Materials Needed
As always, in order for you to properly do any DIY project, you need to make sure that you have all of the right tools and materials. Here are the things that you would need to prepare:
• Waterproof paint – latex satin or semi-gloss enamel
• Sandpaper – 220 grit
• Newspaper / cellophane sheets / cling wrap
• Painter's tape
• Paint sealant or primer
• Paint brushes
• Foam roller
• Paint tray
• Rags
• Gloves
• Mask / respirator
• Finishing coat – latex satin or semi-gloss
Common Mistakes When Painting Bathroom Countertops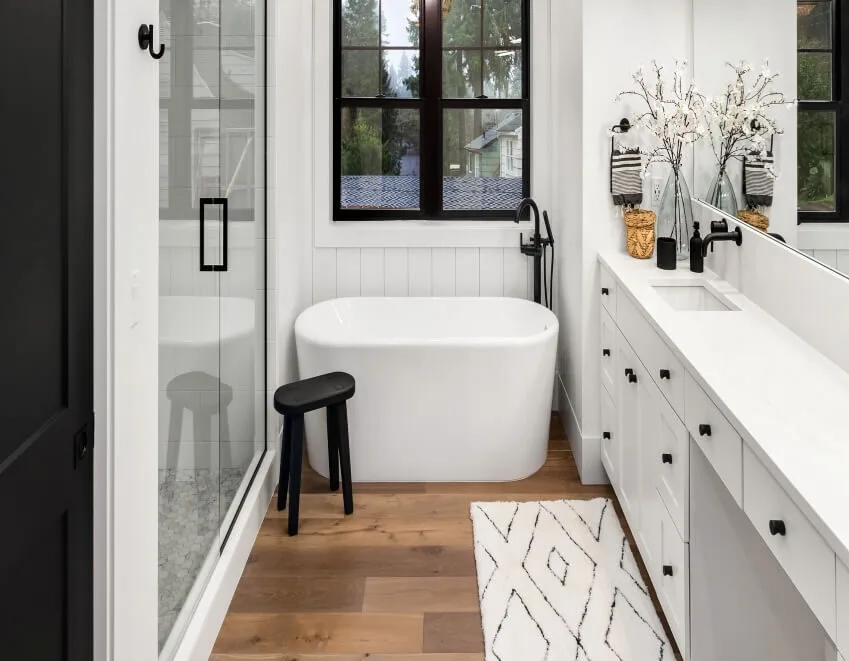 • Inadequate prep work. Preparation is everything when painting your bathroom countertops. Not doing the proper prep work could turn out to be a costly mistake. Make sure that you go out of your way to really cover or protect the surfaces or areas that you don't want to get any paint on.
Sanding is also essential as a good paint job is reliant on having a good surface to paint on as well so be sure not to skip it. Check out our solid surface countertops design guide for a related article.
• Choosing the wrong tools. The kind of paint that you use on your walls won't hold up well when used on your bathroom countertops so make sure that you choose your paint well. You also have to take note that you need paint that will hold up well against heat, moisture, and a lot of wear and tear as the bathroom tends to be a high traffic area in the home.
If you want your project to last and to be worthwhile, get the right materials and tools for the job. Countertops also tend to show brush strokes no matter how carefully you go about it so be sure to use a roller and only use paintbrushes for the edging and hard to reach places.
Also make sure that you use the same tools in between layers to make sure that the previous layer won't show through the top.
• Rushing the job. One thing you need to know right from the start is that painting is a job that really requires a lot of time and it isn't something that you can rush. This could take days or even weeks.
Also make sure that you're out of the house or that you use another bathroom once you're done with the paint job as it will require an extra week for the paint to completely dry before you can start using your countertop.
• Forgetting to seal. Once your paint job is done and you skip out on getting it sealed, this can cause the paint to chip in a month or so. Seal it after the paint job and make it a point to seal it often.
This is one material that you shouldn't scrimp on at all. Get your hands on the best acrylic sealer that you can find for added durability. The paint alone will not hold up well. Your countertop needs the protection of the sealant.
• Don't forget to reapply the caulk. Once you're done with the paint job, make it a point to go around the edges so that you can re-caulk it. This will keep the water from getting caught or trapped in between the wall and your countertop. This will also create a nice and seamless look that's ideal for bathroom settings.
• Using the wrong paint. No matter how good or smooth your application of the paint may be, your countertop repainting project will not go on well if you chose the wrong paint for the job.
If you have a bit of texture on your countertop surfaces, make sure that you don't pick a kind of paint that has a high sheen. If you want to really go for a gloss or semi-gloss finish though, then sand the surface down to make it completely smooth before applying the primer then the paint.
• Painting without a primer. This may be an arduous task but something that's absolutely necessary as the primer preps the countertop to make sure that the paint actually sticks to it and to make sure that the old color of the original countertop doesn't bleed through.
• Leaving the painter's tape up for too long. Painter's tape that's been left up for far too long could peel the paint off upon removal.
Paint For Bathroom Countertops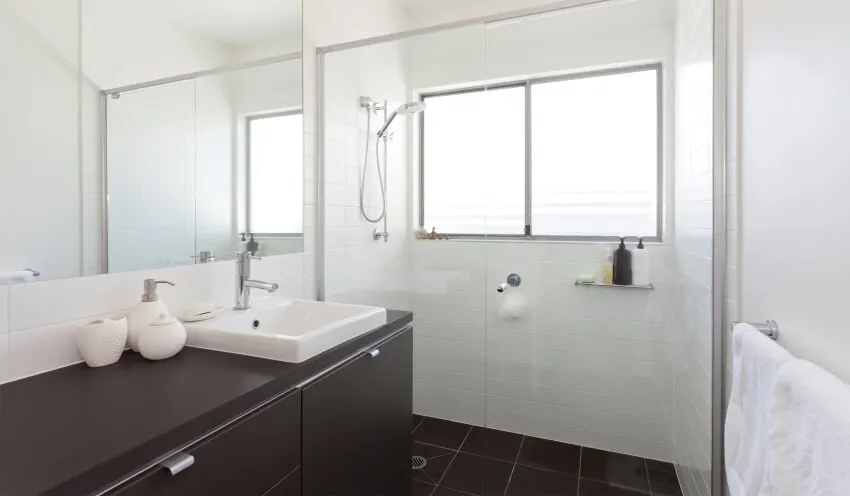 The best type of bathroom paint to use for countertops are either enamel or acrylic based paints. These types of paint dry up and provide a hard surface for the countertop.
This is perfect for heavy-used areas such as your bathroom countertops because these types of paint hold up better against use and abuse. Make sure that you have proper ventilation while working as paint fumes can get a little overwhelming.
These paint brands come highly recommended specifically for bathroom use, where the painted surfaces are exposed to a lot of moisture, heat, and even risks to having mold and mildew on them:
Showcase – HGTV Home by Sherwin-Williams
This is a top rated paint that has been said to only require one coating (although we recommend you use two to three coats of paint when painting your bathroom countertops).
It comes with a satin sheen finish which makes it an excellent choice for such a high traffic surface such as your bathroom countertop. This paint finish is also known to be resistant to stains and scratches and on top of that, offers a film of mildew resistance in its finish.
Valspar Signature
This paint has a semi-gloss finish and is also great for high traffic surfaces such as your bathroom countertops. They boast a slogan that says "Stands up to anything". This probably comes from its paint + primer formula.
It offers ScuffShield Technology which has a clear film on top of the paint once it dries, making it easy to clean when it's dirty and protecting it from mold and mildew.
Zinsser Perma-White Mold & Mildew Resistant Paint
This is a beautiful all white paint that delivers the clean and minimalist look you're probably looking for in a bathroom countertop. It has a water based formula and is specialized to be in places that are highly prone to water exposure, such as your countertops.
It is known to stick to relatively any surface and is said to be self-priming so it can stick to your bathroom countertops really well with little to no effort. The highlight of this particular paint brand is that it only takes 30 minutes to dry.
Aura Bath & Spa – Benjamin Moore
This paint is a little more unique because it doesn't hold up to the traditional requirements or standards of bathroom paints, which is having a glossy finish. On the contrary, it offers a matte finish yet it still holds all of the great qualities of a high performing bathroom paint. The secret is in the formulation of the paint which is made out of 100% latex that has proprietary resin. This makes the paint extremely durable.
It's formulated to hold up well against wet and steamy conditions and can hide surface imperfections extremely well. It sounds a little impossible to think that a paint with a matte finish can hold up to the demands of how hard and often a bathroom countertop is used but Benjamin Moore continues to surprise with this one.
BEHR ULTRA Interior Enamel
This is smooth paint that offers ultra-coverage and is considered to be the best of the best bathroom paints in the market today. This paint's specialty is to resist mildew and stains in particular. It has a semi-gloss finish and comes in a palette of breathtaking colors you will surely enjoy.
Read this article for more about painting bathroom cabinet color ideas.
Spray Paint Bathroom Countertop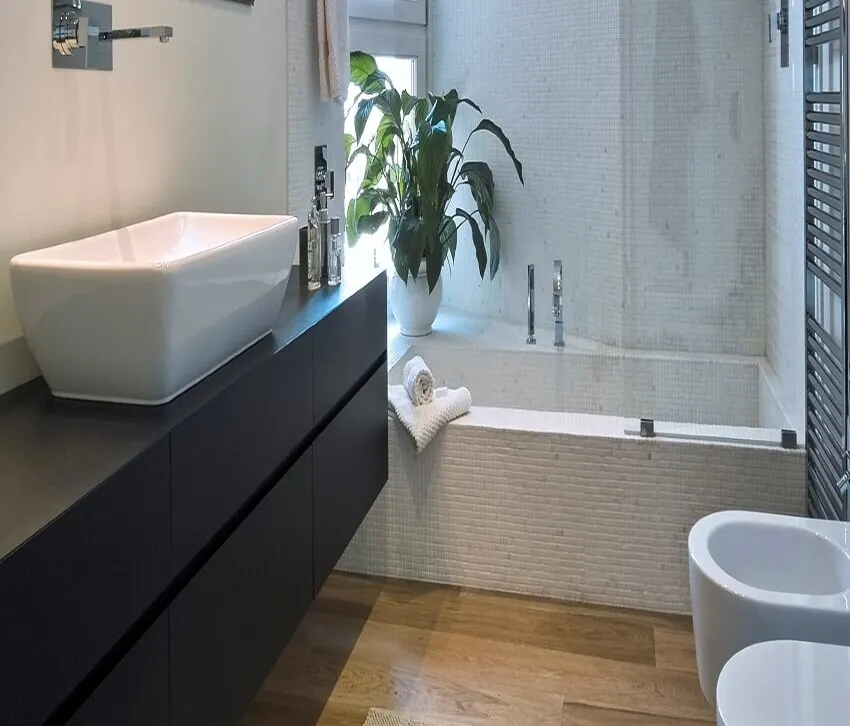 You can definitely spray paint your bathroom countertop but you have to know that this doesn't hold up as well as the enamel or acrylic paints will. The recommendation is for you to double up on your sealing and to constantly seal the countertop to protect the paint job.
The application is quick and easy and much faster in between coats or layers. However, they tend to get scratched more easily and you need to really reinforce it with layers of sealant if you want to retain it for a much longer period of time.
Out of all of the spray paint brands in the market, one reigns supreme when it comes to such a high requirement that comes with bathroom countertops: Rust-Oleum enamel spray paint. This paint brand is professional grade and is said to easily transform literally any surface: even unglazed ceramic.
It offers durability and strength that's considered as industrial grade by commercial standards. It is advertised to be extremely resistant to abrasion, corrosion, dulling, fading, and even chipping. What's particularly special about it is that it's a paint and primer all in one.
The spray can container comes with an ergonomic trigger. This allows you to spray from literally any position and angle without suffering from the finger fatigue that traditional spray cans are notorious for.
How To Seal Painted Bathroom Countertop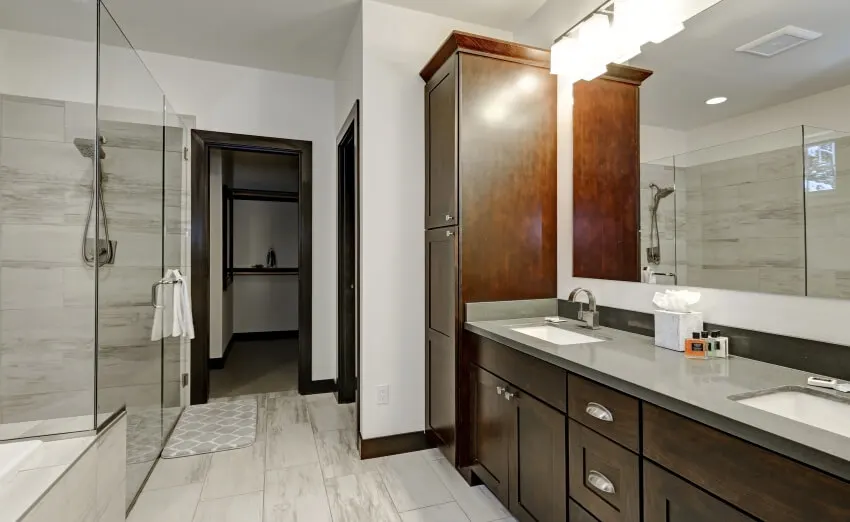 Sealing your painted bathroom countertop requires minimal effort, materials, and even tools so there really isn't any reason why you should skip out of it given the fact that it will provide an invisible protection for your bathroom countertop.
Here are some of the basic steps on how to properly seal your painted bathroom countertop:
1. Clean the surface thoroughly. Once the painted surface has dried completely, make sure that you give it a good wipe-down with a clean rag, preferably microfiber.
2. Apply the sealant. Apply the sealant the same way that you would apply paint or varnish, with the use of a paintbrush. Make sure that you use gentle strokes so that the coverage is seamless and complete.
3. Clean the brushes you use immediately after use in order to avoid the bristles from hardening. The sealant packaging usually involves cleanup instructions along with the appropriate solution required to keep your brushes from degrading right after you use them to paint the sealant on your bathroom countertop.
Visit our guide to bathroom remodel software for more related content about remodeling your interior design.