Here's our gallery of the different types of bathroom vanities including their designs, materials, shapes, cost, dimensions, countertops, and vanity sinks.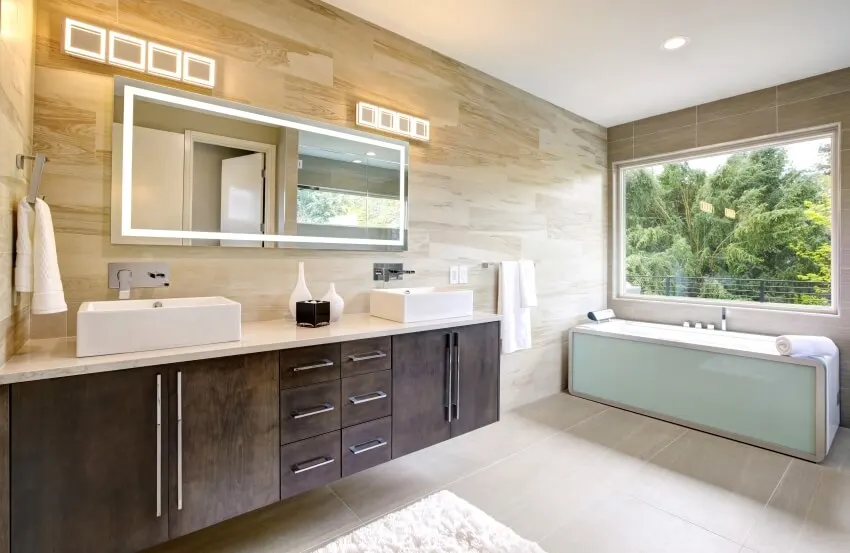 One of the major master bathroom upgrades in the United States includes the bathroom vanity. Undeniably, bathroom vanities offer more than just style but functionality that makes getting ready in the morning more convenient.
Along with the improvements of bathroom vanities are a wide range of designs available, with each having its features and advantages.
Bathroom Vanity Designs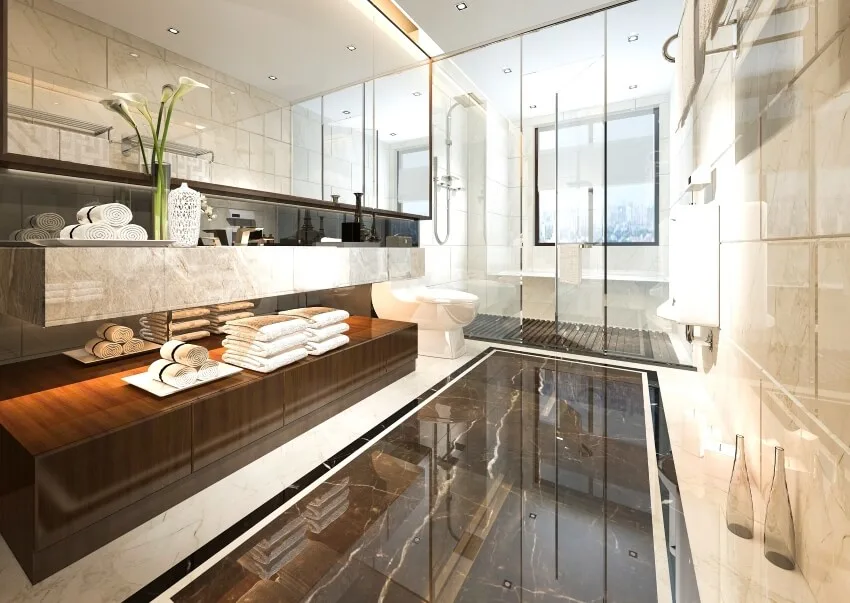 As bathroom vanities have a specific function, they impact the overall look of your home, no matter how small or big your bathroom space may be. The type of bathroom vanity also affects your everyday use, such as the convenience of cleaning and comfort.
Vanities, also called washstands, also come in different shapes and sizes. The most popular are:
Free Standing Vanity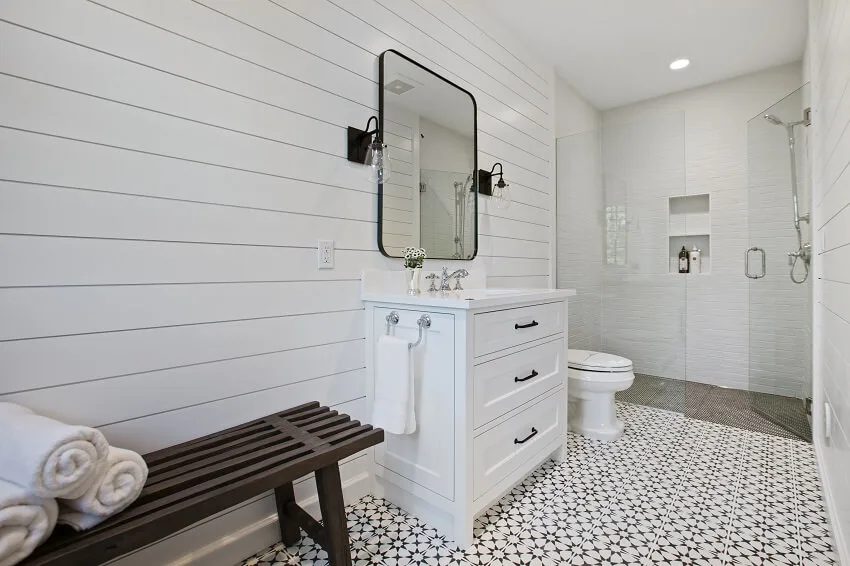 Freestanding vanities are ideal for making the most of limited bathroom space. They are installed with the legs attached to the floor or are covered by a kick board.
Ideal for multiple users, this vanity style is ideal for various users providing ample storage. In addition, you'll have fewer tiles to use on your bathroom floor, thanks to the vanity space saver.
Single Sink Vanity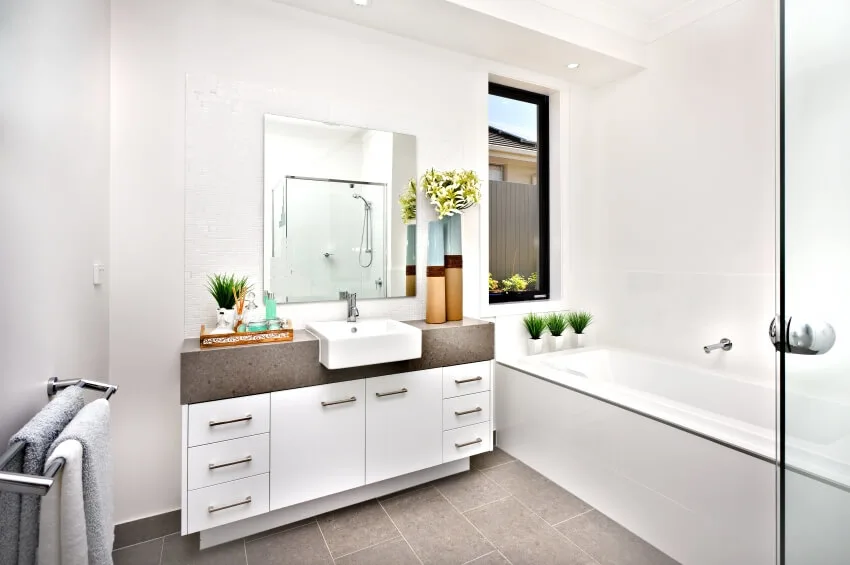 This is a practical choice for small bathrooms such as powder or guest bathrooms to provide a single washbasin for users.
Double Sink Vanity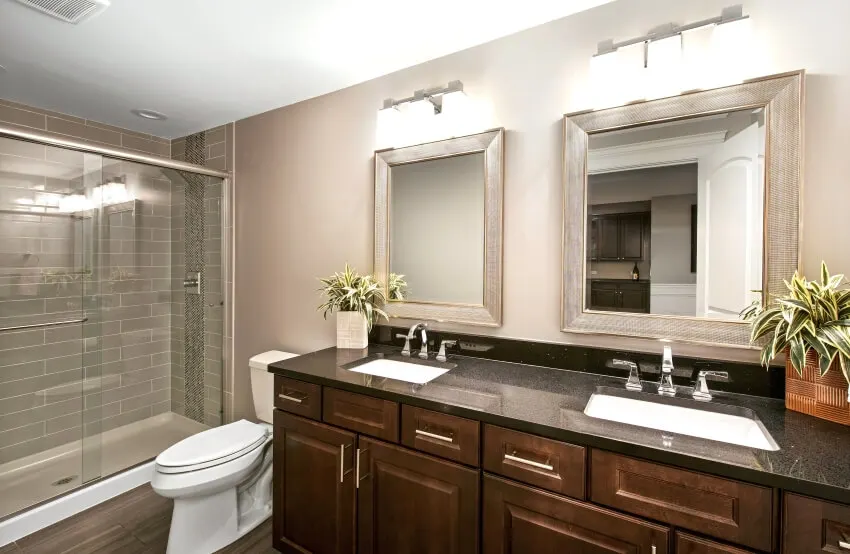 The most well-known double sink bathroom when you need his and her bathroom space. The large double basin vanities are a good size for large families with frequent bathroom use and multiple people using the bathroom simultaneously. This allows for two people to brush, their teeth, wash their hands or prepare for the day at the same time.

Getting one child to bed on time can be challenging but getting two or even three can be a nightmare. You can speed up this usually lengthy process by doubling up on basin sinks and quickly return to the peaceful end of your evening.
Double sink vanity units offer plenty of storage space, allowing you to neatly organize your bathroom essentials. They also allow for more counter space which can be useful for makeup or even used to showcase decor.
Vanity Cabinet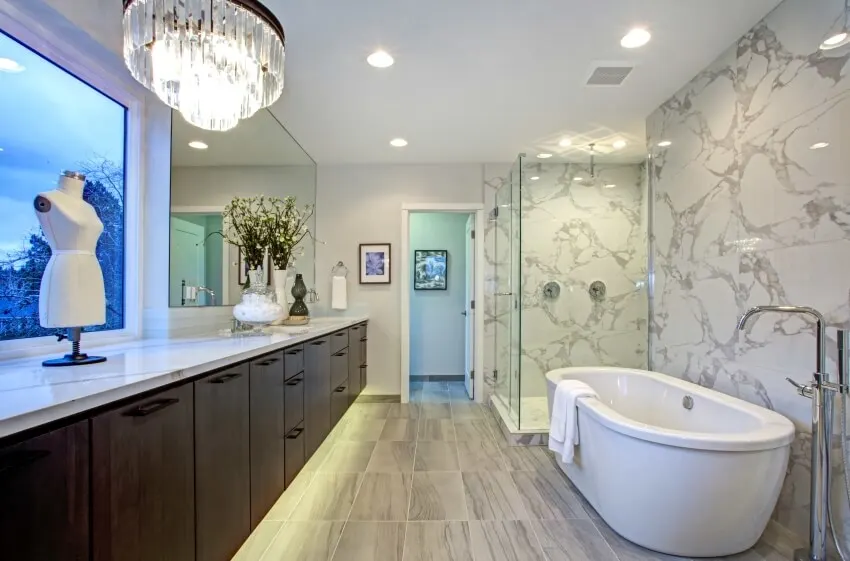 A sink vanity cabinet for a single or multiple sinks in a bathroom. The bathroom vanity is often used to conceal unsightly pipes and plumbing from the sink, with the extra space being used for bathroom storage.
Pedestal Vanity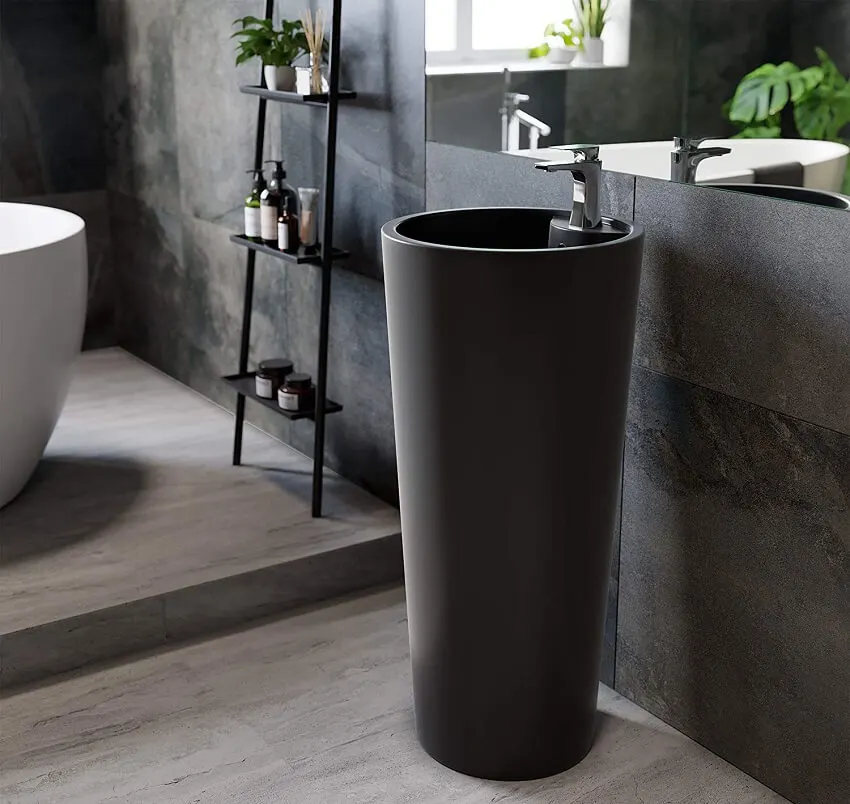 See this pedestal vanity sink at Amazon [Sponsored link]
Pedestal sinks are a timeless classic for small bathrooms, and since they have a single slim column and a small basin on top, they are simple to clean and maintain.
The pedestal sink has a narrow, pole-like base and a wider sink basin on the pedestal, made of one or two pieces of material, usually porcelain or ceramic materials.
Details, design features, and size have evolved, but the basic concept of pedestal vanities has remained the same. While a pedestal design is stylish it does not provide cabinet space for any toiletries, lines or accessories.
Corner Vanity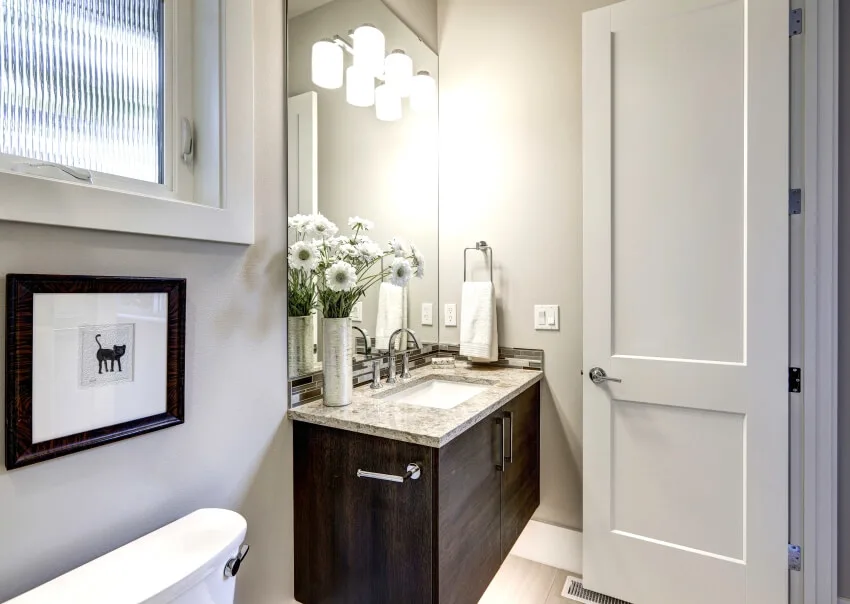 Although it may seem counterintuitive to cut your vanity in half and place it in a corner, it can provide more storage space than many smaller bathroom vanities.
Even if you have to sacrifice some storage, you may be able to free up enough floor space to install a dedicated storage cabinet.
Floating Vanity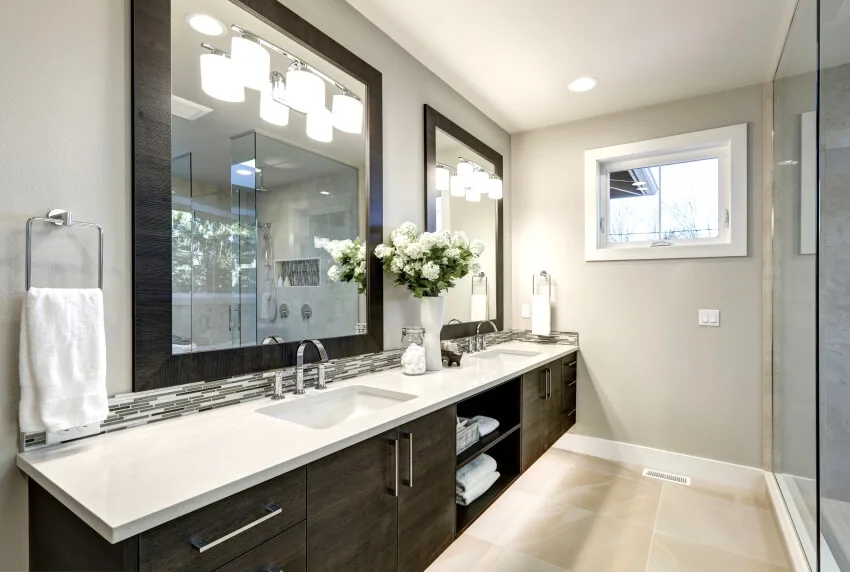 Floating vanities appear to float because they are mounted to the wall rather than sitting on the floor. These are a popular design because they give a room a more luxurious feel by providing a modern finish. These vanities have a high-end look and feel even in their most basic forms.
Open Bottom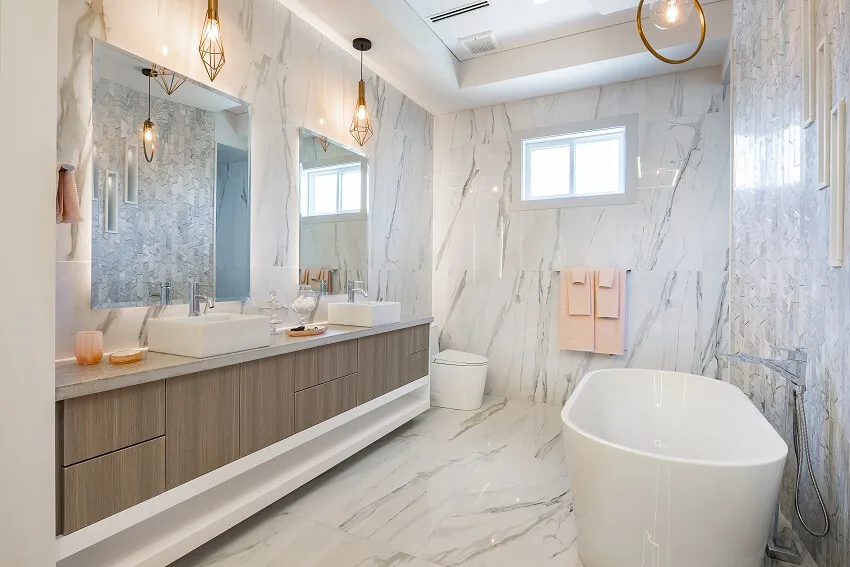 The open-shelf bathroom vanity frees your space and provides you with spacious storage drawers without the hassle of complicated assembly, making it a great DIY project. There are free plans for a single vanity and notes for a double vanity available online.
Vanity Materials
There are different levels of quality depending on the types of materials used for vanity construction. Here are the most popular vanity material types to help you decide which to choose.
Particle Board
Particleboard is generally considered on the opposite end of the spectrum from solid wood when it comes to bathroom vanity construction. Wood particles are glued, then heated and pressed to combine to create sheets that become particle board, a composite sheet material.
The strength of particleboard varies depending on the particle size and density of the sheets; however, it is generally thought to be too weak to support the weight of solid surface materials such as natural stone like granite, marble or quartz.
The weight of the countertop can cause particle board vanities to sag over time. Lighter countertop materials, such as acrylic, should be used with particleboard vanities.
Other bathroom vanity materials are more resistant to wet environments than particleboard. While laminates and wood veneers can provide some protection, a particleboard vanity will most likely degrade noticeably over time due to the steamy conditions of your bathroom.
These types of vanities are inexpensive when compared to other materials, but they may cost you more in the long run if you need to replace them due to water damage. As a result, it is generally advised to avoid vanities made of particleboard.
Solid Wood
Like other furniture products, solid wood is generally thought to be the most durable option for a traditional vanity. Solid wood vanities are divided into natural wood and solid hardwood. The type of wood used in construction is ultimately the most distinguishing factor.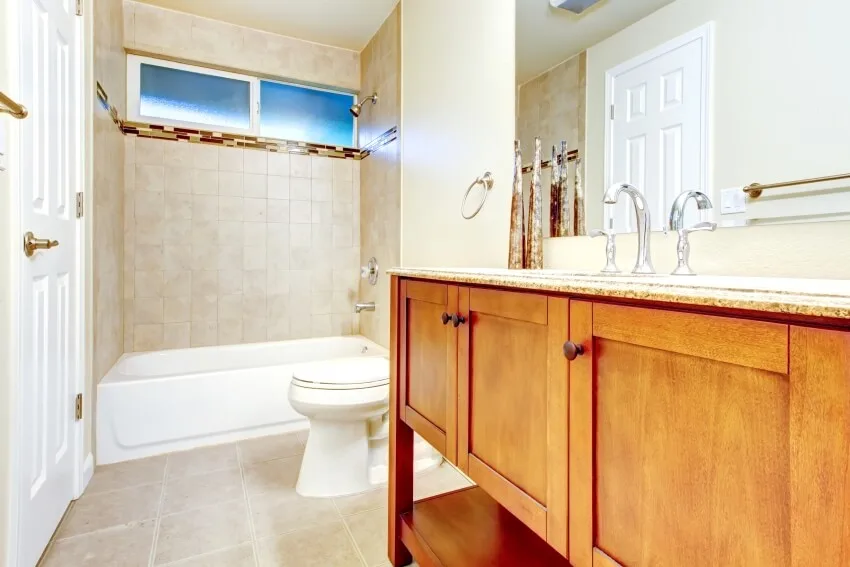 Oak is widely regarded as the most durable wood for bathroom vanities. However, there are alternatives such as poplar or teak.
Solid wood vanities have a natural finish or stain that can't be duplicated by other materials, giving them a classic, timeless look. Of course, you can paint these materials in any color you want.
Solid wood's strength also means you won't be limited in terms of countertop materials. Whether you choose marble or acrylic, you can rest assured that the vanity will be structurally sound enough to support the weight of your countertop.
While solid wood vanities are extremely durable, it's important to keep in mind that bathroom conditions can still cause issues. Wood expands as the temperature rises, and it absorbs moisture.
This expansion could cause warping of the wood or cracks in a painted finish in extreme cases. So, to avoid these problems, a veneer or sealant may be required.
If you go with solid wood vanity, make sure to use a vent fan to keep the humidity levels in the bathroom under control. This will prevent the solid wood vanity from absorbing too much moisture, allowing the natural finish to last for decades.
Plywood
While not as high-end as solid wood, Plywood can be a sturdy and dependable material for bathroom vanity materials. Plywood is made up of several layers of wood veneers glued together to form a sheet of Plywood.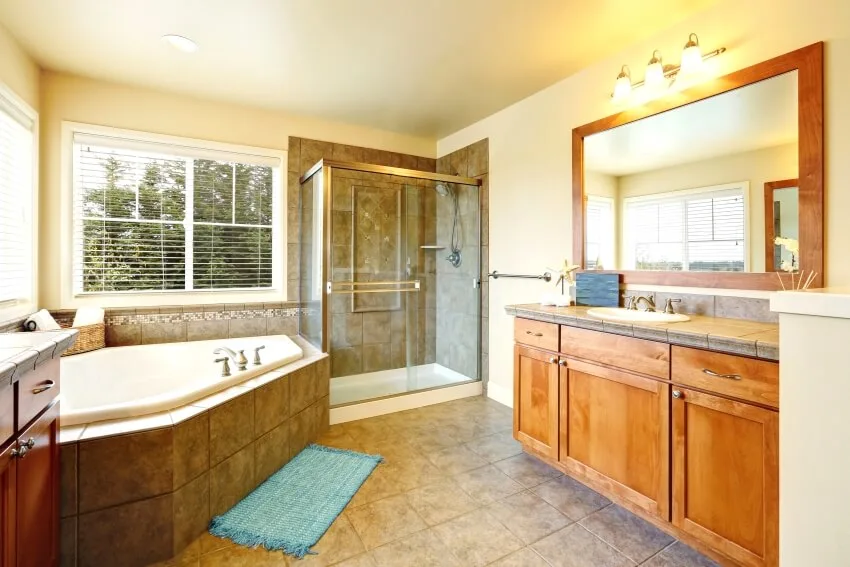 The quality of Plywood, like other manufactured wood products, varies depending on thickness and the materials used. Lower-quality Plywood will have softer woods and voids between layers, whereas higher-quality Plywood will be solid and long-lasting.
Most residential roofing uses Plywood as the underlayment, which means it's quite durable, and it's far less likely to have the performance issues that come with particleboard.
Water resistance means that finished Plywood is less likely to be damaged by steam or a splash of water. Of course, if there is a pipe leak behind the bathroom vanity, you should try to assess it as soon as possible.
More importantly, Plywood resists the expansion and contraction that solid wood can experience due to changes in temperature or humidity. This means that it may last even longer than a solid wood vanity in many cases.
MDF (Medium Density Fiberboard)
MDF (medium-density fiberboard) is a good middle-ground option for bathroom vanity. It is engineered in the same way as particleboard, but it is much denser and stronger.
MDF wood is made from woodchips that have been compressed for a longer period of time and at a higher temperature.
MDF bathroom vanities are typically less expensive and have a smooth finish. Unlike solid wood, you won't have to worry about paint layers cracking due to material contraction and expansion.
On the other hand, MDF cannot be stained like solid wood because it is a manufactured material. Lacquered paints, on the other hand, work well with it.
Because it resembles particle board somehow, it also has some of the same flaws. Because water can cause MDF to swell, the surface should be sealed or painted with a high-quality lacquer.
If MDF is cracked or chipped, it is also more difficult to repair. Stress cracks could allow water to penetrate the material more easily, weakening it over time.
Though MDF is less expensive and works well in bathrooms, its water-resistance means it is frequently used in conjunction with solid wood.
Laminate
For many homeowners, laminate is a popular choice for bathroom renovations. Laminate countertops are pressed plastics that resist moisture and require little maintenance. Thanks to new colors and patterns, there are more and better-looking options than ever before.
It's a good choice for basic bath makeovers because it's easy to install and inexpensive. You won't have to worry about installing a floating vanity with complicated construction because it's lightweight.
The manufacturing process has produced a laminate that does not resemble the classic from the 1950s. Marble, granite, slate, travertine, limestone, and soapstone are all laminate clones of natural stone counterparts.
Vanity Shapes
Deciding what shape to use for your bathroom often comes down to the available space and your design preferences. Here's a few of the most common choices.
Rectangular
Rectangular sinks have squared corners and come in various colors and designs. Rectangular sinks have a distinct design that makes them stand out. As a result, it's a great way to add a unique design element to a bathroom without undertaking a major renovation. Sleek lines characterize rectangular sinks.
As a result, they're a great match for contemporary bathroom designs or popular Scandinavian styles. A rectangular sink is an excellent way to maximize space in a large bathroom with its large surface area.
Square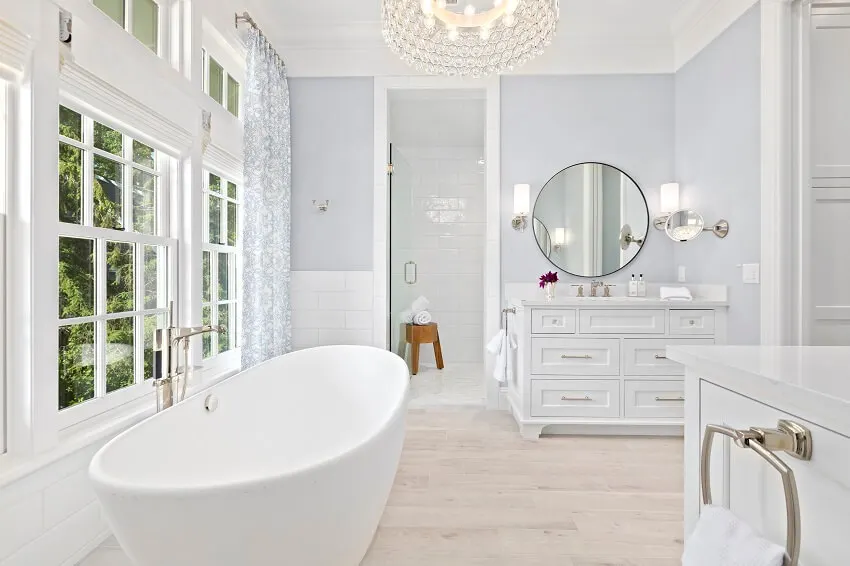 The square-shaped vanity is a sophisticated and modern option because it has a similar clean-edged profile with the same width as the front and back dimensions; however, the depth is not always equal.
Square vanities can hold more water than oval sinks, which is beneficial for parents who want a convenient place to bathe their children.
Round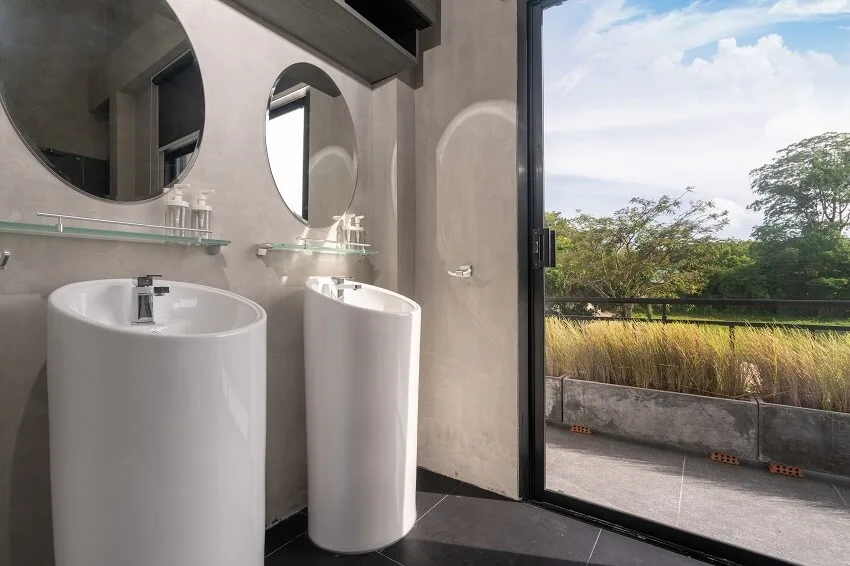 Sinks with rounded edges, usually in the form of a basin or pedestal, fall into this category. While commonly associated with drop-in sinks, Round sinks can be used in any style.
The elegant, flowing circular and oval basins lines make them an excellent choice for modern bathrooms. These basins, which come with either surface mounted or wall mounted basin taps, could be ideal for your family bathroom, en suite, or cloakroom.
Oval sinks go with any design and color of countertop because of their simplicity. They are also easy to match with almost any bathroom style due to their classic design.
Many of them are designed to fit into small spaces, making them space savers. They have no crevices for dirt to collect, making them simple to clean. Because they are usually deeper, they provide a lot of water depth.
Types Of Vanity Sinks
Here are the different types of sinks one can use for bathroom vanities.
Wall Mounted Sink

A wall-hung vanity unit provides a sense of space by keeping the floor visible and clutter-free. This simple visual trick can make even the tiniest of bathrooms appear larger.
Bathroom items such as bottles or towels kept out of sight in your bathroom can be stored in wall-mounted vanity units. They are usually installed with soft-close hinged doors or sturdy drawers to ensure smooth use.
With either a ceramic, acrylic resin, or polymarble resin basin, there is a satisfying amount of choice from a variety of top bathroom brands. There are a variety of bathroom sink sizes and finishes to choose from, including the obvious glossy whites as well as stunning wood-effect and real wood options.
Under-Mounted Sink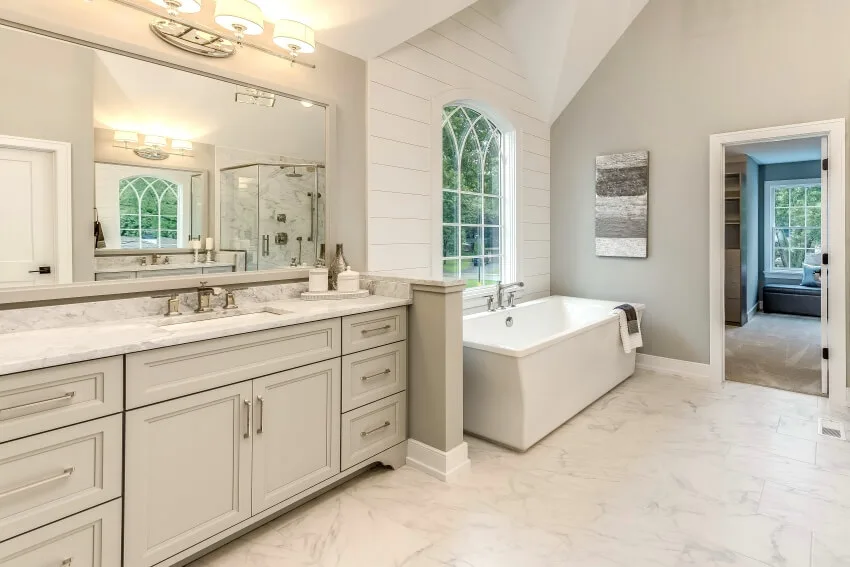 Instead of resting on a rim, an undermount sink is attached to the underside of the counter and then installed from below and held in place with a combination of silicone adhesive and brackets. Along with the sink cutout, the countertop edge is completely exposed.
As a result, when using under-mount sinks, solid countertop materials such as solid surface, natural stone, or quartz are required. Under-mount sinks have the disadvantage of being more difficult to replace than other types of bathroom vanity sinks, as well as taking up more space.
Drop-in Sink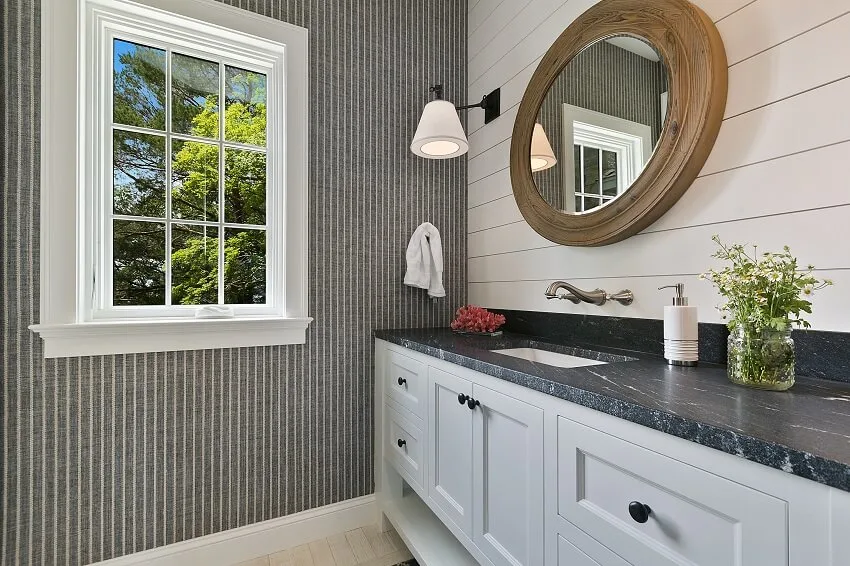 The most known type of kitchen sink is a drop-in sink, also known termed as a self-rimming or top-mount sink. A visible lip around the perimeter of a drop-in sink rests flat on the countertop. The sink basin fits nicely into the countertop slot, and the rim lip keeps everything in place.
To secure these sinks, hidden metal clips under the countertop are applied with silicone caulk under the sink's edge. However, not all drop-in sinks require clips to keep them in place.
Since cast iron drop sinks are so much heavier, they don't require clips, and the sink's weight and caulk create the seal. In some cases, two people may be required to complete the installation.
Vessel Sink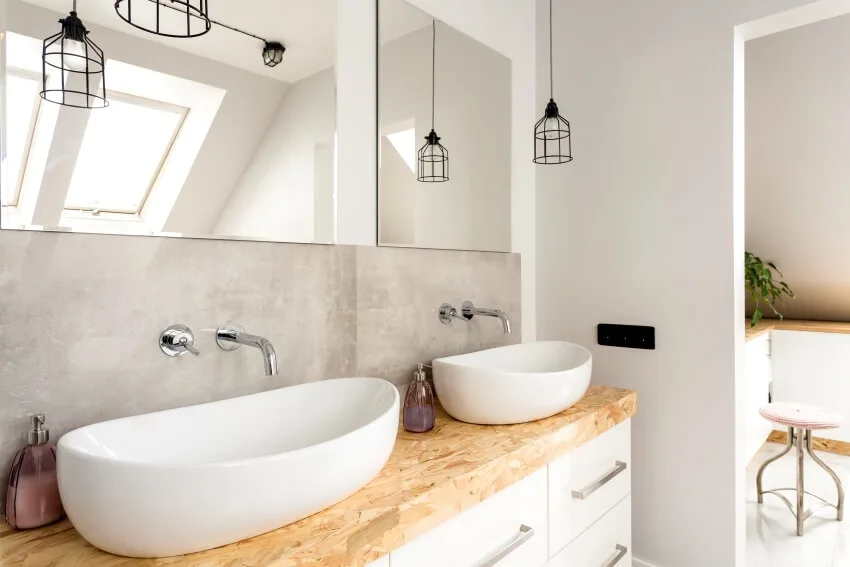 Vessel sinks evoked a look of a time before indoor plumbing when sinks were basically large basins that were placed on a dresser or vanity, but advanced materials and updated forms bring vessel sinks into the present.
A vessel sink is installed on a top surface of a bathroom vanity or counter, rather than being inset like traditional drop-in or under-mount sinks. Since their size and style would be inconvenient in a kitchen setting, these sinks are only found in bathrooms, not kitchens.
Vessel sinks provide more room under the vanity cabinet for storage and a little bit more space on top of the vanity countertop. This design is frequently found in bathrooms, such as powder rooms or guest bathrooms.
Bathroom faucets for vessel sinks can be deck mounted or wall mounted depending on ones preferences. These models are often combined with a waterfall faucet for aesthetics and functionality.
Pedestal Sink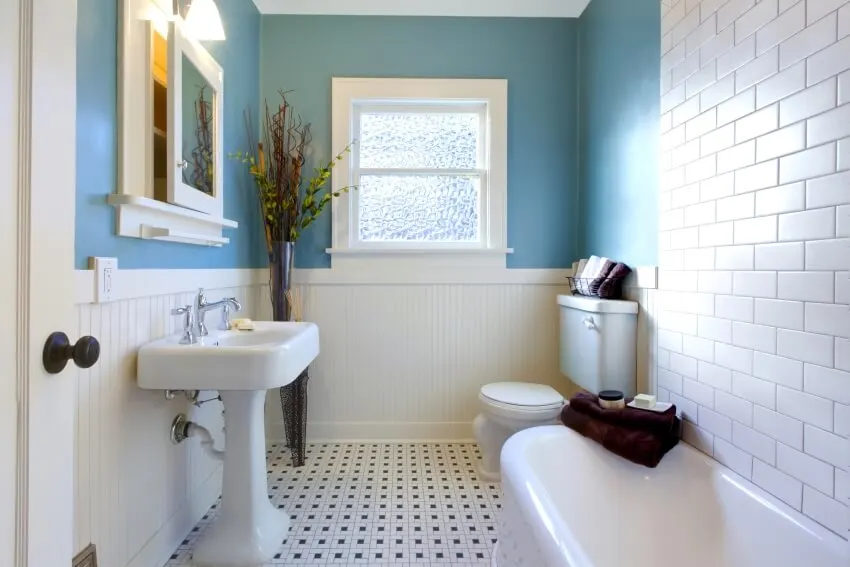 Sink on a pedestal. Pedestal sinks are a timeless design for small bathrooms. Because they have a single slim column and a small basin on top, they are simple to clean and maintain.
Sinks on pedestals have a lower shaft and an upper basin or pedestal. Porcelain makes up the majority of pedestal sinks. Pedestal sinks are made up of two separate elements that are connected during the installation process.
One of the challenges with these designs is finding adequate pedestal sink storage as most models do not have a cabinet underneath.
Console Sink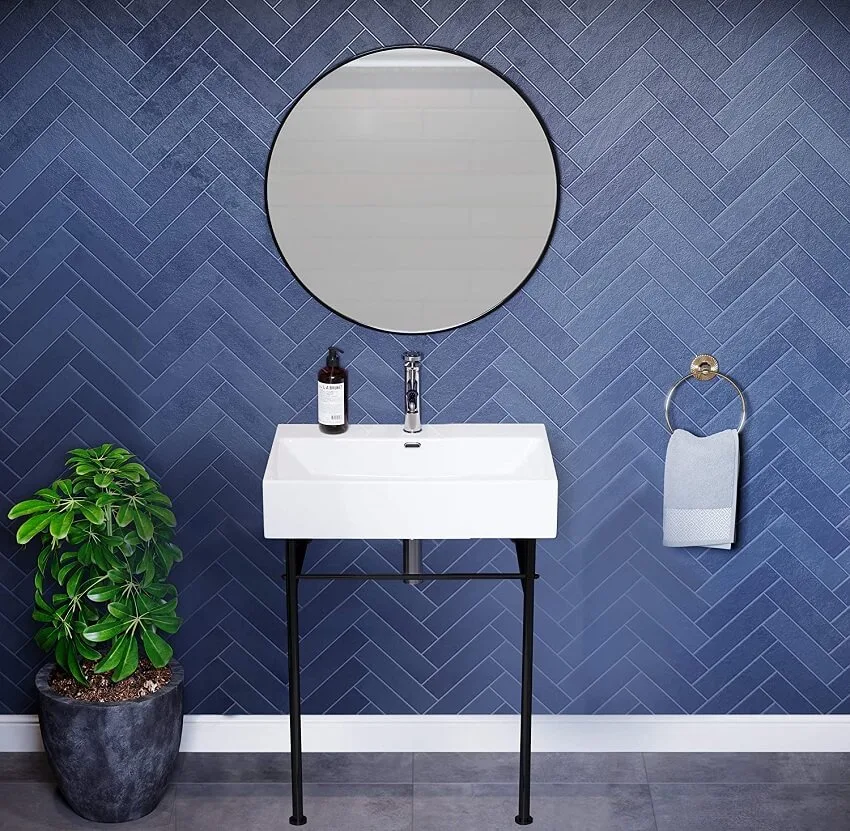 See this console sink at Amazon [Sponsored link]
A console sink, also termed a console vanity, is a cross between a pedestal and a wall-mounted sink. Two or four legs are mounted to the wall that usually supports the sink and countertop. Many of them, however, are freestanding on four legs.
Vanity Countertops
Vanity countertops must be durable and capable of withstanding water, soap, and cosmetics while also serving as a wide work surface for morning bathroom rush hour. This isn't the place for porous surfaces.
In addition, bathroom vanities can serve as a focal point and a transition, such as where the wood cabinets below meet the tile wall above. Remember, your budget and personal preferences will play a big role in choosing a countertop surface.
Quartz Countertop

In the remodeling industry, this is granite's main competitor. This man-made stone has more design options than natural stones in terms of aesthetics. Quartz vanity tops add 90 percent to 100 percent to the value of a home.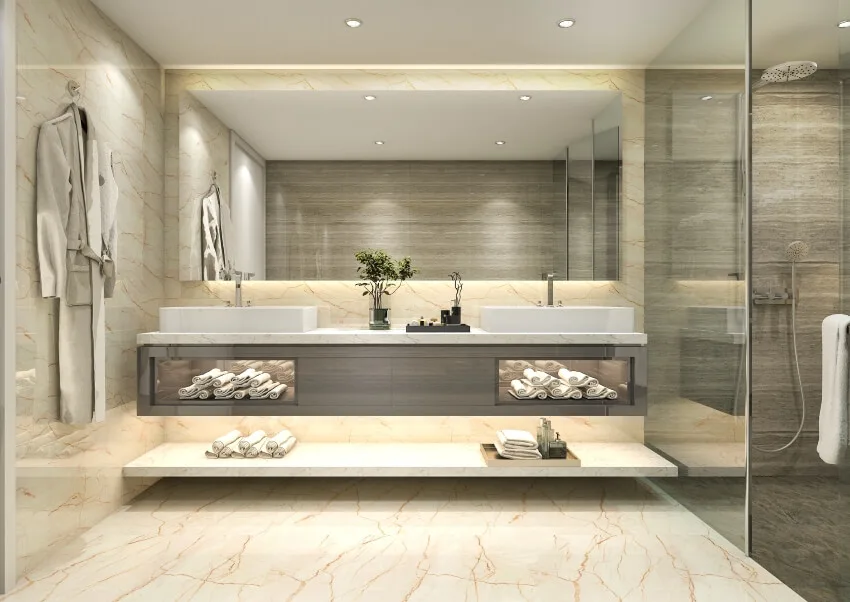 Because of their composition, quartz stones are more durable than granite. It comprises 95% crushed quartz and other minerals and 5% polymer resin cement-based binders. The resins help seal the pores, which contributes to the product's excellent stain resistance.
Quartz bathroom vanities with tops usually have finer and smoother veining and color patterns in terms of aesthetics. Compared to granite, quartz's seams are more visible when used for smaller surface areas.
In the meantime, if you want your small bathroom to appear larger, quartz white bathroom countertops are a good choice. It also adds brightness and a contemporary feel.
Granite Countertop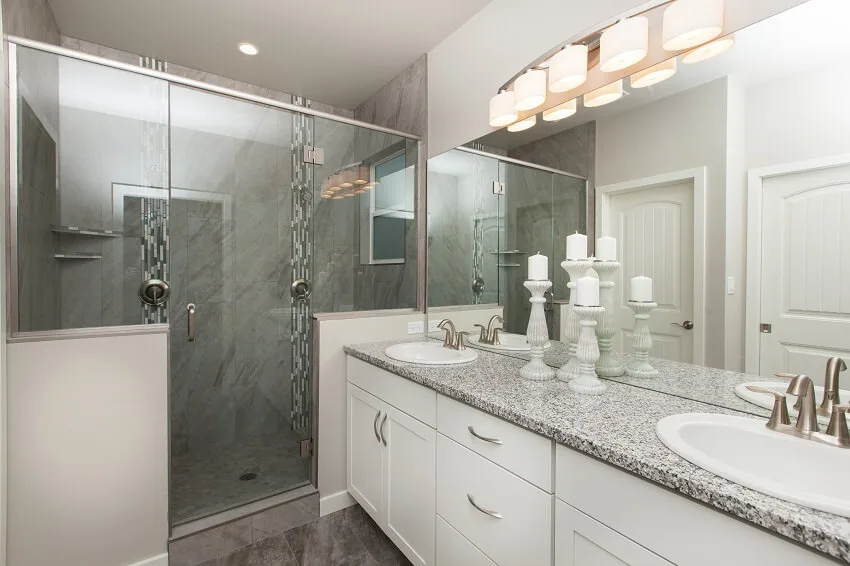 Granite is one of the best natural stones for well-made bathroom vanities. Granite typically costs between $50 and $100 per square foot. Most clients use this stone in their bathroom remodeling to create a dramatic and timeless atmosphere.
It is scratch and dent resistant, which means you will have fewer cleaning issues. You'll love its various flecks and color veining in terms of aesthetics.
Because granite is porous by nature, it requires annual sealing maintenance to seal its pores and improve its anti-stain and anti-microbial properties. Furthermore, it raises the resale value of your home by 90% to 100% of its original cost.
Furthermore, white granite countertops are ideal for creating a bright and airy atmosphere. Read more about granite bathroom countertops here.

Marble Countertop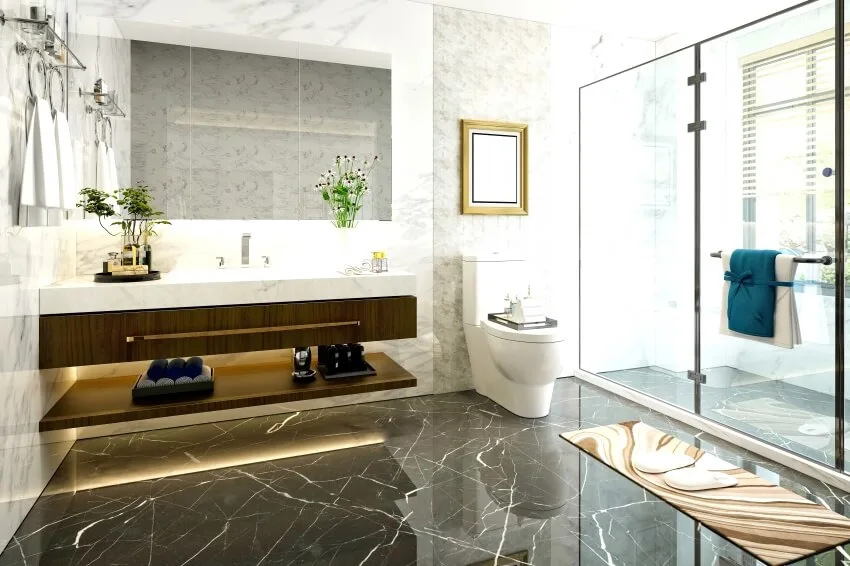 Marble slabs can be used to create the best bathroom vanities. It's a metamorphic stone with more prominent veining than granite and quartz. Custom marble bathroom countertops typically cost between $100 and $200 per square foot.
Their bolder veining and consistent color enhance the elegance of marble slabs and timeless beauty. Similarly, unlike quartz, seams are unnoticeable when used for smaller surface areas.
Despite their elegant appearance, Marble vanity tops are prone to etching and dents due to their inherent softness. Because it has a low stain resistance, you'll need to wipe up spills quickly. Marble bathroom countertops require annual sealing to maintain their anti-stain and antibacterial properties.
On the other hand, Cultured marble countertops are a great way to enjoy the beauty of marble while requiring less cleaning and maintenance. It is more durable than natural marble and has a similar aesthetic value.
Like the other two stones, marble can raise the overall value of your home by 85 percent to 100 percent of its basic cost.
Wood Countertop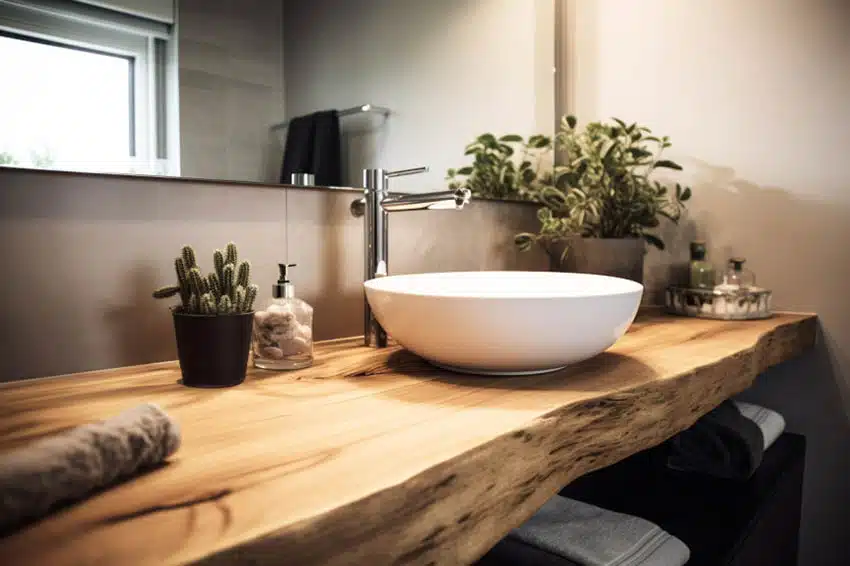 wood is an attractive choice for a vanity top if you would like a more rustic or modern farmhouse style look in the bathroom. Since these porous surfaces are susceptible to water damage such as rot, wood vanity tops must be well sealed. This is mostly a problem in seams where sinks and faucets are installed.
However, wood provides a warm, inviting feel and an organic look if a butcher-block-type counter is used. Keep in mind that this is wider, and you may need to change your plumbing connections based on the National Kitchen and Bath Association or the NKBA.
Laminate Countertop


Laminate is a popular vanity top material because of its affordability and variety of finishes (including those that resemble solid surfaces or granite). Laminate surfaces can withstand water and is stain-resistant, but it will burn, dull, and dent.
Solid Surface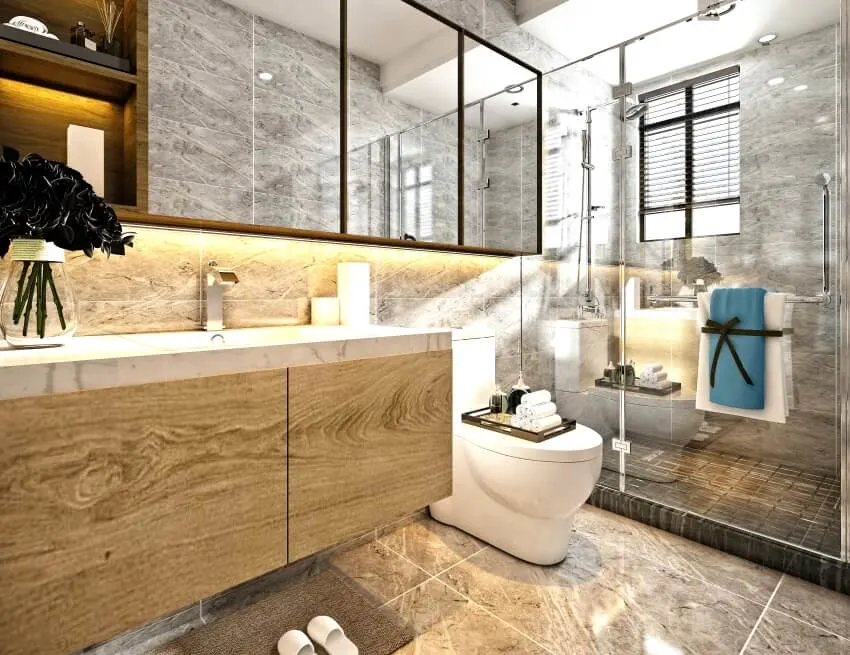 A solid surface countertop is a striking surface that is created using a combination or quartz stone and resins. It can resemble natural stone such as quartz, marble, soapstone or granite.
Since it has many different finishes and is relatively maintenance free its a great choice for contemporary or modern bathroom designs.
Vanity Cost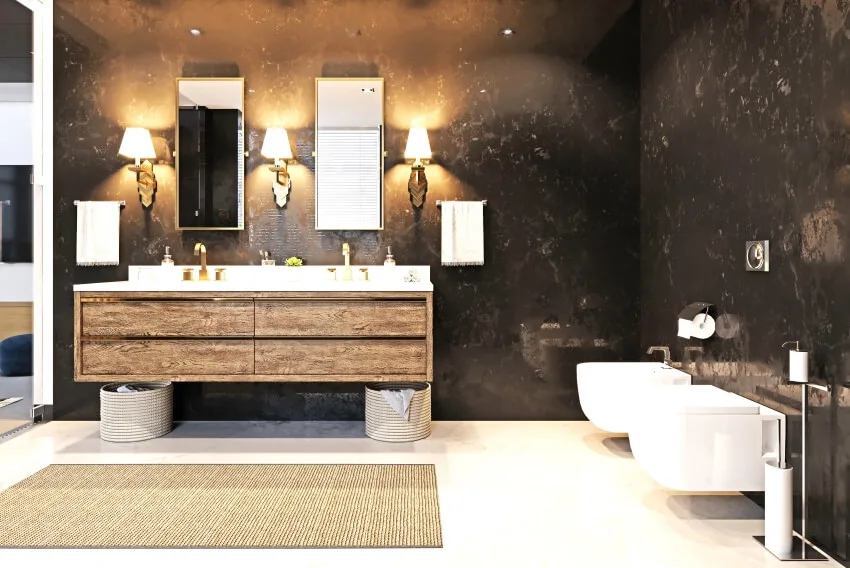 Bathroom vanities range in price from $500 to $3800, including or not including installation costs of $200 to $1000 per unit. Furthermore, if you choose a stock bathroom vanity, it may cost less than $2600. If the same vanity is customized to your preferences, the final cost could range from $500 to $2800.
Premade
Premade vanities can range in price from $100 to $2600. This price will include all of your costs, such as the size you choose, the material, and any other extras. The main cost, however, is solely for the bathroom vanity top.
A prefabricated bathroom vanity is available in various sizes, including 2.5′, 4′, and 5′. If the top on your premade vanity is missing, you can replace it with a top made of your favorite material, which will cost anywhere from $50 to $200.
Customized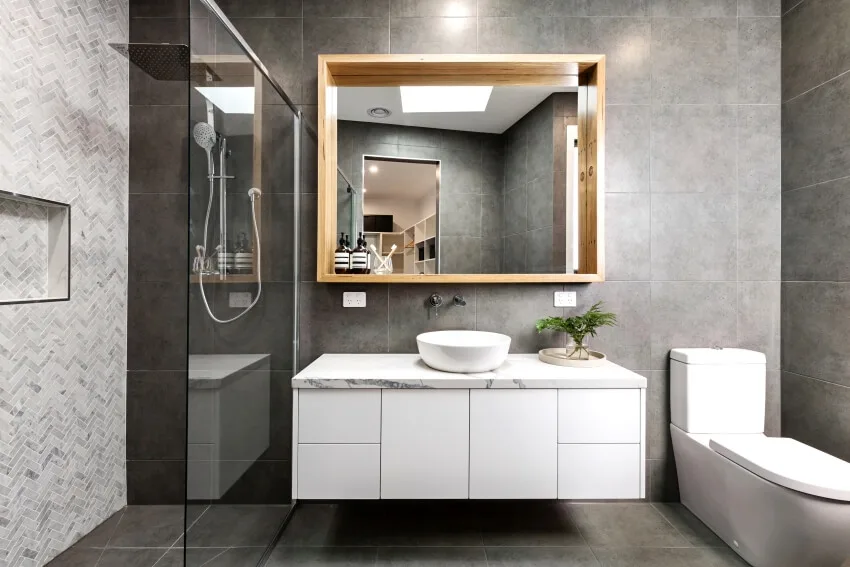 Building a bathroom vanity is more expensive than buying one ready-made. So, when designing a custom bathroom vanity, budget between $500 and $2800, which may or may not include installation costs.
Prepare to spend $5 to $135 per square foot, plus $200 to $1000 for installation.
For the plumbing part of your vanity, you may need a plumber who will charge you between $45 and $200 per hour.
According to Materials:
Granite:
Granite tile: $5 to $15 per square foot
Granite slabs: $40 to $60 per square foot
Quartz: $75 per square foot
Marble: Cultured: $65 per square foot
Concrete: $65 to $165 per square foot
Composite: $75 to $120 per square foot
Laminate: $35 per square foot
Ceramic Porcelain: $6.50 to $19 per square foot
Vanity Dimensions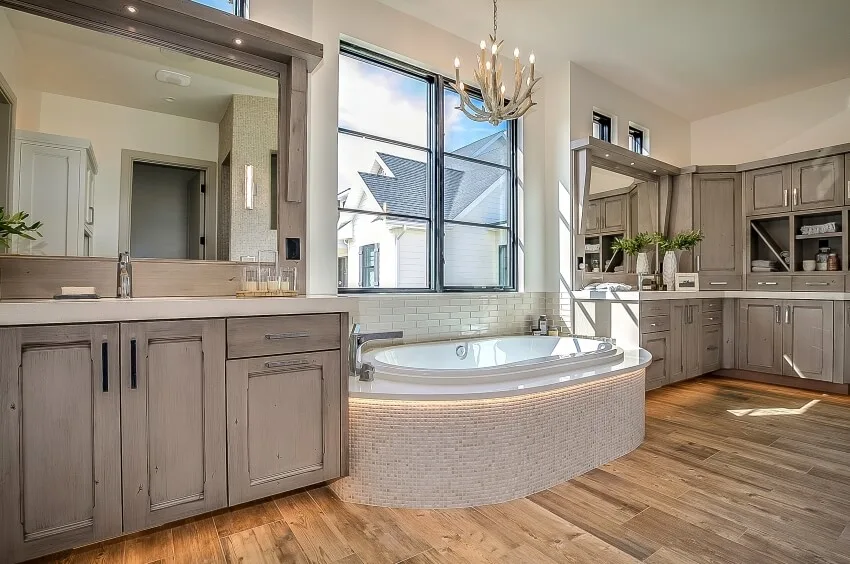 These bathroom vanity dimensions serve as a guide but ultimately customize your vanity according to your specific needs.
Counter Height: (Finished Floor to Countertop)
30 and 32 inches (76-81 cm) – Standard bathroom height.
36 to 40 inches (91.4 – ) – Called comfort or counter height vanities are recent counters with taller heights with recessed sinks.
Depth of the Countertop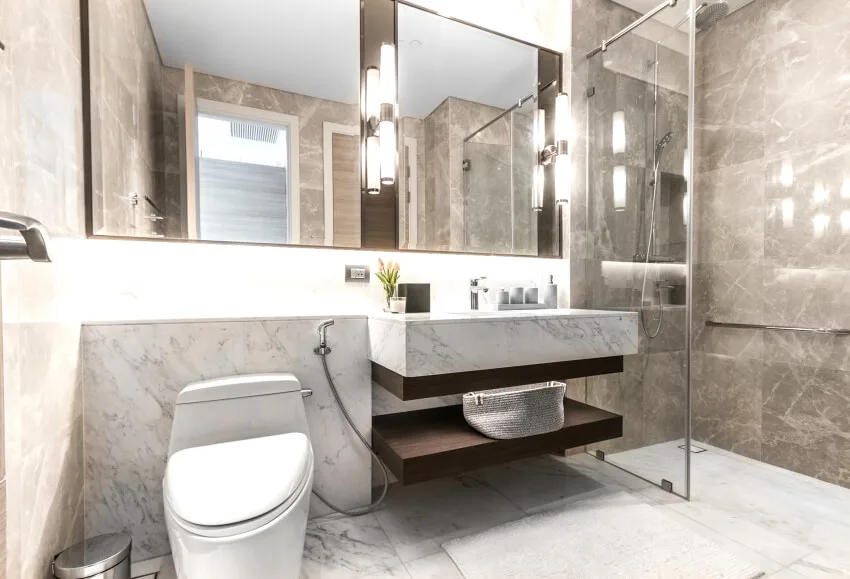 22 to 24 inches – Recommended countertop depth.
Thirty inches – Circulation space.
Wash Basin Distance

30 inches – Minimum standard distance between washbasins.
Tip: Never use a long tap with a shallow sink because the water will splash all over the countertop.
Towel Ring Height
50 to 52 inches: Height ranges from the finished floor to the towel ring.
20 to 22 inches: Height ranges from the countertop to the towel ring. See more towel bar height dimensions here.

Width of the Countertop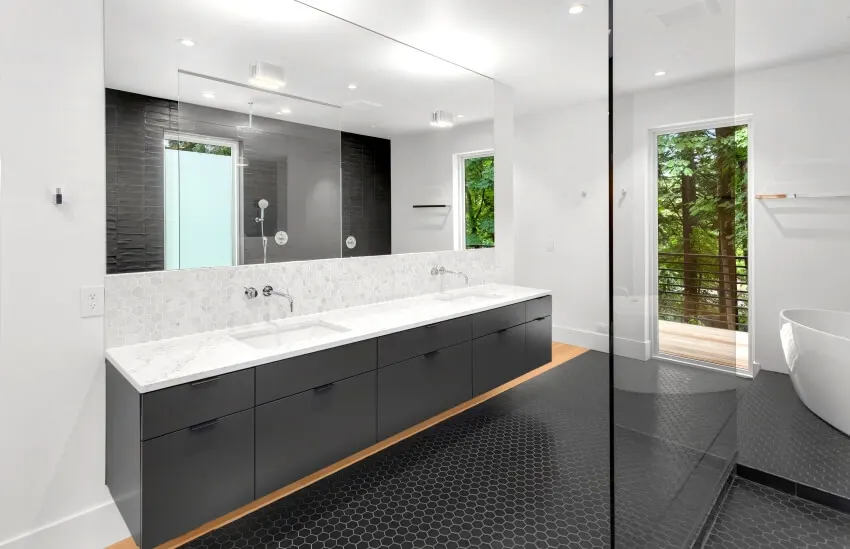 18 to 17 inches wide – Standard vanity width for single vanities.
24″, 30″, 36″ and 48″ – Popular widths for single vanities.
48 inches wide – Standard depth of double vanities.
60 to 72 inches wide – Popular widths for double vanities.
20 inches – Standard depth of vanity. (narrow options can also be availed)
Measuring Tip
Measure from wall to wall (side to side) to determine the width of your space, considering where your bathroom and shower doors should swing. Check to see if these doors will hit your vanity.
A single-sink vanity will require at least 18″ of the available width, while a double-sink vanity will require a minimum of 48″.

Keep in mind that the vanity counter will typically add 1/2″ to 1″ to the width of the vanity on either side. This is important when positioning next to walls, toilets or showers. Read more about measuring for bathroom sink sizes here.

What Is The Most Popular Vanity?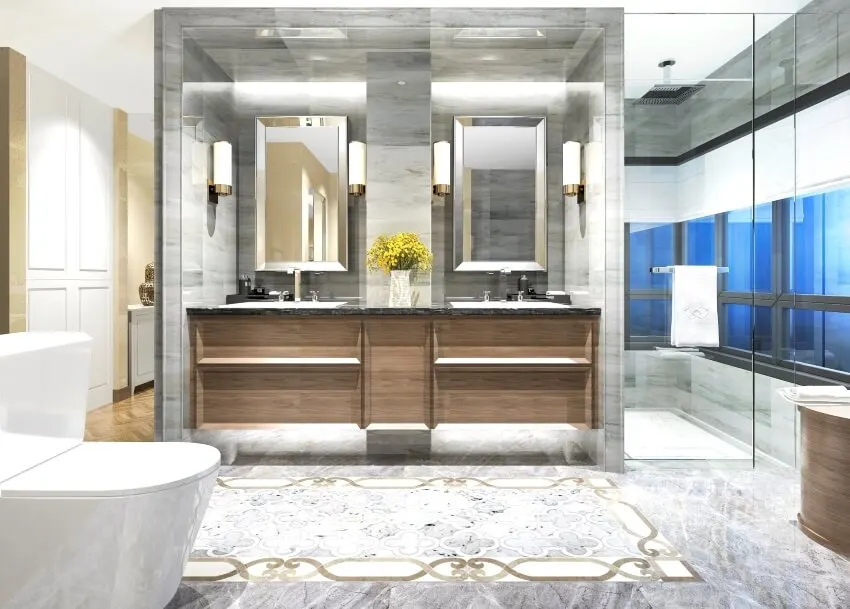 Style – Contemporary styled bathrooms top the list of the most preferred themes in bathrooms with traditional bathroom styles at second place.
With the popularity of modern design today, floating bathroom vanities are making a wave in both newly-built bathrooms and renovations.
Type – Floating bathroom vanities have been associated with modern design for many years.
On the other hand, floating bathroom vanities are the perfect finishing touch to take your bathroom to the next level, thanks to the simplification of lifestyles, new design aesthetics, trends, and sometimes just the square footage available.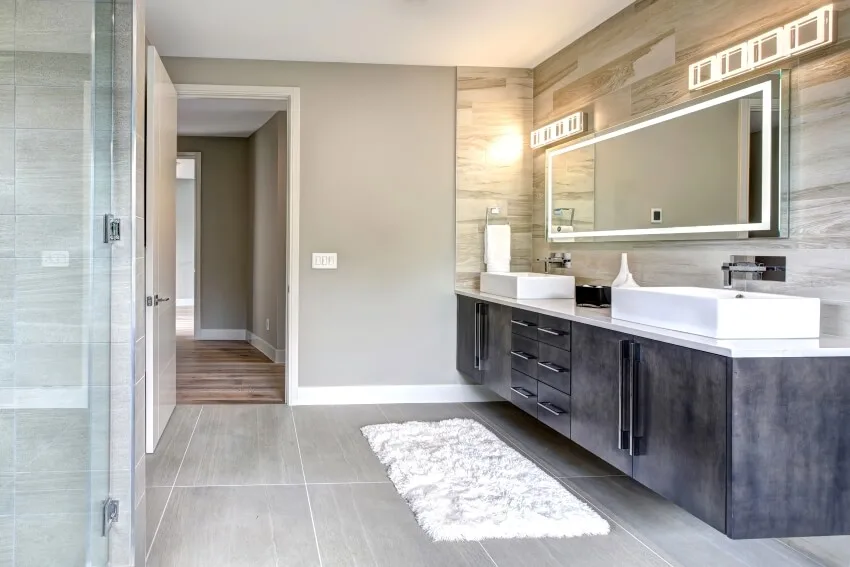 This look helps break the cabinetry's monotonous visual weight, allowing the room's focal point to be the coordinating materials.
There's no need to be concerned about storage because you can incorporate built-in organization compartments into the cabinetry or add baskets beneath the cabinetry for some artistic utility.
Materials – According to a few surveys, the most favored material for the counter front is granite getting a percentage of about 30%, while marble gets second place with a 22% ranking.
Granite has long been the most popular material for bathroom countertops, with granite vanity tops becoming increasingly popular in modern bathroom renovations.
The natural stone is popular because of its overall appeal and dramatic beauty. It comes in an almost infinite number of colors, patterns, and styles, making it ideal for a modern bathroom.
Granite is also extremely durable, and because of this, it is frequently the first choice for a natural stone countertop in kitchens. You can purchase extra-large slabs for a luxurious look.

Granite is also heat and humidity-resistant. A hot curling iron, for example, will not cause any harm if it is dropped.
Each granite slab has its distinct color and pattern. If you find a slab of granite you like, make a reservation for it. You won't be able to find another exact match.
When it comes to bathroom faucet finishes for the vanity, the most in-style colors are matte black followed by brushed nickel and brushed gold.
Should Bathroom Cabinets Be Lighter Or Darker Than Walls?

Light Colored Cabinets
• Create a light, airy atmosphere.
• It can give the impression of a larger bathroom
• Smaller spaces or areas with less natural light are better for working.
• It's simple to add other colors as accents without looking cluttered.
• It will go with almost any color of paint.
• Because of their timeless style, lighter cabinets increase the resale value of your home and appeal to more buyers.
Dark Colored Cabinets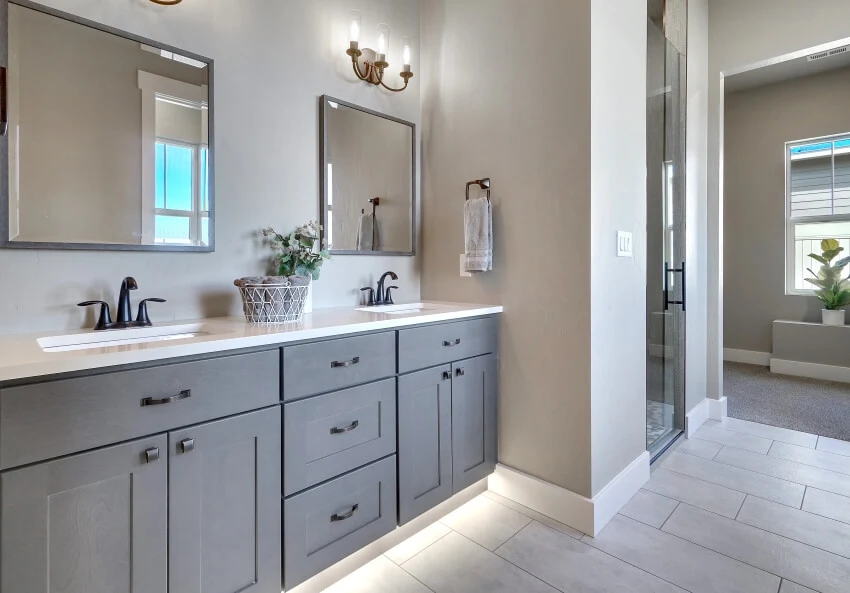 • Create a more edgy and dramatic appearance.
• Incorporate formality, richness, and depth into the space.
• Bring a sense of coziness and personality to your kitchen.
• White/light cabinets show fewer stains and wear-and-tear.
• Although they are fashionable, they may not appeal to more traditional or conservative buyers.
Both looks are gorgeous. Light cabinets have a light and airy appearance that opens up your kitchen and appeals to almost any taste. But we have to admit, and there's something about deep navy cabinets or a moody deep-stained island that appeals to us.
Consider this: to achieve a balance of light and dark, choose a little bit of both. You get the best of both worlds when you combine light upper cabinets to draw the eye upward with dark lower cabinets for a pop of contrast.
Another option is to paint your kitchen island in an accent color. Customers have used contrasting sarsaparilla or flagstone-stained islands with white wall cabinets. You'll end up with a look that's a little modern, a little classic, and a lot to like.
How Much Space Do You Need Between The Toilet And Vanity?
The front edge of a fixture, such as a vanity or a toilet, should be 30 inches away from any other fixture or wall, according to many interior designers.
The building code requires a minimum of 21′′ between a vanity, toilet, bidet, other fixture, or additional wall. Source: ICCsafe

What Were Bathroom Vanities Originally Called?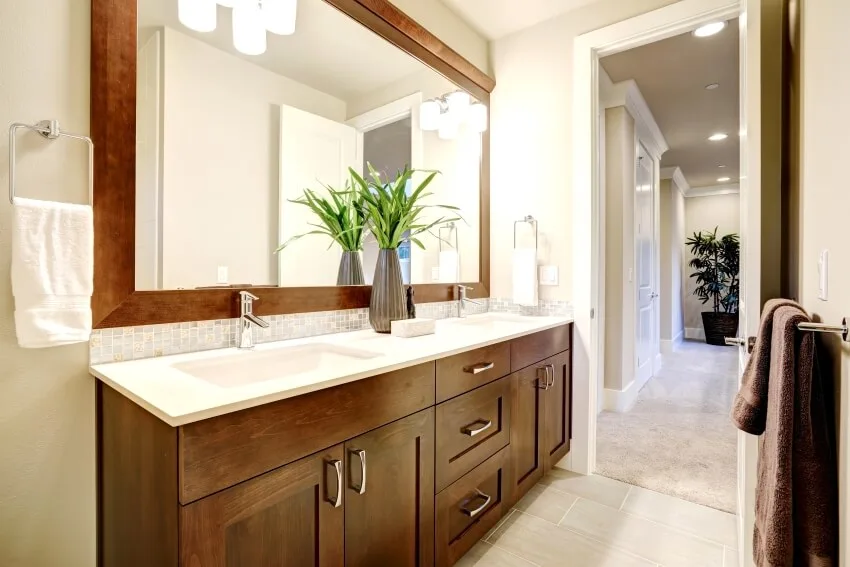 Did you know that bathroom vanities that we know today were originally called toilet tables, then evolved to the dressing table and eventually ended up with the more attractive term "bathroom vanity or vanity unit"?
Did we miss any information about bathroom vanity types in our guide or are there questions you'd like to see answered? Let us know your favorite kinds or ideas in the comments. Visit our ultimate guide to types of bathroom sinks for more related content.