Here's our guide to waterfall faucet pros and cons including what it is and why they may be best for your bathroom design.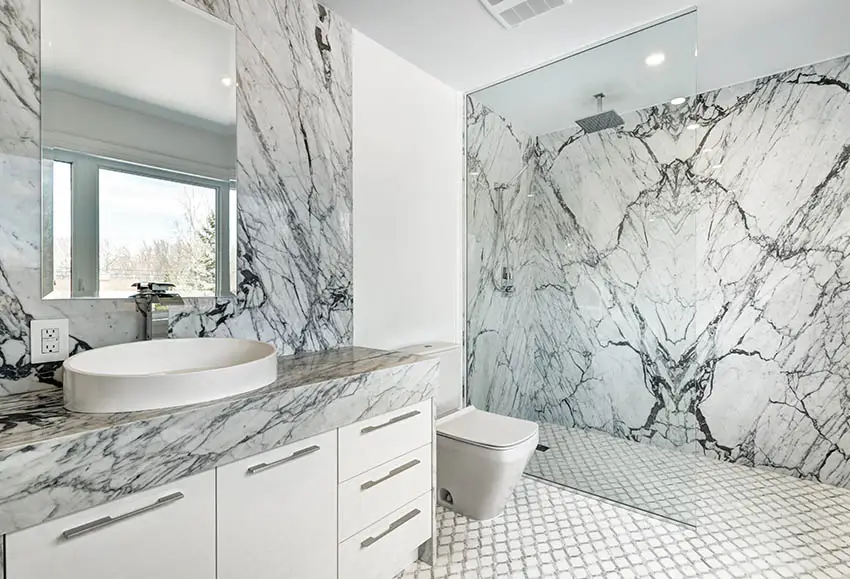 When you want an extraordinary bathroom experience you need to go beyond the ordinary, swapping a thing or two in your bathroom into a more stylish look can be surprisingly impactful.
No, it's not your bathroom tiles nor your vanity sinks that can spruce up your personal oasis instead, it's your humble bathroom faucet that could do the trick.
One of the latest plumbing fixtures you could opt for your next bathroom spruce up is the visually pleasing waterfall faucet.
What is a Waterfall Faucet?
A waterfall faucet as the name implies simulates the flow of the natural motion of falling water. With its flat and wider spout, the waterfall tap allows water to cascade, which is soothing to the ears and visually satisfying.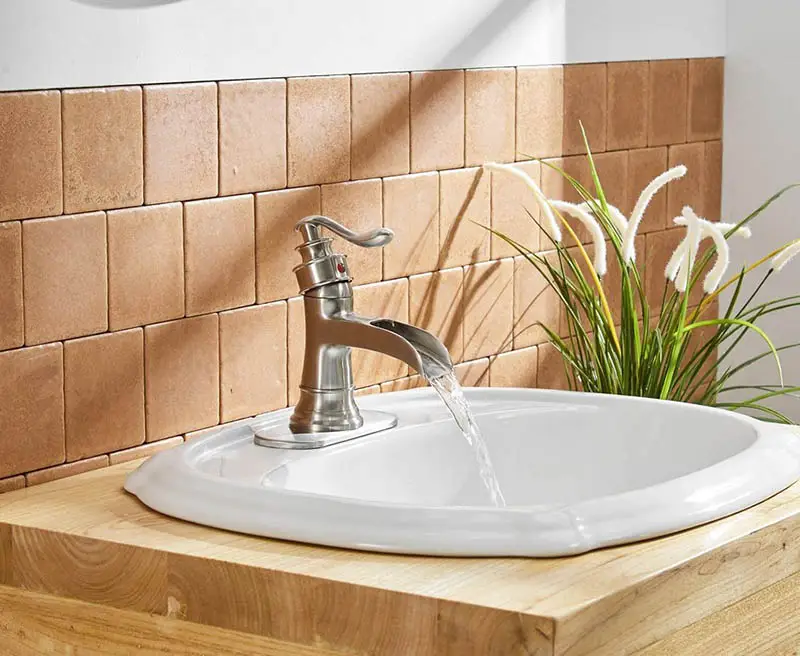 See this waterfall faucet at Amazon.
You'll can choose between wall or deck-mounted models. To match your waterfall faucets, waterfall shower faucets are also available. The sleek tap also comes with both hot and cold-water supply but you can also choose to only have the cold water if you choose.
As the new faucet in town, we're quite hearing some buzz feed about the stylish faucet, and if you're interested in getting one for your bathroom but have qualms about the trendy fixture, continue to read on.
We've gathered the waterfall faucet pros and cons so you can evaluate before purchasing the faucet for your next bathroom update.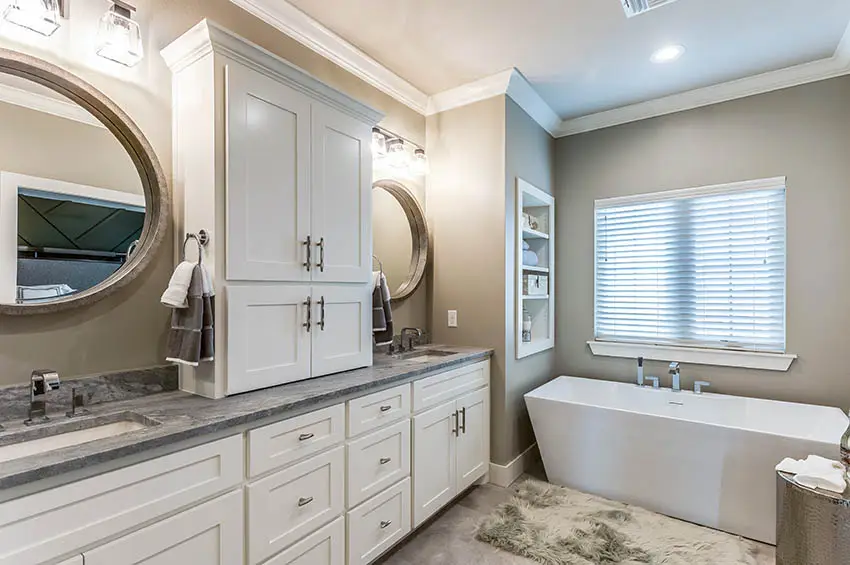 Waterfall Faucet Pros
Looks Gorgeous. Its visual appeal is undeniably the best feature of a waterfall faucet. Generally, waterfall faucets will have a minimalistic look with their sleek and clean form that works well with our contemporary bathrooms. The sophisticated look of waterfall faucets can easily upgrade your bathroom's curb appeal.
Relaxing Sounds.The bathroom is the perfect spot to unwind from the hustles and bustles of your everyday living. Aside from the look, the soothing sounds of water flowing are found to alleviate stress and keep you in a relaxing mood.
Available Design Options. If you want to transform your bathroom into a smashing oasis and have a particular design in mind, you won't be disappointed with the number of design options to choose from.
With more freedom and an opportunity to showcase the cascading water flow, the designer faucet comes with ultramodern designs as well as unusual forms you won't see in conventional faucets.
However, you also get traditional-looking waterfall faucets that incorporate the flat and wide spout with rustic finishes such as bronze or pattern printed ceramics. See popular bathroom faucet finishes here.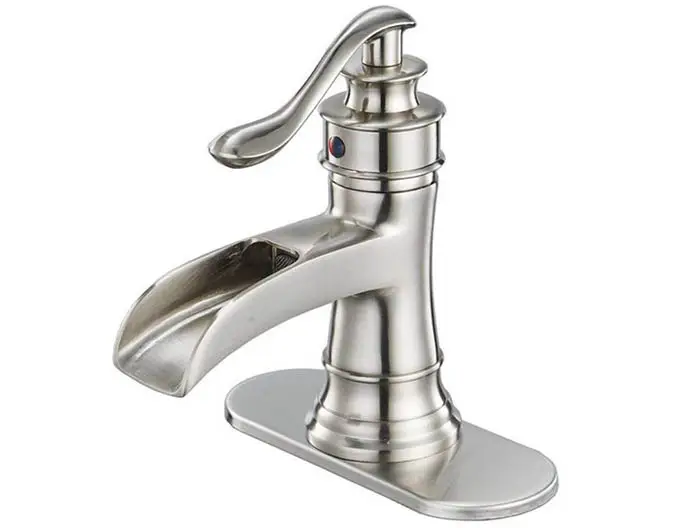 Extra Features. You'll love the extra features that come along with the newer designs such as having LED lights that could change color or are temperature sensitive. You can also get waterfall faucets sets that come with a hand sprayer tap.
Comfortable to Use.Most waterfall faucets come with a single-lever you can control the temperature with a single maneuver allowing you to control water with ease.
Splash-Proof.Most waterfall faucets guarantee you with anti-flash systems which mainly prevent water from hitting the sink basin to splash on your walls and sink. This means you don't have to deal with water droplets or marks from getting into your mirrors or walls.
Reduce Water Consumption.One of the more debatable features of a waterfall faucet is whether it does save you water. Unlike the conventional faucets that usually have a strong water pressure, waterfall faucets' water flows smoothly you'll have enough amount to wash your hands.
Best check the flow rate of your waterfall faucets through the manufacturers' specifications to make sure you're getting the right model.
Saves Space.With its streamlined design, you can save valuable space on your sink top which is significant for tightly-spaced bathrooms. There are glass finishes as well so you've got a more open and airier bathroom atmosphere.
Adds Value to Your Property. Aside from the kitchen, the bathroom is usually the first thing a buyer would look into a potential property. With a waterfall faucet, you've got an updated look that's ultimately elegant and expensive-looking.
Easier to Clean.Conventional faucets have bulbous structures with a good number of folds and crevices where mold and grime can accumulate over time. While waterfall faucets smooth and continuous form, wiping away and maintaining a spot-free surface is easy.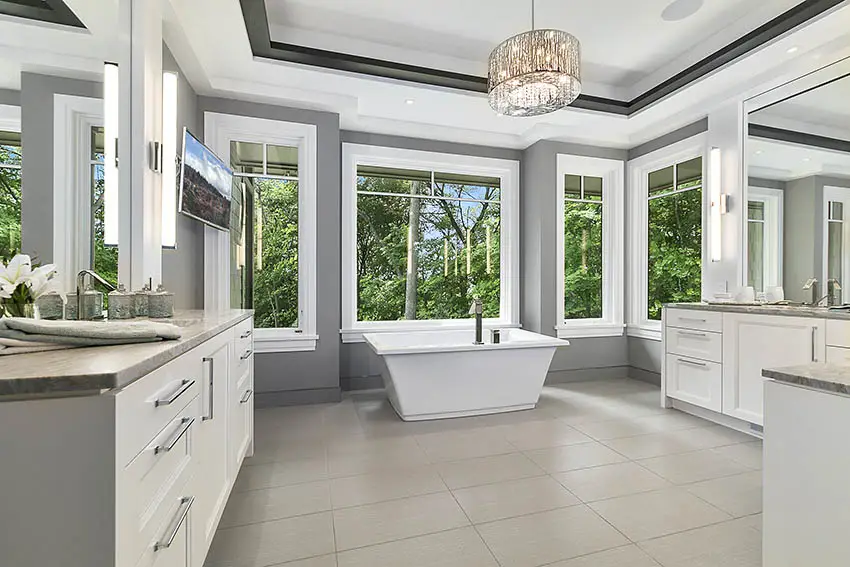 Waterfall Faucet Cons
Expensive. Well-designed waterfall faucets can fetch a higher price than that of conventional faucets. You'll find most of the best-designed waterfall faucets under high-end plumbing fixture brands.
Mediocre Models. Since waterfall faucets are relatively new, you'll find the more sophisticated designs are sold by high-end brands. For the more affordable options, most have issues such as water flow that's too spread out or an assembly that's potential for leakage.
Water Ponding on Spout. Since the faucet spout is usually wider and leveled water, can sit on the surface that can encourage mold growth. The best thing to do is to find a waterfall faucet design that does have a slight slant or lip on the end to allow water to completely drain off.
Reduced Water Flow. Since the water flow is slower and has a cascading effect, some find this undesirable and insufficient when washing their hands. However, some models do feature flow controls so you can adjust the flow rate and pressure based on your preference.
Harder to Install. Although in general waterfall faucets have the same principle as conventional water faucets, you may need to put extra care on the rubber seals, caulking, and threading in between the connections. The sleek profile and flashed connections should be tight-sealed to prevent any leakage that can occur.
Waterfall Faucet Takeaway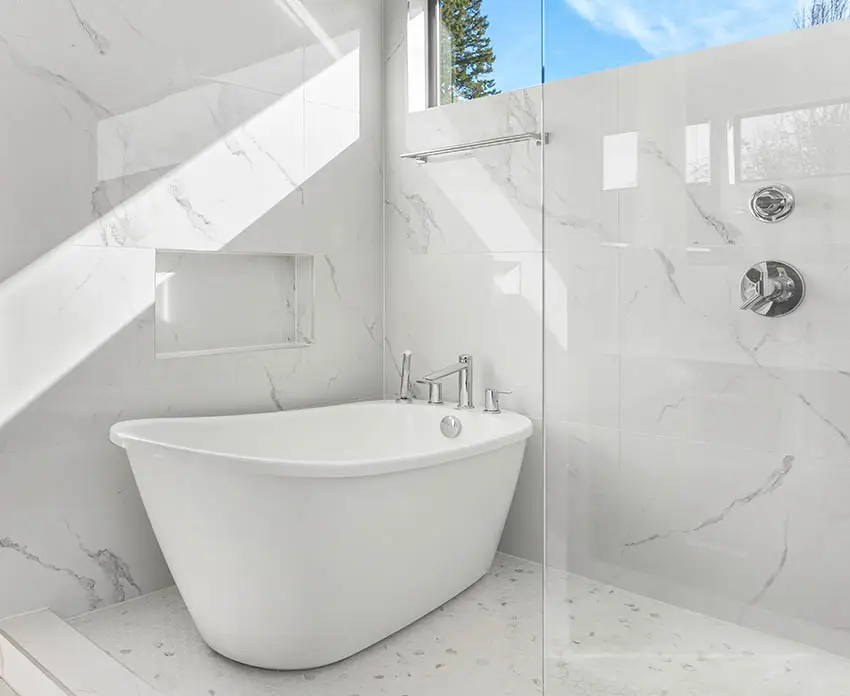 When evaluating whether waterfall faucets work for you, start on what you need from your waterfall faucet. If you're looking for an elevated experience beyond the usual everyday bathroom function, a waterfall faucet is a perfect option.
The cost may be one of the more concerns of homeowners, but if you've got good plumbing skills, you can find an affordable waterfall faucet where you can get around on some minor issues.
However, if you've got the dime to spend then a reputable plumbing fixture brand will calm your worries as newer models of the waterfall faucets addresses issues with the previous versions.
There are many bathroom remodel software programs that can help you plan and layout your design before purchasing any products. Many of these will allow one to add personal touches such as finishes and decor to help you decide on the ones that are best for your design.
What do you think about bathroom waterfall faucets? Let us know your thoughts in the comments.