See our comparison guide between an alcove vs drop in tub, including what they are, the pros and cons, their differences, and how to convert a drop in to an alcove tub.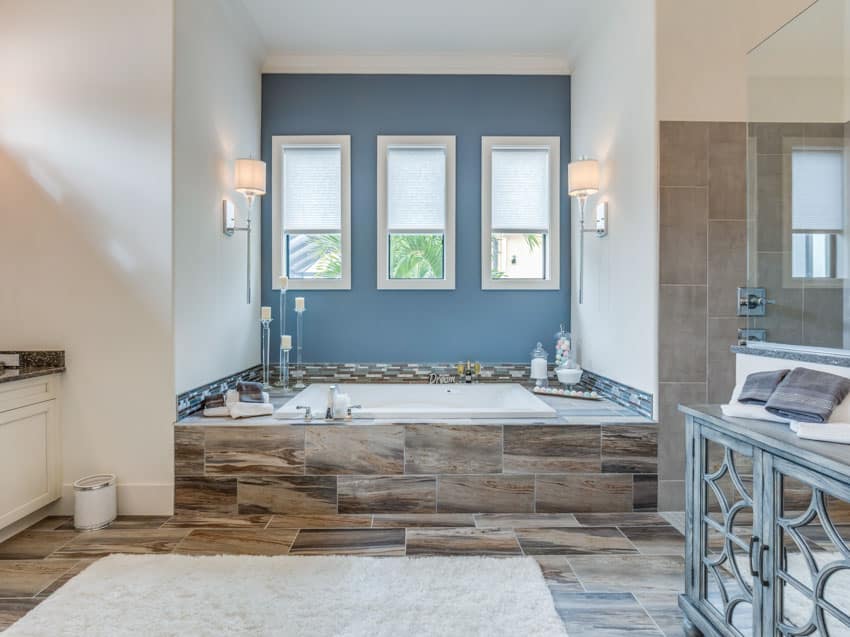 In building your dream bathroom, there are different elements you have to consider. Do you take a bath quickly and treat it as a no-nonsense task you have to do? If yes, a shower is enough for you.
Do you take long baths and love to spend time submerged in water while reading a book and drinking wine?
In this case, you might want to install a tub and enjoy it however way you can. The next question though is, what tub should you install in your bathroom?
Two of the tubs you can consider are the alcove tub and drop in tub. Check out the differences between the two and find out which one is ideal for your situation and needs. Let's start with the drop-in tub.
What Is A Drop In Tub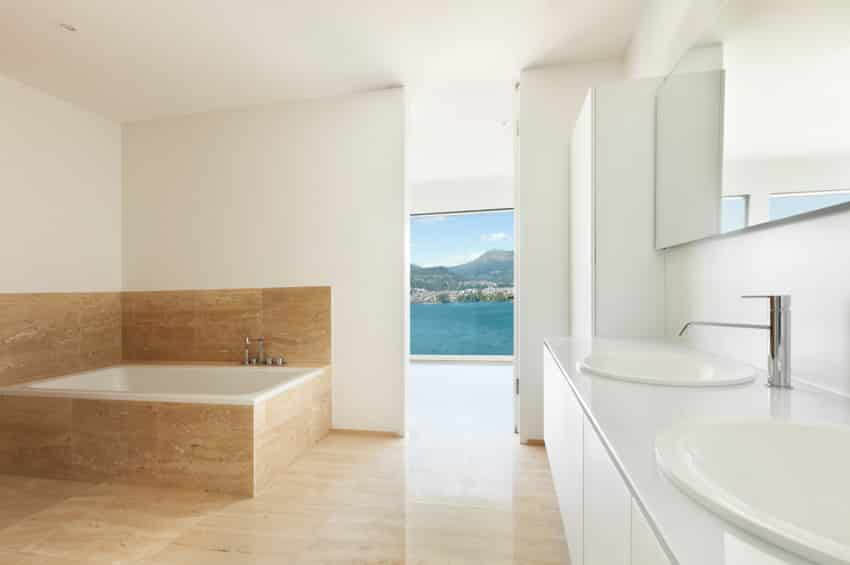 A drop-in tub is a type of bathtub installed inside a platform or frame. The tub is literally "dropped in" the "surround" made for it, where the tub's inside and top lip is the only finished elements.
It will only be finished once set where it's supposed to be installed and the outer structure.
Here are some advantages you can look forward to when you use a drop in tub.
• High Flexibility: not limited by a wall and so you can install it anywhere in the bathroom (and yes, even in the middle if you want to!)
• Clean Finish: the plumbing is hidden from sight
• Variety of Materials: with a variety of materials to choose from (acrylic, cast iron, fiberglass, & stone resin)
• Offers More Support: enables easier access when being flush to the wall, which is beneficial for the children and the elderly
The surround where the tub is dropped can be made from a variety of materials, including wood and natural stone.
The drop in tub itself though has several materials to choose from and these are the benefits each of them provides:
• Acrylic: more durable but a bit more expensive
• Cast Iron: excellent heat retention, durable, and expensive
• Fiberglass: affordable
• Stone Resin: non-porous and with excellent heat retention
Choose the material you believe fits your budget and the vision you have of your dream tub.
How Much Room Do You Need For A Drop In Tub?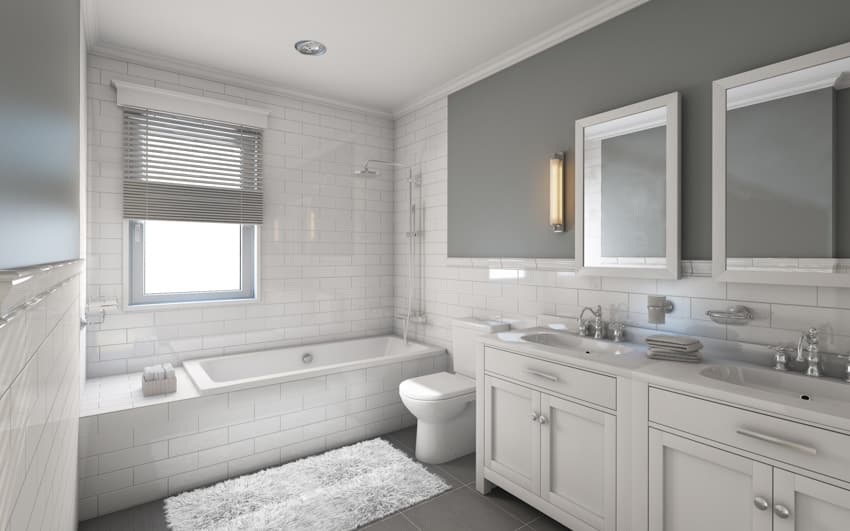 The next question you have to deal with is, "Do you have enough room in your bathroom for a drop-in tub?"
In answering this question, decide on the size of the drop in tub you plan to install. You should be able to consider the supporting base, deck, and even the platform.
Depending on what the bathroom sizes are in your property, here are some types of drop in tubs that are usually installed in them.
• Medium-sized bathrooms: fitted into an alcove with one side of its deck exposed
• Large bathrooms: fitted in to corner with two sides exposed
• Gigantic bathrooms: fitted into a pedestal deck with all sides exposed
Drop in tubs would look marvelous in large spaces but of course, it will be up to you on how stylish you build it. To start with, here are some of the basic measurements you can consider.
• Height: 14 to 20 inches
• Length: 45 to 72 inches
• Width: 30 to 32 inches
When it comes to the tub's height, make sure to plan ahead and include a couple of inches above the deck.
For the tub's width, the general rule is to add at least 6 inches on both sides. And finally, for the length, make sure that the deck is at least 1 foot longer than the tub.
How Much Does It Cost To Install A Drop In Tub?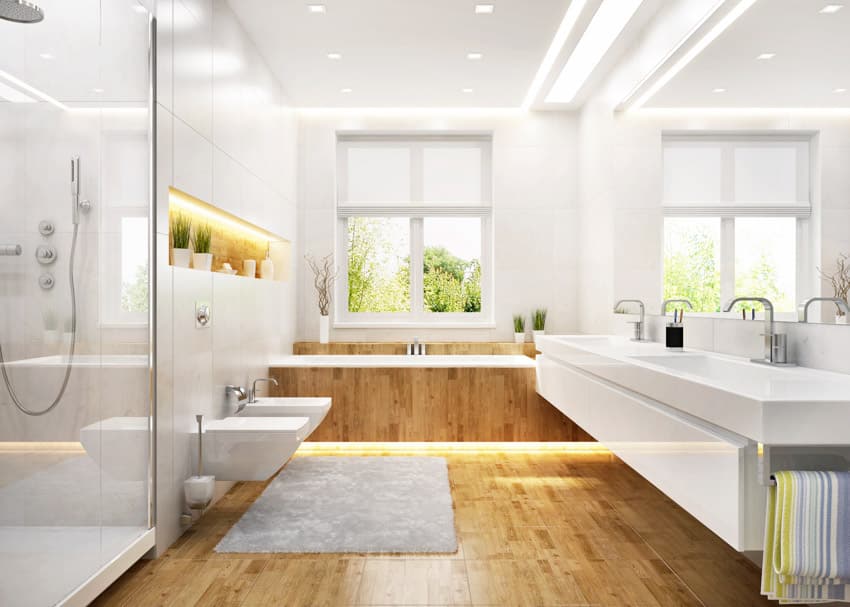 Now that you know the measurements you have to deal with when considering a drop in tub, the next factor to consider is your budget. The cost of a drop in tub would be dependent on the size, style, and material it's made from.
You even have to consider the installation of the tub in your bathroom, which is why doing it yourself can save you a lot of money. They can range from $2,000 to $10,000 in total.
In general though, here are the prices you can expect from installing the different types of drop in tubs.
• Low-end: $500 to $750
• Freestanding type: starts at $700
• Mid-range: $1,200 to $1,500
• High quality & high-end: $1,500 and above
What Is An Alcove Tub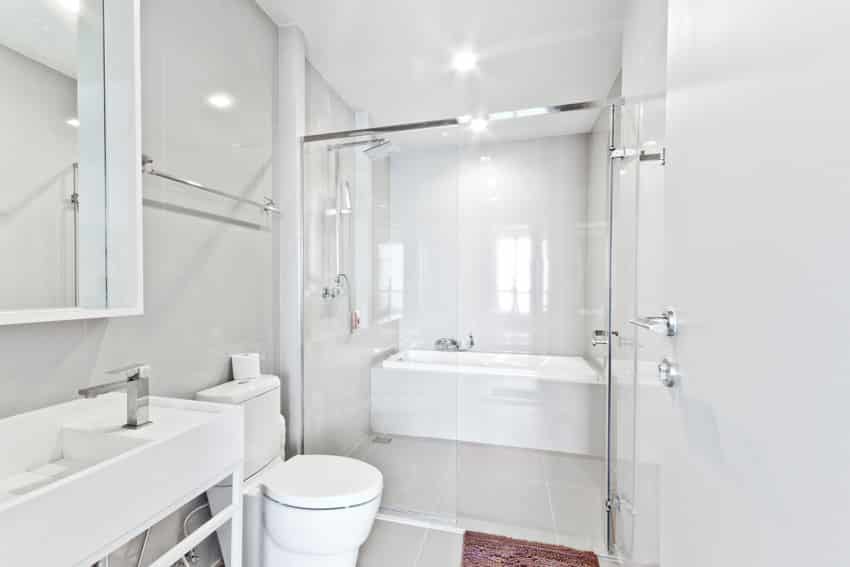 An alcove tub refers to when the bathtub is installed into an alcove with three sides enclosed by a wall. If you want, you can install a shower curtain for additional privacy.
The tub is normally installed in the bathroom's "recess", which means that the three walls are joint together.
Here are some of the advantages you get from choosing an alcove tub for your bathroom:
• Space-saving: can be a good option for small bathrooms
• Easily customizable: from powered jets to shower, the simple addition instantly adds value to the bathroom and home
• Variety of Materials: use the same materials to choose from as the drop in tub, including acrylic, cast iron, fiberglass, and stone resin
How Much Room Do You Need For An Alcove Tub?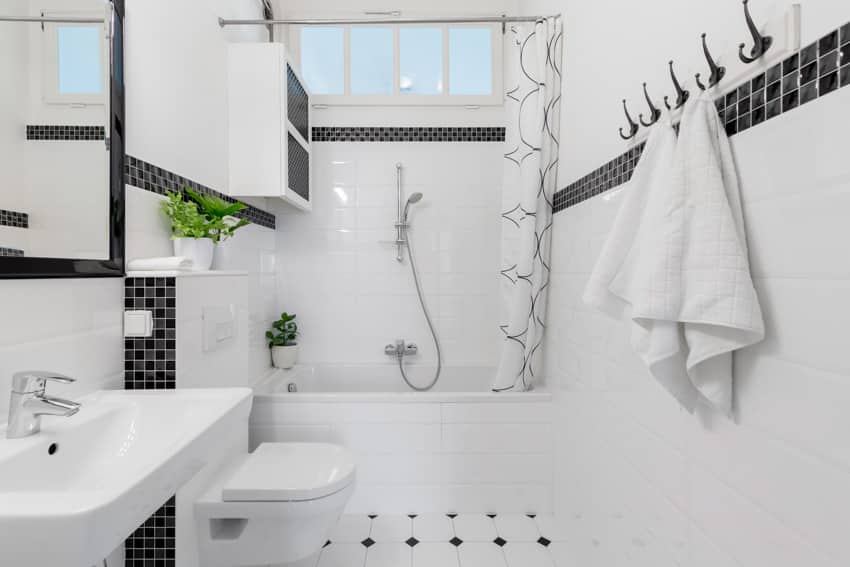 An alcove tub is an option you choose for a space-saving bathtub. Here are some of the bathtub dimensions sizes you can expect from it.
Average-sized alcove tub
• Length: 48 inches/4.5 ft
• Width: 25 inches/2 ft
• Depth: 16 inches/1.3 ft
Large-sized alcove tub
• Length: 72 inches/6 ft
• Width: 42 inches/3.5 ft
• Depth: 20 inches/1.6 ft
How Much Does It Cost To Install An Alcove Tub?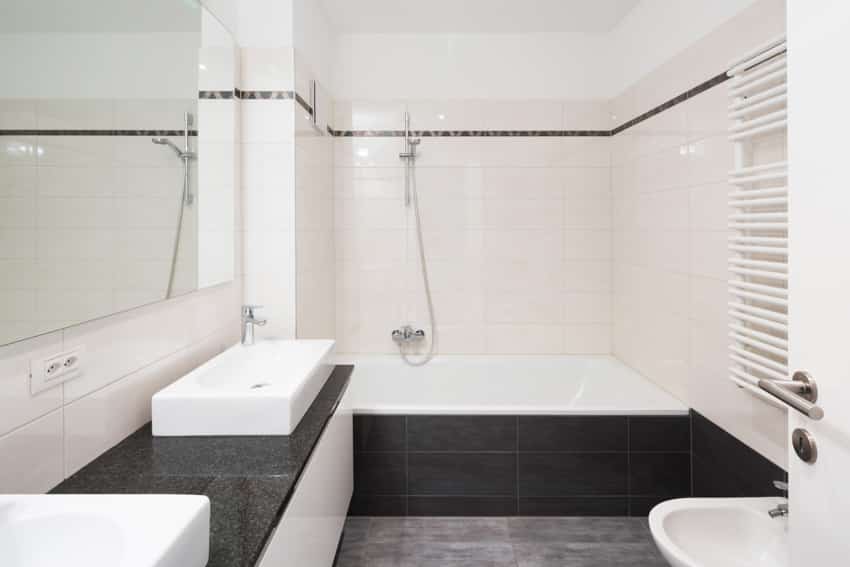 Installing an alcove tub would require you around $250 to $500, depending on the size of the tub.
The cost may also increase to $1,000 to $3,000 once additional amenities like powered jets are included in the installation.
Costs may vary due to several factors. Equipment for the installation itself costs roughly $70 to $100.
Difference Between Alcove And Drop In Tub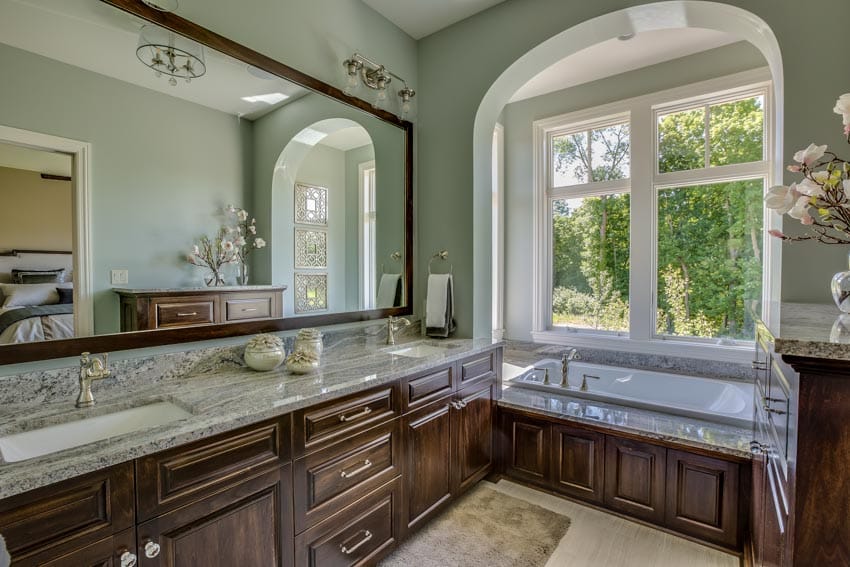 Now that you know drop in tubs and alcove tubs better, you will have a more informed decision on what bathtub to install in your bathroom.
To help you more with your decision, here is a table for the differences that alcove and drop in tubs have with each other.
Alcove Vs Drop-In Tub Comparison Chart
| | |
| --- | --- |
| Alcove Tub | Drop In Tub |
| Deep water level but shallower than drop in | Deeper water level |
| Harder to clean | Easier to clean |
| Easy to get in and get out of with the support from the surrounding walls (especially with a handlebar) | Easy to get in but hard to get out of since it has less support than an alcove tub |
| Installed in a recess, against the wall, or an alcove | Installed anywhere with a carved out deck or structure (Usually in the center of the bathroom) |
| Shape: more rounder and smaller | Shape: longer and wider |
| Costs less than a drop in tub | More expensive than an alcove tub |
| Normally space-saving with the use of walls as confines | More flexible in size since not limited by confines of walls |
Can You Use A Drop In Tub In An Alcove?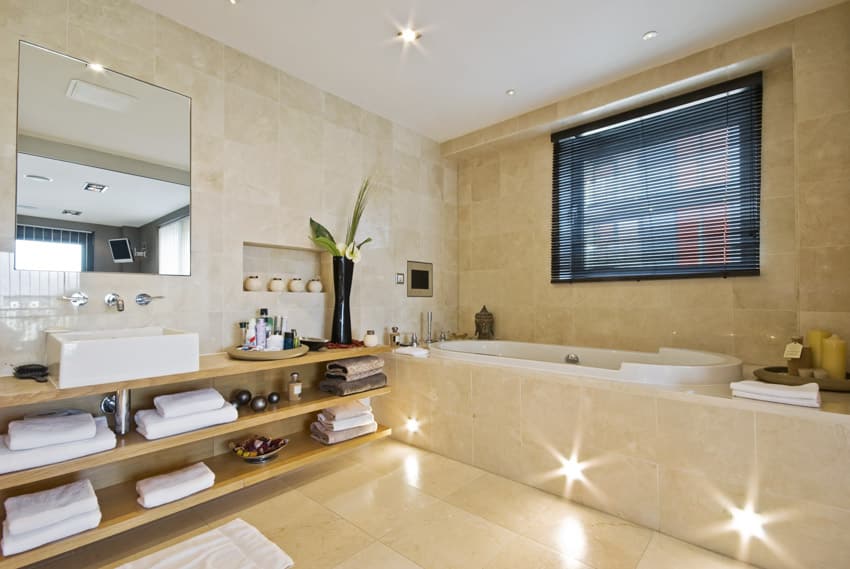 The short answer to this question is yes, you can use and install a drop in tub in an alcove. Both the drop in tub and the alcove tub are not technically types of bathtubs but different types of how a tub is installed in the bathroom.
A drop in tub is installed on a wall and normally in an open space like the middle of the bathroom but it can also be installed in an alcove, with three walls confining the tub similar to that of an alcove tub.
This would of course be dependent on what you want your bathroom to look like and how much space you want to save that you end up using an alcove for your drop in tub.
Technically, your drop in tub will also become an alcove tub.
How Do You Convert A Drop In Tub To Alcove?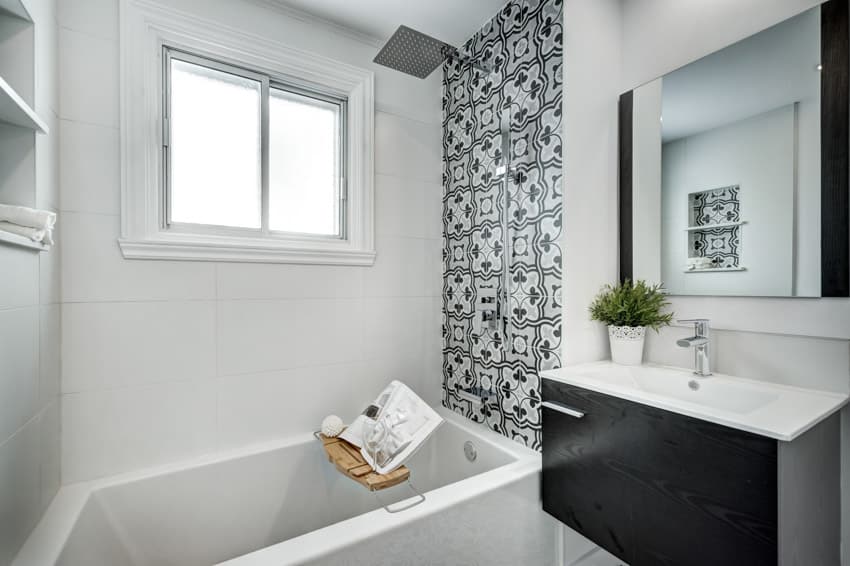 In installing and converting a drop in tub to an alcove tub, here are simple steps to follow.
Step 1. Measure the alcove space. You have to take into account the fact that drop in tubs are usually larger build while alcove tubs are dependent on the size of the bathroom and the walls they will be confined in.
Step 2. Protect the tub by using cardboard at the bottom and check the subfloor. Make sure that the tub is protected and the subfloor is sturdy and level.
Step 3. Build the frame and set the tub. Create a frame using the specifications of manufacturers. Set the tub for marking for fixtures and plumbing.
Step 4. Install the tub's plumbing. It would be a good idea to consult a licensed professional and plumber.
Step 5. Place and secure the drop in tub in the frame. Set the tub in the frame and secure it using galvanized screws, tub flanges, and wall studs.
Step 6. Install the tub drain and spout. Check the manufacturer's instructions on how to install the tub's drain and spout.
See more related content in our article about how to choose a bathtub on this page.