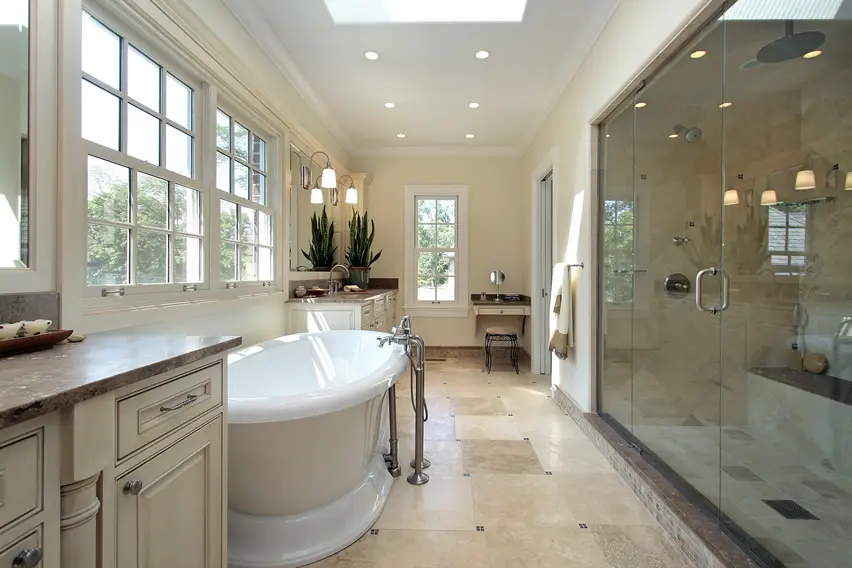 Welcome to our gallery of beautiful luxury bathroom designs. This page features bathroom interior designs in a variety of styles with large layouts and high end finishes. Get inspiration for bathroom floor tile ideas, shower tile designs and master bathroom layouts from the pictures below.
The country-inspired bathroom design shown above uses a combination of warm browns and beige, experimenting on unique layouts of tiles to give a variety of visual effects. The floors are simple ceramic tiles in a finish that mimics natural stones in beige combined with small pieces of mosaic tiles on its corners and laid out in a unique manner. The shower uses the same floor material, but in a different size and different layout. Silestone quartz in Brazilian brown was used for the countertop, while the rest of the cabinets and walls maintains a light beige shade.

Custom Bathrooms
Today's custom bathrooms are large, some as big as traditional master bedrooms. While simpler bathroom designs may just consist of a shower area, a toilet area and a sink area, a custom luxury bathroom offers its owners so much more than that. Many luxury bathrooms incorporate a lounge area. A great custom designed bathroom lounge incorporates heating via an elegant fireplace, or in-floor heating system with a few cozy chairs or even a sofa and rugs to create a comfortable area to relax in.
Another popular feature of a luxury bathroom is a complete dressing area where you can dress and get ready without even stepping out of your bathroom. Built in closets, wide vanities and countertops, soft natural light and ornate mirrors are staples of a luxury bathrooms dressing area. A standard for a luxury bathroom would be a tub. This may or may not have a shower built in – or have a separate shower area – and it can come in a variety of shapes and sizes.
What makes a custom bathroom truly luxurious are the materials. Luxury bathroom designs incorporate a lot of marble, intricate woodwork, and custom tiles in their walls, floors and furnishings. Stainless steel, chrome, copper and other premium metals are used in fixtures and even decor. A luxury bathroom often has a high or vaulted ceiling supporting luxury lighting fixtures such as chandeliers or even skylights for natural light.
Custom Bathroom Design Elements
When thinking about your dream custom bathroom, it's important to give some thought as to the different design elements you will incorporate. You can't just throw all your ideas together and hope for the best, you need to think about how all these details will work together to create a space that is luxurious, comfortable and truly your own.
Choose the right bathtub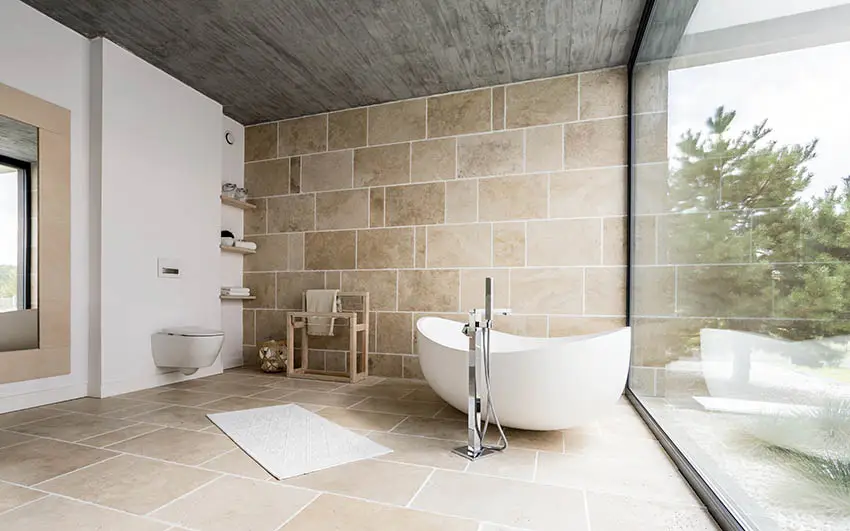 The bathtub is the focal point of your custom bathroom. The bathtub is also the place where you will spend the most of your time, soaking the cares and worries away.
• If you're leaning towards a traditional or vintage style bathroom, a free-standing, clawfoot bathtub provides the perfect touch of old-fashioned glamour.
• If you would prefer a more modern bathroom design, a sunken tub is the perfect place to lounge.
Incorporate a spacious shower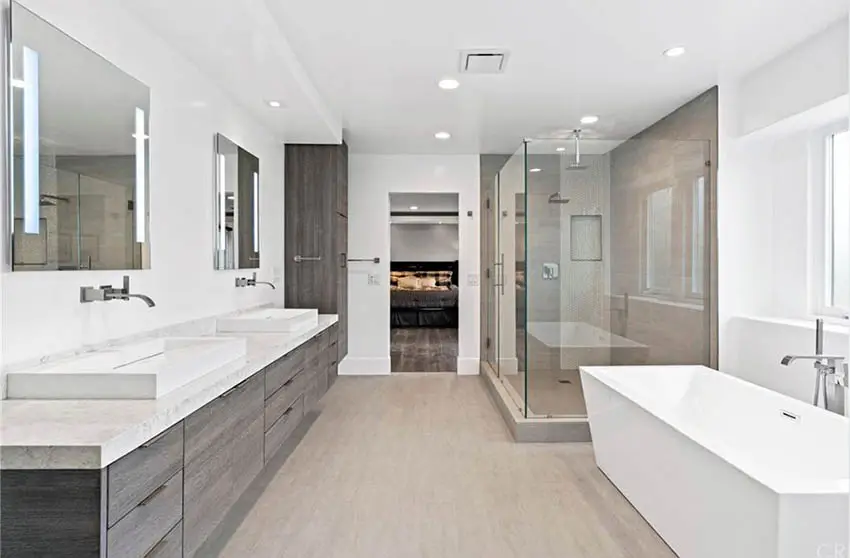 Sometimes, instead of a long soak, what you want or need is a quick but refreshing shower. But, just because a shower is quick, doesn't mean it can't be luxurious.
• A clear, all-glass shower enclosure is an elegant addition to any bathroom. It also makes the shower area and the entire bathroom seem more spacious.
• A built-in bench more relaxing, providing a place for you to lounge under the spray.
• A rainfall shower head turns an ordinary shower into a gentle and meditative experience.
Pay attention to your floors
You want to create a surface that creative, comfortable to walk on, and that highlights the other design elements of your custom bathroom.
• Traditional ceramic tile is always a good choice for a bathroom as it isn't easily harmed by water. But traditional doesn't need to be "boring" or generic. Tile comes in a variety of colors and sizes play around and create a unique floor that matches your personality.
• Textured tile made from slate or natural stone looks dramatic and also helps make a wet floor less slippery.
Beautiful and functional countertops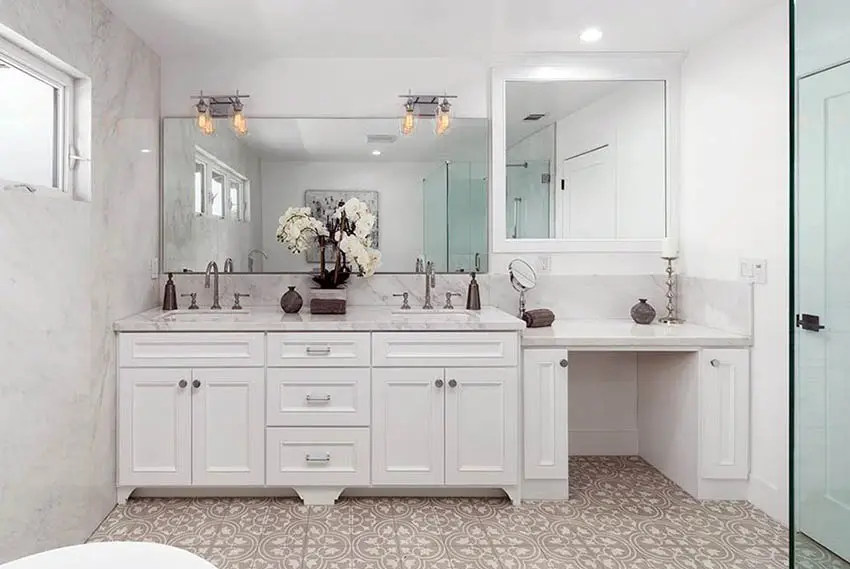 Good bathroom countertops don't take up space, they create space. This bathroom design element provides you with an elegant space where you can comfortable get ready for your day.
• A polished granite or marble countertop is a luxurious touch that also provides you with a sturdy and scratch-proof space.
• Use tile to create a colourful countertop area that is unique and playful.
• Incorporating wooden cabinetry into your countertop's base and helps establish the room's atmosphere. Light wood & white surfaces looks bright and clean and makes a space feel larger. See more white bathroom designs here. Dark wood adds an air of elegance and romance.
Put some thought into your fixtures
Sometimes it's the small details that can really help bring a room together. Make sure you choose bathroom fixtures that complement the overall style of your bathroom.
• For a traditional feel, choose timeless and delicate design elements such as porcelain or glass knobs and pulls.
• If you want a more modern or contemporary feel, use less "traditional" materials for your fixtures such as chrome, burnished steel, or frosted glass.
Travertine Bathrooms
Travertine is a form of limestone that is used in bathroom designs to create an elegant and highly sought after look. Travertine tile is available in a wide variety of color and styles depending on your preferences. Since it is made from natural materials it is much more Eco friendly than a porcelain tile. In addition travertine tile has natural veining running throughout which gives a one of a kind pattern for a unique appearance.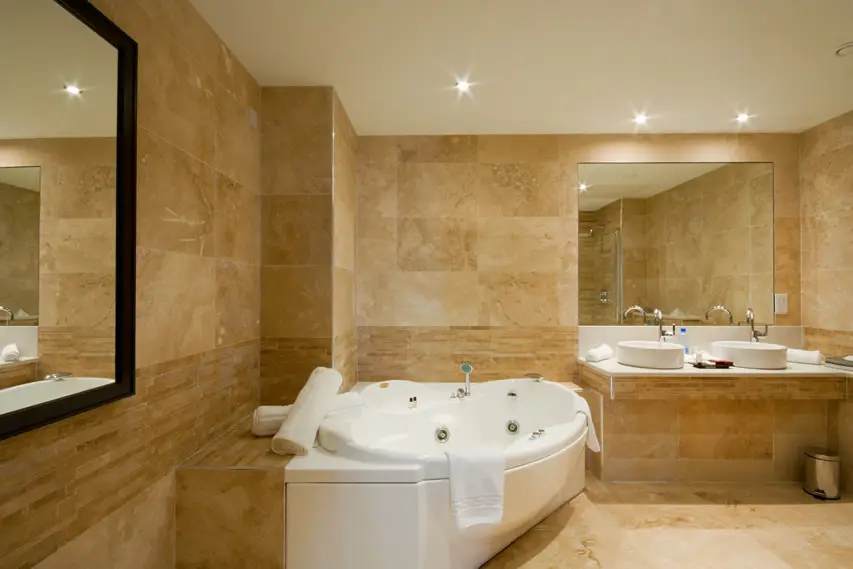 This luxurious bathroom engulfs you with its warm mood and color. The walls and the floors uses Natural Travertine stone tiles, with an accent band of crazy-cut Travertine stone tiles. The countertop material used is solid-surface in plain white, while the shower doors uses clear tempered glass. Over-all, there is not much variety of finishes used, but it lets you appreciate the beauty and quality of natural stone materials.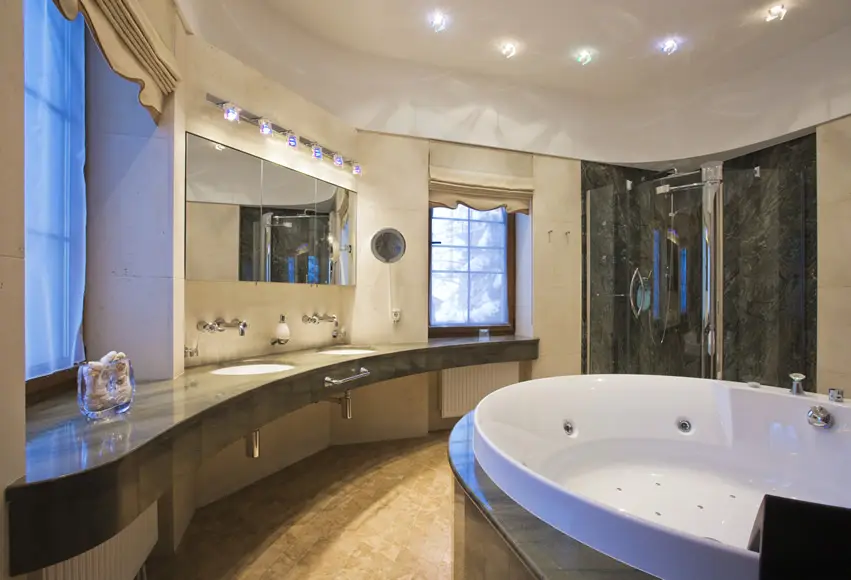 This bathroom design is very organic and unique in its form and layout. The floors uses natural travertine stone tiles cut in triangular shapes, creating an interesting floor pattern which doesn't distract the eyes too much as it only uses 1 type of material. The Countertops, bathtub and shower area is clad with polished granite slabs known for its luxurious look and durability. The rest of the walls are clad with cream ceramic tiles in a natural finish.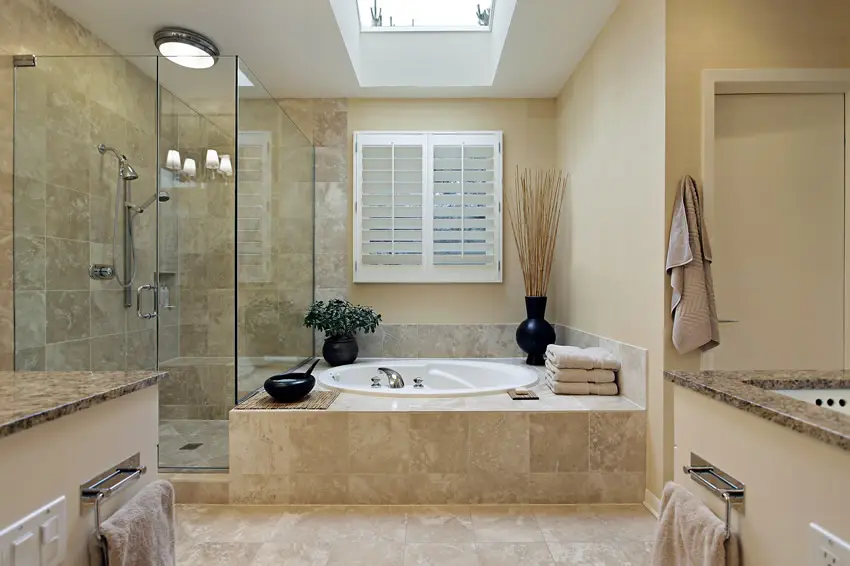 This bathroom is simply but tastefully finished. While most of the walls are painted in light beige, the floors and the shower area are finished with natural stone tiles in a light beige color. The surface of the bathtub area and its splashboard has been clad with white marble, while the vanity countertops uses Baltic brown granite.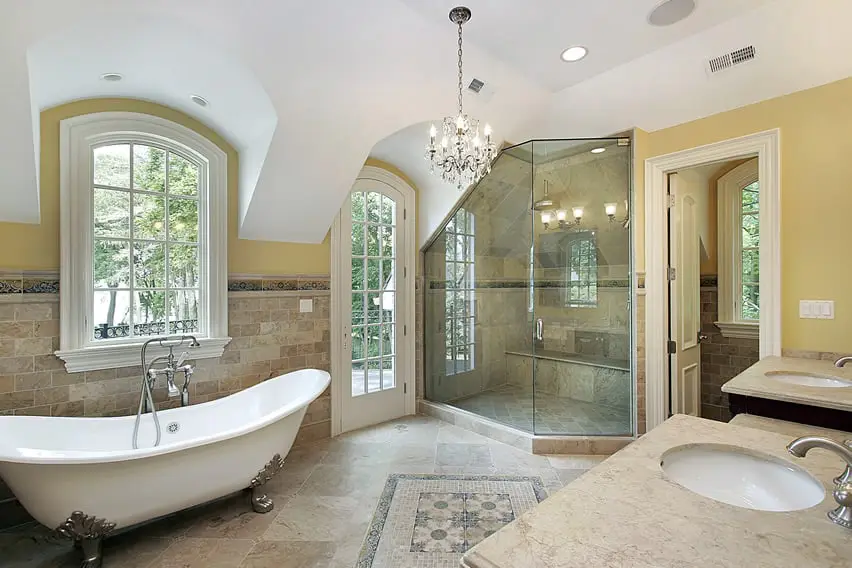 This bathroom has very interesting architectural details and beautiful choice of materials. The floors uses natural travertine tiles in combination with light cream mosaic tiles, border accent tiles and patterned tiles for its central pattern/design. The walls are similarly finished with travertine stone tiles in brick size and layout. The upper half of the walls after the yellow border tiles are painted in light mustard yellow, while the ceiling is plain white. For the countertop, colonial cream granite was used. One of the most striking aspects of the room is the beautiful white porcelain clawfoot tub with multiple chrome faucets.
Ceramic Bathroom
Ceramic tile is usually clay that is fire hardened in ovens and glazed to create an attractive and durable surface. Ceramic tile in the bathroom is a popular choice ibecause it is easy to clean, low cost and low maintenance.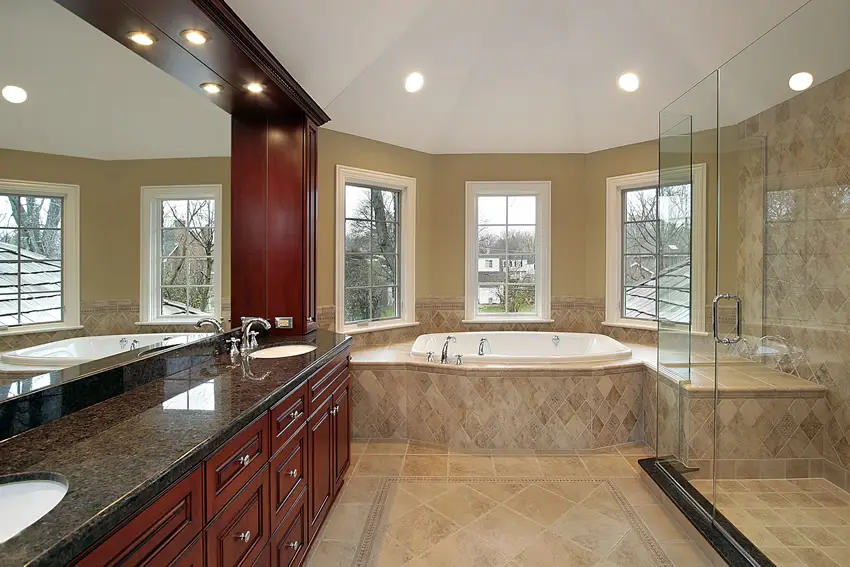 This large luxurious bathroom mainly uses beige ceramic tiles in various layouts for its floors and the bathtub area. The central layout is diagonal and bordered by beige mosaic tiles, while the front of the bathtub area also uses diagonally-arranged tiles but in smaller sizes. The Top of the bathtub area is of plain white solid-surface. The vanity is from solid wood in red-tinted Maple wood and its counter is black Granite.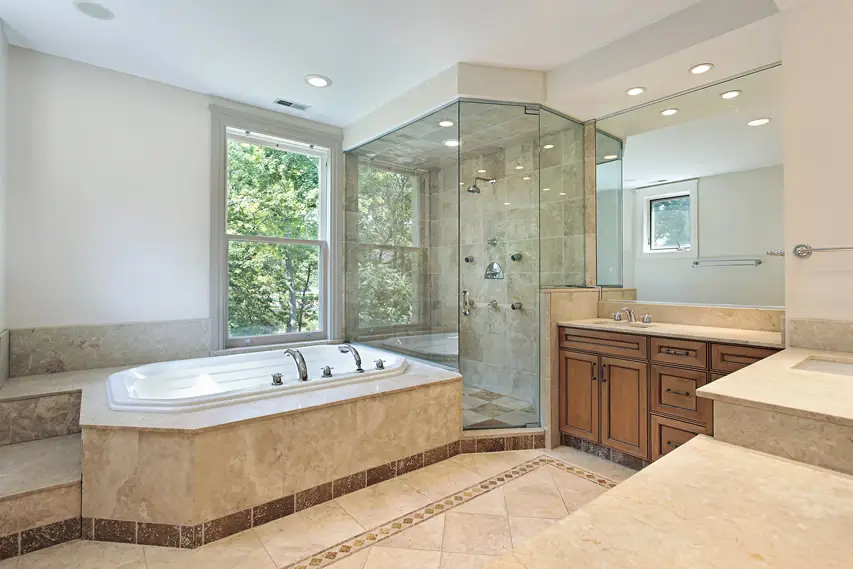 This modern bathroom combined modern aesthetics with traditional materials. Its floors are simple beige ceramic tiles with brown border mosaic tiles. The kickspaces uses darker mocha ceramic tiles, while the countertops and the bathtub area are clad in natural beige marble. The shower area walls have been lined with natural limestone tiles, while the floors uses ceramic tiles in checkerboard pattern. For the cabinetry, Oak laminates on marine plywood was used.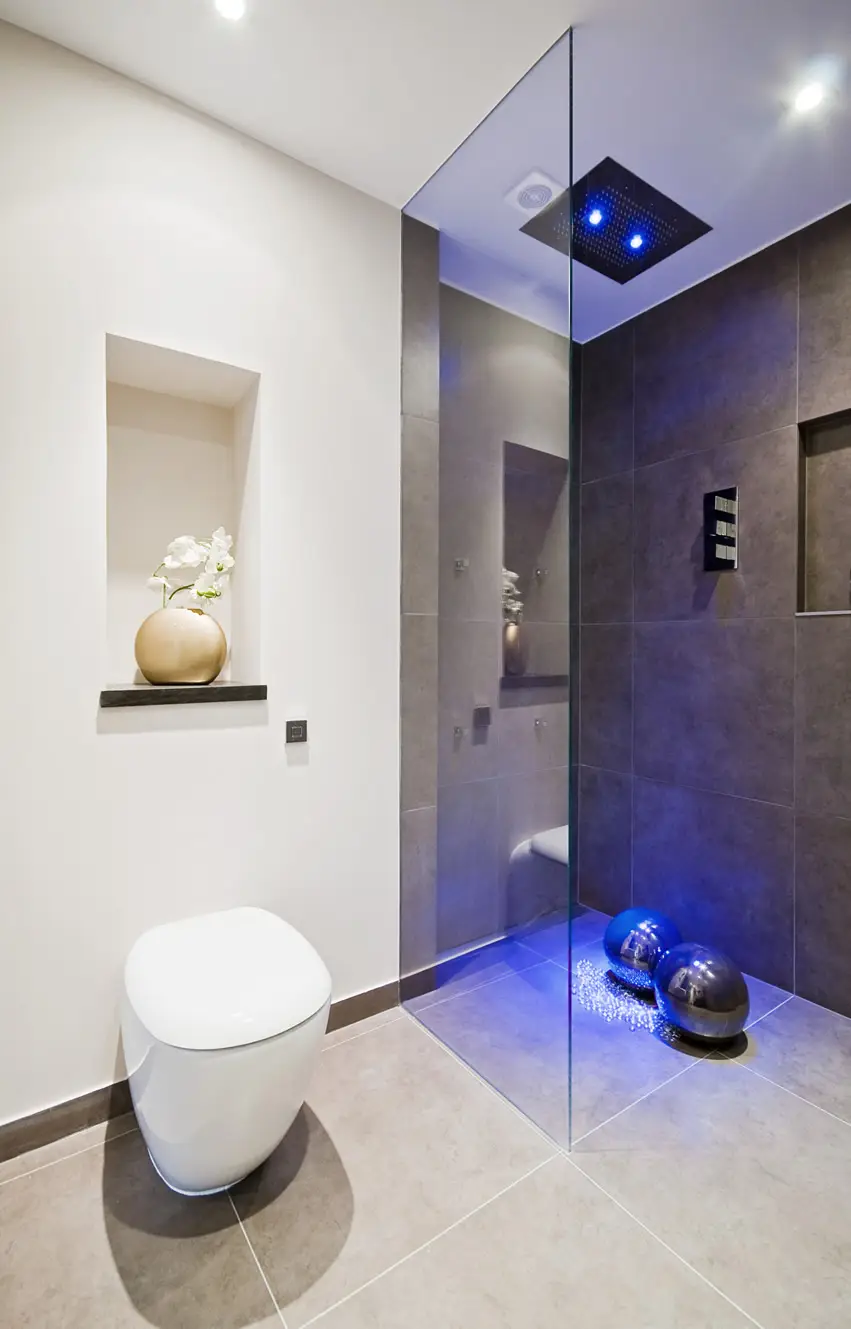 An ultra-modern bathroom design which focuses on simplicity and clean forms and lines. The floors uses large 60×60 ceramic tiles in gray, while the walls of the shower area uses 60×60 ceramic tiles in dark gray. Clear tempered glass was used to divide the toilet area and the shower, while the rest of the walls and the ceiling are painted in plain white. The shower head features neon led lighting to provide ambiance to the space.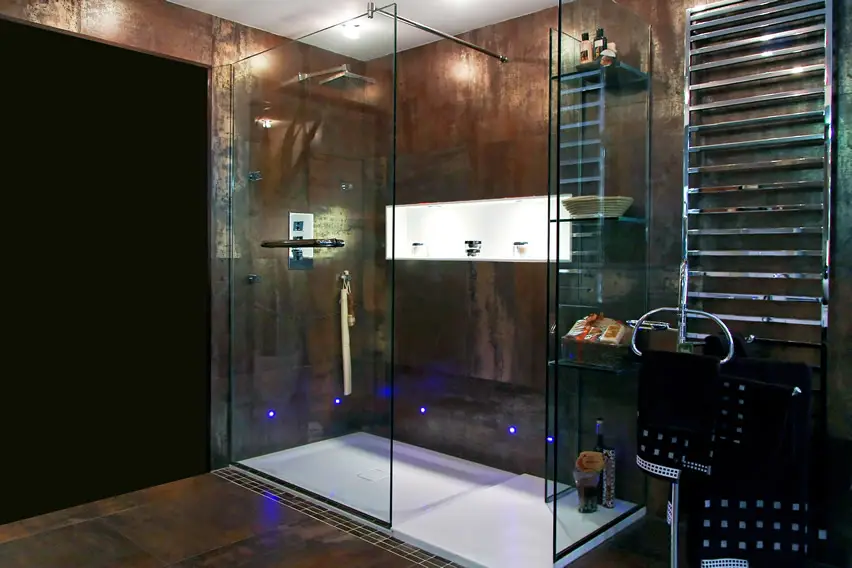 Rustic industrial-inspired interiors have been gaining popularity as of recent, and even bathroom designs like this seem to follow the trend. To achieve the "unfinished" look of industrial interiors, metallic rust-colored ceramic tiles were used for the floors and most of the walls. An accent wall was painted in plain black, and this is combined with the gorgeous frame-less tempered glass doors, chrome finish metals and fixtures, and plain white ceramic tiles for the shower to draw our eyes in the middle.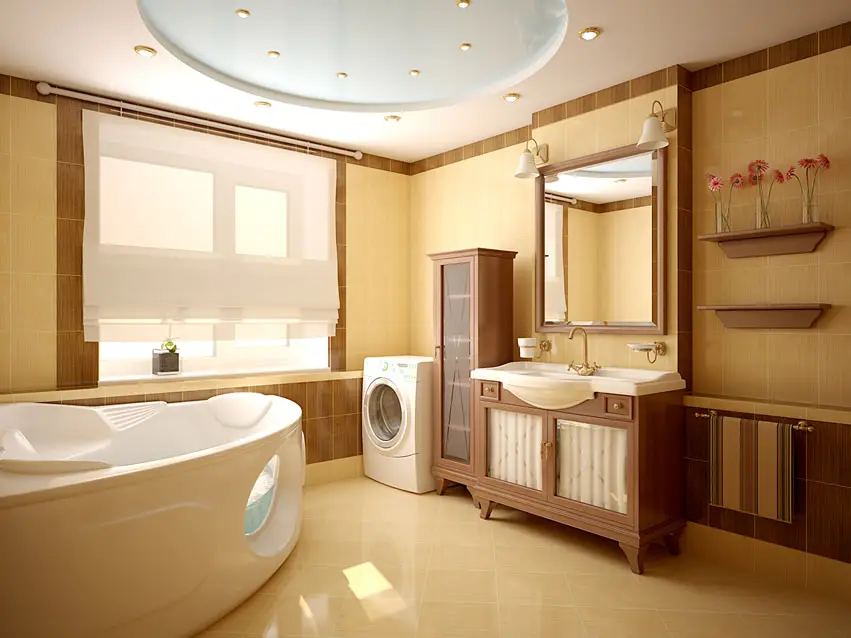 This modern bathroom design uses a variation of the same material. The floors and walls uses a combination of high-quality ceramic tiles in light cream and brown. The browns are used as accents and borders, while the cream tile is the main color used for the walls and floors. The cabinets and shelves are walnut-finished solid wood, and the ceiling was kept in plain white color. A cool looking floating sink with brass colored finished sits atop an old fashioned vanity with glass doors.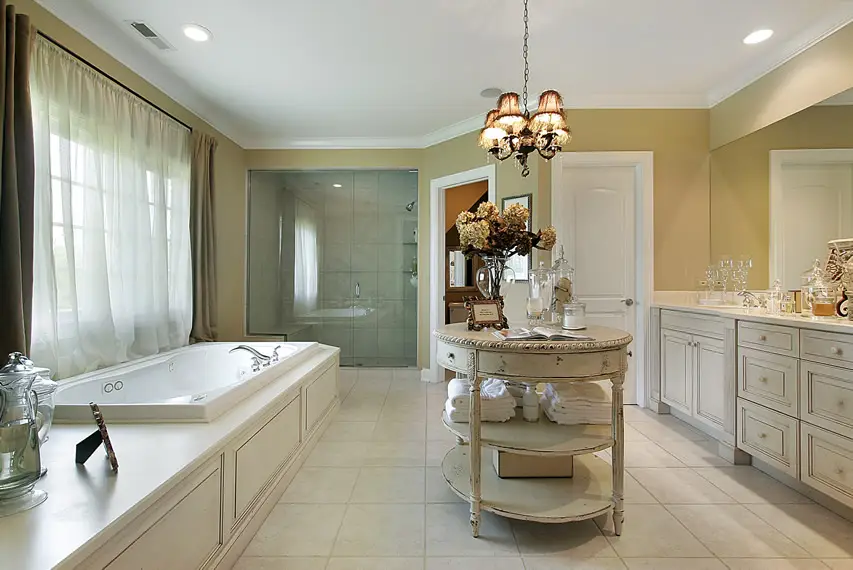 This bathroom design does not bombard you with a variety of materials, but instead concentrates on simplicity and elegance. It uniformly uses 30×30 marble finish ceramic tiles for its floors and the walls of the shower area. The shower enclosure is uses clear frame-less tempered glass, and all countertop materials are of white crystal quartz. The classic design of the vanity and the bathtub area is painted with semi-gloss light cream paint, and the walls are painted in Benjamin beige.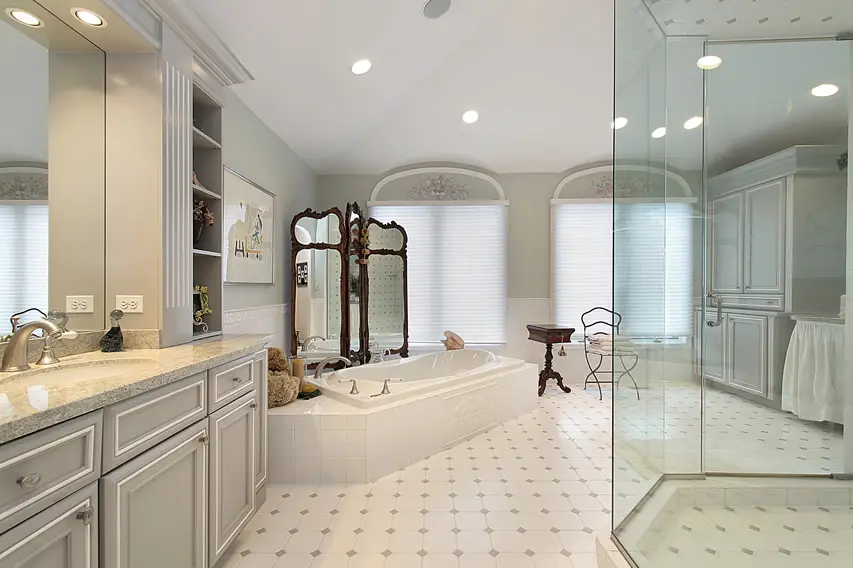 This large off white bathroom uses very light and refreshing colors and finishes. The white ceramic tiles with light gray diamond details are very easy on the eyes, and the walls are painted in light dove gray with white detailing for the cornice and white tiles for the lower half of the walls. All cabinets are also in dove gray with white pinstripe detailing, while the vanity's countertop is in a beautiful cream granite.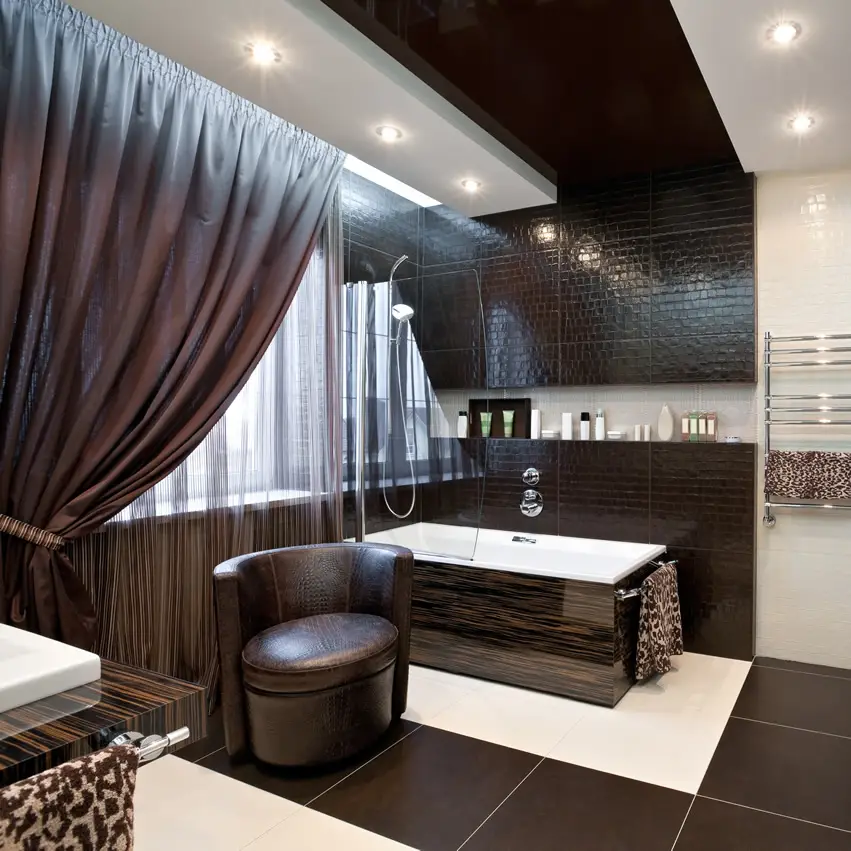 This modern bathroom design has a truly interesting combination and choice of finishes. While it keeps a simple color palette consisting of white and shades of brown, the choices of tiles is very notable. The floors are a combination of white and brown anti-slip ceramic tiles, but the walls uses a very unique lather-textured ceramic tiles in white and brown. The bathtub and the cantilever counter is clad with polished wood-finish porcelain tiles. The brown leather chair in the middle of the bathroom also adds into the variety of textures in the bathroom.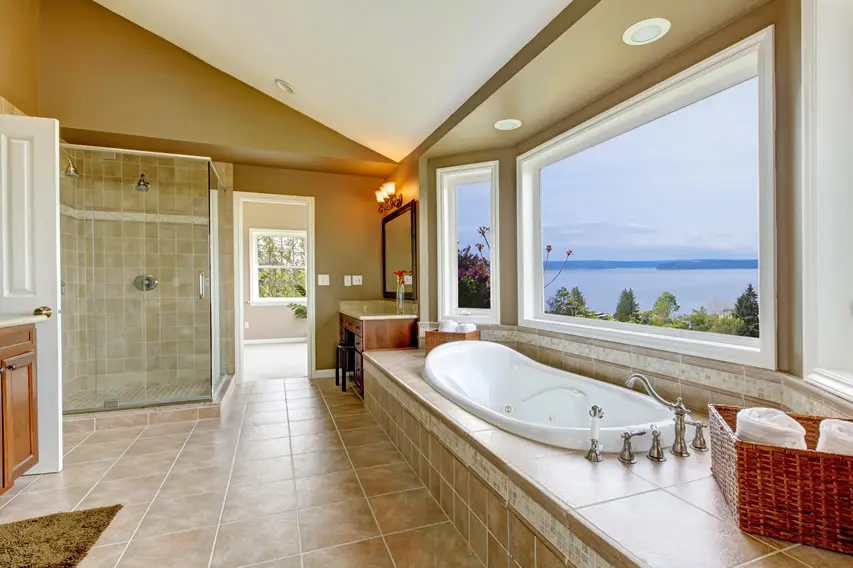 While this spacious bathroom offers an amazing view, it uses budget-friendly materials, that work just as well as more expensive finishes. The floors are simple ceramic tiles in natural stone finish, with accent borders of mosaic tiles. The walls of the shower area uses the same material but in a smaller size. The rest of walls are painted in mocha, wile the wooden furniture pieces are in teak wood with cream granite counters.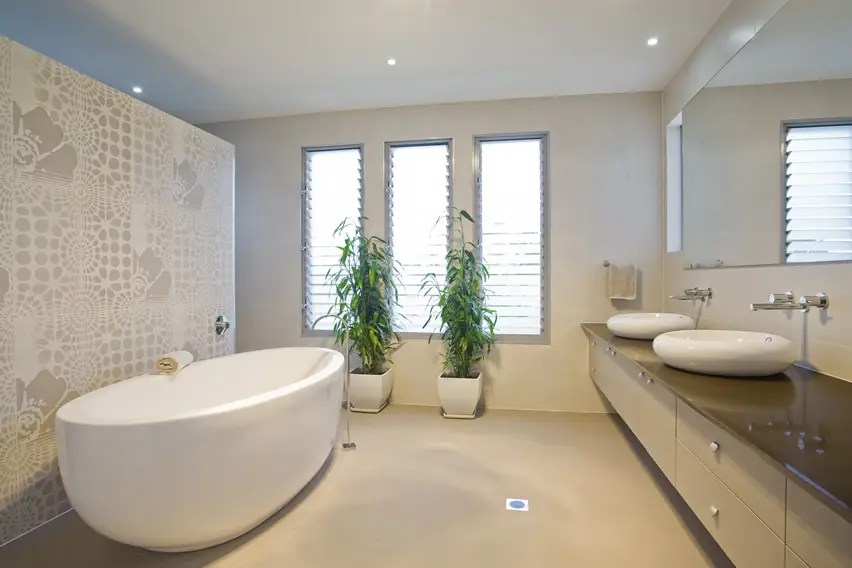 This modern bathroom design is devoid of too much decoration, but instead allows you to focus on its very unique accent wall found behind the freestanding bathtub. It sues beige graphicote glass panels with circular designs/patterns. The walls and the floors for the rest of the bathroom uses light cream ceramic tiles, while the cabinets are laminated with plain tan laminates, topped with mocha solid-surface countertop.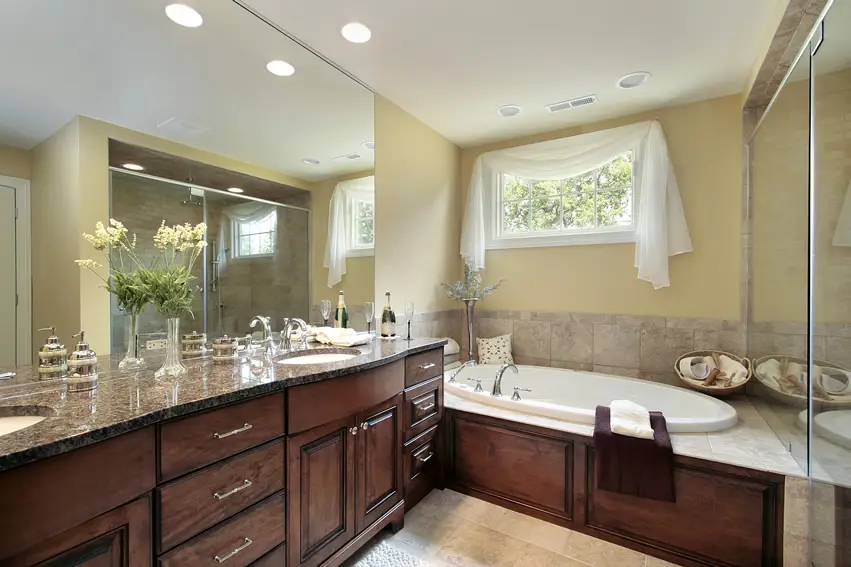 The Baltic brown granite countertop used in this bathroom's vanity greatly complements the Maple wood cabinets. Because the space is limited, large frameless mirror was used instead of framed mirrors, and from there you will see the shower area which uses glass mosaic tiles in light cream for its walls. The bathtub area uses ceramic tiles which is also used for the main flooring of the bathroom, and the upper walls are in semi-gloss light yellow paint.
This bathroom uses mix-sized ceramic tiles for its floors, with accents of faux natural-cut stone tiles.The vanity countertop and splashboard uses Colonial cream granite with white cabinetry, while the walls and ceiling are painted in cream faux marble finish with Trompe l'oeil columns and sky for the faux skylight.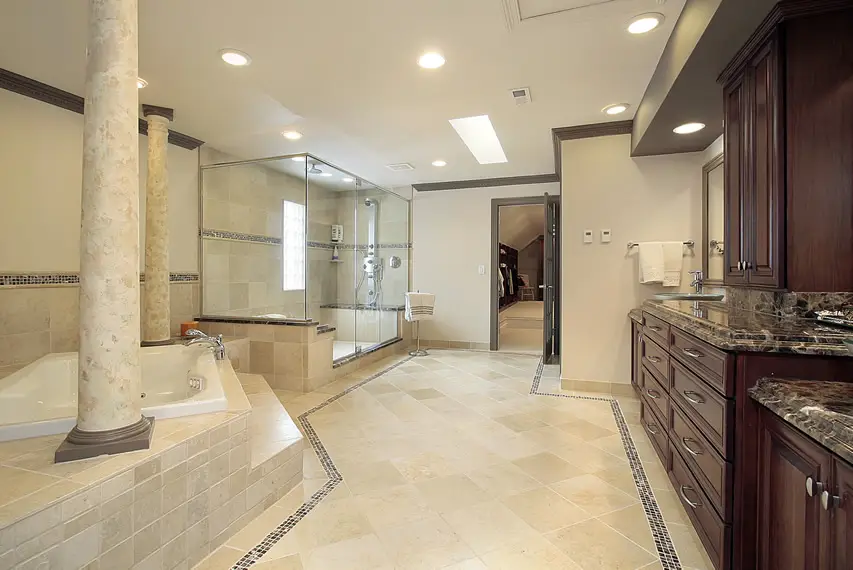 This large bathroom uses natural stone ceramic tiles for most of its floors with accents of dark brown mosaic stone tiles. The cabinets for the vanity are in dark Mahogany finish topped with Granite countertop, while the walls are painted in a shade similar to Sherwin Williams "Crushed Ice", with moldings painted in Sherwin Williams "Skipping Stone" (or similar).
Wood Bathroom
Generally natural wood is not used in the bathroom due to the need for continual maintenance in such a high humidity environment. Instead porcelain tile has been created that mimics the look of real wood to create an appealing surface without the splinters. Porcelain wood tiles are beautiful, easy to clean and low maintenance making them a great choice for the bathroom.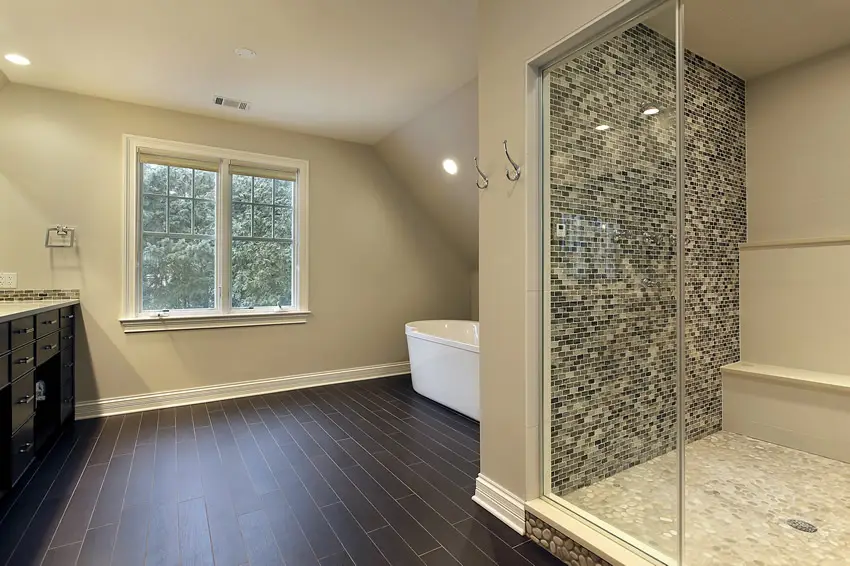 This large bathroom uses a combination of natural and man-made materials to create an interesting mix of colors and textures. Firstly, the main flooring material used are dark wengue finish ceramic tiles.
To mimic the effect of pebbles on concrete, the shower used natural pebble ceramic tiles for its floors, combined with multi-colored gray glass mosaic tiles for the shower wall and brick layout beige ceramic tiles for the other shower walls. The rest of the bathroom is painted in a similar shade of beige, while the vanity is laminated in a wengue color similar to the flooring.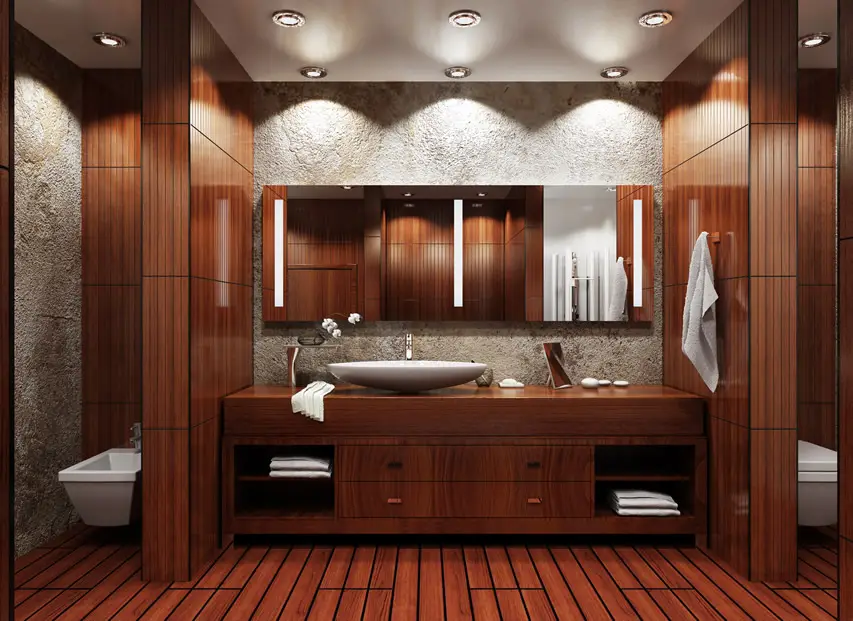 A very interesting Asian-inspired modern bathroom, this spaces is definitely a feast for the eyes. The floors uses weather-treated solid Mahogany wood decking over plain ceramic tiles. To complete the wood look of the bathroom, the vanity area, dividers and the back of the water-closet and bidet were installed with waterproof laminates in red mahogany wood finish, while the rest of the walls have a rough concrete finish to balance the wood tones of the whole bathroom.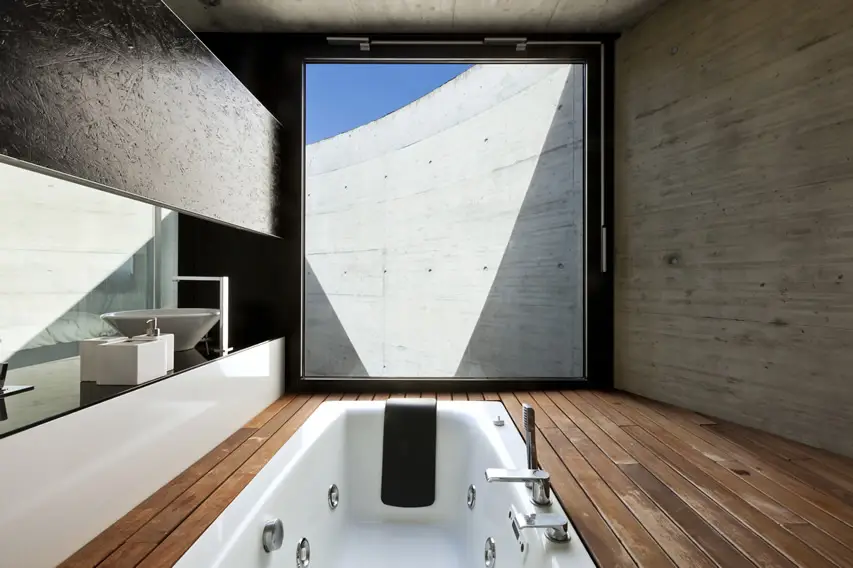 A minimalist bathroom design which beautifully combines rough and smooth finishes. The floors uses cherry finished treated wooden floor planks, while the counters are a combination of black and white solid surface. The upper section of the vanity area is plywood with rough concrete finishing painted over with black and framed with stainless steel to hold it together.
Porcelain Bathroom
Porcelain tile is a type of ceramic tile that is tougher and can withstand a lot of use and abuse making it a popular choice for industrial uses. Installation can be a little trickier than standard ceramic tile as it must be anchored to a substrate floor to properly set.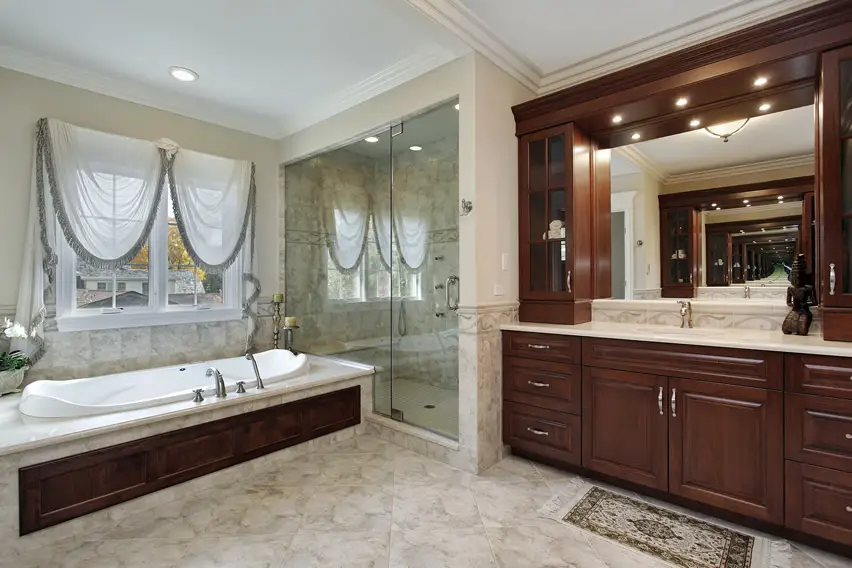 A luxurious fusion of classic and modern elements, this bathroom design evokes a very elegant feel. The floors and half of the walls use high-quality marble porcelain tiles, and a decorative porcelain tile border with scroll patterns. Half of the walls are painted in light warm beige color while the ceiling and cornices are in white. The vanity is from solid Mahogany with a white marble counter top.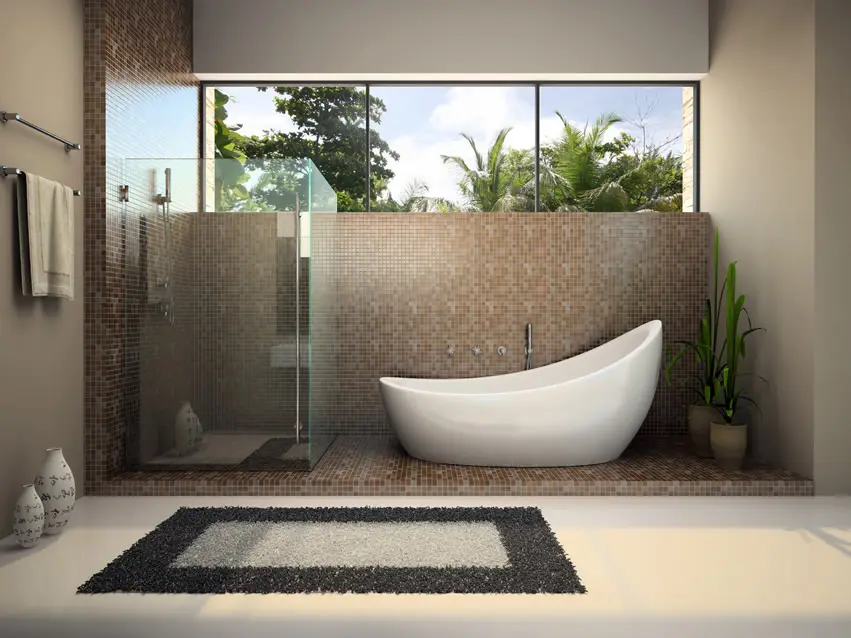 A very interesting modern bathroom design, this space is covered mostly by large plain white porcelain tiles. The elevated area in which the shower and bathtub lies is clad with mosaic tiles in a combination of browns and grays. The walls are painted in beige while the shower area uses clear tempered glass for its shower door.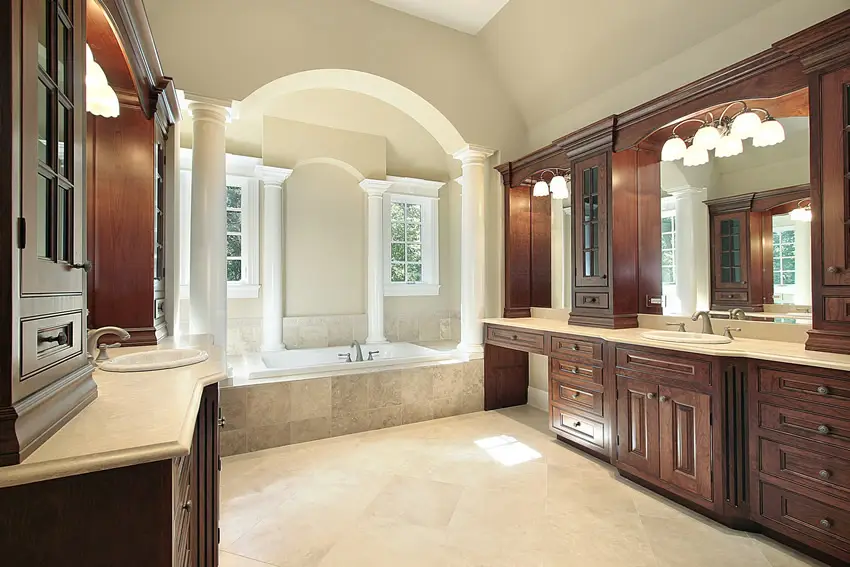 This beautiful bathroom uses non-slip porcelain tiles for its floors and most of its other surfaces, combined with light tan paint for the walls and a similar-colored cream granite countertop. To complement the classic look of this bathroom, satin-finished fixtures were used instead of chrome, and the cabinets maintains its natural mahogany finish.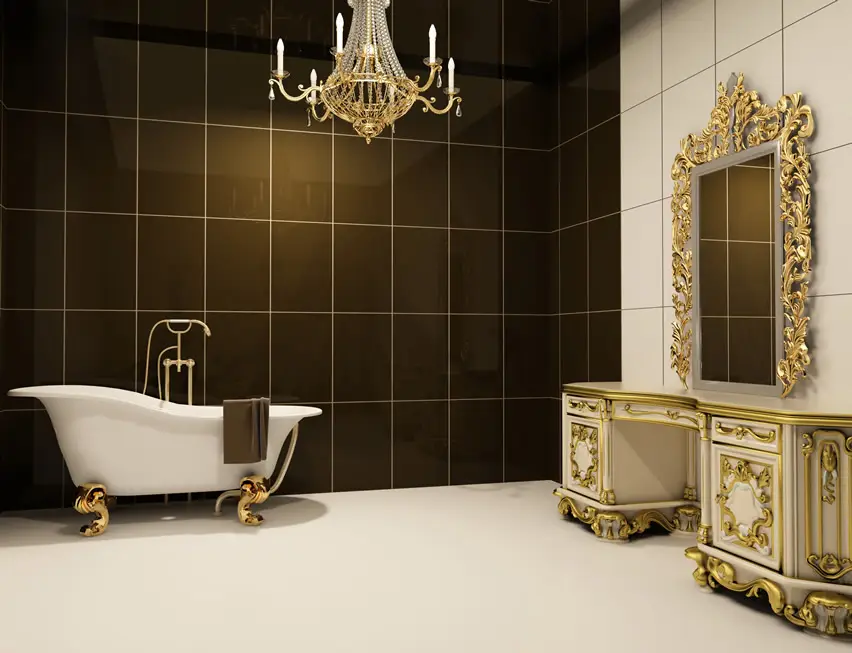 Albeit being sparsely furnished and accessorized, the choice of brass furnishings and fixtures for this bathroom is rather opulent and elegant, but doesn't overpower and look excessively heavy and intricate. The plain white floors helps balance it out. For the walls, it simply uses polished porcelain tiles in plain white and dark olive. A beautiful gilded mirror in brass matches perfectly with the large gold and white vanity.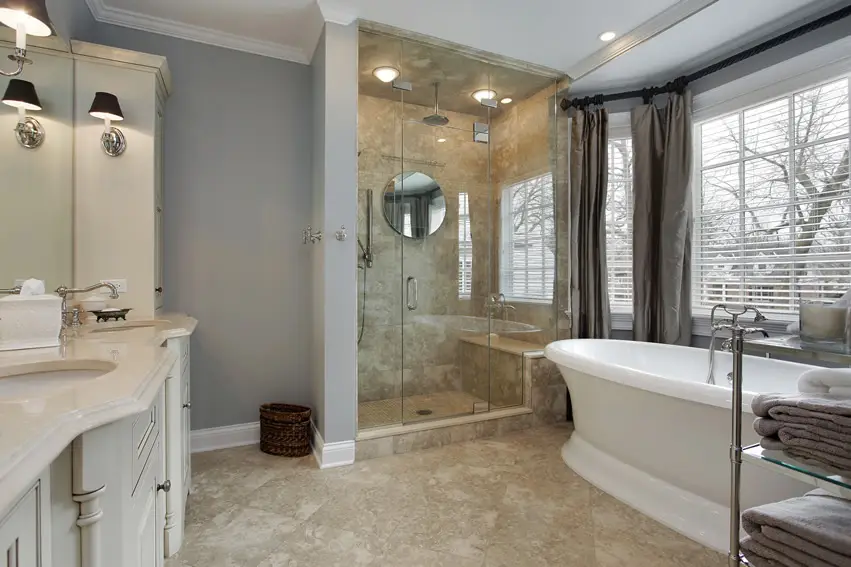 This bathroom combines warm and colors. The walls are mainly painted in a cool shade of gray with white moldings, while the floors and walls of the shower are is finished with granite porcelain tiles in cream colors. The vanity counter has Ivory cream granite, while the cabinets are painted in a similar cream shade.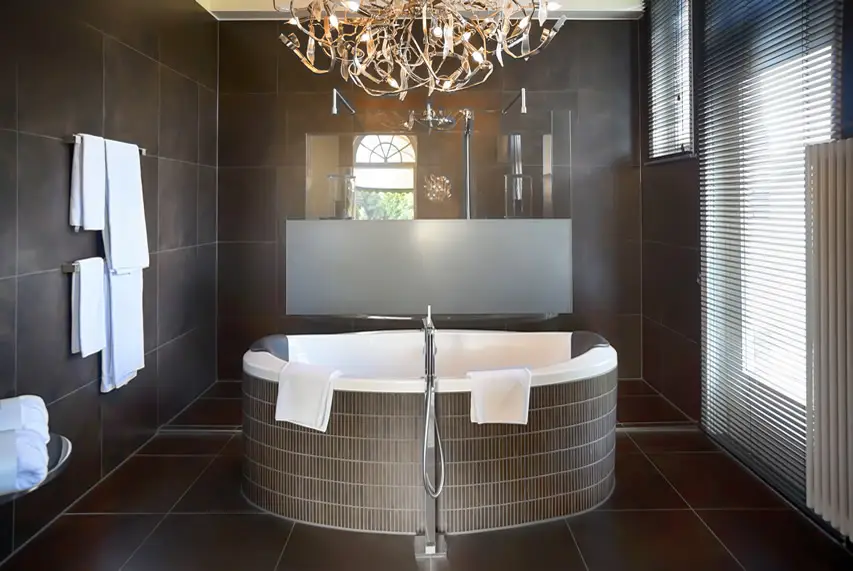 This bathroom just uses two types of tiles: 60×60 rustic brown porcelain tiles for its walls and floors and rustic brown mosaic tiles for the cladding of the bathtub. The frameless glass divider in clear and frosted finish gives a nice variation of finish and texture to the space, as well as the chrome-finished fixtures.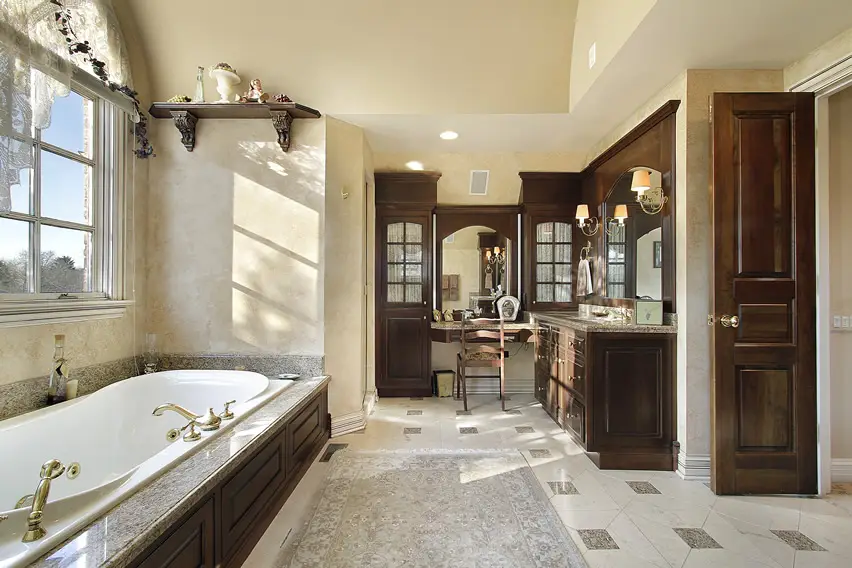 A cozy bathroom design with classical design elements. The floors used are marble porcelain tiles with its central portion out of a smaller piece of granite tiles. The wood are dark mahogany, with salt & pepper granite tiles for the bathtub and counter. The walls are also expertly painted with faux marble finish in a light tan shade.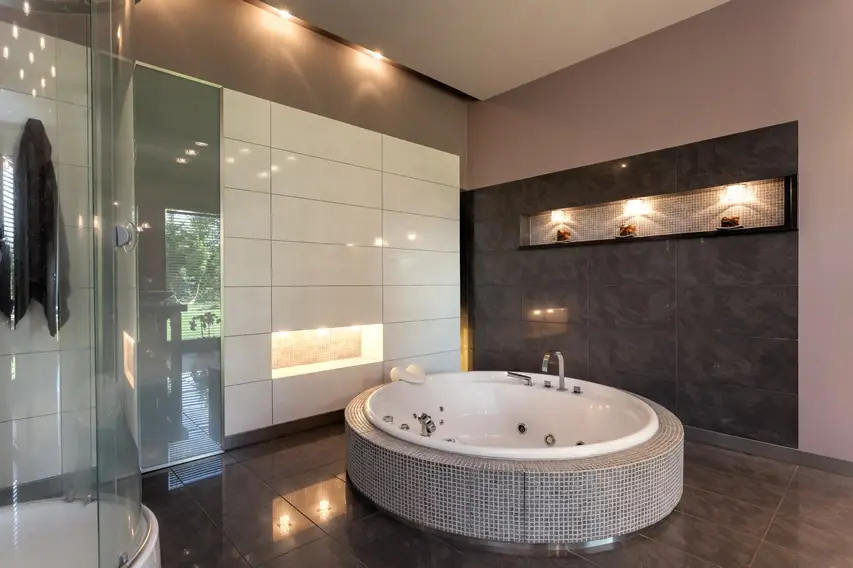 This bathroom design remains true to its modern aesthetics by using modern colors and materials. The floors uses dark gray porcelain tiles, and the walls are painted in white. The left wall cabinetry uses modules in a size similar to the tiles used on the floors and walls, and with its high-gloss finish, makes it look like tiles as well. The round bathtub in the center of the room is glad with natural stone mosaic tiles to give a texture variation.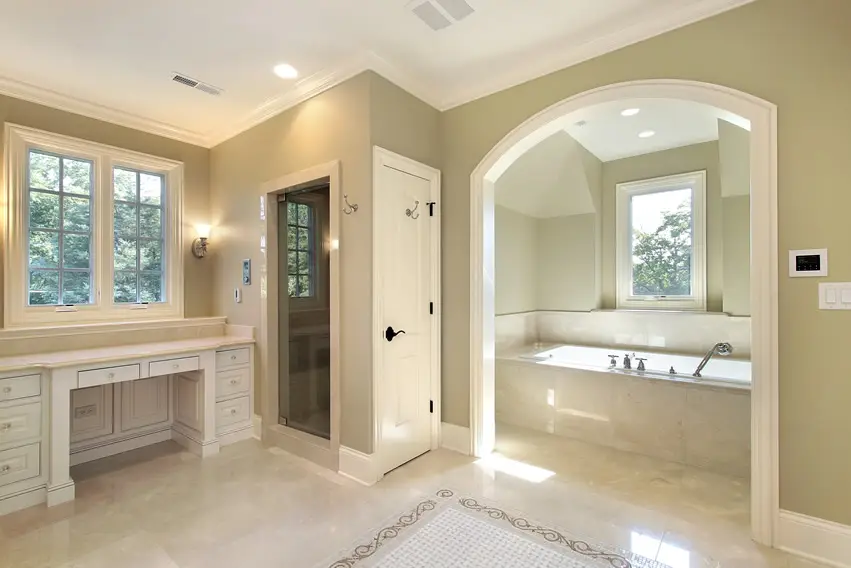 This large bathroom uses a light-colored polished porcelain tiles. The bathtub area and its backsplash also uses the same material as the floors, and the center area of the bathroom has a porcelain tile border with a mosaic tile for its central design. The countertop for the vanity/desk surface uses natural slate in a nice peach cream color, and all moldings, doors and cabinetry are in white.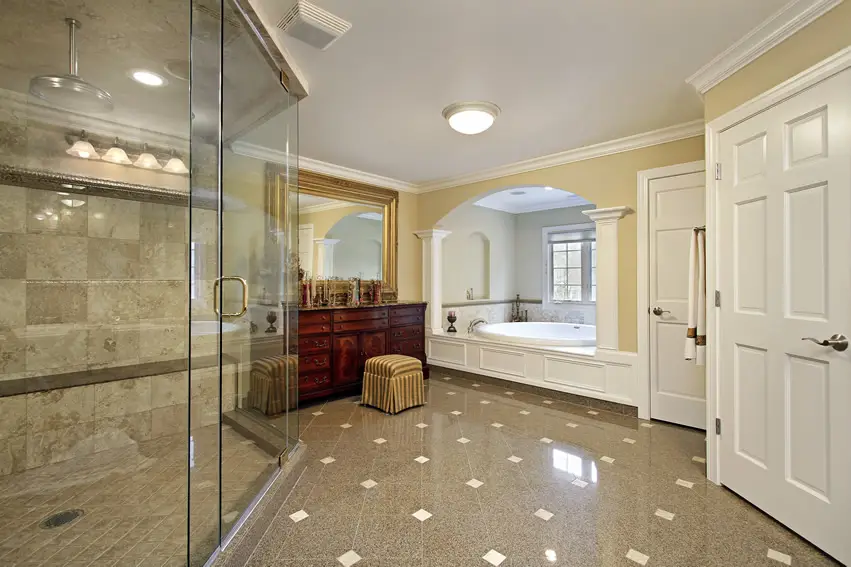 The floors for this bathroom is mainly in mocha brown porcelain tiles with cream accents, while its shower area uses natural stone tiles with natural anti-slip properties. Doors and moldings are in white, while its walls are painted in a light shade of yellow. The ceiling uses a light cool gray paint instead of the usual white, and the fixtures used are in chrome finish.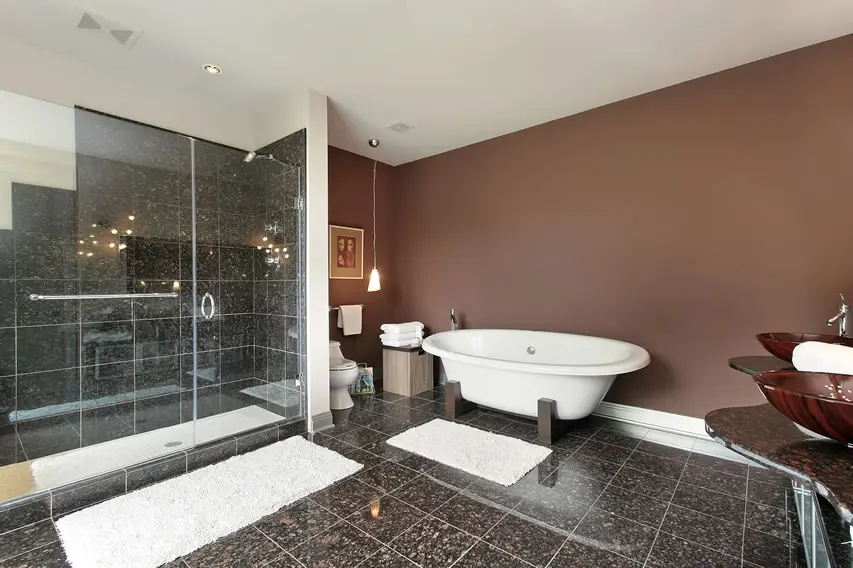 This bathroom uses 30×30 polished porcelain tiles in a natural stone finish. This extends up to the walls of the shower area, while the walls surrounding the bathtub is painted with Marsala. The ceiling and moldings are all in white, while the counter top for the vanity uses ruby red granite.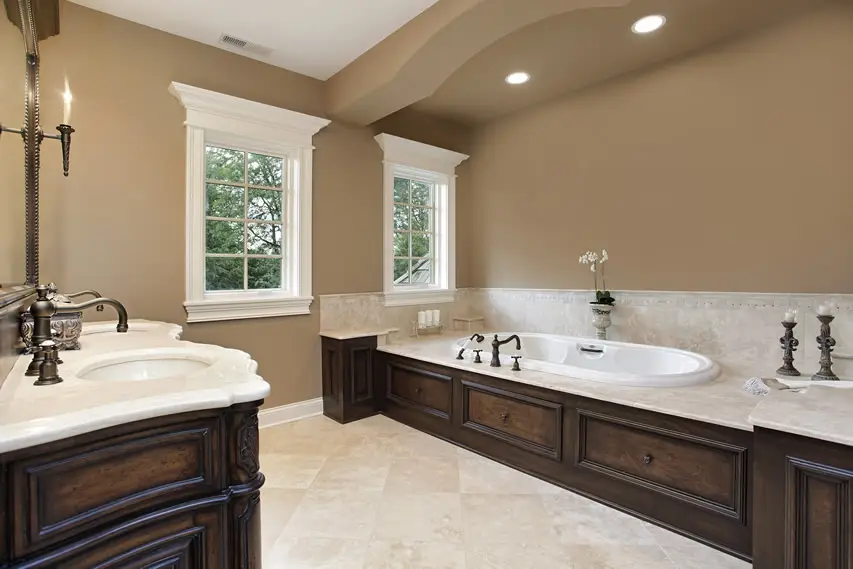 This bathroom with warm brown walls and moldings combines it with porcelain tile flooring and white granite countertop material. The wood elements of this bathroom are finished in dark oak stain to give it a slightly "antique" look. To complement this, the fixtures used are in rubbed bronze finish.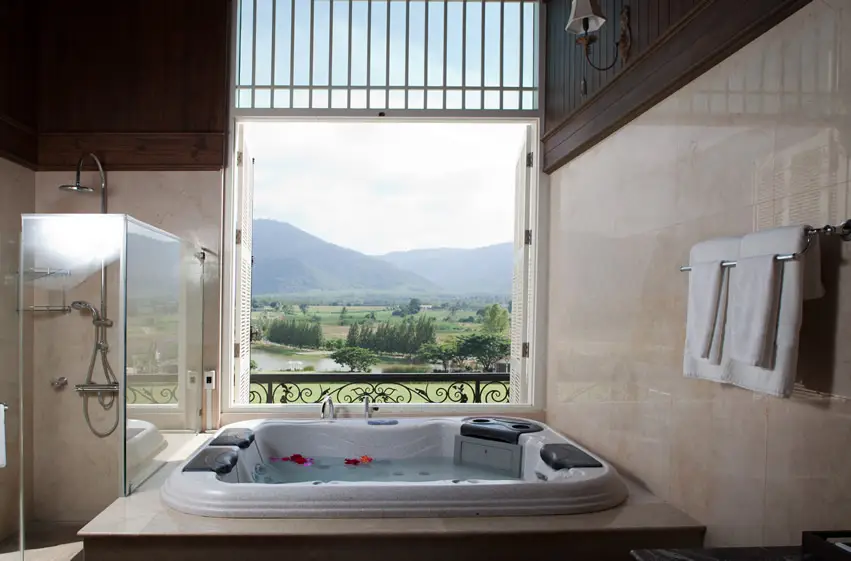 This bathroom is strategically located, with an outstanding view of the outdoors. The main material used in this design are polished porcelain tiles in a peach/cream shade. Since the ceiling of this bathroom is really high, Solid Oak wood panels were also used in the upper part of the wall. A large jacuzzi tub allows one to luxuriate and enjoy the surroundings.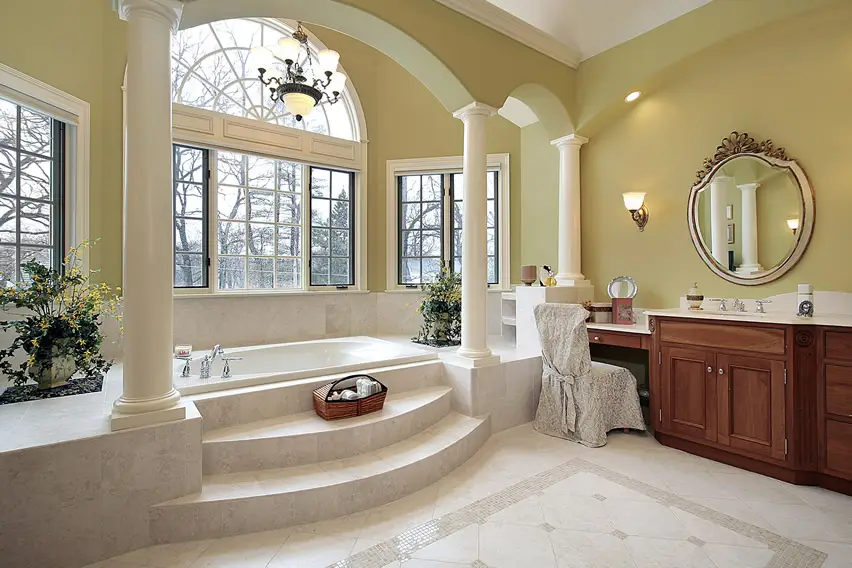 For this grandiose bathroom design, it focuses on the use of simple but luxurious materials. The floors uses white porcelain tiles, mixed with glass mosaic tiles bordering the diagonally-arranged tiles in the middle. Solid wood cabinets are topped with white Granite countertop and the wood retains its natural oak wood color. The walls are painted in light yellow with white ceiling and moldings.
Marble Bathroom
Real marble is beautiful and highly sought after in luxury bathroom designs. However, the downside is it is costly and can crack or stain. To maintain marble tile's beauty it must be sealed frequently with a protective sealer.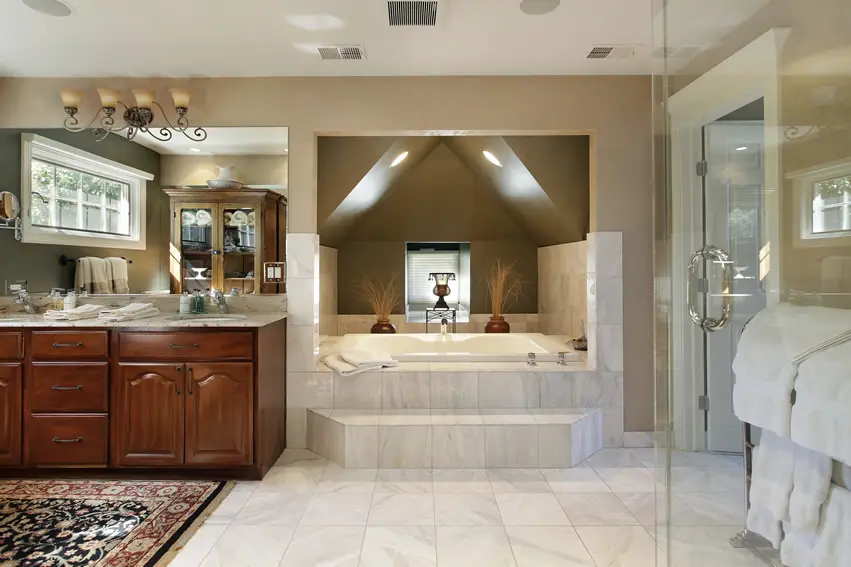 This spacious bathroom uses high quality Marble floor tiles in combination with plain beige paint for its walls and white paint for the ceiling and mouldings. It also uses polished rockwell white granite for its countertop in combination with beautiful Teak wood cabinets. The classic design of the area also adds an interesting detail to the simple spacious bathroom.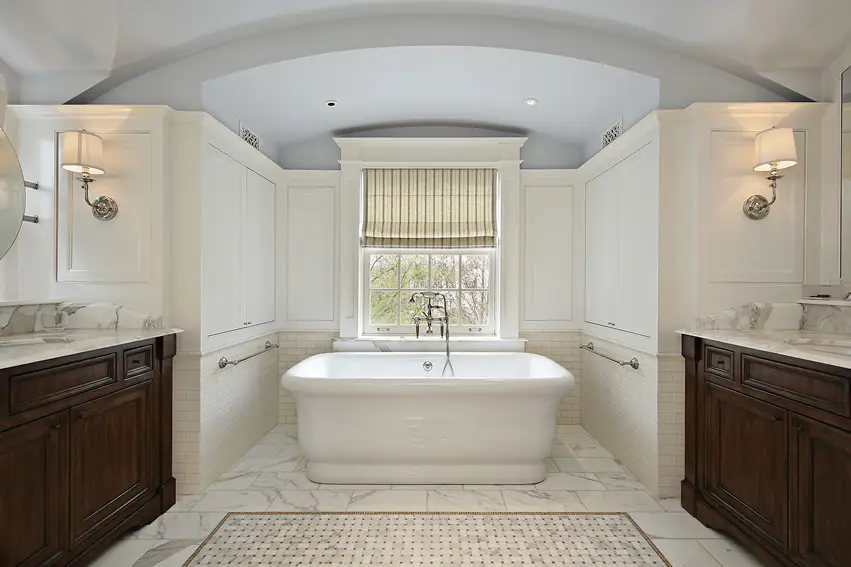 The use of marble tiles with prominent gray veins for the flooring and the countertop of this bathroom surely makes the space reminiscent of classical Roman architecture. This is combined with white wall paneling, oakwood cabinets, as well as bricks painted in an off-white colors. The ceiling uses light gray matte paint instead of white, which helps make the white wall panelings stand-out better.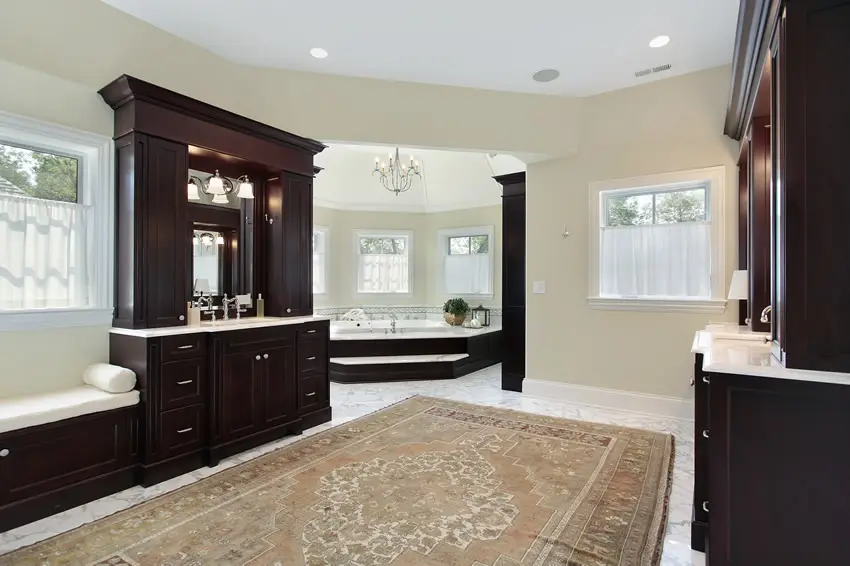 As this bathroom uses dark Mahogany wood tones for its vanity and other wooden elements, the rest of the finishes of the bathroom are in lighter colors. The walls are light beige with white moldings, while the floors are polished white marble with light gray veins. The countertop material is also lighter in color, using white quartz stone instead of darker granite materials.
Stone Bathrooms
Granite, slate, marble, onyx and quartzite are all natural stones that are often used in luxury bathroom designs. While stone can be more expensive to purchase for a remodel project the results are a gorgeous natural looking floor that homeowners love.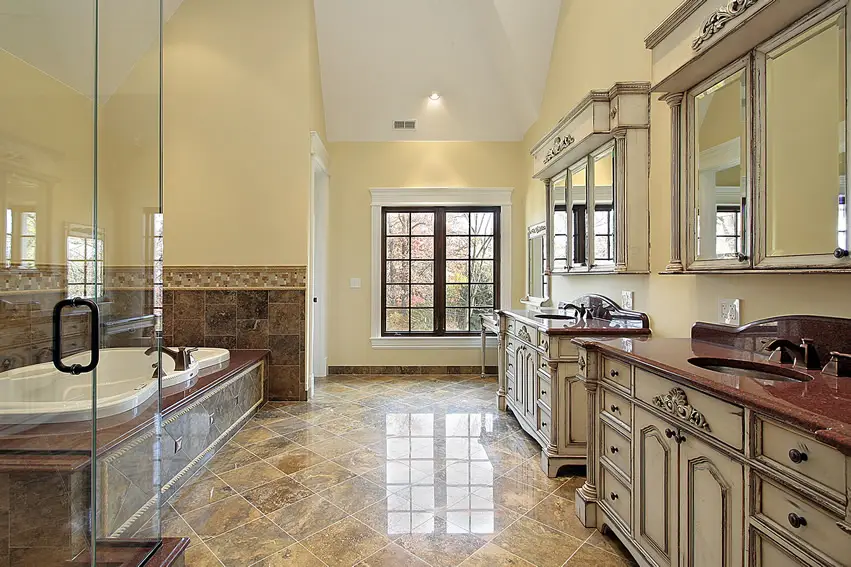 This large bathroom has a very high and interesting ceiling feature which extends the space, making it look more spacious. The walls are painted in a bright light yellow color with white moldings, and the furniture pieces are have antiqued white finish. The countertop of the vanity is in a unique red granite, while the floors and the walls are clad with polished natural stone tiles.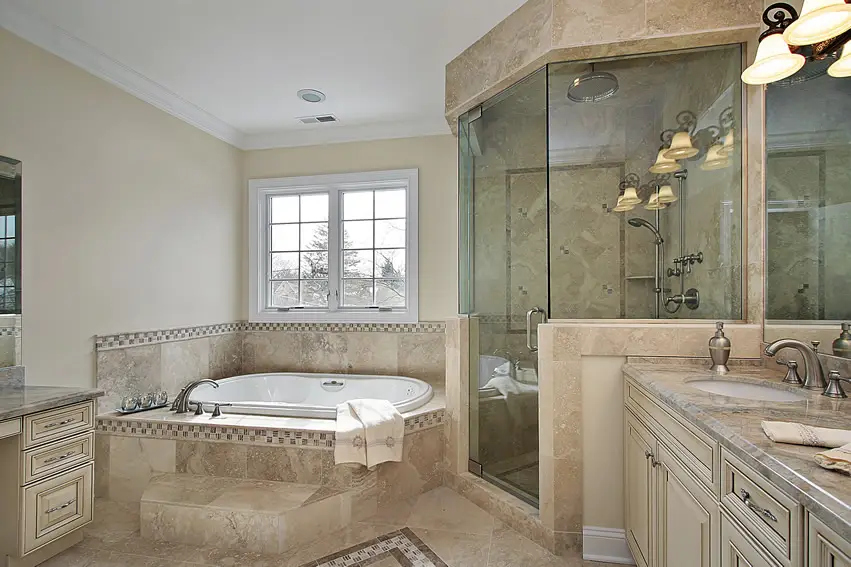 This bathroom combines light tan walls with natural stone tiles in a similar shade. Mosaic tiles are used as borders and accents for the floor, the bathrub area and to transition the wall tiles into plain walls. For the vanity area, the cabinets are painted in Tan, a shade darker than the walls, while the countertop uses granite.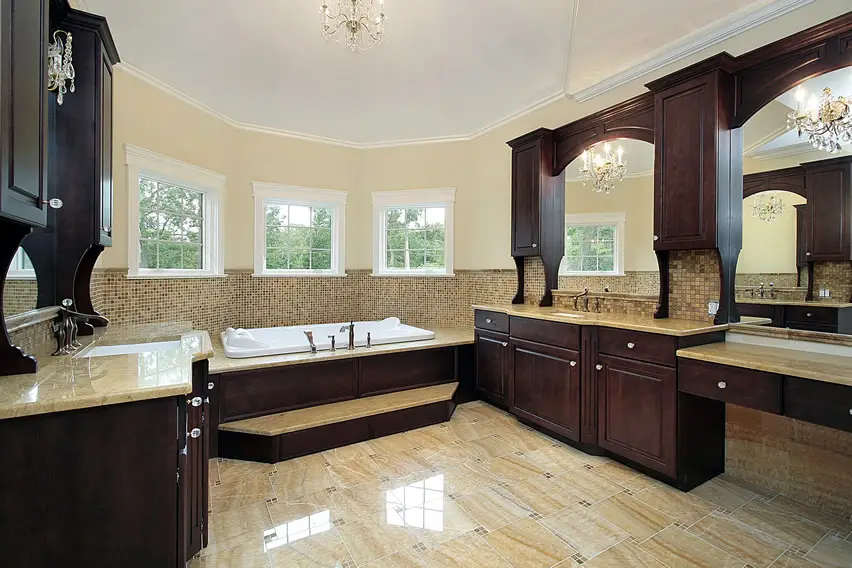 A spacious bathroom that has a beautiful contrast of dark and light colors. The light cream walls and ceiling aids in maintaining the wide and spacious quality of the space, while the polished sandstone tiles with mosaic tile accents warms up the overall atmosphere of the space. The vanity uses Kashmir granite countertops, as well as the elevated area for the bathtub. The walls surrounding the bathtub is adorned with mosaic tiles, as well as the splashboards for the counters. The cabinets and drawers have dark mahogany finish which give the dark contrast to the space.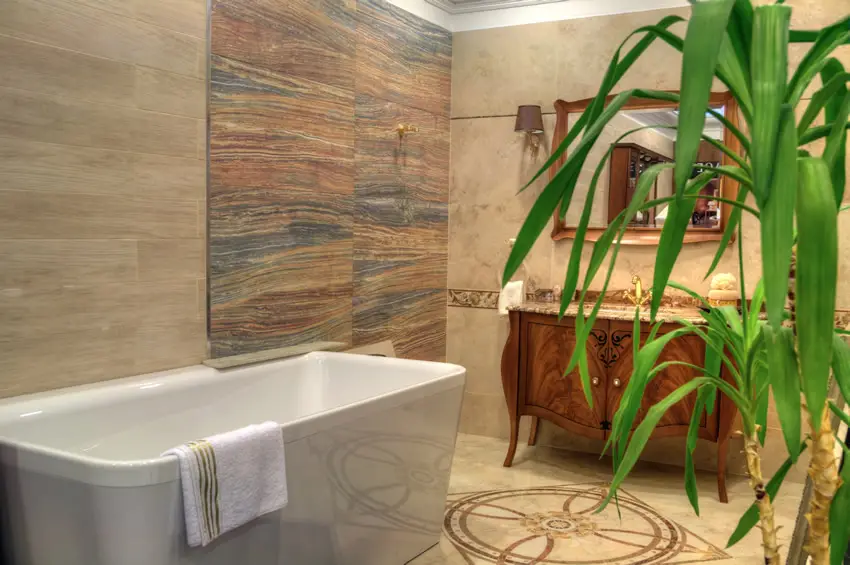 Albeit small, this bathroom is beautifully designed and treated with excellent materials. Most notable is the Polished natural travertine wall near the vanity. The floors also uses polished granite with a unique design/pattern just across the vanity table. The wall behind the bathtub uses wood finish ceramic tiles in light gray, and the rest of the walls uses polished granite as well.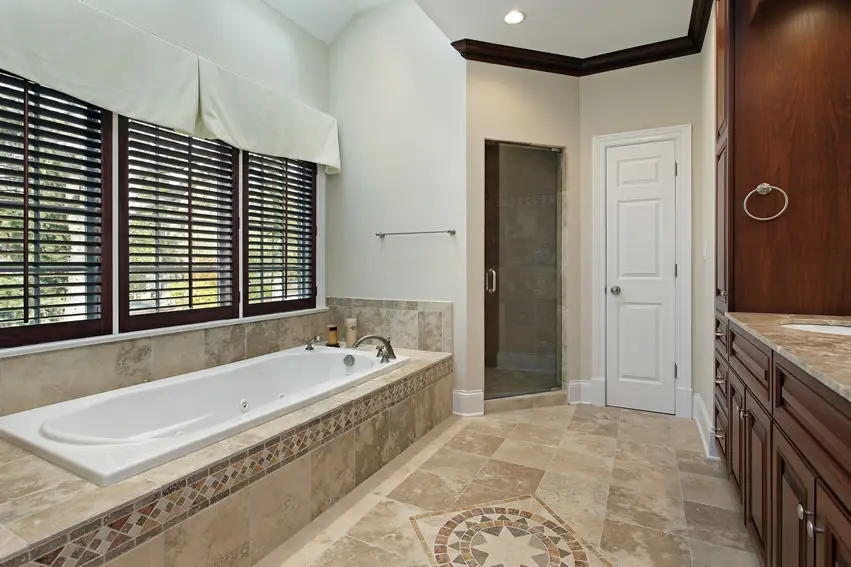 Natural stone tiles are used in the bathroom floors with accent tile design using the same material. The tiles used are unpolished / natural finish, while the walls are kept simple, painted in an off-white shade. The cabinets for the vanity are in mahogany finish with a complementary brown granite counter.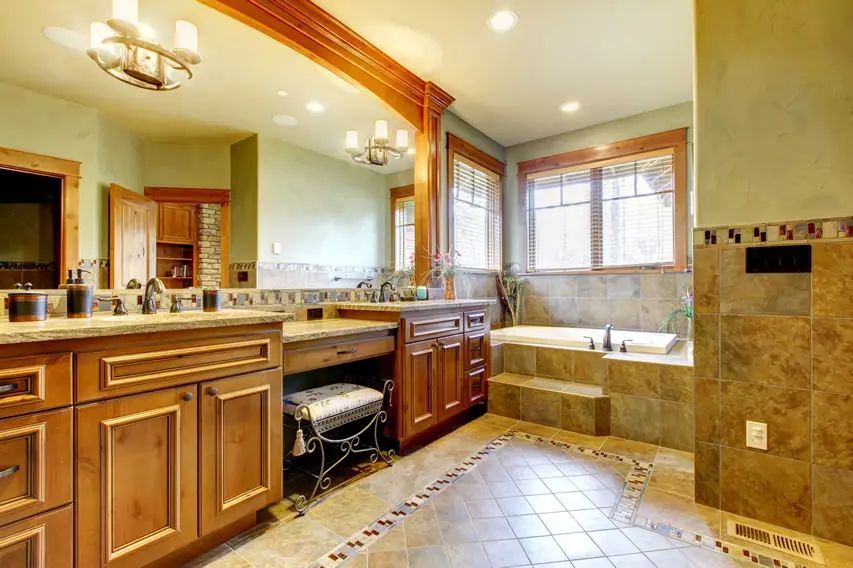 For this master bathroom, a combination of natural stone ceramic tiles were used for the floor and the walls. The upper part of the walls are in light sage paint with rough finishing effect reminiscent of raw concrete walls. The splashboard and border tiles used are multi-colored glass & Capiz mosaic tiles, while the vanity countertop material is gray solid granite combined with a nice teak wood vanity.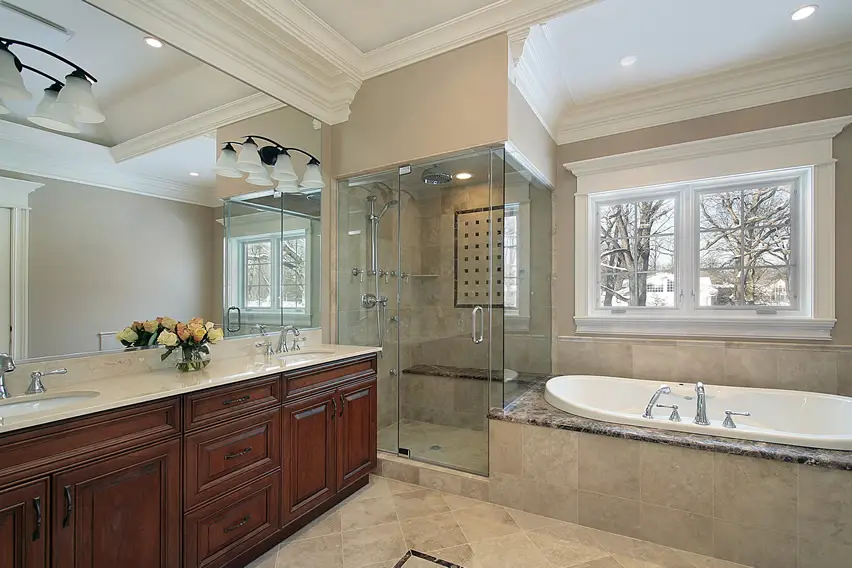 An elegant bathroom with high quality polished natural stone tiles, combined with a nice warm beige paint for the walls, cream colored moldings and white painted ceiling. Stone material used for the bathtub and shower bench is brown Granite, while the counter opts to use white marble stone for its surface.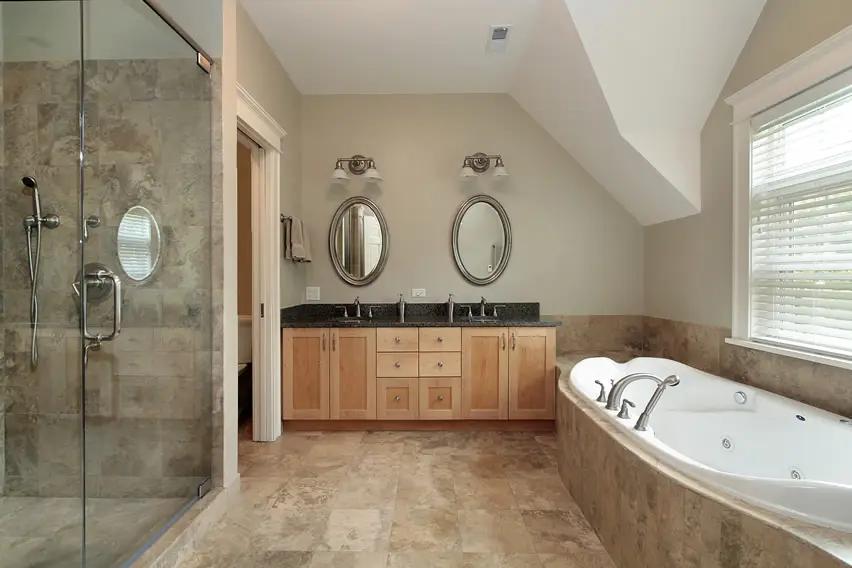 A simple bathroom design which uses only one type of tile for the whole area. It uses natural stone ceramic tiles in beige tones, combined with walls painted in a color similar to Sherwin Williams "Cargo Pants 40162". For the vanity, it uses dark gray quartz countertop with unfinished wood cabinets.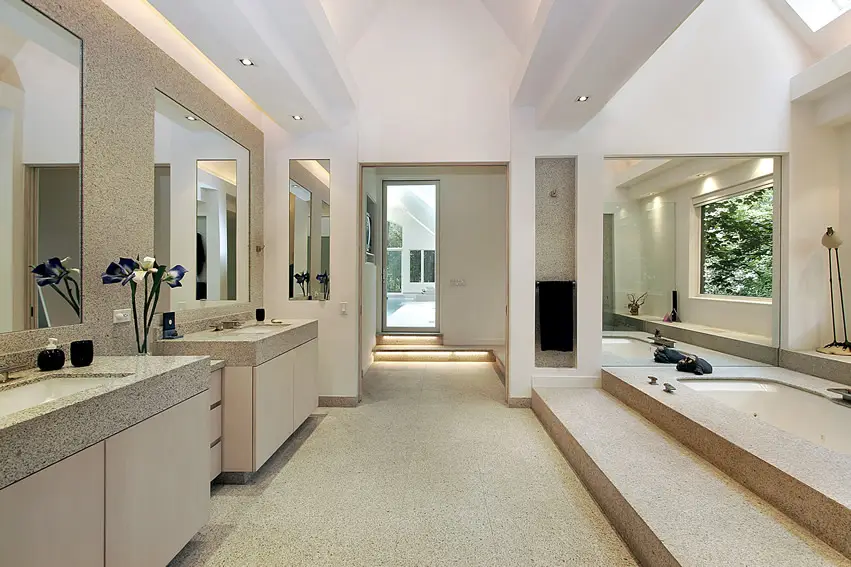 This spacious bathroom uses natural limestone tiles for its floors, while keeping its walls plain with white paint in semi-gloss finish. The wall behind the vanity area is finished with salt & pepper solid-surface material, which is also used for the countertops and fascia. For some walls, full-length frameless mirrors are also placed to give an illusion of an even larger space.
Slate Bathroom
Slate is natural stone with fine grain that comes in a variety of colors from reds, grays, copper, navy to black. There is not much similarity between each piece of slate which can give you interesting color patterns and a lot of detail.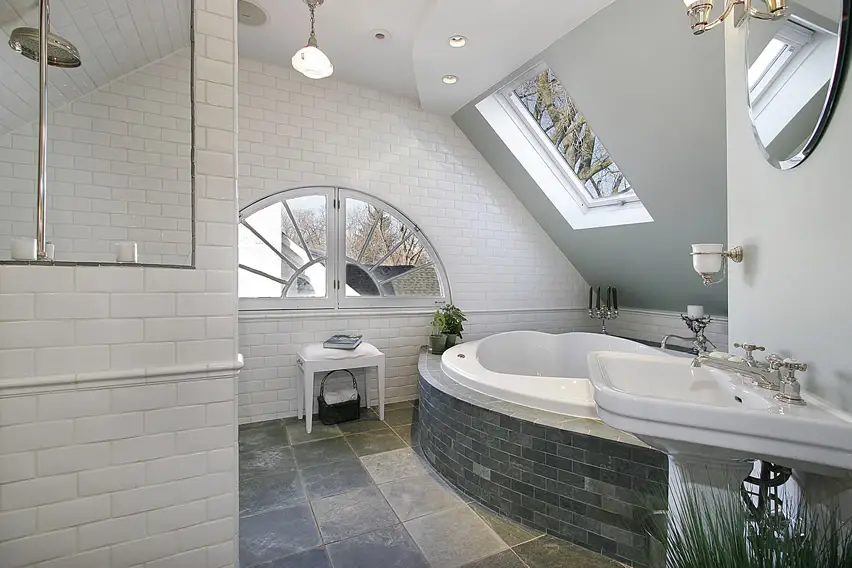 A very simple bathroom design which uses 30×60 slate tiles for its floors, in combination with brick-sized slate tiles to clad the surrounding area of the bathtub. Instead of plain white paint, this bathroom instead uses white faux brick ceramic tiles for its walls and combines it with light gray walls for the other areas of the bathroom.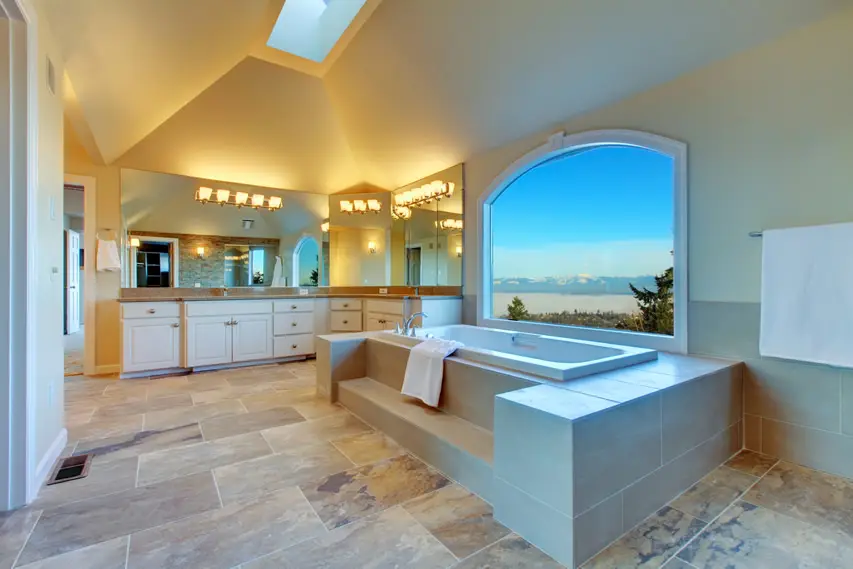 This master bathroom combines natural slate tile floors in cream for its floors with warm gray ceramic tiles for the walls and bathtub area. The walls and even the ceiling are painted in light Tan to give a warmer feel to the bathroom. For the cabinets, they are finished with white wood finish laminates and topped with a beautiful red quartz countertop.
Concrete Bathroom Floor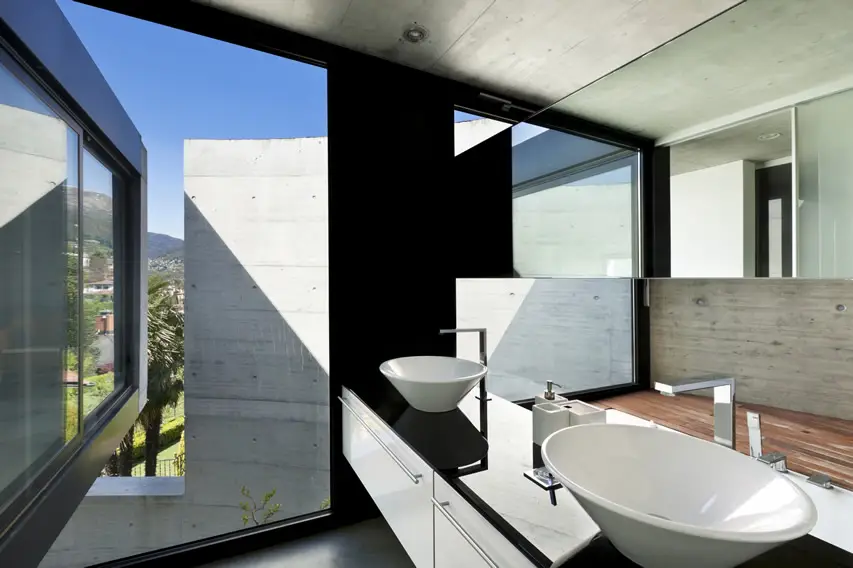 For this modern black and white bathroom, the main floor is finished with polished concrete with walls painted black. The vanity drawers are finished in piano-finish white paint, with plain black solid-surface polished countertop. The "floating" mirror is framed with stainless steel brackets, and the flooring for the other side of the bathroom uses weather-proof wood decking.
Concrete Bathroom Countertops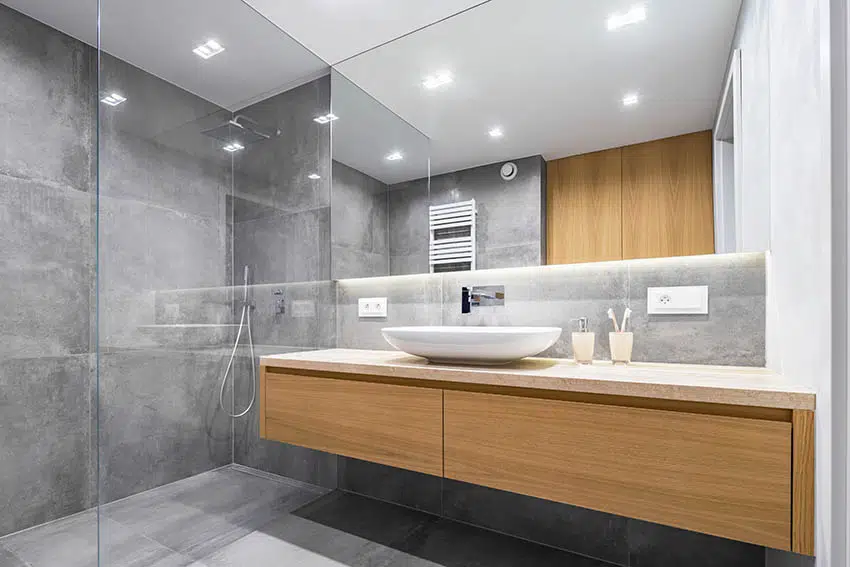 Concrete bathroom countertops can be a good idea – if you take the proper steps to make sure that they are installed properly.
The biggest risk you run is from the moisture in your bathroom. Concrete can quickly absorb moisture and stain if you don't take the time to properly seal it. Otherwise, you run the risk of getting water stains or even bacteria in the concrete.
Sealing your concrete countertop isn't a one time deal. You'll want to repeat this action yearly for the best results. Aside from this, though, you won't have any problems using concrete countertops in your bathroom.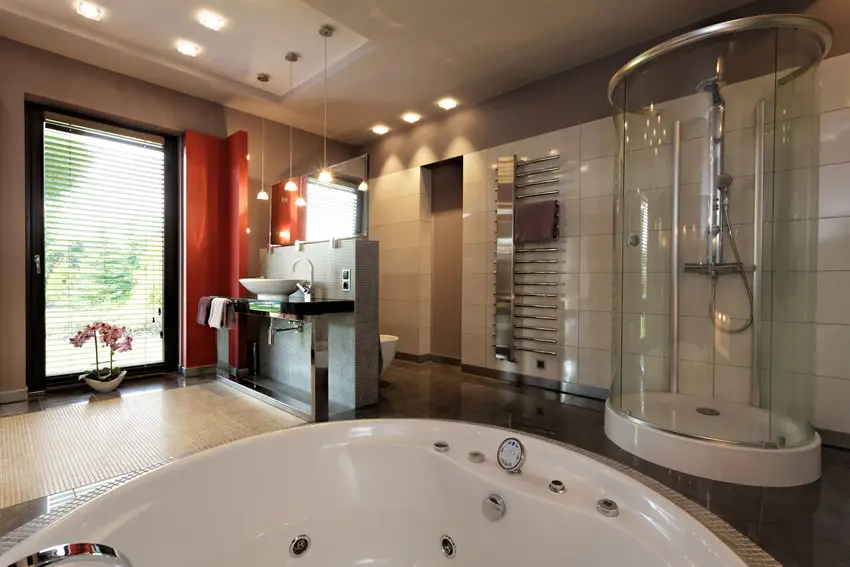 This contemporary bathroom design uses modern color combinations, layout and materials. To start with, the floors uses polished porcelain tiles in a gray concrete finish, combined with a section using off-white homogenous tiles with horizontal grooves to prevent slipping. Instead of conventional wooden baseboard, stainless steel was used instead as it is also more resilient to moisture and wear. The walls combines a warm mocha color with an accent of red. For areas exposed to moisture, gray stone mosaic tiles and off-white polished porcelain tiles were used.
White Tile for Bathrooms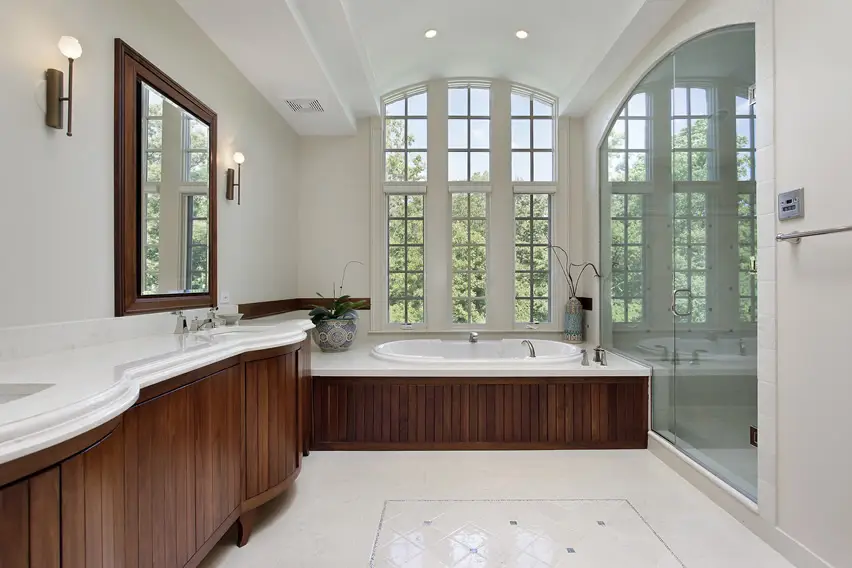 This bathroom keeps it simple using small-sized glossy ceramic tiles with blue accents for its floors and walls exposed to moisture. The walls are painted in an off-white tone and the ceiling is the usual flat white paint color. The vanity counter uses white marble countertop, and all the wood materials are in natural Teak wood. A large shower features wide arched glass panes and chrome finishes.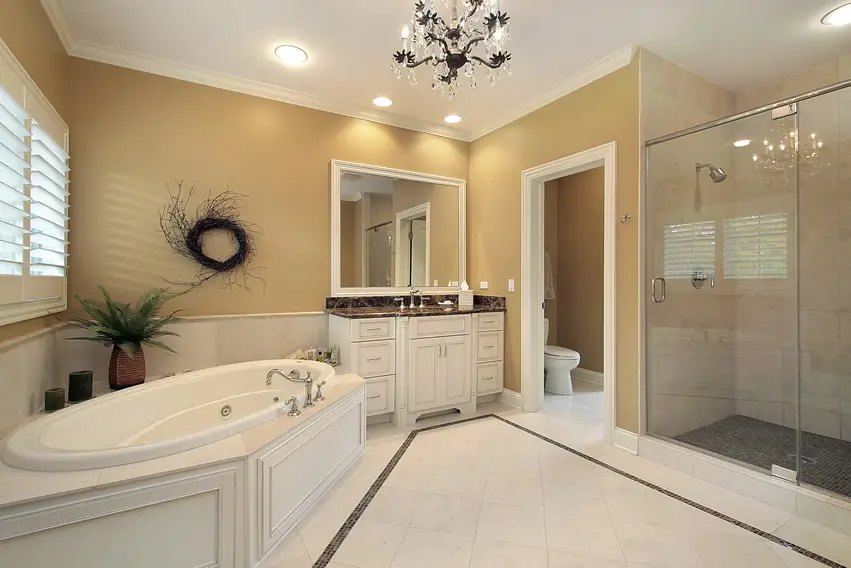 White ceramic tiles line the main flooring of this bathroom with dark gray stone mosaic tiles as accent. The shower area uses the same mosaic tiles for its main floor, but uses natural stone ceramic tiles for its walls in a cream color. Cabinets and all other wood elements are finished in white, the countertop a variant of brown-colored Granite and the walls painted in a shade similar to Sherwin Williams "Torchlight SW6374". An elegant crystal chandelier provides a luxurious ambiance for those soaking in the oversized bathtub.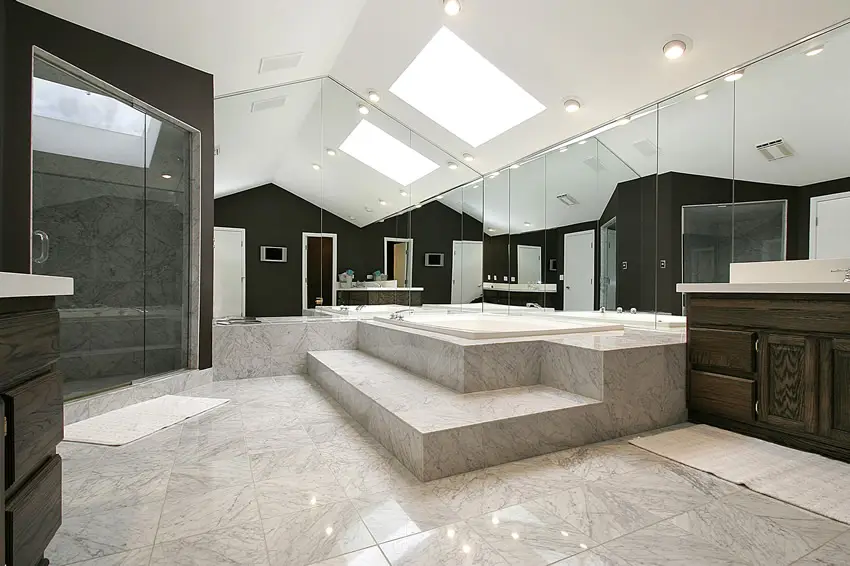 This modern bathroom design features a large space and a high ceiling with skylight. For the floors and the walls of the shower area, it uses 30×30 marble finish polished porcelain tiles. The cabinets are in Golden Oak wood finish with white solid-surface counters. Walls surrounding the elevated bathtub area have full-length mirrors which extends until the ceiling, further extending the look of the space, while the other walls are painted in black.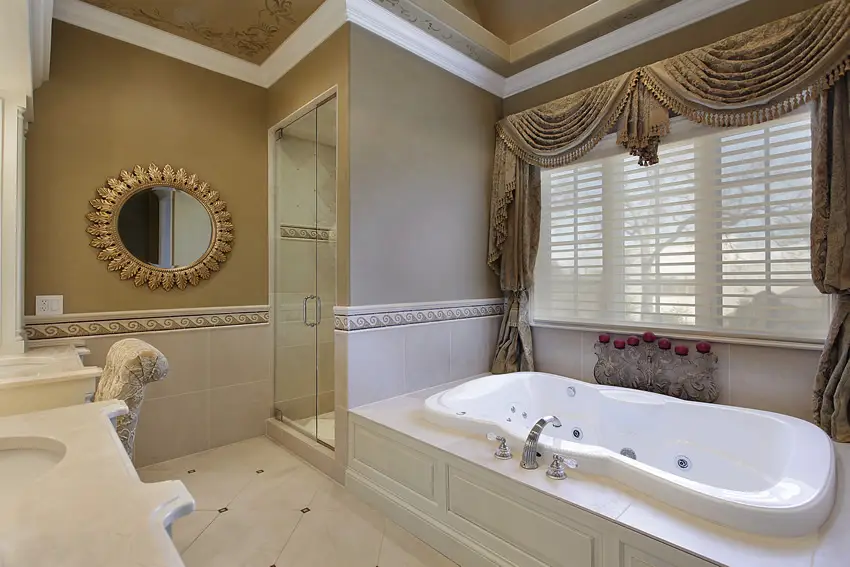 For the floors and the lower half of the walls, this bathroom uses cream colored ceramic tiles with ceramic tile borders in wave patterns. Wood elements in the bath are painted in white, with complementary white countertops and moldings, while the upper half of the walls are painted in "Sherwin Williams Butternut SW6389". The ceiling is painted in a similar shade as the walls, but has interesting flourish designs.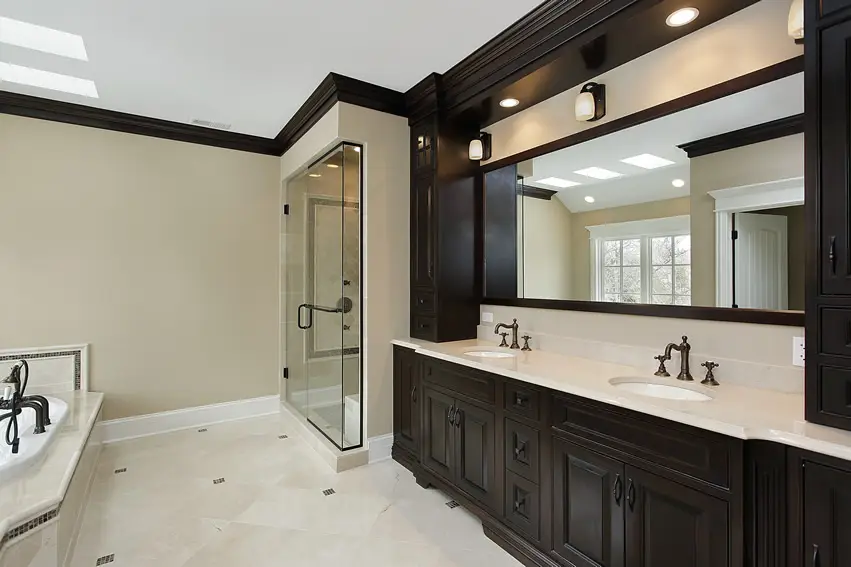 The floors of this bathroom uses white quality stone finish white ceramic tiles with accents of dark brown mosaic tiles. Countertop surfaces uses white marble and the cabinets are in a beautiful shade of wengue. The cornice uses the same wengue color as the cabinets, but the baseboard is painted in white, while the walls are in a bisque shade of paint.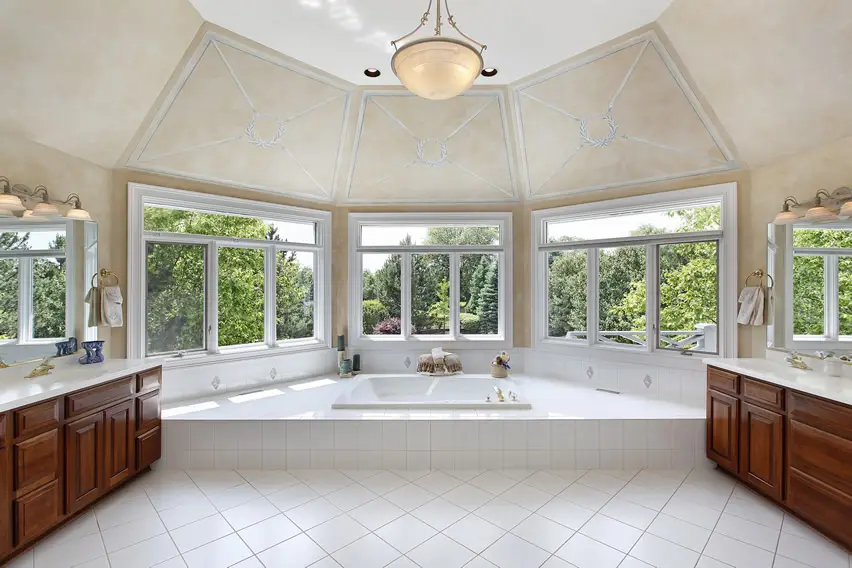 A very spacious bathroom which uses white 30×30 ceramic tiles in a diagonal layout. The same tiles is used for the elevated bathtub area, while the walls are painted in faux marble finish with a trompe l'oeil detailing at the ceiling area. For the teak wood vanity counters, white marble countertops were used. Visit our gallery of bathroom countertop ideas for more designs.