Welcome to our guide to cultured marble shower pros and cons including what it is, cost, most popular questions and how to clean.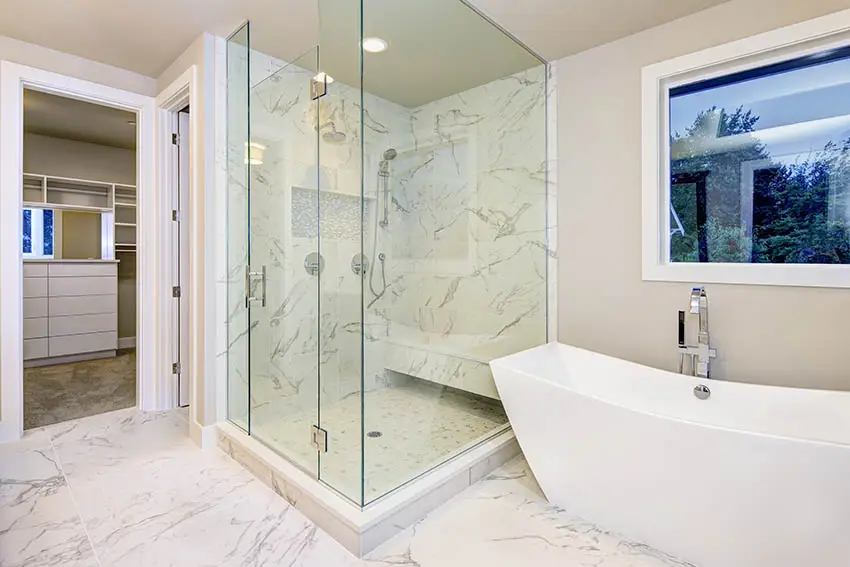 Thinking of installing a marble shower in your bathroom? If you like the elegant look and feel of marble but are worried about the cost of using a lot of marble in your bathroom, you should consider a cultured marble shower.
A cultured marble shower incorporates the look and feel of a real marble shower with certain advantageous properties that arise from the fact that cultured marble is a synthetic material.
In this post, we're going to take a closer look at cultured marble showers, their pros and cons, and why they might just be the perfect types of showers for your bathroom.
What is Cultured Marble?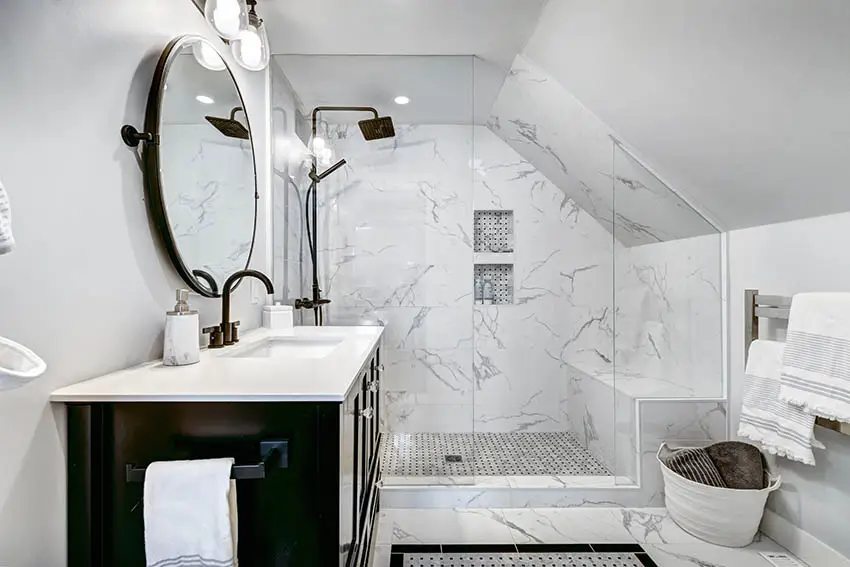 Before we get into the pros and cons of cultured marble showers, we should take a closer look at what we mean when we say "cultured marble".
Cultured marble is a type of engineered stone. Engineered stone is a composite material made from crushed natural stone mixed with an adhesive, usually a polymer resin or cement. So, cultured marble or engineered marble stone.
Engineered stone is a popular option for bathroom fixtures such as showers because they are durable and water-resistant. They are also scratch and heat-resistant. Plus, engineered stone is non-porous, unlike natural stone.
Since engineered stone is non-porous, it is easier to clean and more hygienic than natural stone. They don't absorb liquids, so they won't stain. There is also no place on the surface of engineered stone for bacteria, mold, and mildew to grow.
Cultured marble is engineered stone where the natural stone portion of the mixture is mostly marble. This gives the finished product the look and feel of real marble while giving you the benefits of engineered stone.
If you are looking to install a cultured marble shower in your bathroom, you should carefully weigh the cultured marble shower pros and cons.
Cultured Marble Shower Pros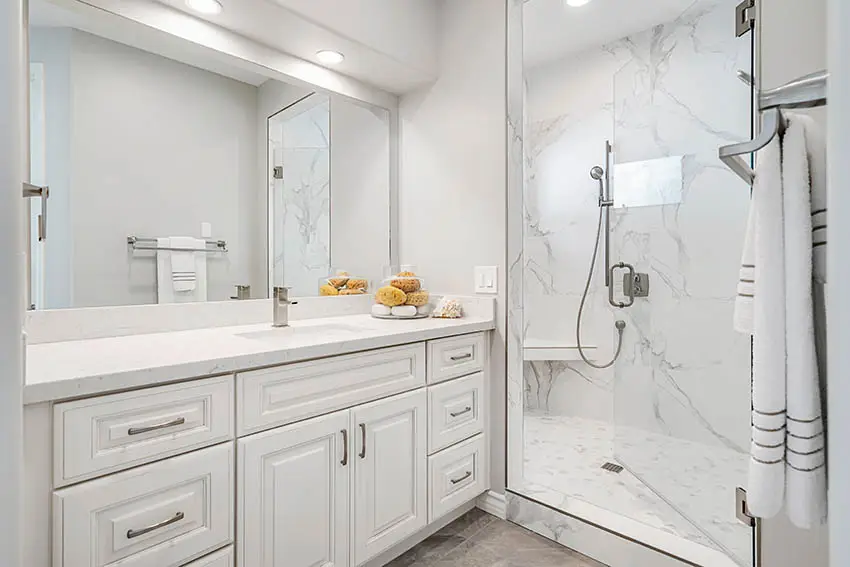 Looks Like Real Marble – One of the biggest cultured marble shower pros has got to be the fact that, while it can look as elegant and classy as real marble, it is more versatile and durable.
Most cultured marble is made to look like real marble but, depending on the manufacturer, they may add different color pigments to create some nice colors and shades that aren't necessarily found in natural marble.
Customizable – It's not only the color of cultured marble that is customizable, but also the shower sizes and shapes. Cultured marble is prepared in molds and you can specify the shape and size you want for the finished product.
It's much easier to customize the size, shape, and even look of a cultured marble shower than it is a marble or natural stone shower as the pieces are molded. To shape natural stone, you often have to cut or carve the stone, which is harder and more labor-intensive.
Easy to Install – As cultured marble is formed in molds and is lighter than pure marble, it is also easier to install. The lower installation cost of cultured marble will really bring down the cost of your shower.
Durable – Cultured marble is also more durable than natural stone, so there is less chance of chipping or damage. Cultured marble does not need to be sealed, unlike natural stone or real marble shower designs. As it is a non-porous surface, it won't absorb liquid and is stain resistant.
Easy to Clean – You can easily clean a cultured marble shower yourself. All you need to do is wipe down the surface of the cultured marble shower periodically. There is no need to buy a special cleanser for your cultured marble shower. You can use any non-abrasive household cleaner and a soft cloth to clean your shower's surface.
Meanwhile, If you think the surface is looking a little dull, you can also handle it yourself. Simply use a soft cloth and some automotive polish to buff and shine the surface yourself.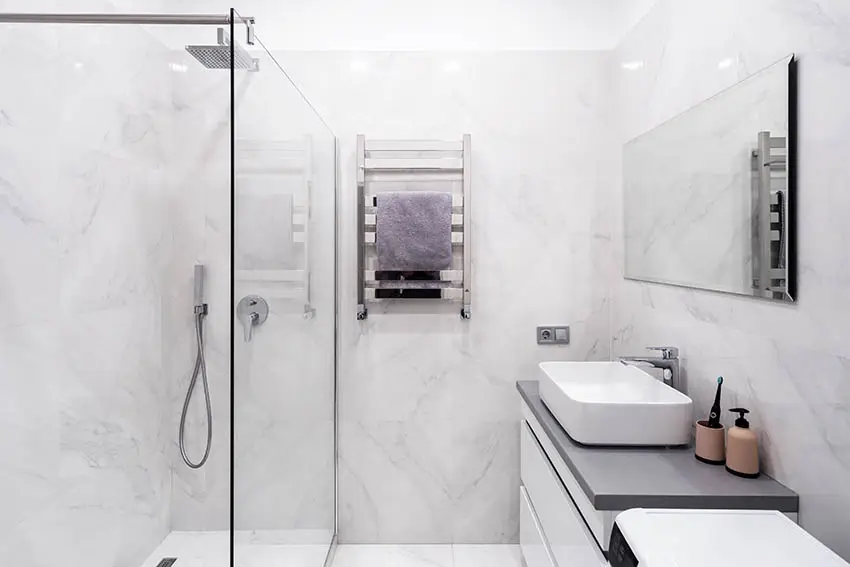 Cultured Marble Shower Cons
When deciding to install a cultured marble shower in your home, you need to consider all the cultured marble shower cons.
Not All Cultured Marble Is High Quality – First of all, if you install a cultured marble shower in your bathroom, you need to make sure that the material is of good quality. Cultured marble is a synthetic material, which means there might be quality and manufacturing issues depending on who and where you buy the material from.
Don't just buy cultured marble from the first provider your find. Ask to see samples of what they have available and check for any defects. You should shop around and look at what else is available with other providers in your area before making a final decision.
Most cultured marble products come with a warranty, so make sure that you check the conditions before making your decision. Reputable cultured marble manufacturers will offer warranties for their product, so that's one other way to make sure that the cultured marble your looking at is of good quality and will last you for a long time.
Needs to Be Polished – As we noted in the cultured marble shower pro's, you can polish a cultured marble shower to maintain its shine. While it is a relatively easy job, requiring no special equipment, some people might not have the time or inclination to regularly polish their shower and this can be a con.
Can Be Scratched – You also need to be careful about what cleaning products you use when cleaning your cultured marble shower. The material can be scratched if you use abrasive cleaners.
Weaker Finish than Some Other Materials – Cultured marble is relatively heat resistant, but its finish can be damaged by boiling water or placing hot objects directly on the surface of the material. Just be careful when handling heated material and you should be able to avoid damaging your cultured marble shower.
Cultured Marble Shower Cost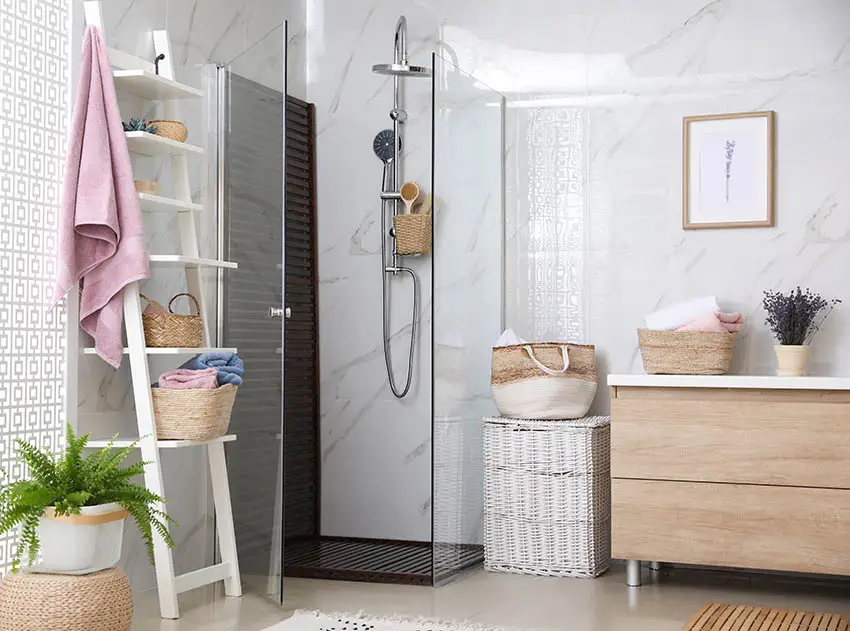 The cost of installing a cultured marble shower is much cheaper than installing a marble shower. The average price of installing a marble shower is around $40 per square foot. A cultured marble shower can be almost half that price.
Cultured marble costs about $10 to $35 per square foot. The final price will depend on the manufacturer and any customization you look for, including colors and shapes. For instance you can find cultured marble Corian showers that offer a wide range of customization.
When it comes to other types of solid surface or natural stone showers, cultured marble tends to be the most cost-effective option.
According to Home Advisor, for a 70-square foot shower, the average cost of installation will be as follows:
Cultured marble: $700-$2,450
Cultured granite: $ 2,950-$4,550
Quartz: $3,200-$7,000
Engineered quartz: $3,700-$7,200
Cost may be especially important if you want to install more than one of these types of showers in your home. Read more about the pros and cons of quartz showers here.
Typically one shower enclosure is needed in the master bedroom and the rooms of other family members or all the bathrooms in your home, including the guest bathroom.
It's actually quite possible to have more than one cultured marble shower in your home as, when compared to marble and other stone showers, as it's much more budget-friendly.
Is Cultured Marble Good for a Shower?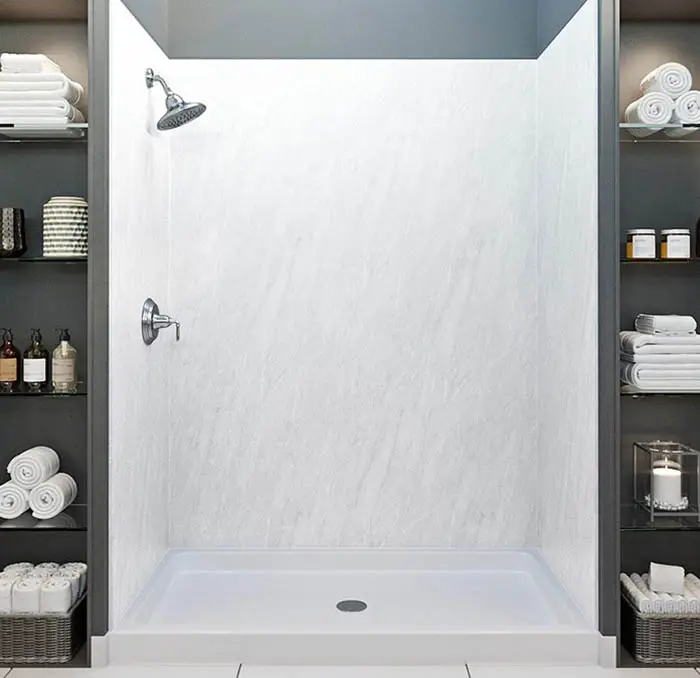 See these cultured marble shower walls at Amazon [sponsored link]
You might be wondering to yourself, is cultured marble good for a shower? The short answer is, yes. As we mentioned, cultured marble is non-porous which means that it will not absorb or retain water.
Cultured marble will dry quickly because of its non-porous nature. Any spills or excess liquid can easily be mopped up. It is also mold and mildew-resistant.
On a natural stone surface, the pores provide a damp environment where mold and mildew can grow. Since cultured marble doesn't have pores, mold and mildew have no place to grow.
Also, since cultured marble showers can be installed in one piece or several big pieces, you will get a shower with fewer seams and no grout lines, unlike with tiles.
Problems with Cultured Marble Showers
Be aware of the following problems with cultured marble showers:
Quality may vary. You can ensure you get the most of your cultured marble shower by purchasing the material from a reputable manufacturer. Most reputable manufacturers will provide a warranty for the cultured marble that they sell you.
Cultured marble doesn't need to be sealed, but you might have to polish it regularly to maintain its sheen.
Cultured marble is not scratch-proof. Abrasive cleansers can leave scratches on the surface of a cultured marble shower.
How to Clean a Cultured Marble Shower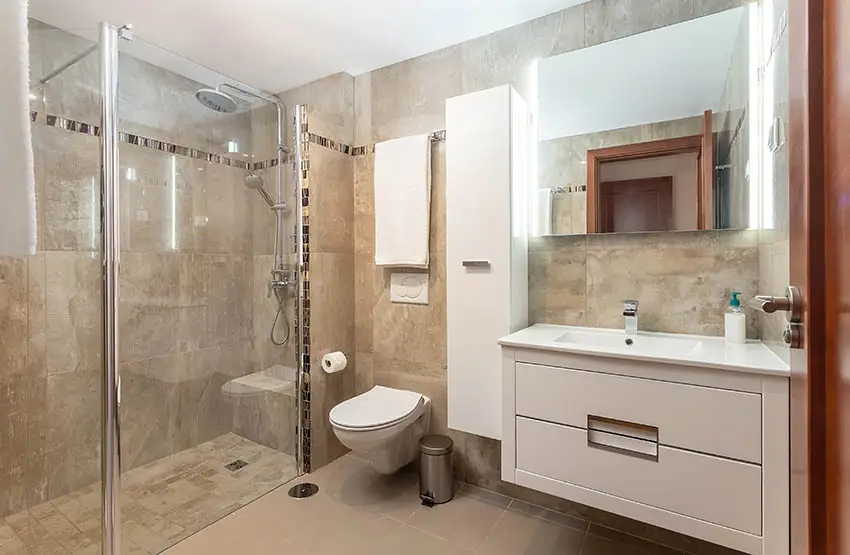 If you want to make the cost of installing a cultured marble worth it, you need to make sure that your cultured marble shower remains serviceable for many years. Luckily, a cultured marble shower is easy to maintain and clean.
While your cultured marble shower will dry quickly and you don't have to worry about stains or mold and mildew setting in, it will still benefit from regular cleaning.
The most basic daily cleaning routine that you should follow for a cultured marble shower is the following:
Take some warm water and mix in a little dishwashing soap. You can also use gentle laundry soap or window and glass cleaner.
Tip: Make sure to check the label before deciding to use a certain cleanser on your cultured marble shower. Almost any type of household cleaner will do, as long as it's non-abrasive. You should also avoid alkaline or acid-based cleansers.
Find a soft clean cloth. A microfiber towel is a good option for cleaning a cultured marble shower. Dip the clean cloth into your cleaning mixture.
Tip: Avoid cleansing or scrubbing pads as these could scratch the surface, damaging your shower.
Wipe down the surface of your shower. Let it dry.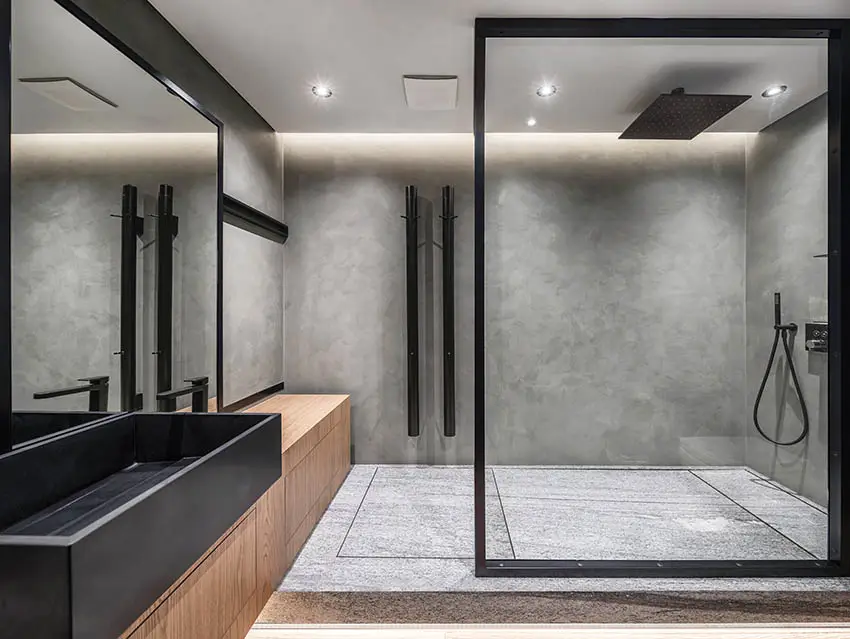 One problem that almost all showers, regardless of material, have is that soap scum might build up on their surfaces. To combat this, you will need to occasionally switch up your shower cleaning routine.
Instead of just a soft cloth and cleanser, you should occasionally clean your shower with a liquid solution that works to dissolve soap scum.
Mix a solution of 50 percent vinegar and 50 percent water and place it in a spray bottle.
Spray the mixture on the surfaces of your cultured marble shower.
Wipe the liquid solution off with a soft cloth and then rinse the area.
Take another clean soft cloth and buff the surface till dry.
If you live in an area where you have hard water, you might also have problems with water stains marring the surface of your cultured marble shower. Water stains on your shower are caused by mineral buildup.
To deal with water stains in your shower, you can use the same vinegar and water solution that you used for soap scum. Spray the solution over the water stains in your cultured marble shower. Let the solution sit for about 30 minutes.
After the 30 minutes have elapsed, that is the only time that you should wipe down the area. Take a clean soft cloth, dampen it, and then wipe the surface. You want to ensure that you dry and remove the liquid solution.
Once the solution has been removed, you should find that the water stain has been removed as well. If the stain remains, you might have to repeat this process a couple of times.
As we noted, you can and should also take the time to polish your cultured marble shower after cleaning. All you need to do is apply some car wax to the surface of your shower.
Depending on the type of car wax you use, you will have to leave the wax sitting on the service for a certain amount of time. The label should contain instructions regarding this.
When the time limit is up, take a clean damp cloth to the surface and remove the wax. Get a second clean cloth and use it to buff the surface. This should restore the original shine and gloss of your cultured marble shower.
Unlike cleaning, polishing shouldn't be something that you have to do too often. You can make it part of a routine, maybe once a week or once every two, or play it by ear. If you think your cultured marble shower's surface is looking dull, bring out the polish, otherwise, leave it alone.
For more related information visit our gallery of walk-in shower designs.