Here we share our glass tile shower ideas with the different types, designs, colors, materials, pros, cons, best mortar to use, and how to clean tile showers.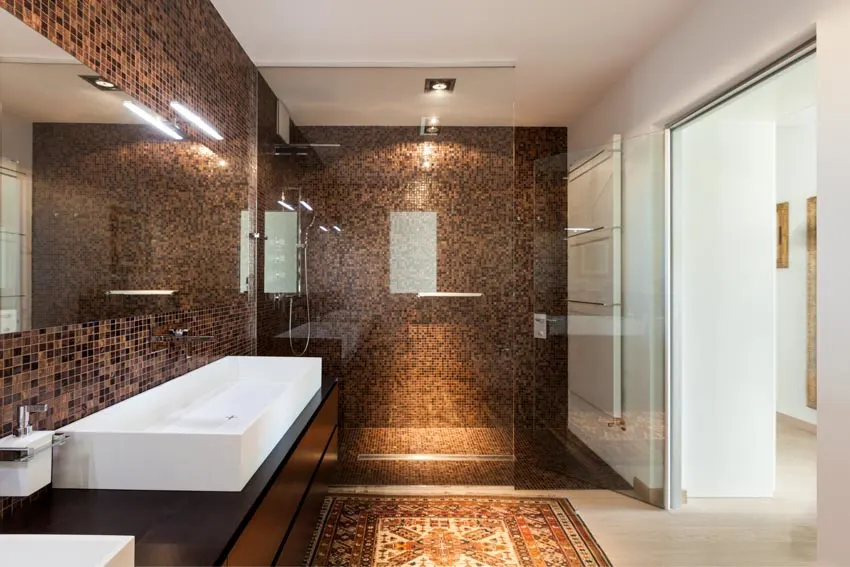 Sprucing up your shower can be an exciting project, especially since you can style the area in any way you want. One of the most stunning and luxurious materials you can choose are glass tiles.
Known for their elegant aesthetics, glass tiles are popular for homeowners because of this aspect. And its usage dates back hundreds of years ago when they were often installed in areas with high moisture levels like kitchens and bathrooms. This is the reason why this trend is still popular up to this day and homeowners love seeing glass tiles in their bathrooms.
Glass tiles are non-porous so moisture is not an issue you'd have to worry about if you choose this material for your shower area. They also feature an airy and sparkling look that makes a room clean and more spacious to look at.
With your shower, you want something that can make you feel comfortable and at the same time offer stylish surroundings. It is the private area where you can feel at ease and showering surrounded by glass tiles feels somehow exposed and empowering at the same time. This is what makes this material a good option for your shower upgrade.
If you've set your eyes on glass bathroom tiles and want to use them to upgrade the shower, you should consider the different types of glass tiles to help choose the best one for your home.
Types Of Glass Shower Tiles
With glass tiles, the most common and basic type is a clear, smooth, and non-color tile that screams elegance and cleanliness. This look is often seen in luxurious kitchens and bathrooms.
The major downside though is that everything you use behind the glass tiles for their installation is visible so it takes a professional to have them installed in your home.
While this clear transparent type is common, it is not the only glass tile offered in the market. Glass tiles differ in sizes, colors, and designs so make sure you take those factors into account once you choose a glass tile for your shower.
Modern Glass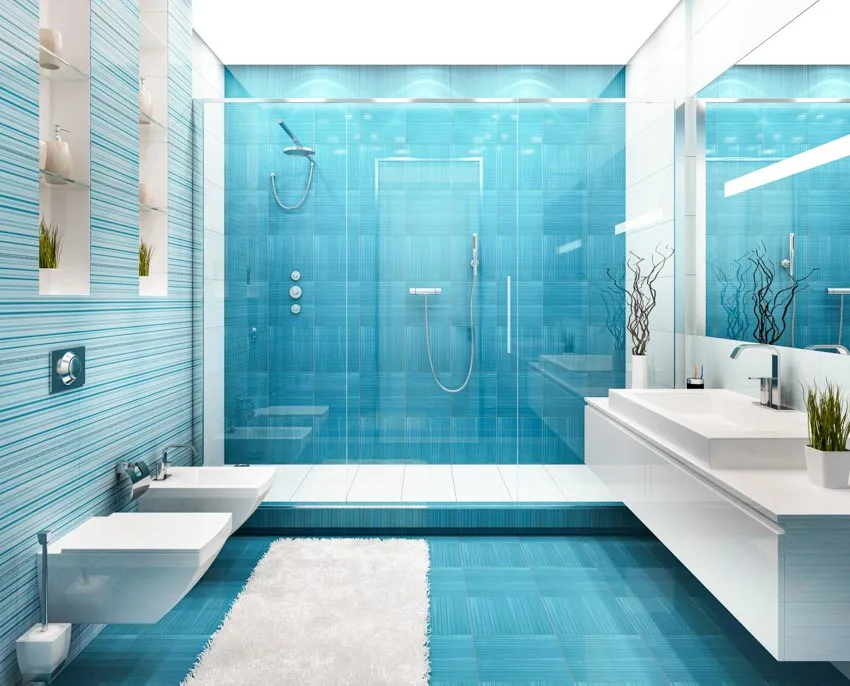 A modern glass tile shower features unique and elegant aesthetics that will highly differ from others based on the patterns and designs you choose.
Some of the tile patterns and styles to consider are the following:
• Bubbled, etched, or frosted clear glass tile: Features an icy and cool look that's made possible by using a laser glass cutter, acid solution, or sandblasting
• Recycled glass wall tile: Usually made from recycled glass bottles, this kind of modern glass tile is eco-friendly but stunning at the same time
Most commonly installed in swimming pools, kitchens, and bathrooms, these modern glass tiles when used in showers deliver the following advantages to make the most of.
Benefits of a Modern Tile Shower Design:
• Wide selection of patterns to choose from (Different technologies are used to create these patterns and designs)
• Mostly delivers elegance and unique aesthetics
• Highly versatile
• Clean and inviting ambiance/feel
Glass Subway Tile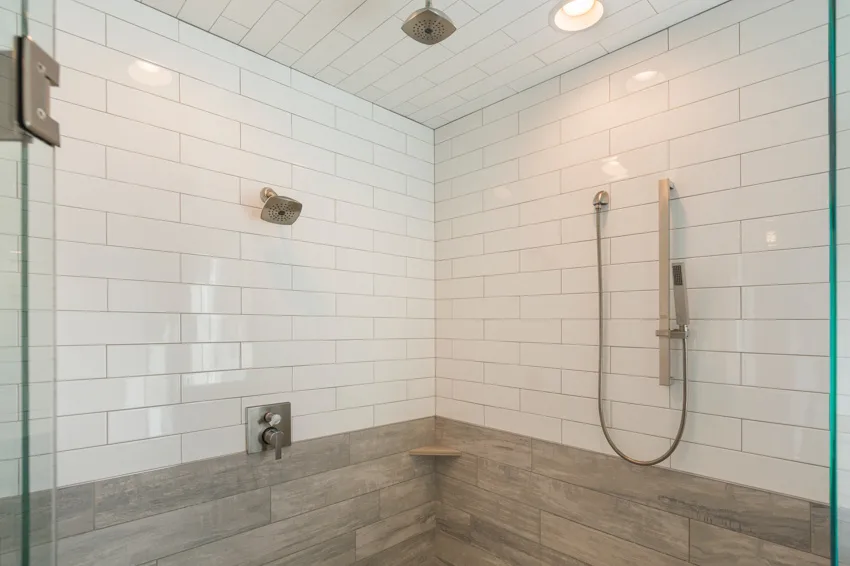 A glass subway tile shower can take you back to the original New York underground transportation system in an elegant way. These glass tiles are created by melting glass into large rectangular molds. These glass subway tiles are often used in bathrooms and shower areas, particularly on the first half of the walls.
Benefits of Glass Subway Tiles:
• Delivers historically accurate pattern
• Usually comes in large rectangular tiles
• Easier and faster to install compared to other types of glass tiles
Glass Mosaic Tile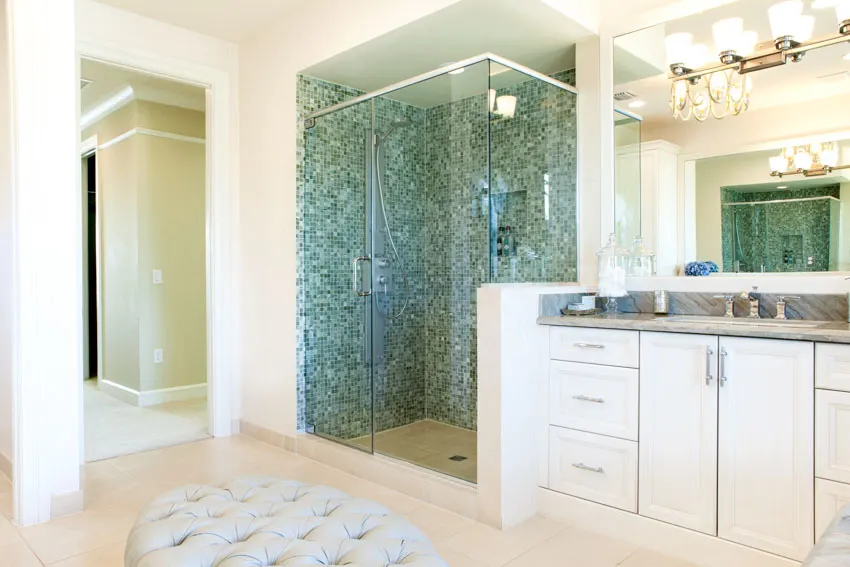 Besides the subway style, mosaic is another style that looks fantastic on glass tile types of shower walls. Mosaic glass tiles have small squares in different colors, based on the color palette that the specific tile is in. Some of the color schemes you can consider are the following:
• Light-colored mosaic glass tiles (Amethyst and aquamarine)
• Earth-toned mosaic glass tiles (Copper and warm amber)
• Cool-colored mosaic glass tiles (Blues and browns)
A glass mosaic tile shower features a very attractive design that can easily stand out so this is a great option for you if you're looking for that. Here are other advantages you can experience with this type of shower.
Benefits of Glass Mosaic Showers:
• Features a quirky aesthetic with sparking gems
• Comes in a variety of color schemes
• Usually comes in a sheet form
• Delivers like an artistic masterpiece on a canvas.
Tile With Glass Door
A tile shower with a glass door can be a good thing if your shower is small and crowded. The addition of a glass door can make the shower look more spacious so it is a great option for small shower areas. If your shower walls are made from glass, choosing a glass door will complete the entire ensemble.
Benefits of Tile Showers with Glass Doors:
• A glass door adds elegance to a tiled shower
• Makes the shower appear bigger and more spacious than it really is
• Glass doors can be framed or frameless
The downside with a glass door though is that installation takes a bit more meticulous approach. You need to know the exact shower sizes to make this door work in your bathroom.
Tile Accent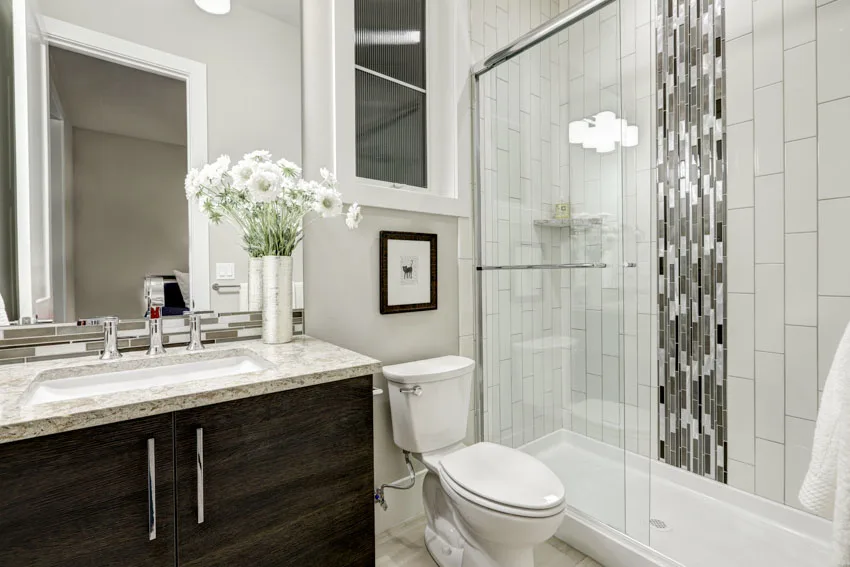 A glass tile shower accent can be a good addition to your bathroom and dedicate a specific portion in the area to stand out. Since glass tiles themselves are naturally elegant and stunning to look at, using them as materials for accent is an easy choice.
Benefits of Glass Tile Accent Walls:
• Makes an excellent material for bathroom accent walls
• Customization of accent walls since the tiles are offered in various sizes and colors
• Resistant to moisture to no issues about damages from water exposure
Tile Designs & Finishes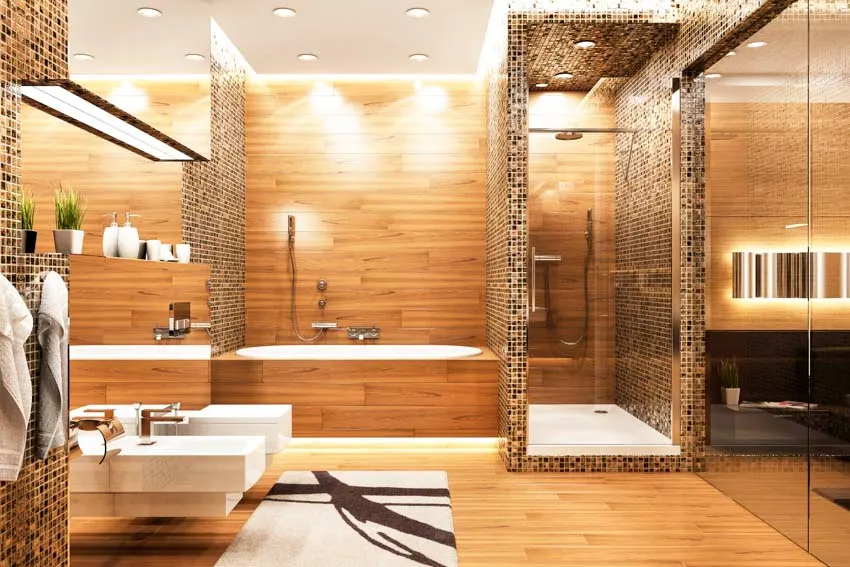 Glass tiles are offered in many designs and not just the classic non-clear transparent ones. The tiles showcase different colors, patterns, and a wide assortment of textures you can consider.
Yes, glass tiles do not just come with smooth surfaces. You have the option of choosing a glossy or matte finish. But these are not the only options you have since they also come in different patterns.
With many glass tile shower designs to choose from, though, which one is the best option for your shower? This will be up to you since you will need to take into account factors like your budget, allotted space for your shower, and the style you want your shower to have.
Tile Colors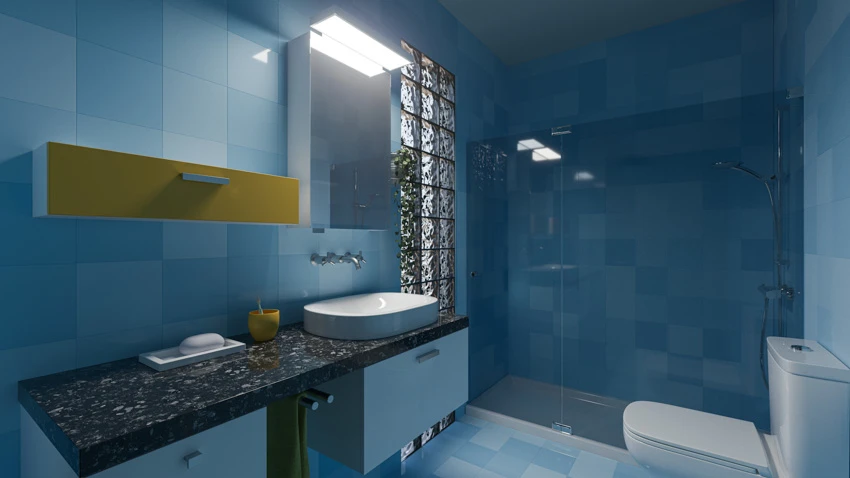 Glass tiles come in a variety of color options and the best thing about the material is that they easily reflect light and play with light and colors in a way that other materials can't. The colors that reflect and glow from the glass tiles make them aesthetically pleasing to look at.
More than just the classic transparent non-color glass tile, you can also choose other colors. And from there, you can choose one specific color to an entire color palette and scheme, especially if there's a pattern on the glass tiles.
White Glass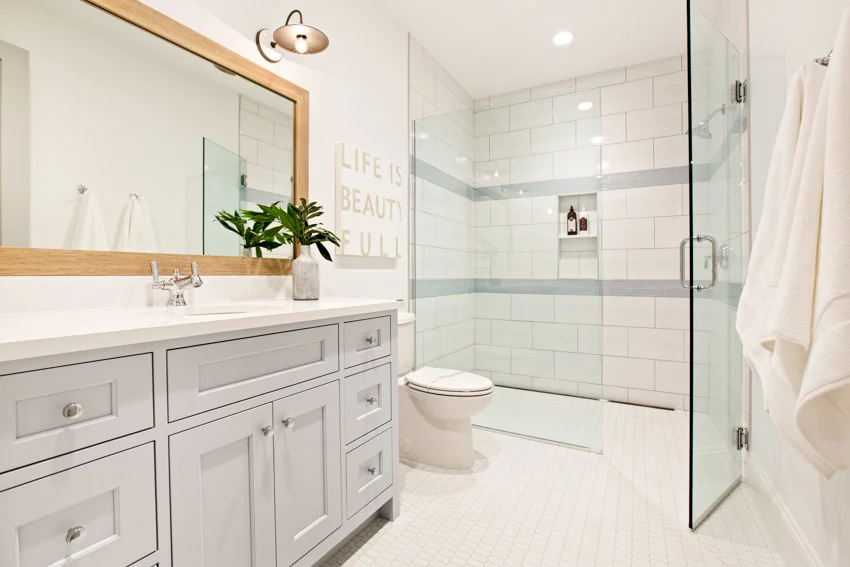 White is a classic and safe color to choose even with glass tiles. Some of the white glass tiles you can choose from are frosty glass tiles, making the shower look cool and icy. You can also have the option of choosing a mother-of-pearl sheen for the texture of the glass tiles, turning them white.
Blue Glass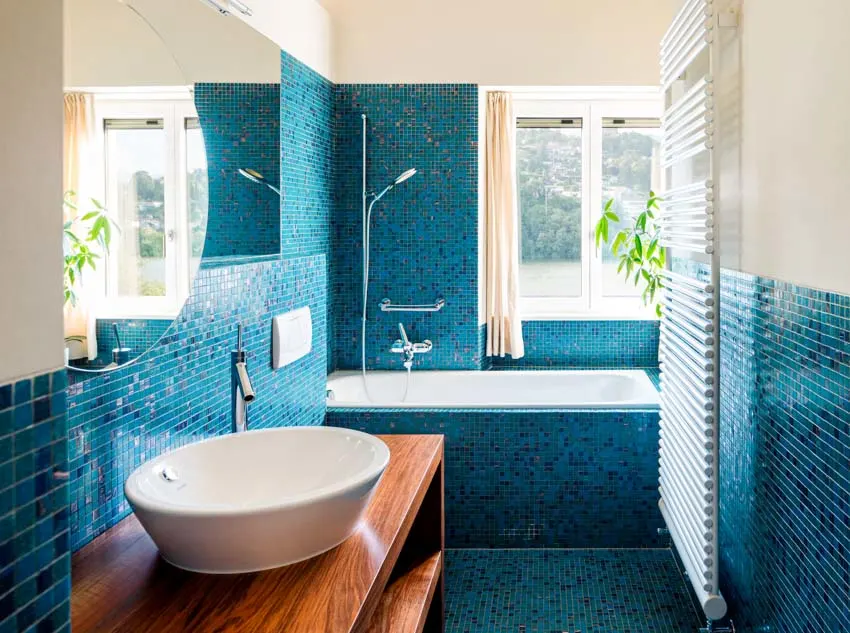 Blue is a naturally cool shade that many bathrooms and showers carry. It adds a refreshing look to the area and can make you feel calmer and more comfortable, which is what a shower should do in the first place.
You have the option of choosing solid blue glass tiles that will somehow cover and hide the inside of the shower area or you can choose transparent blue glass tiles for a bit of a reflection and view.
Green Glass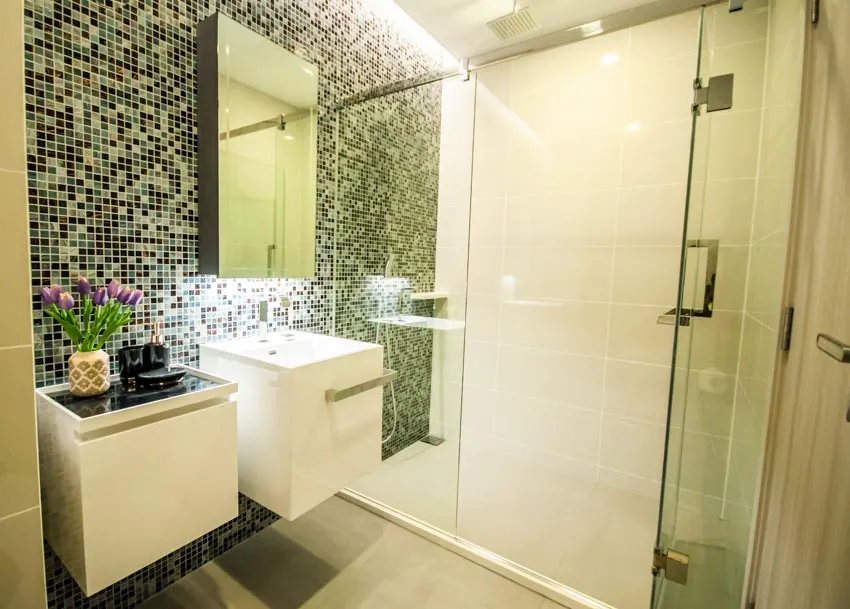 If you're into nature and neutral colors, green is an excellent choice to consider. With a green glass tile shower, you'll feel closer to nature. You can go for a muted version of this color like sage or choose transparent green glass tiles for your shower walls.
Adding greens inside the bathroom will add to the ambiance and vibe of nature you have going for this color of shower.
Black Glass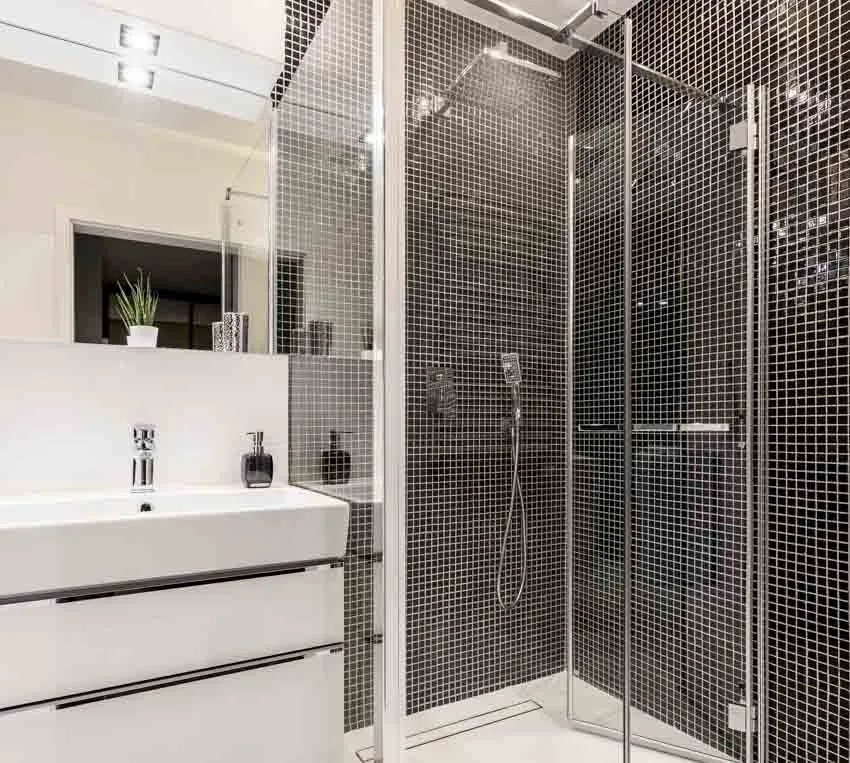 Black is a loud and dramatic color and applying that to elegant glass tiles will seem like a cherry on top. The color also adds luxury to the already sophisticated glass tile shower so if you want to feel like you're inside a shower of a 5-star hotel, this can be a great choice for you.
A black glass tile shower can add value to your home, with homeowners wanting to experience that luxurious feel of being in the said shower.
Glass Materials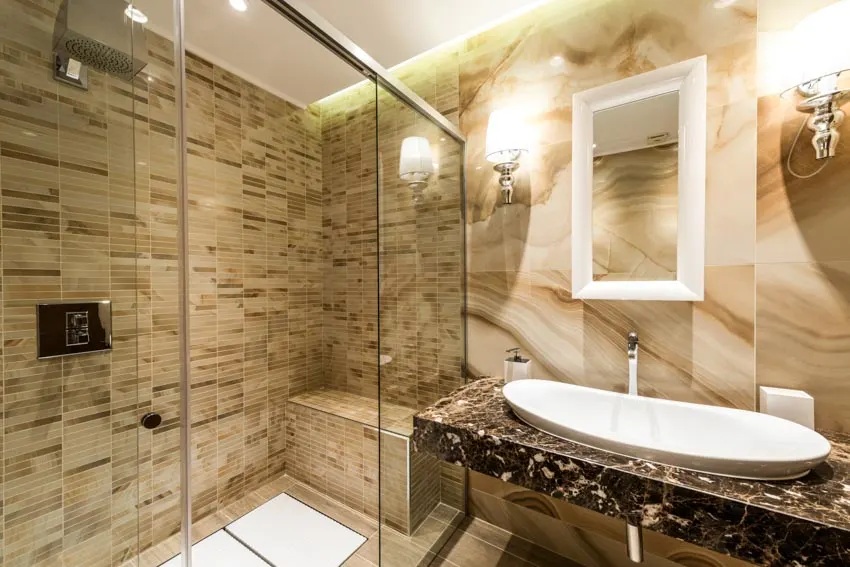 Besides designs and colors, different materials can be used as glass shower tiles. They also come in different sizes so you may want to take that into account as you choose the glass tiles you can use for your shower.
Glass tiles also come in a variety of shapes, including the following:
• Traditional Squared Glass Tiles (With Decorative Edge Pieces)
• Vintage Round Tiles
• Quirky Octagonal Mosaic Tiles
• Long And Slender Glass Tiles
The most popular and common glass tiles come in square shapes, measuring 4 x 4 inches. And the long and slender glass tiles are popularly installed in luxurious hotels and spas. See our gallery of tile shapes for more ideas.
Sea Glass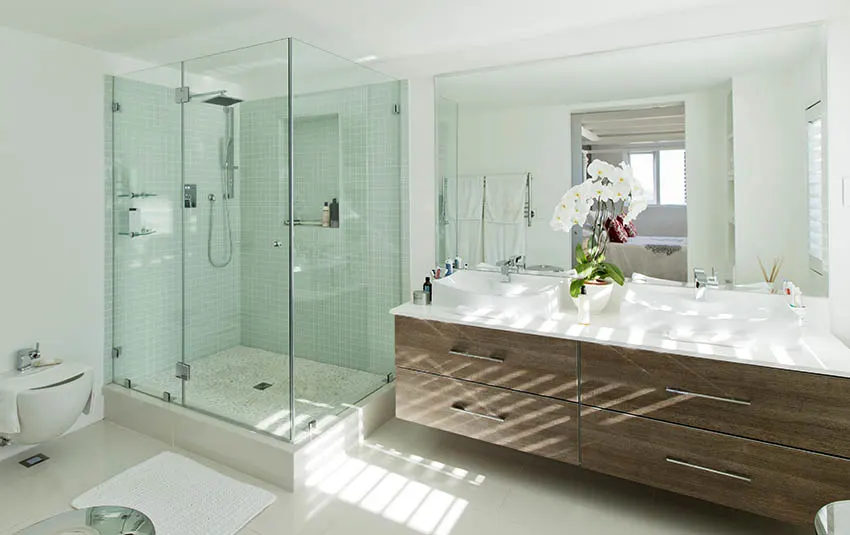 Sea glass is a small glass that is usually found on beaches of seas and banks of large rivers. The material is formed and its aesthetics is the result of its constant tumbling in the waves for a long time. Sea glass can either be natural or artificial, depending on how the material was formed.
Natural sea glass or genuine sea glass comes from discarded glasses like tableware and bottles. They are thrown, smacked, and weathered by salt, sand, and other elements, getting rid of the sharp edges in the glass.
Artificial sea glass is created inside a factory or workshop and is cut up from glass sheets (recycled glass bottles) and placed on a rock tumbler or acid bath to smooth the edges. The glass is available in many colors.
Sea glass shower tiles, whether natural or manufactured, have stunning aesthetics. Some other advantages you can benefit from using sea glass tiles for your shower include the following:
Benefits of Sea Glass Tile:
• An interesting source of the material
• Offered in both natural and artificial versions
• Comes in a variety of colors
• Out-of-this-world appearance and aesthetics
Large Glass
Large glass tiles are created by melting glass and pouring them into molds, with their respective patterns, shapes, and dimensions. Most of the quirkiest patterns come in large sheets like that of subway glass tiles. See more pictures of showers with large format tiles here.

Here are some advantages you are sure to enjoy with a large format glass tile shower.
Benefits of Large Format Glass Tiles:
• Faster to install since the tiles are large
• Can accommodate different patterns and designs
• May be available in different colors, along with designs
• Delivers an uncluttered look perfect for minimalists
Glass Blocks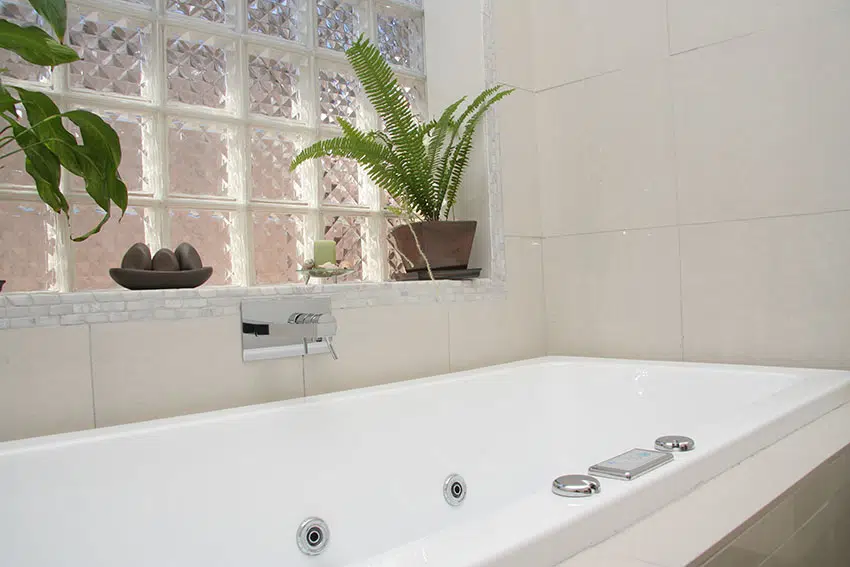 Glass blocks or glass bricks are other materials used as tiles and can be installed for the shower area. These blocks, in contrast with the large sheets, are small in size and can come in bricks and mini squares. The basic glass tiles come in 4 x 4 inches in square shape but glass blocks are smaller so might take much meticulous installation.
With a glass block tile shower, putting the mini squares in frames will look wonderful in your bathroom. These tiles can come in different varieties, including styles and patterns like the smokey or frosted look.
Benefits of Glass Blocks:
• Unique, stunning, and, quirky aesthetics
• Easier and faster replacements and repairs
• Come in different textures, colors, and designs
Pros And Cons of Tiles Made of Glass for the Shower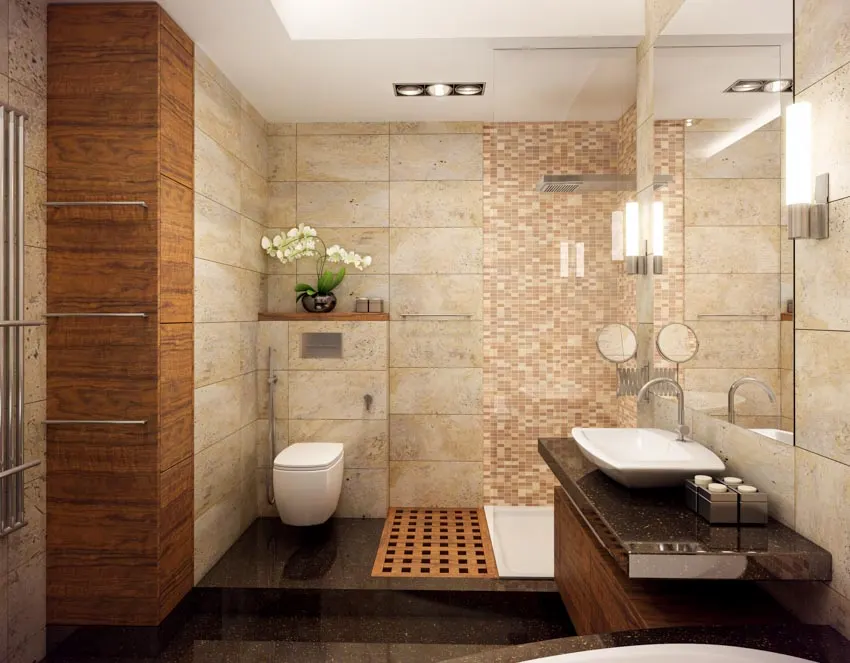 When deciding whether glass tiles will be ideal for your shower or not, weighing the pros and cons is the best move to take.
Pros Of Using Glass Shower Tiles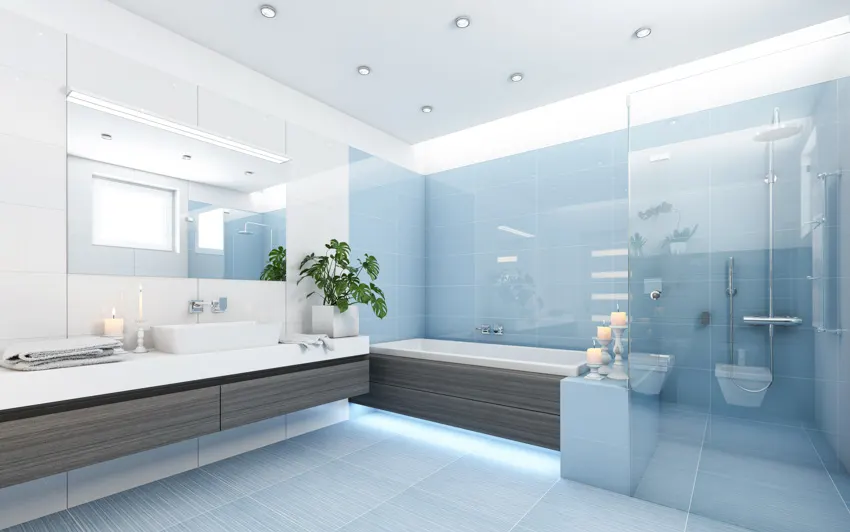 Glass tiles for showers are popular for a reason and here are some of the noteworthy advantages you can pinpoint.
• Aesthetically and visually appealing: Glass tiles have elegant aesthetics and can be a wonderful addition to your bathroom, whatever style and ambiance you want to integrate into the shower area. And with different colors, forms, and textures, your creativity is limited in how you want to style your shower.
• Surprisingly durable: While glass seems fragile, it's a durable material as a tile and can last for a long time when properly cared for. By nature, glass tiles don't easily break under pressure.
• Makes the shower area look bigger and more spacious: Since glass tiles easily reflect light, the right positioning can make the space look bigger the same effect that a mirror has.
• Low maintenance: Glass tiles can easily be cleaned and so you won't need to spend too much on your glass tile shower maintenance.
• Resistant to staining and moisture: Since glass is nonporous, the tiles are resistant to moisture and staining, taking out the challenges you may encounter with other materials.
Cons Of Using Glass Shower Tiles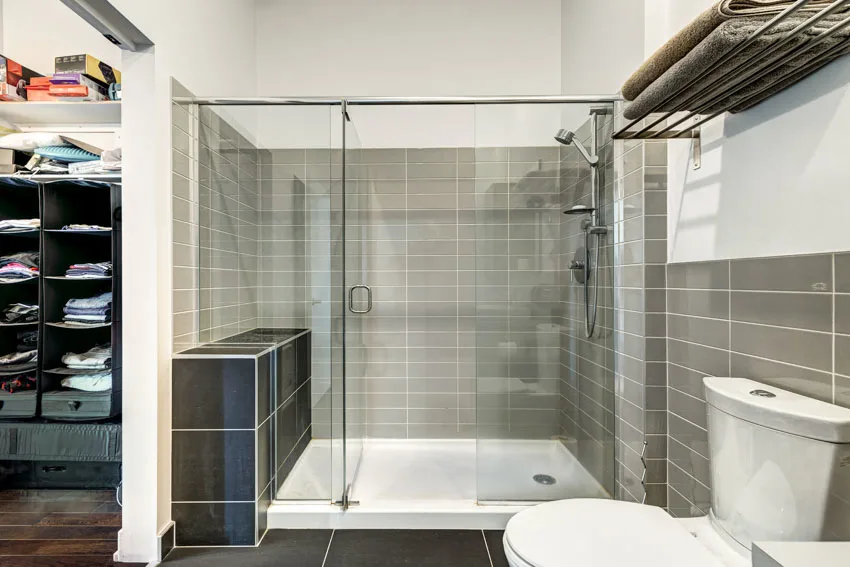 Looking at the other side of the coin, glass shower tiles also have some disadvantages you need to know about, including the following:
• Slippery surface: Since glass is non-porous, it tends to be slippery once wet so be cautious when it is.
• Difficult to install: Installation of glass shower tiles requires meticulous touch especially since some of these tiles can break when handled wrongly.
• Easily scratched: While durable in their own right, glass tiles can easily be scratched, which is the material's major problem.
• Relatively expensive: Glass tiles are significantly more expensive when compared to other materials like ceramic tiles.
• Can't hide imperfections: Since the surface of glass tiles is reflective, you can easily see scratches, bumps, and other imperfections on them.
Tile In Shower Problems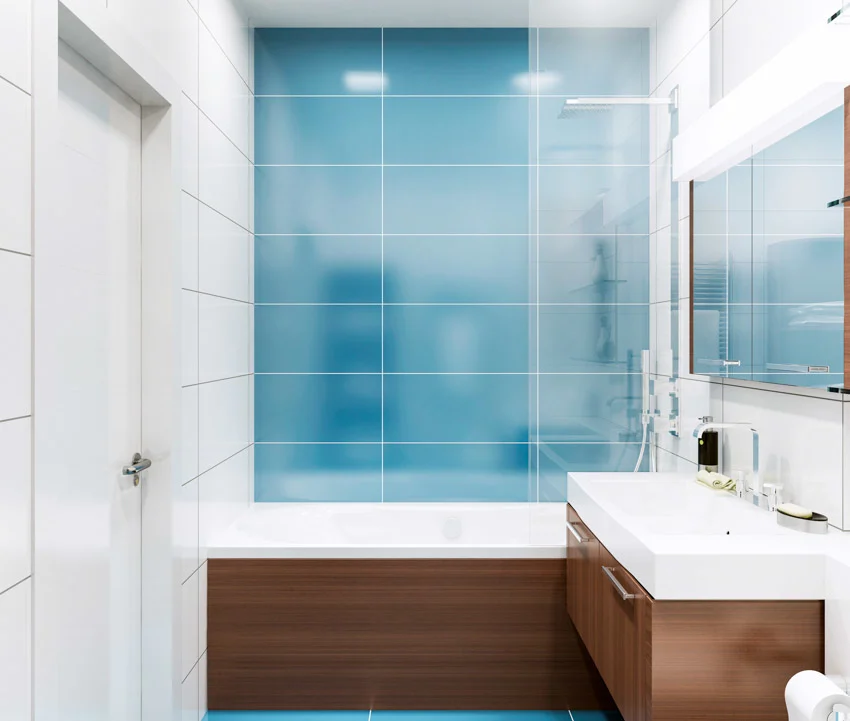 Choosing glass tiles for your shower means that there are probable challenges you might encounter along the way, including the following:
• Tendency to crack with intense pressure
• Can be slippery once it gets wet
• Meticulous installation is required and may need a professional for it
• May be over your budget
• Easily scratches which are difficult to hide with glass tiles
Best Mortar For Glass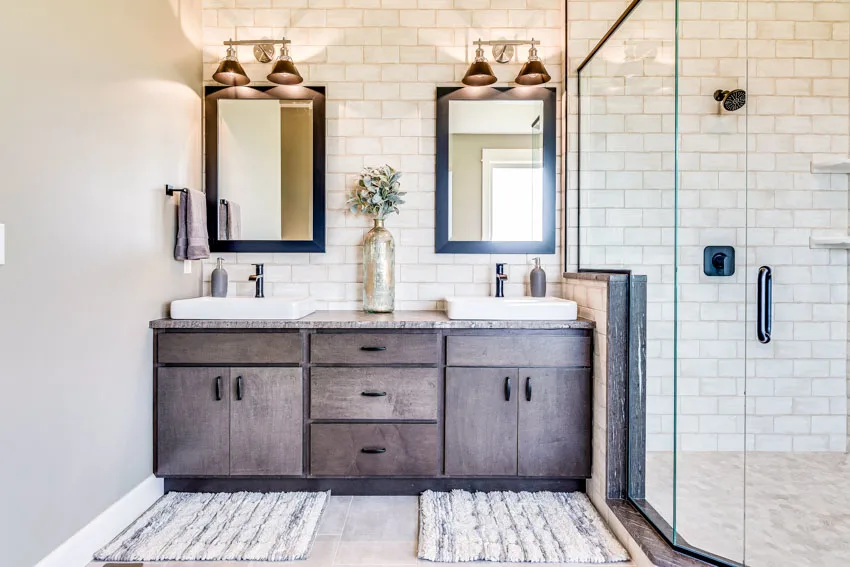 There are many mortar options you can use for the glass tiles in your shower and it's only in your prerogative to choose the one you want to use. One of the best options though if you need a recommendation, is the white premium grade that has non-sag properties and modified thin-set. It can easily be used for mosaics.
Here are the popular types of mortar used for glass tile:
White thin-set mortar
Polymer modified thin set
Glass tile thin set mortar
Can I Use Glass On a Shower Floor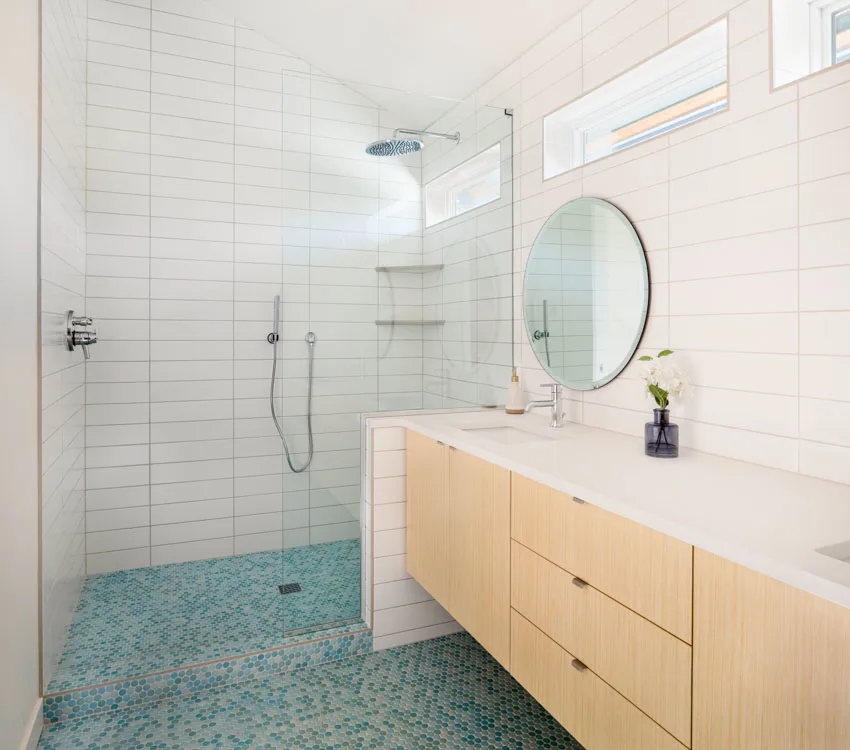 Yes, you can use glass tile on the shower floor provided that the tiles you use are textured and not polished. While glass tiles may be durable enough to accommodate your weight, the issue lies in the tendency of glass types of floor tiles to be slippery once they are wet. This is where a textured surface comes into place as a safety precaution.
Cleaning Tiles Made From Glass In the Shower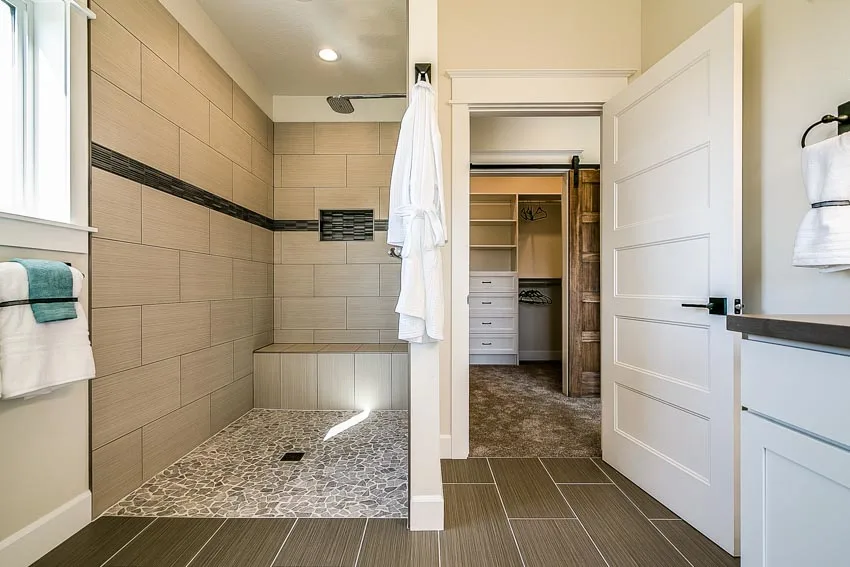 Cleaning your shower's glass tiles is pretty easy and maintenance is relatively low. A simple soap, water, and vinegar solution are enough to clean the build-up dirt and residue on the glass tiles. Here are simple steps to follow in cleaning your glass tiles.
1. Make the soap, vinegar, and water solution in equal parts
2. Spray the solution on the glass tiles for at least 10 minutes
3. Scrub the tiles using a microfiber cloth or a soft brush
4. Thoroughly rinse with clean water
5. Wipe with a dry cloth or towel
See more related content in our article about granite shower walls on this page.