Here's our guide to the various types of bathroom window blinds including vinyl, PVC, faux wood, wooden wood, and aluminum.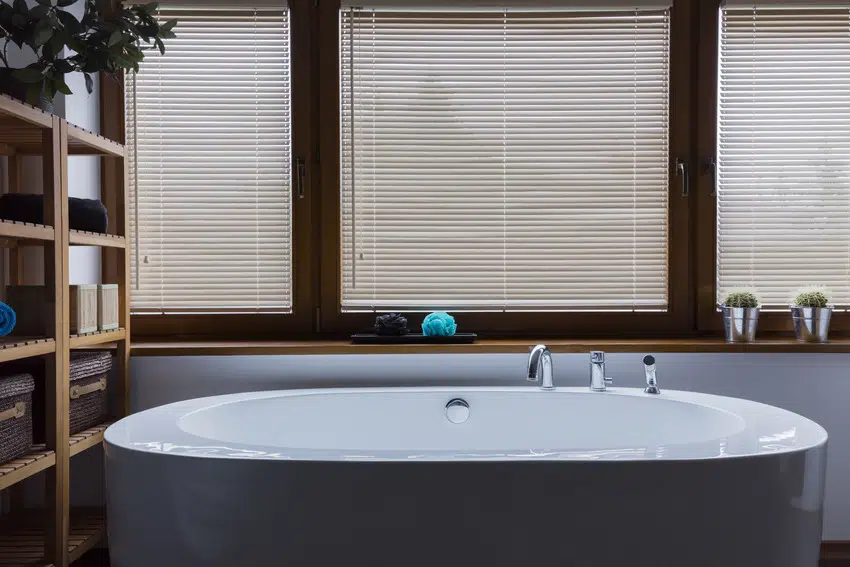 Choosing the right bathroom window blinds is more challenging than other window treatments. Homeowners not only must look at the blinds' aesthetics but must also consider the bathroom's temperature, lighting, privacy requirements, and humidity.
If one buys the wrong bathroom window blind, there is a risk of mold and mildew growth that can undermine the health of every household member. It can also be uncomfortable to use the bathroom with the incorrect blinds.
Types of Bathroom Blinds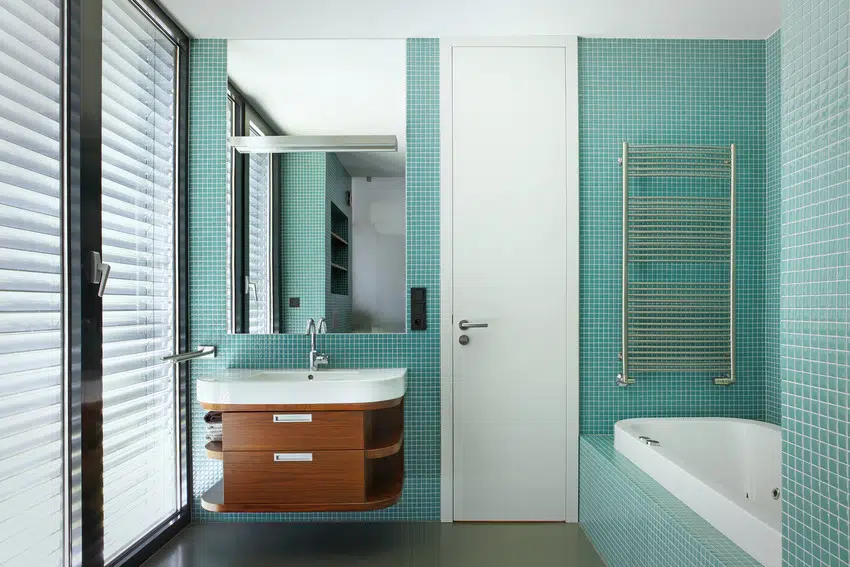 Bathroom window blinds come in different materials, styles, and shapes, providing privacy, lighting, and moisture resistance in varying degrees. Potential buyers must learn the common bathroom window blind types to make choosing the best product for their homes easier.
PVC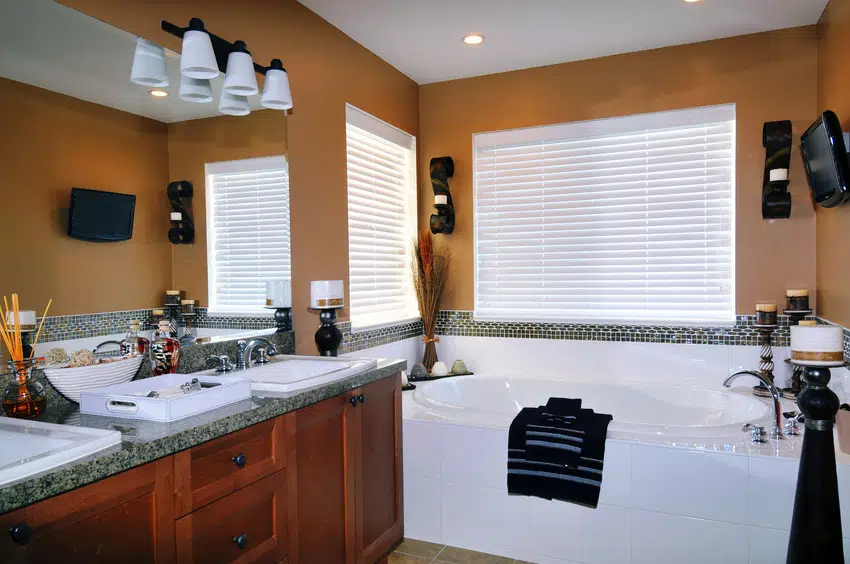 Blinds and shades featuring polyvinyl chloride are suitable for bathrooms where the shower is adjacent or near the window. PVC blinds have exceptional waterproofing while resisting oils, chemicals, salts, mildew, dirt, and UV rays. The special coating also gives PVC blinds additional durability and strength.
PVC bathroom window blinds are easy to clean and sanitize, giving homeowners excellent control of microbial growth. These window blinds also give the bathroom a minimalist and clean look while providing sufficient light and privacy controls.
Vinyl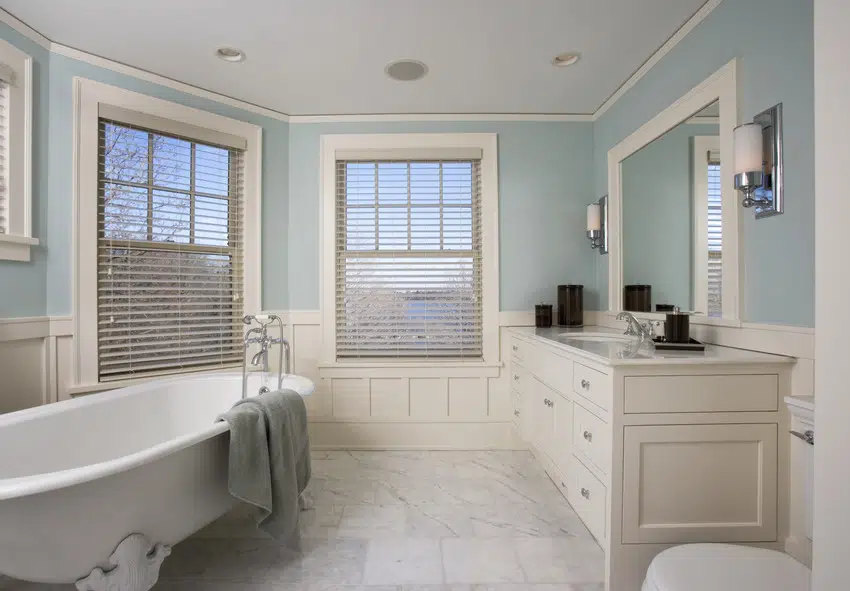 Vinyl bathroom window blinds encompass a wide range of products, including PVC. This window treatment option is ideal for homes with showers and bathtubs next to windows.
Vinyl materials have excellent waterproofing and UV resistance to give homeowners better control of mold and mildew growth. Read more about our article on the pros and cons of vinyl flooring in bathroom here.
Bathroom window blinds made of vinyl are also effortless to sanitize if one wants to be sure about germ-free showers. Depending on the type of vinyl bathroom window blind, homeowners can also ensure their privacy while bathing.
Faux Wood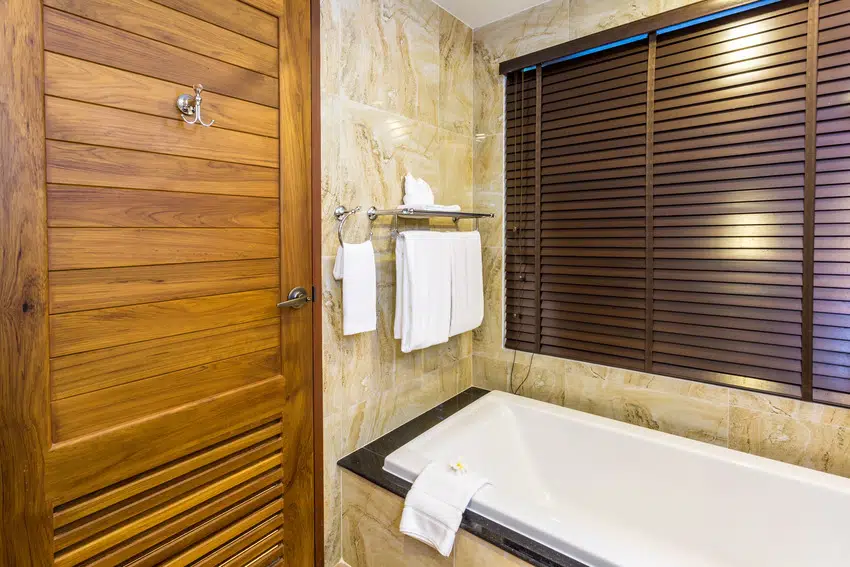 A favorite of many interior decorators and contractors, faux wood bathroom window blinds offer exceptional elegance and moisture resistance. These window treatments have the attractiveness of natural wood without the tendency to crack or warp.
Faux wood also has excellent mold and mildew resistance, safeguarding the health of everyone in the home. Cleaning and maintenance are also as effortless as one can imagine.
The bathroom window blind can also be a fascinating backdrop for decorative cloth tapes and custom draperies.
Woven Wood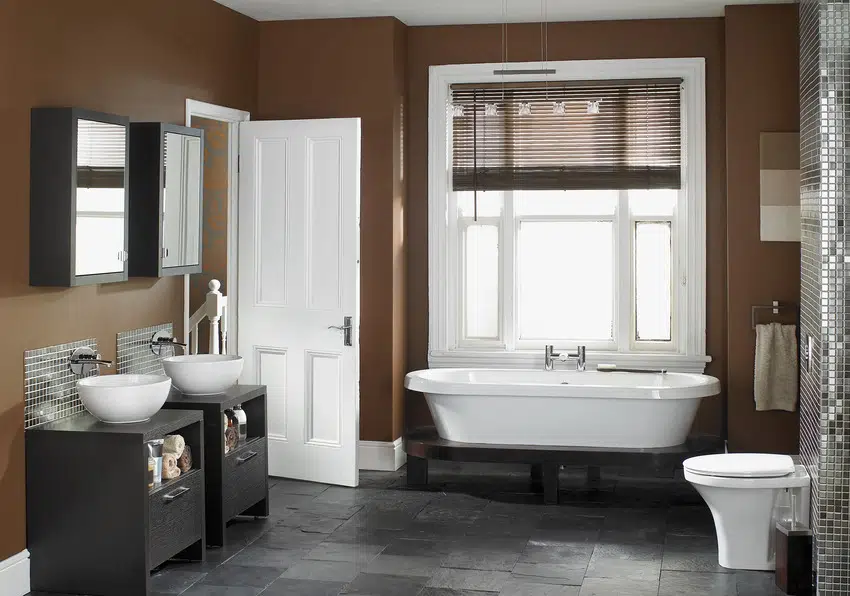 Homeowners who have exhaust fans in their bathrooms can consider woven wood bathroom window blinds. This material is a popular option among families who want a more rustic appearance in their shower rooms. Read more about our article on the various types of glass shower doors here.
The unique wood grains, colors, and patterns can lend the bathroom windows a textural element that is aesthetically pleasing.
One must understand that moisture does not sit well with natural wood. That is why homeowners must turn on their exhaust fans after every bath to help keep the woven wood shades or blinds dry.
Another thing worth considering is the degree of privacy woven wood provides. There are gaps in between wood planks that can show, especially at night. Having a privacy liner on the bathroom window should help.
Aluminum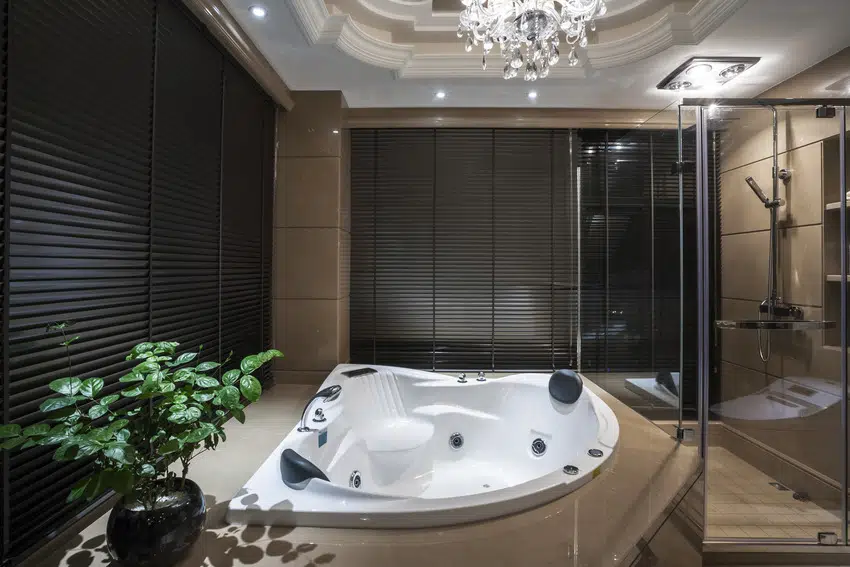 These bathroom window blinds are affordable, lightweight, and durable. One can install micro mini blinds or mini blinds to create a seamless and more modern-looking bathroom window.
While not as popular as faux wood or woven wood, aluminum bathroom window blinds remain the perfect choice for homeowners who want optimum privacy when they take a shower.
Best Blinds for Bathrooms
The best blinds for bathrooms must address three essential parameters, although there is a fourth one if homeowners want their rooms to have character, too.
Ideally, a bathroom window blind must resist moisture and prevent mold and mildew growth and buildup. While most people do not have issues with these microorganisms, some people can suffer from severe respiratory conditions if exposed to these germs.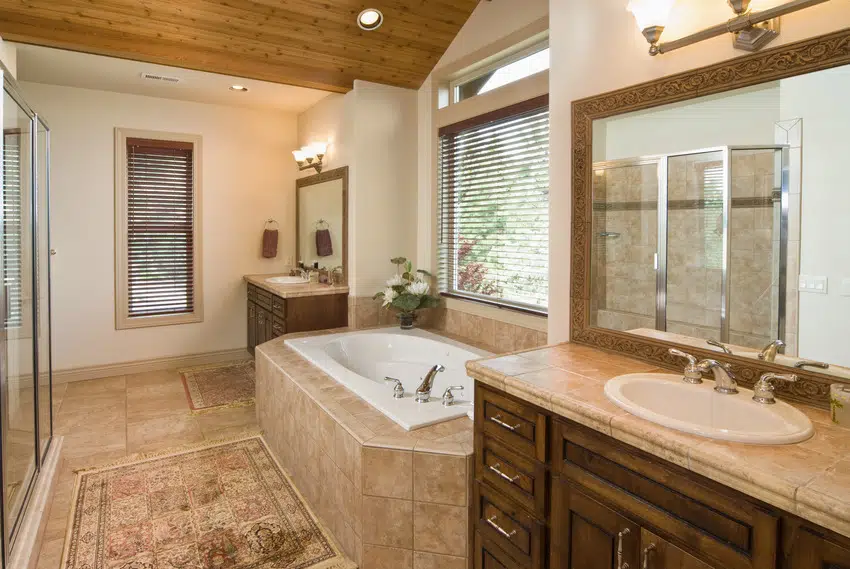 Even if no one in the family gets sick with mildew exposure, the scent these microorganisms produce can be off-putting. Guests may not take too kindly to a bathroom with a musty smell.
Hence, vinyl, PVC, and faux wood shutters are excellent choices for preventing mildew and mold growth in the bathroom. These window treatments are also a cinch to clean and sanitize, ensuring no mildew and other germs are on the surface. They are also quick to dry.
The second factor a bathroom window blind must address is privacy. The best products for optimum bathroom privacy are aluminum, PVC, and vinyl blinds, while faux wood and woven wood can offer some degree of privacy.
Another factor is light filtering or the ability of the window treatment to allow natural light. The correct lighting can make the bathroom feel more substantial, boost the mood, and aid in accurate shaving or makeup application.

If you still can't make up your mind for the best bathroom window coverings you may want to read our article about window blinds vs curtains here.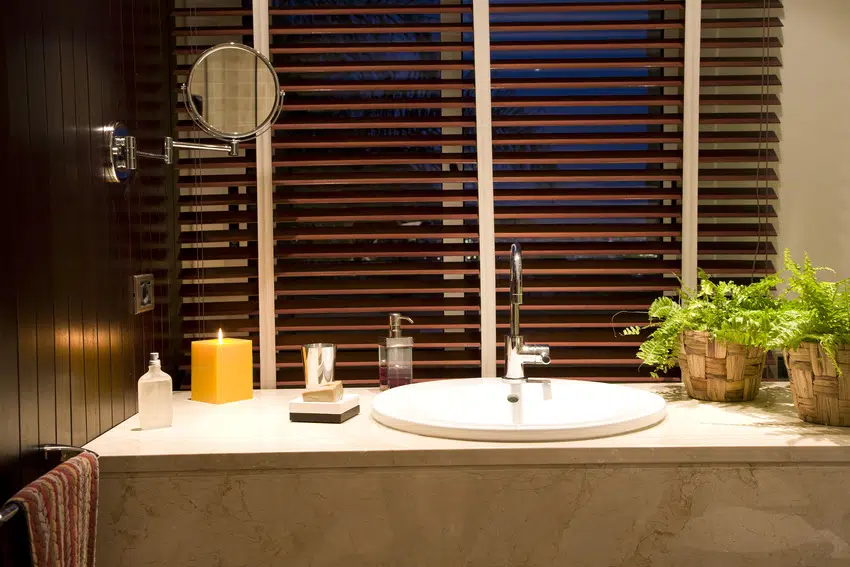 Faux wood and woven wood shutters are excellent for filtering natural light.
Homeowners may also want to consider style when choosing the best bathroom window blind. Unfortunately, style is a matter of personal preference. What may be stylish to one person may be bland and boring to another.
Nevertheless, faux wood blinds are excellent for improving a bathroom's aesthetics. On the other hand, woven wood will always be the choice of people who want a more natural and rustic vibe.
Best Blinds for Bathroom Privacy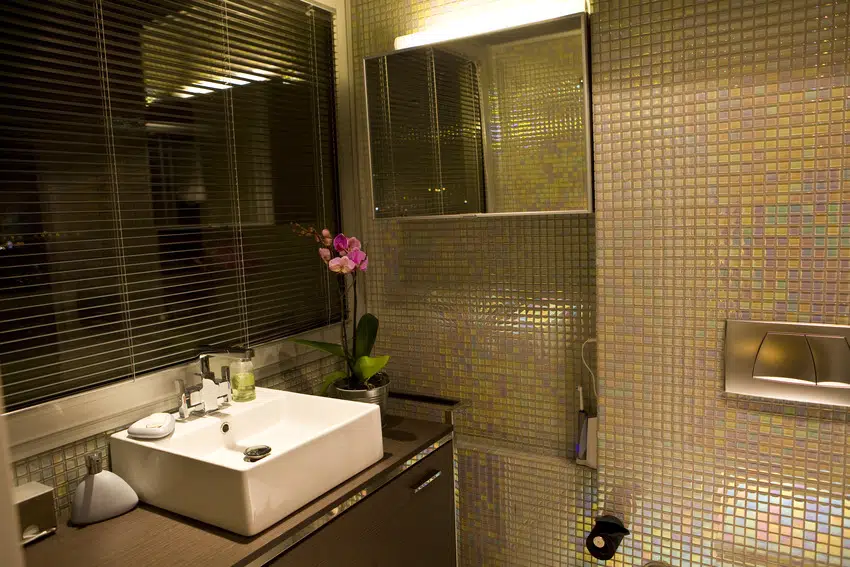 Family members and guests will feel more comfortable and secure using the bathroom if they have complete privacy. Getting the right bathroom window blinds is crucial to help keep unwanted eyes off the shower room. See the different types of window blinds here.
Aluminum blinds are excellent options for maintaining bathroom privacy. These window treatments are opaque, lightweight, and heavy-duty.
Faux wood, vinyl, and PVC blinds are not far behind, giving homeowners more options to keep their bathroom affairs private.
It is also a good idea to invest in a window privacy liner. This product improves the bathroom's protection against peeping toms, making the occupant feel more comfortable.
Conclusion
Bathroom window blinds feature different materials offering various levels of light filtration, moisture resistance, style, and bathroom privacy. Faux wood bathroom window blinds are an exceptional choice for any home.
These products are resistant to moisture damage, have a modern look, offer sufficient privacy, and allow natural light to pass through. Of course, homeowners can always pick the window blinds they believe are perfect for their bathrooms.
For more related content, check out our guide to the alternative to blinds.