Here we share the types of glass shower doors including glass styles and the best textured glass door options for your shower enclosures.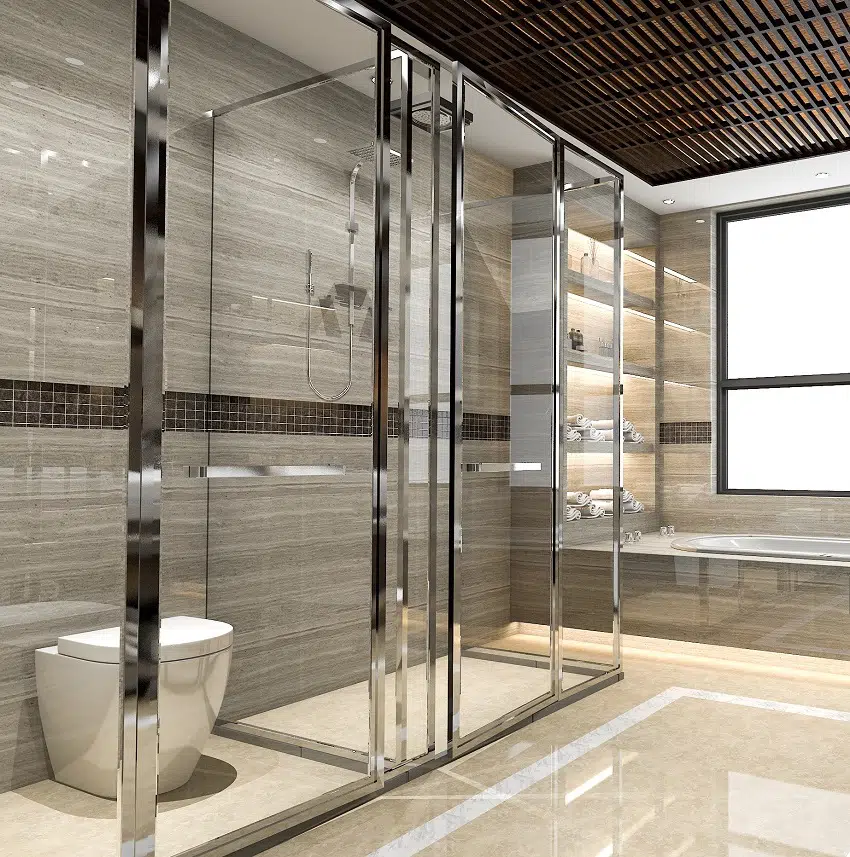 It's always an excellent idea to incorporate a glass shower door in your shower area. But you might think about what type of glass shower door you're going to choose.
There are various types of glass doors so you need to choose the right one that will complement your shower area design. You also need to select the one that will suit your needs and preferences.
Your selection of glass shower door material will greatly impact the overall look of your bathroom. So you have to carefully choose if you either want a crystal-clear view through the shower division or a non-transparent glass door for added privacy.
However, there are always some ways to modify the appearance of your glass door such as tinting and texturing. But then, before the installation, it's always ideal to deliberately select the most suitable type of glass shower door for your bathroom.
In this article, we'll discuss some of the different types of shower glass doors.
Glass Door Options for the Shower

Here are the most popular types of glass shower door options.
Clear Glass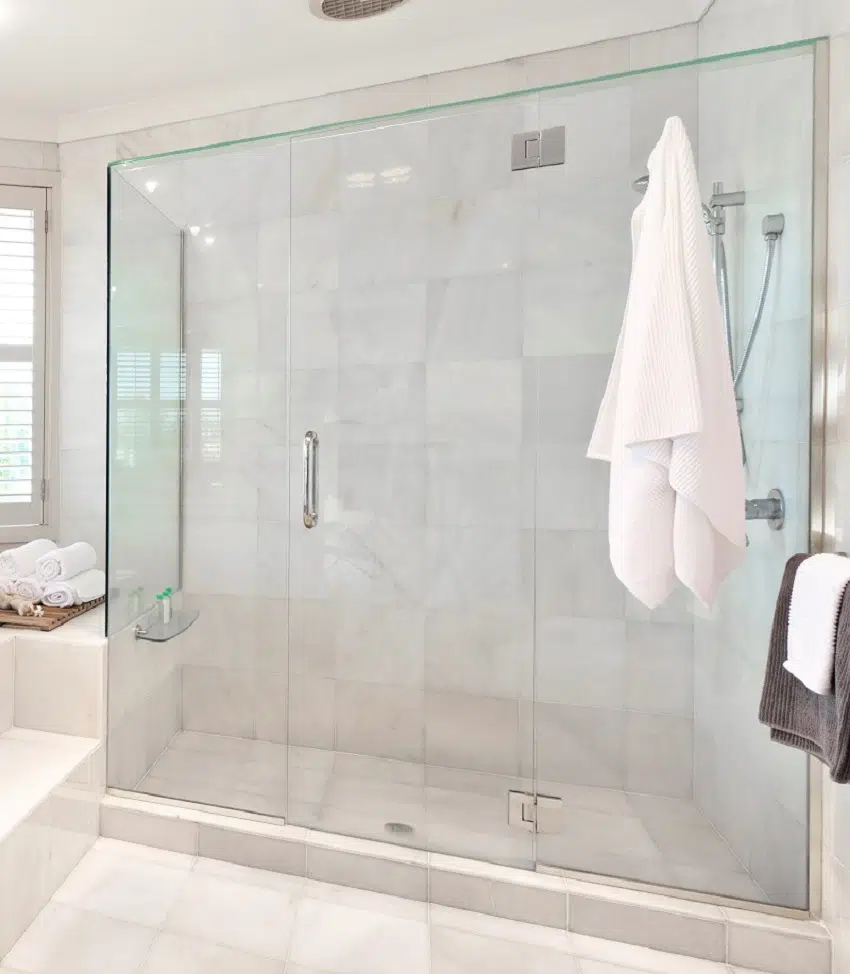 This shower glass door is one of the most common choices for homeowners. It is a transparent shower door but it has a vaguely greenish tint. However, depending on the manufacturer, some clear glass shower doors do not have a slight coloration in the glass.
This type of shower glass door doesn't have a particular texture. That means it won't stand out with fully ornamented bathrooms. But then, since most of the bathrooms have a simple and neat appearance, clear glass shower doors are still the most preferred choice by the majority.
One of the major benefits of this shower glass door option is that it can catch more light from the whole bathroom. Any kind of light that's present in your bathroom can already give sufficient illumination to your shower area. Find out more about the best types of bathroom showers here.
If you have a small window alongside your shower stall, the natural lighting from the outside can generously pass through the clear glass door.
The drawback, on the other hand, is that clear glass shower doors can be difficult to maintain. You'll need to put a lot more effort into keeping it shiny and spotless to maintain its clarity.
Tempered Glass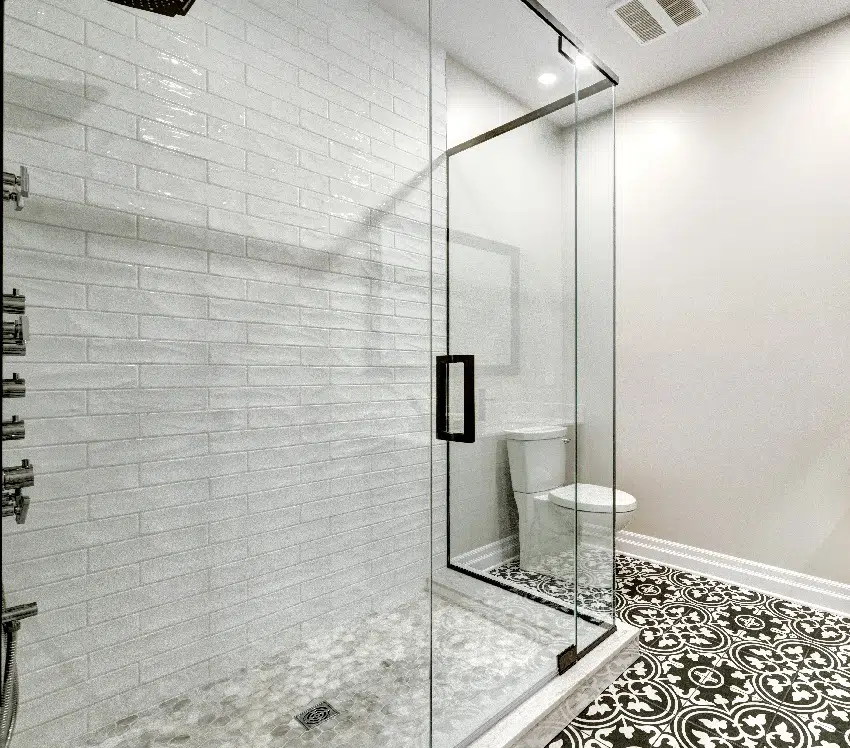 This option is almost the same as the clear glass shower door. They are both transparent. Some products, depending on the manufacturer, can have a minor coloration.
However, the only difference between a tempered glass shower door and a clear glass is that it's built with supplementary elasticity and hardness. Due to its added strength and durability, it is frequently used in frameless shower door construction.
This is a very ideal choice if you want additional safety inside your shower area. The tempered glass door won't break easily in case you forcefully grasp it in the event of an accident such as slipping and stumbling.
The minor downside of this option is that it is slightly more expensive than a common clear glass shower door.
Colored Glass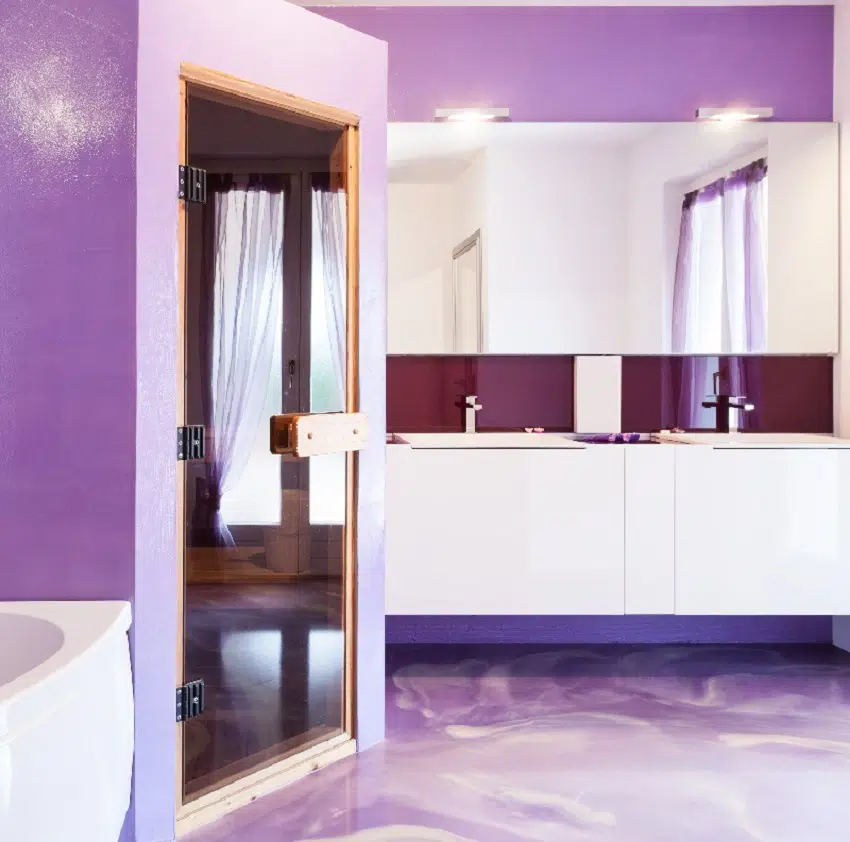 To make your shower area extra stylish and unique, you can try incorporating colored glass shower doors. This is a great option if you want to add some colorful designs to your bathroom.
There are various colors you can select from. Some choose the colors that match their bathroom walls or curtains.
Colored glass shower doors can still allow you to see through them as they're still transparent. But the transparency and clarity might be reduced a little because of the slight darkness that the color gives. It will also lessen the amount of illumination coming from the bathroom.
One disadvantage of this option is that it might be hard for you to make some redecorations in the future since you've already chosen a colored glass door.
Opaque Glass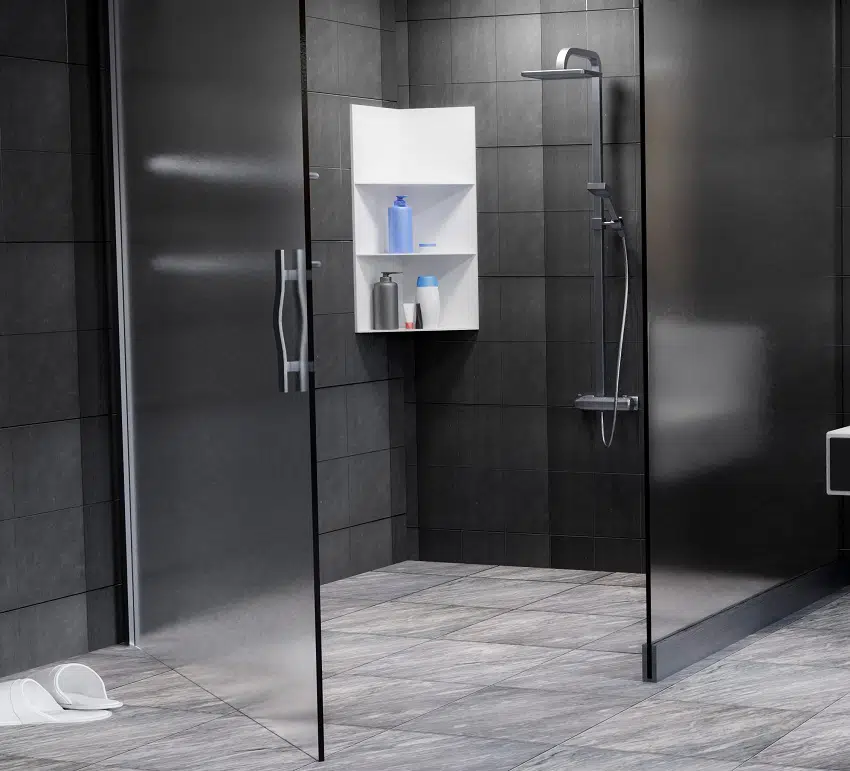 To add maximum privacy to your shower area, this selection would be the most recommended of all. Most of the manufacturers make a glass door opaque by sandblasting it or etching its one side with acid.
The effect that these processes give prevents the light from generously passing through the glass doors, creating a translucent effect. You don't have to worry about cleaning the other side because it will remain smooth just like a clear glass door.
One major advantage of the sandblasted or etched side of the glass shower door is that smudges and fingerprints won't appear obviously. However, this side might be more challenging to clean as some of the soap substances might stay on the rough parts of the glass.
Incorporating an opaque glass shower door in your shower area makes the bathroom a lot cozier. Few manufacturers fully coat the glass shower doors to make them 100% opaque.
This option is also advantageous because you won't be worried if you're taking a shower and there's someone in the sink or toilet area. Since your glass shower door is opaque, the person on the other side won't see you inside the shower area.
Tinted Glass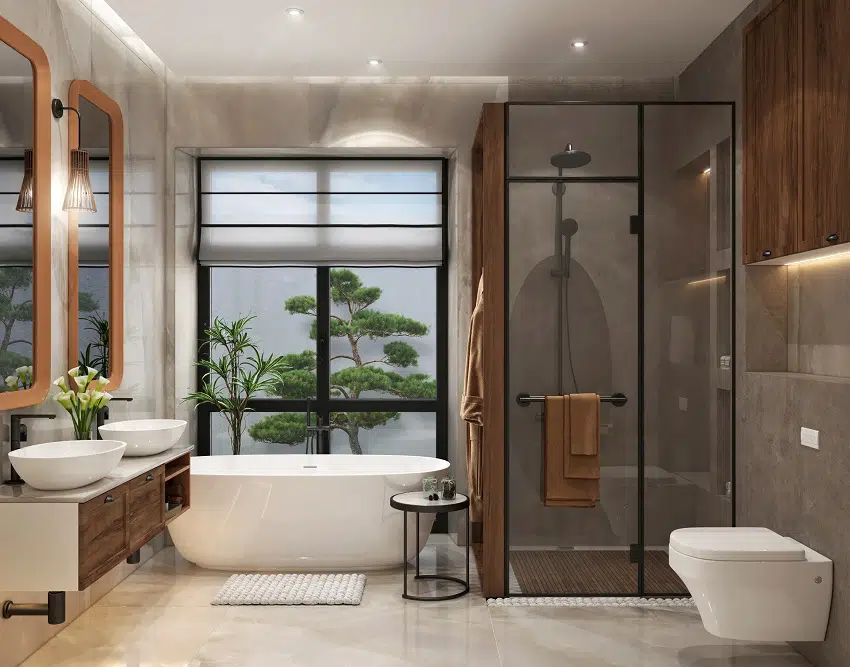 This type of glass shower door is one of the most popular choices for homeowners with modern-style bathrooms. If you want to achieve a beach-like experience in your bathroom, you can add blue or green tints to your glass door to make it feel more refreshing.
If your bathroom has a vintage feel, you can try adding gray or brown tints to make the ambiance feel warmer. If it's okay with you to see through the shower doors, then you can add light tints only. However, for additional privacy, you can add darker tints to reduce the transparency.
The minor downside of this option is that darker tints tend to reduce the light that the bathroom gives
Door Glass Styles
Rain Textured Glass. This glass style has patterns that resemble beautiful raindrops. Since it's textured, it makes the glass shower door translucent. The other side is rough. However, this is a more stylish substitute for traditional opaque glasses.
Low-Iron Glass. This glass style is a variation of clear glass but it's much clearer and shinier. The mixture used in this glass is low-iron. Meaning, it is ultra-clear and there are no signs of coloration.
What Type of Glass Is Used For Shower Enclosures?
Tempered glass is the most common type of glass used for shower enclosures. Most of the experts recommend this type of glass as it undergoes a complete heating and fast cooling process, which means, it's quite more robust than typical glass types.
Best Glass For Shower Enclosures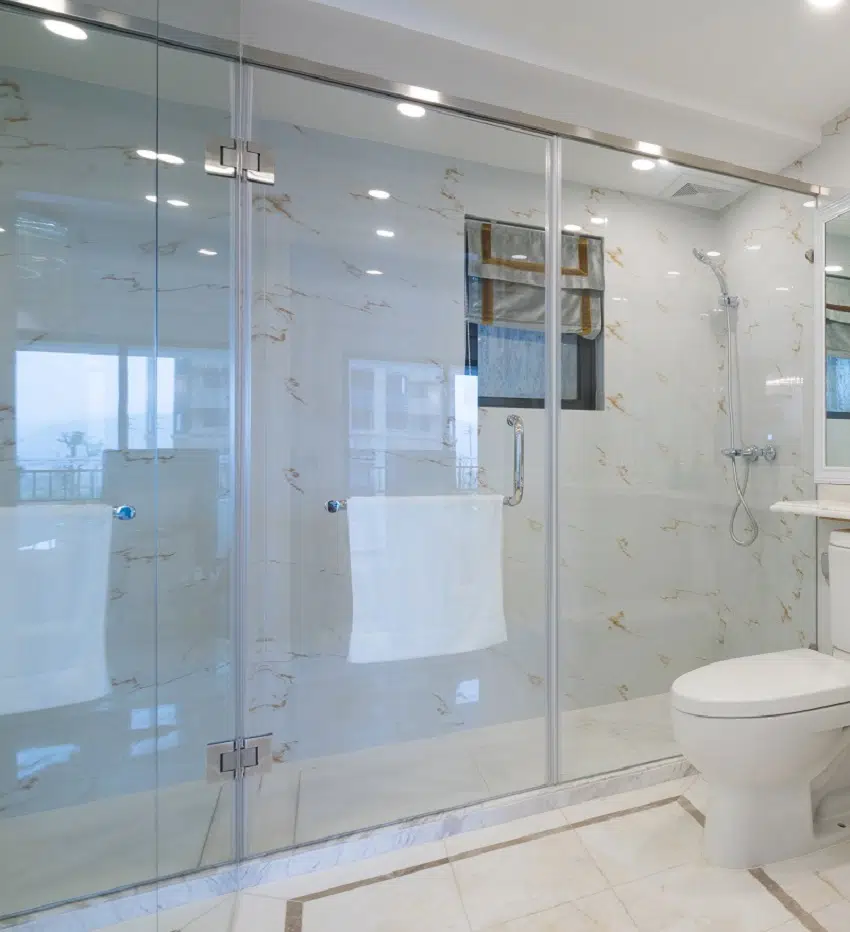 No doubt tempered glass is the best glass option for shower enclosures. It's very durable and it can withstand a lot of circumstances that may cause glass breakages. Even so, every edge of tempered glass is still fragile. But then, it has an uncommon feature that promotes safety.
When tempered glass breaks, it can disintegrate into ultra-small chunks but not as pointy and keen as broken typical glass types. See the most popular types of shower doors here.
However, it's your choice if you want to make your tempered glass clear, extra clear, sandblasted, acid-etched, textured, or patterned.
Rain Glass vs. Clear Glass

One side of a rain glass shower is textured with raindrop-like patterns. This option offers a translucent effect. Lights in the bathroom can pass through it but not as much as in a clear glass door. But in terms of privacy and style, a rain glass shower door is the better option.
It will also depend on your bathroom size. If you have a huge bathroom, a rain glass shower door might be a preferable option as it will make the bathroom feel cozier. However, putting it in a small bathroom will make it look even smaller.
That's why a clear glass door is the better option for a small bathroom as it can make it look more spacious. See our shower sizes design guide here.
Clear vs. Frosted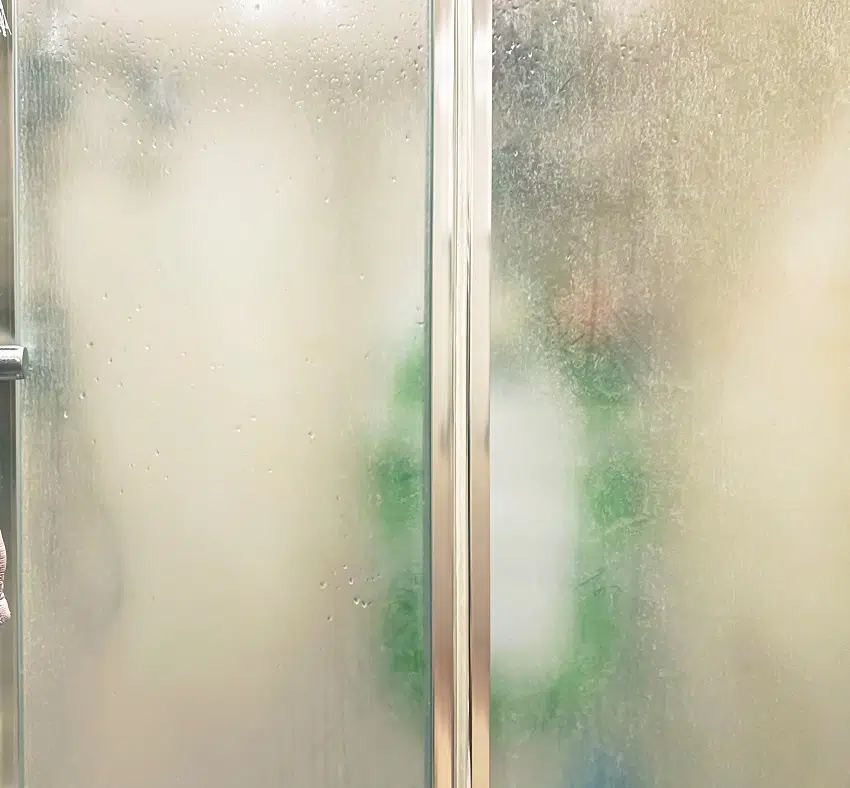 In terms of privacy, a frosted glass shower door would be the recommended option. Even if you're using the shower, it's still okay for the other household members to enter the bathroom and use the toilet or sink since they won't see you. The opacity of the frosted glass door makes the shower area more private.
However, a frosted glass door reduces the light coming from the bathroom. If you want to let your bathroom lights fully illuminate your shower area, using clear shower doors is much more advisable to install.
What is your favorite types of glass shower doors? Let us know below in the comments. For more related ideas visit our gallery of walk In shower designs.