See if vinyl shower walls are a good option for your bathroom including the types like SPC & WPC, benefits, and available styles such as panels, tiles, planks, and waterproof vinyl tiles.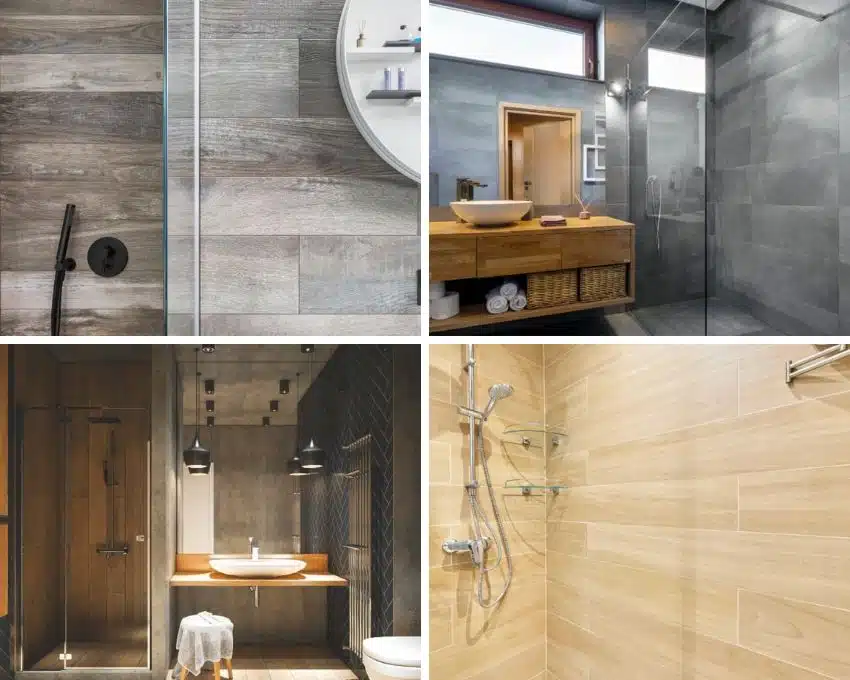 Sprucing up your shower room can be accomplished in different ways, from changing your shower fixtures to remodeling the flooring or walls. It can be a rigorous and expensive task so finding ways to make the process easier and more affordable is always welcomed. The key though is to have a clear vision of what you want your shower to look at.
One of the elements you can elevate is the shower walls. You can improve upon the material used for them and structure them to be more durable and even aesthetically pleasing. And this can be done by using vinyl shower walls for your bathroom.
Quicklook: Types Of Vinyl Shower Walls
• Vinyl Panels
• Vinyl Tiles
• Vinyl Planks
• Vinyl Sheets
• Waterproof Vinyl Tiles
What Is A Vinyl Shower Wall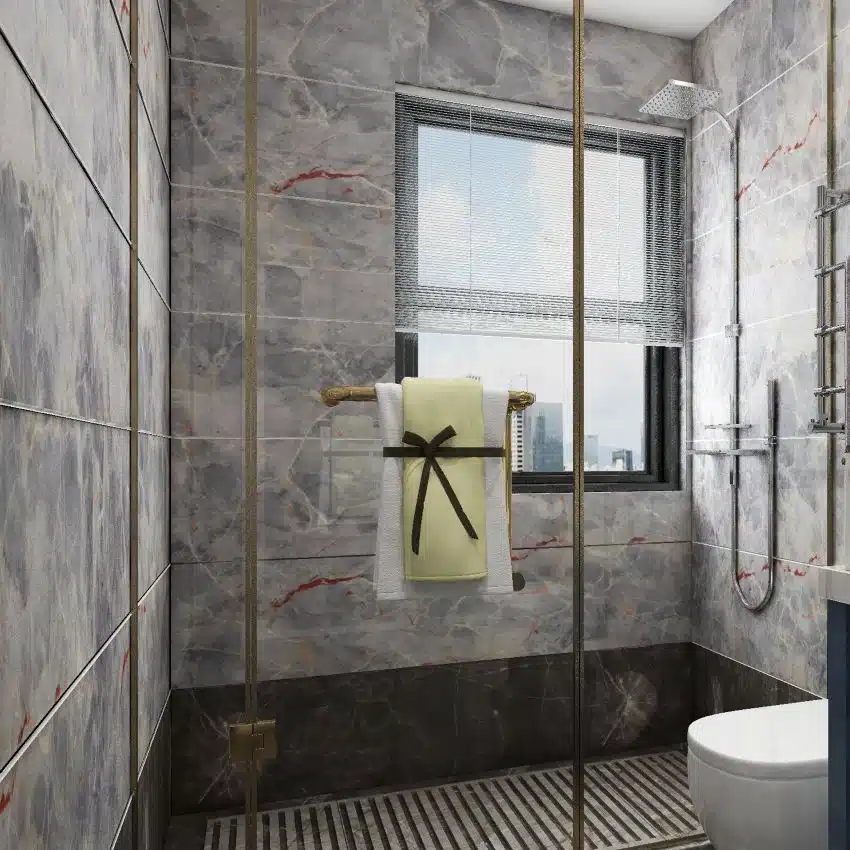 A vinyl shower wall is basically a bathroom element that's built using synthetic material called PVC or polyvinyl chloride resin combined with other materials like pigments, fillers, and stabilizers. Because of how vinyl is structured, processed, and manufactured, the material can either be rigid or flexible.
Vinyl is one of the favorite alternatives that homeowners choose over ceramic tiles and planks. With vinyl, you can easily get a matching look with the aesthetics of your shower room. There are different types of vinyl to consider, including wood-plastic composite (WPC) and stone-polymer composite (SPC).
Both materials offer waterproof protection, making them a suitable choice for wet areas, such as shower walls. SPC vinyl tiles may have slightly better water resistance due to their composition of limestone and PVC, while WPC tiles are composed of wood fiber and PVC.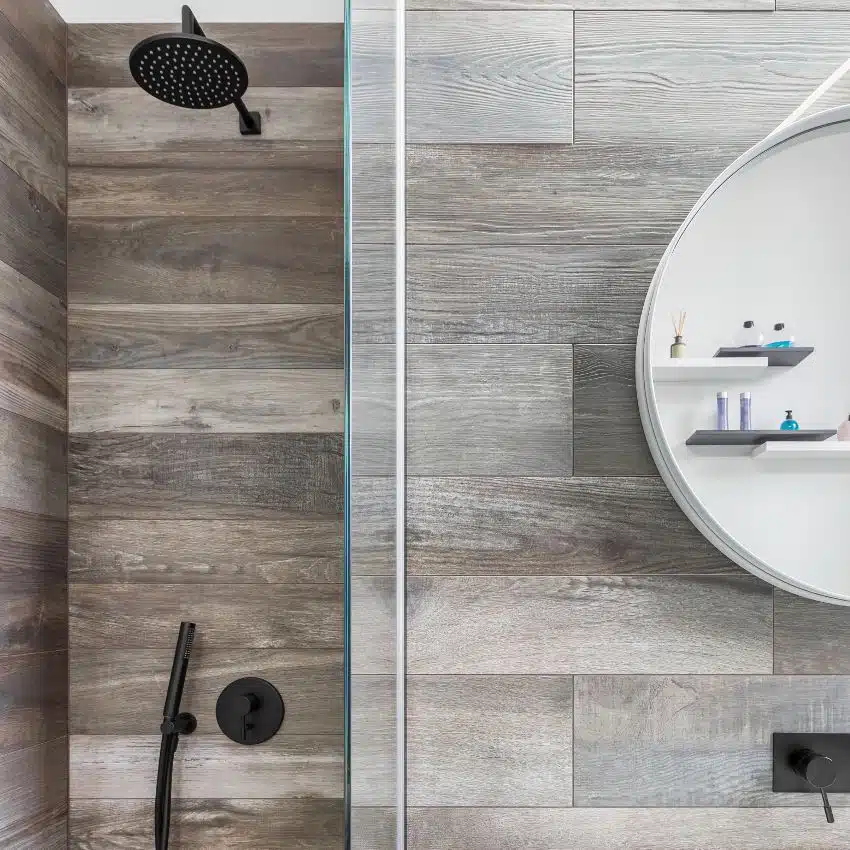 Both types being water-resistant means they are protected from moisture, as well as the buildup of mold and mildew. While water resistance is an important factor when selecting vinyl tiles, other considerations such as cost, appearance, and ease of installation should also be taken into account.
SPC vinyl planks are sturdier and denser than the WPC because of the integration of limestone particles. They are also structured to handle daily wear and tear and so can last for a long time.
Both SPC and WPC vinyl planks can be used for shower walls, though luxury vinyl planks or LVP can be used, it is not a common choice for many homeowners and is not recommended. It is rigid and can easily be used for most other common areas with high traffic and is even often used for commercial flooring.
Benefits Of Using Vinyl Shower Walls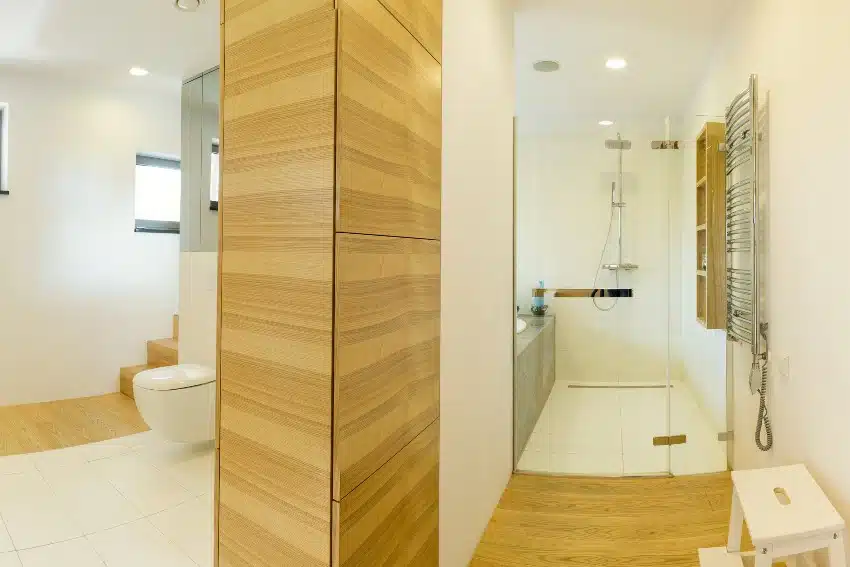 When deciding on using vinyl shower walls, you will have to take note of the advantages and disadvantages and weigh them against each other. And to look at the brighter side of things, here are some of the benefits you will enjoy when you choose vinyl for your shower walls.
Water-resistant and waterproof: Many types of vinyl are waterproof while some are considered water-resistant. This makes vinyl a perfect material for your shower walls since you won't have to think about moisture and its possible effect on the walls. Panels used on the walls have impermeable surfaces that water won't damage.
And while tiles normally need grouting, where moisture usually seeps through. It is not needed for vinyl panels since they are usually structured to flush fit and seamlessly installed together without space between them.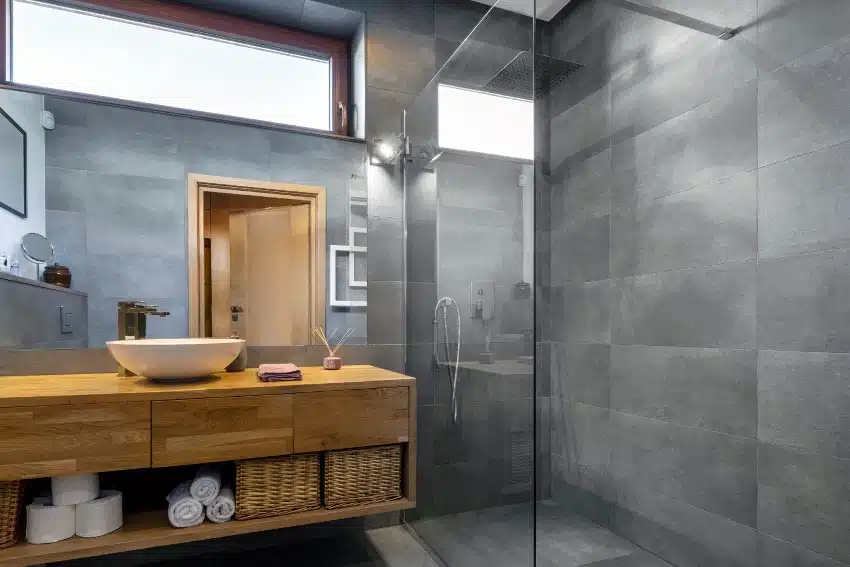 Flexible in style and aesthetics: One of the best things about using vinyl is that the patterns, colors, and designs are endless. Vinyl has a wide selection of aesthetics you can choose from, including a variety of finishes and textures.
Some of them even mimic the look of natural materials, including wood, slate, quartz, stone, concrete, and marble, giving you the opportunity to use the expensive aesthetics of these materials without having to pay for their costs. Because of this, you have the freedom to choose whatever look you need for your shower area.
More affordable compared to other materials: Compared to other materials used as bathroom tiles (both the flooring and walls), vinyl is considerably more affordable. If you choose vinyl shower walls, it won't matter if you have a limited budget to use.
Even if you want to use the aesthetics of expensive natural materials, you can get them at a cheaper price with vinyl panels that imitate their appearance. Vinyl is also the cost-effective option because of its zero to low maintenance required for these shower walls.
Besides the cheaper cost of the material, you can also install the shower walls yourself so you won't have to hire professionals just to install them.
Easier to install: Vinyl shower walls are easy to install compared to the standard laborious process that comes with bathroom tiling.
Cutting tiles is not an easy task to accomplish and requires a specific tool and skill to get the right shape you want for your walls. They are not something you will need if you use vinyl panels for the walls instead.
You can DIY your vinyl shower walls since you won't need tools just to cut and shape tiles. You also don't need years of experience and expertise since you can install vinyl panels on your shower walls just using regular household tools.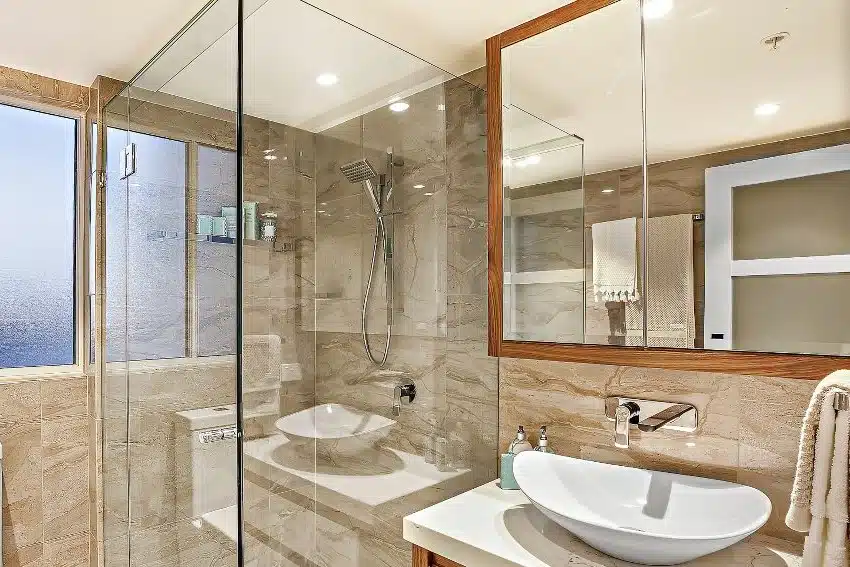 Zero to low maintenance: With vinyl shower walls, you won't have to spend time and money working and maintaining the grouting of the tiles. Vinyl shower walls don't have grout where moisture can be absorbed and will instead just slide right off the surface.
This means you won't have to worry about mold and fungi buildup and getting on your knees just to scrub the grout clean. For vinyl, you simply need a quick wipe on the surface to keep the walls dry and clean.
More energy-efficient: Vinyl is more energy-efficient because it helps insulate your home and can lead to reducing your energy bills.
This is specifically associated with 8mm thick vinyl panels. And when installed to shower walls, you can get a warmer shower area because there are no cracks and gaps in between the panels, reducing the need for heating inside the shower as well as the cost.
If you choose to use vinyl on your shower walls, there are some considerations you can have to take into account before deciding that the material is a perfect fit for your home.
Some of the factors you need to take note of are the following:
• Not environmentally friendly: Vinyl is not an environmentally friendly material since it uses non-renewable chemicals like petroleum for its production. If you care about the environment, this is not a good option to consider.
• Requires smooth and neat subfloor: During installation, you have to make sure that the subfloor is squeaky clean. If there is debris unnoticed and you start installing the vinyl, you will end up with bumps on the surface.
• Possibly disastrous to health: Some vinyl panels produce VOCs or volatile organic compounds, which are dangerous to one's health, especially in a usually closed space like the shower area. If you choose to have vinyl shower walls, make sure that the material has low VOCs.
Vinyl Shower Wall Panels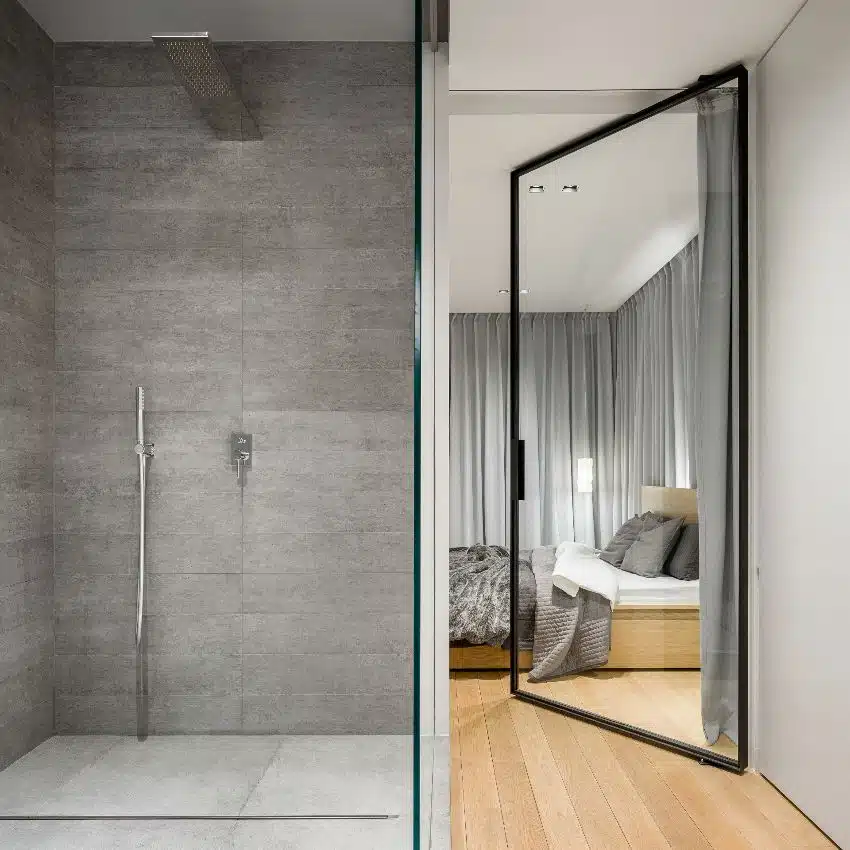 Vinyl is most commonly available in panels, which are the standard form used and installed in shower walls. If you choose vinyl panels, you have a stress-free and durable option to use for the walls.
Vinyl shower panels are durable though softer compared to wall cladding materials like bricks, ceramic, cultured marble, or stone. This means that they are still susceptible to scratches and damage.
Vinyl panels are ideal for areas with high exposure to moisture since they are waterproof with joints that are water-resistant. They are also available in different colors and patterns and since they are structured with a specially designed adhesive, installation is a lot easier and quicker to complete.
Vinyl Shower Wall Tiles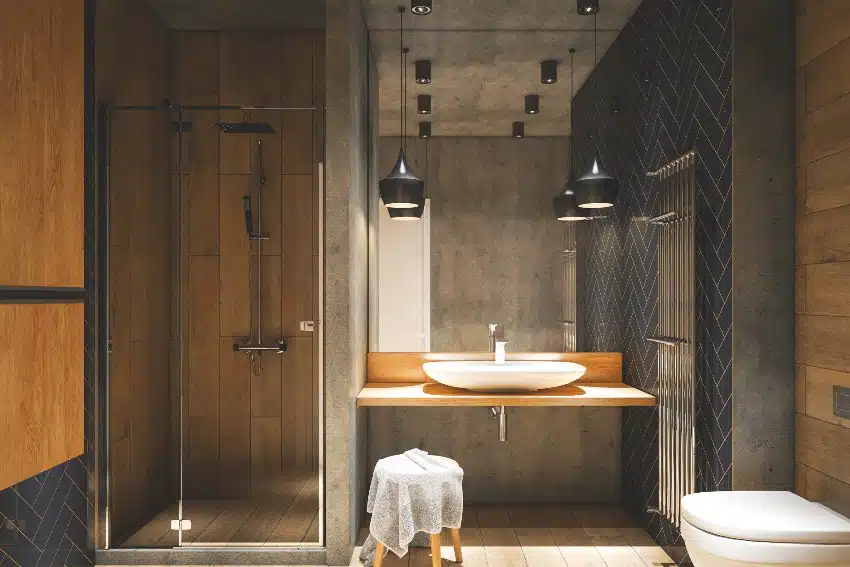 Vinyl tiles normally come in 1×1 foot standard size with a self-adhesive backing that makes the material easy to install. These tiles have endless options in terms of patterns and designs so you have the freedom to choose tiles with a look that matches the aesthetics of your bathroom.
With vinyl shower wall tiles, installation needs to be accurate in terms of the measurement, as well as the peel and press. Firmly pressing them together precisely is the key so that the tiles remain waterproof even on the seams of the vinyl tiles. If not done properly, there's a real possibility of moisture damage and the buildup of mildew and mold.
The most popular vinyl tiles for shower walls are SPC or stone polymer composite vinyl tiles. These tiles have incredible durability and water resistance that's perfect for shower areas.
Vinyl Plank Shower Walls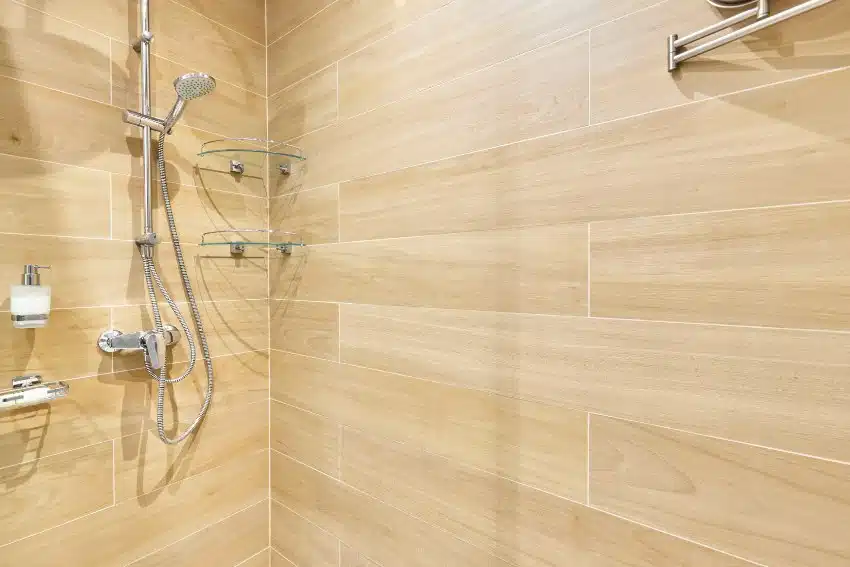 Vinyl planks are also popular to be used for the material, besides the panels and tiles. Compared to other forms and shapes, vinyl planks come in 4 to 5 inches in width. Vinyl planks, specifically the SPC or stone vinyl composite, are waterproof and make a great option for shower walls.
Vinyl planks are inexpensive and DIY-friendly though they are not as durable as ceramic tiles that can last for a long time. The good thing though is that they can still withstand regular wear and tear and so are still durable enough to work well. They are also easy to install and you can do it on your own.
When it comes to aesthetics, planks are popularly available in wood tones. So if you want to make use of the natural and refreshing look of wood, you can choose vinyl planks.
With these planks, you can enjoy the aesthetics of wood at an affordable price and without the challenges that you can experience when the wood is constantly exposed to moisture.
Vinyl Sheets For Shower Walls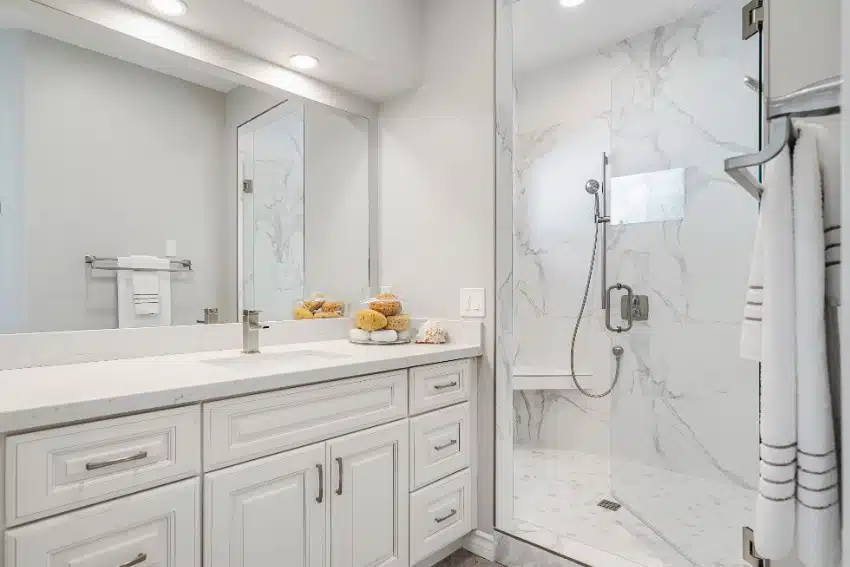 Vinyl is also available in large sheets and you can use them for your shower walls. Compared to other forms that vinyl comes in, sheets are more time-efficient and less likely to be affected by moisture. With large sheets, a single unit can cover a lot of the area of your shower walls.
This also means installing them will be quicker since you can cover a lot of area in each sheet. And if you want a specific shape or size, you can also work on it with more freedom using the large sheet.
While vinyl is waterproof and water-resistant, the weak points are the seams in between each unit. With large sheets, there are fewer seams so fewer weak points can be affected by moisture. Overall since there are less seams there is less maintenance to deal with.

Waterproof Vinyl Tile For Shower Walls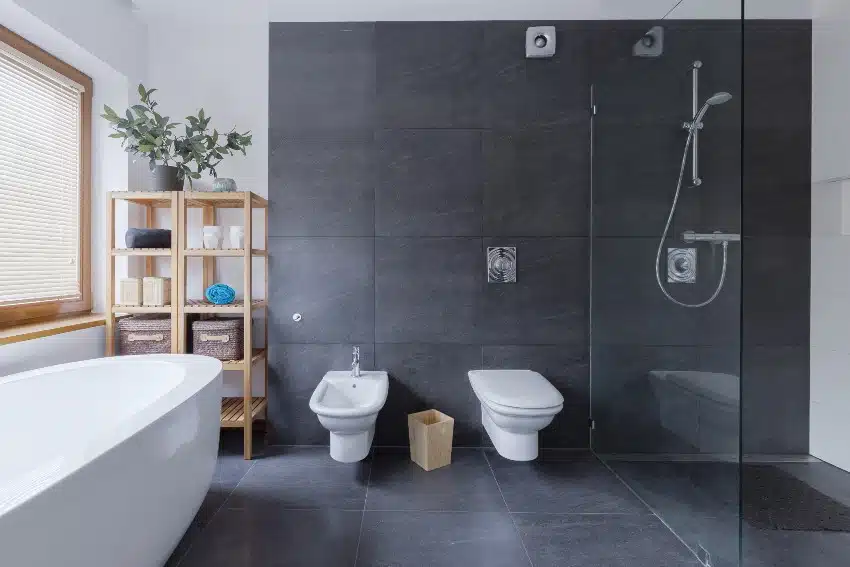 Despite excellent water resistance, not all vinyls are waterproof. This means that it will still be necessary to wipe them dry as much as possible once you see water droplets on them.
But if you want to take out this responsibility and stay stress-free, you always have the option of getting waterproof vinyl tiles for your shower walls.
One of the most popular waterproof vinyls is the SPC. Stone polymer composite tiles are made of multiple PVC and limestone layers with a wear top layer, improving upon its durability (more resistant to denting and scratching) and water resistance.
Since the tiles are waterproof, they are easier to clean and less likely to harbor a buildup of mold and mildew.
Can You Use Vinyl Flooring For Shower Walls?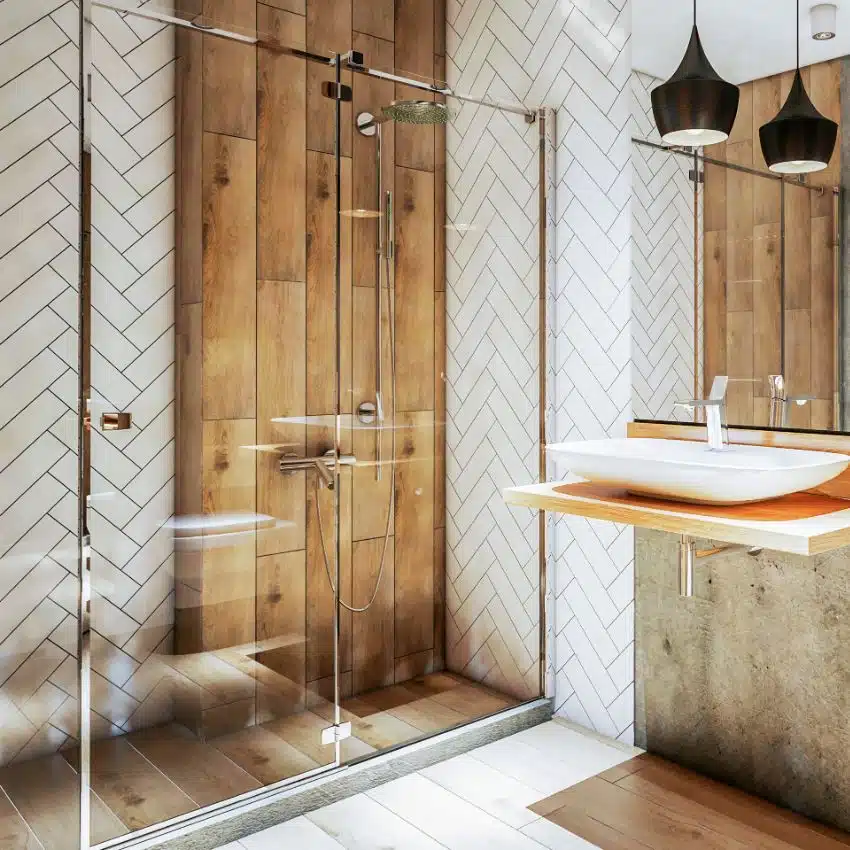 It is not recommended to use vinyl flooring for shower walls. Vinyl flooring is designed to be installed on a flat surface and can warp or buckle when exposed to excessive moisture or humidity. It also lacks the necessary waterproofing features required for shower walls.
Seams between the planks can allow moisture to seep behind the wall, causing damage and mold growth. For these reasons, it is better to use specifically designed vinyl products such as STC (Stone Polymer Composite) or SPC (Stone Plastic Composite).
These materials are made with a waterproof core, making them ideal for high-humidity and moisture levels in a shower. They also come in a wide range of colors and styles to match any design aesthetic.
Vinyl flooring provides many benefits, including durability, ease of cleaning, a wide choice of patterns, and colors, and relatively low cost. – PPI Interior Construction & Detailing for Designers & Architects EText – 1 Year, David Kent Ballast
Besides the walls, vinyl is a popular option for flooring. Because of the material's durability and water resistance, vinyl also makes a great flooring option. If you decide to use this material for walls and floors you will need to purchase a different type for your flooring then you use for your walls.
You will need a stronger and high-quality vinyl for the flooring since the material will be subjected to regular wear and tear. The ideal vinyl option is the WPC or wood plastic composite vinyl flooring because of its toughness and durability.
Another great thing about vinyl flooring is that it is more comfortable to step and walk on since the material does not get cold. This makes it a good option for shower areas where you tend to be barefooted while in the space.
How To Clean Vinyl Shower Walls
One of the main reasons why homeowners prefer vinyl for their shower walls is that they are easier to clean and maintain. With vinyl shower walls, you won't have to do much besides wiping the surface dry every now and then, especially if you choose high-quality waterproof vinyl materials.

For regular cleaning, just use a soft cloth to wipe the surface dry. If there are stains, you can apply soft cleaning solutions like soap or dish liquid and gently scrub the affected area until the stains are completely gone with a soft bristled brush. See the best low-maintenance shower walls here.
Can You Paint Vinyl Shower Walls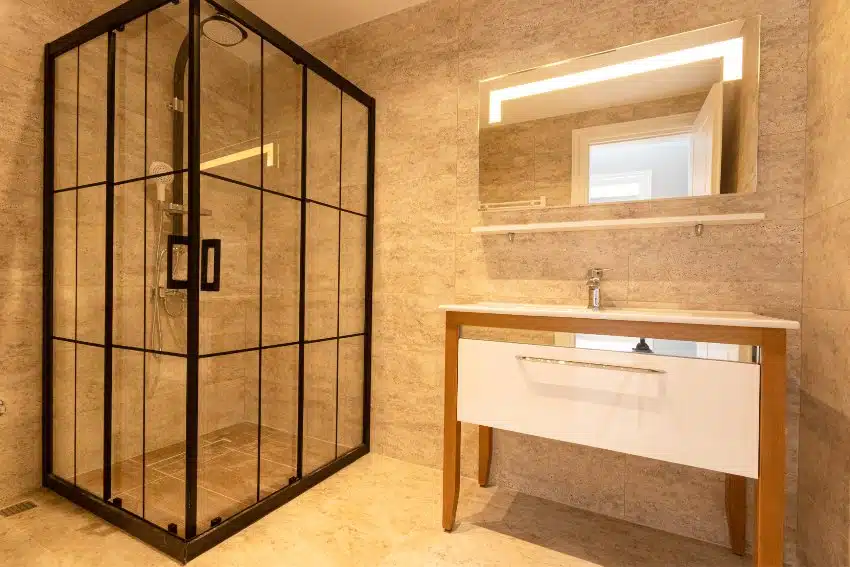 Yes, you can paint on your bathroom shower walls but it is not recommended because the task can be a bit tricky to accomplish. If you want to have a different color for your shower walls, just take out the vinyl and work on the walls rather than paint on the vinyl.
Some paint just slides off the surface because of the material's water resistance. This means that you will need a specific paint that can latch on the surface of the vinyl.
Paint is also not a good option for walls of areas constantly exposed to moisture. Regular paint won't be a good match for shower walls and may just lead to peeling, discoloration, and mold buildup. If you're set on painting your shower walls, choose epoxy paint instead for better results and experience.
For more ideas see our guide to the best tile for shower walls on this page.