These attic lighting ideas share the different types, unfinished light fixture options, their features, benefits, and the best tips for dark attics.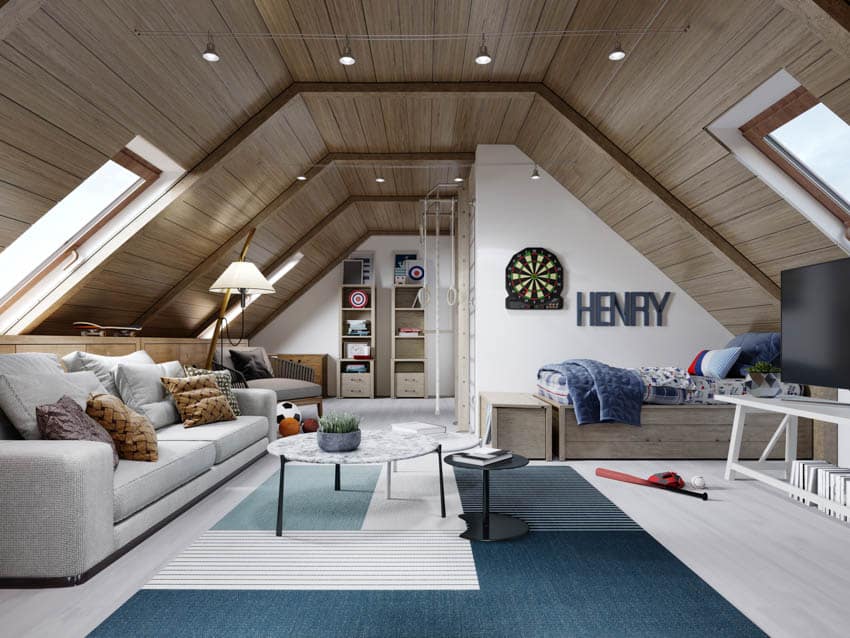 The attic is one of the darkest areas in the house. Since it doesn't get much foot traffic and is usually used as a storage area for old stuff or off-season supplies, they get little attention. It's because of this general sense of neglect that leads to challenges in getting attics in the home the ample lighting they actually need.
Another issue many homeowners face is that not all attics are finished aesthetically. Most of them are raw or just downright unfinished from a construction standpoint. It's challenging to come up with lighting ideas for such rugged-looking interiors at the end of the day. Thankfully, the problem is simpler than it sounds or looks. There are many ways to get simple solutions and get your attic well-lit in no time.
Quick Look – Types of Attic Light Fixture Ideas:
Lighting Types
Description
LED Attic Lighting Fixtures
Compared to incandescent bulbs, they are more economical and energy-efficient, release less heat, and have a variety of beautiful colors.
Attic Skylights
Illuminate the attic during the day without using electricity; can be further upgraded with LED lighting or a chandelier for nighttime illumination.
Tubular & Dome Skylights
Solar tubes that are designed to let in natural light throughout the daytime are helpful for additional lighting and don't cause heat accumulation.
Pendant Lights
For attics with erratic and angular heights and shapes, there are decorative and energy-efficient lighting choices.
Chandelier
Makes a grand statement and provides an opulent atmosphere for attics with tall, vaulted ceilings.
Recessed Lights
installed inside of a ceiling or another flat surface immediately;
efficient and beautiful use of space.
Wall Sconces
Simple yet elegant lighting fixtures that cast upward illumination
Floor Lamps
Available in a variety of shapes and varieties, they are simple to install and can be plugged into any existing electrical sockets.
Billiard Lights
Suitable for pool tables and game areas, this lighting option enhances the decor.
Types Of Attic Lights
Even though some attics may be unfinished, we're working off of the assumption that you at least have a decently finished under-roof area. These viable lighting options can turn your neglected attic space into an active area you enjoy using.
You can turn it into a media room, a game room, an aesthetic storage space, or even an extra bedroom if you need the space. There are so many options you can play around with if you have some extra areas at home. Do keep in mind you should always consult with a licensed electrician or home contractor when installing lighting in the attic..

LED Attic Lighting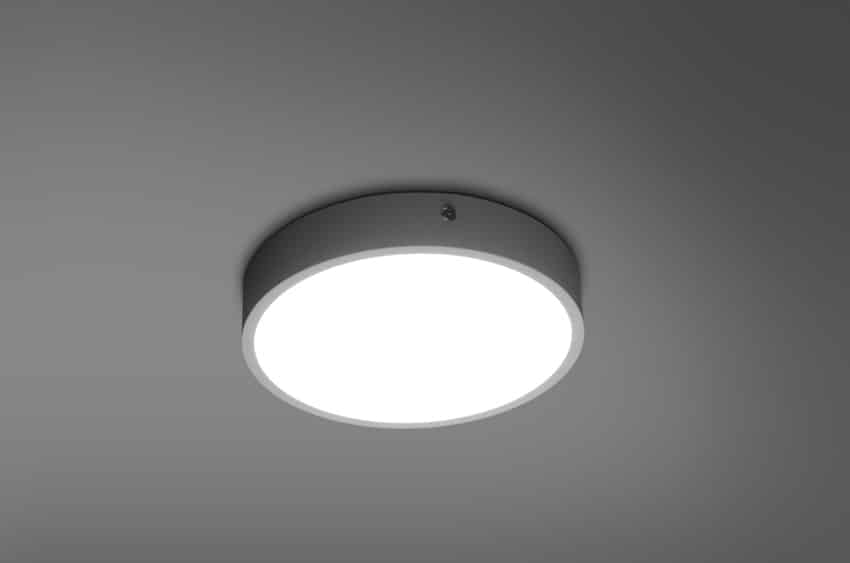 Although LED lights cost slightly more than incandescent bulbs, they are way more energy and cost-effective. They'll actually save you so much more money in the long run. On top of that, LED lights don't emit as much heat as incandescent lighting.
This is a central selling point as it can get hot pretty quickly in the attic, considering there isn't much ventilation compared to the rest of the house. Attic spaces can also get pretty cramped, so you're bound to bump into the lightbulbs at some point. Incandescent bulbs can burn you if you accidentally bump into them, whereas LED lighting is safe.
What's great about LED is that you can quickly transform the space and give it the aesthetics you want. They come in many colors, and you can choose your preferred options based on the mood and the look you'd like to accomplish for the space.
Benefits of LED Attic Light Fixtures
Energy-efficient, providing lower electricity bills
Produce very little heat, reducing the risk of fire or damage to insulation in the attic
Have a long lifespan
Produce higher quality of light than their counterparts with brighter illumination with less glare
Available in different sizes, shapes and colors
Environmentally friendly
Easy to install, with many DIY options available
Can be controlled by dimmer switches or timers for greater energy efficiency
Can improve the overall appearance and value of your attic space
Can enhance safety and security by providing adequate attic illumination
Attic Skylights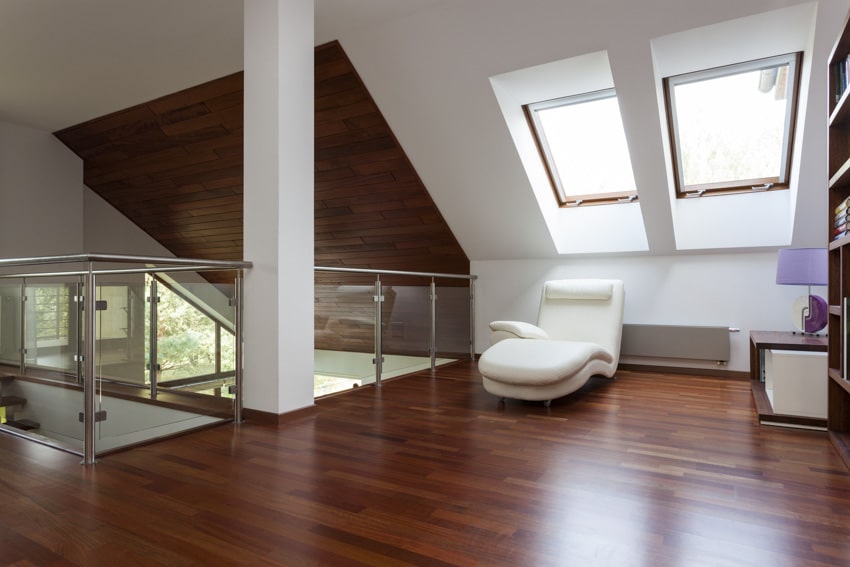 The great thing about adding skylights to your attic is that you're sourcing lighting from something that's already naturally available in the area because it's right under the roof. Pick out some windows that you can strategically place on your attic ceiling.
This is a practical way of illuminating your attic during the day. The best part is that you wouldn't even need to use electricity for that. You can further upgrade your skylights by adding some LED lighting or a nice-looking chandelier to have additional illumination during nighttime.
Benefits of Attic Skylights
Allow natural light to enter the home, helping to reduce energy costs and providing a bright and inviting attic
Improve air quality by allowing fresh air to circulate throughout the attic
Provide skyward views of the outdoors
Help conserve heat in the winter by collecting solar energy from the sun
Does not require electricity
Cost-effective solution for any home renovation project
Tubular & Dome Skylights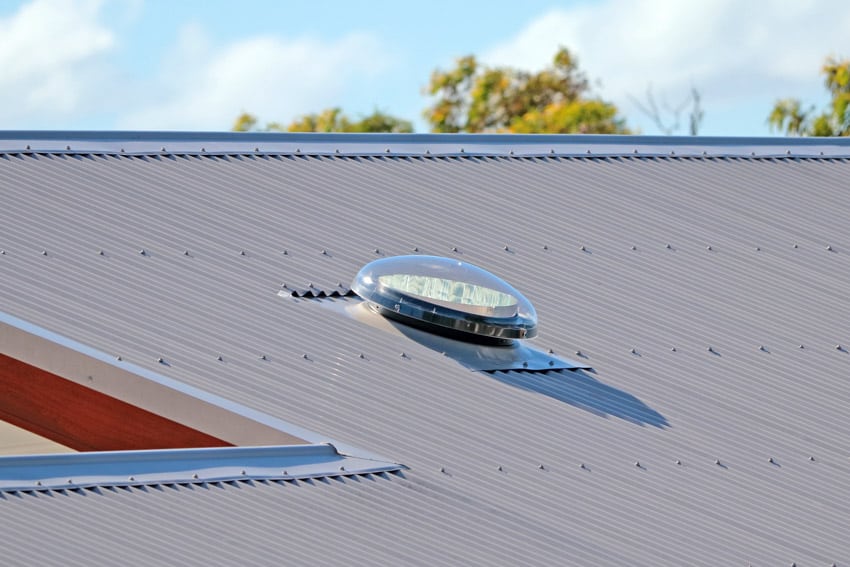 Tubular and done skylights are designed to have natural light travel through solar tubes during the daytime. This is usually a very compact and durable design, and it requires no maintenance, replacements, or repairs once they are successfully installed.
They are beneficial to have in the attic because they compound the amount of light they collect from the exteriors of your home. At the same time, they also filter out any harmful UV rays. Attics are commonly used for storage. Hence, tubular or dome skylights are great for extra illumination during the day without running the risk of fading out any pieces of furniture or clothing you have in storage.
They also work much better than traditional skylights because although they use external natural light, they don't necessarily contribute to bringing heat into your home. This is especially beneficial during the hot summer months.
Pendant Lights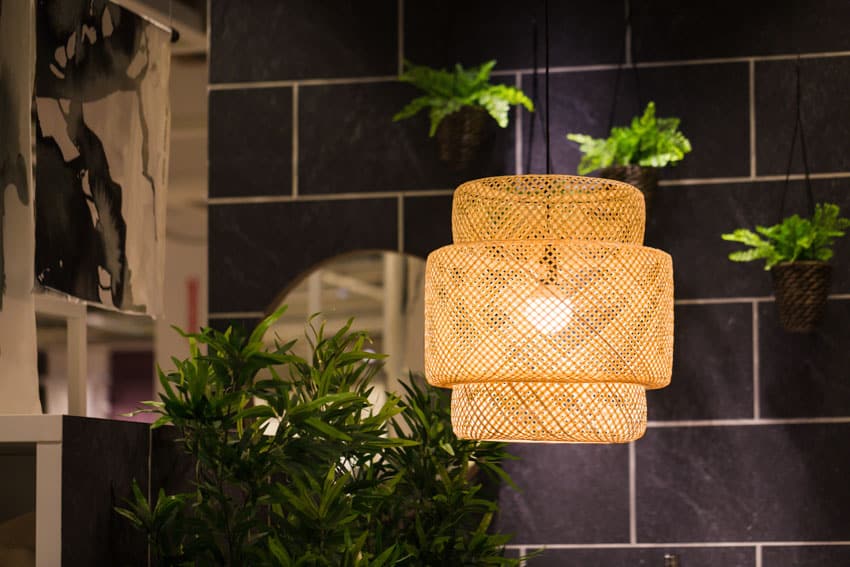 Pendant lights are recommended for attics with irregular and angular heights and shapes. Traditional lighting fixtures require a flat ceiling surface for installation. Still, if you don't have that for your ceiling, then lighting can be a challenge.
This is where pendant lights come in. they're more decorative compared to your typical light bulb while, at the same time, also more energy efficient. You can easily hang them from high beams or any angular areas in your attic where traditional lighting options don't make sense or aren't possible.
They also come in various designs and styles, so you can create an attic design that's up to your liking. It's handy for setting up reading nooks because you can section them off into a corner if needed.
Benefits of Attic Pendant Lights
Provides direct and focused illumination
Energy-efficient, helping to reduce electricity costs over time
Can be easily installed
Can add both style and functionality to an attic space
Can be controlled by dimmer switches or timers for greater energy efficiency
Can be used for irregularly shaped ceilings
Chandelier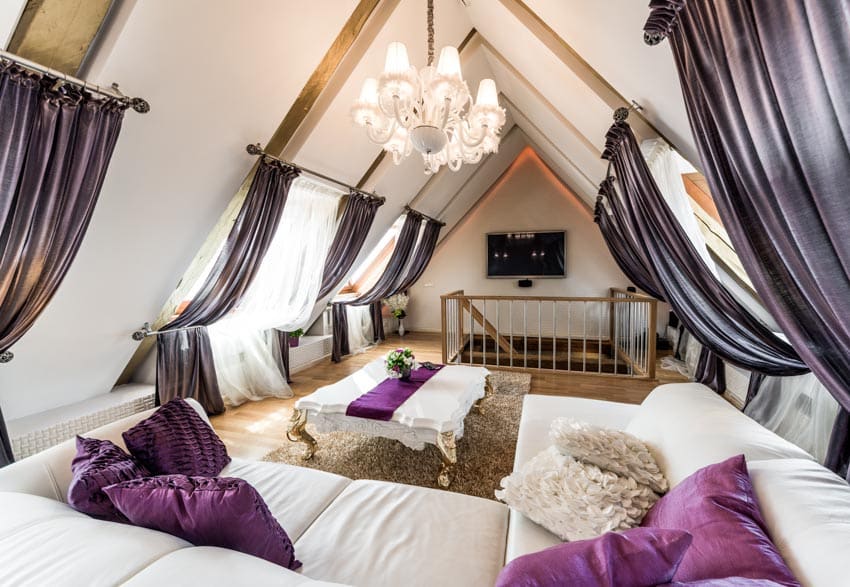 Happen to have an attic with high and vaulted ceilings. A chandelier can be a great lighting option to consider. It makes a statement and will immediately draw the eye towards it when entering the attic area. It gives off an ambiance that's not only well-lit but also looks and feels luxe without trying too hard.
Benefits of Attic Chandelier Lighting
Offers strong, bright, and widespread illumination
Great for entertaining guests or creating a cozy atmosphere
Creates an interesting focal point
Energy-efficient, and can help lower electricity costs
Works well with high ceilings
Different sizes available to fit your space
Can work great for adding elegance and glam to a room design
Can be adjusted for height
Recessed Lights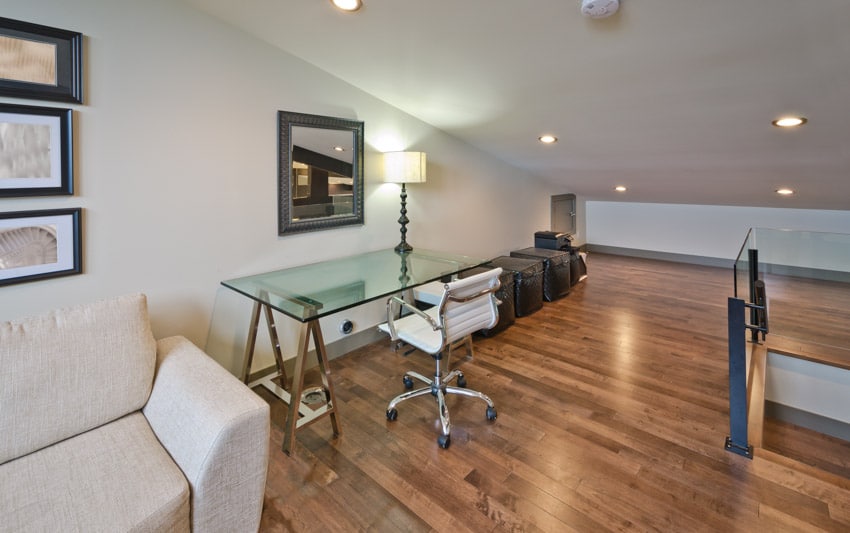 Recessed lights differ from traditional lights because of the way that they are installed. Traditional lights usually protrude, while recessed lights are installed directly within a ceiling or any flat surface, for that matter.
It's great to have in the attic where you don't have the luxury of space, as most attics are cramped. It will save you from occasionally bumping your head against a light bulb while you're crouching your way through the attic while looking for something.
Take note, though, that most types of recessed lighting require a little work and effort in the installation. It usually is different than the type of lighting that you can do yourself or do on the fly. It's safest to get a contractor or a licensed electrician to get the job done.
Despite that slight drawback, that effort should pay back in dividends as they look seamless. They're unobtrusive; more importantly, they only take up your already limited attic space. They are also timeless and quite aesthetic. They can fit in well with any theme or décor.
Benefits of Attic Recessed Lights
Provide a low profile lighting fixture that blends into the existing architecture
Space-saving and can be used as accent lighting in areas where space is limited
Energy-efficient
Stylish look that offers substantial lighting coverage
Works great for spaces that do not have a lot of ceiling height
Can control the amount of illumination with dimmer switches
Wall Sconces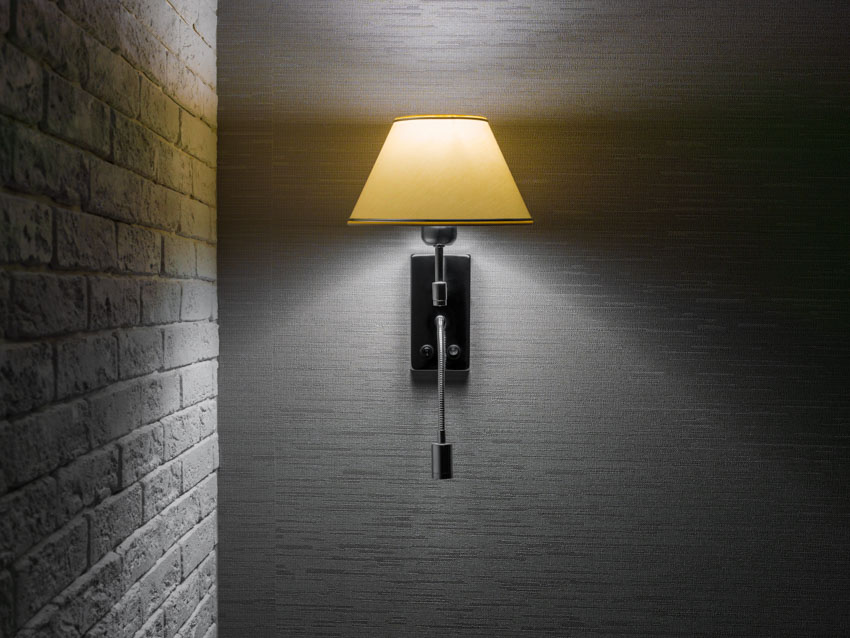 Wall scones are underrated lighting fixtures that should be utilized more, especially in the attic area. They're elegant and relatively simple lighting solutions that elevate your attic space's appearance and feel once installed.
As the name suggests, wall sconces only need your wall for support. They don't need any extra bases. This means they can be very space efficient as they only use your vertical space in the attic.
These lighting fixtures typically provide illumination directed upwards. Still, they are adaptable enough to point downwards, should you need them in the space you're trying to illuminate. They are impressively energy efficient and have a reasonably low profile.
This means you are highly decorative and don't inconveniently bump into them. Suppose you want to transform your attic into something much more than just a bare area to store unused belongings. In that case, wall sconces are a great option to consider.
Benefits of Attic Wall Sconces
Add a layer of ambient lighting in the attic space
Directed light provided upward reducing glare but adaptable to downward mounting
Energy-efficient
Sconces don't take up much space in the room
Adds a stylish decorative element to the walls
Works well for low ceiling attic spaces.
Floor Lamps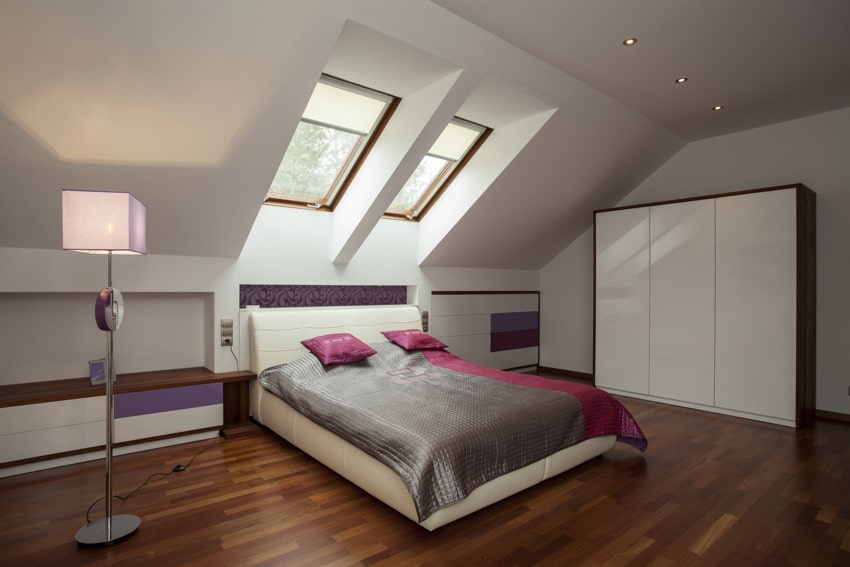 Floor lamps can be easy solutions to bring into your attic lighting problems. These lighting fixtures can be easily plugged into any existing electrical sockets. They also come in various styles and types, most of which can accommodate a wide variety of light bulbs, from LED to incandescent.
These floor lamps are great not just in terms of form but in terms of function as well. Suppose you're handy with the essential craft of construction materials. In that case, you can even upcycle the stands or the bases they get installed in.
You can use vintage furniture pieces such as tables, dressers, and anything else you can think of where sockets can be installed. You even have the option to turn it into a fun and worthwhile DIY project for you and the rest of the family.
Benefits of Attic Floor Lamps
Easy to use for additional lighting in the attic space
Retain a sense of style while offering functional illumination
Easy to change placement where you need light in the attic
Can choose from a vast assortment of styles to match your other decor
Works great by pairing with other fixtures for adequate layered lighting
Some models have adjustable brightness settings
Billiard Lights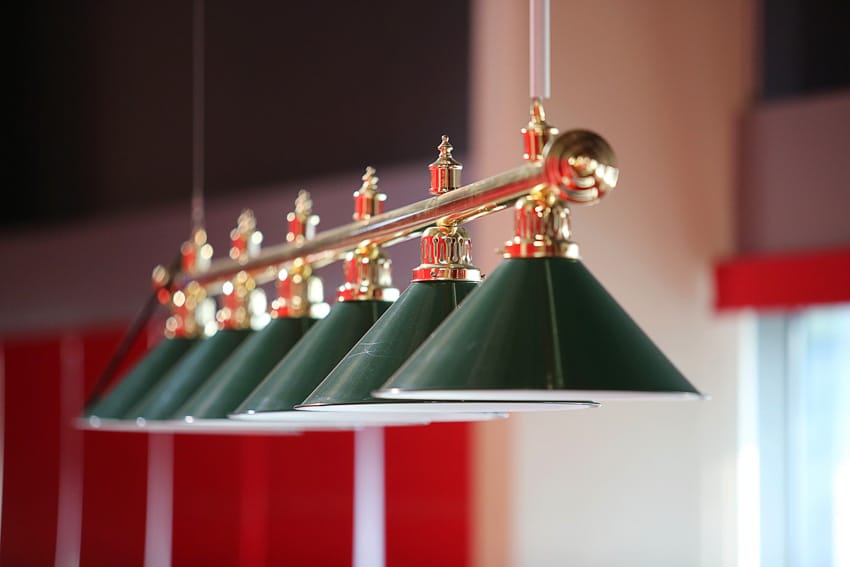 Attics can also be repurposed into game rooms, where billiard lights can come in handy. If you want to add a pool table to your attic space, adding billiard lights for illumination definitely makes sense. It can definitely elevate the décor altogether.
Not only does it provide ample lighting for your pool table, but it also helps your attic to look the part of an actual game room. Even if you don't have a pool table in your attic, adding in some billiard lights can have practical uses and a more high-end effect at the end of the day.
Benefits of Attic Billiard Lighting
Great for attic game rooms
Can be adjusted up or down depending on ceiling height
Creates a visually appealing feel and theme
Adds personality and character
Unfinished Attic Lighting Ideas (No Outlets)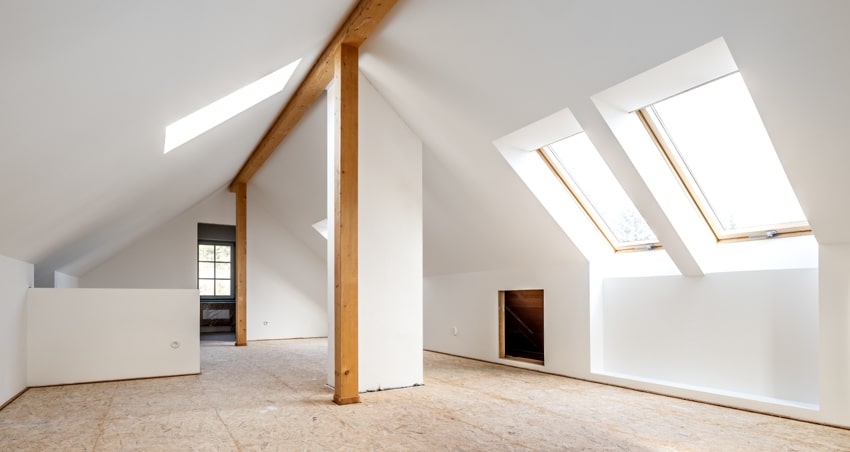 Lighting up an unfinished attic is particularly challenging because there usually are no electrical sockets or electrical sources available. Thankfully, this is where lighting options that don't need wires or outlets come in handy.
They're a great way to light up an otherwise somber-looking unfinished attic space without needing expensive installation, cords, or plugs. Here are a few lighting ideas that can brighten your attic space.
Puck Lights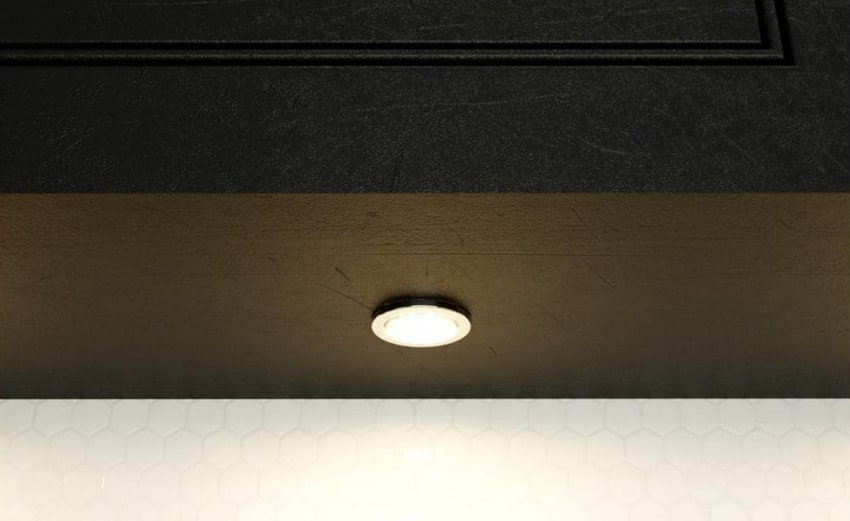 See this puck light at Home Depot [sponsored link]
Puck lights are dimmable lighting options that are also conveniently battery-operated. They can usually be adjusted with remote control and come with easy installation.
To get them set up you'll need some adhesive tape and a few screws, and you're all good to go. They're usually the go-to option for under-cabinet lighting. Still, they can be valuable in an unfinished attic as well.
String Lights
String lights are commonly used in outdoor settings like on the rooftop, on the patio, or in the backyard. They're exceptionally cozy, and they give your attic space a festive vibe. String lights have no need for any electrical outlets.
They are typically battery-powered, meaning they can work anywhere and anytime. Most string lights these days also come with remotes and automatic timers so that you can activate them remotely. In some variants, they can even come with colored and blinking sequence patterns to add some festivity to the vibe.
Flameless Candles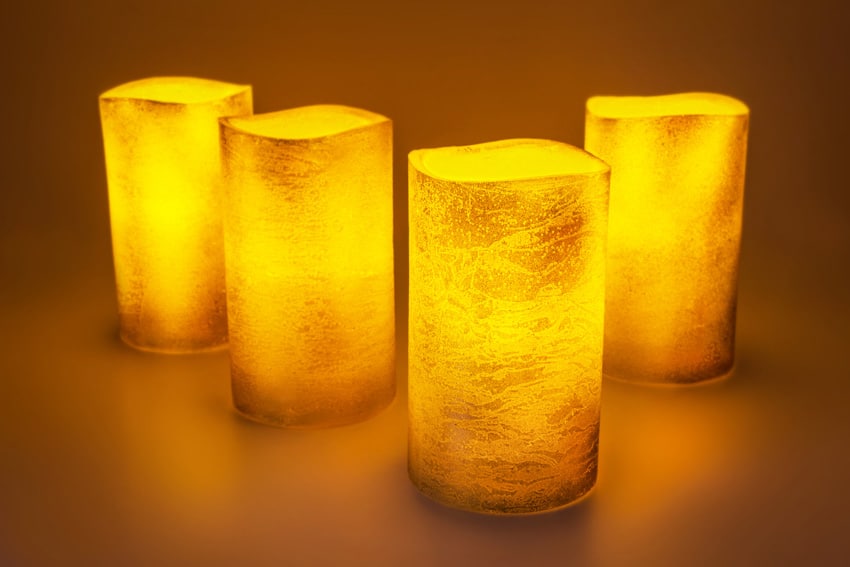 Suppose you want to convert your attic into a romantic and cozy space. In that case, flameless candles may be a great solution to your lighting problems. They're battery-operated, but they're cunning enough to pull off the look and feel of the candles that have been lit up.
Real candles can be a fire hazard to use in the attic because of the dry air, dust, and other combustibles that might have accumulated in the space over the years.
But this isn't something that you have to worry about at all with flameless candles. They come with a technology that effectively simulates the look of candle flames and even flickers for added effect.
Wireless Picture Light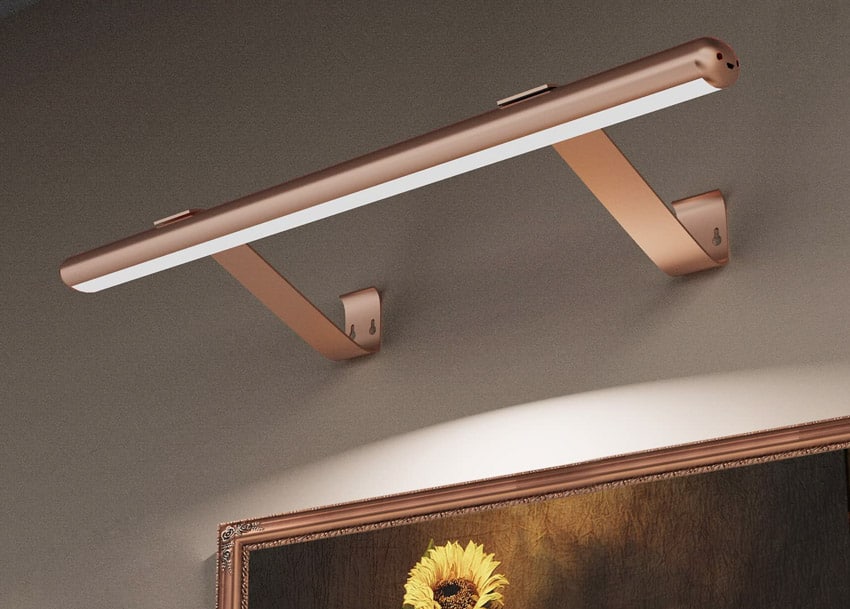 See this wireless picture light at Amazon [sponsored link]
Wireless picture lights are intelligent solutions for an unfinished attic space with no electricity source or outlet. What's so great about them is that they actually look like they've been professionally installed. These lights typically come with brass fixtures and different modes that allow you to adjust the temperature of the lighting being produced.
You can go as cool or as warm as you want, depending on the vibe you want to create for the attic space. These lights are great if you want to showcase interesting artwork, trophies, medals, family pictures, and the like.
Cordless Table Lamps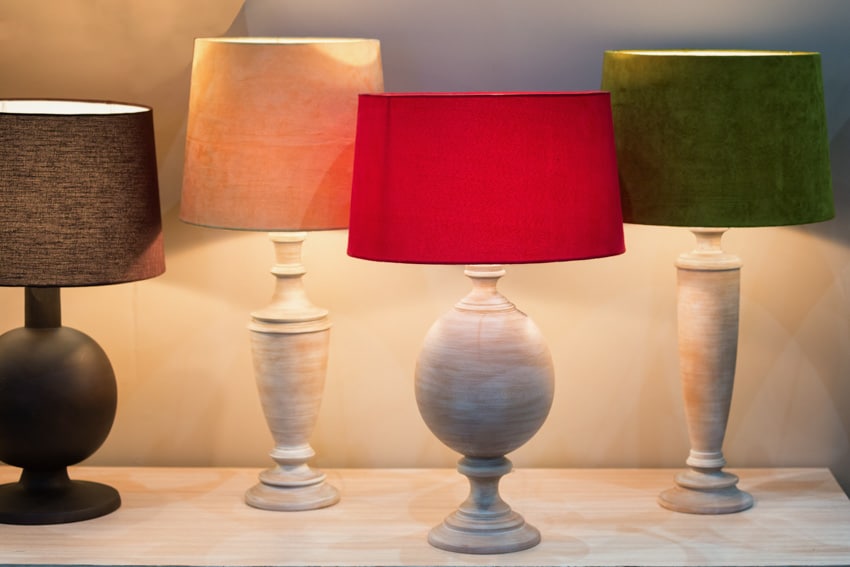 Cordless table lamps have become quite popular lately because of the hype surrounding Nordic or Scandinavian interior design. They operate on rechargeable batteries, can be turned on and adjusted (in light color temperature) through hand gestures, and make great nightstands.
However, they can also be nifty lighting solutions for an unfinished attic space that doesn't have ample illumination and no electricity to support it.
Cordless Vanity Lights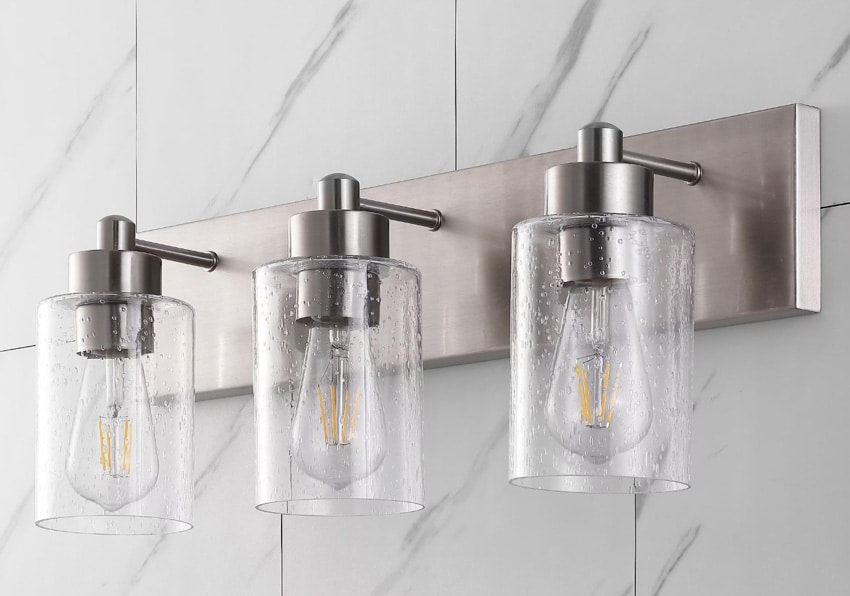 See these cordless vanity lights at Home Depot [sponsored link]
Cordless vanity lights are typically used in boudoirs, dressing tables, and the like. They're usually a strip of four or more bulbs attached directly to the top of a table or mirror. They provide soft and natural light, making them particularly useful to professional makeup artists.
Their installation is unique, as you can attach the lights to any mirror or glass surface using suction cups. This means that you shouldn't have to worry about any sticky residues during the process or if you would like to relocate the lights. On top of all these, they are rechargeable and don't use wires or chords.
Even if you intend to avoid converting your unfinished attic into a dressing room, they're still fantastic for attic lighting. You can attach the suction cups they come with on any window pane or glass surface.
Battery Operated Desk Lamp
Battery-operated desk lamps are one of the favorite solutions when you have a workspace but don't have an electrical outlet. You can also take it as a lighting solution in an unfinished attic area. You can quickly turn it on or off or adjust its brightness or dimness with the touch of a button.
Some attics are turned into work areas where these battery-operated desk lamps can come in handy. The older version has AA or AAA batteries, while the newer ones are rechargeable and can even be solar-powered.
How to Light a Dark Attic Tips
Here are a few bonus tips for your dark attic:
Add more glass to your windows in the attic: When it comes to getting the right amount of illumination, nothing compares to natural light. It's bright and completely free. It's a great lighting option to consider, especially during the day. The challenge in most attics is that they restrict light from outside.
This can be easily remedied by adding a few windows made out of glass. Adding new windows is a complex project, though. Hence, a more straightforward solution is simply redesigning your existing windows in the attic by adding more glass elements. Opt out of the traditional wood shutters and use glass and its light-refracting qualities instead.
Place a mirror near any light source: Placing a mirror near any light output can dramatically increase the illumination in your attic space.
This is a tried and tested trick for interior designers and something you can borrow if you're having trouble getting enough illumination in your dark attic space.
You can strategically place a mirror near your attic windows or angle it near a single light source to widen the scope of where the light falls.
Paint your attic floors and walls with a light color, preferably white: This is an easy and sensible way to invite more light to stream in and create the illusion of having a much bigger space than you actually have in the attic.
Clean and declutter your attic area: Attics are notorious for being riddled with clutter and junk accumulated over the years. This can obstruct light from streaming in and create a lot of shadows which compound the feeling of darkness in the area. Even with adequate lighting, your attic can appear darker because of its clutter.
These days, your attic is more than just some neglected space in the home where you store dusty items. It can be converted into a usable and cozy space with the proper maintenance and the right amount of lighting in it. With innovative and practical lighting options readily available, you only need to pick one that works best for you and your specific attic space.
See more related content in our article about attic office on this page.