See our gallery of sloped ceiling lighting ideas including the fixtures and adapters, tips for low and high slope designs, kitchens, flush mount lights, and quantity of lights to use.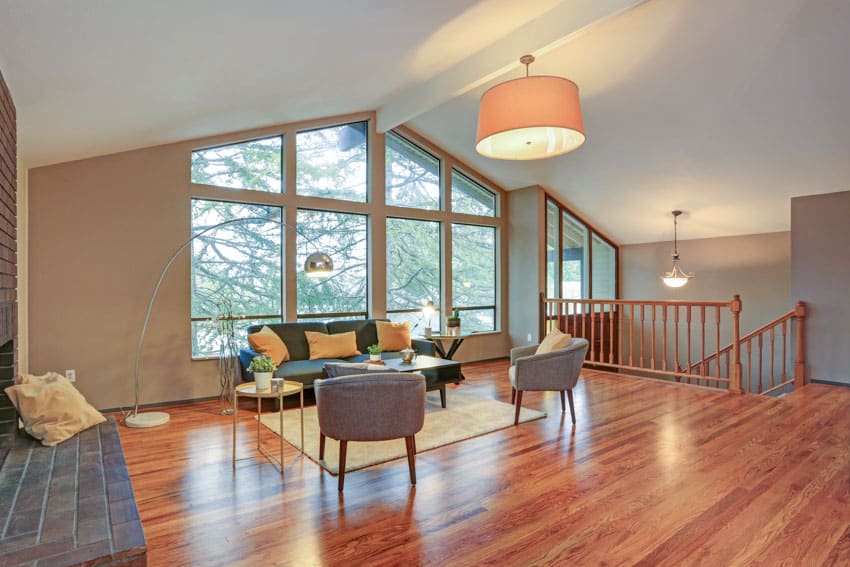 Choosing new light fixtures to hang could be a very pleasant activity. Nonetheless, are you concerned about how the fixtures will perform on your sloped ceiling? Since numerous residences have sloped ceilings, you are not helpless in your dilemma.
Sloped ceilings, on the other hand, are an attractive construction element that might allow for some fascinating lighting options in your house.
However, you must consider the entire atmosphere of the area and employ suitable lighting fixtures to enhance that environment, whether light and airy or stunningly contemporary.
Illuminating a sloped ceiling doesn't have to be difficult; by applying focus and establishing the fundamentals correctly, you will be certain that you are choosing the most ideal option when it comes to lighting.
This article will teach you how to light sloped ceilings so you won't have any problems as time goes by.
Sloped Ceiling Light Fixtures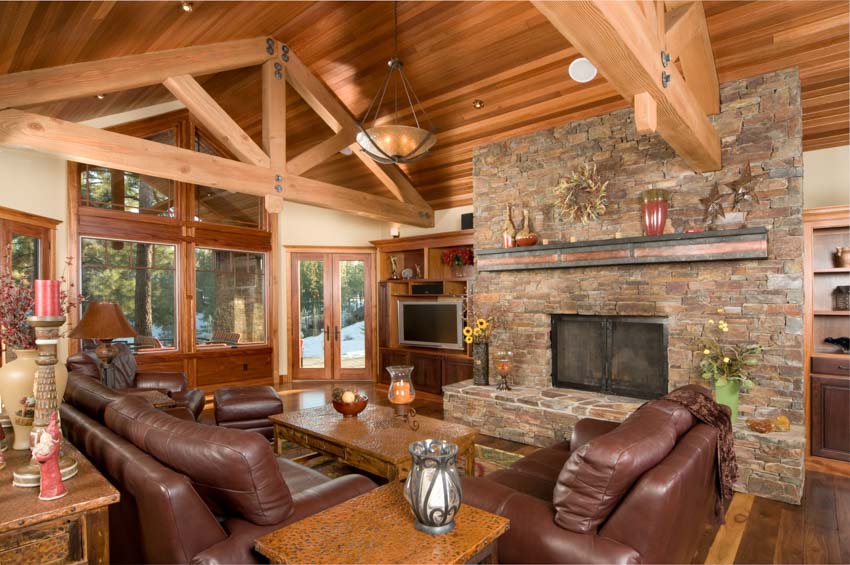 Lighting installations, especially on a sloped ceiling, may be challenging. It is one of those tasks that, once completed, you would not want to touch again unless there is a major issue that needs to be addressed immediately.
Hence, it is critical to know all of the details regarding the lighting fixture you select and if it will perform great with your sloped ceiling.
A sloped ceiling is one of the most popular types of styles you'll find in large areas of the home such as living and family rooms. Vaulted ceilings and cathedral ceilings are two types of sloped designs that can pose challenges with lighting properly.
Several lights operate perfectly with sloped ceilings and require no adjustments. Various types of lighting fixtures, with minor changes, can also be utilized on these ceilings.
Here are a few of the top lighting choices to consider:
Recessed Lighting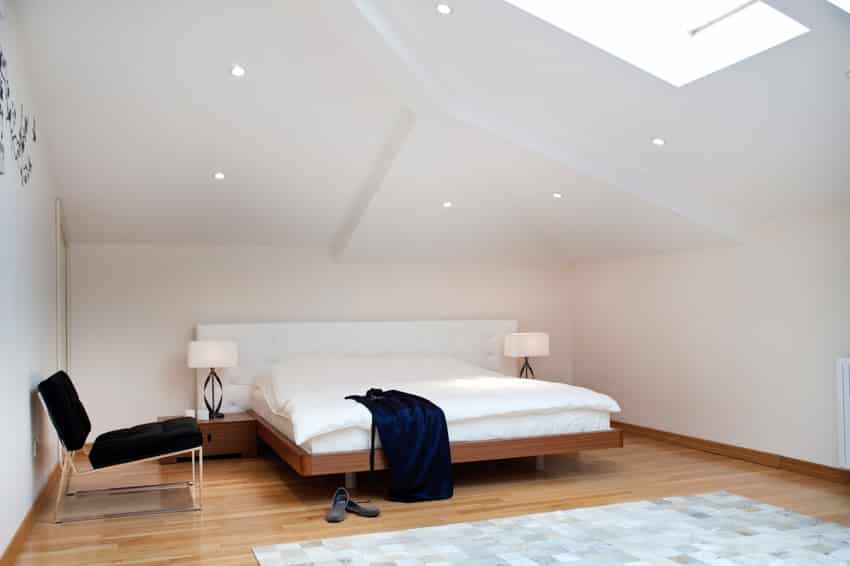 Recessed lighting is a common choice for sloped ceilings. These fixtures, often referred to as can lights, are mounted in the ceiling. Since the edge of the cans lies in which the ceiling is placed, all that is visible is the light positioned just inside the ceiling.
However, because you need to drill into the ceiling, they might be a bit more difficult to mount. With sloped ceilings, you should additionally purchase particular cans that lay at an angle that fits your sloped ceiling.
Recessed spotlights could be suitable for you if you appreciate minimalist design and cleanliness. Simply select customizable spotlights to properly angle the light; since they burrow into the ceiling, they instinctively follow the lines, guaranteeing that they always appear in position.
Furthermore, if you opt to install recessed spotlights, you must determine if they will encroach into your insulation layer.
There are certain models available with specialized caps that enable you to properly enclose them with insulation, but most do not so choose surface mounted or speak to an expert.
These light fixtures are as simple as they look in terms of design. They might be a good option if you do not want lighting fixtures to be visible at all.
Since the structure delivers minimal lighting, you might need extra of them or arrange them tactically if you prefer them to fully illuminate a space.
Flush Lights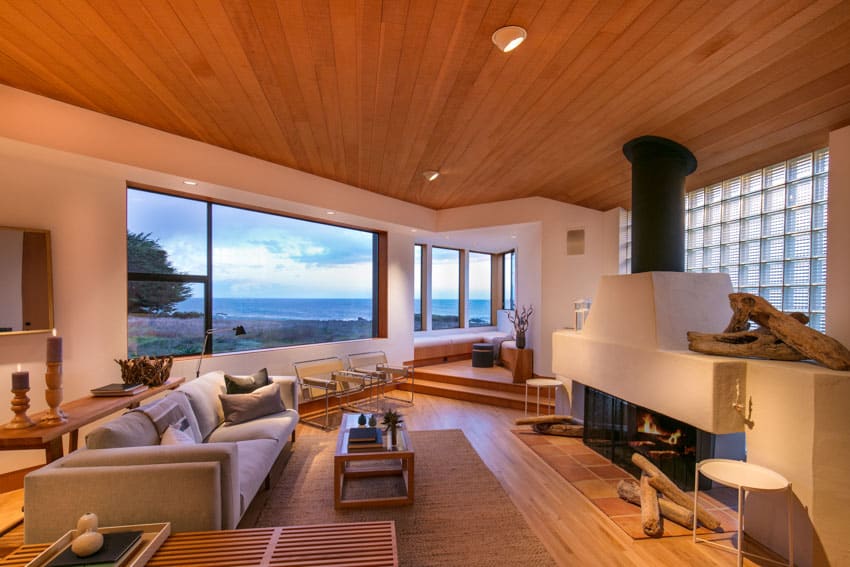 The word "flush" derives from the idea that the lights are positioned directly onto the ceiling. They are pretty easy to set up. In general, they do not require an adapter to be fitted on sloping ceilings; they merely lay at a similar angle against the ceiling.
Moreover, flush lights are another practical design option for a space with tilted ceilings. The height, however, is the major downside of utilizing these lights on sloping ceilings.
Sloped ceilings are higher, thus the illumination will not reach the remainder of the room as effectively as you would want.
Semi-Flush Lights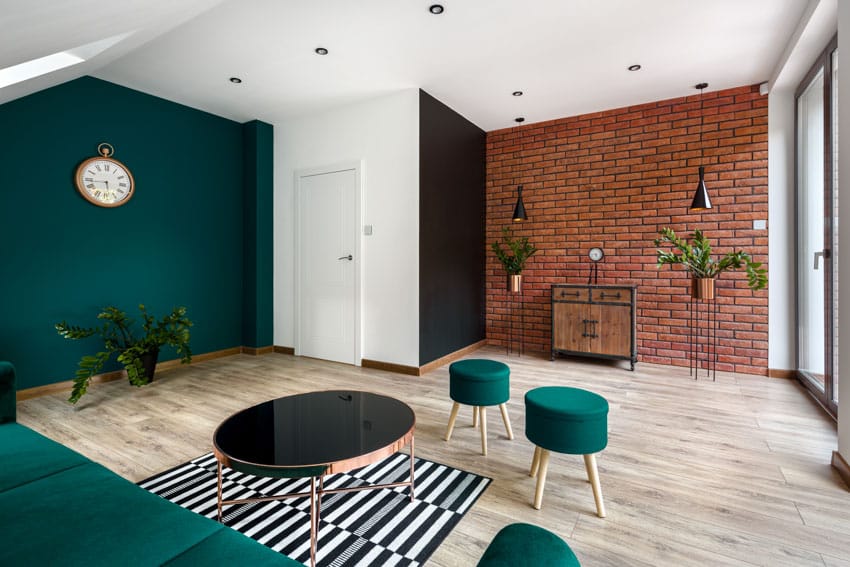 These lights, as the term implies, are quite comparable to flush lights. The key distinction is that they are not exactly against the sloped ceiling, but rather near to it.
Nonetheless, because they are typically fixed, you might need an adapter to mount them to sloping ceilings.
Semi-flush lighting, as opposed to flush lights, can contribute more functions to a room. They could offer extra illumination to your room because they hang deeper. Aside from that, they can provide excellent middle-ground options between pendants or chandeliers and greater flushed lighting.
Pendant Lighting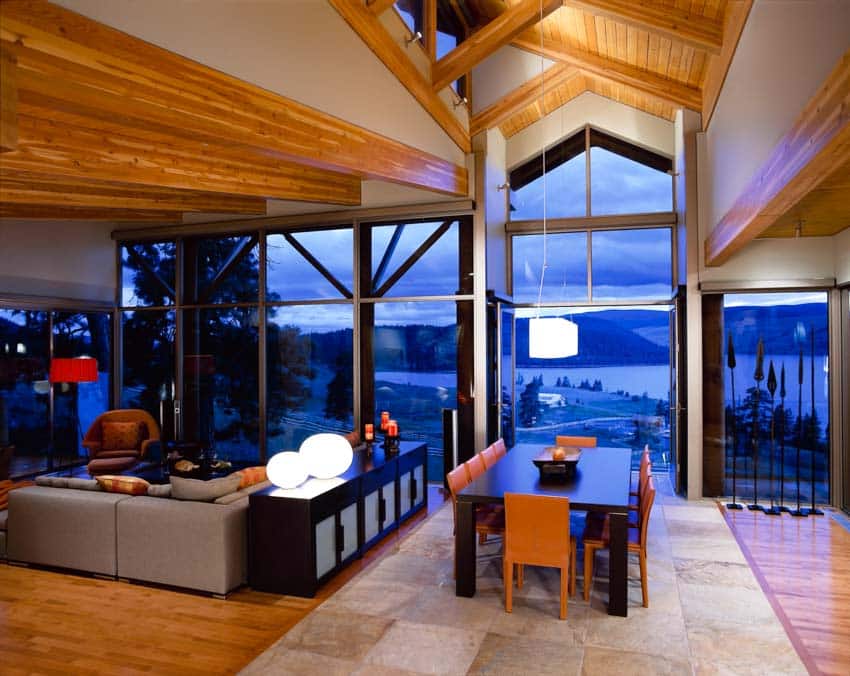 Pendant light fixtures are functionally comparable to chandeliers. The key variation is that pendant lights frequently have a single light, but chandeliers typically contain several little bulbs.
As most of these light fixtures hang completely from the ceiling, they are quite well-suitable for sloping ceilings.
Nonetheless, because of their restricted illumination capacities, you may need more than one of them in your space. Simply ensure they line up correctly on your slanted ceiling and hang at an equal length in these instances.
Chandeliers offer a more decorative appearance than pendant lights. Pendant lights are not mainly used as showpiece pieces but merely for illumination. But that does not mean there is not a range of pendant light types to choose from.
Track Lighting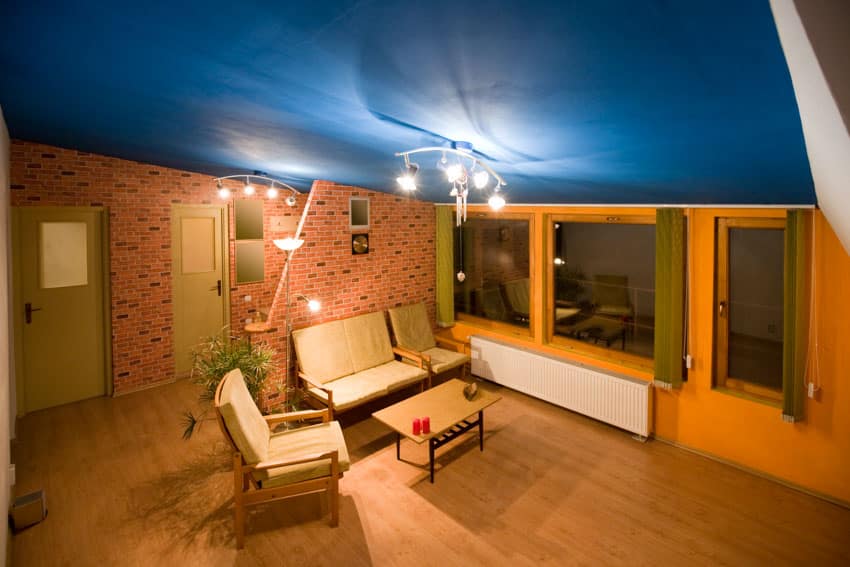 Track lighting is indeed an excellent choice for sloping ceilings. This is due to the track lighting's versatility and ease of installation on slanted ceilings.
Another fantastic feature of track lighting is the ability to place several lights on a single track. This enables you to emphasize the portions of the space that you wish to illuminate while keeping other areas darkened if necessary.
On the other hand, track lighting contributes less to a room's general aesthetic than most of the other options on this list. There are many diverse kinds, but because they are usually near to the ceiling, and they are often utilized for lighting.
If you are searching for something more dramatic, these light fixtures might not be an ideal option for you.
Cable Lighting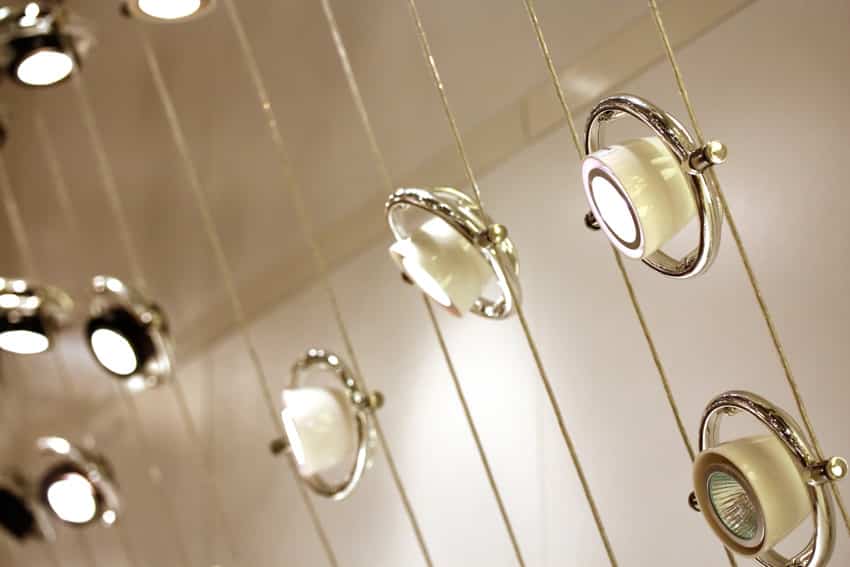 Cable lighting and track lighting are comparable such that they use the same kind of technology. Rather than being mounted on a track, the lights are hooked to wires that are linked to wall mounts on each end.
This light fixture, resembling track lighting, is highly adaptable to sloping ceilings. The wires will be installed parallel to the inclination of your ceiling.
Furthermore, this light could offer a new appearance to a space due to its interesting wire arrangement. They can also be put from wall to wall instead of from ceiling to wall.
Their versatility in installation and fascinating appearance can contribute to the style of a wide range of preferences and interests.
Chandeliers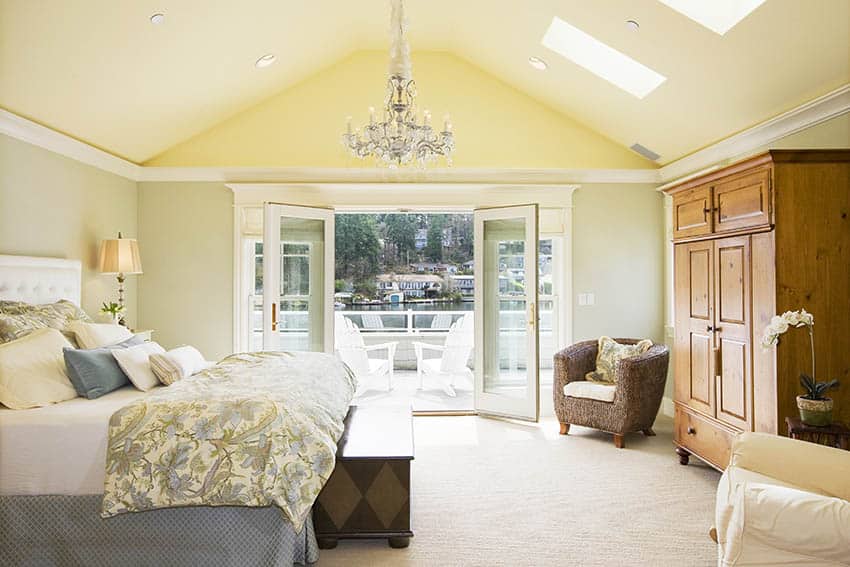 Truly, chandeliers are a timeless option for any form of the ceiling. Because chandeliers dangle directly from your ceiling, the angle is generally unnecessary.
Chandeliers are frequently placed on higher ceilings since they can dangle lower and contribute more aesthetic and function to a particular room. Chandeliers of all varieties look wonderful in settings that simply require a centralized lighting source.
They are also recognized for their elaborate patterns and capability to make a unique and pleasing statement. Plus, they are excellent for emphasizing certain aspects of a home, such as a dining room table.
Ceiling Fans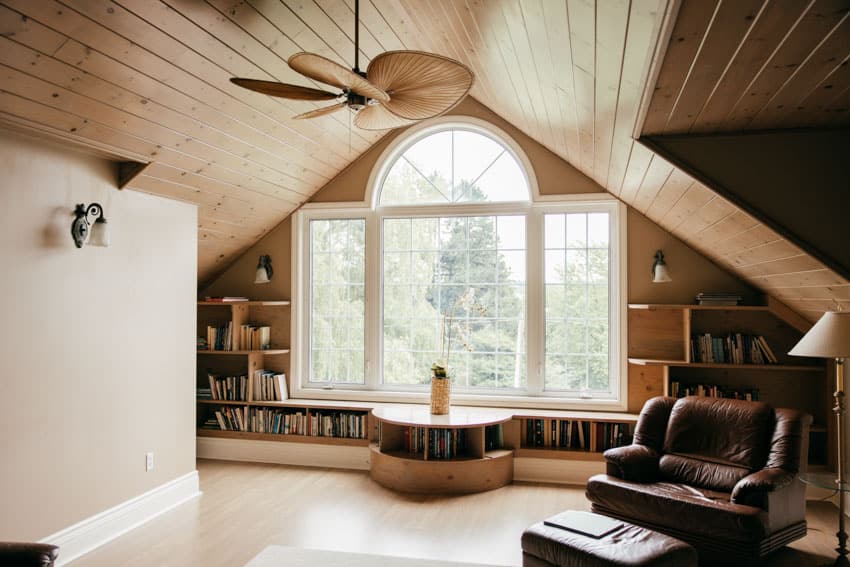 Ceiling fans might not appear to be an appropriate candidate for a sloping ceiling, but you could be astonished at its function and aesthetic contribution. Clearly, they must be put in a location where the fan blades will not collide with the ceiling angles.
Aside from that, most ceiling fan sizes can be adjusted moderately to accommodate sloping ceilings. If your ceiling is at a higher inclination, you may still mount the ceiling fan by purchasing sloping ceiling adapters.
Ceiling fans, just like chandeliers and pendant lights, contribute to the décor of interior space. They can be either a standout item or a more subtle design.
They are multifunctional, unlike any other lighting choice on this list. If you have a congested room with inadequate air circulation, installing a ceiling fan will definitely assist.
What Is A Sloped Ceiling Light Adapter?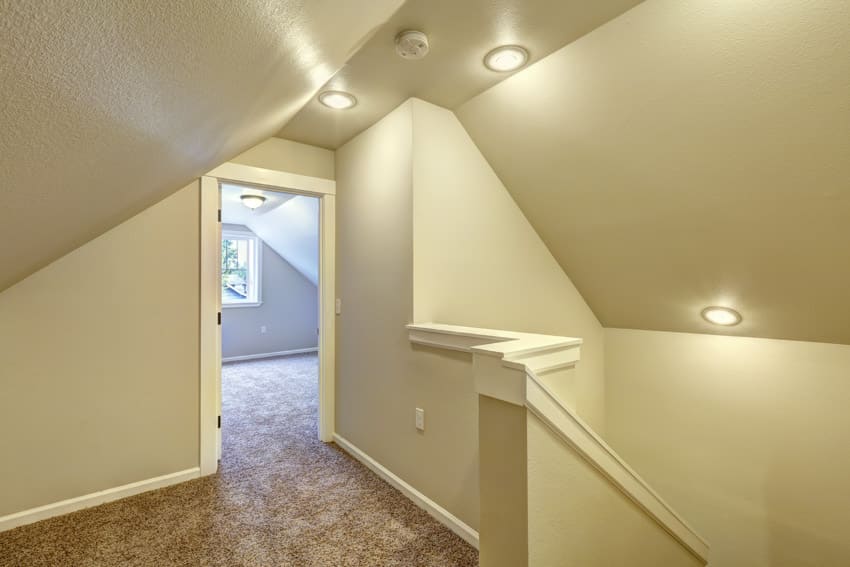 A sloped ceiling adapter is a necessary tool for installing lighting fixtures in slanted ceilings. This adapter, intended for usage with track suspension kits, enables suspension rods to dangle straight from inclined ceilings.
Furthermore, for increased durability, this small adapter has a cylindrical framework composed of reinforced steel. It features a straight socket at the base and a rotating socket at the top that can be adjusted to fit the angle of the ceiling.
Best Lighting Options for Low Sloped Ceiling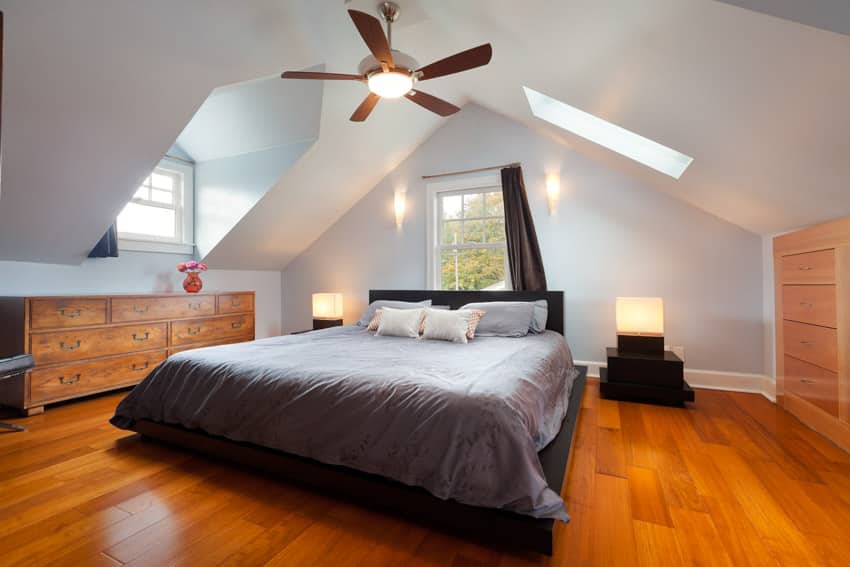 Here are the best lighting options for a low-sloped ceiling:
• Flush Lights: If your living space ceilings are low-sloped, these lights are an excellent option.
Consider stylish and sleek lights, such as circular flush mount light fixtures with chrome accents that complement the rest of your furnishings for a sophisticated aesthetic.
To provide appropriate illumination to your room, arrange many lights in a segment.
• Pendant Lights: These stunning lights are an unexpectedly wonderful option for low-ceiling living spaces. A single pendant might be a wonderfully creative touch in a compact room, but for a more futuristic effect, you can arrange many pendants in a multi-level arrangement.
Using transparent pendants and one-of-a-kind light bulbs, you can make this cluster a genuine primary point of the area.
• Semi-Flush Lighting Fixture: This light installation will deliver the visual effect of height to your ceiling whilst also generating adequate lighting for your room.
You can select a fixture with a minimalist geometric form and golden accents for a mid-century ambiance. Moreover, a dimmer is a fantastic feature to ensure that you will always get the proper amount of light, no matter what the setting is.
• Ceiling Fan: Employ low-profile lighting if your living room has a 7-foot ceiling to produce the illusion of ample elevation. Indeed, a ceiling fan with a compact shape and modern finish that fits your décor is a terrific pick.
This not only adds ambient illumination to your living space but also provides ventilation for enhanced air movement.
How Do You Light A High Sloped Ceiling?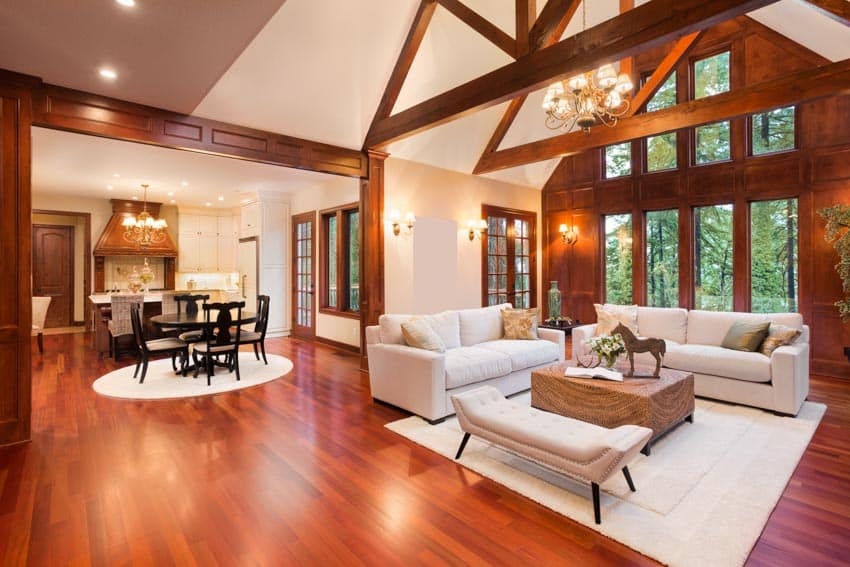 Here are some of the tips and other factors you have to remember when lighting a high-sloped ceiling:
• Think about how much lighting is required in your interior space.
• Find suitable mounting locations on the walls and ceiling.
• Take into account both ambient and task lighting.
• If recessed spotlights will intrude into your insulation system, it would be a smart idea to not use them.
• Assess any dark areas and plan to install lighting. They may emerge at the top portion of the slope.
• Pick hanging lights that will hang upright. Avoid clusters that may appear awkward.
• Incorporating original woodwork and beams in the space will give it a unique aesthetic.
• Choose a style and stick to it for a unified appearance.
• Use lights that are adaptable and flexible to guarantee that your lighting can adapt to any environment.
• Make the most of any high walls by highlighting them with the wall or picture lighting.
It is very crucial to assess how much lighting you need in your room. This will vary based on your room's setting, the quantity of natural light, the color of the walls, personal choice, and the space style.
Consider the activities and duties you will execute in the room and focus your light around those tasks that you will. Multiple lighting comes into the picture here as well.
Furthermore, while selecting light fixtures, you should complement the color temperature of the lighting to the design and mood of your home décor.
Since lighting has the potential to change your mood, using different amounts of light and the proper temperature of light is critical for altering environments.
You can also include dimmers, which are vital for generating an atmosphere in a space, especially one with high-sloped ceilings. They are an outstanding approach to creating ambiance in a room and adjusting the brightness when necessary.
For instance, if you are watching a film at midnight, you might want to turn down the brightness of your recessed spotlights.
When choosing a lighting scheme, give it your best shot, and be sure to take your time doing it. Early in the building phase, you must decide on track lighting, flush lighting, semi-flush lighting, cable lighting, recessed lighting, pendants, and chandeliers.
Table lights may be purchased later once you have a better understanding of the area.
To prevent tearing up walls and ceiling sections, and if you are remodeling a place that already has sloped ceilings, you will need to establish your plan on the pre-existing electrical connections.
Best Sloped Ceiling Kitchen Lighting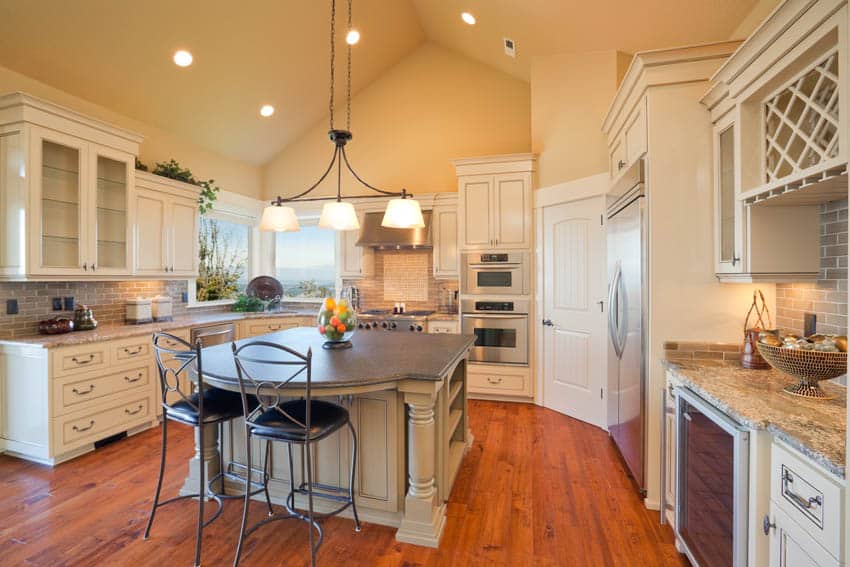 These are the best lighting options for your sloped-ceiling kitchen:
• Recessed lighting: This kitchen lighting is one of the most conventional lighting arrangements for kitchens with sloped ceilings. These are also known as can lights.
Recessed lighting illuminates certain portions of the countertop or kitchen island very adequately. The paramount benefit of recessed lights is that they are mounted against the ceiling and take up no physical or visible space.
• Pendant Lights: Installing dangling pendant light fixtures is one solution to the dilemma of kitchen ceiling lighting. Hanging pendant lights are frequently adjustable and deliver the lights down to just above head height.
Hanging pendants can be permanently installed or placed into track lighting tracks. Most work areas will be properly illuminated if your pendant lights are strategically arranged.
• Flush Lights: These lights provide enough broad lighting. The greatest types of ceiling lights illuminate all areas, including up towards the ceiling.
Flush-mounted ceiling lighting is ideal for when you initially enter a space. When you flick the switch, you can already see all the things you have to check in your kitchen.
Flush Mount Light On Sloped Ceiling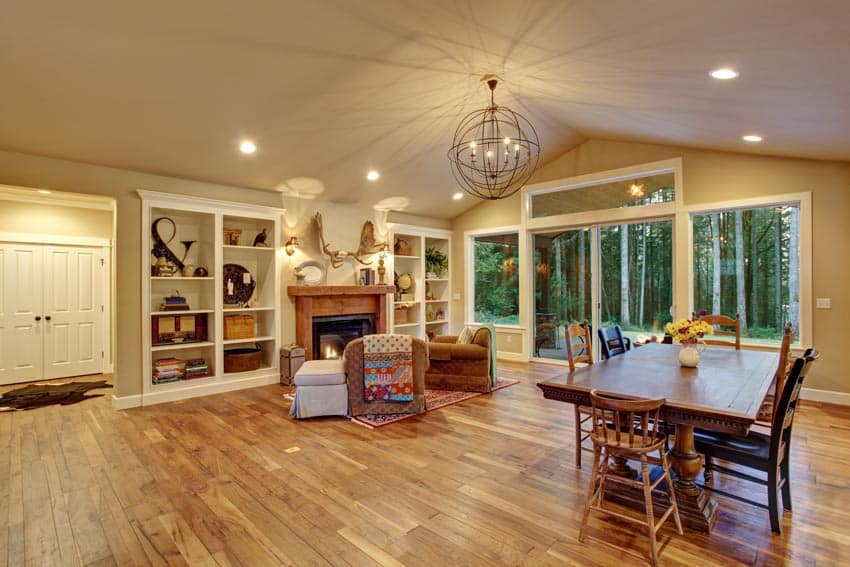 Even in houses with sloping ceilings, flush mount or semi-flush mount lights are perhaps the most typical ceiling lighting fixtures. They are adaptable, take up little space, and come in a variety of designs and finishes.
These light fixtures are attached to the ceiling and illuminate a broad area. They add to the elegance of a room while giving optimal illumination to a large area.
Moreover, flush mount fixtures are securely affixed to the ceiling, allowing for more ceiling space. These components tend to merge in with the ceiling, but when appropriately integrated, they can be used as an aesthetic element.
While this type of lighting can be used on a sloped ceiling, it is typically not the greatest choice since sloped ceilings are higher than typical, and this type of lighting is most efficient on low ceilings.
However, a comparable form of lighting known as a semi-flush mount may be a better option.
This type of light hangs just below the ceiling, providing more light than a conventional flush mount in a room with a high ceiling, but is far more discreet than a chandelier. It also does not hang as low to the ceiling like a chandelier.
How Many Lights To Use On A Sloped Ceiling?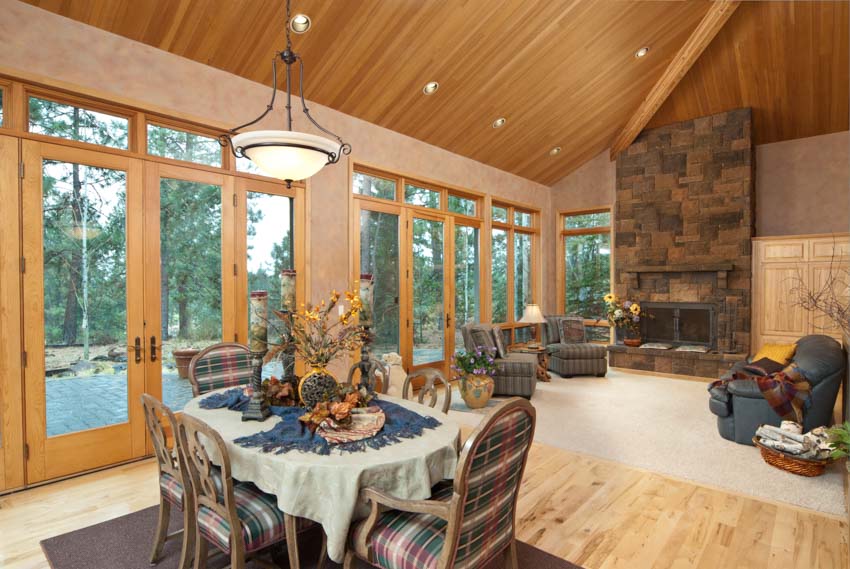 You can place as many as you need to provide the optimal illumination for your room. They must, nonetheless, be spaced uniformly apart for aesthetic purposes.
The size of the can lights that are utilized might also be a consideration. Be cautious not to overcrowd the lights on the ceiling.
You can always start with an evenly spaced row of can lights, and if it does not provide enough light, you can easily add more afterward.
See more related content in our article about the different ceiling design types on this page.