Here's our collection of mason jar hanging lights including DIY kits & lighting for the kitchen, bedroom bathroom and patio.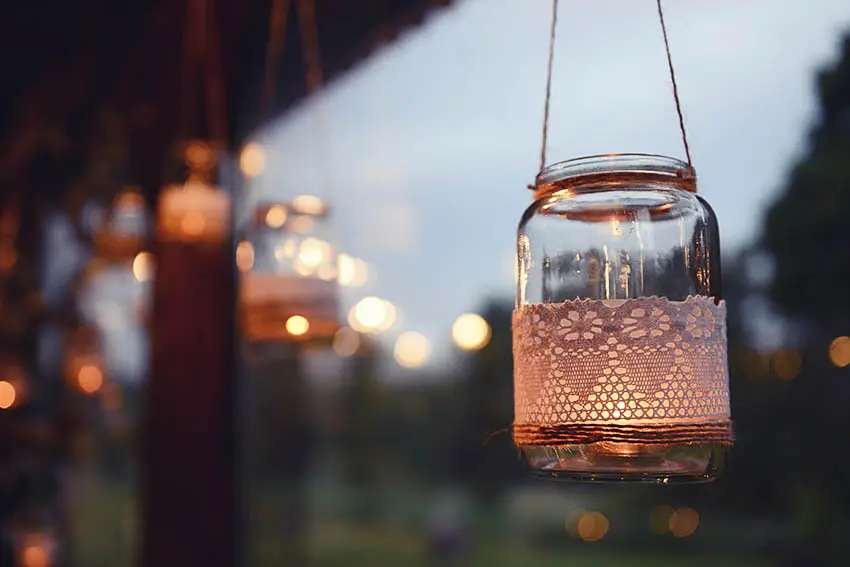 Sprinkle your home with sparkle and magic with these wonderful mason jar lanterns. The lights in a bottle decor offers a wonderland of decorative options that truly gives joy and comfort that every home deserves.
Mason Jar Lanterns barrows the charm of the classic keeper of sugar and spice that we never seem to get weary of. By adding ethereal and alluring lights to the humble mason jar, you get a light bulb that's subtle yet is made to charm.
We've rounded up some delectable choices of mason jar hanging lights that will suit whatever mood or place you have, that's in a subtle and inexpensive decorating.
Mason Jar Hanging Wedding Lights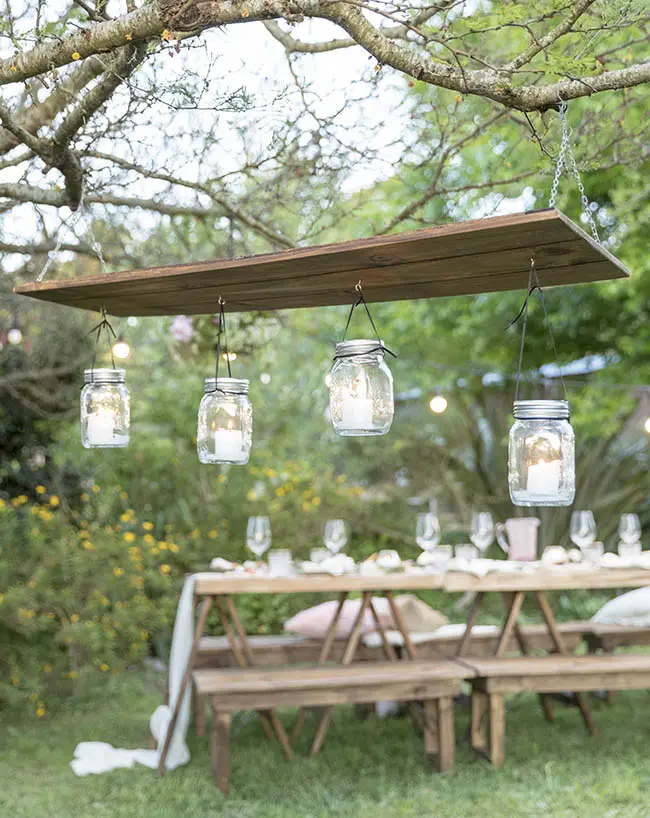 These gorgeous DIY mason jar hanging wedding lights are a simple way to add a rustic touch to any outdoor dining area.
The mason jars are attached by twine to eye hooks that is fastened to an old piece of reclaimed barn wood. The wood is then attached to a tree or other structure using two small pieces of chain.
Small votive candles are placed inside the jars to create a warm inviting ambiance for the day or night.
DIY Mason Jar Chandelier
This custom rustic wagon wheel mason jar lighting fixture looks impressive with its many hanging lanterns. It makes the perfect focal point for an enchanting barn wedding venue or other special occasion.
Mason Jar Light Kit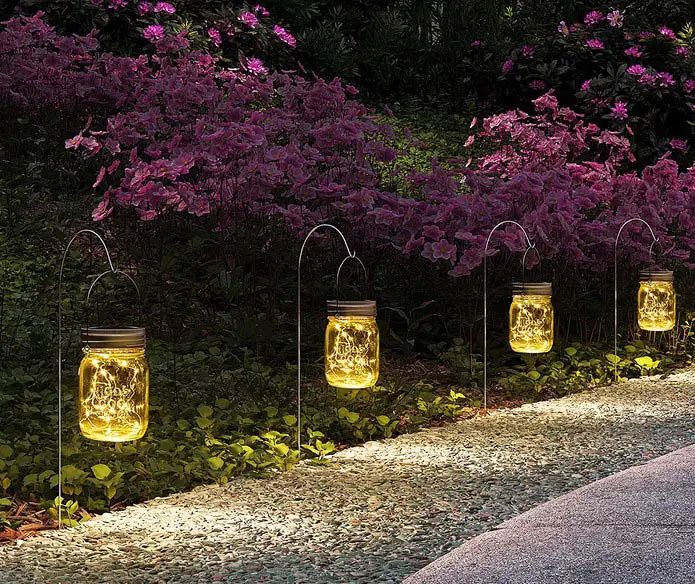 See this kit at Amazon
Finally, a solar-powered outdoor lighting that captures the charm-filled lights in a bottle. The mason jar light kit by GIGALUMI comes in a 6-pack mason jar, each complete with 6 hangers and 6 jar lids, each fixed with an efficient solar panel.
With no wiring or AC required, you can a create heart-warming atmosphere anywhere you want. Sprinkle them on a tree or line them up on the pathway any time of the day or night. Designed and built to withstand the extreme weather, you can enjoy these bright trinkets all four seasons long.
With its built-in light sensor, it turns on during the night or in a dark environment, while it automatically turns off during the daytime, now that's an eco-way to light up your home.
You'll enjoy the light-filled bliss for up to 8 hours when fully charged, and with its classic mason jar look, it's a versatile piece that can fit any interior style.
Mason Jar Chandelier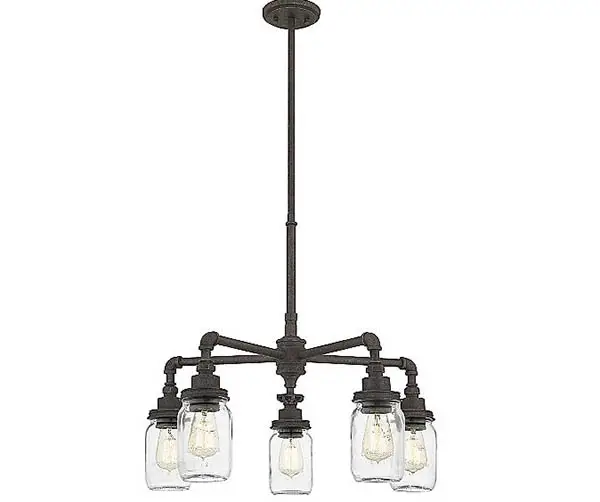 See this chandelier at Lumens
The Squire Chandelier by Quoizel is a chic emblem, a reminder of the past, with subtleties of that old rustic charm. Not too flashy nor shabby, it's a great centerpiece for your kitchen or dining area and with its adjustable and dimmable features you can set the mood at your own preference.
Quality made to be showcased indoors or outdoors, it is a simple décor light fixture that can inspire your room's overall look. It comes with the classic spice and fruit jars that are held by an industrial-inspired black metal, structured to securely hold the mason jars.
The mason jar chandelier uses 5 x 100 watts medium base incandescent lamps. You'll also get extra down rods in case you need a spare in the future.
Mason Jar Linear Light Fixture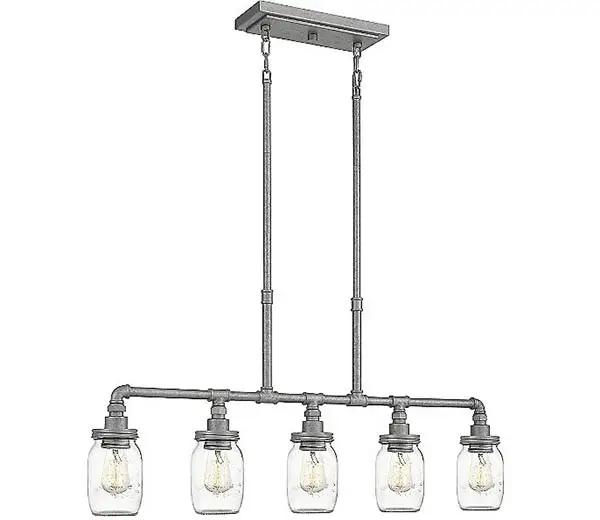 See this kitchen island/dining light fixture at Lumens
The Squire Linear Suspension is a lighting fixture that gives off that rustic vibe that's so chic it can even match up with your modern-styled spaces.
Suspend them over your home bar, kitchen island, and dining table to create a cozy and charming atmosphere. You can also adjust the mood by integrating a dimmer to adjust the lighting intensity.
The mason jar linear light fixture comes with steel arms finished with rustic black and galvanized silver that brings out that industrial-look. Designed to last for many years, it has a 10-year warranty on its electrical components and a 3-year warranty for its finish. Made from Quoizel Lighting Designs this fixtures has #5, 60 watt (200 lumens) lamps.
Mason Jar Light Bar for Bathroom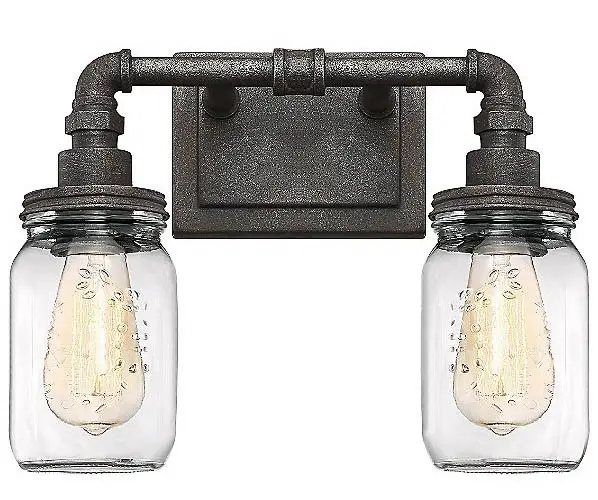 See this mason jar bathroom light at Lumens
This decorative luminaire is just the perfect pair to have in your personal oasis that has just enough of glitz to spruce up your space.
Made to last, the elegant design showcases a pair of vintage-style incandescent bulbs encased in the classic clear masonry jars. Held from a steel elbow pipe with bolt-style details which is mounted to the wall with a stepped backplate.
You can match up the dark metal with matte black hardware to create a unified look. A charming touch of fruit-inspired detailing is engraved on the bottle surface completes the look. The lights are securely held by an elbow pipe bolted on a stepped rectangular backplate.
If you have two mirrors lined up along your vanity counter, you can hang the vintage light in between your his or hers mirror. Or create a more balanced look by having one on each side of your mirror and have another lighting fixture in the middle.
When you're looking for a functional as well as decorative lighting fixture outdoors, they're also great lighting options for your deck, patio, or porch. See more bathroom pendant lights here.
Hanging Mason Jar LED Lights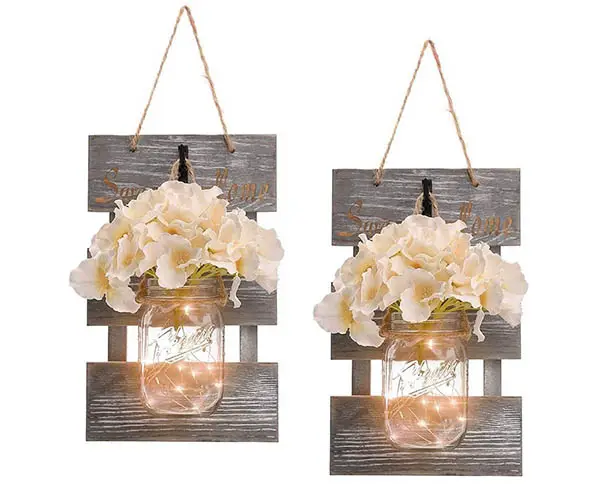 See these hanging lights at Amazon
Truly an unforgettable décor delight, these lovely mason jar sconces will light up your living space and create a cheerful atmosphere.
A befitting gold "Sweet Home" engraving spruces up the rustic gray finished wood, that holds the light-filled jar. Adding magic to the fairy lights is the removable faux hydrangeas that looks natural and absolutely pretty.
The LED lights are on a string making them easy to change the positioning and design of the lighting. Versatile as they are, the jars can be leaned against an open shelf instead of hanging the ornament or add a back support to be placed at your nightstand or mantel-piece.
Share the joy of having this pair with your loved ones. The hanging mason jar lights are great as a housewarming gift, or you can have these delightful pieces as appreciation tokens or Christmas presents to your friends.
DIY Hanging Mason Jar Light with Candle & Sand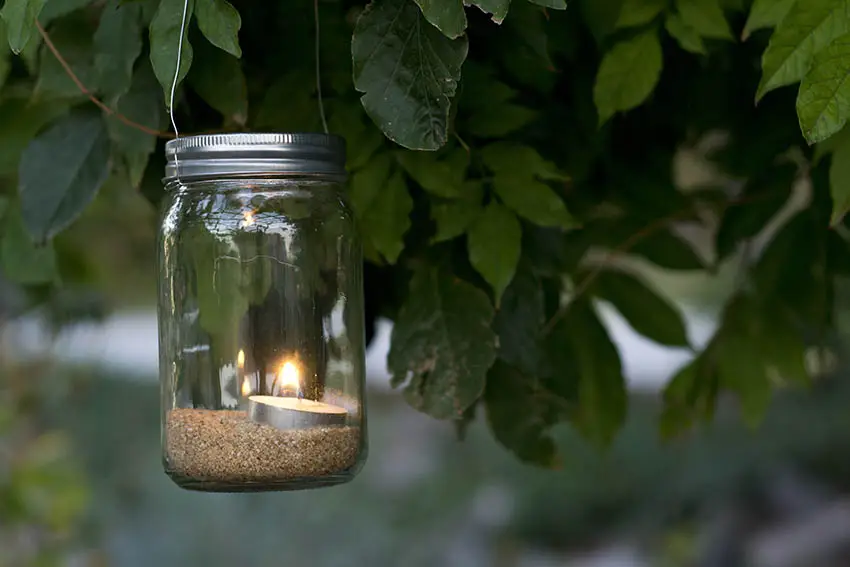 A DIY hanging mason jar light can be created using a basic piece of twine attached to the lid and decorated with a votive candle placed atop a small amount of beach sand. This combination while simple and inexpensive can create an alluring glow at night that will be well worth the effort.
DIY Mason Jar Light Decor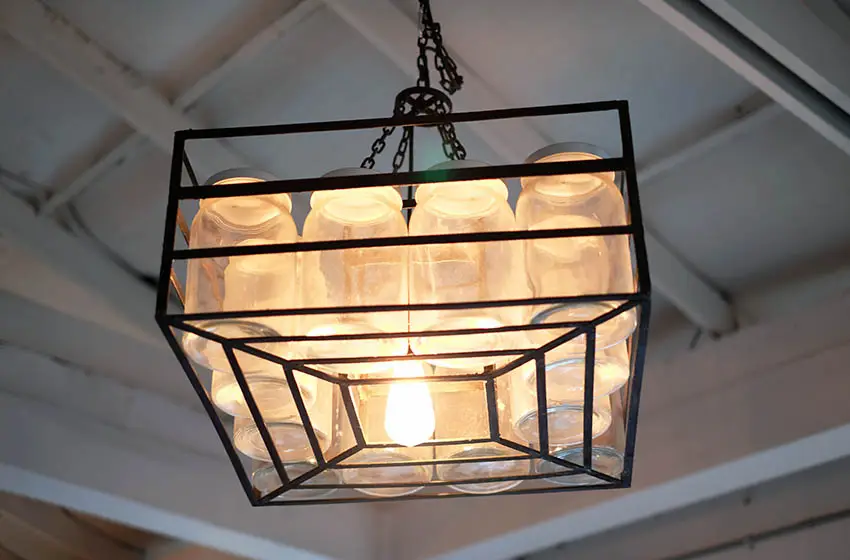 An interesting way to create the look of a glowing mason jars is to use an existing light fixture. This DIY mason jar light decor idea, places the jars atop a hanging light to create the design.
This method avoids the need for lighting candles or running additional electrical wiring or LED light strips. While the results are quite rustic, it can provide interesting results.
Mason Jar Pendant Light Kit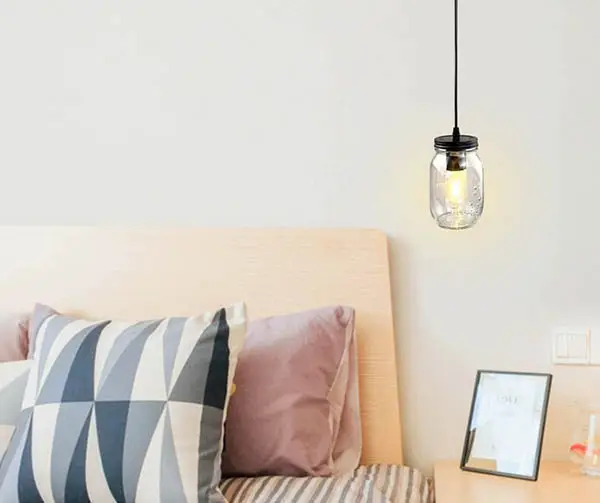 See this pendant light at Amazon
Looking for a ceiling décor that can amp up the look of your home? Check out this great find by TinHon.
The mason jar pendant light kit is beautiful lighting fixtures that you can trickle-down on your living room, dining table, hallway, or even for that al fresco dining experience outdoors.
Pendant lights are great lighting fixture solutions if you have a vaulted, sloped or slanted ceiling because it allows you to maximize the ambient lighting without any obstruction.
Built for high ceilings, you can bring the lights down into a more intimate range with the people in the room. Of course, the length is still adjustable to accommodate a variety of room dimensions.
The lights are perfect for setting a lovely glowing ambiance. The mason jar hangs by a long stem made of metal with a base that is screwed onto the ceiling.
For more related ideas visit our article on how to hang string lights.