Here we share our guide to turning a bedroom into a closet including the cost and popular design tips for clothing storage & decor.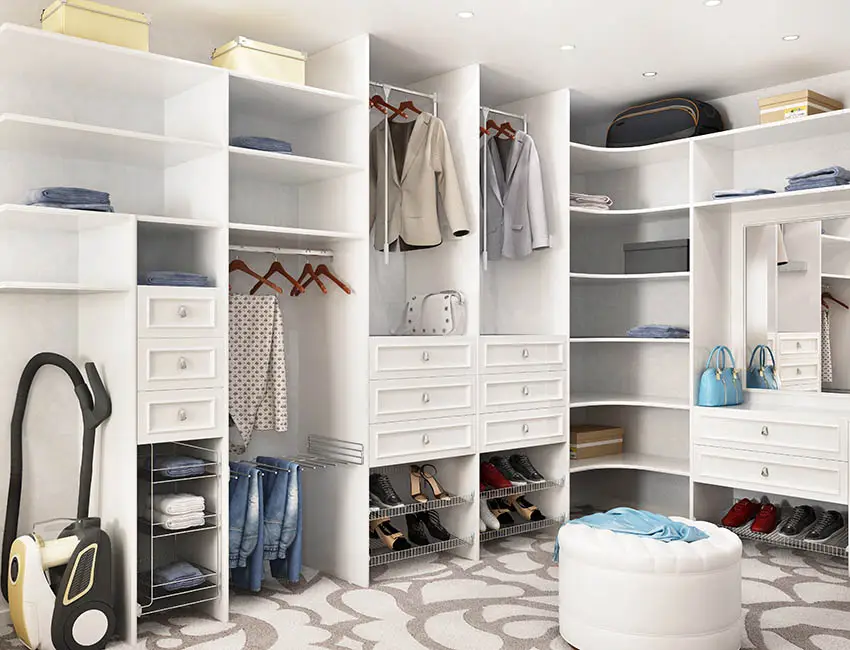 Before turning a bedroom into a walk-in closet consider the impact on your future resale value. At some point, your home will change hands. Will the future buyer appreciate your decision to sacrifice a bedroom for a walk-in closet?
It's impossible to predict, but some general advice is; if you have fewer than 4 bedrooms, consider a reversible conversion. That way, the future owner has the option of restoring it to a bedroom.
If you have four or more bedrooms, and especially if you have a small bedroom that shares a wall with the master bedroom, you can go for permanent conversion.
Hire a building professional to knock a hole in the wall, creating a pass-through between the two rooms, and seal up the original doorway. Custom closet design completes the transformation.
How to Make a Room into a Walk In Closet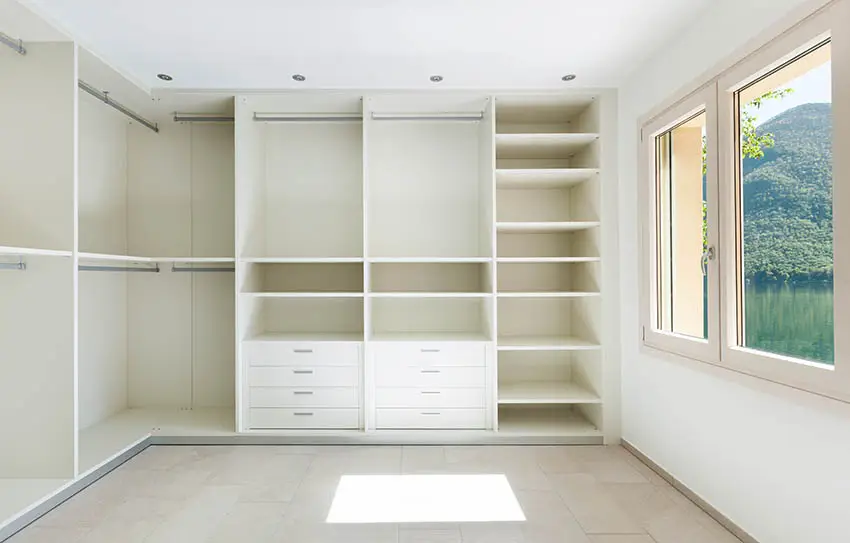 Storing your clothes in a room won't magically turn it into the walk-in closet of your dreams. Transforming the space from a room to a walk-in closet requires attention to detail and a few tricks.
First, consider the windows. Most closets don't have windows, for obvious reasons. If you're able to make permanent changes to your home, you can have the windows removed from the room that you've designated as your future walk-in closet, freeing up wall space for more storage.
If you're not ready to commit to a permanent transformation, you'll need to integrate the window into the space. Use a window cling to protect your privacy and make the closet feel like an escape from the rest of the world.
For a faux-built-in look, purchase two identical tall wardrobes and place them on either side of the window.
A shorter dresser or table from the same collection, placed just below the window sill and abutting the two wardrobes, will mimic the look of a custom storage solution. Added bonus — it can be used as a vanity!
Clothing Storage
When it comes to clothes storage, you have a few options. Most reputable closet design companies offer to send a representative to your home to measure the space and show you your options.
We also have an article on closet height standards if you are doing the measurements and installation yourself. There's also an article with info about popular walk-in closet dimensions which may help.
At least two of the walls should be completely covered with storage furniture. If you don't want to use a closet design company, you can order walk-in closet storage furniture and wardrobes from major furniture retailers like IKEA. Avoid any wardrobe with legs — they should sit flat on the floor.
You can also get a better idea of what you want and plan your layout by using a closet design software program. These programs will allow you to enter in your room's measurements and add the finishes and storage units you want for your design.
Lighting
Proper lighting is important for any area where you're trying on clothing. The most common types of lighting for a closet are recessed lights, strip lights or track lights. Ribbon lighting is another option if you would like extra illumination of your closet rods.
If your bedroom has inadequate lighting than one of these options should be considered. The size of your space will determine its lighting needs.
As a general rule one recessed light for every 4 to 6 square feet of ceiling space will provide general illumination. You can add different types of bulbs or fixtures to increase the output if desired.
For those turning a bedroom into a closet one should avoid using incandescent bulbs as they can generate heat which is not a good idea for a space with a lot of flammable items such as clothing.
Instead used LED lights or fluorescent lighting to keep the area bright. Using full-spectrum fluorescent bulbs can provide a more natural feeling light.
Furniture & Finishes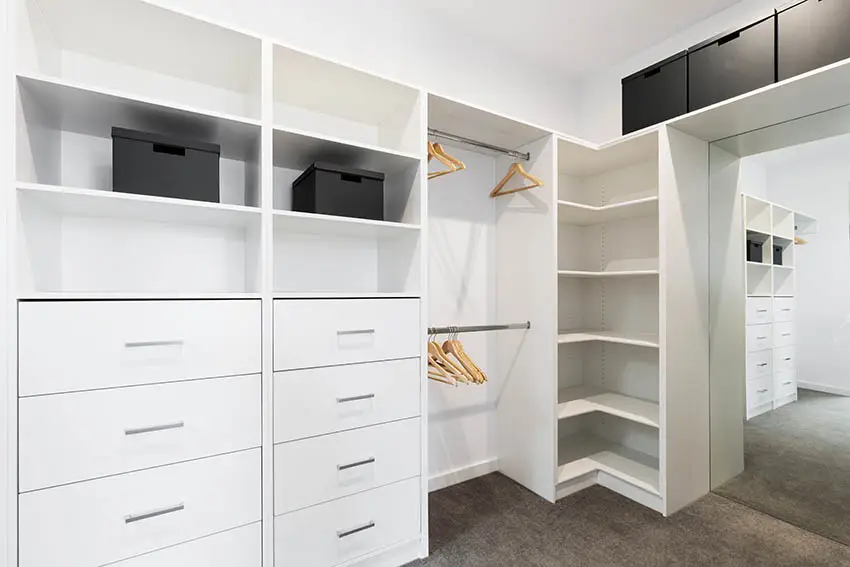 A mirror is a must for any walk-in closet. In a smaller closet, this can be wall-mounted. A free-standing mirror is an elegant touch in a large space, or you can install a three-way mirror to examine your outfit from all angles.
Last, add some non-storage furniture and finishes to make your closet not just a home for your clothes, but a nurturing and restorative place you want to spend time in. A place to sit is highly recommended, whether that's a tufted ottoman, cozy chair, or chaise lounge.
If there's a lot of empty space in the middle of the room, a central island will fix that problem while providing additional storage. A closet island can be a good spot for shoe storage, underwear or other fashion accessories. A soft area rug will help pull the room together.
How Much Does It Cost to Turn a Room Into a Closet?
The average consumer working with a closet design company spends about $3,000 on a custom bedroom-to-closet conversion, but costs can climb up to $10,000 if you're converting a large room or want premium materials.
If you're designing your own closet, expect to spend at least $1,000 on storage solutions and decor.
Knocking through a non-load-bearing wall in a single-story home costs between $300 and $1,000. For load-bearing walls in a single-story home, the price generally starts at $1,200 and climbs to $3,000. If your home is more than one story, expect to shell out between $3,200 and $10,000.
Hiring a professional to fill in the open doorway and match the surface to the surrounding walls will cost between $300 and $800. This price is inclusive of labor and materials.
If you're committed to full, permanent conversion and want to remove existing windows, you can hire a handyman to do this for you. The open space where the window used to live will need to be insulated and sealed, then covered with drywall.
Last, the new surface must be painted to match the existing wall. A handyman should be able to do all this for $300 or less.
As you can see turning a bedroom into a closet is possible. Let us know anything we might have missed about this process in the comments below. You can also read more about the different types of closets on this gallery page.