Here's our hallway lighting ideas design gallery with the types of light fixtures & options, best light bulbs for hallways, and the best lighting tips for your home.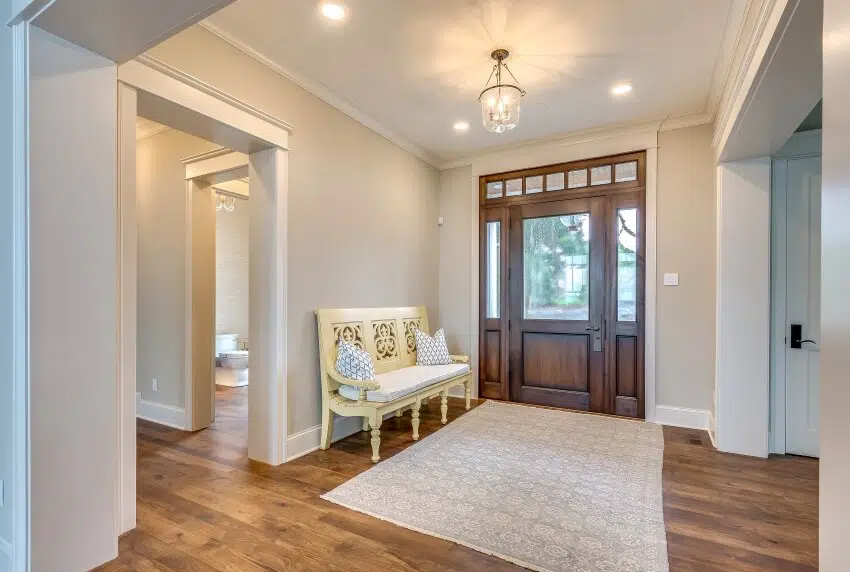 Experimenting with different hallway lighting options is the trick to getting your hallway space perfect. You want to make the perfect entry to your home, but let us face it – hallways are sometimes neglected when creating and adorning the space.
You can appreciate how elegant and functional hallway lighting can be, and how it can enhance even the smallest space in your house.
Whether you have a dreary entry hall that requires a creative lighting arrangement or you are looking for a more contemporary display lighting fixture to be a central focus of your space, we have got the greatest hallway ideas covered.
Types of Hallway Light Fixtures
Recessed, track, flush, semi-flush, and sconce lights are among the most popular hallway light fixtures. Here's a breakdown of each type.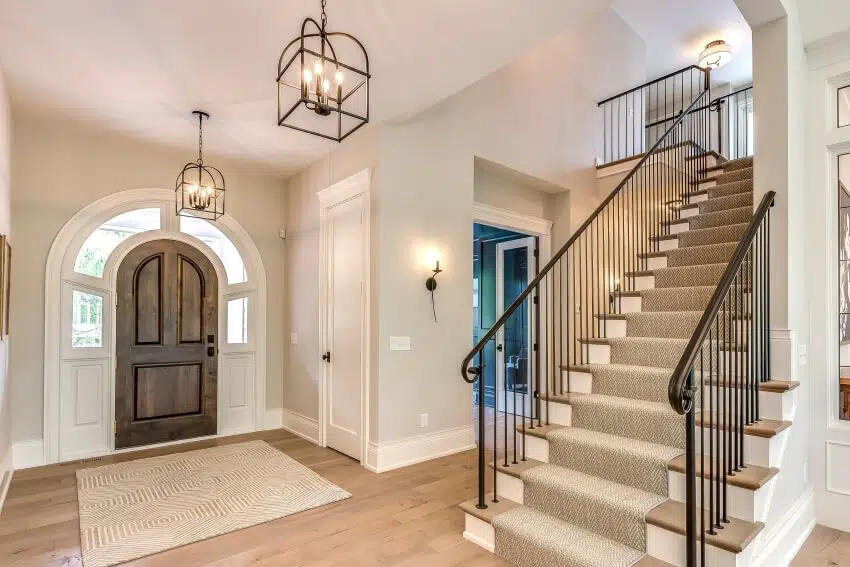 Recessed Light Fixture
Recessed lighting is commonly installed in a hallway's ceiling to provide the illusion of concentrated or scattered light beaming from an opening or hole. These types of light fixtures have the advantage of being able to be concentrated at a certain angle, allowing for ambient mood.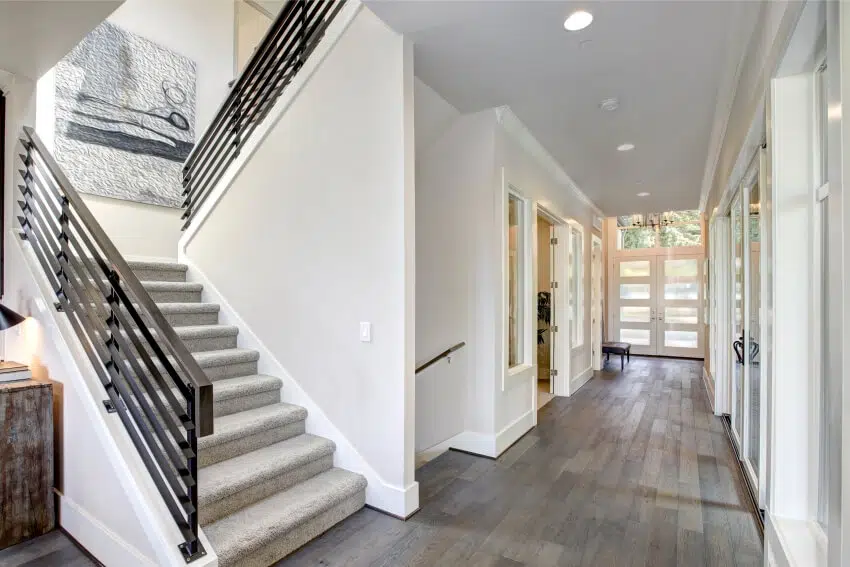 Furthermore, since they normally require drilling an opening in the ceiling, these hallway lights may be too complex for DIY projects. If a homeowner prefers recessed lighting in their hallway, it is usually a much better decision to ask for professional assistance.
Track Light Fixture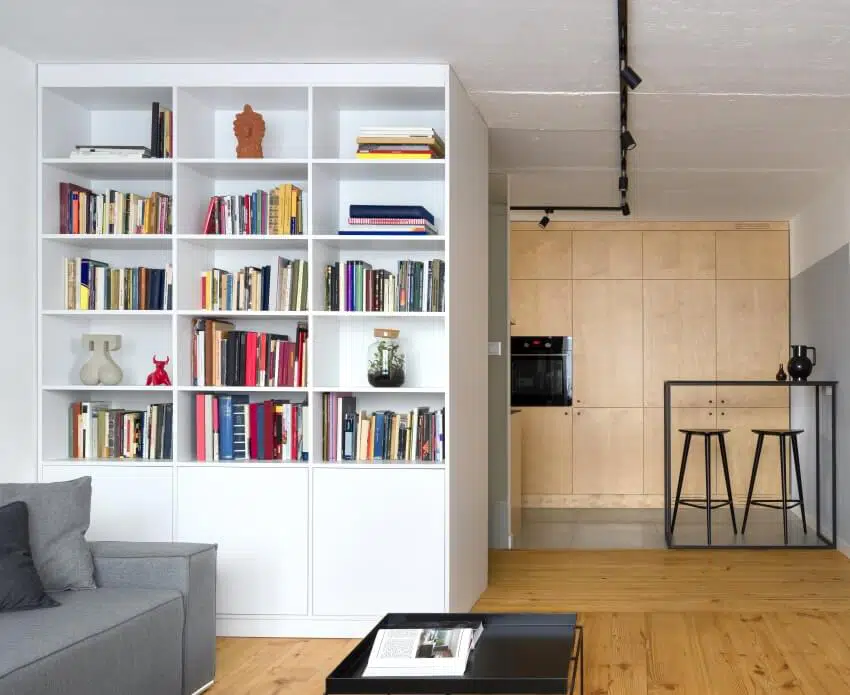 Track lighting is also another type of hallway light fixture that is commonly employed when recessed lighting is not available. This light fixture can make wiring for several lights connected to a track so much easier.
It entails mounting track hardware on a wall or ceiling and linking it to a power supply. Multiple fixtures can be fitted to different parts of a track after it has been installed.
Sconce Light Fixture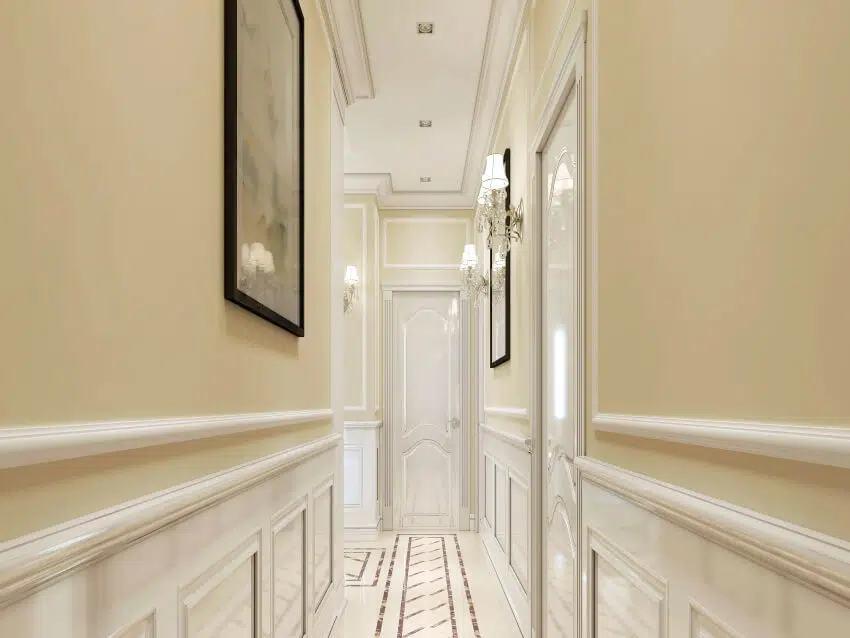 Sconces, which are normally torch-like lights mounted to a wall, are some of the most common hallway lights. They precede electric lights and are frequently constructed in an upward layout, resembling candle holders.
Furthermore, sconce lights are frequently situated roughly halfway up the wall of the hallway, so that the light is at eye level. This hallway light fixture offers a plethora of creative options. While many wall sconces have an upward layout that looks like an ancient torch, some have a more artistic aesthetic.
Flush & Semi Flush Light Fixtures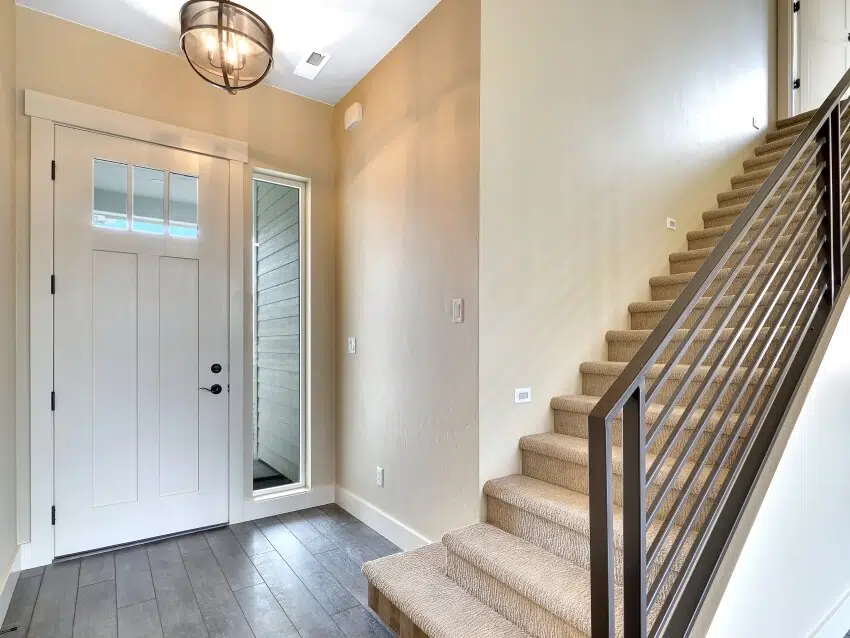 These are typically a dome shaped ceiling light that can be flush with the wall or extend a little below the ceiling. Generally, a semi-flush mount light fixture is a more decorative option.
Both the flush and semi flush light fixtures are popular throughout many rooms in the home. We'll cover both of these in more detail below.
Hallway Ceiling Lights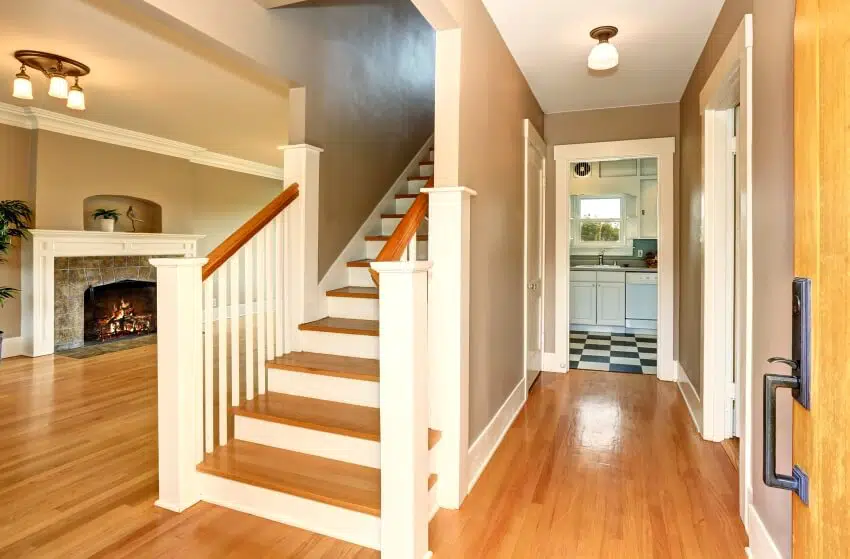 Here are the popular types of ceiling light fixtures for the hallway.
Flush Mount Lighting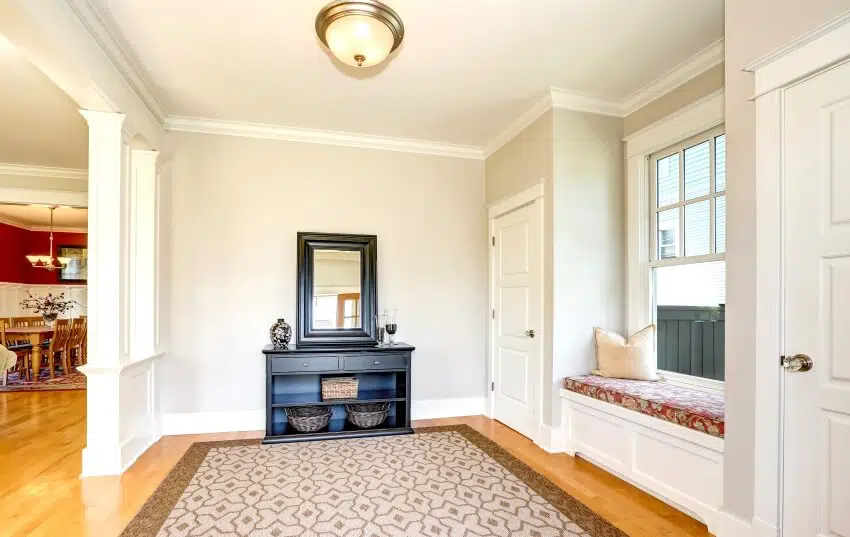 Flush mount hallway lighting is installed flat with the ceiling and directs light downward. Flush mount lights are good for spaces with lower ceilings, and for keeping dust out from the lightbulb and covering since there is no clearance between the ceiling and the light fixture.
These lights are often used as general illumination in narrow rooms, task lighting in bigger rooms, or to fill in places that uplights do not reach.
When you arrange many lights down the side of a hallway or set distinct working areas in a huge kitchen, you can use flush mount lighting as architectural interest. Flush mount lighting is obtainable in every size, form, and finish you can imagine.
You can use this piece for areas around your hallway that need an additional layer of brightness, and create a unique lighting template that accentuates your home's ambiance.
Semi Flush Ceiling Lights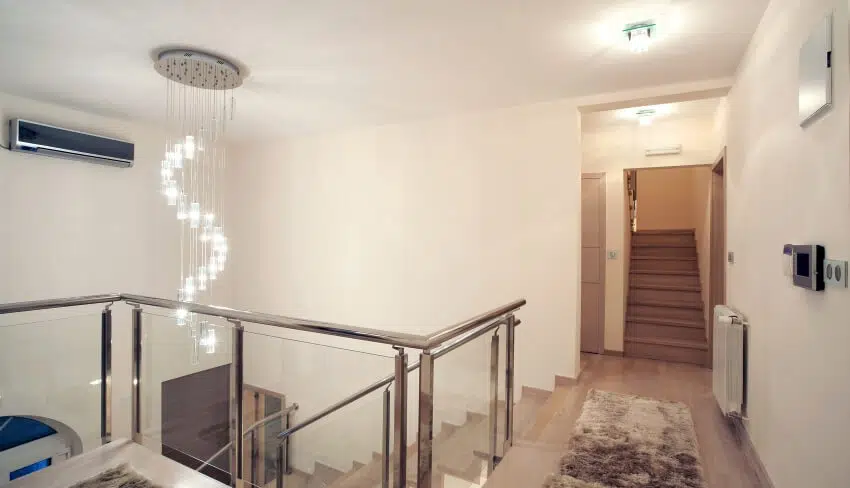 Semi-flush mount lighting, similar to flush mount lighting, is hung from the ceiling, but there is minimal space between the fixture and the ceiling. This gap allows some uplighting effect to bounce onto the ceiling and into the hallway, resulting in a more luminous overall environment. That space also helps in delivering direct downward lighting.
Semi-flush mount ceiling light fixtures illuminate more significantly than flush mount fixtures. They create more ambient light and are typically recommended for hallways and living rooms.
Recessed Lighting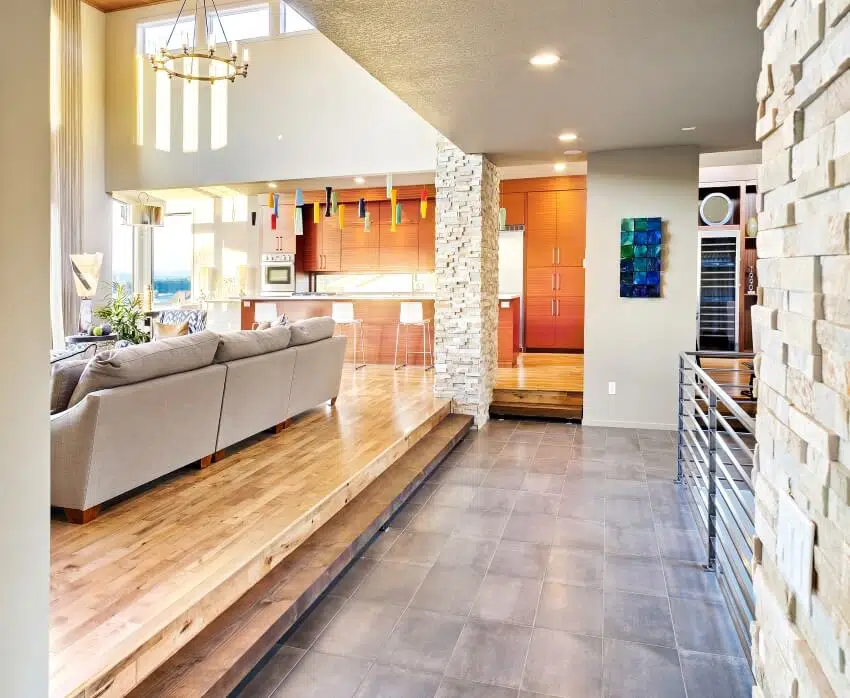 Recessed lights are also referred to as downlights. and they are a popular style of hallway light fixture. They are installed within the ceiling. Recessed lighting is unobtrusive and takes up minimal space. This makes it an excellent option for hallway lighting, especially in new-style homes or those with low-profile ceilings.
Furthermore, recessed lighting's modern design gives a great deal of modernism to hallways, which might otherwise be a simple or boring environment to walk through. Recessed lights may seem to be inconspicuous, but they give a lot of light. This is ideal for hallways when the lighting is centered on function instead of ambiance, giving a safe and powerful amount of illumination.
Hallway Pendant Light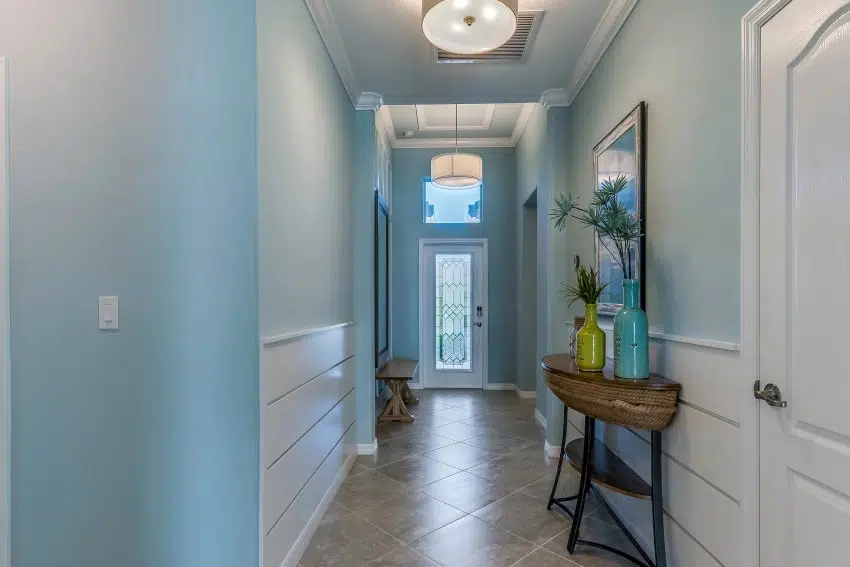 Pendant lighting is a trendy pick for any area in the house, particularly hallways. It is comparable to chandeliers in that it descends from the ceiling, although it usually contains only one source of light, though not always. Pendants come in a variety of sizes, shapes, and designs. If your hallway area is small, tall and thin fixtures are indeed the way to go.
Because pendant lighting hangs much closer to the floor than other fixtures, it is only appropriate for hallways with high ceilings to avoid harm or damage. To adequately illuminate a room, you will most probably have to install numerous pendants or mix them with other sources of lighting.
Transparent glass pendants could effectively diffuse the natural stream of light around your entryway space, making it appear larger. Ambient daylight is the best source of illumination.
However, when installing hallway pendant lights, head height must be carefully observed. At least 7 feet from the bottom of the ceiling light to the floor must be allowed.
Multi-Directional Light Fixture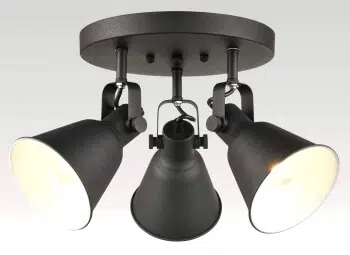 See this multi-directional light fixture at Amazon [sponsored link]
A multi-directional ceiling light fixture offers adequate illumination in a compact and adaptable form. This lighting fixture is suitable for practically any environment, and the several independent multi-directional spotlights allow you to direct light where it is required in your hallways.
Indeed, because it works well with both high and low ceilings, the fixture's construction makes it flexible. You will no doubt appreciate the minimalism and versatility of this light fixture no matter where you put it.
Oversized Light Fixture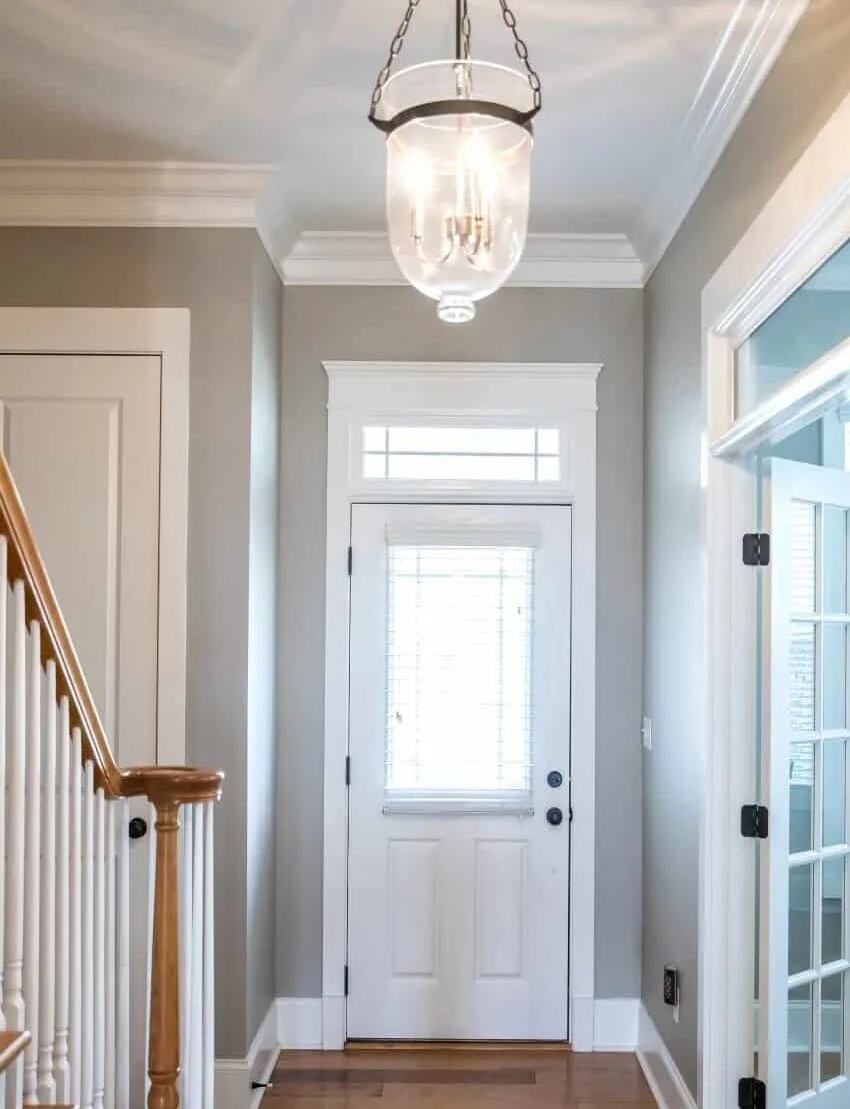 Oversized lighting is a popular style in the interior lighting design field. The emphasis is on utilizing your wall, establishing an impact in your room, and providing adequate lighting. These eye-catching fixtures are ideal for use as a focal point in any area, particularly hallways.
It is critical to establish a strong overall impression in your hallway. The ideal method to accomplish this is to choose an oversized light fixture. Not only do these lights ensure appropriate lighting, but they also offer flair and sophistication.
However, you just have to consider its height; make sure it will not bother you as you walk through your hallway.
Track Lighting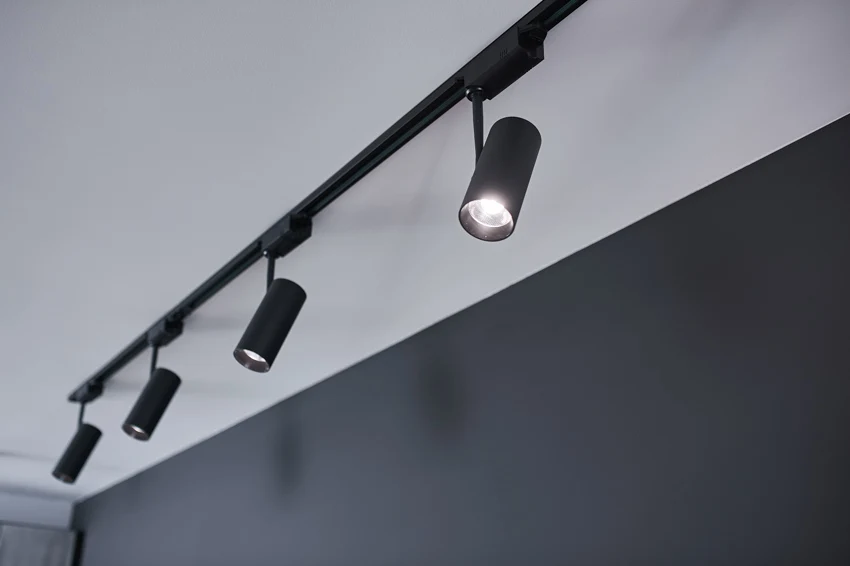 Track lighting gives a contemporary touch to your hallway. It may be incorporated to brighten any location, from a gloomy hallway to an office, or to display exquisite artwork and family portraits. Track lighting has no defined function or location; with unlimited possibilities, it is indeed an ideal selection for any space in your home.
Track lighting is popular in exhibitions and art galleries for a purpose: it does provide a pleasant and well-distributed source of lighting that can emphasize a wall or concentrate on a single work of art.
Whether the artwork you are showcasing is a valuable Picasso or plainly a cherished portrait, adding track lighting to your hallway will make it seem like a luxurious art gallery.
Hallway Wall Lights
Hallway Wall Sconce
A stylish sconce or wall uplight is an excellent selection for brightening your hallway with interesting light fixtures. Whether the style you prefer is modern, vintage, or mid-century classic, you will undoubtedly find the perfect sconce for your hallway.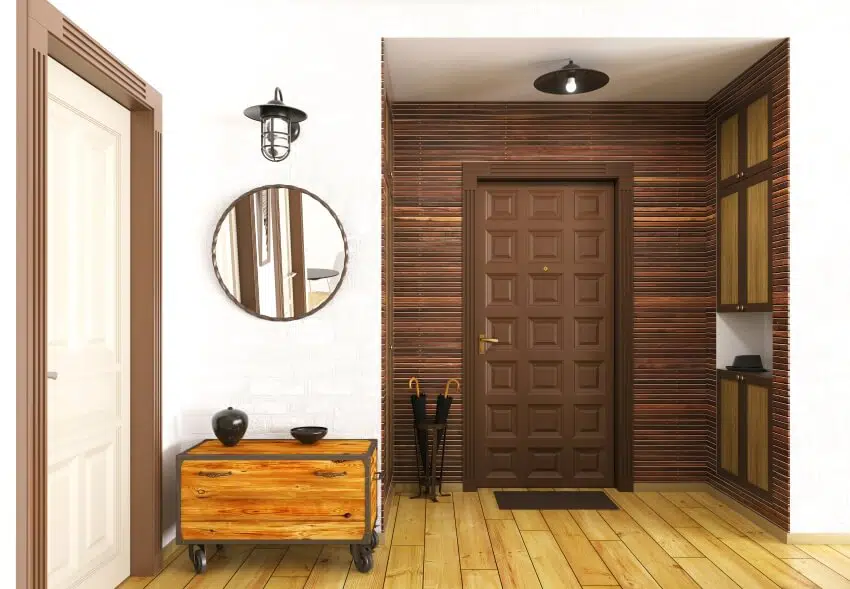 Wall sconces enhance the beauty of your home, specifically your hallways, by adding a decorative touch to your plain walls. Sconces can produce a substantial quantity of light in your hallway, but it is their subtle elegance that makes them an outstanding pick for modern interiors.
You can look for an uplight sconce if you want a fixture that reflects light upward towards the ceiling. These eye-catching lights reflect upward lighting and work perfectly with the hallway's current ceiling lights.
Spotlights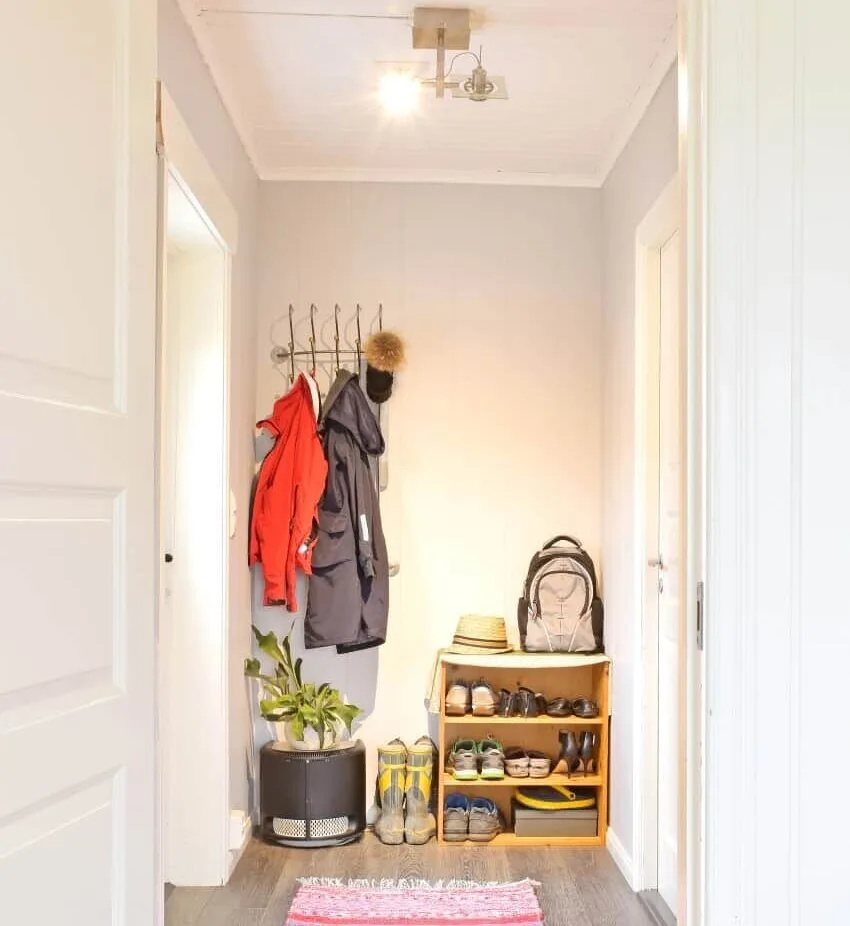 Spotlights are a contemporary type of ceiling lighting. To make a hallway well-illuminated, multiple spotlights are mounted on a bar or track that can be attached to the hallway ceiling. T
he spotlights may provide both ambient and task lighting. Most spotlight bars enable users to change the orientation of individual lights, allowing them to customize these spotlights to their liking.
Indeed, spotlights will consistently be a desirable lighting option in terms of functionality. They generate directional overhead lighting, which illuminates the area below. This is a crucial light source in a hallway since it ensures you can see things properly from the time you step within the house, specifically in the dark.
Lights that are focused on a specific area like spotlights are very much important in hallways as they are extremely helpful in terms of security in the sense that the entryway is bright enough to give your guests notice on the doorstep.
Hallway Floor Lights (Baseboard Lights)
You can consider installing hallway floor lights and baseboard lighting for a more unobtrusive lighting solution. Such hallway floor lights are perfect for lighting up your stairway at night or filling your hallway with moderate ambient lighting.
Moreover, this is another approach to obtaining the polished appearance you desire for your home by paying attention to structure and exquisite finish-work. Furthermore, these floor lights effortlessly fit into the aesthetic of the room, complementing various hallway fixtures and décor.
Table Lamps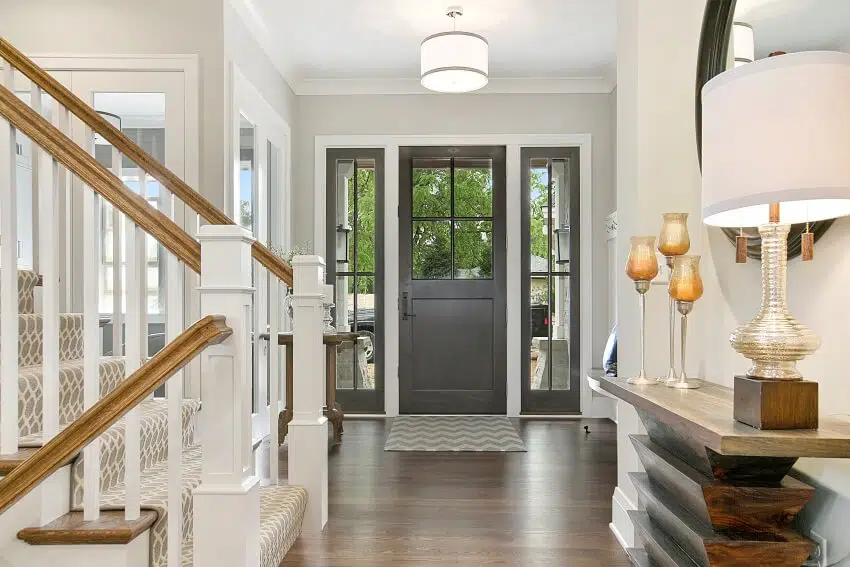 A table lamp is a light fixture that sits on a table or other piece of furniture. Table lamps are among the most basic illumination options in the lamp family.
Contemporary- or modern- style table lamps, with the right bulb type, cover, form, and color, can serve as a supply of concentrated or scattered light to accentuate the mood of the space, even hallways.
One feature that all table lamps share in particular is their mobility — they provide convenience and could be easily relocated from one spot to another. Plus, you will not need the assistance of an electrician to install a table lamp; they merely come with a simple cord and plug.
Nowadays, you can even see wireless table lamps that have further removed the usage of cables, cords, and plugs.
Lighting Options for the Hallway
Smart Lights
Smart lighting is a cutting-edge method of lighting your hallway. Smart innovation allows your hallway's lighting systems to expand their coverage, performance, and functionality. In the simplest sense, smart units can be managed remotely, usually through an application on your smartphone or computer, removing the requirement for conventional wall-mounted switches.
Smart lighting often depends on various sorts of wireless communications to transmit and acquire signals to work. Smart lighting can link to your smart home system via built-in Wi-Fi transmitters or Bluetooth.
Several forms of machine learning methods are also used in some of the most powerful smart lighting setups. The lights continuously watch and memorize the lighting sequences of individuals walking down the hallway.
This type of learning enables the lights to switch on and off periodically at particular times of the day based on the residents' daily behaviors, creating the sense that residents are at home even when the house is unoccupied for longer durations.
Motion Sensor Hallway Light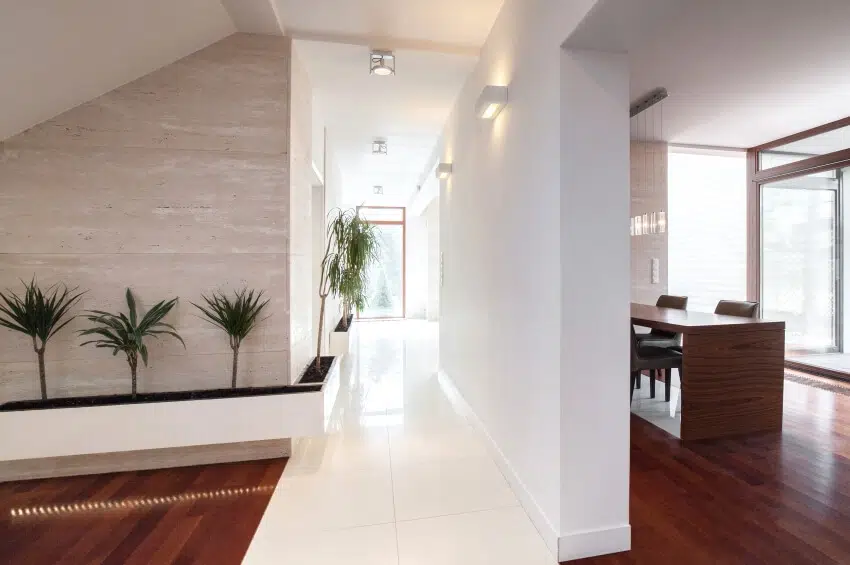 Several smart lighting solutions in the hallway include motion and lighting detectors that switch on and off based on the quantity of light sensed or the proximity of individuals and activity in a certain place.
Such simple features can help prevent energy loss caused by mistakenly keeping lights on when the house is unattended. See our guide to the types of motion sensor lights here.

Battery Operated Hallway Lights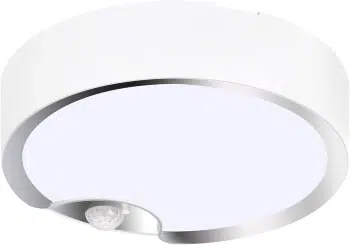 See this battery operated lights at Amazon [sponsored link]
Battery-powered hallway lights do not necessitate any actual wiring or outlets because batteries drive them. They do not require a complicated installation method and can be utilized very well in hallways.
The battery-powered lighting system has traditionally been used in emergency lighting and torches, but as technology progresses, the application of battery-powered lights in homes and workplaces has grown. A lot of homeowners prefer applying these portable battery-operated lights in their hallways as they are easy to move anywhere.
LED lights, or light-emitting diode lights, are commonly used as battery-operated light fixtures that could be installed either temporarily or indefinitely depending on the user's needs. The battery-powered LED lights come in a variety of sizes and forms.
Battery-powered hallway lights run at such a low voltage that even a minor shock is highly rare if the system malfunctions. LED lights do not generate heat, making them ideal for use indoors against fabrics. This means you can be confident in meeting health and safety rules for venues, or simply have peace of mind in your hallway.
Hallway Night Light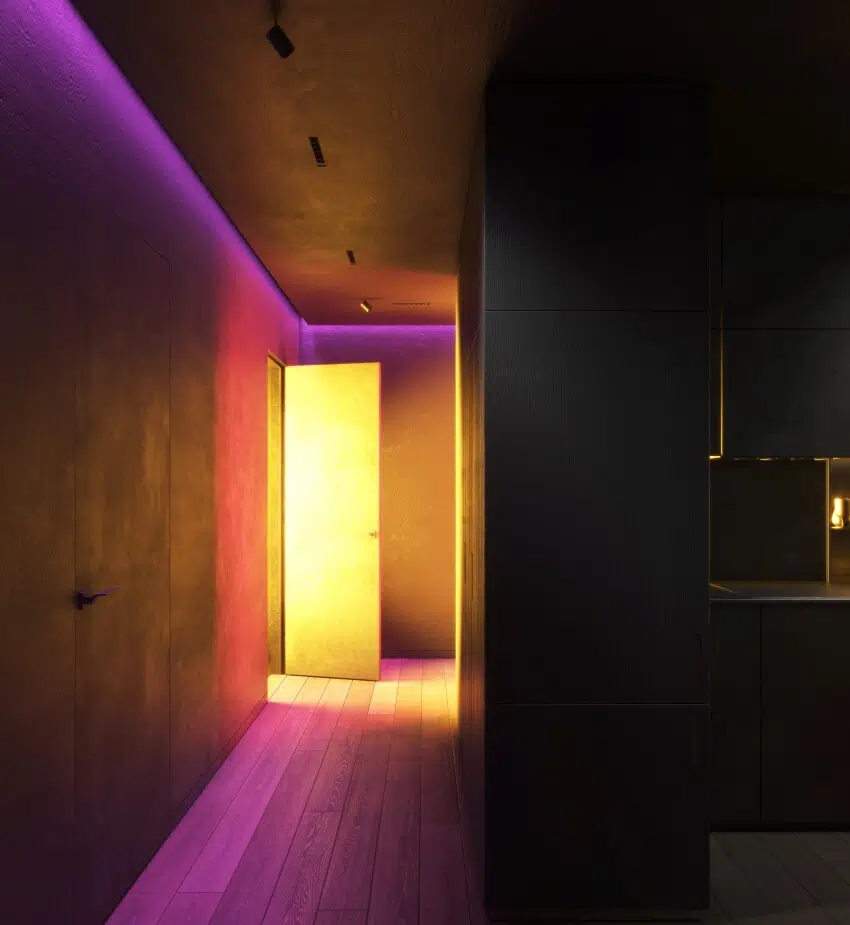 A night light is a compact electric light fixture used for convenience and reliability in dark areas or locations that may turn dark at specific times, such as at nighttime or amid an incident.
A hallway night light is often a low-power electric light that is turned on at night to allow you to walk safely in your hallway. They offer sufficient light to see the lines and shapes of things inside a hallway while remaining dim enough to avoid overwhelming or blinding you. Night lights are frequently used to provide comfort to youngsters who are terrified of the dark.
What Light Bulbs Are Good For Hallways?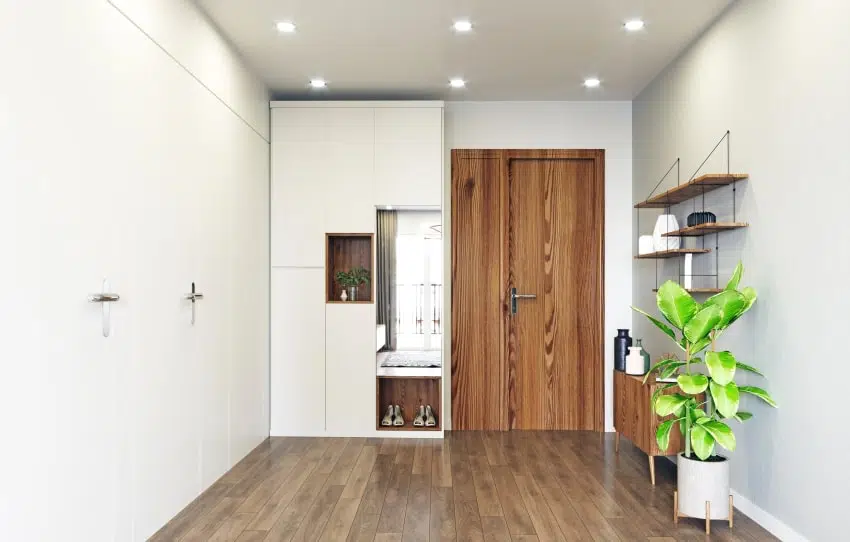 LED hallway lights or any LED bulbs are extremely ideal for basic hallway illumination. They are installed on the walls or the ceiling and emit diffused lighting in all areas.
This implies that the light cannot overwhelm individuals. LED battens and wall lights are more suited for broad hallways because of their size.
Moreover, LED light bulbs not only have an extended life expectancy, but they are also economical and necessitate minimal management and maintenance. This not only allows you to save funds, but it also helps to make the planet a more ecological state. LED wall lights, LED battens, LED spotlights, and LED panels, for example, are very much ideal for hallways.
Indeed, they are ideal for usage in offices or public spaces, for instance. If you are lighting commercial hallways, you must also ensure that your lights have the appropriate IP and IK protection grades.
Lighting Tips for the Hallway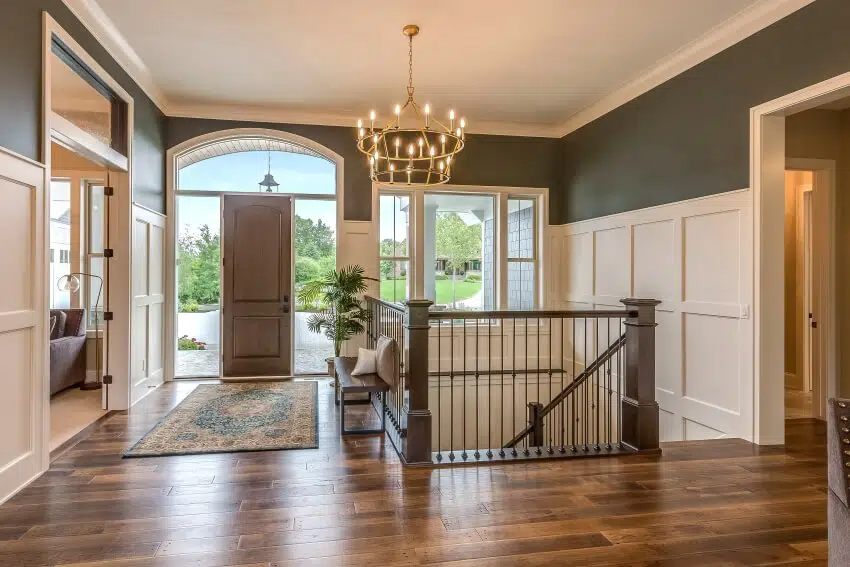 How Bright Should Hallway Illuminaires Be?
Whatever the final destination, the lighting in the hallway must be sufficient to provide safe movement through ambient lighting and complement the interior design via task and mood lighting. Normally, ambient lighting in a corridor should range from around 1,000 to 2,500 lumens.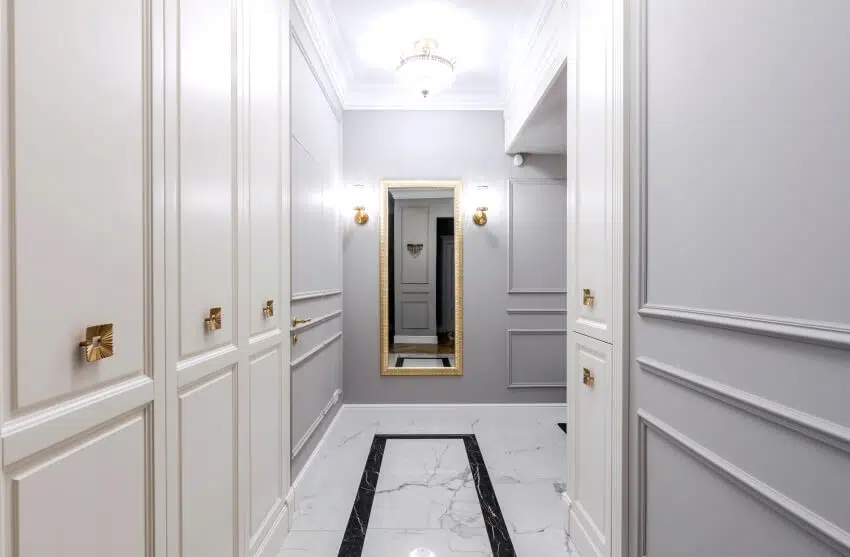 A standard size hallway will require around 500 to 1000 lumens. Lumens are calculated as 'total square feet multiplied by the number of appropriate foot candles.' The number of suggested foot candles for a hallway is 5 to 10.
Therefore, for an 80-square-foot hallway, you might need 400 to 800 lumens. But this would change if your hallway is bigger than usual.
A hallway, on the other hand, does not need to be too vivid; you have to provide an adequate amount of light just to see where you are heading as you enter or exit your house.
How to Layer Lighting Fixtures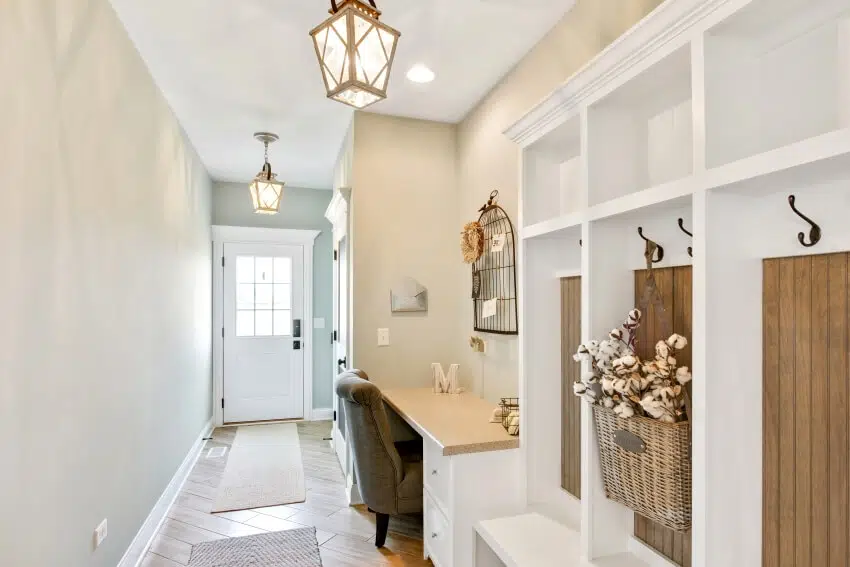 Layered lighting provides the best possibility of generating a bright and airy-looking hallway. It is adaptable to practically any hallway.
Three basic layers of lighting underlying the sights of all well-lit hallways exist. These layers are ambient, task, and accent lights. The overall lighting in a space is referred to as ambient lighting.
Task lighting, a more focused type of light, enables you to perform specific tasks, whereas accent lighting brings attention to specific elements or areas inside a place. Thus, to maximize the impact of your hallway lighting, you should include ambient, task, and accent lighting.
Here are some general tips on how you can layer the lights in your hallway: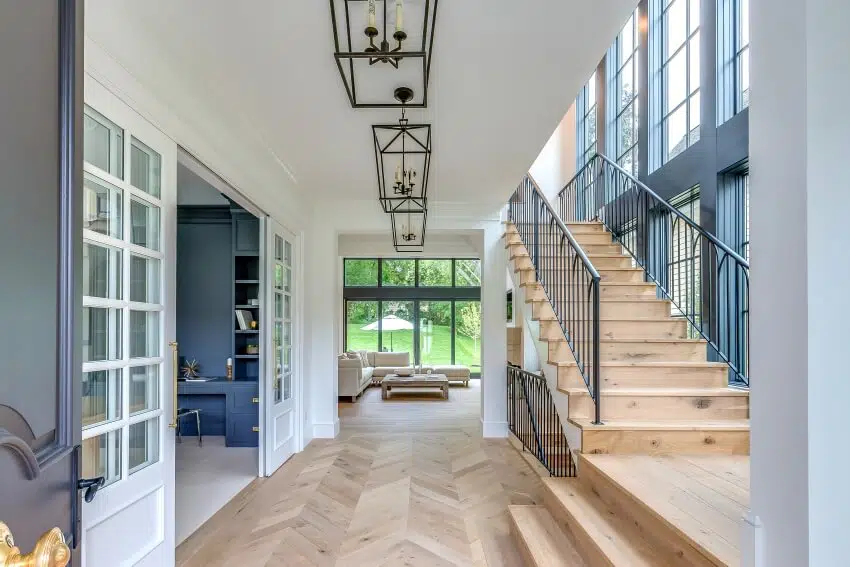 • The lighting layer you apply to accomplish a purpose or improve brightness in very particular locations is just as vital in a hallway as it is anywhere in your home. You can consider installing low-level wall lights to enlighten the hallway floor area and allow people to move around the space safely.
• You can try placing ceiling lights on either side of a long hallway to highlight the stretched area and gently draw guests into the remainder of the house. You might consider a hall lantern for an exquisite and classic entrance, or a single ceiling pendant for a much more sophisticated flair.
• Try layering your lighting arrangement to accentuate focal points like console desks or any type of artwork. If you have a limited amount of room, wall lights will serve to attract the eye upwards, creating the illusion of taller ceilings.
• The hallway serves a useful function, so do not forget to add task lighting or stronger bulbs wherever necessary.
How to Bounce Light With Mirrors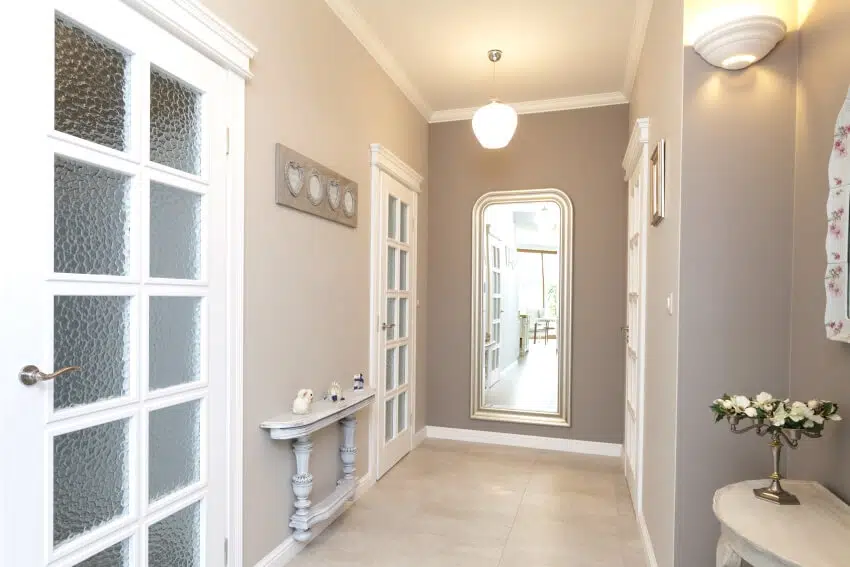 Whether your hallway is large or small, light is essential in design. Optimizing the lighting in your interior spaces decreases the need for additional lighting, which lowers energy expenses.
Light also improves the color and attractiveness of the hallway's features. Mirrors bounce light rather than absorb it, tricking the eye into assuming the hallway is brighter and wider.
Here are some tips on how you can bring light into your hallway using mirrors:
• The Mirrors in Your Hallway Should be Placed Near a Lighting Source
Suppose you are designing your hallway and would like to add supplementary light without making it feel cavernous or frigid. In that case, you can try placing mirrors near a lighting source, but not immediately in front of it, as this will blind you by bouncing the strong light emitted by the bulb. For instance, you can install mirrors beside wall sconces or a big mirror on a wall underneath a chandelier.
You may bounce natural lighting by placing a mirror on the wall next to or opposite a window. When a mirror is positioned exactly across from a window in a narrow hallway, it creates the impression of an additional window, dramatically brightening the room and making it feel larger.
• Go For Large-Sized Mirrors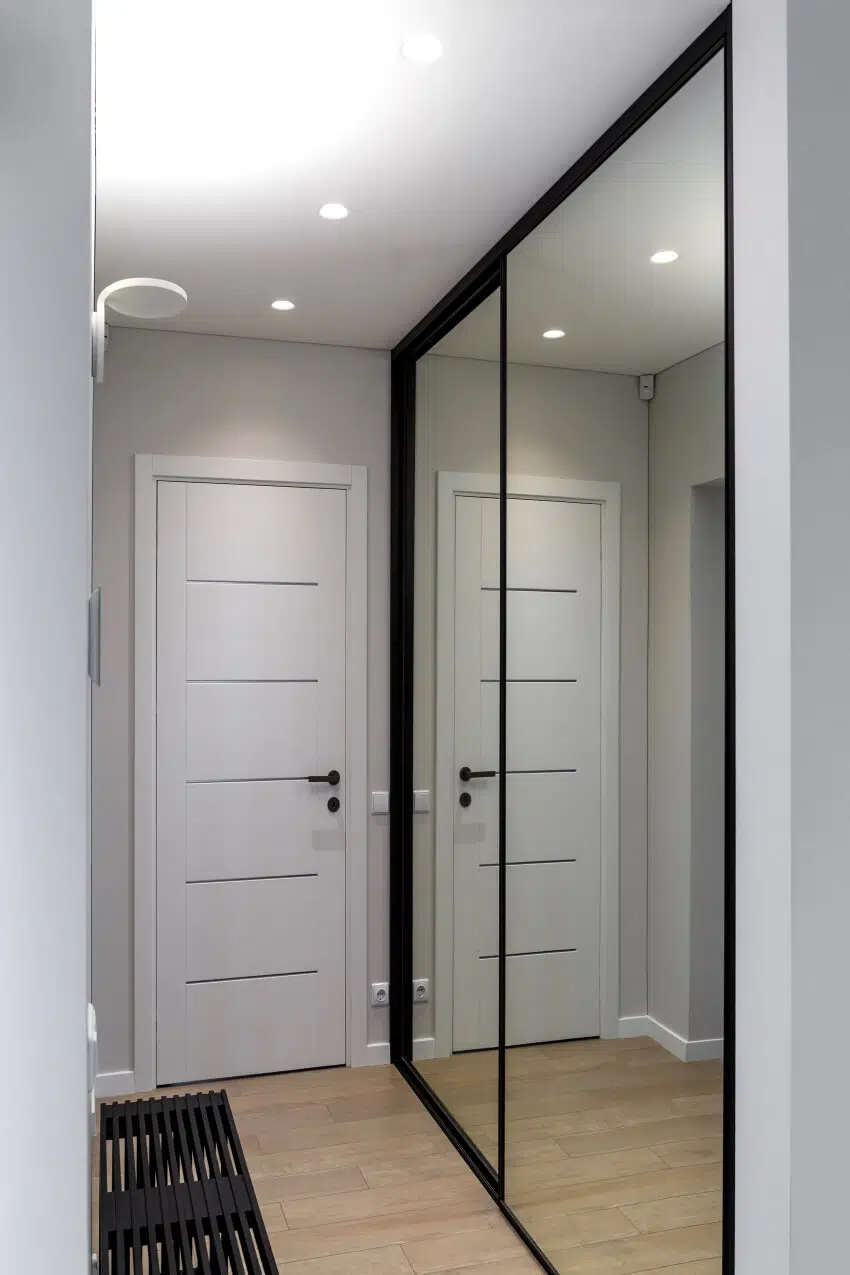 Oversized types of mirrors are usually the greatest way to bounce the maximum light into a room, especially if you intend to make it appear larger as well as brighter.
Although a small mirror alone will not bounce much light back into your hallway, compact mirrors in clusters can indeed brighten the area. A mirror collage on a wall against a window or beneath a source of light creates a central focus while brightening the space.
• Arrange the Mirrors in an Organized Way
Mirrors do not need to be put on the walls to bounce the light. Mirrors placed along the hallway can also help to brighten your interior areas.
Lining the back of a bookcase, for instance, or placing multiple mirrors on one wall can be a good option. You can also purchase pieces of furniture with reflective glass or chrome elements, such as cupboards, tables, or seats.
Furthermore, small-sized mirrors can be used to line the rear ends of some shelves, or you can buy a collection of mirrored coasters to bounce light and add brilliance to whatever you put on them, such as little candles or glass pots.
Mirrored trays positioned on tables or shelves that accommodate decorations and other ornamental objects can help bounce light and enliven the entire hallway.
However, When installing mirrors, make sure to keep the overall décor of the hallway in mind.
Before selecting a mirror, assess the remainder of the hallway's design features to achieve a consistent look.
For instance, an ancient mirror with an elaborate frame might suit a vintage motif better than a modern style. Minimalistic, unframed mirrors or those framed with a metal element such as chrome are best suited to a modern-style hallway than a rustic or antique one.
How Do You Light a Hallway Without an Outlet?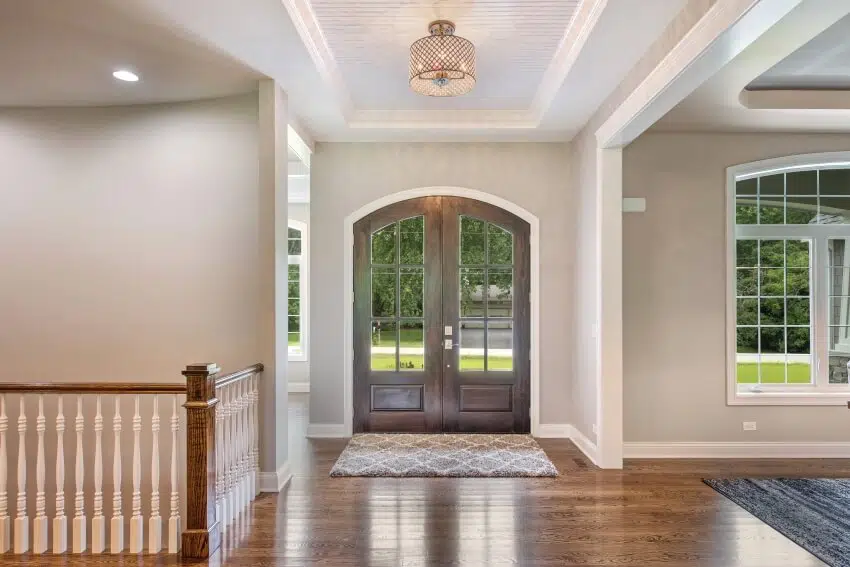 If you do not have an outlet in your hallway, you might as well try these techniques below:
• Installing String Globe Lights
You can transform your hallway into a cheerful and pleasant atmosphere using string globe lights. AA batteries normally power them, hence they may be used anywhere with no need for an outlet. You may use a portable remote to operate the automatic timer and select numerous blinking light pattern settings.
• Applying Puck Lights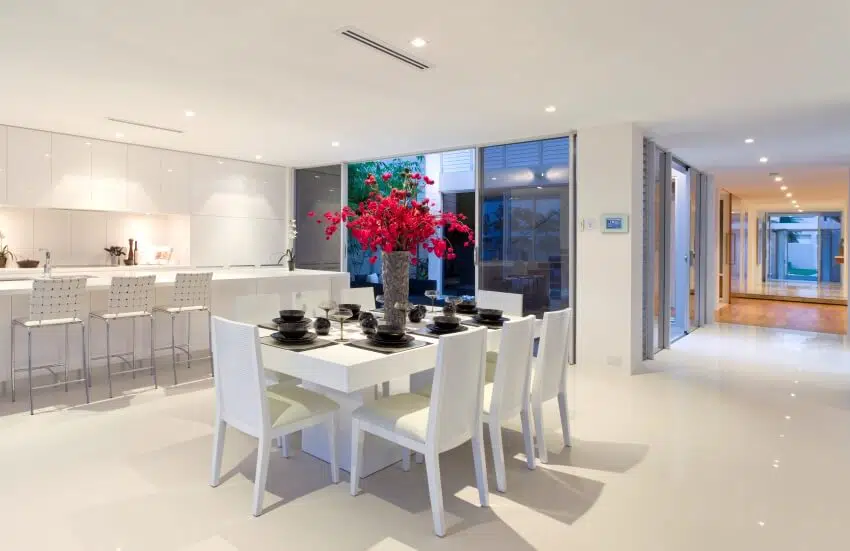 These battery-powered, dimmable puck lights usually include remote control, as well as screws and adhesive film for fastening. They emit a warm-white light, making them an excellent choice for hallways. This low-profile LED light fixture can be placed in your hallways even if you do not have outlets.
• Mounting Wireless Picture Lights in Position
You can put a handful of stylish wireless picture lights and your guests will assume you spent hundreds of dollars on professional illumination.
The sleek brass and the ability to modify the luminosity and color warmth are both appealing. You can select the option that best emphasizes the artwork or pictures in your hallway.
• Setting Up Wireless LED Motion Sensor Lighting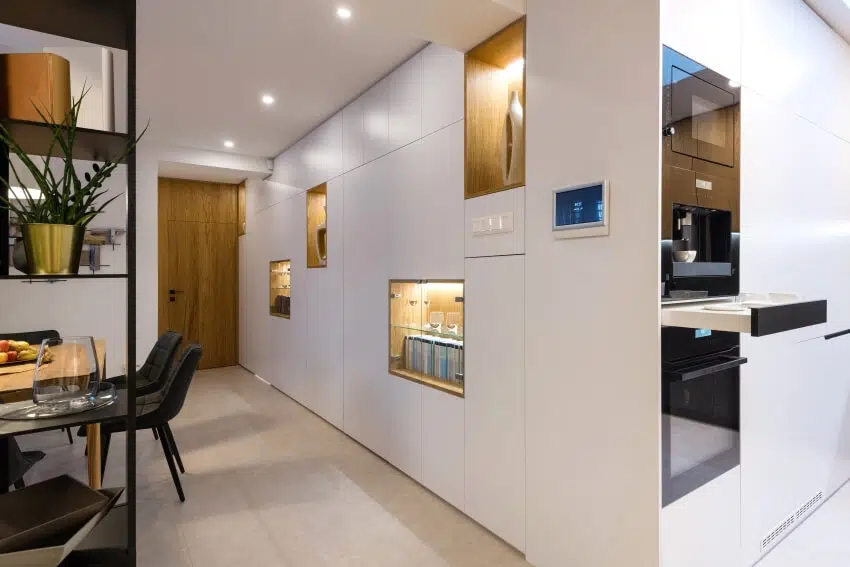 A wireless motion sensor lighting is one of the little pleasures that, when fitted, becomes a game-changer. Battery-powered light bulbs are not only affordable and simple to configure, but they are also ideal for gloomy locations. You can use them to illuminate stairs, decks, hallways, and even your nighttime pathway to the restroom.
• Installing Bluetooth-Driven Lights
Bluetooth lights are not, by definition, plug-in, solar-, or battery-powered. They are available in a variety of sizes, so you have to select the one that is perfect for your needs.
Even without the assistance of a power source, you can still rely on a Bluetooth-operated lighting fixture. This type of hallway lighting technique is under the category of smart lighting, as previously mentioned.
Bluetooth lights are operated under smartphone control, allowing you to customize your lights, establish automation, manage timers, change lighting colors, alter the light intensity, and many more. This solution is indeed a wise one because normally, it will not require you to rely on an outlet to make it lit.
Low Ceiling Lighting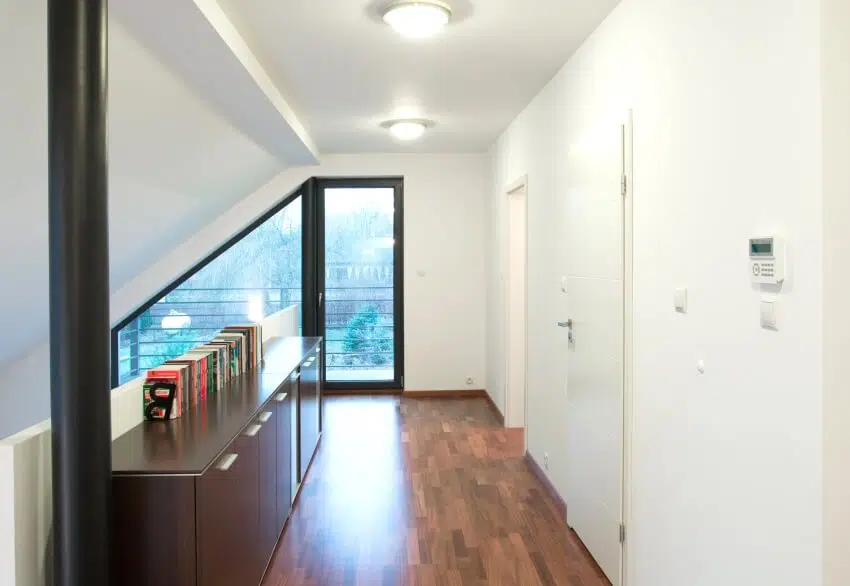 Do not use huge and low-hanging lighting fixtures if your ceilings are low. They not only give the effect of dragging the ceiling down into the area and making the hallway appear smaller, but they also have the potential to obstruct the pathway.
The good news is that there are many wonderful options for pendant lights, including wall lighting fixtures, floor lights, and tabletop lamps. When lighting a space with low ceilings, strive for a uniform distribution of light and exclude any murky corners or strong contrast areas.
You can help to draw focus away from the ceiling and emphasize the larger space by employing a range of light sources at various levels and heights.
Here are some tips on how you can brighten up your hallway with a low ceiling:
• Layer the Lights
Layering light uses a blend of multiple sources of illumination. Ambient lighting, which is the total intensity of light in your hallway, including the primary light; task lighting, which is directed lighting for certain tasks; and accent lighting, which is used to emphasize elements and generate mood and ambiance, are the three basic forms of lighting.
Uplighters are a great way to illuminate a room with low ceilings since they produce a lot of high-quality ambient lighting. Wall and floor lights are examples of uplights.
However, floor and table lamps are excellent for both useful task lighting and creating an atmosphere. Use an adjustable type for further versatility so you can properly direct the light.
Lastly, some strategically arranged accent lighting will allow to draw attention to the larger room by generating depth and ambiance at various levels.
• Apply Wall Lights in Your Low-Ceiling Hallway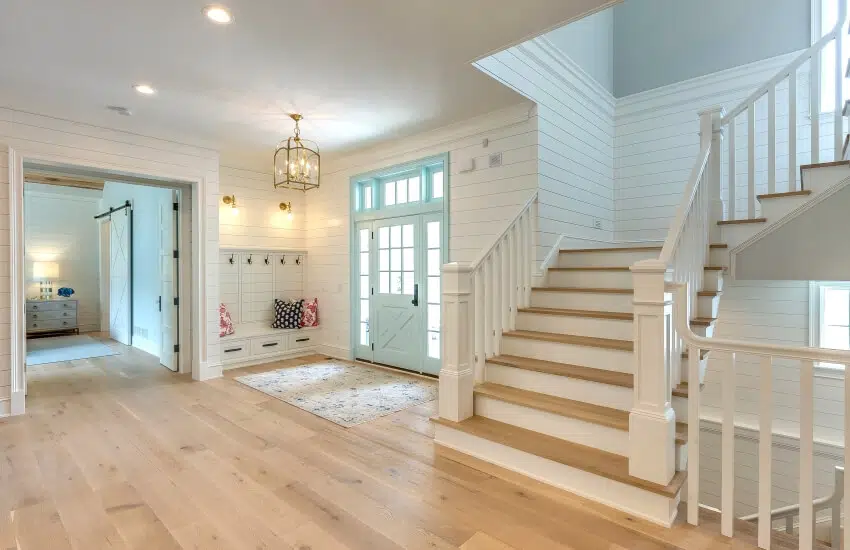 Wall lights in a low-ceiling hallway are an excellent option for overhead lighting. They are stylish and adaptable, providing lots of functional light while also creating warmth and ambiance – all without compromising the ceiling area.
An up-lighter wall lamp will direct light upward and across the wall, stretching the area and drawing the focus away from the ceiling. Wall lights must be placed about 5 feet above the floor, though it can vary based on the actual ceiling height.
• Rely on Floor and Table Lamps
Floor lights and table lamps are extremely useful in a low-ceilinged hallway. They are wonderful for lightening up those darkest corners, providing a more consistent dispersion of light all over the space, and delivering appropriate ambient and task lighting.
With their distinctive vertical form, floor lamps may assist in making the best of the upright space in a hallway, giving an impression of added height. They come in various forms, sizes, and designs, so you can choose a type that complements your design idea.
However, you have to ensure that the size of the light is proportionate to the area in a low-ceilinged hallway; large floor lamps might make a low-ceilinged hallway appear more constricted.
Lighting Ideas for Narrow Hallways
Here are some tips on how you can brighten up the space of your narrow hallway:
• Exposed bulbs are an excellent technique to prevent congestion in a narrow hallway. These bulbs not only have style, but they also have a vintage feel about them. Furthermore, exposed bulbs are incredibly adaptable and will go with almost any color scheme.
• If you want to make a statement but only have narrow hallways with low ceilings, you can take into account wall lighting as an option. In terms of functionality, wall lighting is ideal for brightening a specific location. Plus, it is a space-saver.
• You can choose a slim light for narrow hallways as a streamlined complement to a minimalist setting, or a spotlight to bring emphasis to framed photos as well as certain decorations.
• Install flush-mount lighting in your narrow hallway's ceiling. In addition, place some lighting fixtures at each end of the hallway. Such fixtures can come in the style of wall lighting, a table lamp, or floor lamp. This will help to pull the attention along the hallway and minimize the creepy atmosphere of a narrow and dreary environment.
• If you decide to use wall sconces, position them high on the wall to attract the eye up and to make the hallway appear larger and more pleasant.
Lights For A Dark Hallway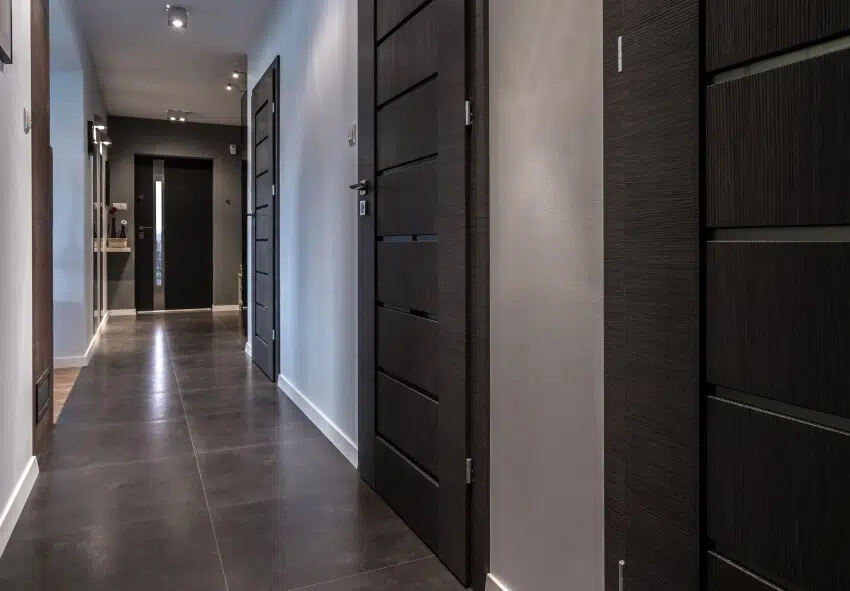 • Creating a Focal Point Using Pendant Lights
You can establish a focal point when planning your dark hallway lighting. This focal point is frequently in the shape of a suspended ceiling light that draws the attention upward, creating the sense of more space and a brighter environment.
This is an excellent time to select a statement lighting component; a pendant light fixture is one of the most prevalent statement-lighting styles.
Pendant ceiling lights are an excellent choice for hallways since they not only attract the eye but also add a beautiful aspect to your hallway as soon as somebody comes to your house. Plus, most pendant ceiling lights give a great amount of light, making dark hallways more interesting and cheerful.
• Incorporating Task Lights
Task lights can be used in situations where brighter lighting is required to conduct activities. You can apply spotlights or additional lighting surrounding a mirror in the hallway. This also helps in reducing the darkness of the area.
• Adding Skylights
This is not an option for everybody, as it is with interior windows. If possible, check to see if the roof in your hallway can accommodate a skylight. This light can then be maximized by strategically positioned mirrors or lighter wall paint colors.
What Color Is Best For A Dark Hallway?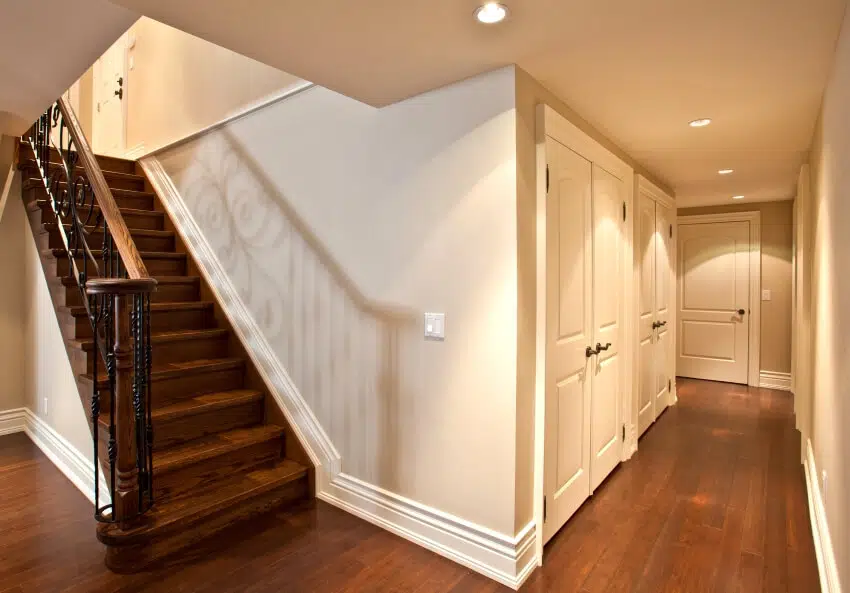 Light blue and green, as well as pastels, creams, soft beige, and light gray, are ideal paint colors for a dark hallway. Pale yellows are ideal for individuals who want their hallway walls to stand out. For hallways without windows, you must choose a painting type with a reflective paint finish to effectively bounce the light.
Indeed, you should use neutral colors on the walls to keep the hallway looking fresh, as well as a wide mirror to help bounce light while creating the appearance of the room and maintaining a brighter mood.
In terms of the color temperature of the light, we strongly suggest a warm white light color for the hallway. As much as possible, look for a light fixture with a Kelvin value that is around 2,700 to 3,300.
How Do You Brighten A Windowless Hallway?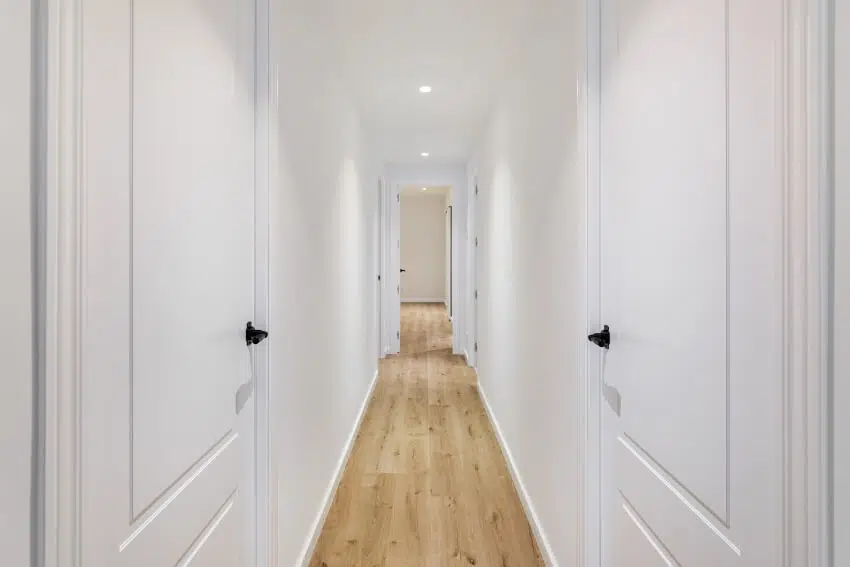 Here are some tips that you can try to brighten a windowless hallway:
• Put a Slim Floor Lamp
Placing a floor lamp is a wonderful option for brightening your windowless hallway if you want to avoid doing any electrical work. A slim floor lamp can be slipped into a nook without occupying too much space on the floor.
• Install Recessed Lights
If your windowless hallway has low ceilings, then you should avoid using low-hanging lighting, massive lights on the walls, or any type of lighting fixture that confines the area down. Alternatively, consider installing recessed lighting or ceiling lights, which will illuminate the way while also opening up the room with their unobtrusive style.
• Incorporate Double Pendant Lights
If you are searching for hallway lighting solutions that provide plenty of overhead lighting, consider using dual-pendant lights. The pendant lighting cluster will add astounding grandeur to even the most basic of spaces. Double pendant lights will offer a touch of luxury to a windowless hallway with high ceilings.
• Mount Vanity Lights
You can install vanity lights on the wall to create a dimly lit windowless hallway. As you stroll down the hallway, the effect will give you an adequate amount of light without overwhelming you with too much brightness.
• Install a Second-Floor Chandelier (If You Have Stairs Going to the Second Floor Near Your Hallway)
With hallway lighting options like a second-floor chandelier that provides elegance as you approach the stairs, you can catch the attention of your guests. The light will reflect from the ceilings and walls of your windowless hallway, brightening even the darkest floors.
Visit our hallway paint ideas for more related content.