Here's our guide to home gym lighting ideas with popular light fixtures, light bulbs, best lighting for garage & basement gyms and how many lumens you need for gym lighting.

When constructing your fitness environment, proper home gym lighting is an important factor to consider. To begin, there's the fundamental necessity to be able to see what you are doing while exercising, which may be difficult in dimly lit places like garages and on dreary winter days.
Moreover, the amount and intensity of light you get when exercising has a substantial influence on your bodily and cognitive performance. Luckily, there are plenty of alternatives in terms of function and aesthetics when it comes to lighting your home gym.
A gym, in addition to all the options obtainable on the marketplace, has various sections, and the lighting requirements may also vary depending on the area. In this article, we will give you some ideas on how you can efficiently and successfully illuminate your home gym. In that way, you will have much more productive workouts.
Gym Light Fixtures
LED Lights
If you can't acquire sunlight into your home gym, your ultimate objective must be to employ lighting that is as near to sunlight as possible in terms of quantity, direction, and spectrum. In other words, a lot of illumination, emanating from above, and as near to the hue of sunlight as conceivable.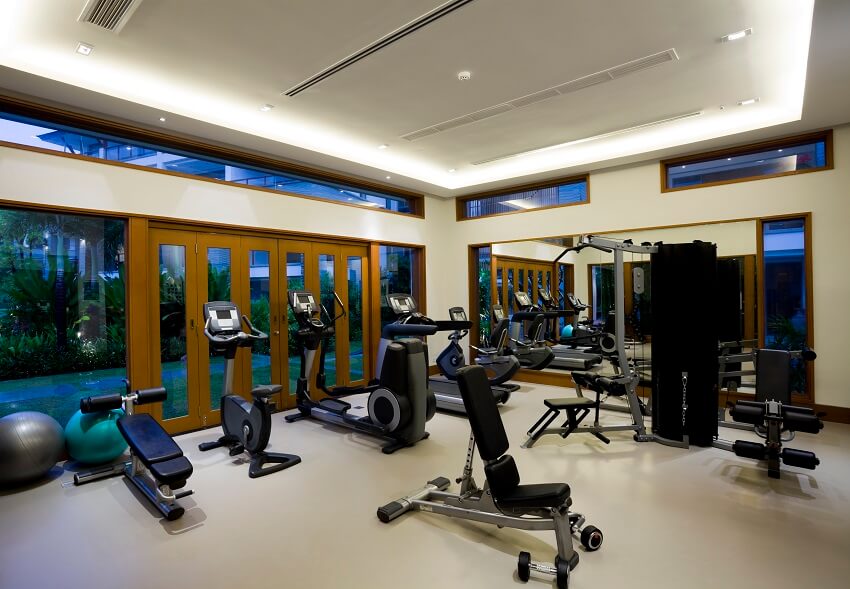 LED lights can be used as an alternative. It is frequently the most adaptable and cost-effective option. Today's lighting selections are rich with LED selections, and you'll have a plethora of lights to choose from. The proper LED lights can mimic natural sunshine and is practically always the best selection.
The ability to select a color temperature is a key advantage of LED lighting. Ensure that you select lighting that is "daylight" in color or has a color temperature of 5000k mentioned on the label. The color temperature of 5000k is the same as that of the noon sunshine.
However, you will frequently find soft white LEDs as an option. Do not use this in your home gym. Coordinating the color temperature of your light to that of the sun will give you and your area more enthusiasm. It will be gentle on your eyes and will give a nice environment in which to train.
Check out our guide on how to choose home gym colors for more ideas on how to enhance the brightness of the room.

Overhead Lighting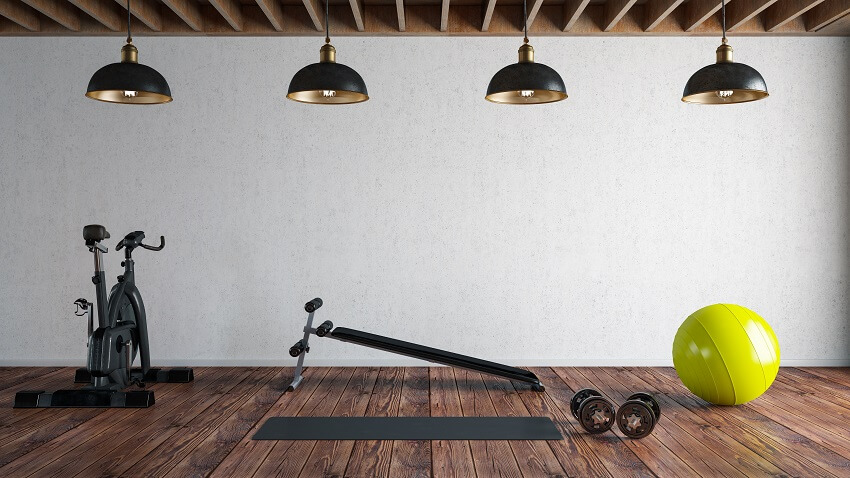 You want your illumination to come from above just like the sun. It may be hung from or recessed into the ceiling. Take it up and move it out of the way.
You'll be extremely grateful for overhead lights if your gym has mirrors. Indeed, overhead lighting will be more flattering than light from other locations. If you have multiple mirrors in your gym, it will also prevent unpleasant reflections. See more types of ceiling light fixtures here.

Floor Lamps
Floor or ground lamps are especially beneficial in a home gym if you only have a single overhead light since they enable you to bring illumination to dimmer sections of the space.
Since you will require direct lighting, use floor lamps with a movable head that allows for more versatile light distribution or a shade that does not diffuse or affect the light negatively
Track Lighting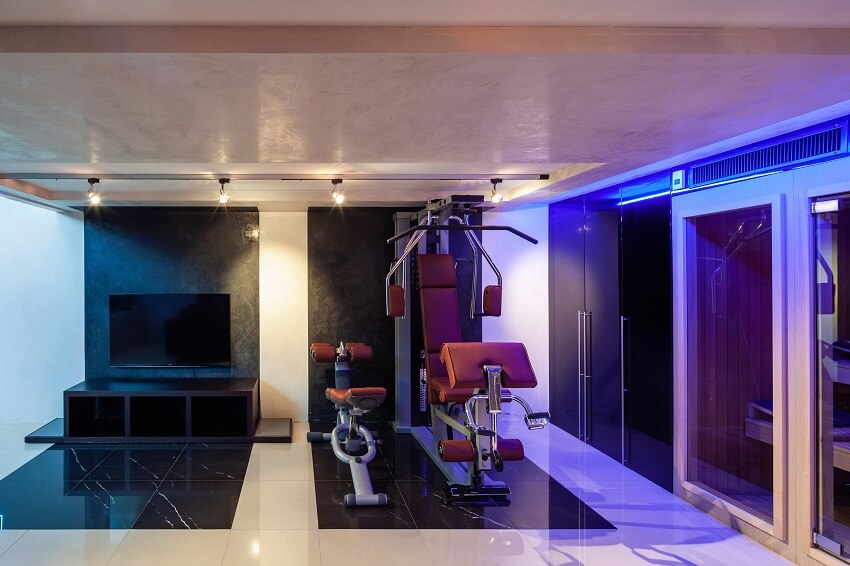 Track lighting is yet another alternative to review. Track lighting is an elegant alternative that both looks beautiful and operates exceptionally well if you have a nice area or want to make your room appear classier than it presently does.
It takes a little longer to install than the shop lights, but it's still a do-it-yourself lighting project that can be completed in one day.
A visit to your local hardware shop will provide you with a handful of good options for track lighting. A visit to a community lighting store, on the other hand, will show a large variety of truly unique-looking selections that will complement almost any aesthetic or room design.
Recessed Lighting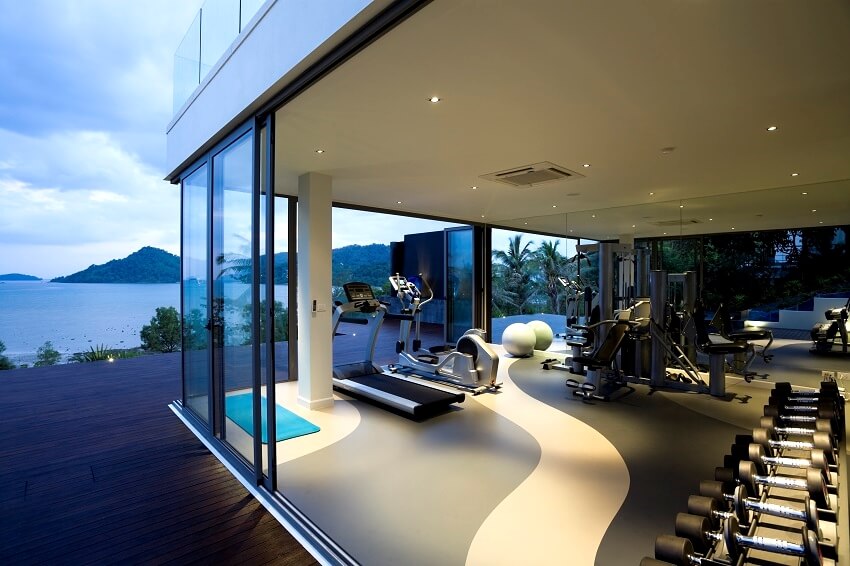 If you are starting from scratch or rebuilding your home gym, you should consider choosing recessed LED lighting. It looks amazing, operates excellent, and is truly a great option if you want a higher-end vibe in your physical fitness room.
It is indeed generally not that costly in terms of equipment, and you will end up paying more on the electrician to set it up and you will on the lights themselves.
Recessed lights can help compensate for a lack of natural light in a home gym, particularly in attic gyms. Nonetheless, be cautious about the type of light you install. It needs to be far enough away from you while you work out to avoid an accident. See canless recessed lighting pros and cons here.
Every gym layout must prepare for the possibility of you leaping, swinging your arms, performing burpees, and so on. You would not want any lights protruding from the ceiling.
Numerous individuals have broken a light bulb while swinging an exercise ball or lifting a barbell. If possible, install recessed lights that go inside your ceiling.
Smart Lighting
Smart lights are available in a variety of forms and sizes, and they are operated through an application on your tablet or smartphone. They can be designed to light up in an almost limitless number of colors. They may connect to other gadgets in your house.
Smart lighting is not a specific kind of lighting. The majority of smart light bulbs are actually LED light bulbs. The key to smart lighting is how it is switched on/off and attenuated.
The advantage of smart lighting is the vast array of possibilities it provides. You can program it to turn on and off based on motion thus you don't waste power by overlooking to switch off the lights. You may also use it to improve security by allowing lights to turn on at a predetermined time each day, giving the idea that someone is at home.
If you enjoy technology and want to try out a smart home innovation, you may include this light fixture in your gym. If you do not want to deal with such issues and prefer to keep things simple, then use standard LED lights with a switch. See more types of light switches here.

Home Gym Basement Lighting
When beginning your basement remodeling, you should keep good ventilation and lighting in mind. Working exercise will become a disliked part of your day if your basement is gloomy and uncomfortable. Making your home gym a bright and open atmosphere can help you look forward to exercising in it.
While installing windows may be out of the picture for you, recessed lighting may help lighten up your basement room.
Recessed lighting is the most preferred lighting choice since freestanding light fixtures are always located in the path and might pose a safety issue. Recessed lights are among the first alternatives to consider when installing lighting in your basement home gym.
If your basement is small, you might just need one super-powerful recessed light to brighten your basement gym, but you'll almost certainly need to install additional fixtures. Indeed, recessed lighting must always be your first choice when it comes to installing light fixtures in your home gym basement.
Garage Gym Lighting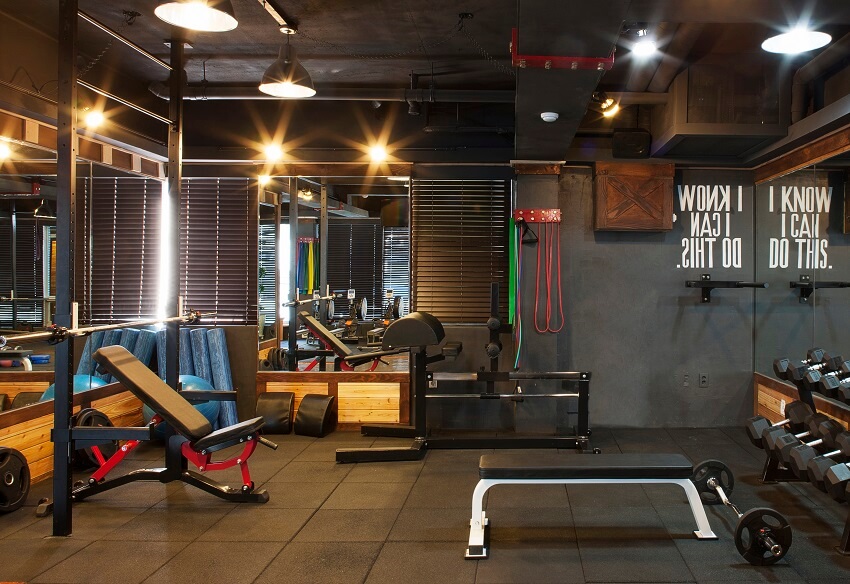 Overhead lights are among the first things that immediately come to mind when it comes to illuminating your garage gym. If your garage is particularly compact, you may need only one mega-powerful overhead light to illuminate your garage gym. However, you will probably need supplementary lighting as garages tend to be dark most of the time.
When it comes to starting the placement of garage light fixtures for a gym, the overhead light must always be your first choice. Installing a single ultra-bright unit that attaches to the current socket is one of the easiest methods to work with overhead lighting fixtures.
Wall-mounted lights are also a great option to extensively illuminate your home gym in your garage. If you do not have any ceiling light bulb outlets into which to put recessed light fixtures, or if you have recessed lights but they aren't strong enough, your next step would be to set up wall-mounted lights.
Although they may appear to be an odd choice when compared to overhead or recessed lights, they are an excellent choice for garages that are not prepared for substantial lighting. Long wraparound LED lights are an efficient and simple alternative for installing lighting on your wall.
Wall-mounted lights are a one-of-a-kind alternative since they emit an expansive spectrum of light horizontally rather than vertically, brightening your whole home gym environment. Whilst this is not that ideal for every room in the house, wall-mounted lights are indeed a decent option for home gyms in garages.
Gym Light Bulbs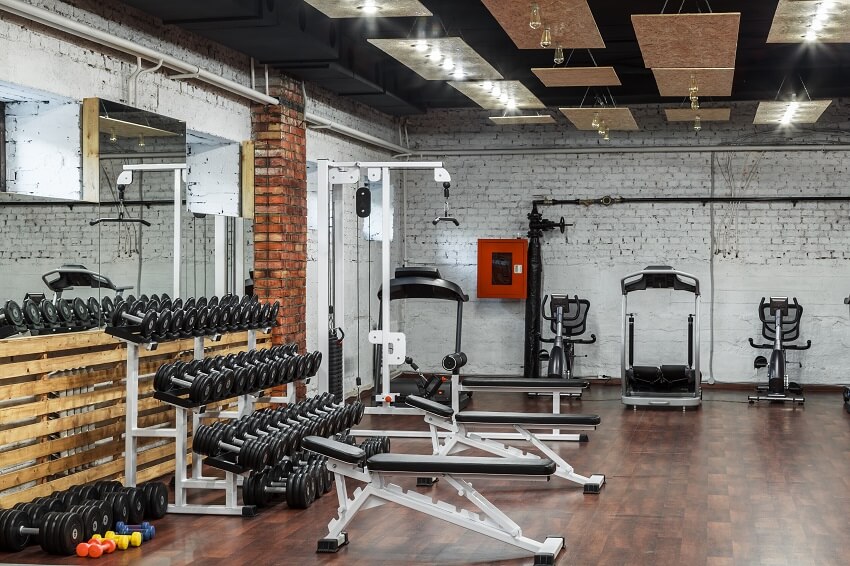 Here are some of the highly recommended light bulbs you can incorporate in your home gym:
STKR Trilight Motion-Activated Ceiling Light Bulb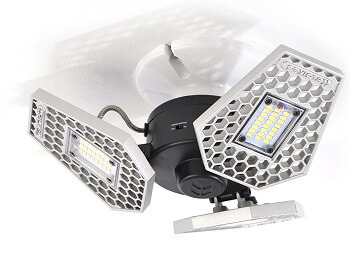 See this trilight motion activated ceiling light bulb at Amazon [sponsored link]
This would be the simplest solution for overhead lighting because it merely fits into your current light socket and is quite efficient and productive. These bulbs are really simple to set up. It really is as simple as changing a regular light bulb. All that it needs is a basic screw into the light bulb socket of your preference, and you'll have 4000 lumens of brightness at your convenience.
By using only one of these simple-to-install light fixtures, it will help you enjoy 5 times the illumination of a 60-watt light bulb. That is a significant improvement in overall illumination. Furthermore, this light has a customizable motion sensor, so it will switch on and off automatically whenever you enter and depart your home gym.
STKR MPI (Multi-Point Illumination) System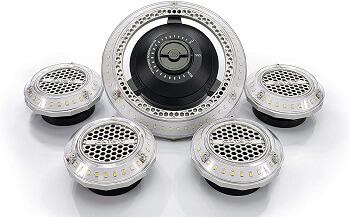 See this MPI lighting system at Amazon [sponsored link]
This is one of the brightest and most energy-efficient overhead lighting bulbs on the market. This technology is remarkable as it is a 5-light device centered around a single extremely strong light.
The MPI system is easy to set up. The primary cell of the device simply screws into your current bulb socket and emits a strong light. In addition to the primary light, four other lights link directly to the central unit and feature an internal mechanism that tightens the cords, resulting in a stunning minimalist look in your home gym. These 4 secondary lights have a combined brightness of 7500 lumens.
LED Gym Light byYiizon
This light bulb is ideal for a wide range of purposes. It unfolds in four sections and looks like a ceiling fan. Each component could be raised or lowered to enlarge or limit the lit area. They also fold inward to cast a modest light that does not dazzle everyone nearby.
These lights offer a 4000-lumen output and a 6500K daylight white color temperature. Furthermore, because it is an LED light bulb, it can assist you in saving money on your electricity bill. Just put each bulb into an E26 light bulb socket on the ceiling to install them and you are good to go.
WYZM LED Canopy Lights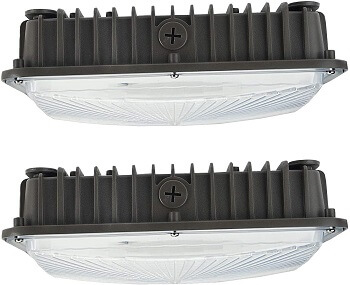 See this LED canopy lights at Amazon [sponsored link]
These 70-watt bulbs must be at the top of your list if you need a basic set of lights that don't demand any altering or complicated upkeep. They're quick and simple to install, and you can purchase them independently or in a pair.
Another useful aspect of these lights is that they can be connected to either 120V or 220V. They also contain a bracket that keeps moisture out of each bulb, minimizing any damage. You may use four mounting brackets per bulb to position it wherever you desire.
How Many Lumens Do I Need For Gym Lighting?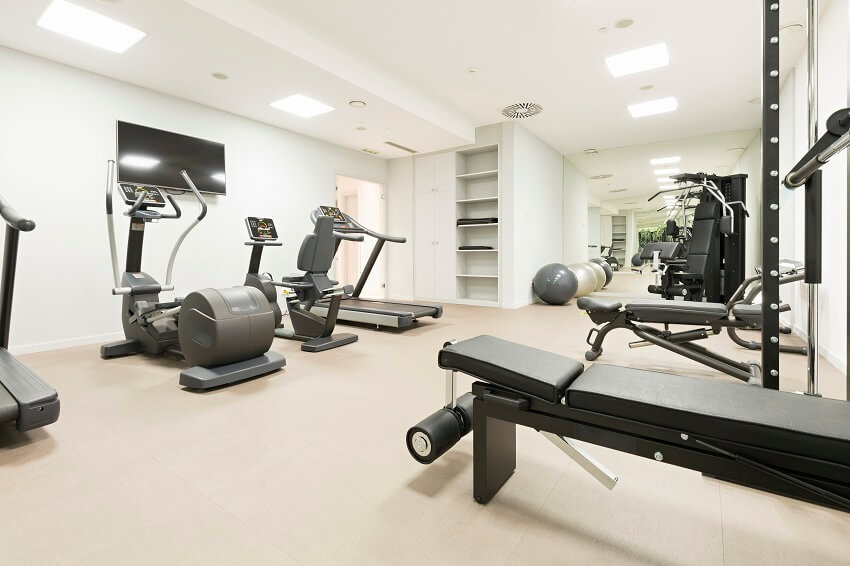 A home gym is clearly a space where you regularly execute activities and need to see what you are doing. Therefore, we suggest 400 lumens per square meter for that reason. That implies you could simply multiple your gym space in square meters by 400 to determine your entire necessary lumen output.
However, before deciding how much brightness you want, you need first to assess the entire size of your home gym. You can quickly decide how many light fixtures you have to purchase by measuring how much room you have in your garage gym. This will save you time and money. Read more about the types of lighting fixtures here.
Best Home Gym Lighting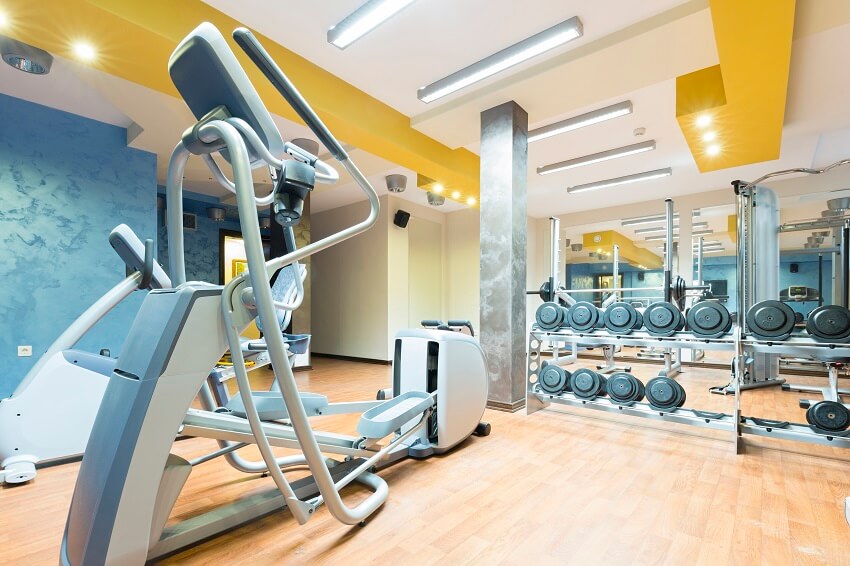 Inside your home gym, overhead lighting allows you to bathe the room with your needed illumination. Because hanging lights aren't appropriate for a space where you'll be jumping, throwing, or running, you will want to choose fixtures that are flush with the ceiling.
Recessed lights and track lighting are the two preferred selections. With recessed lights, you can uniformly illuminate the area by equally spacing the lights throughout the whole room, even if the space has an inconsistent shape.
Track lighting, on the other hand, enables you to direct the lights to specific training areas. One light should be directed at each piece of equipment such as the treadmill or weight benches.
You can consider applying a combination of recessed lighting for overall illumination and track lighting directed at your equipment for optimum impact.
Visit our man cave lighting guide for more related content.