On this page we share our picks for the best lights for reading at night including what type of color light to use.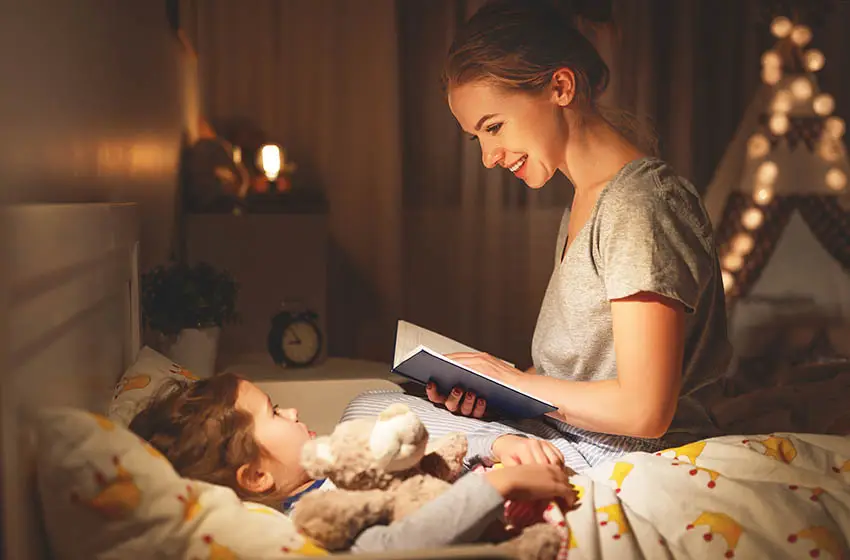 After a long day at work, what's more, perfect than ending the day with some light reading. So, do we crack open are e-readers or smartphones?
No. Despite the proliferation of e-readers and their accompanying e-books because of the convenience, there is still something magical about flipping a page. Perhaps it's the sound it makes or the smell of printed paper that brings something to the whole experience.
If you work at an office environment, chances are you've been staring at a screen for the whole day and staring at another one for reading can just cause eye strain. So back to classic printed books, it is. In order to properly enjoy the experience, we also need some source of light. But is your lampshade the right light source?
Best Color Light For Reading At Night
The factor to look at is the color temperature expressed in Kelvin. When you purchase a new LED bulb, you would see a bunch of numbers on the packaging, typically in a table format, comparing the different color temperatures with their classic incandescent equivalent.
The type of color temperature you'll need will be somewhere within the warm ranges from 2700K to 3000K. This color will have warmer tone, typically yellowish.
Yellow light has a warm glow that is more relaxing on the eyes and is the best option for night time reading.
In contrast, computer monitors and even smartphones will be having a bluish tone to them. Long exposure of the eyes to this tone has been discovered to cause eye strain, not exactly something you want to experience when reading.
So how about the other colors? You can, no doubt, experiment with different light colors for reading but a lot of them aren't really suited for the task.
Green light is great for watching your surroundings for predators, red is good if you are trying to induce sleep, and blue when trying to induce wakefulness. Hence, why staring at and LED screen may cause insomnia, as we mentioned earlier, screens have a bluish tone.
Since the arrival of LED lighting, the technology brought forth plenty of benefits such as low energy consumption, lower heat emissions, and better lighting control.
Control can be anything from intensity to color temperature. Typically, the color ranges come in default setting: cool white, yellow-white(warm-white), sunlight. Now, there are only the common ranges, there are still others out there for special purposes.
Notice how different rooms inside the house are normally lit, warm colors are used for bedrooms or places for relaxation while everything else like the kitchen have cooler lights.
Best Book Lights For Reading At Night
Now let's look at three different reading lights that come meet our requirements.
Glocusent Portable LED Neck Reading Light
This clever device sits nicely at the back of your neck, where lights focus perfectly on whatever material you a reading or working on.
While it's primarily aimed at reading, its brightness can also be used to illuminate other activities like knitting or writing. Its bendable arms mean you can adjust it to your most comfortable position.
The portable reading light also comes with a special narrow beam angle (90 degrees) design which allows you to get that ample lighting while not disturbing your sleeping companion
(See this LED reading light at Amazon)
Being wireless and USB charged means you can take it with you anywhere you go. It has the reversible SB Type-C making it easier to plug and charge anywhere such as on your laptop or into a power bank. Though with its 1000mAH battery you don't have to charge it that often.
Depending on the light intensity, it can stay lit anywhere from 6-80 hours of continuous use. The light can also be adjusted based on the activity. When sleeping with someone while reading, the devices can be adjusted so as not to accidentally beam excess light at them.
LEPOWER Clip on Reading Light
A versatile lamp for a variety of needs. Whether illuminating a desk or a book while in bed, we want something that will keep up with our multitasking.
The lamp comes with a clamp that can be secured against the edge of a table or bed headboard, so you won't accidentally tip it off. With its 2.36-inch width, you don't take up much space on your working desk or bedside table.
The neck is adjustable and can be rotated at 360 degrees, giving it the flexibility when trying to get that sweet lighting angle.
(See this clip on reading light at Amazon)
You can also adjust the brightness, either on dim or bright mode and light temperature can be warm light and white light. Not to worry about flickering lights and ultra-bright book light.
Its sleek and modern build makes it an attractive device to have it on your office or home desk. Lightweight and durable, you can take the LEPOWER Clip-on Light on your travels.
Vekkia 7 Led Rechargeable Amber Book Light
One of the bestselling book lights in the market, this portable lamp offers 3 adjustable brightness levels that you can set to suit your lighting preference.
While its 360 degrees goose-neck build means you can use it anywhere and can be clipped securely on any solid edge such as on your office desk or bedside table.
Powerful and portable, you get a 70-hour wireless reading experience, and since the neck is easily bent, you can fit in on your purse or bag as you go.
(See this rechargeable reading light at Amazon)
Moreover, it's a 1000mAH lithium battery and comes with the standard Android micro-USB cable. You can charge it on your laptop while you work.
The best thing about this lamp is that it removes the blue spectrum from the light and an orange tinged-light washes over the pages for that cozy reading goodness.
Reading Lights Takeaway
Since the arrival of LED lighting, the technology has brought forth plenty of benefits such as low energy consumption, lower heat emissions, and better lighting control.
Picking the best lights for reading at night is all going to be based on your use-case scenario. Some people are more into reading works of fiction in bed after work so they are more suited to lights in the warm range.
However, for people who are more into studying concepts, an alert mind is going to be a necessity more than one that's being prepped for a deep sleep. So, a light in the cooler rangers is a better fit.
For more related content visit our gallery on the types of light fixtures here.