Here's our guide on how to choose home gym colors including the best wall paint colors for your basement gym, small gym room, and home gym interior design.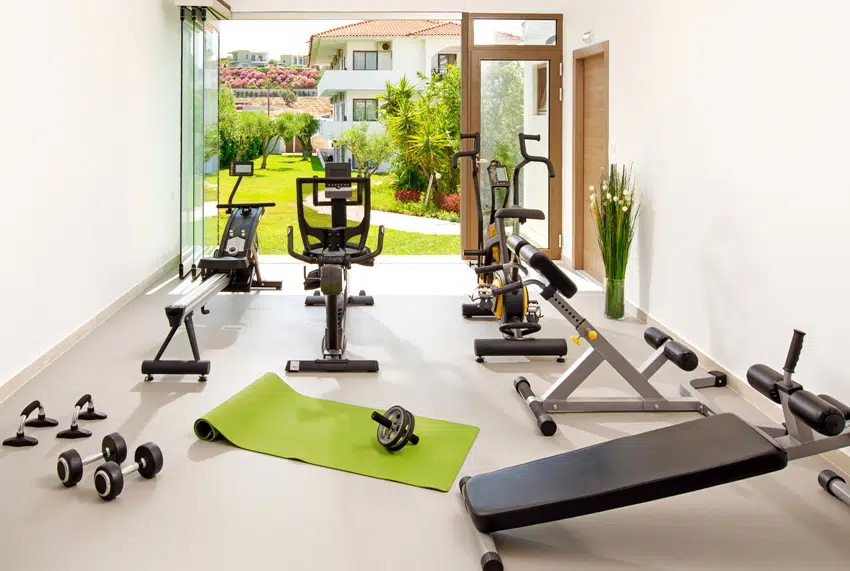 Working out regularly or even every so often is a great way to look after your health, relieve a little stress, or push yourself and your athletic limits. That being said, that doesn't mean that it's easy to get to the gym as often as you'd like.
For something a little more private and a lot more convenient, you can create a gym of your own without leaving the comfort of your own home.
Yet, there are still interior design choices when it comes to designing the home gym of your dreams. To start, what are the best paint colors to suit your workouts?

Home Gym Wall Colors
When decorating a gym, there are a few reasons that certain colors might appeal to you more than others. After all, every room in your home has a purpose, and the decor and design within them should reflect that. So, what's the best color for a home gym?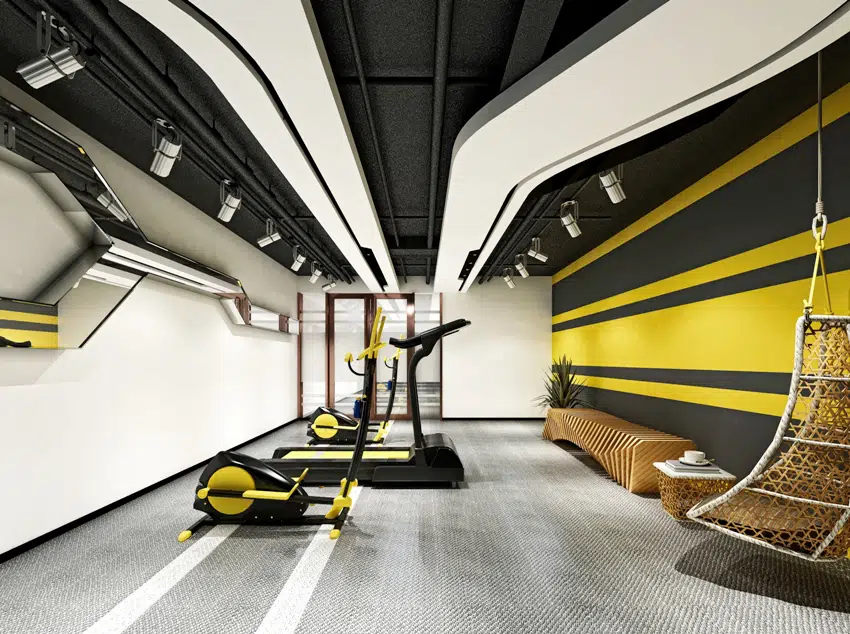 One popular option is an energetic color like orange, red, or yellow. These will help boost you through your workout by controlling the environment around you while you work out.
However, this could be too vibrant if, for example, your home gym is used more for calming yoga rather than high-intensity cardio.
When you're considering a color like yellow, you have a few options, though. After all, there are a lot of different shades out there!
If you want something a little muted, a color like Chic Lime offered by Benjamin Moore Jonquil by Sherwin-Williams to create something a bit more mellow but still energetic enough for a home gym. Chic Lime 396 by Benjamin Moore – a medium-light shade of yellow-green. Jonquil (SW-6674) by Sherwin-Williams – soft, sunny yellow with a red undertone.
Remember, yellows including brighter, more vibrant shades, are better in rooms with plenty of sunlight.
Alternatively, you could give your home gym a natural boost with a hue like green. This gives you a touch of nature in your home, which is especially great for those who aren't a big fan of vibrant colors like the orange above and red options.
However, it's worth noting that while greens like Terrapin Green by Benjamin Moore or Peridot by Behr are great, calming options, you can incorporate green into a more energetic space as well. You can do this with bright greens to create a striking and energetic home gym. Terrapin Green 2145-20 by Benjamin Moore with a shade of yellow-green. Peridot 430C-3 by Behr is a light shade of green.
Another option is to opt for a more neutral tone like white. This gives your home gym a clean and pure appearance that's great for something a little calmer. You can also use an off-white or gentle gray tone like Benjamin Moore's shade, Storm Cloud Gray. Storm Cloud Gray 2140-40 by Benjamin Moore – has a shade of yellow-green and gray tone.
For something a little bolder but still fairly calm, you'll want to consider something like lavender or calm blue like Benjamin. These offer a pop of color and add an uplifting tone but don't become overbearing in their vibrancy. Peace and Happiness 1380 by Benjamin Moore – a pinkish-purple hybrid best for a meditative energy gym room.
Choosing a shade like Peace and Happiness by Benjamin Moore is a great way to add a meditative energy to your gym room. This makes it better suited to workouts leaning more towards practices like yoga rather than trying to aim for a high-energy workout like a sprint or HIIT.
Home Gym Color Schemes
Of course, just like any other room in your home, you aren't limited to a single wall color in your home gym.
You can create beautiful color schemes that will go beyond being aesthetically appealing and inspire you when you're in the middle of a tough workout. See the color wheel guide and learn how to mix and match the colors for a specific mood or theme that you want.
One option you have is to create an accent wall in your home gym. You could do this with decor as many do if they want a wall of mirrors in their home gym for watching their form.
On the other hand, you can achieve the effect with the color scheme in your home gym. This is a great way to add a pop of color if you don't want a completely bright room or to break up the monochromatism of having a single color on your walls.
Once again, this is one option where you can add some vibrancy to your gym with the right shades. An accent wall in red, orange, yellow, or even purple can give you a bit of a boost in a room where you might need some high energy.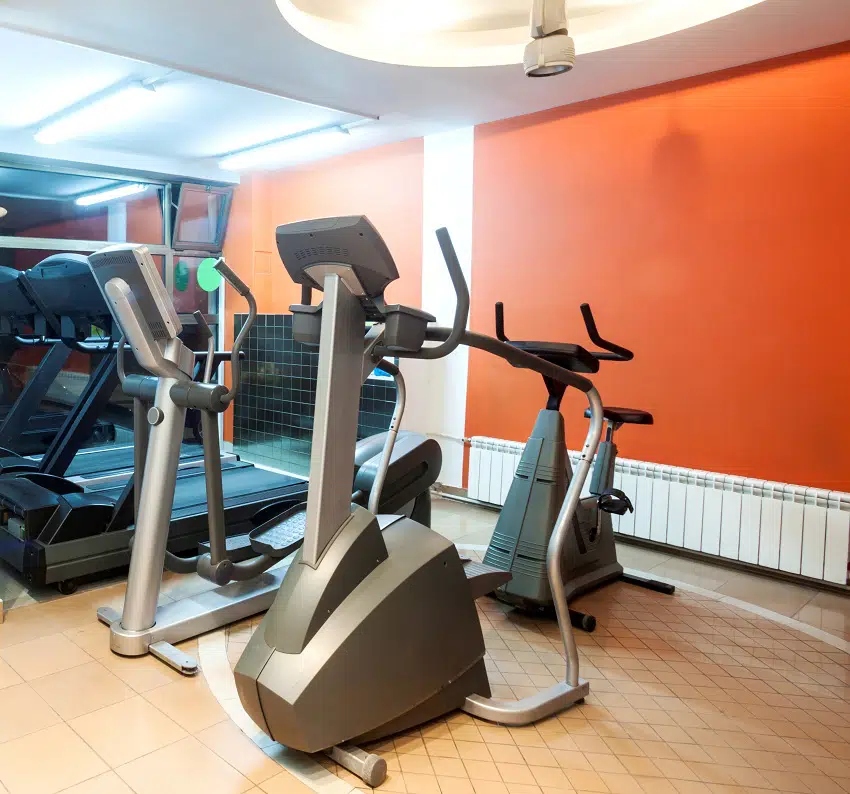 For instance, you can turn to Behr to try out their Orange Zest paint or a color like Sherwin's Williams red shade named Emotional for a vibrant touch. If you find a color like this overpowering when it covers your home gym's wall completely, using it with another shade can help a lot. Orange Zest 240b-6 by Behr – a medium light shade of orange.
You could add it as an accent wall or paint above a white trimming to create an energetic color scheme. Read more about colors that go with orange here.
Best Paint Color for Home Gym
As we've discussed and will continue to cover, there are a wide array of wall paint colors to choose from when you're trying to choose the best paint color for a home gym. Aside from the actual layout of the room, the best answer to this is to consider what kind of workout you'll often perform in your home gym.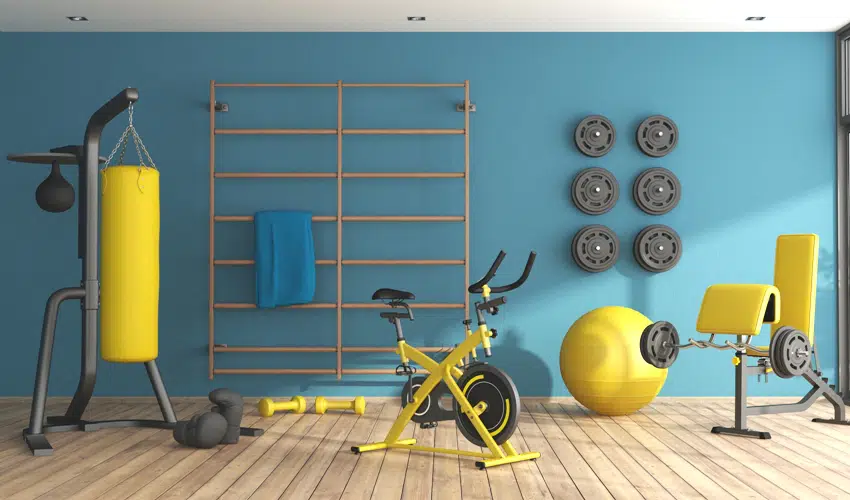 For example, if you want to incorporate a lot of cardio into your workout, vibrant tones like red or orange are a great choice. Not only are they visually striking, but they're energizing colors as well.
If you want something vibrant, but you aren't a huge fan of warmer colors in your home gym, you can use a cooler shade to add some vibrancy—bright blues like the product Impromptu by Sherwin-Williams.
On the contrary, if you prefer more meditative workouts, these bright shades might be distracting while practicing your yoga poses. In these cases, a clean, white room or a soothing blue will do the trick.

Impromptu (SW-6955) by Sherwin-Williams – a medium dark shade of cyan
For example, while the color by Sherwin-Williams we mentioned a moment ago, Impromptu, might actually be a little bright for a meditative home gym but a shade like Velvet Morning by Behr tone down the energy levels a little for a more peaceful yet still energetic vibe.


Velvet Morning 520E-3 by Behr – a medium light shade of cyan.
Other gentle blue tones like Harbor Haze or Paradiso by Benjamin-Moore are great for workouts that require a little more focus rather than putting all your energy into action.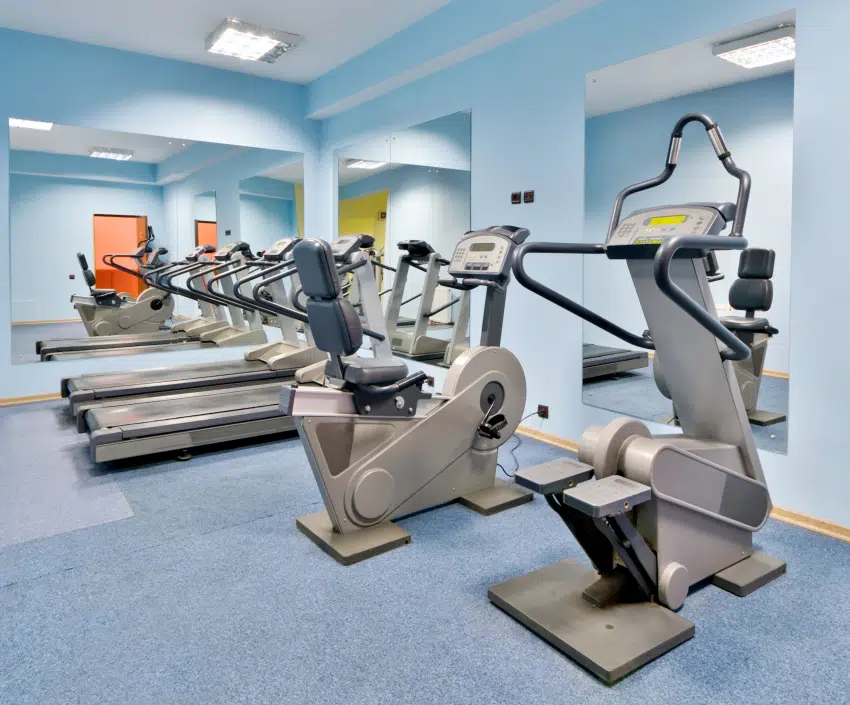 Another type of workout to consider that might take some extra focus is if you prefer your home gym to resemble a dance studio or have space for barre work, pink might actually suit your tastes.
Not only does it fit the color you might see when you don your trusty ballet shoes, but it can offer a range of tones. Nautilus Shell 064 by Benjamin-Moore – muted color with a shade of gentle shade of peach and pink.
Something more muted might be better suited to this for the sake of focus and theme. A great pink shade to rely on is also offered by Benjamin-Moore called Nautilus Shell.
Basement Gym Walls Colors
Creating a home gym in your basement is a great way to use a space that you may not have before. It's also a great way to segment your home gym from the rest of the house to create an area in your home that's just for exercise.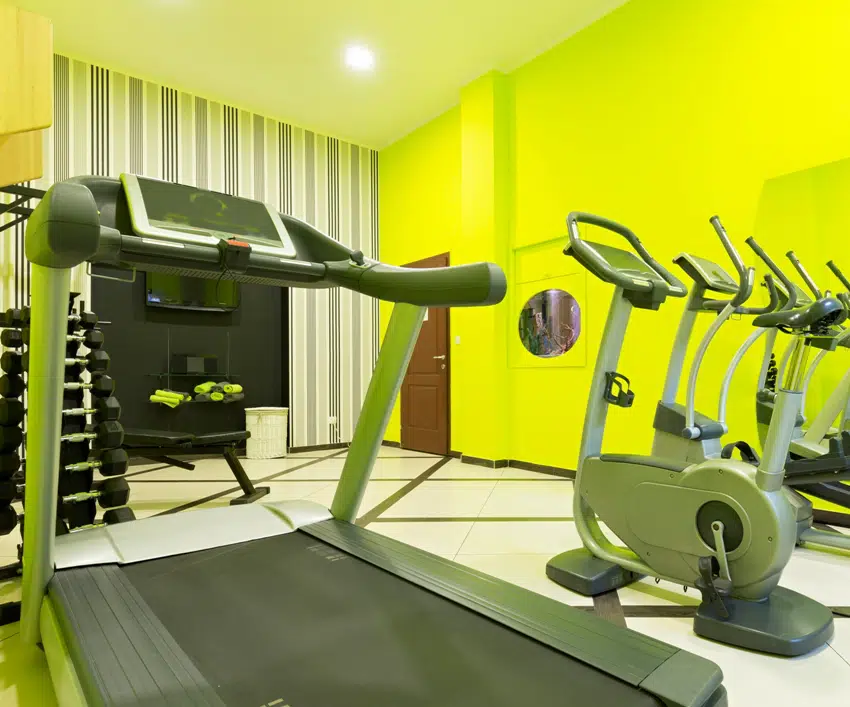 However, that doesn't mean there aren't a few noticeable challenges to creating a home gym in your basement. Like any other basement room, you have to be a little more careful with interior design selection to make sure it suits the space.
Namely, you must choose a paint color that will pop even though most basement rooms don't have windows. This means you'll want to avoid darker paint shades that will make a windowless space look darker.
Still, a vibrant color like red or a pure shade like white will help open the room and keep things energetic and refreshing.
On top of this, any paint color in a windowless basement will look better if you add the right lighting. Not to mention, having an appropriate-lit home gym can set the mood for your exercises of choice. See the best basement wall colors here.
Small Home Gym Colors
Small home gyms have a similar problem to basement gyms. While you don't necessarily have to worry about missing out on the windows of an above-ground level, certain paint shades will only exaggerate the problem.
For one, you might want to step away from dark colors like brown and gray, but stark white probably isn't the best answer, either. On the other hand, vibrant colors like red or orange can come across as fairly harsh in a small space.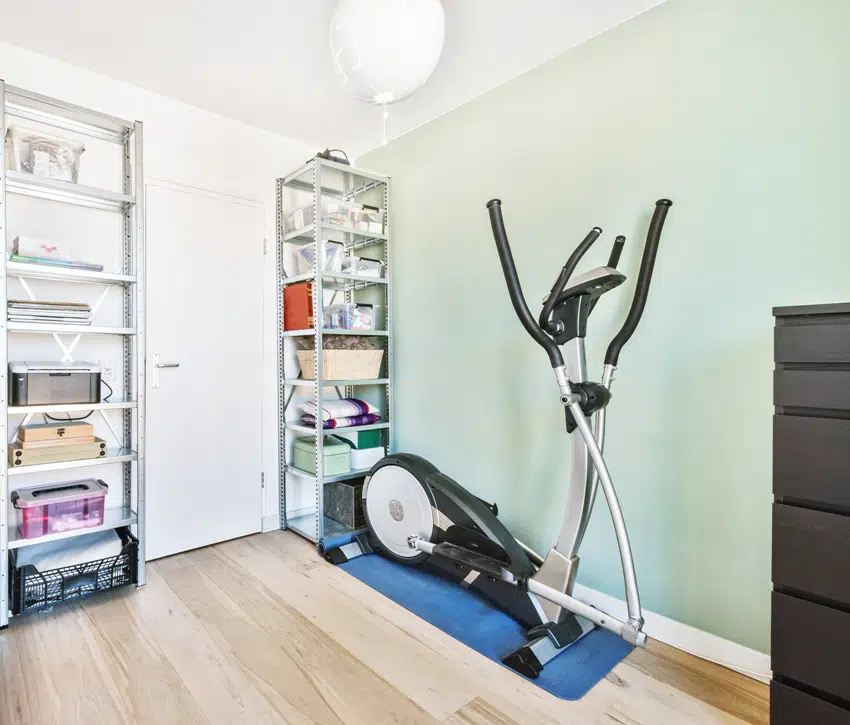 Neutral colors are meant to be avoided in small rooms, but tones like beige aren't often great choices for a home gym. A gentle tone that adds a pop of color can be a great choice in a small space. For example, the Behr product Peridot we mentioned earlier could suit this need well in this location.
This opens the door for a few other colors we've discussed for home gyms already. For instance, a blue tone or even a lavender can strike quite a balance, opening up the room quite a bit. Again, proper lighting can help as well.
For more related ideas, see our choosing paint colors that flow from room to room page.