Here we share our man cave lighting guide, including the different fixtures that provide illumination, where to install them, and DIY man cave lighting ideas.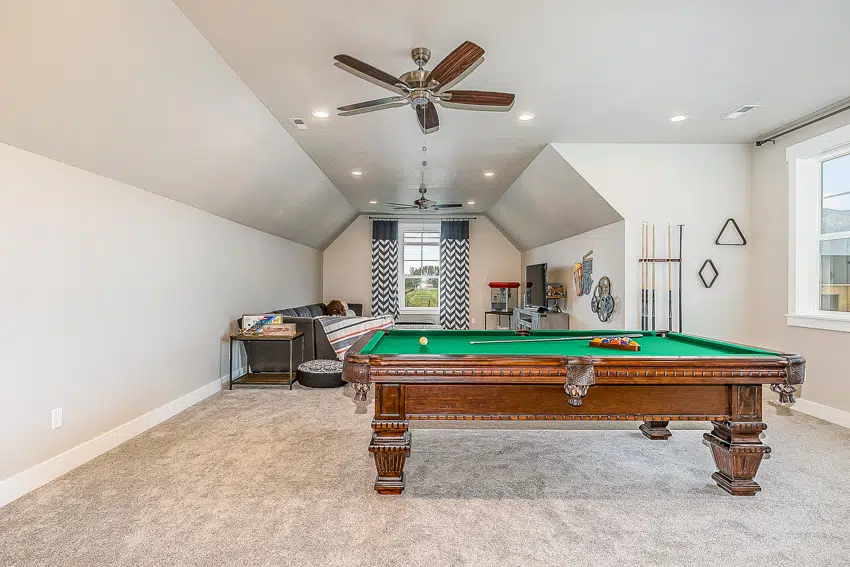 Whether watching the Super Bowl with beer-guzzling friends or having fun slugging it out with other Call of Duty operators online, having the correct space lighting is a must for any man cave.
Like any other room in the house, choosing the correct lighting for a man cave reflects one's preferences. It can be dim for gaming purposes or flashy and glitzy for a rollicking night with the boys.
Whatever lighting a person chooses, it would be wise to check these man cave lighting options.
Man Cave Light Fixtures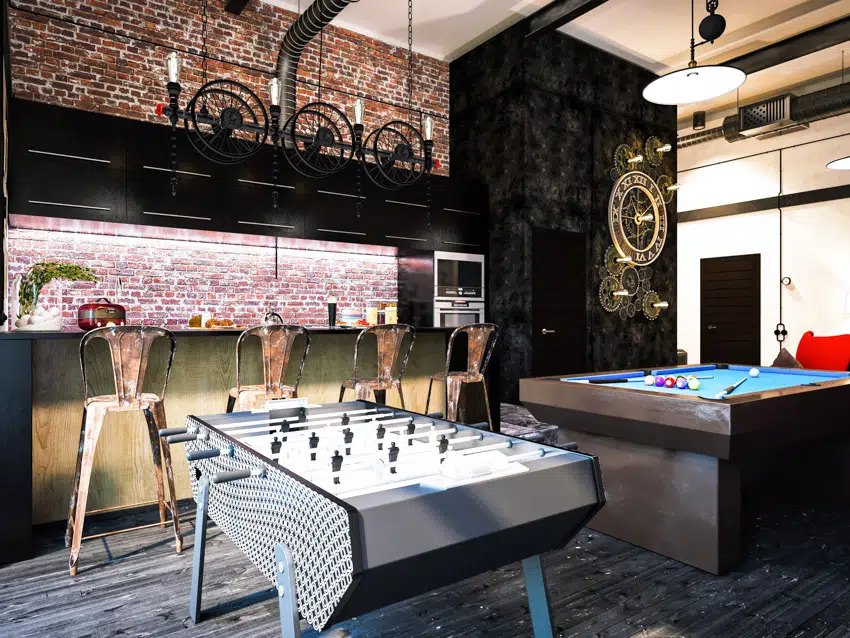 The lighting fixtures for a man cave are reasonably different from a she-shed. Whereas women-only rooms feature mostly soft and modest lighting, man cave lights can be strong, outrageous, and bold. They often highlight a man's passion, including collections and other interests.
Man cave lighting fixtures depend on what things are present in the room. For example, a bar or kitchenette can benefit from ceiling lights to make food and drink preparation a cinch.
Backlighting the gaming console and large-screen TV is popular in modern man caves. Trophies, collector's items, and other memorabilia will look more impressive with wall or shelf lights.
Ceiling Lights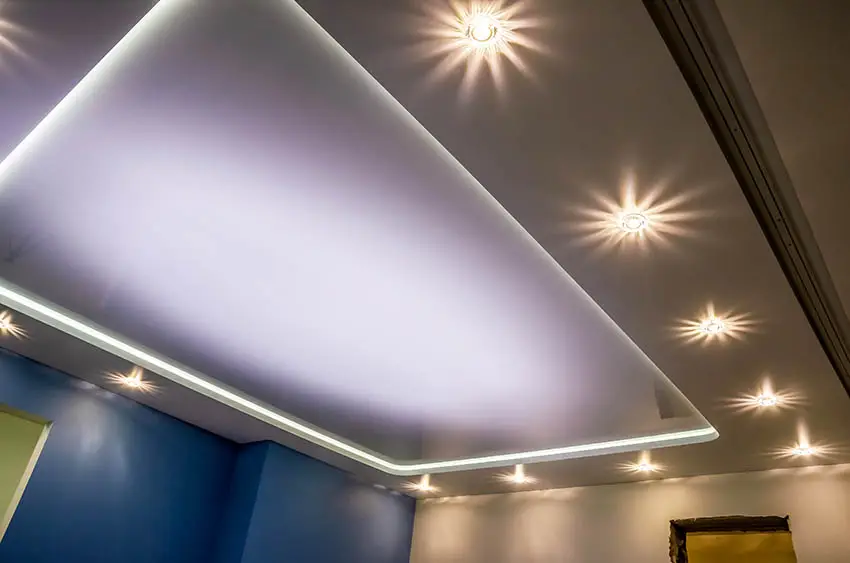 Any room can benefit from ceiling lights' ability to illuminate a wide area. If one has a low ceiling, mounted lights will do the trick.
These fixtures spread more light than recessed lights, making for a livelier man cave. A utility ceiling light will be an excellent choice if the man cave is also a workshop for trying out various experiments or coming up with the next-big-thing project.
There is also indirect lighting, pointing the light toward the ceiling. The reflected light creates a softer glow to the rest of the man cave, an excellent choice during game days with the boys. Read more about our guide on the different types of ceiling lights here.
Hanging Lights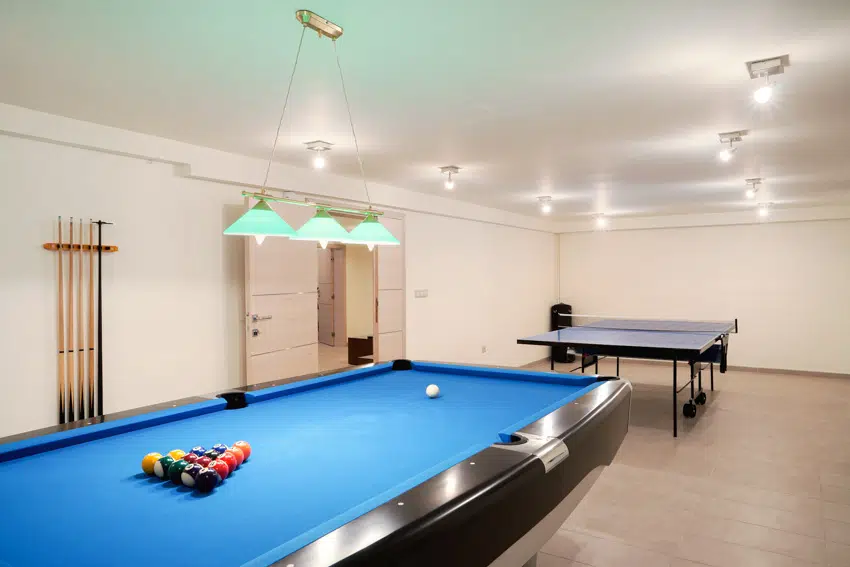 A form of ceiling lights, hanging lighting fixtures extend downward via wires or steel rods. A hanging light is perfect as an accent or task light, depending on the fixture's size and the bulb's lux rating.
Hanging lights are perfect for illuminating a man cave corner, such as the bar or kitchenette. It can also be functional above a pool or billiards table.
Pendant Lighting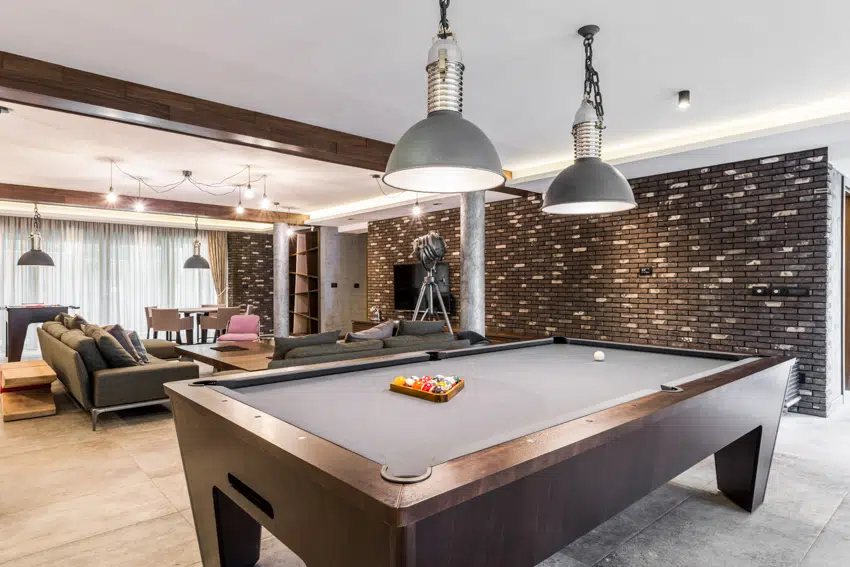 This man cave lighting option is an example of a hanging light. A cord, metal rod, or chain suspends the lighting fixture from the ceiling.
Most people confuse it with a chandelier, but a pendant light only has a single bulb. On the other hand, a chandelier will have many light bulbs connected to a single lighting fixture.
Pendant lights are perfect for man cave countertops, kitchenettes, or bars. It should make crafting beers and preparing Super Bowl-worthy foods a breeze.
Bar Lights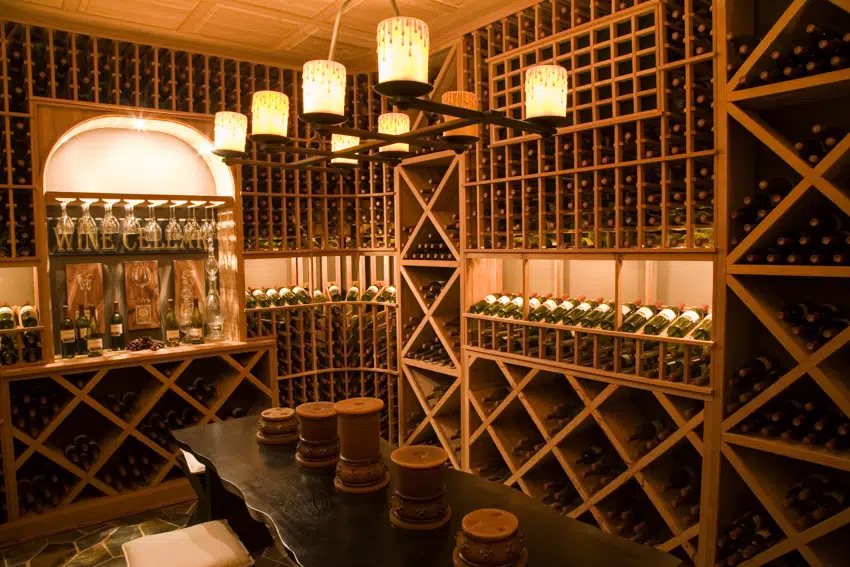 As the name implies, these lighting fixtures are perfect for illuminating the bar area in a man cave. They are a series of small light fixtures with a pendant design or a spotlight style. Other man caves use droplights suspended from the ceiling.
One can also use bar lights to showcase collections or memorabilia. People position the lights at an angle to direct light into the wall or display cabinet.
Wall Lights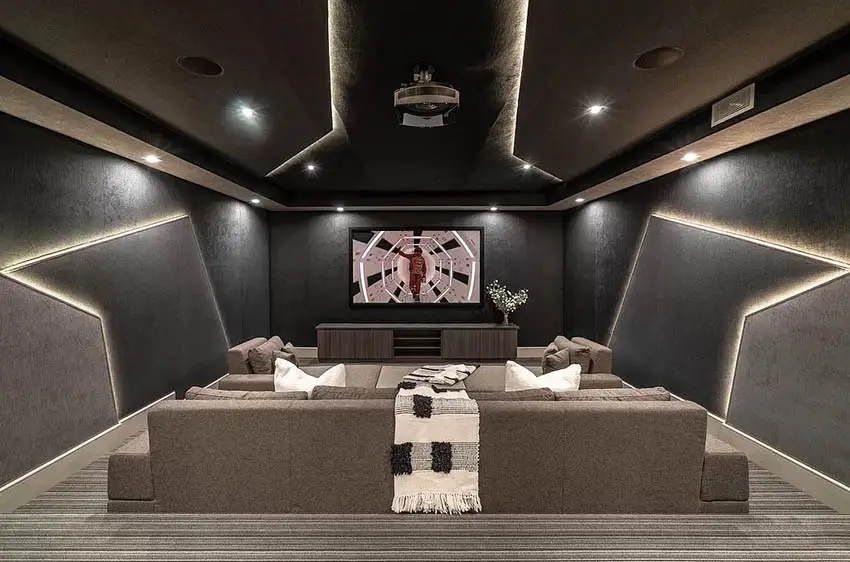 This man cave lighting idea is excellent for supplementing the soft glow of a ceiling light. Wall lights can also replace other lighting fixtures to give the man cave a more atmospheric vibe while eliminating glare.
Depending on the choice of wall light style, this fixture can draw attention to a prized possession on the wall. It can be a priceless painting, a once-in-a-lifetime recognition plaque, or memorabilia.
LED Lighting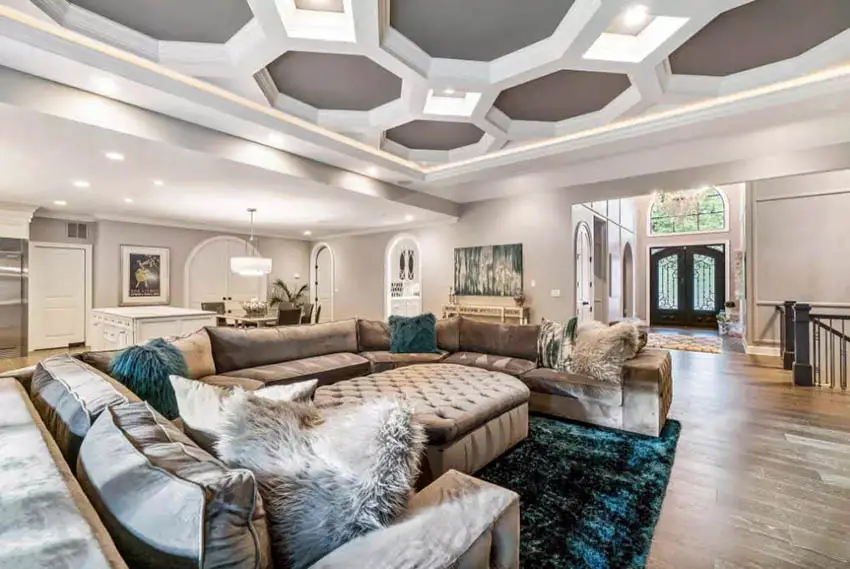 Almost everyone uses LED lights today because of their energy efficiency and longevity compared to incandescent, halogen, and fluorescent bulbs. The best part about LED lighting is that many are programmable.
One can have different colors to turn the man cave into a disco room, a billiards hall, a game space, or a beer nook with a simple button press. Read more about our guide on the pros and cons of LED lights here.
Blacklight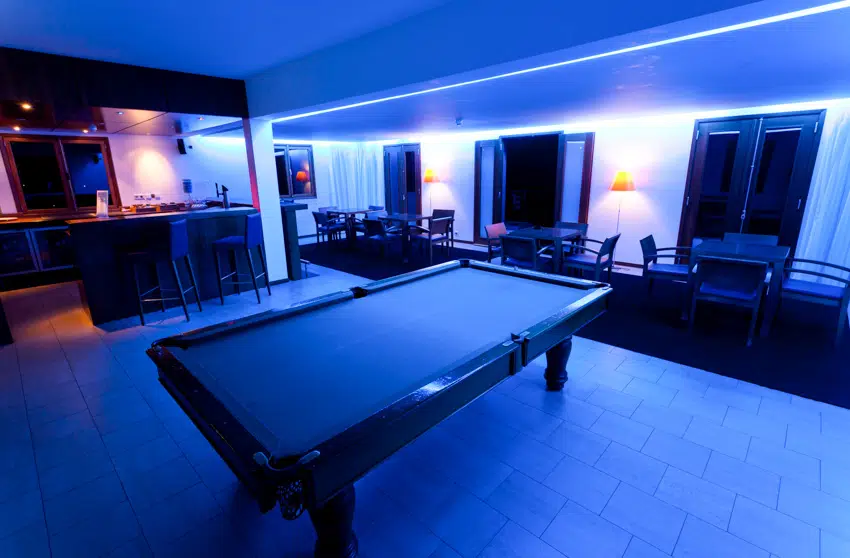 While LED lights are commonplace, blacklight is not. However, it makes for a fascinating light fixture in the modern man cave, mainly if one is fond of the dark.
This lighting fixture is perfect on ingress and egress points, allowing guests to see the way to the restroom during a break on movie nights. If one is fascinated with the stars, sticking glow-in-the-dark decals on the ceiling should complete the man cave's transformation.
String Lights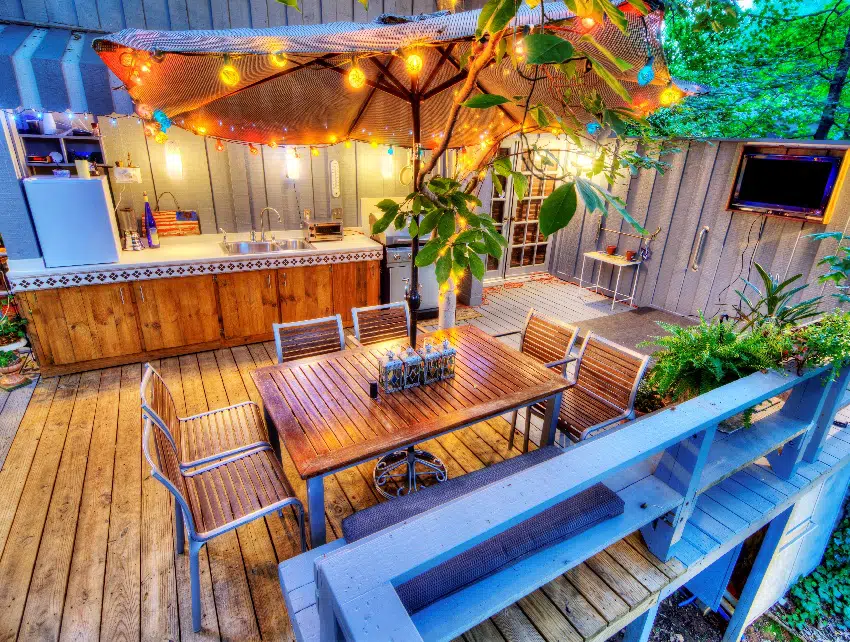 These lighting fixtures create a magical cozy ambiance in any man cave. They accentuate the precious items any man has in the room.
One can also pick string lights in different colors to produce a more festive, carnival-like vibe. Read more about our guide on how to hang string lights here.
Shelf Lights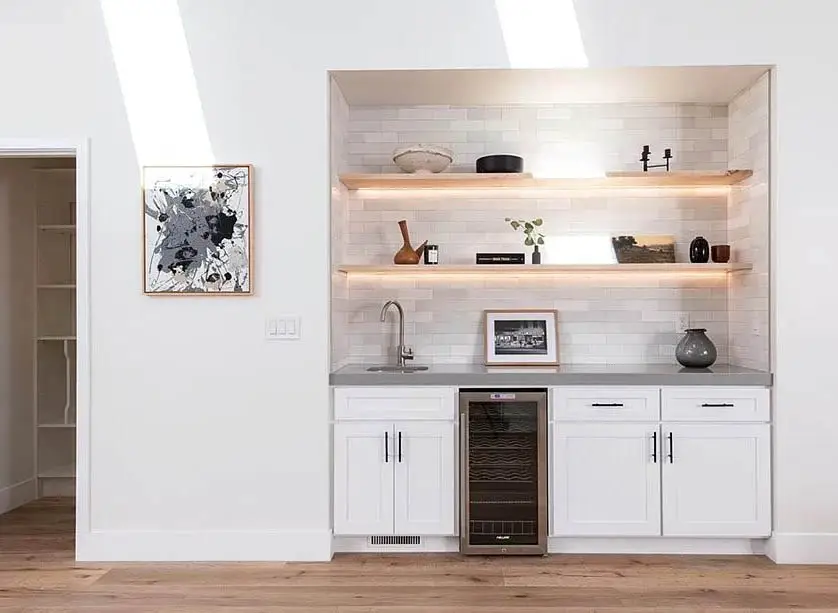 For the bookworm, having shelf lights is a must. It can also be an excellent lighting fixture for the bar, showcasing the various liquors and spirits on the shelf.
This lighting type does not illuminate the man cave. Instead, it adds a touch of sophistication to that part of the room one wants to highlight.
Backlight for TV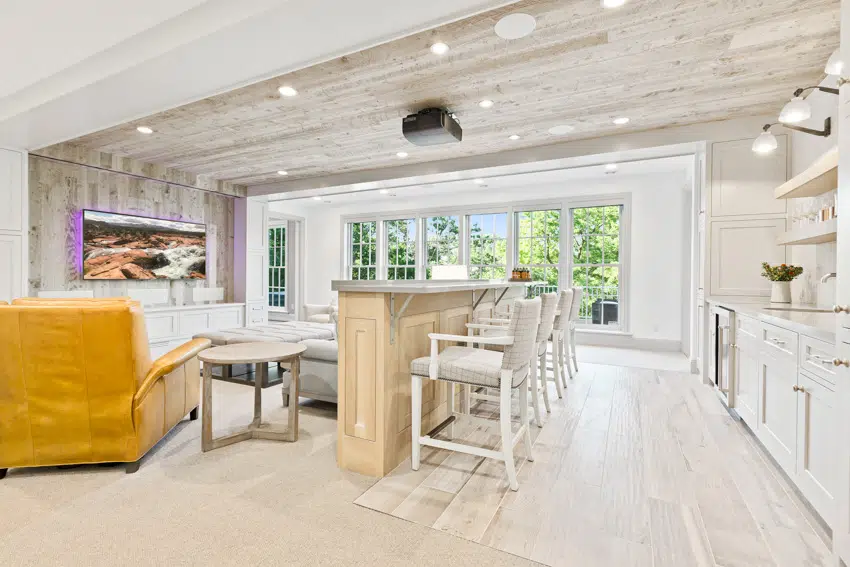 Game times are more fun and exciting when a soft light emanates from the back of the TV. Backlighting the TV gives the eyes a more neutral contrast and color reference points in a darkened man cave.
One will appreciate more vibrant colors and remarkable contrasts, perfect for watching action-packed films and other movies.
Mood Lighting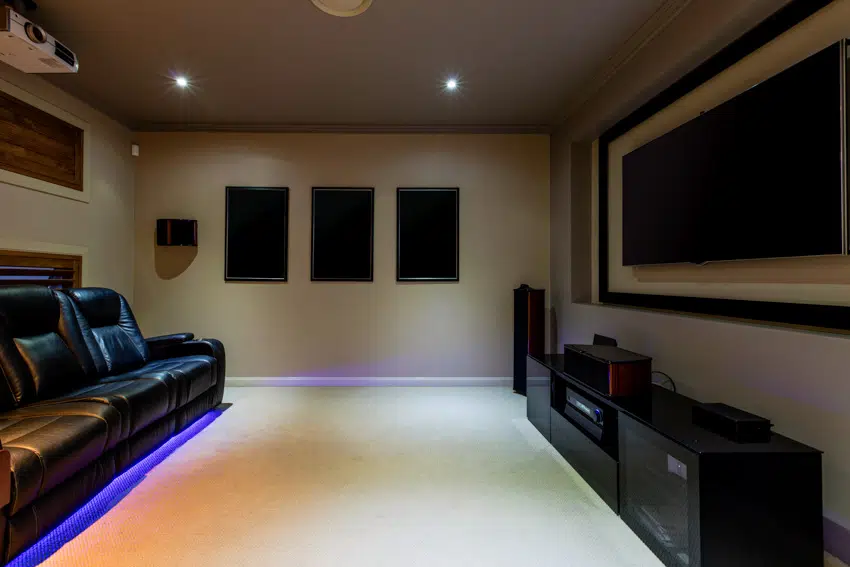 There is a lighting fixture for every mood and occasion. That is why mood lighting fixtures often come in programmable light intensities, colors, and flashing modes.
One can pick a soft light to set the tone for a solitary time with the guitar or a pulsating light for fun times with friends.
Neon Lights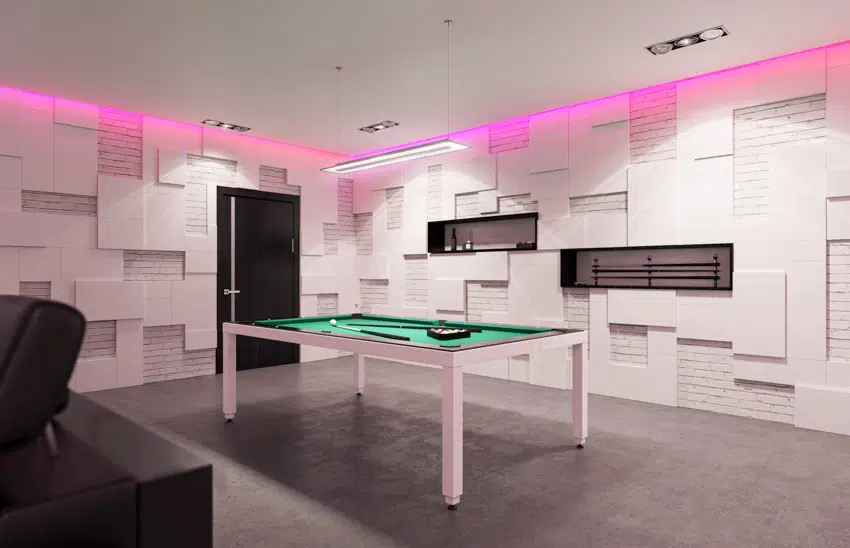 Add a touch of the 60's-style roadside cafes, motels, and diners with neon lights. This lighting option is perfect for man caves with a pool or billiard table. If one has darts, neon lamps can be a brilliant fixture to have as well.
DIY Man Cave Lighting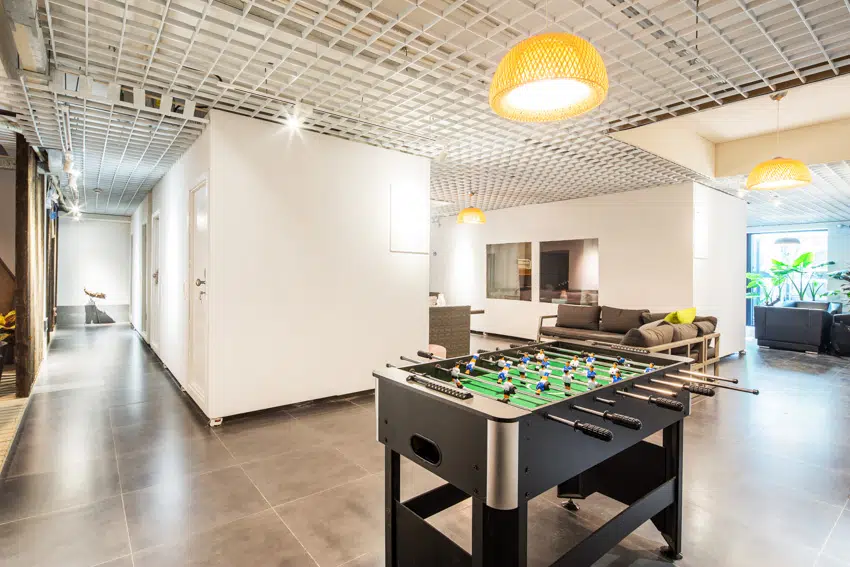 You can always create a lighting fixture if none of these man cave lighting suggestions appeal to you. All you need is a few bright ideas, several LED strips, and a basic understanding of electrical systems to set up the man cave lights of your dreams.
Choosing the most appropriate man cave lighting is knowing what people want. They can always use a combination of illuminating fixtures and accent lights to make the man cave functional and safe.
See more related content at our article about the different man cave ideas for a small room on this page.