This gallery of small hallway light fixtures features the different types, illumination tips, suggested size of lights, and their distance from each other.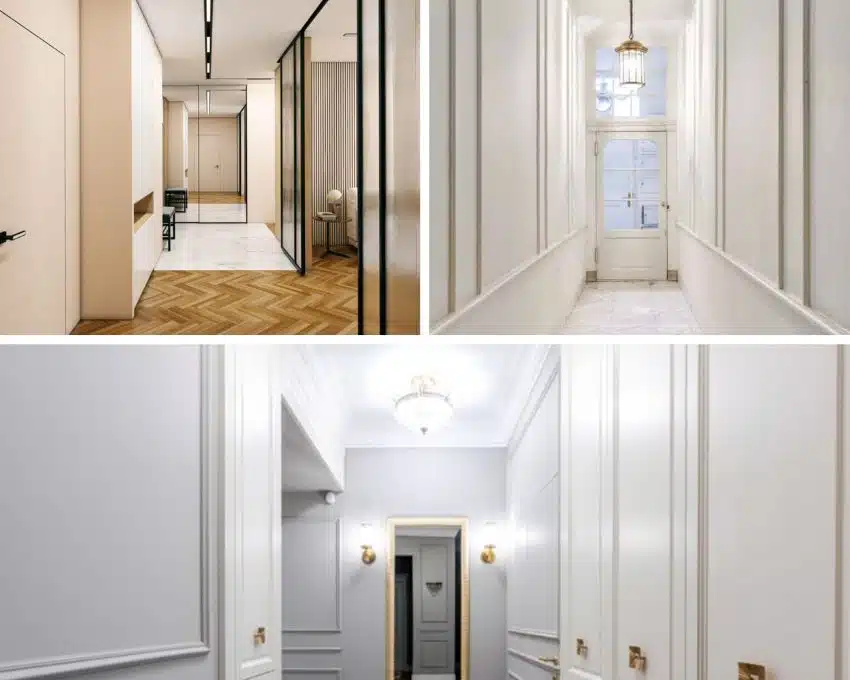 Small hallway lighting fixtures can serve a functional as well as a decorative use, providing an additional ability to reflect the personality of your area. The small light fixtures in your hallway are not only there to ensure your safety at night.
The correct fixtures and colors brighten gloomy, tight hallways, adding refinement and individual touches that improve the entire home. Luckily, it turns out that there are quite a variety of small lighting fixture options available when it comes to selecting lighting for your much-loved hallway.
Quicklook: Small Light Fixture Types For Hallways
• Recessed Lights
• Semi-Flush Mount Ceiling Lights
• Mini Ceiling Light Fixtures
• Flush Mount Ceiling Lights
• Wall Sconces
• Pendant Lights
• Corner Light Fixture
• LED Strip Lighting
• Chandelier
• Downlights
• Ambient Light Fixture
• Plug In Wall Lights
Types Of Small Light Fixtures For Hallways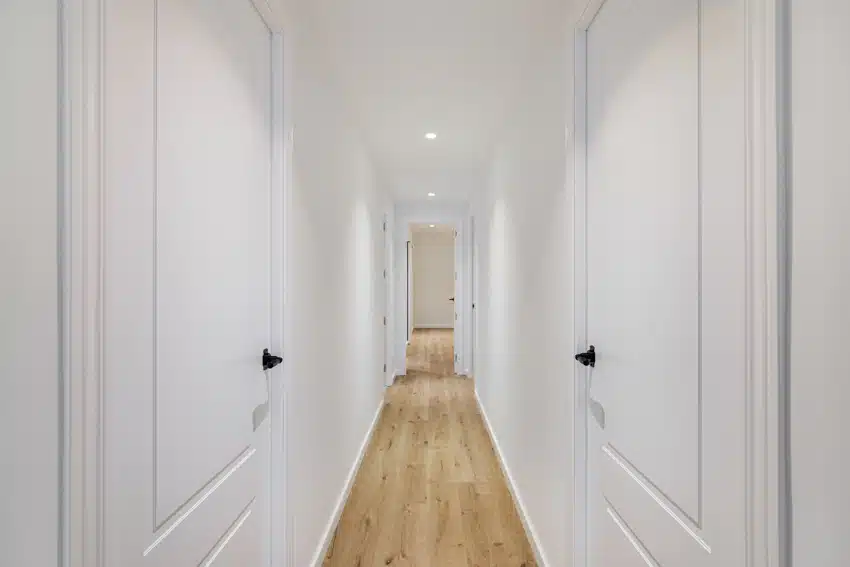 There are specific types of small light fixtures for your hallway that you can rely on for both safety and decorative purposes.
Recessed Lights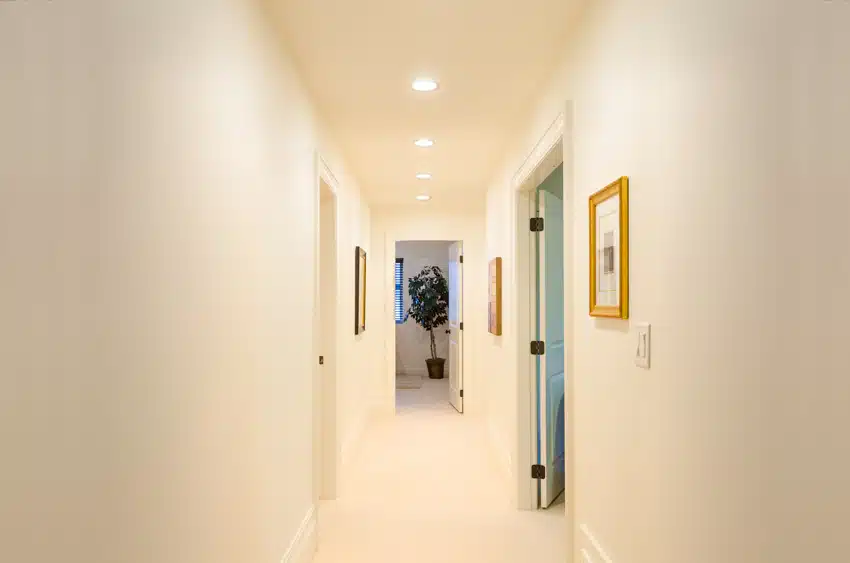 Recessed lights, commonly referred to as downlights, are a popular type of small ceiling light fixture. Recessed lights are installed within the ceiling. They are quite unobtrusive, with only the light trip noticeable beneath the hallway ceiling.
Small recessed lighting fixtures are a proven and tested choice if you want to add a more minimalist design to your hallway lighting. Many of these fixtures are level with the ceiling, whereas others are somewhat just the same as standard fixtures that hang from the ceiling. They are renowned for their concentrated beams that shine precisely downward, making them ideal for brightening a hallway.
Furthermore, this lighting type has a variety of applications in both commercial and residential locations and is suitable for accent, ambient, and task lighting. Recessed lighting is an excellent alternative for spaces with minimal space for hanging lights such as hallways since it is compact and simple to hide.
Recessed lighting encourages simplicity in your hallway. Recessed lights brighten the room without creating congestion, which is common with hanging ceiling lights. Because they do not project from the ceiling, these lights are even ideal for low hallway ceilings.
Conventional hanging lights provide the impression of a confined space. Nonetheless, recessed lighting is usually preferable to standard lighting in a low-roof hallway. Different types of recessed lighting ensure clutter-free lighting and adequate illumination. They can even be installed in hallway walls because they reflect illumination into space better than direct lighting. This creates the illusion of wall washing.
Lastly, recessed lights adapt to the provided space with no exposed fittings, which is a significant benefit when the interior is a major issue. They also adhere to a timeless style that will never go out of trend.
Semi-Flush Mount Ceiling Lights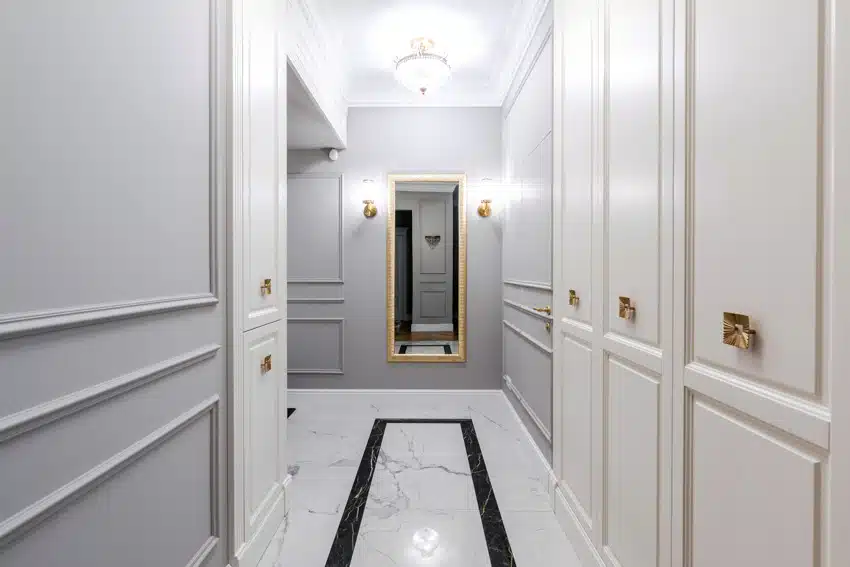 Semi-flush mount ceiling lights are the ideal solution for straightforward, small, yet stylish fixtures throughout the hallway ceiling. These drum-shaped lights appear a little more modern than the conventional ceiling fixture while still illuminating your space. They have practically the same impact as hanging pendants but are not as close to your head.
Furthermore, if you surround the entire hallway with small semi-flush mount ceiling light fixtures, it creates a spectacular display. Semi-flush mount lights are usually suspended 4 to 8 inches from the ceiling using a cable or a steel fixture. They are normally operated in high-ceiling hallways.
Semi-flush mount fixtures illuminate more than hallway flush-mount light fixtures. A semi-flush mount fixture is hung, with a little space between the fixture as well as the hallway ceiling.
This space provides for an up-lit effect while also giving full downward illumination. These highway ceiling fixtures create more ambient illumination than flush mount fixtures and are more frequently used for hallways.
Mini Ceiling Light Fixtures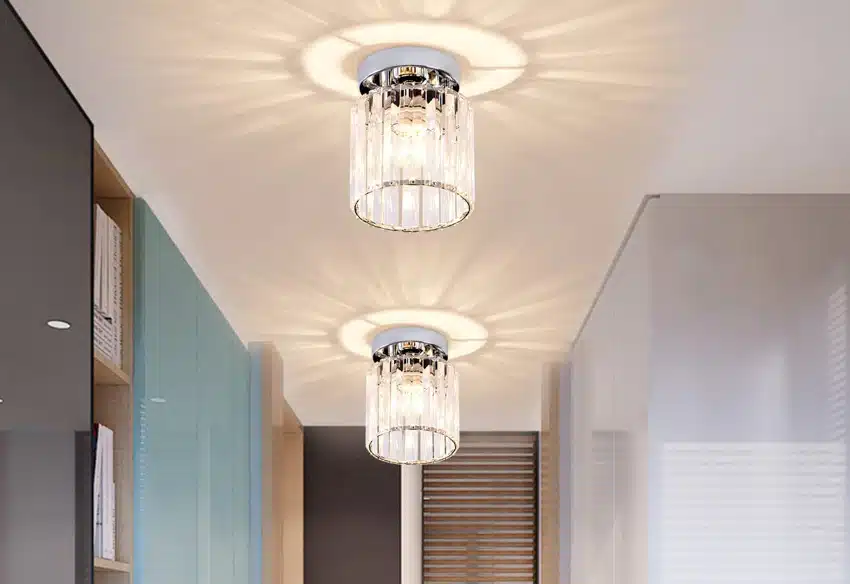 See this mini ceiling light fixture at Amazon [sponsored link]
If you wish to combine minimalism and elegance, you can install mini ceiling light fixtures that function like a pendant. Mini pendant lights are little light fixtures that are suspended from the ceiling like standard pendant lights. They can be used for a task, accent, and ambient lighting. Additionally, they may make your hallway appear cheerful and friendly.
However, if you are not a fan of pendant lights, you can always go with standard mini lights, though it would be way better to install them in sets. If you have a long or even short hallway, multiple small ceiling lights may be the best solution for properly illuminating your hallway space.
Aside from that, mini-ceiling lights do not occupy much room on the walls of your already-constrained hallway. Just select the number of fixtures you want, then attach a light bulb to each one of them.
Flush Mount Ceiling Lights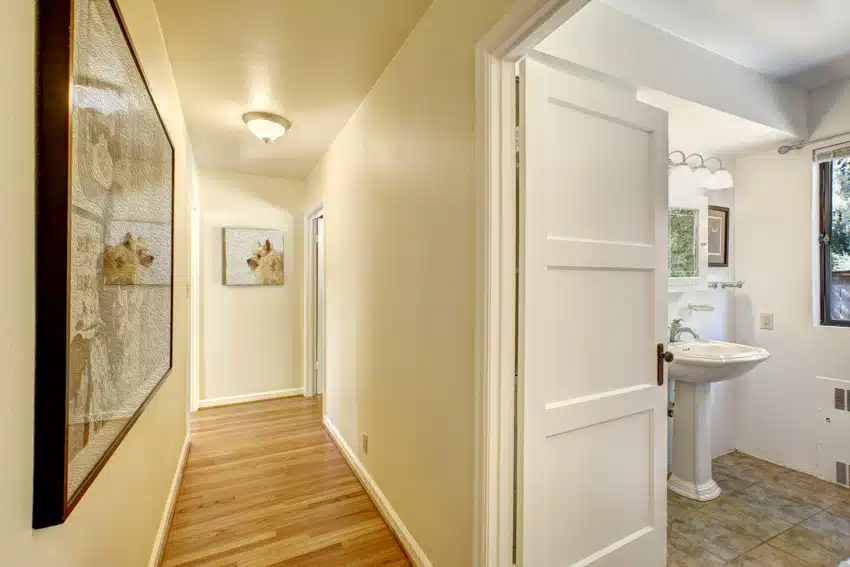 Flush mount lighting is a popular type of ceiling lighting. It is installed directly to the hallway ceiling, making it ideal for low-roof hallways. It is not meant to be ostentatious or bring emphasis to itself.
A flush mount ceiling light is often a simplistic and small dome-shaped ceiling lighting fixture that is incorporated within and flush with the hallway ceiling.
Nevertheless, there are flush-mount ceiling light fixtures that add a stylish touch to your hallway. They give charm to your corridor and are obtainable in a variety of interesting designs. You can choose a stylish display fixture that may be readily paired with your other hallway decorative elements such as paintings or mats.
Additionally, you can complement your flush-mount ceiling lights with a table lamp and photographs. You may transform your hallway into a sophisticated gallery with just a few elements that also serve as decorations.
Wall Sconces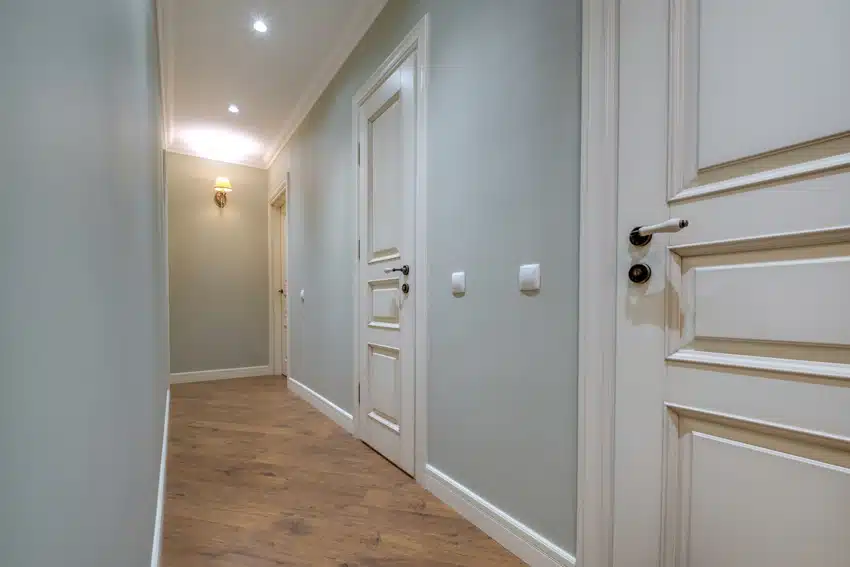 Wall sconces are the most elegant yet small-scale fixtures you can install without the help of an electrician or a large impact on your funds. You may acquire them in plug-in versions for a relatively low price and then evenly distribute them around your hallway.
They will protrude somewhat from your hallway walls, but the impact will be magnificent. In a narrow hallway, a couple of these lights at every end is all that is required to keep things minimalist.
Sconce lighting can be directed upwards to illuminate the ceiling and make the hallway appear larger. A downlight wall sconce, on the other hand, makes hallway spaces look smaller yet feel cozier. A wall sconce offers light without messing up the ceiling as it is mounted on the wall. It also does not occupy any floor space and therefore does not require a tabletop to rest on.
Moreover, small wall sconces can give illumination and flair to a hallway without obstructing mobility. They can be used to accent and illuminate the furniture in the hallway where we leave our keys and other miscellaneous items.
Pendant Lights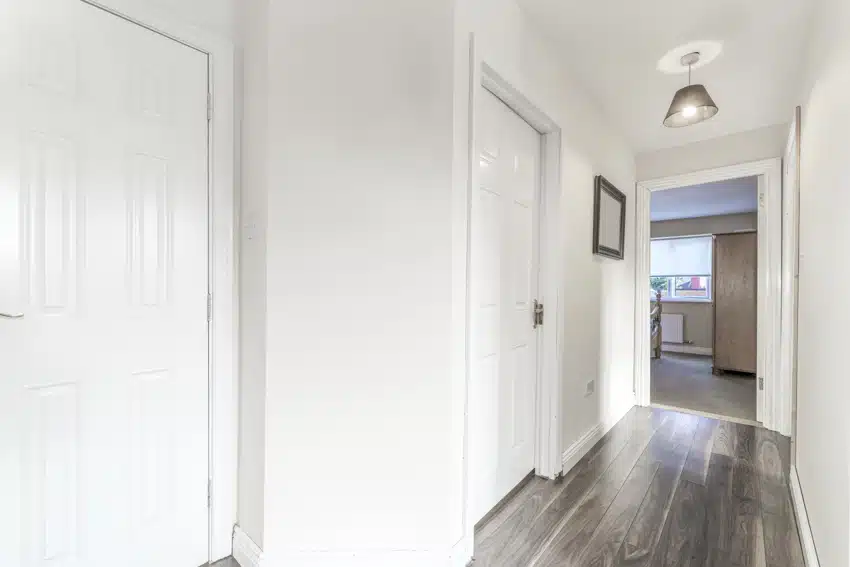 A chandelier may appear gorgeous in a hallway, but it will most probably occupy an excessive amount of space in a small space. Pendant lights may still add a pleasant touch to your hallway without cluttering it. Hence, you can pick just a few pendants that match your hallway décor, install them to the ceiling, wrap the cable, and your hallway will seem much more attractive in minutes.
Furthermore, pendant lighting is a fashionable option for every room in the house, even the hallways. It is comparable to chandeliers because it descends from the ceiling, although it typically has only one light source.
Because pendant lighting hangs a bit low from the hallway ceiling, it is only appropriate for hallways with tall ceilings to prevent damage and injury. To properly illuminate a room, you will most certainly need to attach multiple pendants or mix them with other sources of lighting.
Decent types of pendant lights must be both functional and aesthetically pleasing. If your pendant light fixtures are either too intense or too dim, the overall look of the hallway will suffer. The main idea behind pendant lighting is that it consists of a single bulb dangling from the ceiling.
Having said that, the preponderance of pendant lights has a certain form of covering attached to make them more fascinating and to minimize the intensity of the bulb.
Corner Light Fixture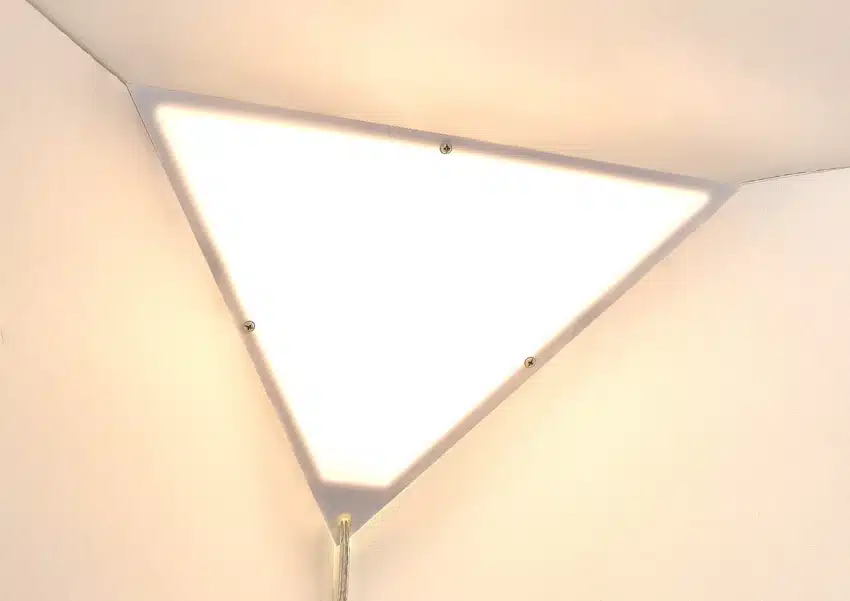 See this corner light for hallways at Amazon [sponsored link]
If your hallway is short, you can illuminate it using one lighting fixture. They are available in a variety of styles, ranging from triangle-shaped fixtures that install flush into a corner to bars that span from floor to ceiling.
You can also get artistic with an accent light source as well as a small table if you have enough space. Most of these little corner light fixtures are available in natural colors or with color-changing LEDs, which opens up a wide range of solutions for your hallway.
Among the darkest areas of your home are the hallway corners. So if you want to illuminate them, you will need to have some corner wall light fixtures. They will assist you in eliminating shadows and illuminating areas of your hallway that are currently underutilized.
Such corner wall lights are attractive and may be utilized as an accent element to contribute to the visual appeal of your hallway design concept since they make smart usage of light. A corner light fixture, with its compressed and streamlined appearance, is ideal for small hallway spaces in place of a tall floor lamp.
LED Strip Lighting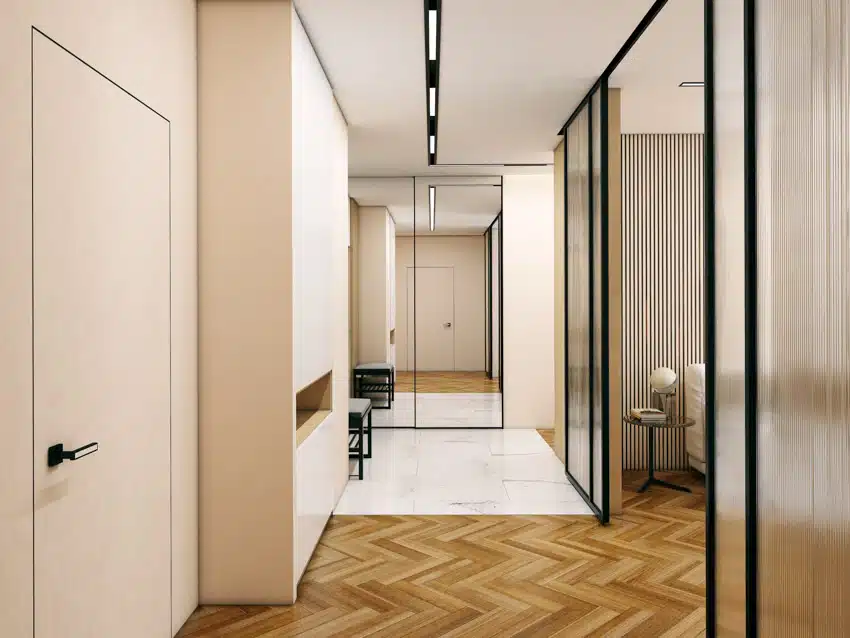 Strip lighting, often known as ribbon lighting, is a widely known lighting option for various areas of the house, particularly hallways. Although they do not generate as much illumination as other lights, they do focus on providing an aesthetic appeal.
Thus, they should only be utilized as secondary or third-layer lighting to draw attention to specific areas of the hallway. Strip lights are extremely adaptable, allowing them to be installed practically anywhere.
LED strip lights are one of the simplest ways to transform your hallway in an inexpensive and hassle-free approach. To install, all you have to do is cut the strips to the size you want, peel the backing to uncover the adhesive side, and apply pressure along the borders.
Moreover, LED strip lights are bendable and can be twisted up to 90 degrees vertically. They can also be made to produce a multitude of single colors as well as color-changing capabilities, making your hallway look a lot more dynamic.
The majority of LED lights are dimmable and work with most home automation systems. As a result, you have total control over the LED strip lights that are fitted in your hallway.
Chandelier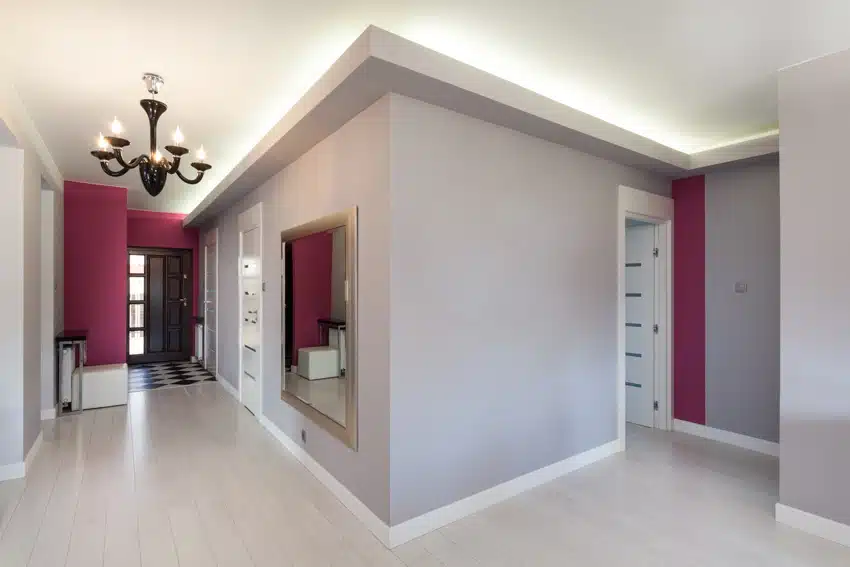 Chandeliers typically use small, low-wattage lights formed in the style of a candle-like flame, although such lamps are not restricted to small bulbs. Furthermore, chandeliers are a highly luxurious lighting element. It will be the focal point of your hallway, garnering a significant amount of attention from your visitors.
Chandeliers are decorative lighting fixtures that hang from a ceiling or walls and extend in different directions with branches of light bulbs. They come in various shapes and designs. – Chandelier Lighting, Rahul J
You must cautiously select the type of chandelier to ensure that it complements the rest of your home's décor. Chandeliers, on the other hand, would only fit in hallways with tall ceilings as well as a vast width.
Certain types of chandeliers with hanging glass crystals encircling the bulbs, generating a stunning range of light, are the most prevalent. These more formal lights, which are typically gold- or brass-plated, will add elegance and solemnity to the hallway in which they are installed.
Even though chandeliers can be used in every location, selecting the right size would be critical. A gigantic one might overpower a narrow hallway, whilst a small one hanging over a long hallway will appear lonely.
Downlights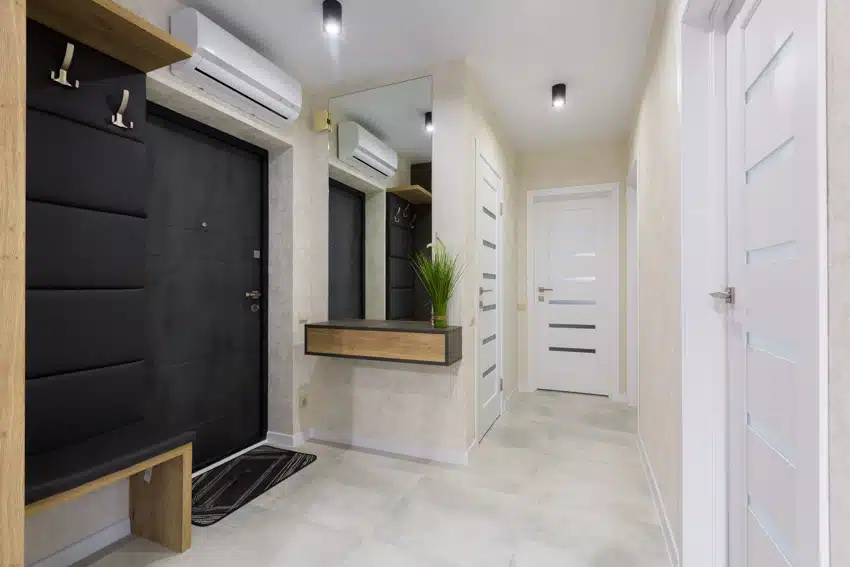 A downlight is a light fixture that shines downward to illuminate your hallway below. They are usually sunken into the ceiling, thus only a small portion of the fixture is visible underneath the hallway ceiling. In addition, downlights are multifunctional light fitting that may be used for a variety of purposes throughout the home.
They are an excellent method to create divisions, navigate the hallway, and emphasize valuable items such as paintings. They can provide both in-fill and task illumination. In layered lighting systems, they pair nicely with a variety of different decorative and architectural fixtures.
Ambient Light Fixture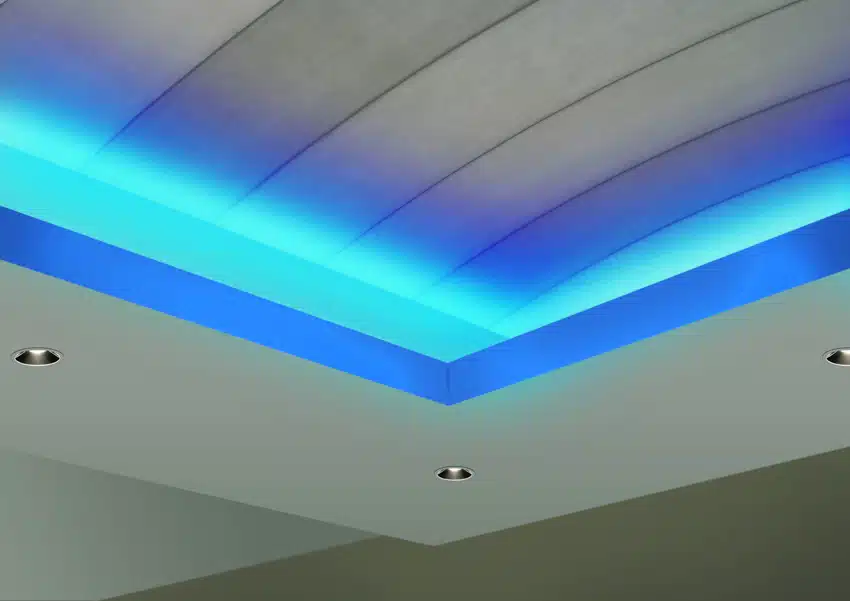 The core of any lighting system is ambient lighting. It includes ceiling lights, floor lamps, recessed lighting such as track light sources, and anything else that functions as the dominant source of light in a space
Ambient mood lighting, on the other hand, has a completely different function. At night, these fixtures add vibrancy to your hallway while still giving enough illumination to find your way securely.
Plug In Wall Lights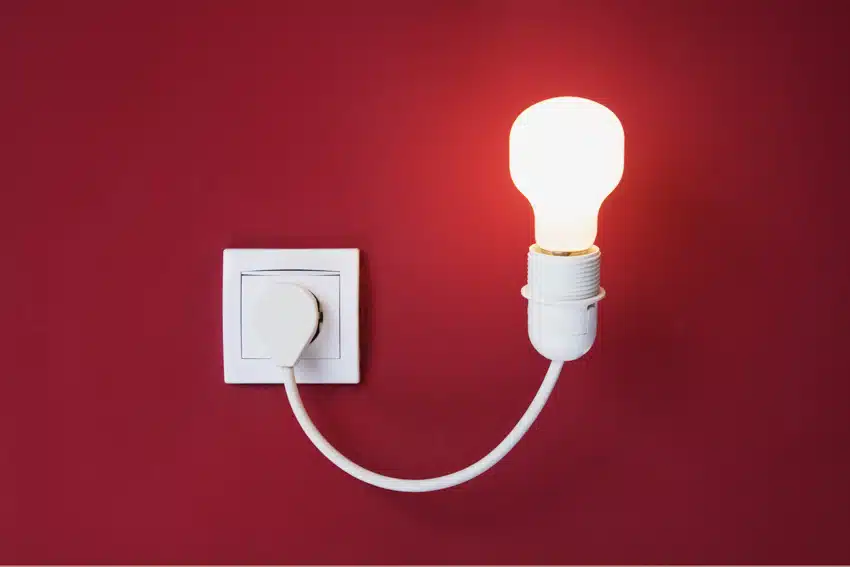 A plug-in wall light requires simply a socket to function. Because there is no wiring necessary, they may be used in your hallway or anywhere there is a plug outlet available, making them as simple to set up and operate as a floor or tabletop lamp.
How Do You Illuminate A Hallway? (Amount of Lumens Needed)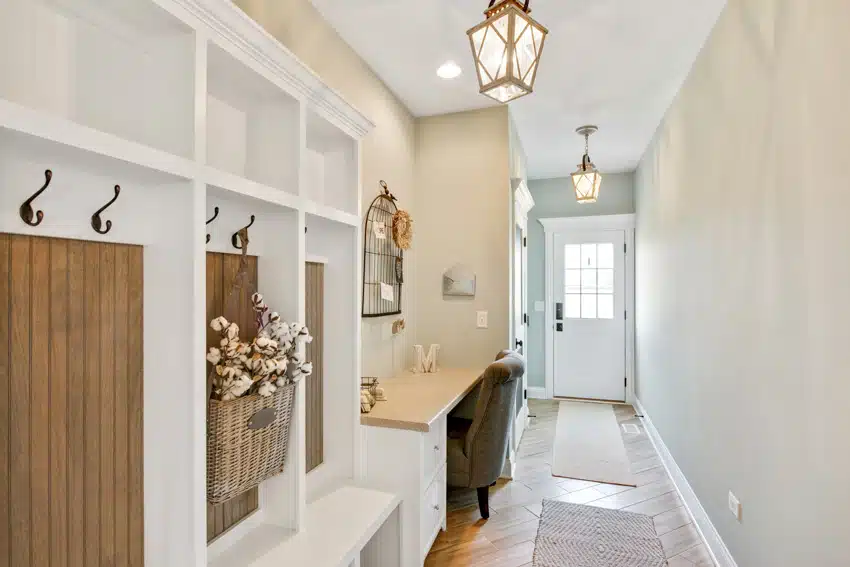 The primary principle for hallway lighting is that each hallway is configured and utilized differently. Most are without windows, while others do get some natural light. As a general guideline, you should aim for at least 100 lumens per square meter.
Hallways, in general, do not have to be extremely bright as other locations since you are not always performing any task that necessitates special focus there. Here are the things that you have to consider when lighting a hallway using small lighting fixtures:
Warm Color Temperature: The brightness of light emitted by various types of bulbs is described by color temperature. Different color temperatures are suitable for various situations.
Color temperature is normally calculated in Kelvin (K), and widely available selections vary from warm with 2,700K to daylight with 6,500K. The lower the amount of Kelvin, the warmer the light will be.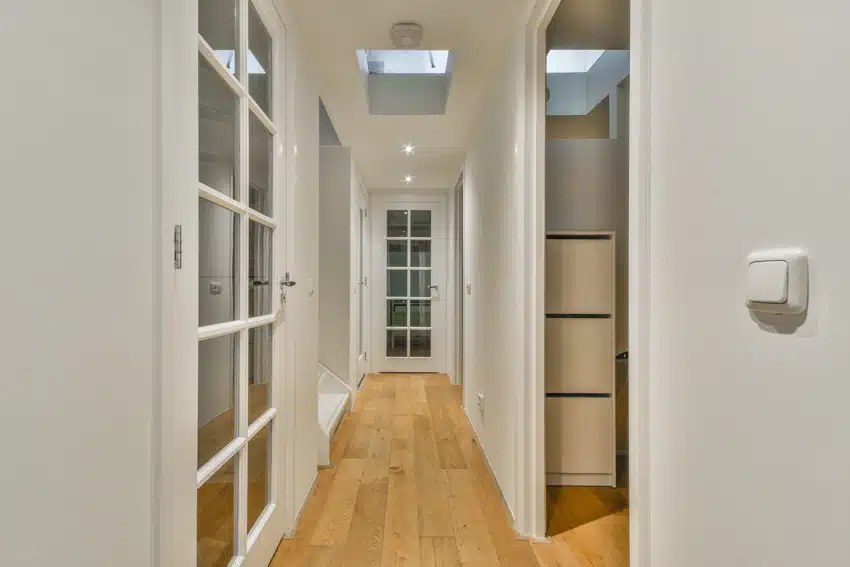 For hallways, it is ideal to choose a warmer color temperature such as 2700K or 3000K. When you enter the house, it will feel all warm and welcome. A greater number of Kelvins, on the other hand, produces a crisper blue-tinted light, which is fantastic for focused attention. However, it might put a strain on the eye for extended durations.
Integrate Accent and Ambient Lighting: The lighting in the hallway should be pleasant and inviting. Mixing ambient and accent illumination with warm color temperatures will help you achieve this. Ambient lighting is any type of lighting, whether it is artificial or natural, and its sole purpose is to brighten the room.
Accent lighting, on the other hand, directs light to a specific zone or object. It is frequently used to display items such as artworks or décor. If your hallway is unadorned, or if you prefer ambiance over decorating, a simple approach is to create a warm light with constant ambient lighting.
Install Wall Lighting: Wall lights are a fantastic addition to practically any hallway, but especially to those with low ceilings. To brighten your entire hallway, you can also install wall lights at set intervals.
What Size Light For A Hallway? (& Distance Apart)
An 8 to 10-inch diameter hallway light would be ideal. A chandelier or any large light fixture that measures 15 to 18 inches in diameter may be ideal if you have a large hallway.
To know the wattage of the light for your hallway, you have to measure the hallway and round up to the closest even foot. To get the total lighting wattage necessary for the hallway, you have to multiply the width by the length in feet then multiply that figure by 1.5.
To determine the necessary number of ceiling fixtures, divide the hallway's length by 8 and subtract 1. A minimum of one ceiling light fixture is required every 8 feet throughout the length of a hallway.
The amount of light fixtures required varies depending on the type of lighting you have selected. Every 6.5 feet, placing regular-sized hallway lighting fixtures would be ideal. However, smaller-sized and lower-wattage lights should be used more regularly with shorter distances next to each other.
See more related content in our article about the best hallway lighting ideas on this page.