See if a shower sauna combo is right for you, including what it is, the different options that use steam, infrared, tubs, how much they cost and comparison to a standalone sauna.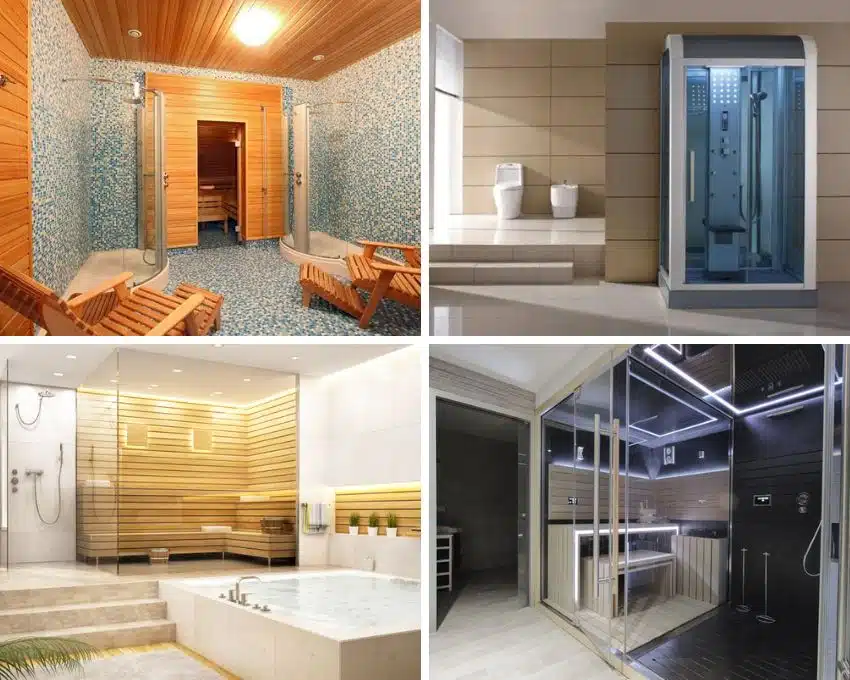 There are many methods to unwind and take some "me" time to forget about your stress and troubles. One is having a sauna bath, which is both practical and beneficial. However, getting to fitness facilities that provide sauna and spa services might take some time.
Therefore, installing the ideal sauna shower combo will allow you to enjoy a relaxing sauna at home. Read on to learn more about shower sauna combo and its different types.
Quicklook: Shower Sauna Combo Types
• Steam Shower Sauna
• 2 Person Steam Shower Sauna
• Infrared Sauna Shower
• Dry Sauna Shower
• Wall Steam Showers
• Tub Shower Steam Sauna
• Walk In Shower Sauna
What Is A Shower With Sauna Combo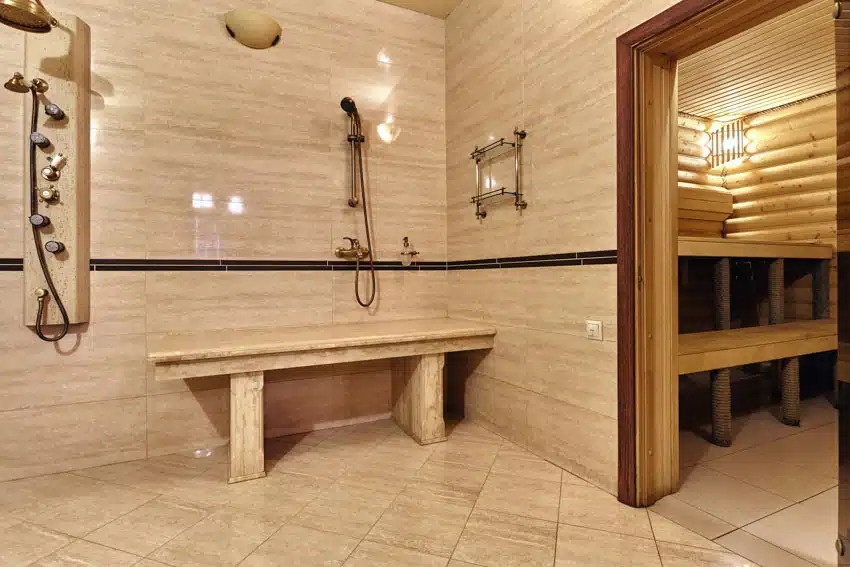 Many homeowners are spending money on steam showers to mimic a luxurious spa experience at home. Historically, Romans used to take baths in sudatorium, or sweat steam chambers, where steam rooms started. Sudatoriums have a long history dating back to the Greeks. The Turks had hammams throughout this time, while the Russians had Banyas, which were steam saunas.
A shower sauna, commonly referred to as a steam shower, is a little cabin-like enclosure designed to hold heated vapors produced by a steam shower generator. Simply put, it is a warm, steamy refuge that replaces your typical shower cubicle.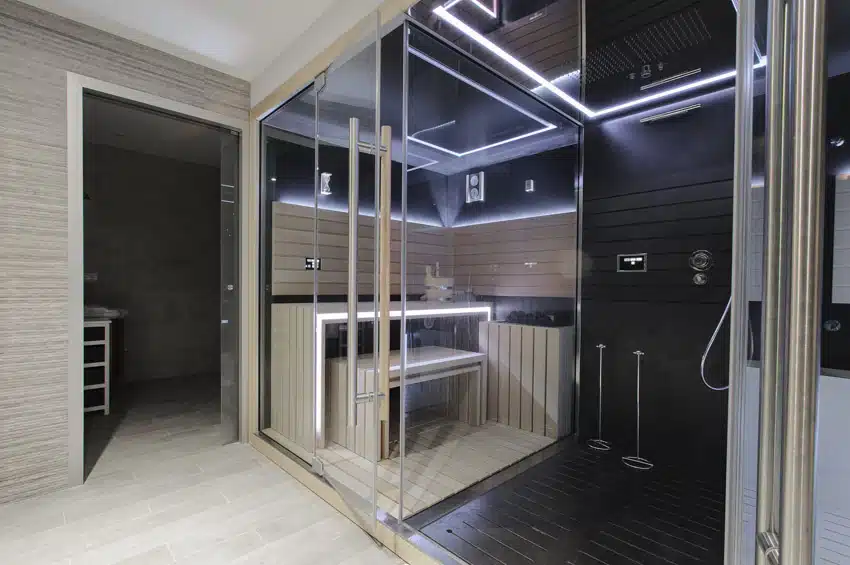 With the development of technology, manufacturers combined the steam room with the shower, designed for use in a bathroom. As a result, they include many features that turn a regular shower into a mini-spa experience.
Along with helping your skin and sinuses, a steam shower produces heat faster than a sauna or whirlpool types of bathtub. Once you've finished steaming, switch on the shower to give yourself a cool rinse. Modernized "shower" + "sauna" combinations are now readily available; some even include an infrared sauna and a steam shower.
Steam Shower Sauna Combo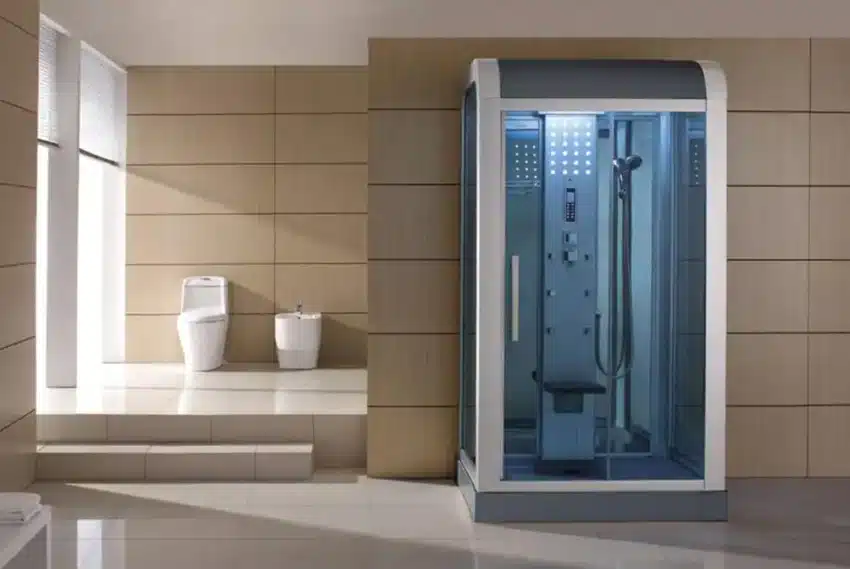 See this steam shower sauna at Home Depot [sponsored link]
The steam sauna shower is yet another fantastic option for limited places. This multipurpose sauna cabin combines a conventional shower with the newest sauna technology. Steam shower saunas enable the user to modify temperature and humidity easily.
For instance, traditional hammam or Turkish bath temperatures are often about 50°C (120°F), although sauna temps may frequently surpass 90°C.
With a sauna shower combo, both spa modes are available, and it is possible to take an icy cold shower with only the push of a button. For any preference, there is a variety of shower saunas.
The most common forms of steam shower saunas are:
• 2-person steam shower sauna combo
• Infrared sauna shower combo
• Dry sauna shower combo
• Wall steam showers
• Tub-shower steam sauna combo
2 Person Steam Shower Sauna Combo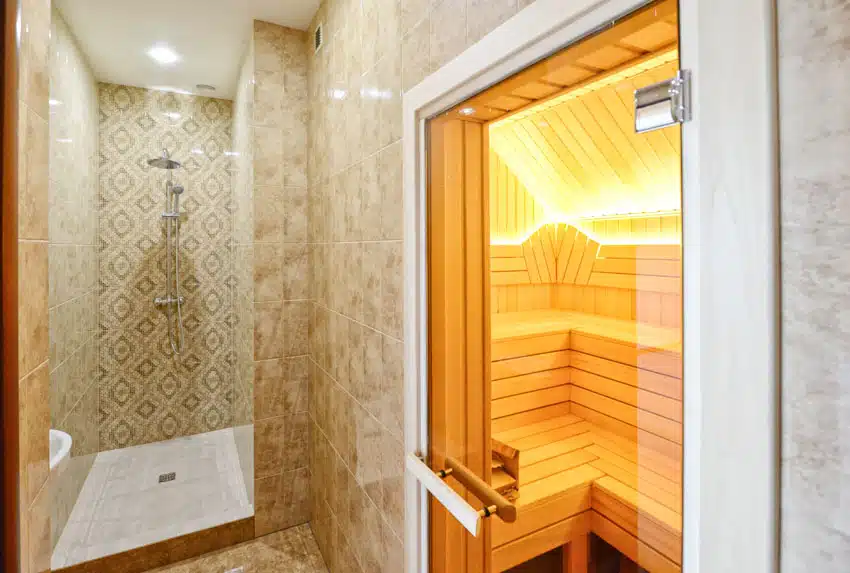 With 2-person versions, building a sauna shower cabin should be accessible even on minor surface spaces. A 2-person steam shower often features one or two seats, and the two-seater is typically more extensive than the one-seater.

The bench sizes will vary depending on the manufacturer. However the average height for a sauna bench is about 18″ for a bottom seat and 36″ for a top seat according to Superior Sauna.
There are also 5-person sauna showers available, and they measure around 79″ or 200 cm x 69″ or 175 cm x 75″ or 190 cm if you're searching for something a bit bigger.
Double walk-in types of bathroom showers may save space and accommodate many bathers at once. They boost productivity or intimacy and decrease lengthy wait times.
Infrared Sauna Shower Combo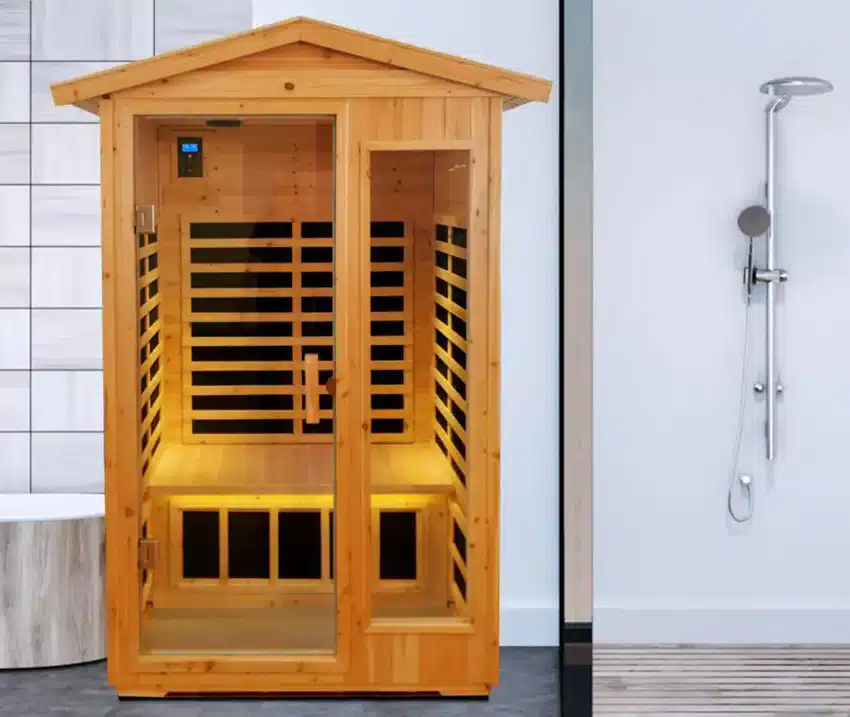 See this infrared sauna set at Home Depot [sponsored link]
The infrared sauna shower combo provides a unique experience where you may use the dry infrared sauna and then rapidly change to an intense steam shower. Many Japanese saunas use infrared light, encouraging lymphatic drainage and amplifying the body's natural fat-burning processes. Because of this, infrared sauna shower combos are perfect for health-conscious people who want to drop a little extra weight.
Infrared treatment also aids in the detoxification of the body, aids in soothing tense muscles after a hard workout, and aids in sleep. Overall, infrared saunas are an excellent option for anyone trying to improve their health since they provide a lot of health advantages.
Of course, there is a price for this type of sauna. The cost might vary greatly depending on the model. Additional features like essential oil diffusion, oxygen-enriched air filtration, and LED lights may increase the price.
Dry Sauna Shower Combo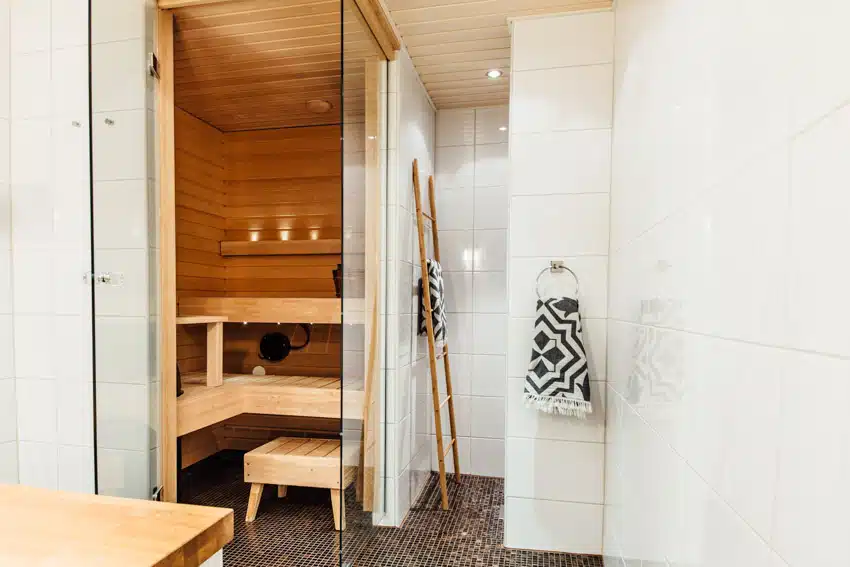 A dry sauna employs dry heat and low humidity, often less than 20%, in contrast to a steam room, which uses wet heat and high humidity. It is a tiny, enclosed space with a safe temperature range (up to 90 degrees), encouraging relaxation and profuse sweating.
In contrast to infrared saunas, dry saunas typically have air humidity levels between 20 and 30% and a temperature range of roughly 150 to 195°F. A conventional sauna may not be ideal for you if you are heat sensitive or have a condition limiting your capacity to handle high temperatures.
This moist or damp air is entirely different from the dry air you feel in a dry sauna. As a result, some of the health advantages of a steam room vary from those of a sauna. It may enhance skin health, increase circulation, release tight muscles and joints, and clear out congestion in your sinuses and lungs.
Wall Steam Showers
You may enjoy one of the most tranquil bathing experiences with a wall steam shower. It gives off an opulent vibe that makes you feel like you're on vacation or at a spa. When installing a wall steam shower, where you place your steam generator is up to you.
There are a lot of choices, but keep these things in mind as well:
• It will need access to the power grid.
• It will be necessary to install an isolation valve and a cold water supply.
• It should be 10 feet or less from the steam shower's head.
• It shouldn't be in the actual shower.
• Never expose it to below-freezing temperatures.
Wall-mounted steam showers are typically rectangular and freestanding. Your steam shower enclosure's walls and ceiling will need waterproofing.
The wall might deteriorate and grow mold if water seeps beneath the tiles. Knowing what qualities to look for makes it simple to choose the ideal wall steam shower system for your home.
Tub Shower Steam Sauna Combo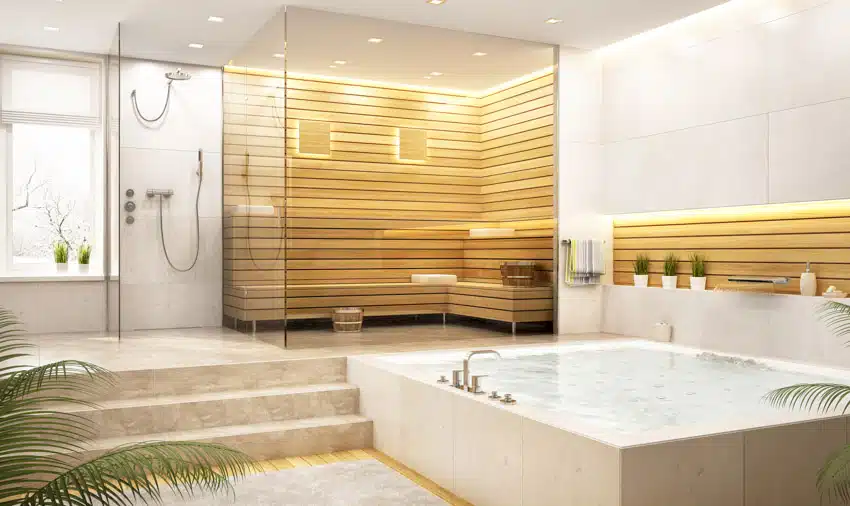 When you want to add those finishing touches to your bathroom and create a spa-like atmosphere at home, consider a tub shower steam sauna combo. You can treat yourself in the comfort of your home and choose this combination to elevate your showers and baths. This shower looks fantastic when positioned in a corner or against a wall.
A Tub Shower Steam Sauna Combo provides you with a variety of options when it comes to recharging and relaxing. This combination setup can be used for soaking in a hot tub, or enjoying a sauna session or taking a shower.
The many health advantages of steam showers make them well worth the cost. The health benefits associated with this combo include improved circulation, relief from muscle aches and pains, improved sleep quality and increased immunity.
Additionally, the deep relaxation of a steam sauna can improve your mental well-being by releasing tension and decreasing stress levels. Having proper steam shower seating is essential to fully maximizing relaxation.
When you desire a bathtub and a shower but your bathroom is too small for both, these combination showers are fantastic. Now that excellent combination showers/tubs have been prevalent, it is possible to have both a steam shower and a whirlpool tub in one.
Walk In Shower Sauna Combo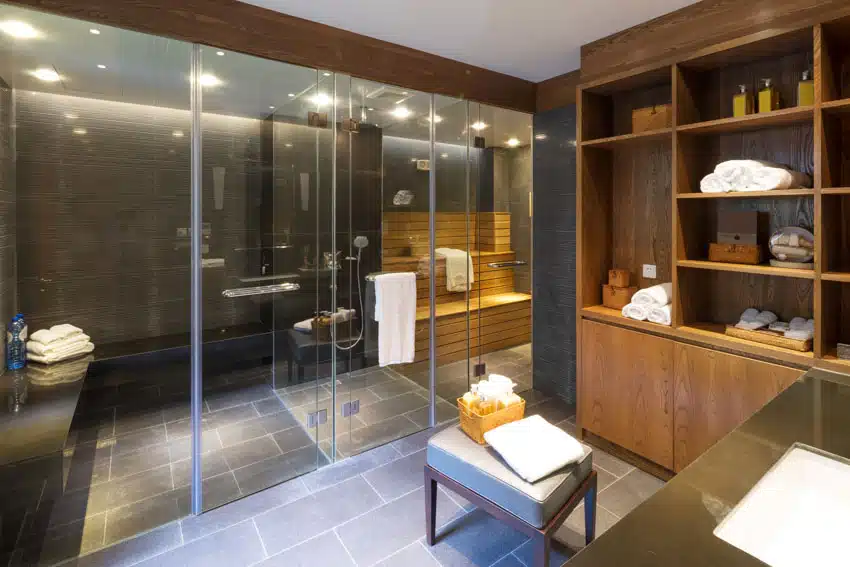 While many compact apartments can only accommodate a shower sauna combo, take advantage of the available space if you have room for a walk-in shower. A shower built without a step or any obstruction separating it from the rest of the bathroom is called a walk-in shower.
Given its minimum needs, walk-in showers, typically tile or glass encased, may be used in bathrooms of any size. You may include a glass door or curtain in walk-in showers to help them maintain heat or lessen water splashing.
These opulent walk-in showers showcase everything a contemporary bathroom can do, including twin shower heads, seating, lighting, rain shower heads, massaging shower jets, and shower sauna steam.
Because it is open, your bathroom will seem more extensive. There are no physical modifications to the actual floor size of your bathroom, but the lack of doors or curtains gives the impression that there is more space there. Most importantly, a walk-in shower uses less water than a long bath.
Shower Sauna Combo Cost
Depending on your style, sauna shower combo prices vary from $2,500 to $5,000. Various accessories, including hydromassage and chromotherapy features, are in premium versions.
As most steam showers are 3-by-3-by-7 feet in size, this generally estimates to be $70 per square foot.
Shower Sauna Combination Vs Standalone Sauna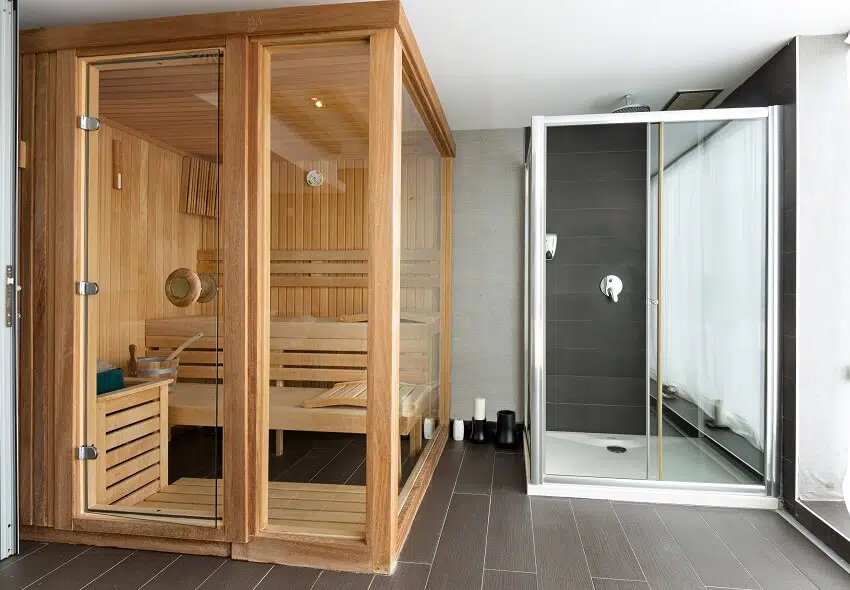 A sauna shower combination uses a very moist heat produced by a lot of steam. A shower-sauna combination resembles a very wet sauna and a shower. On average, temperatures are substantially lower. The experience is wetter and includes a shower, as the name would imply.
On the other hand, standalone saunas either use dry heat in the case of infrared saunas or significantly less heat in the case of a conventional heat source (wood or electric).
A sauna is a separate object that needs its own space and infrastructure (electricity, ventilation, etc.) contrasted to a steam shower, which is another significant distinction. Your current shower may be replaced with a steam shower, albeit installation may be costly and challenging due to the high moisture content.
Typically, steam showers function between 100 and 115 degrees Fahrenheit. Most infrared saunas work up to 135 degrees Fahrenheit. (source: Cleveland Clinic) The temperature in a traditional sauna might range between 150 to 195 degrees and more.
Infrared saunas are one of the most healing, beneficial treatments I know for energy, detoxification, and vitality. – The 150 Most Effective Ways to Boost Your Energy, Jonny Bowden
A steam-shower combination would be more for fun and relaxation than for any proven health advantages. Hot steam is fantastic for congestion, sweating, and muscular relaxation.
Which Is Better, Then? A Traditional Sauna Or A Shower Sauna Combo?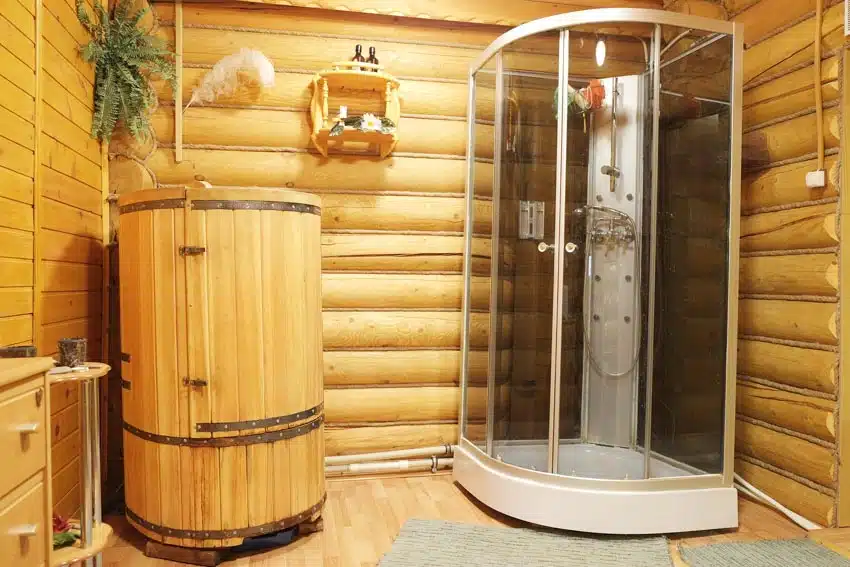 Everything depends on your circumstances and preferences. Shower sauna combo installation requires the assistance of a few experts. The installation of a steam-proof enclosure will then need the services of a tiler and a shower door installer.
The dealer may hire a plumber to connect all the pipes and an electrician to connect the generator's electric line and digital controls once everything is ready.
A traditional sauna is available as a complete kit ready for installation. Alternatively, choose a steam generator and install it in a specially-made enclosure. You must first choose the kind of steam shower you need to purchase – either prefabricated, made, or specially built.
See more related content in our article about the pros and cons of a sauna on this page.