This guide to laminate shower walls shares what they are, their cost, pros and cons, durability, maintenance, paint options, and cleaning tips for laminate showers.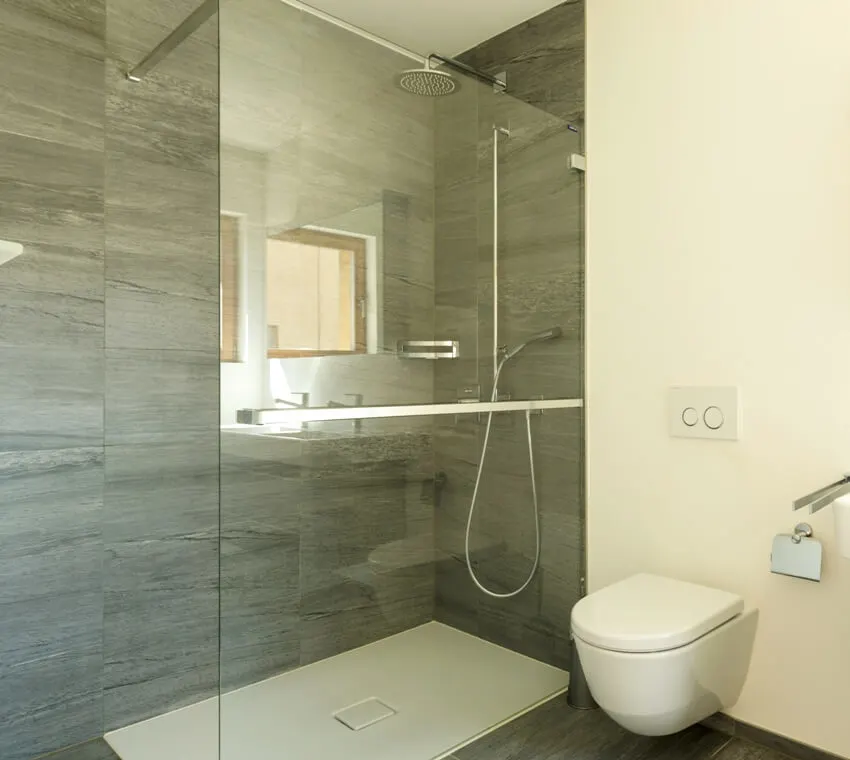 When you've decided to update and upgrade your shower walls, one of the possible options you can choose are laminate panels. Laminated panels are a popular shower wall option, especially for homeowners looking for elegant stone aesthetics at a lower price tag.
This option is becoming more and more popular among homeowners and DIY enthusiasts and exploring the pros and cons will tell you more about it. There are many other aspects of laminate shower walls that you should know about first before deciding.
What Are Laminate Shower Walls?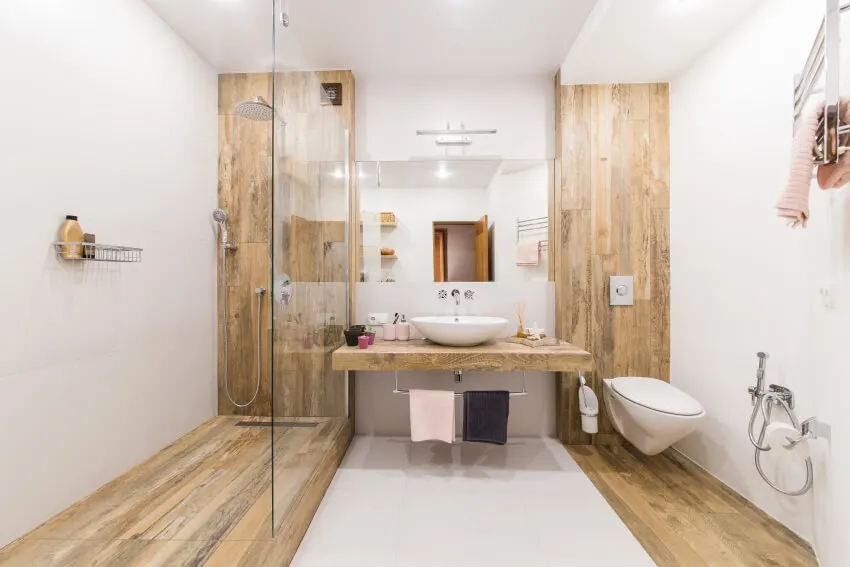 Laminate types of shower walls are made from synthetic materials. And these shower walls, instead of being made of porcelain and natural stone, are made from laminated wood-plastic panels. The material is extremely waterproof even if it has a wooden core, which is the reason why it is widely used in both commercial and residential spaces.
After the wooden core (usually in the form of marine grade plywood), it is covered with a high-pressure laminate and vapor barrier backing. This combination makes it possible to be offered in multiple design styles with gloss and matte finishes.
Whether you're using laminated panels or sheets, there is a variety of types you can consider that can fit varied budgets and styles. Laminated panels normally have this tongue-and-groove assembly that makes it easier and more convenient to install. With laminate shower walls, the panels are entirely waterproof, along with the click, lock, and seal system.
Laminate Shower Wall Panels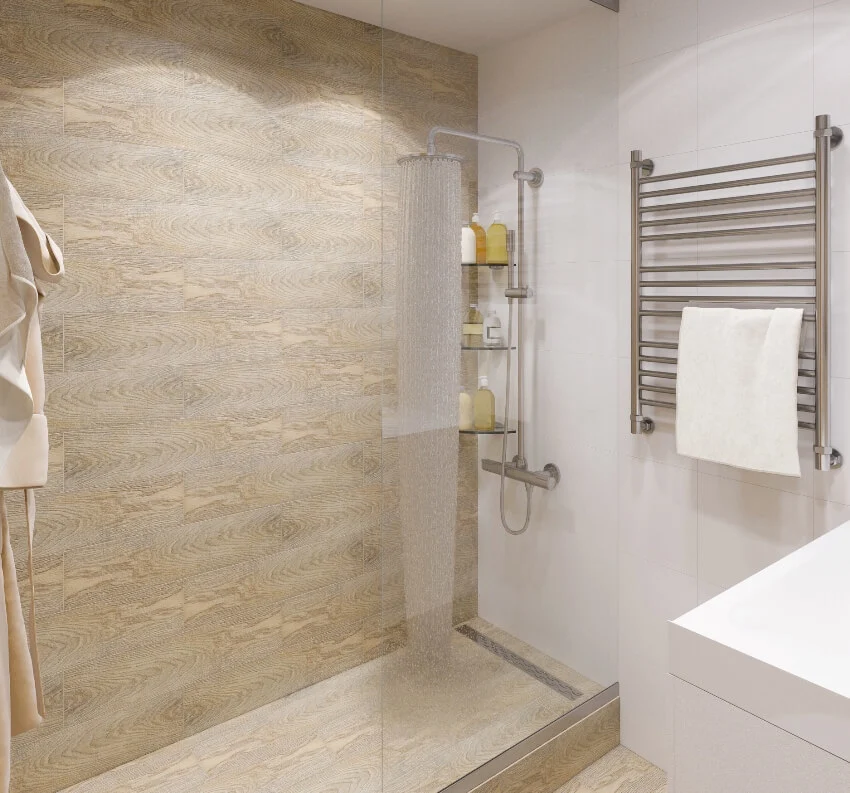 Laminate shower wall panels are one of the most common and popular forms of this material. These are shower wall tiles that have tongues and grooves on the side for easier and more convenient installation. Besides that, you also take out the need and time required to meticulously clean the joints since they do not have grouts anyway.
More than just its convenient installation, the shower wall panels are also DIY-friendly and can easily be handled by beginners.
They are mostly waterproof and also used together with a waterproof backer board to make sure that the tiles won't get damaged and rot because of moisture exposure (which is what it will be if you install them as your shower walls.
Pros And Cons Of Laminated Shower Wall Panels
Choosing laminate shower wall panels on top of other surfacing materials would mean that you've already explored all the possibilities of using them, from the advantages you get to enjoy to the disadvantages that can either be a deal-breaker or something you can accept. If you haven't considered them yet, this is the perfect time to start.
Pros of Laminated Shower Wall Panels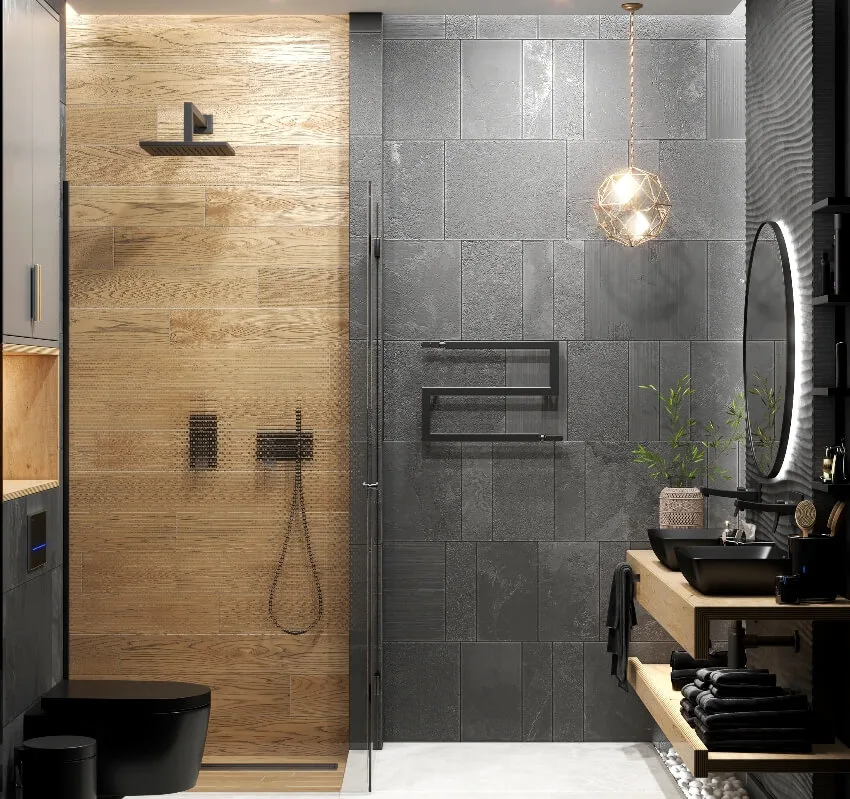 Laminated shower wall panels have become popular with homeowners because of the benefits you can enjoy from using them. Here are several that are worth taking note of:
1. Convenient Installation
This is considered to be the top reason why most homeowners choose laminated wall shower panels. With its tongue-and-groove system, installing laminated panels will:
• Need less preparation for the installation
• Use the simple cut-and-paste no-muss installation
• Require fewer tools and equipment for installation
• Not require grouting
Of course, you will need to waterproof the existing drywall first before you attach the panels. Besides that though, there's nothing special or specific you need to do for its installation.
2. Extremely Durable
Laminated shower wall panels are highly durable materials with an average lifespan of 10 years. Here are other features of the material that make it durable:
• Anti-bacterial – This makes it popular to be use in hospitals and other industries.
• Fire-retardant – Exterior grade laminate tiles can withstand extreme temperature, as well as direct sunlight exposure and harsh weather conditions. Since it's resistant to heat, it is an excellent choice for heating systems.
• Resistant to denting and scratching – The material is usually resistant to surface wear and tear with its protective coating.
• Does not easily hold debris and dirt – Ingredients and technology used to develop laminate tiles help them to not easily be dirtied.
3. Easy Cleaning & Maintenance
Laminate shower wall tiles are easy to clean and maintain. A damp cloth or a vacuum is enough to clean the surface of the walls.
Without grout lines to focus on, it is even a lot easier to clean a large walk-in shower space. You don't need to use special cleaning products and you also need to avoid heavy alkaline and acidic products, as well as wax.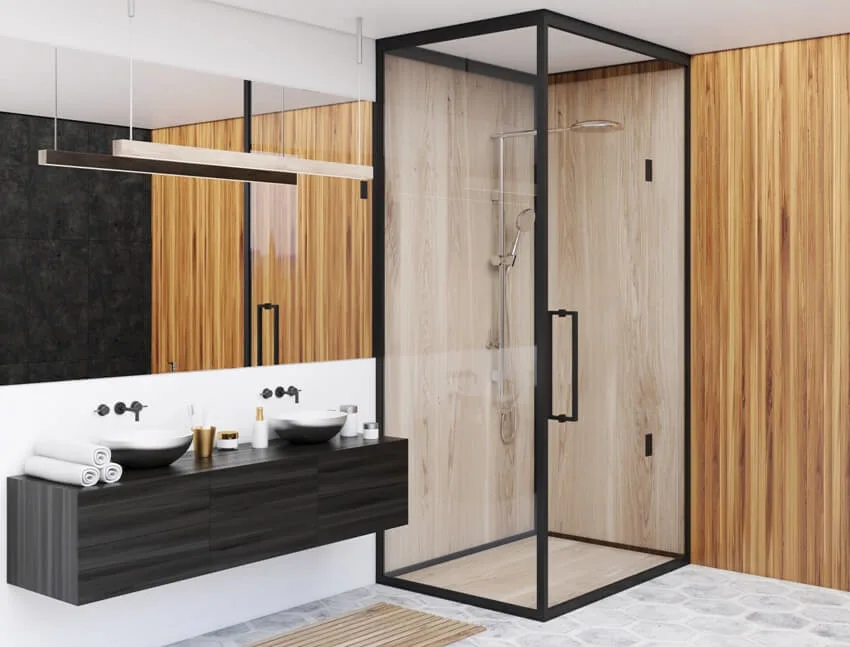 4. Features Stunning Aesthetics
One of the best aspects of laminate shower wall tiles is that they can showcase a variety of designs. Depending on the quality of the tiles you purchase, you can enjoy real-looking wooden planks just with the use of laminate panels.
The downside though is that it can be a double-edged sword and if you choose low-quality laminated shower wall tiles, they will look cheap and fake. Choose well and you will get yourself an affordable version of the elegant and luxurious aesthetics you want to have.
5. Affordable and Cost-effective
The reason why many homeowners consider laminated tiles is that they cost way less compared to natural stone tiles and slabs. If you have a lot of money reserved for your shower renovation, then this might not be a big deal for you. But if you have a limited budget and still want to enjoy the aesthetics of luxurious material, this just might be your chance.
Another factor that considerably lowers the cost of choosing laminate shower wall tiles is their easy installation. Since it does not require expertise or specialized tools just to install them, you can do it on your own and save a lot from not hiring someone for the job.
6. Offers A Variety of Options
The outer layer of laminate tiles come in a variety of colors, patterns, and even texture. You can choose one single color for the tiles or designs and patterns very similar to stones and wood, along with their unique grain patterns.
With laminate tiles, you have a range of different looks to choose from until you get the desired look you're going for. If you already have a style you're building for your bathroom, the varied selection makes it easier to match with the style.
7. Lightweight & Travels Well
Laminate tiles are lightweight materials that travel well and can cover a large area quickly and with ease. This is a smart choice if you are doing the renovation yourself and want it completed as quick as possible.

8. DIY-friendly
Finally, laminate shower wall tiles are easier to handle and work with so you won't need training, expertise, or special tools for the project, making the material something that's DIY-friendly. It's also why it's a material preferred by many DIY enthusiasts.
Cons of Laminated Shower Wall Panels

With all of the positive notes about laminated shower wall panels, there are also several negative effects that you need to know about and consider if you choose these materials. Here are several you can expect: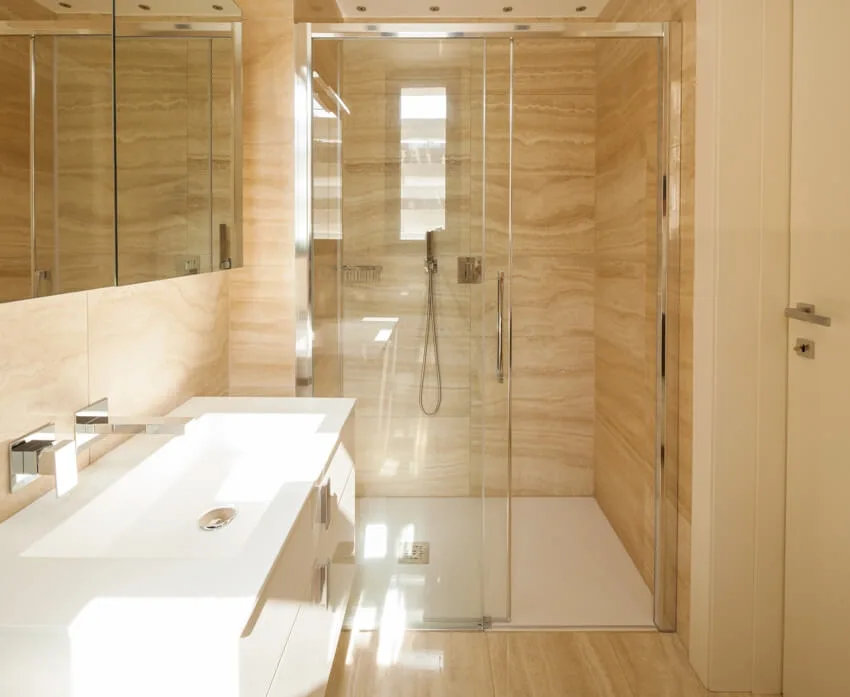 1. Some Designs Look Too Fake
Some of the designs and patterns integrated on the laminate tiles, whether the designs look like natural stone slabs or wooden planks, have the tendency to look fake so make sure you choose the right ones.
2. Less Eco-friendly Manufacturing Process
Laminate shower wall tiles are artificial materials and so the manufacturing process uses less eco-friendly methods.
3. Quality May Vary Greatly
The range of quality among laminate shower wall tiles is extensive and they may vary greatly. This means that you can get premium-quality laminate tiles but you will also come across cheap and low-quality ones that you wouldn't even consider even with a tight budget. Exploring your options is the solution to get around this major drawback.
4. Moisture May Still Be An Issue
While some laminate tiles are 100% waterproof, there are also some that won't achieve the same excellent waterproof seal, especially those low-quality and flimsy versions of laminate tiles. In the end, they are more prone to moisture ingress and damage due to prolonged exposure.
Laminate Shower Walls Durability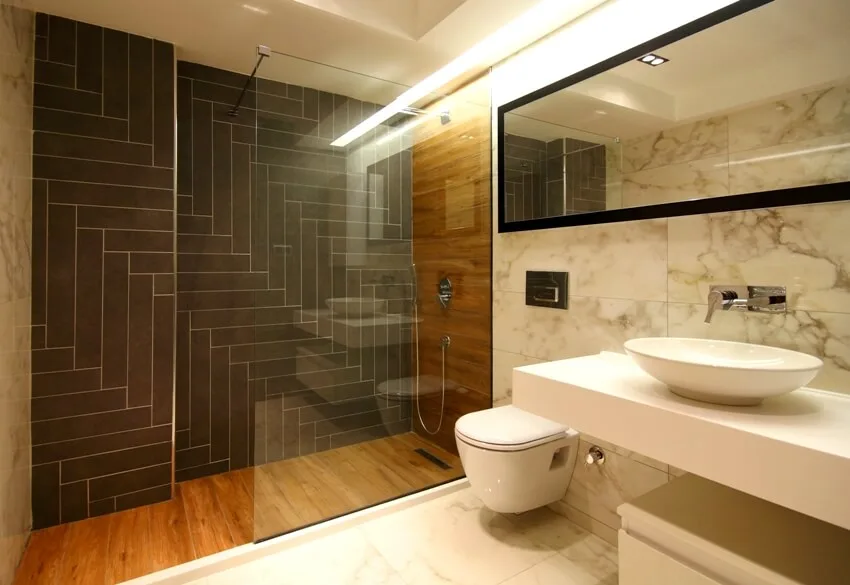 Durability is one of the major aspects that will make you consider laminate shower walls. Laminate tiles are highly durable and when exposed to daily heavy wear and tear and foot traffic (when used as flooring) can last up to 10 to 15 years on average. They can even last longer when installed as shower walls, where you won't step and walk on them.
Laminate tiles are created and designed to be more durable compared to more natural options like wood and stone. And even if the tiles have a wooden core, their laminate outer covering made the material highly waterproof. With this, water damage will be avoided.
Laminate shower wall times are naturally nonporous and also don't have grouts, which means that mold buildup will not be an issue you have to be concerned with. Moisture won't seep through the tiles and grouts so water damage will also be avoided in the process.
Laminate tiles also have damage resistance, making them strong even when exposed to elements that can cause abrasions, cracking, denting, and scratching. They are also resistant to extreme temperatures, from direct exposure to ultraviolet rays to other harsh weather conditions, including heavy rains, and storms.
Cost Of Laminate Shower Walls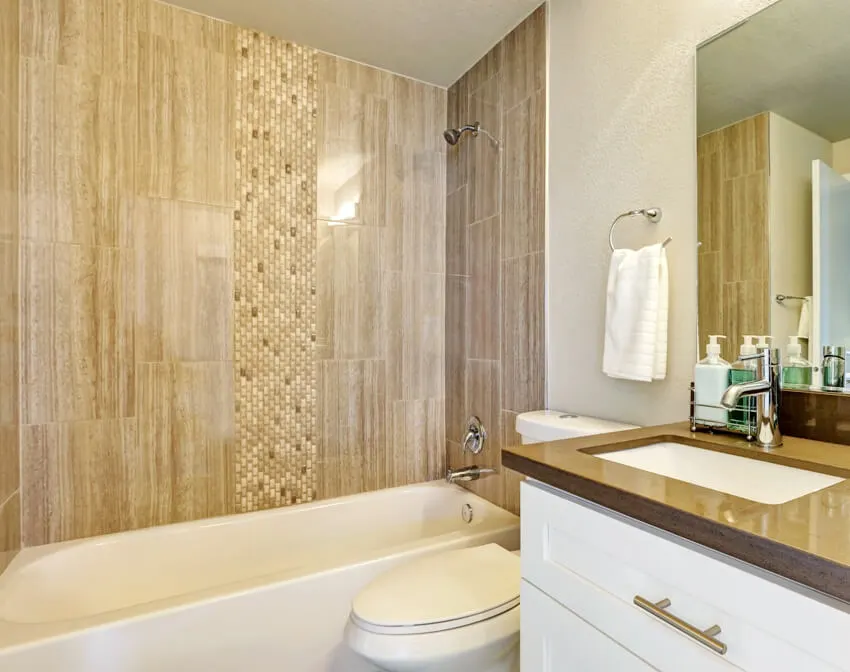 One of the major considerations when deciding on laminate shower walls is the cost. The good thing with this option though is that when compared to natural stone and tiles, this material is an affordable and cost-effective choice.
If you're going to work on an average-sized shower and install high-quality laminate shower walls, you need to prepare for around $1,750 to $3,000, which depends on the addition of caulk and waterproofing barriers.
To give you an idea of what this entails, here are some costs you need to know about.
• Material Cost – Natural stone tiles may be expensive but laminate tiles come at affordable prices. Some of the costs for the materials come from their delivery and transportation.
• Installation Cost – May come in free if you're choosing to DIY the entire project but if not, hiring professionals can cost a lot especially if the installation is a bit complex and requires expertise.
Installing laminate tiles, planks, or sheets is relatively simple and this is actually one of the aspects about them that make them popular with homeowners and DIY enthusiasts. You will need a special adhesive just to attach the tiles to the wall. Since they use the tongue-and-groove system, you won't have to concern yourself about the grout.
• Backer Board Cost – Whether you need a backer board or a cement board, you will have to pay for it. If you go for laminate tiles though, a waterproof backer board is an ideal option for you.
• Maintenance Cost – Shower walls that will require regular maintenance have a higher maintenance cost so if you choose materials that are low-maintenance, this is not an issue you would need to worry yourself with.
Laminate Shower Walls Maintenance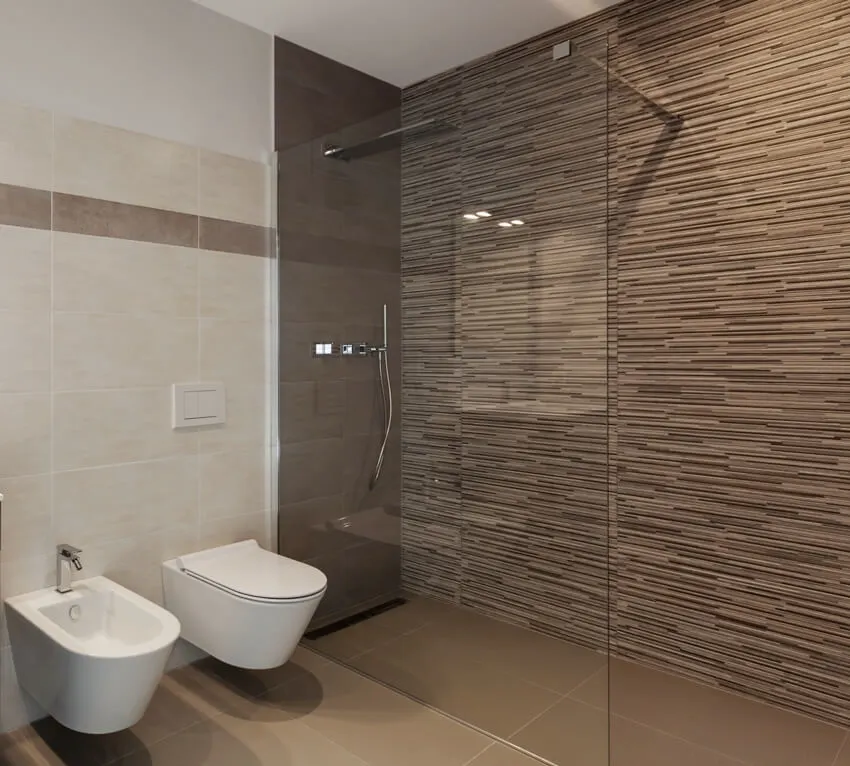 More than just the simple and convenient installation of laminate tiles, they are also known for their easy cleaning and maintenance. And having no grout lines is one of the major reasons why.
Without grout, you won't have to devote time and effort brushing the lines for dirt and mold buildup, which both can be harmful to your shower walls. For repairs and replacements, you can easily remove them whenever necessary.
Can You Paint Laminate Shower Walls
Yes, you can paint your laminate shower walls. While it seems impractical to do so with all the patterns and designs to choose from, you can paint the laminate tiles especially when you feel like you've chosen the wrong design and want to stick with just a specific color instead. Considering laminate tiles mostly have a glossy and smooth finish, it's difficult to paint on.
Here are several tips to follow.
• Prep the shower by cleaning your laminate walls thoroughly to be free from dirt and oil
• Make sure that the walls are completely dry before painting on them
• User a bonding primer to guarantee that the paint sticks to the laminate tiles and leave it completely to dry before applying paint
• Use oil-based paint since it has better water resistance and is ideal for areas often exposed to moisture like the shower
• Consider a second coat of paint if you feel like the walls need it
Can You Tile Over Laminate Shower Walls
Tiling over laminate shower walls is not only possible but may even be a good thing since the material is flat, leveled, and smooth, which is everything you would want on a surface prepped for tiling.
You would need the right size of tiles to be able to cover up the laminate tiles well. The recommended type that will make this possible is a 4-inch square tile, which is large enough not to have too many seams but also small enough to give you the freedom to style the tiles in a more visually appealing way.
If you're working on your shower walls and need a bit of guidance when tiling over your laminate shower walls, here are simple steps to follow.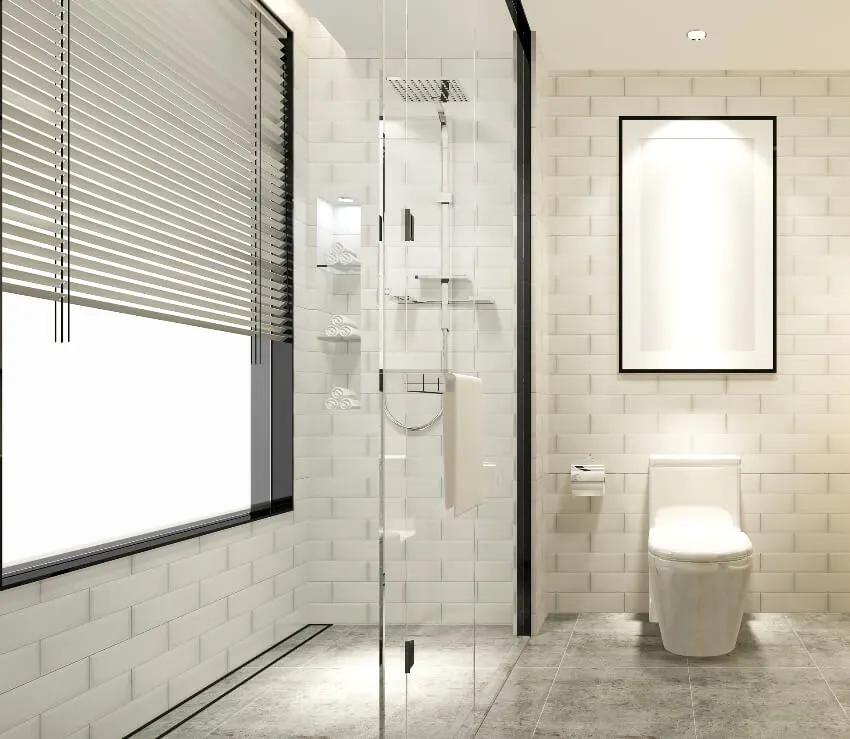 Step 1: Gather all the equipment, tools, and material you need
To tile your laminate shower walls, here are the things you will need:
• Trowel
• Rail Tile Cutter/Wet Tile Saw
• Tile Nipper
• Tile Spacers
• Rubber Tile Float
• Tack Cloth
• Electric Sander with Sanding Discs
• 4-inch Square Ceramic Tile
• Ceramic Tile Adhesive
• Bullnose
• Tile Grout
• TSP or Trisodium Phosphate
Step 2: Assess, Fix, & Prepare The Laminate as Base for Structural Support
First, assess if the laminate tiles are well maintained, leveled, and flat. The shower laminate walls need to be in good condition before laying tiles on top of them. If there are peeling areas that can make them unstable and bumpy, fix them or even cover them if the peeling can't be fixed anymore.
Step 3: Sand The Laminate Walls
Get your electric sander and roughen the surface of the laminate walls to cover the rough areas you may find on the surface.
Step 4: Thoroughly Clean The Roughened Laminate Walls
Clean the sanded laminate walls with TSP and remove dust particles using a tack cloth.
Step 5: Dry-Fit & Cut The Tiles
Try the tiles if they fit your shower walls and then cut them into the respective sizes and shapes that can be accommodated on the shower wall and the ones you prefer.
Step 6: Spread the Mortar & Carefully Install Tiles
Carefully spread the mortar on the surface of the laminate shower walls using a trowel. You can use plastic spacers to make sure that the seam width is proper and consistent.
Step 7: Let The Tile Cure
Wait around 24 to 72 hours to allow the tiles to fully cure. If you're not sure how many hours you should wait, check for the instructions placed on the adhesive for more accurate timing.
Step 8: Grout The Tile
Use a rubber float to grout the tiles. Make sure that you fully press the grout into the tiles' seams.
How To Clean Laminate Shower Walls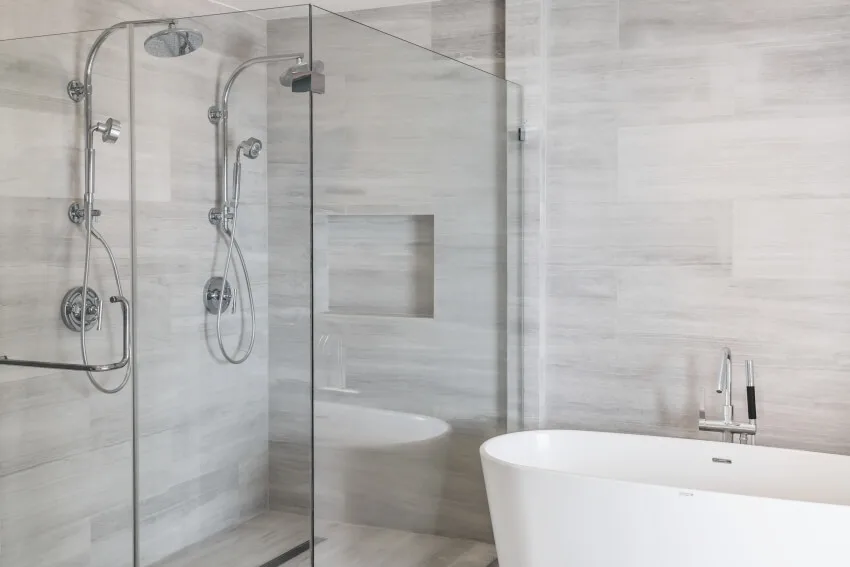 You can clean your laminate shower wall tiles by either dusting the surface of the walls or wiping the walls with a wet cloth and then a dry one after. Either of these two should be done regularly to keep the walls clean.
In order to make sure that you won't damage the protective cover of your laminate shower wall tiles, avoid using steel wool scrubbers or other abrasive cleaners.
Even some products can be harmful to the material so stick with simple solutions like the following:
• Soap & Water Solution
• Vinegar & Water Solution
• Vinegar & Rubbing Alcohol
• Vinegar & Baking Soda
• Baking Soda & Water Solution
• Detergent & Antibacterial Spray
• Hydrogen Peroxide Solution
• Ammonia & Water Solution
• Non-abrasive Commercial Cleaners (Pinesol, Tilex spray, Windex, etc.)
In deciding which among these selections is the ideal cleaning solution for you, make sure to consider the type of laminate shower wall tiles you have.
You can also take into account what's available at home and the kind of dirt buildup you're dealing with. You will need stronger cleaning solutions for annoying and persistent dirt but not as strong as to damage the laminate outer cover.
For more related ideas visit our guide to the best low maintenance shower walls that are perfect for bathroom remodeling.