Here we feature teak kitchen cabinets including teak grades, solid & veneer options, teak cabinet doors, their benefits, costs, what colors match, and cleaning tips.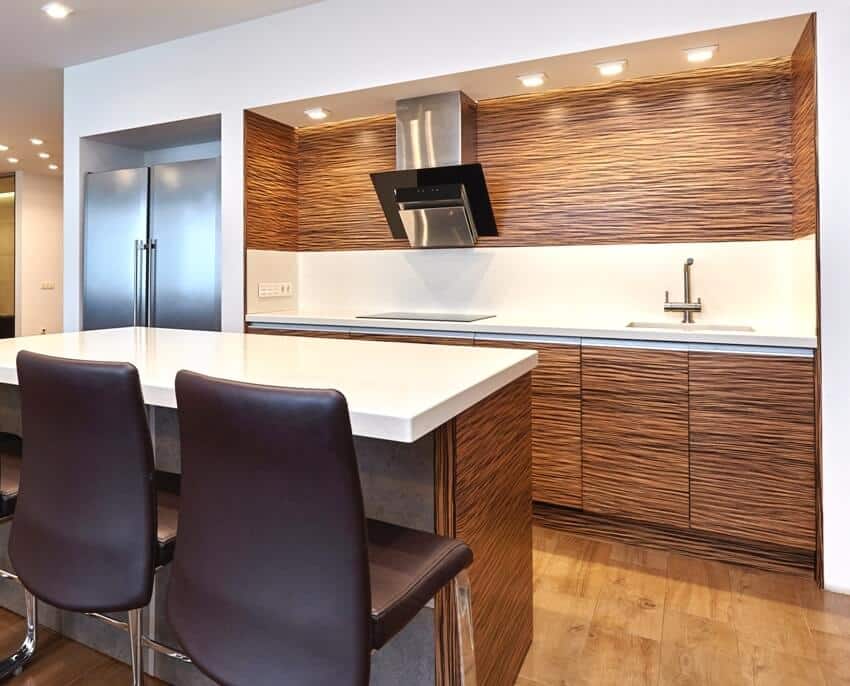 While many homeowners are more than ready to ditch their white-faced kitchen cabinets, a recent survey estimates that 60% of homeowners prefer solid wood. One of the popular options today is the teak kitchen cabinets. The hardwood material boasts a service life of 70 years and even longer, thanks to its innate qualities of being weather and waterproof withstanding even under extreme weather.
In this article, you'll learn more about what makes teak kitchen cabinets a great investment and find out why teak outdoor furniture is so frequently used. Even without the usual stains and sealants for wood, teak kitchen cabinets still looks great and remain durable despite being exposed to the elements.
Teak Grades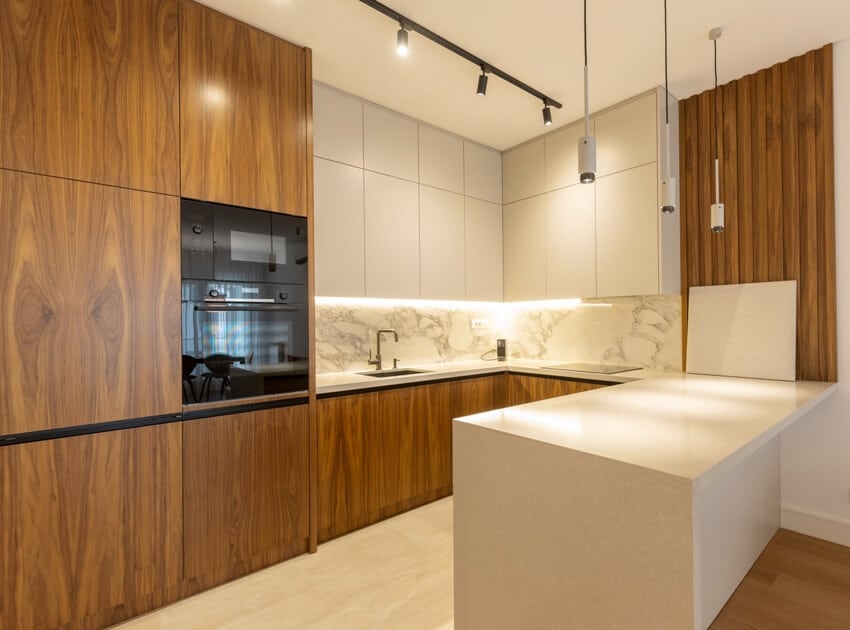 While teak wood is generally an excellent choice for a kitchen storage system, not all lumber has equal qualities. To determine the best teak lumber to use, a grading system is used o differentiate the lumber quality.
There are three grades – A, B, and C where each lumber is classified according to its appearance and oil content, where A is the highest quality. Also, remember that the wood's property is strongly influenced by the conditions where it has been grown.
Grade A Teak
A grade A teak is sourced from a mature heartwood at least 20 years of age or older. The lumber is characterized by having high oil content and a honey or nectar coloring.
The teak wood comes from the heartwood or core of the tree; for this reason, you'll see a dense graining. The closer the wood graining, the harder and denser the lumber.
Fining Grade A teak can be hard to source as there are limited suppliers. For this reason, a Grade A teak is even more valued. A supplier offering a low-priced Grade A teak is likely to be a dubious seller, so be sure to only source from reputable sellers.
Grade A is known to withstand extreme environments, making it a practical choice for damp areas such as kitchens or bathrooms. Teak kitchen cabinets with Grade A wood lumber fall to the higher end of the price range though you can save and gain more in the long run.
Grade B Teak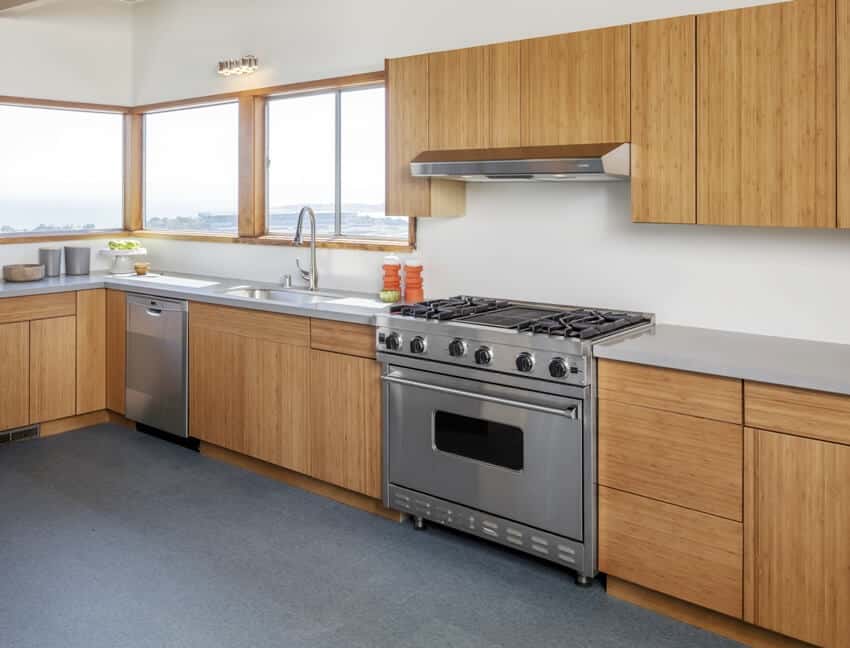 Sourced from the immature heartwood or the outer layer of your heartwood, in between your mature heartwood and sapwood. Grade B teak is lower quality and slightly cheaper than your Grade A teak.
The grade B teak has a lighter color and more color variation than Grade A. The grade B teak also has fewer oils and sheen. Despite having lower quality and the need for sealants, Grade B teak is still an excellent choice for furniture.
Grade C Teak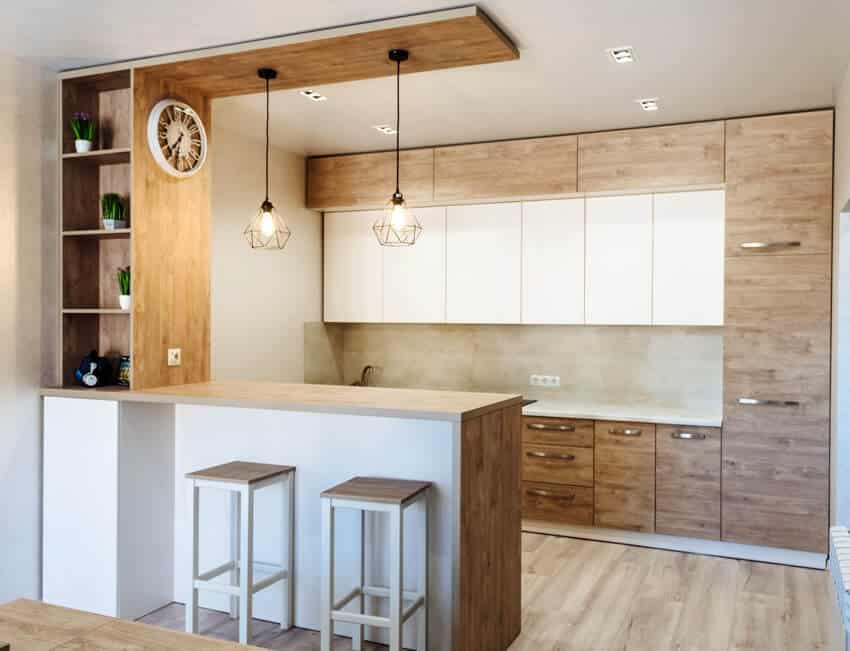 While the cheapest lumber, Grade C teak is not a recommended wood material for your kitchen. They are soft and do not possess the desirable features of teak, such as natural oils and hardness. Grade C teak is highly prone to damage and thus has a shorter service life.
The reason for the lumber's inferior qualities is that the wood is sourced from the outer sections of mature logs or immature trees. Using Grade C teak will require regular oiling and application of protective sealant, thus making it even more expensive and time-consuming.
Caution: There are teak kitchen cabinets that claim to be of Grade A with suspiciously low prices. These teak woods likely have a Grade B or Grade C rating but were chemically treated to look like high-quality grades. The only source from reputable teak kitchen cabinet makers or manufacturers to make sure you get the most out of your teak furniture.
Solid Teak Kitchen Cabinets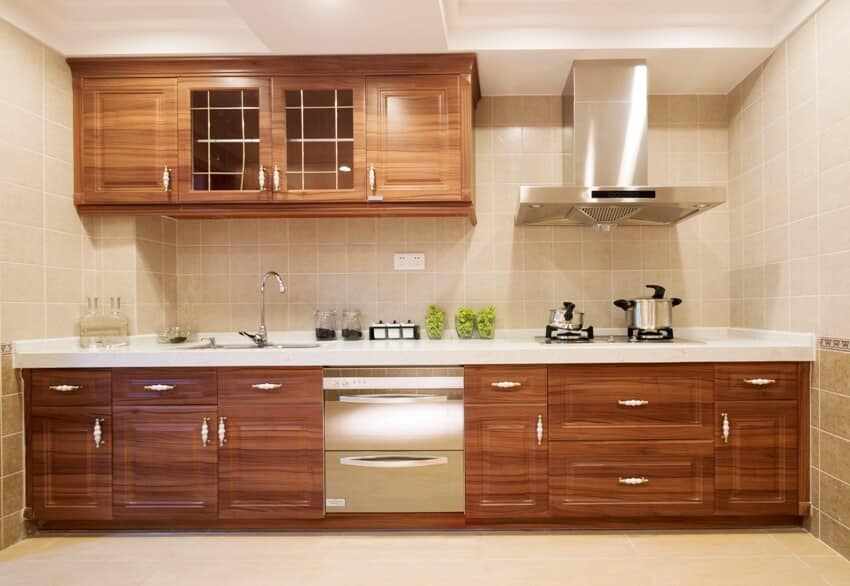 Solid teak wood cabinets are very dimensionally stable, which reduces the risk of warping or distortion. Moderately heavy, teak cabinets are excellent base cabinets while not being too heavy when installed as hanging shelves.
Dubbed the "king of woods," teak wood was used to build ships before the use of metal and other modern materials. The excellent qualities that make teak a recommended wood for an outdoor setting also apply to a kitchen that is exposed to extreme temperature conditions and high use.
Teak has that gorgeous yellow to dark brown tones and closed-grained appearance, making it versatile for modern designs and traditional themed kitchens.
Teak Veneer Kitchen Cabinets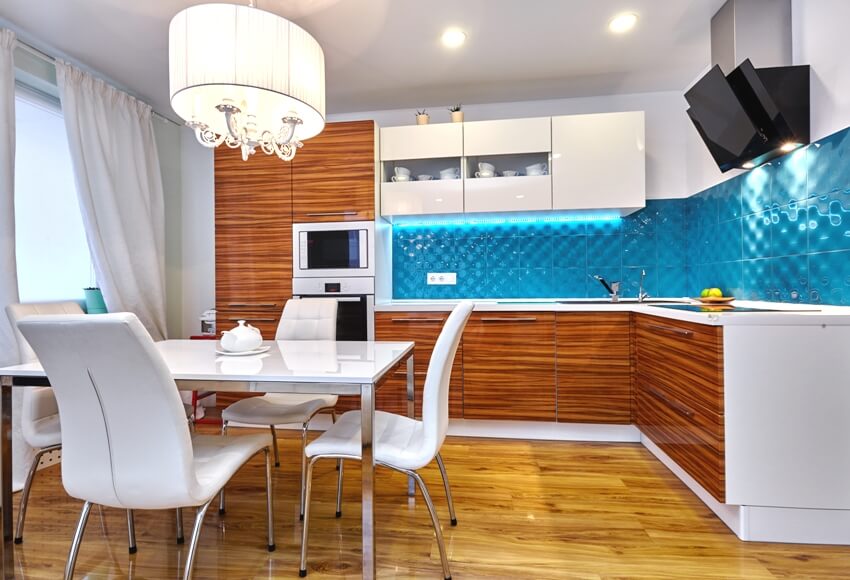 A more affordable option of getting the look of teak for your kitchen space is possible with teak veneer kitchen cabinets. When sourced from a reputable teak veneer supplier, you get the high-end look at a lower cost.
Teak veneers are thin slices of natural wood that are shaved off from the same log. These thin slices typically have a thickness of 1mm, 2mm, and 3mm. Teak veneers can be bought either as sheets, rolls, or per cubic (wholesale).
Like natural wood, you can prime, sand, paint, or finish the surface with a natural finish. This way, you can add an extra layer of protection and prevent easy chipping or staining on your teak veneer kitchen cabinet. Natural finishes can also enhance the natural appearance of teak, and you can opt for high-gloss, glossy, and matte finishes.
As mentioned, you can apply surface prep and painting on your kitchen cabinets, and if you've got a high-grade material, teak can be resanded, repainted, or resealed to update the look.
The common sizes of teak veneer sheets come in 2×2 inches to the plywood size 4 x 8 feet, with some sizes up to 5x 12 feet or even larger. See the types of wood veneer design guide here.
Teak Cabinet Doors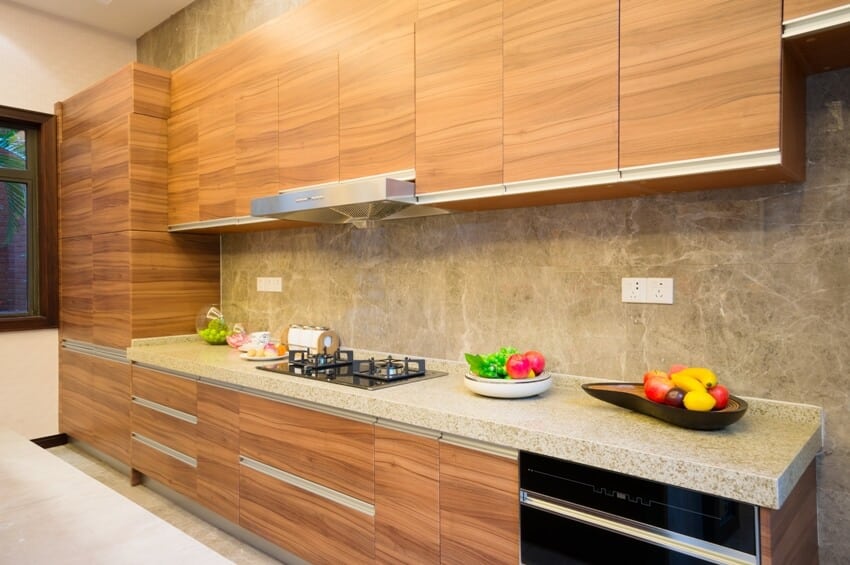 The cabinet doors of your kitchen are the most exposed surface to elements, and to top it off, these doors are frequently hit or slammed against the face. The constant slamming against the cabinets' face frame can lead to cracking or denting of the door frame. With teak cabinet doors, you rest assured that you get a robust kitchen cabinet door while retaining a beautiful organic look of wood.
Closed-grained and having a Janka hardness of 1000 to 1155, teak cabinet doors are even harder than mahogany, which has a Janka hardness of 800, and cedar 900.
In addition, their water and acid-resistant properties and excellent dimensional stability make teak cabinet doors one of the best options for high-use areas such as the kitchen and are great for base cabinets.
For professional cabinet makers and DIYers, teak wood has good workability with a minor challenge on the high level of silica as the material content can blunt sharp tools easily. The silica content gives teak non-skid properties and adds to the durability. The teak wood also accepts surface finishing and gluing despite having natural oils.
Carpenters can hand-carve elaborate shapes on your kitchen door cabinets with ease. Moreover, teak works well with iron and other metals, which means your cabinet hardware won't corrode when fastened to your kitchen cabinet doors, unlike other types of wood.
Teak Outdoor Kitchen Cabinets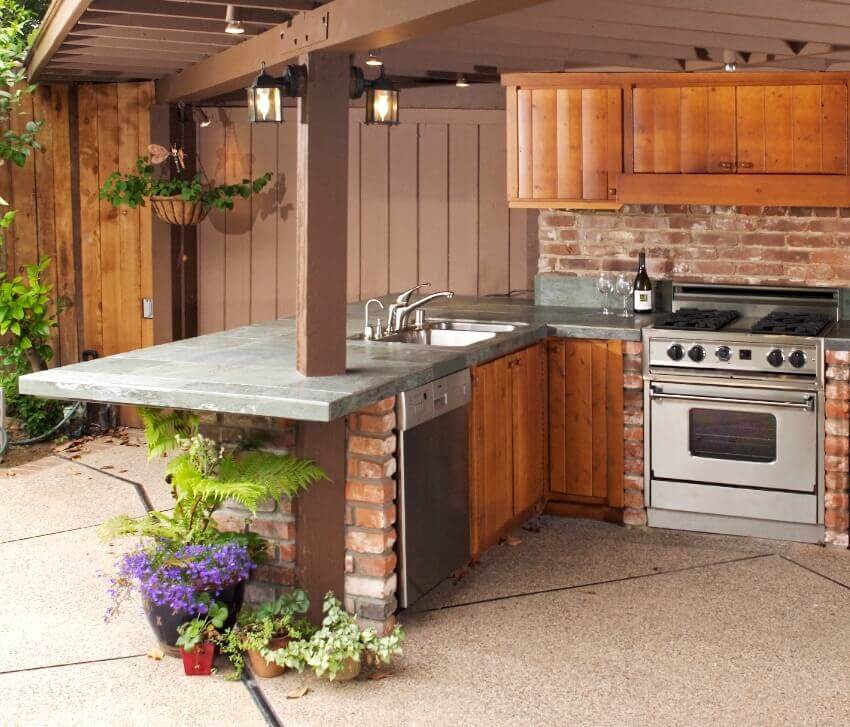 Aside from durability and excellent resistance to weathering. Teak wood has been a favored outdoor furniture due to the natural patina that develops over time.
Newly built teak outdoor kitchen cabinets will have that deep rich brown color, but as time passes, the color will deepen and fade, leaving the soft silver-gray patina. During the process, you'll notice that the natural wood pattern and graining are becoming more visible.The cause of the gorgeous gray hues is the oxidation process and the effect of the UV rays from the sun on the teak wood's pigments.
There are methods to create the weathering effect, such as brushing and sandblasting, although it is best to wait for the outdoor elements to naturally age your outdoor kitchen cabinets. The natural aging process takes around 9 to 12 months, while you can speed up the process by applying normal teak oil in 4 to 8 weeks.
Another great reason to consider teak for outdoor kitchen cabinets is that teak wood is naturally resistant to insects such as termites, marine borders, and powder post beetles. Check out our gallery of outdoor kitchen ideas for more designs.
Benefits of Teak Cabinets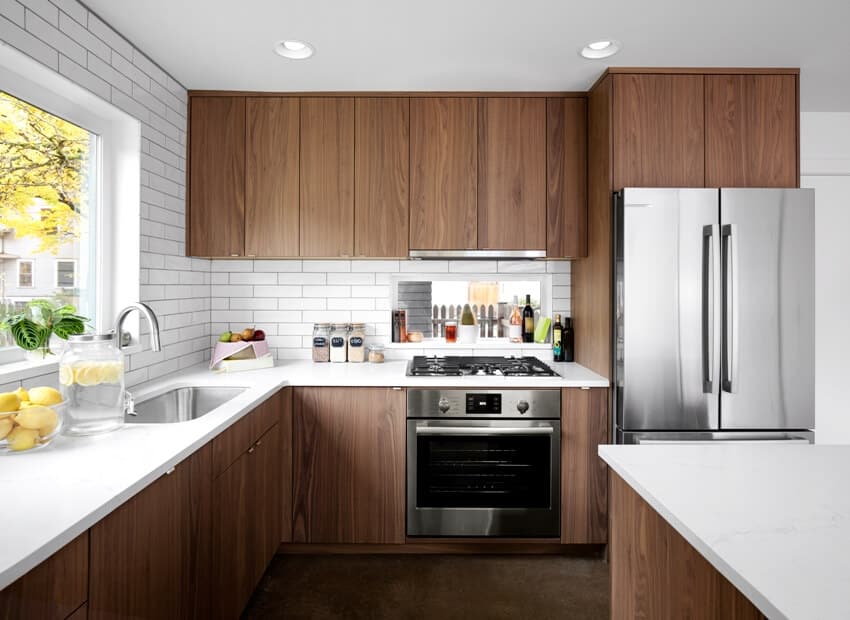 The quality of teak wood ranges from A to C. Depending on the usage; the wood grade should be chosen carefully.
Grade A, known as Heartwood, will be the best, but it will also be the most expensive due to its having the highest oil concentration. The higher the oil content, the better it is at resisting the effects of exposure to the environment.
Excellent Dimensional Stability. Self-regulation of thermals is one of the best features of teak wood. Unlike other materials like metal, teak wood can regulate itself, staying cool during the warmer months and vice-versa.
If there is one thing that can damage furniture, it's the repeated expansion and shrinkage of the material due to fluctuations in temperature. The furniture can eventually warp, or the different pieces can loosen over time.
Durable and Tough. As great looking wood can be, its biggest disadvantage is its susceptibility to damage from water, insects, bacteria, fungi, fire, etc.
Thankfully, teak wood is one of those types of lumber that comes with its own natural means to protect itself from damage, particularly if the wood is of the highest grade. The wood is virtually indestructible to some of these things.
Rot Resistance. Signs of decay due to insect activity are something to look out for. Teak is durable, but that doesn't mean it has no enemies of its own. Powder post beetles and marine borers are very good, while a moderate threat at starting issues with Teak.
Sustainable. While there is a great concern for preserving the environment, teak is grown in plantations, mostly in India and Asia. The tropical trees are continually planted after every harvest to ensure a steady supply.
Other Benefits:
• Good Workability
• Adapt into Different Formats
• Works well with Metals
• Produces a Gorgeous Natural Patina
• A Teak Wood gets harder over time.
• Can Last 70 years or more
• Natural dense and close-graining (Grade A – Grade B)
• No need for sealants or stains, even for outdoor use.
Are Teak Cabinets Expensive?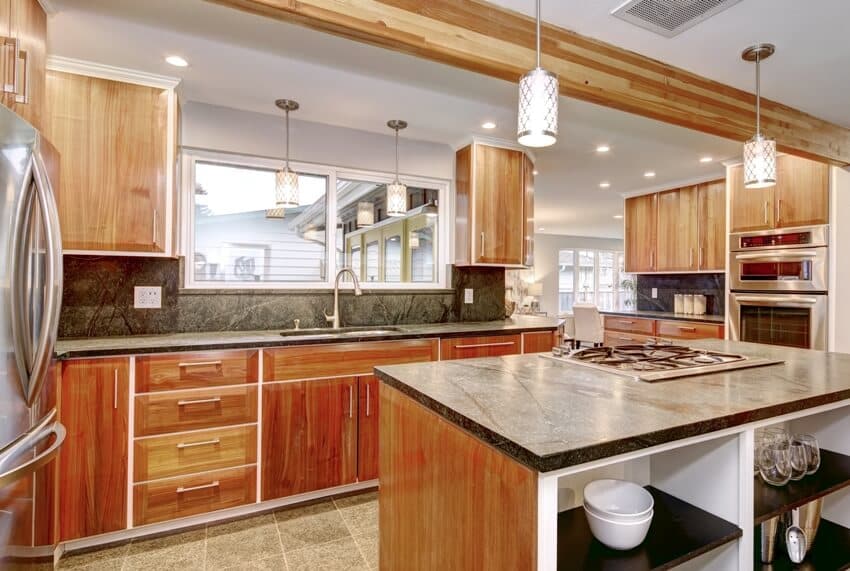 Compared to most solid wood cabinets, teak cabinets are expensive. For instance, teak wood lumber costs an average of $25 to $28 per board foot, while cedar costs $10 per board foot.
The direct cost of teak cabinets may be high at the onset but choosing teak cabinets for your kitchen has huge returns while saving you more in the long run. Teak cabinets with Grade A quality can last for a lifetime, and it means you'll spend less time and money on repairs and replacement.
Homeowners can opt for only having teak cabinet doors instead of using teak on the whole cabinet system. Veneer teak cabinets are also an excellent alternative to your solid wood kitchen cabinets. A 24" x 48" with ten mil paper backing teak veneer will cost around $50 per sheet.
What Color Goes With A Teak Kitchen?
Teak coloring is considered warm with golden to medium and dark brown hues. The straight graining may have occasional interlocking or wavy grains. When exposed to elements, its natural patina will develop silver or grayish in color. This occurs especially for outdoor teak kitchen cabinets.
Choosing the color of your teak kitchen will also depend on the color undertones of your teak kitchen cabinets. You can further highlight your undertones using gray as your accent color or yellow and ebony.
• Light Blue and White -To create that airy feel.
• Yellow, Ebony, and Mustard- Highlight undertones.
• Beige, Tan, and Ivory – For darker brown teak wood.
• Blue-Green – Tone down the warm color.
How To Clean Teak Cabinets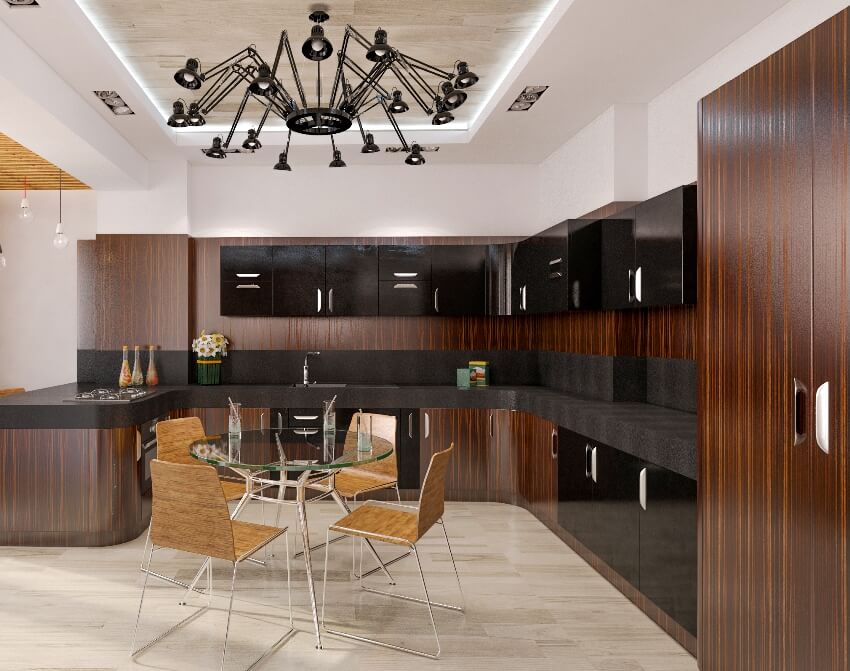 Teak is so durable that it does not need to be coated with varnishes. However, that's not stopping anyone from trying, as there are sealers and varnishes out there still for teak furniture owners who just want to make sure.
The unprotected teak starts with a golden color until it turns silvery gray if left outdoors. The lumber can still experience signs of weather but can be easily restored with soap and water. If that's not enough, there are a variety of chemicals out there for sale that will restore the wood to its former glory.
Visit this page to see our guide on different grades and types of teak wood for more ideas.