Here you'll find different colors that go with lime green including complementary color palettes & combinations, ideal paint color options, and best light green paint colors.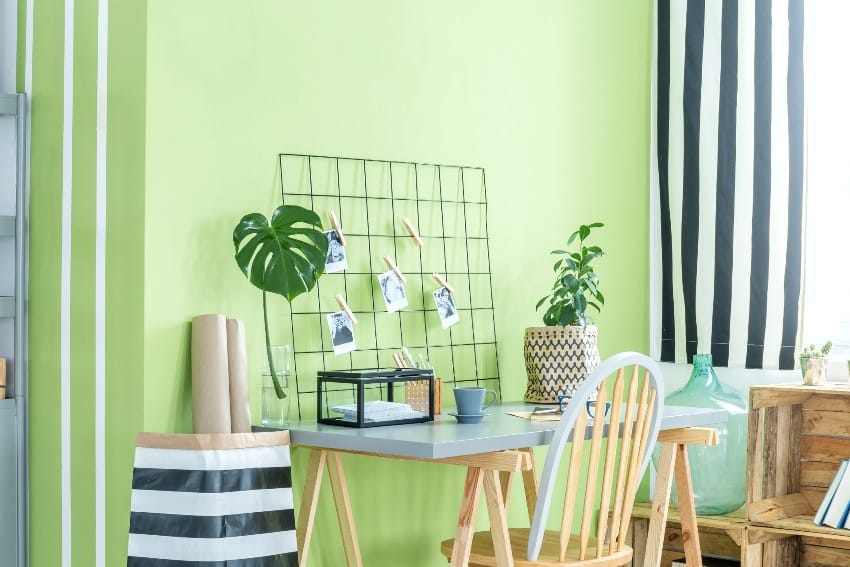 Vibrant and communicating energy, lime green has been a favorite color to break the monotonous use of neutrals and beiges. Lime green color in the color wheel is found in between the yellow, green and yellow colors.
While it can come in a strong tone, lime green is versatile enough to work both for warm and cool colors, making it easy to achieve whatever mood or ambiance.
Colors That Go With Lime Green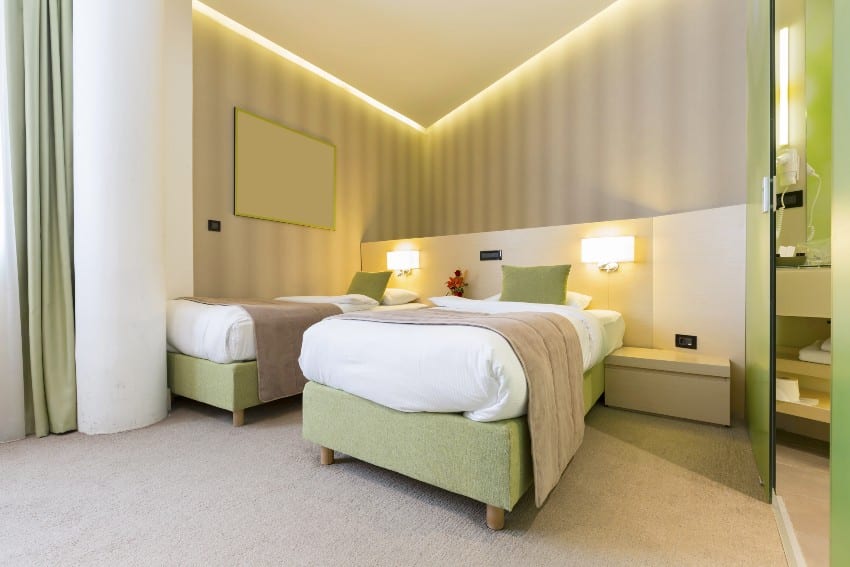 With its vibrant appearance, lime green pops next to black and works well with white. The contrast between black and lime green is perfect for creating a moody space. Resto bars love the combination of black and neon colors along with layered lights.
Lime green with more earthy tones such as tan or beige creates a restful atmosphere, especially with white or gray hues. While the neon color is a lively color, it can match perfectly with other vibrant colors such as yellow, orange, fuchsia, and hot pink.
These color combinations are great for creating playful and lively color palettes that provide a stimulating environment perfect for kids' rooms or commercial spaces requiring attention.
Colors that love lime green include silver, hot pink, fuchsia, tangerine, violet, tan, white, black and gray.

Lime Green Color Palette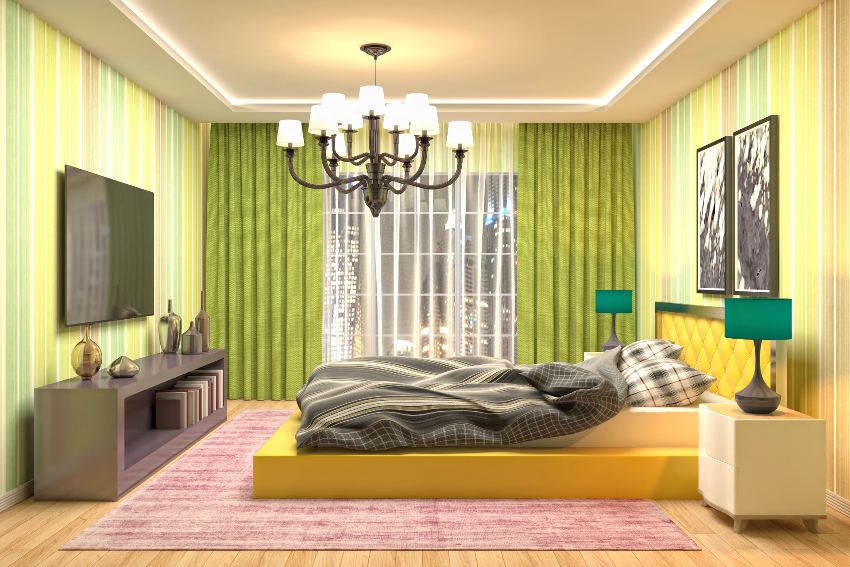 Watermelon Fresh – Dining and Bedrooms. If you're looking for a summer theme for your bedroom or dining area, the combination of lime green, rose quartz, white and green is just a perfect option. The different green shades add depth to architectural elements, such as the walls and ceiling.
The pink color rose quartz complements your lime green and can be used to emphasize a featured sculptural piece. You can choose a white with a warm undertone or substitute it with a light version of beige or tan.

Rose Quartz – #f1C0F9

Lime Green – #88CA5E

Green – #1D741B
White – #FFFFFF
Northern Lights – Bedrooms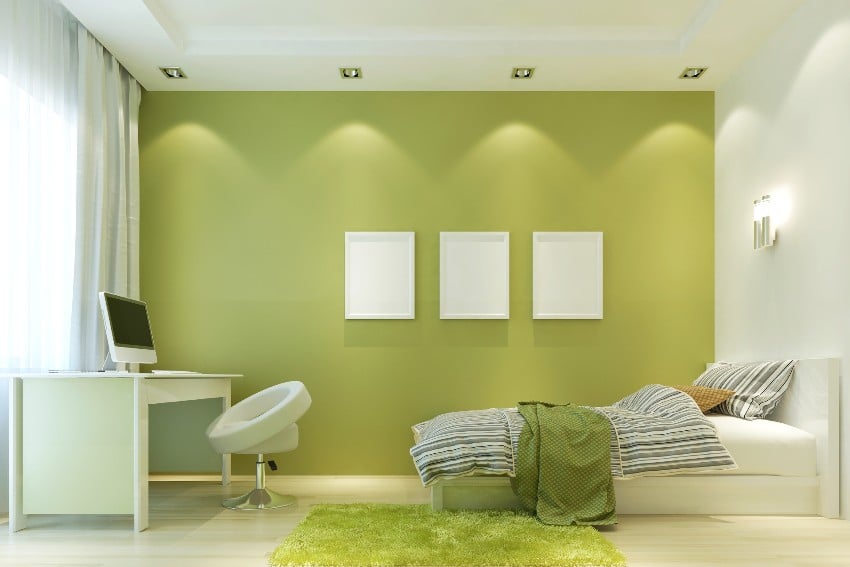 A perfect color palette for a boy's bedroom, the northern lights inspired color includes spearmint, forest green, lime green, and neon green.
With darker greens as a dominant color, lime green can be the perfect accent color, and use neon green lights to highlight elements. It can create a relaxing and moody space with a cosmic ambiance when combined with black. See more pictures of green accent walls here.


Spearmint – #117660

Forest Green – #09323B

Lime Green – #04B16F

Neon Green – #14E114

Black – #000000
Morning Calm – Living Room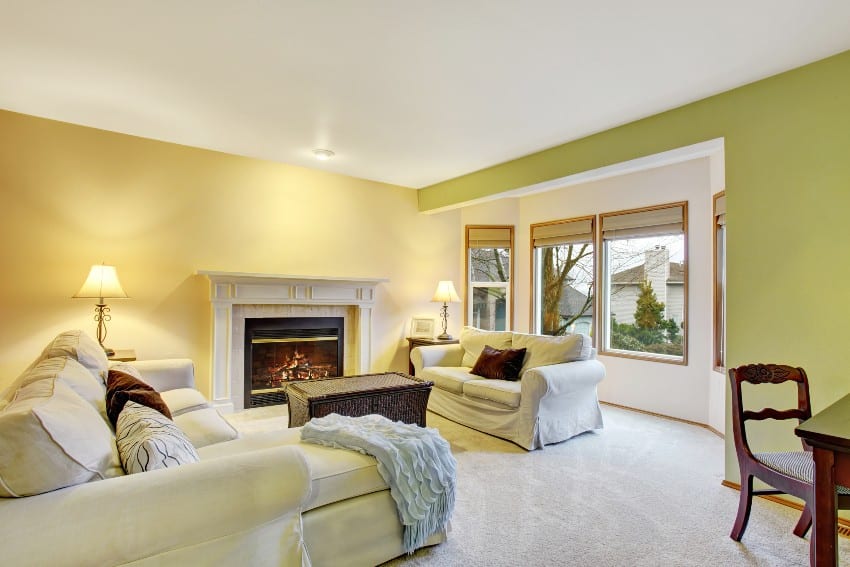 Since green is considered a cool color, taking a break from your screens and having the eyes rest on a cool color can reduce eye strain. The combination of green and another calming color, such as blue, can reduce eye irritation and stress.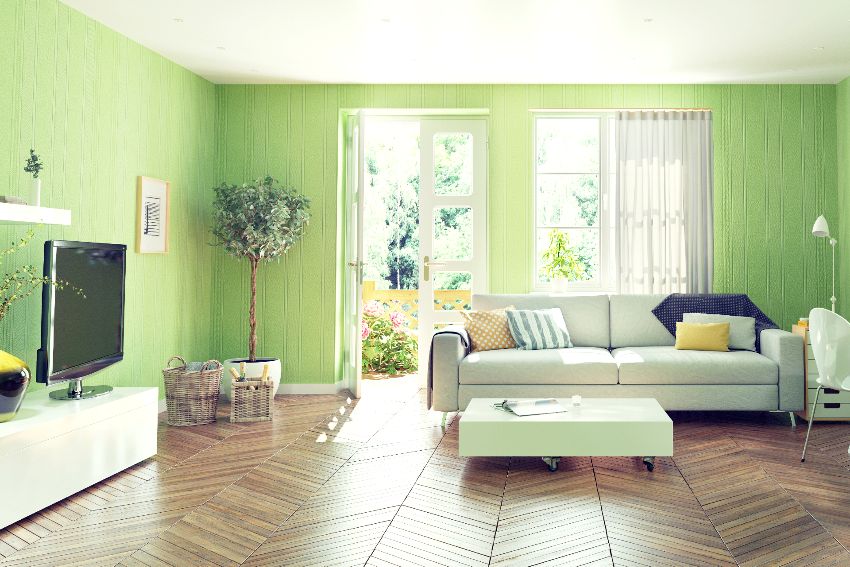 Combine the layer of green colors and blue with white, and you get a soothing color palette that's perfect for a relaxing living room or other gathering space. The color scheme works with both traditional and modern-themed interiors.

Neon Green – #31ED31

Lime Green – #10BC10

Tiffany Blue – #11A7BB
Jungle Green – #2AB67B
White – #FFFFFF
Palms and Sand – Kitchen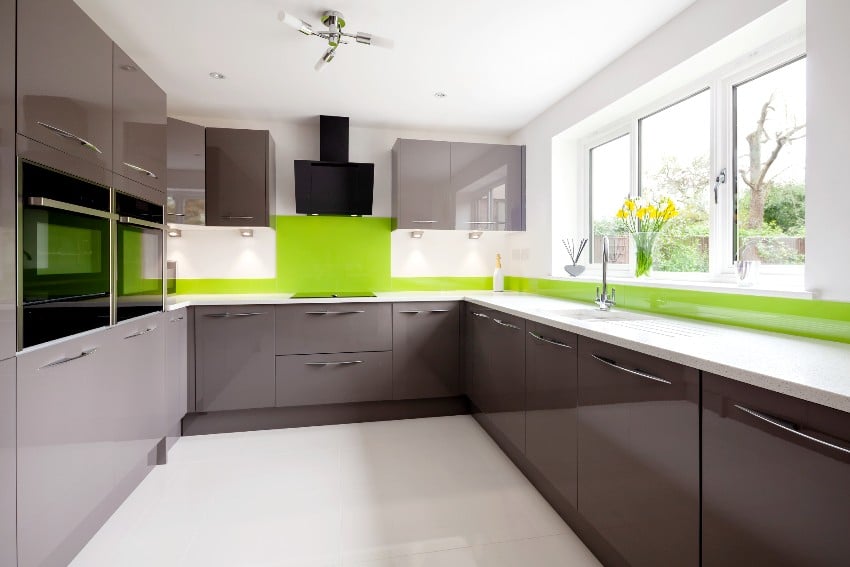 White natural stone with gray veining look great as a countertop or backsplash. Combine it with sandy colors such as natural wood cabinets, which will look great with lime green and yellow-green backdrop.

Sand Dollar #D7D3C1

Pewter #F3F3F3

Lime Green #B4F081

Yellow Green #DFE16A
Lime Green Color Combinations
Lime Green and Purple. Close to fuchsia, purple is also a fierce hue of red that can display luxury, mystery, and wisdom. When paired with lime, it creates an interesting dynamic between a playful color and a regal one.
Take note, though, that it is more visually pleasing to have purple as a dominant color while lime green stays as an accent hue. The color combination is great in bohemian, midcentury modern, Hollywood glam, and eccentric styles.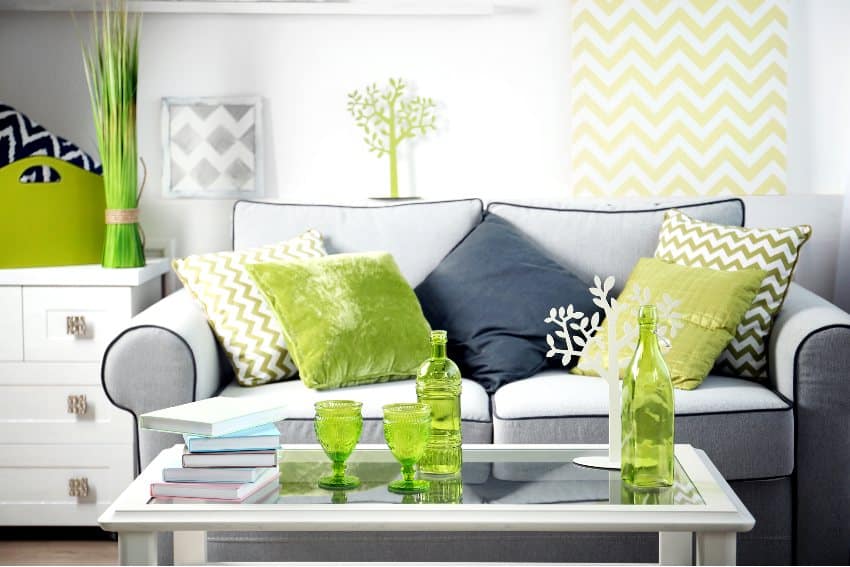 Gray and Lime Green. Do you want to emphasize your lime green elements? A backdrop of gray makes it look modern and easy on the eyes, which is perfect for expansive and busy spaces.
They work well with living rooms or kitchens, where a lime green sofa or cabinet can be a featured element. If you love lime green but don't want it to be too overwhelming, combining them with shades of gray is the perfect color combination.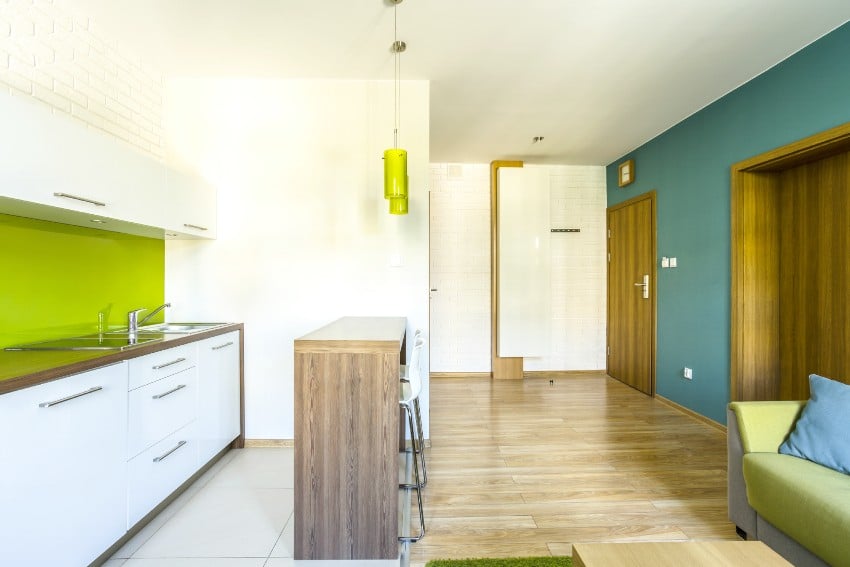 Turquoise and Lime Green. Combining colors with the same color family is easy and ensures a visually pleasing setting. Turquoise has a mixed green color with another cool blue.
Turquoise and lime green are considered both vibrant colors and will work well with a playful theme. They can be dramatic as well when updating a classical interior, using one wall section with lime and the other with the turquoise hue. See more colors that go with turquoise here.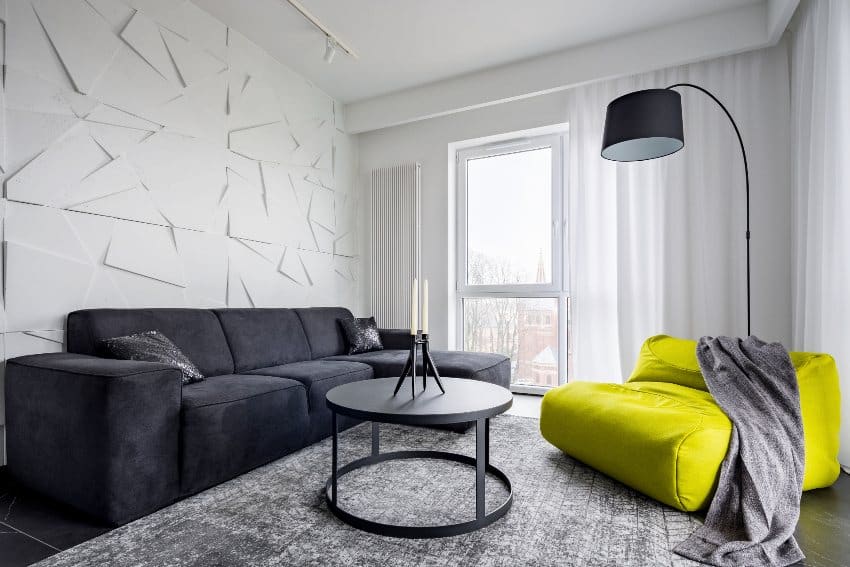 Black and Lime Green. Combining the vibrant color with black creates a striking look as the lime green pops out against a black backdrop. The stark contrast is perfect for creating dramatic interiors and when there are elaborate elements to showcase.
The color combination works either for a contemporary or modern interior. The urban look of black cupboards and kitchen cabinets against a lime green countertop looks perfect in any amount of space.
Paint Colors That Go with Lime Green

Green Earth SW 7748. While the color looks like a shade of gray, Green Earth SW7748 is actually a shade of yellow with dominant red, blue and green colors. The mellow hue perfectly combines the lively lime color as opposites attract.
The colors create a solemn atmosphere, making it a great color combination when you have a lot of architectural details, such as moldings or other types of intricate elements. Use white as an accent color.

First Light 2102-70. If you're looking for a pink combo with your lime green that's soft and light, Benjamin Moore's 2020 color of the year is the perfect option. You'll find the combination perfect even for expansive rooms or if you plan to use patterns. Stripes with alternating colors can be a striking backdrop without overwhelming the rest of the design elements.

Autumn Blaze Valspar. Tangerine hues have always looked good when matched with a lime green color and create a happy ambiance to a space. Orange and lime energize spaces, and with this combination, you get the perfect wall paint for a playroom for your kids.
If you plan to incorporate the paint color in your bedroom, layering the lights and adding lighter elements such as a white curtain or bed in help in keeping the color combination balanced.

Old Navy 2063-10. While purists may point out that green and blue should never be seen, there's always an exception, and there's no fun in being stringent when it comes to style and design.
The dark, somber color complements the lively lime green and can look modern and updated with the right elements. Other Benjamin Moore colors you can mix with the lime green and old navy combo are Polar Lights 400 and White Heron OC-57.
Best Light Green Paint Colors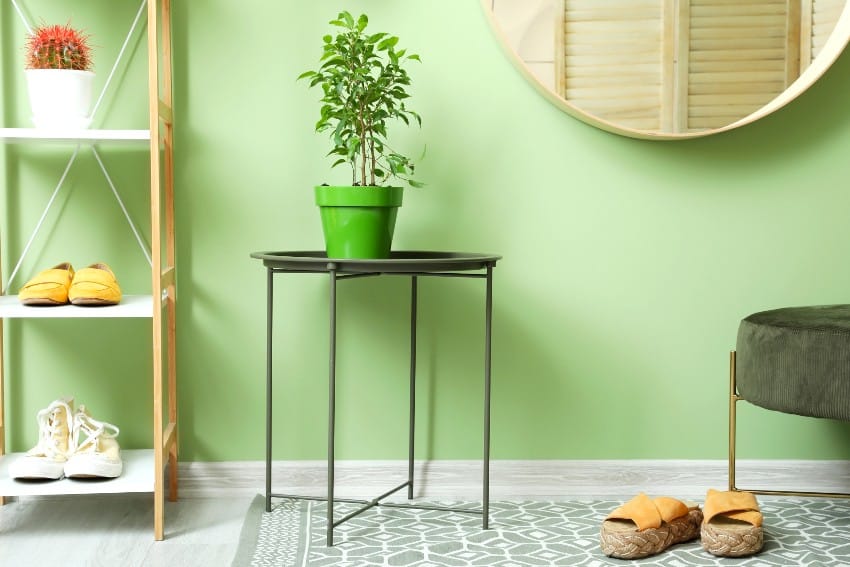 529 Sweet Daphne. The light green color of Benjamin Moore has a yellow undertone making it a refreshing and lively hue. The color is reminiscent of the sweet daphne or spring apples. The color is vibrant but not too domineering or bright.
They are perfect for both as architectural elements such as the wall or ceiling, all the while as colors for furniture. They are perfect for country or cottage-themed interiors.

Budding Green CSP-790. Another light green paint color from Benjamin Moore is the soft gray which projects a friendly and cozy appearance. The gray and greige undertones make it a perfect wall color that pairs perfectly with neutrals and earthy tones.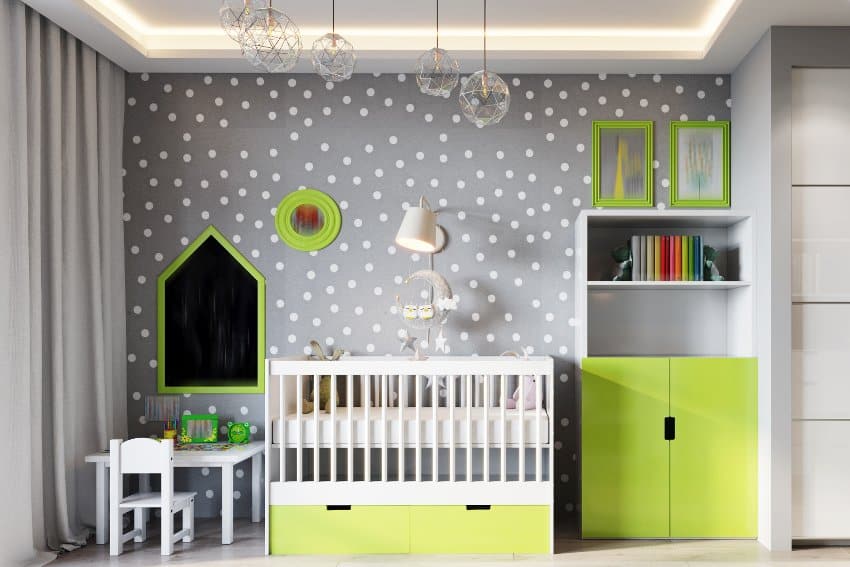 Lemon-colored accents and furniture can liven up the space. Depending on the secondary color used, the color is perfect for both busy and relaxing rooms. Integrate a gray-blue patina with your furniture to create a romantic country-themed interior, or include chrome chairs to modernize the look.

Celery Ice 410E-2. A Behr paint that's perfect for a cool and light backdrop for any interior. The paint color has an almost beige quality, but the green tint can still be seen, making it great for earthy tones and neutral colors.
A kitchen with a lot of black elements can benefit from the cool tint as a backsplash or countertop color. The cool tint also makes it possible to use extensively in a large room without overwhelming the space.

Glacial Green. A very light green color from Pratt and Lambert, the paint color elicits a sophisticated and feminine feel. Add metallic elements such as chrome or silver, and you get a luxurious yet easy-on-the-eyes interior. The soft green makes it a great color for almost any room and also combines with stronger grays and blacks.
How To Get A Lime Green Color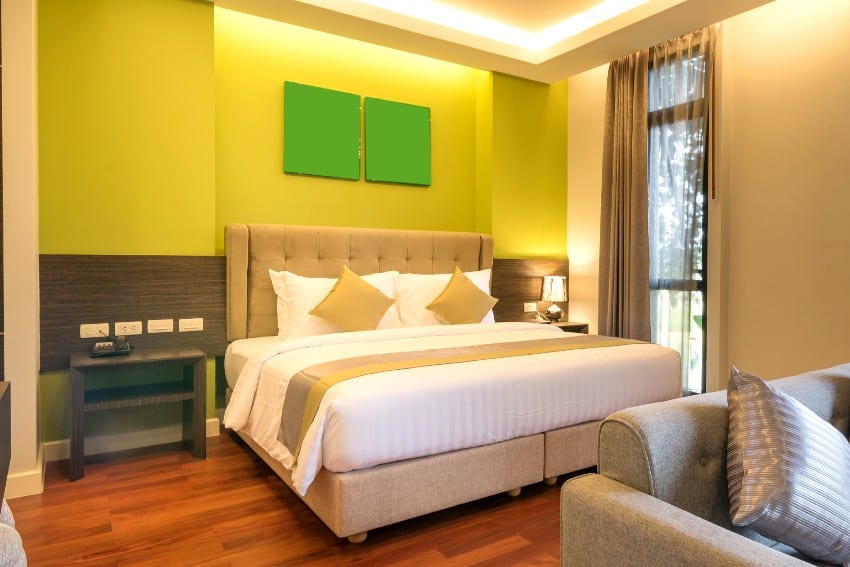 To get the lime green color, mix two to three parts yellow and one-part blue paint. To make lime paint, simply mix two or three parts yellow and one-part blue paint.
The color has a positive connotation that symbolizes strength, rebirth, good health, and confidence. In the Middle Ages, green is worn by the upper classes.
To get a lime green color on the computer you can use the following. Lime green has a hex color of #32CD32 with a Pantone code of 14-0452 TPX.
For more paint and decor ideas visit our guide on colors that go with green.