Here we share our hallway flooring ideas including the different types of floor materials, best interior design options for homeowners, and installation & measuring tips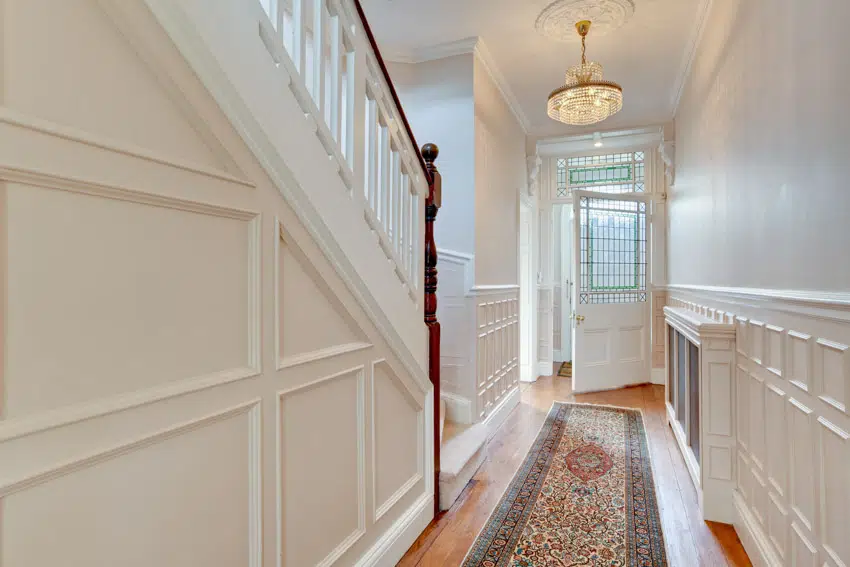 Hallways have always been an integral part of the home that serves more than just a perfect area to take a quick breather but also serves as a transitional space, giving a statement and an impression.
Thus, careful planning should be considered, especially for the most overlooked – hallway flooring. The high-traffic area is an extension of your functional areas that should be designed for a great sense of flow and openness.
Design a hallway flooring that should look nice and is comfortable and safe to walk on while being easily maintained. Durability should also be on the top of your list of considerations when looking for the best hallway flooring. We've curated the most sensible hallway flooring ideas to help you in your hunt for the best hallway flooring for your next project.
Types Of Hallway Flooring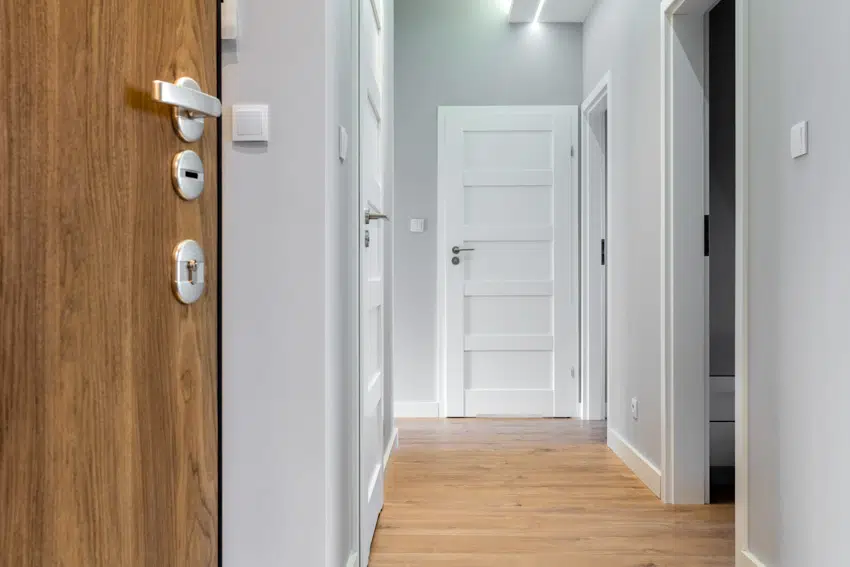 There are a lot of materials, designs, and colors to choose from when it comes to flooring, and it can be a daunting task, especially if you want to match it with you want a cohesive design with the rest of your home.
For tiles, choose a tiling material with a Grade 3 to 4 are typically used for residential uses with slightly heavy traffic, and Grade 4 is intended for commercial use. Grade 5 tiles, meanwhile, are great for industrial or public foot traffic.
LVT Luxury Vinyl Tiling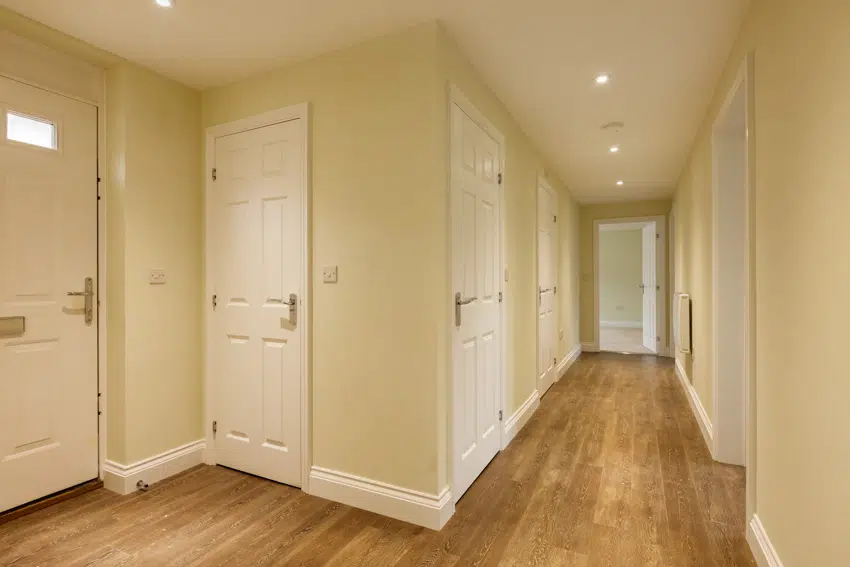 Dubbed as "almost indestructible," LVT flooring or Luxury Vinyl Tiling is a versatile engineered flooring that can mimic natural flooring materials as well as 3D or HD images. Its excellent durability and 100% resistance to water and staining make the LVT a great choice for your hallway flooring anywhere in your home.
You can install the LVT for your hallway flooring either as a DIY project or have a professional tile installer. For a DIY project, the floating or click-lock system is a more straightforward installation method as there are no adhesives needed, although glue-down installation is advised for high traffic areas.
Unlike the typical vinyl flooring that is bought in rolls and resembles ordinary linoleum, LVT comes in tiles. LVT is made using advanced technology which combines vinyl composite materials with the convenience of laying tiles rather than in a roll.
Like ordinary vinyl rolls, luxury vinyl tiles are made from sheets where each layer performs a separate function. These layers provide stability and help the LVT to be leveled while being flexible to be easily cut vinyl cutter and even your everyday utility knife. It can be installed.
Remember that not all LVT flooring is made equal it usually comprises 6 to 8 layers. Use LVT with superior materials and excellent engineering technology for high-traffic hallway flooring tiles.
Typically, they will compose a layer of glass fiber, a print layer, a wear layer, a UV protective layer, and an antimicrobial layer. When choosing the thickness, choose a thick wear layer where the thicker, the better. The LVT floors come with 6 to 10 mm thickness for residential usage, while commercial usage has 30 mm thickness.
Porcelain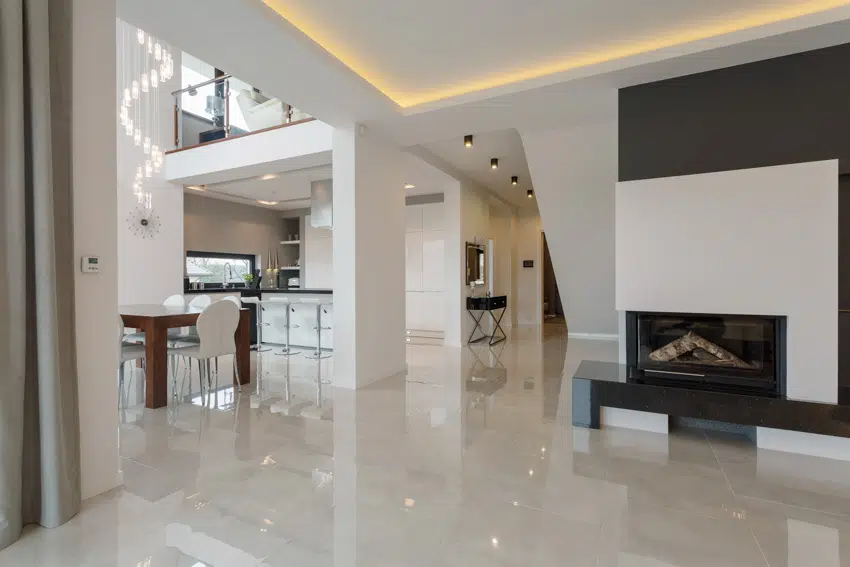 Suppose you're a pet owner and worried about scratches or dents. In that case, porcelain is an excellent choice for your hallway flooring as it is exceptionally durable and won't need sealing, waxing, or polishing. The dense material is also suitable for damp areas as it is less porous than ceramic tile, with a very low absorption rate of 0.5% or less.
Choose non-slip porcelain for your hallway flooring. For larger hallways, larger format types of floor tiles with minimal joints will create a seamless look—place perimeter skirting, which protects the walls of your hallway and provides a neat continuous detail.
Porcelain is widely available and offers a myriad of designs and finishes in the market which means you can easily find the color and design choice you need. In addition, you'll find warmer hues and patterns such as wood and natural stone.
Timber-effect porcelain tiles mimic wood, and there are designs that simulate the industrial look of cement if you want a brutalist style in your home.
While porcelain is virtually water-resistant even under prolonged water exposure, use a grout protector spray on your grouts to ensure waterproofing between your tiles.
Wood Effect Tiles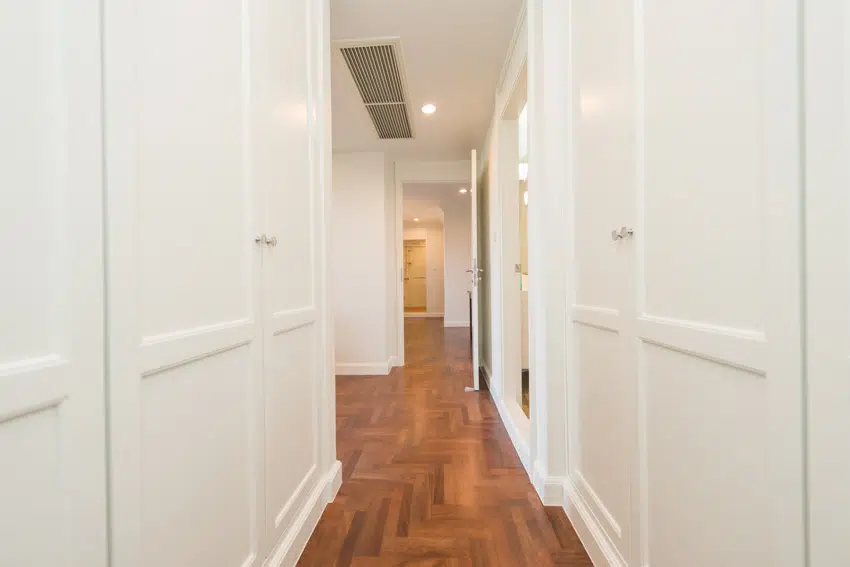 Also termed faux wood tile or parquet tiles, the wood effect tiles offer the beauty of wood for your hallway flooring without the daunting maintenance and other limitations of wood material. From reclaimed to the popular maple wood, you'll find various wood textures that match your design preference.
The 3D printed tile brings the natural aesthetic of the organic material into your home and feels like the real thing, making it a comfortable flooring material to high traffic areas such as the hallway.
While you'll have the textured surface with realistic knots and graining, there's no need for sanding or sealing since they have the properties of porcelain or ceramic tile with the latest HD printing technology.
Porcelain, in general, is much denser and water-resistant compared to ceramic, so if you have moderate to high traffic hallways, it is much wiser to choose porcelain above ceramic variations.
Encaustic Tiles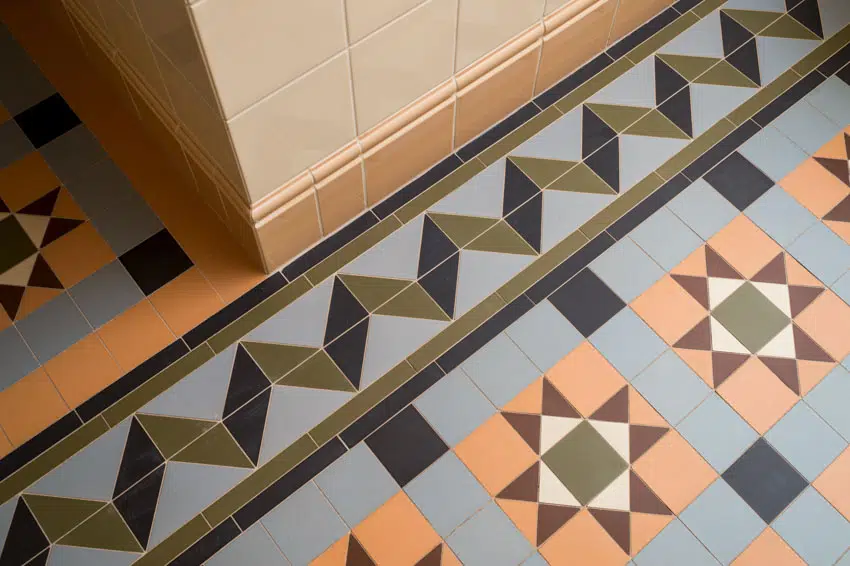 The encaustic tile is as striking as its name with a relatively simple and eco-friendly manufacturing process which come is made with varying shapes, colors, and patterns. Since they are typically handmade, the colors run through the tile itself. Thus the coloring won't fade easily over time.
Traditionally encaustic tiles are made of clay, where the process of painting with beeswax-based paint is used and then heated to tint the surface. But modern versions are made conveniently with cement, thus sometimes dubbed "cement tile."
Made of entirely concrete, modern encaustic tiles are formed in a metal mold and then hydraulically pressed. Molded upside down on the metal mold, then colorants are poured into the different sections to create the pattern design.
Encaustic tiles are fully customizable, insulate well, have a non-slip surface, and are great for a heavy traffic hallway. But as modern encaustic tiles are cement tiles, they are prone to stains, etching by hard detergents, and can be frozen when used outdoors.
When planning for encaustic tiles for your hallway, choose an experienced installer as it needs to be sealed with a multi-step process. These heavy tiles will also need periodic sealing.
Laminate Tiles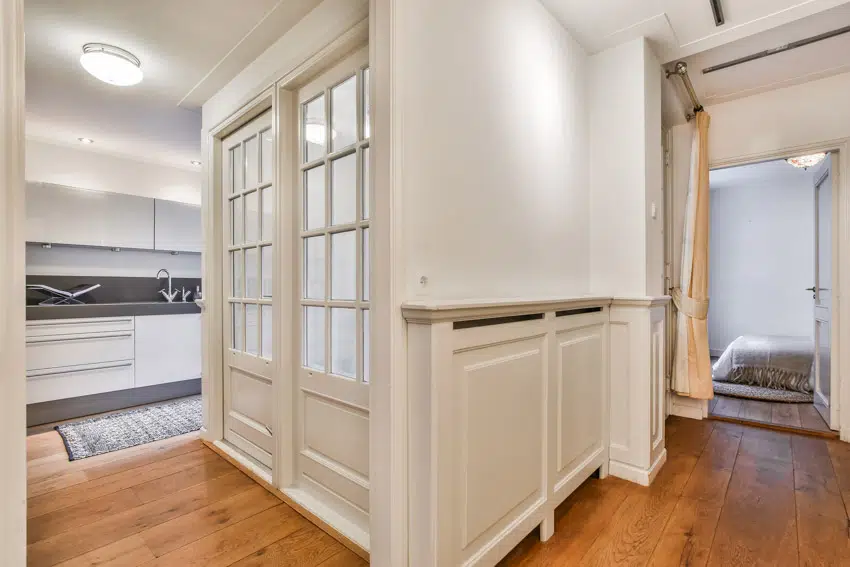 One of the more affordable options for your hallway flooring, laminate tiles are hard-wearing and easy to maintain flooring material that comes with the look of hardwood flooring. There are laminate tiles that simulate the look of wood and are often termed tile effect laminate flooring.
Laminate tiles can last an average of 10 years, making them great for homeowners looking for a cheaper option than wood or vinyl.
As the term implies, laminate floors are laminated layers of synthetic flooring products combined with wooden fibers shaped into a plank. The decorative layer is pressed together with the layers on top of an HDF (High-Density Fiber) core.
Please note, though, that like any wood material, it can scratch and is prone to denting. In addition, it is less visually appealing than natural wood, and you cannot refinish it once your hallway floor gets damaged or worn out.
Carpets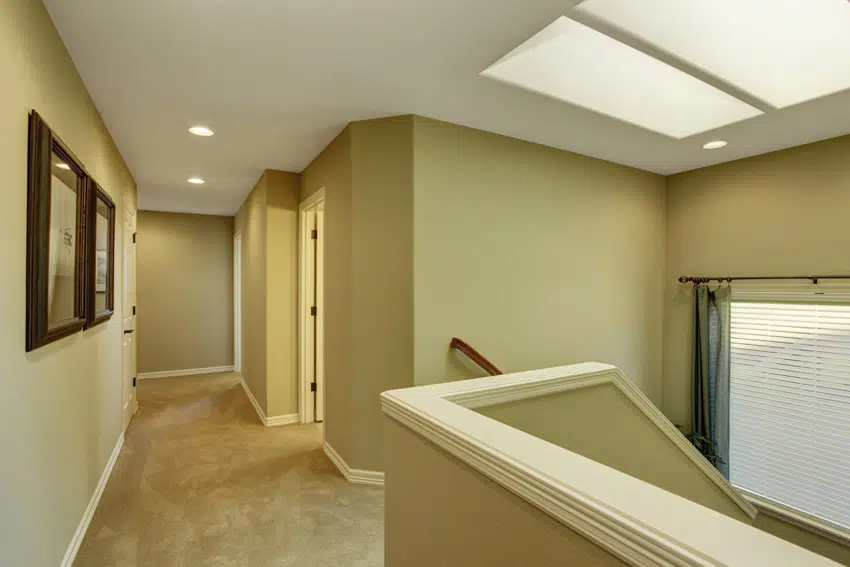 There are several types of carpet in the market, but the most recommended are low pile carpets (which feature tight loops of fabric and shorter fibers) with strong fibers that can handle a busy area with a lot of foot traffic, such as your hallway area.
Low pile carpets are great for hallway flooring because they won't mat down when frequently stepped on and look worn out as quickly compared to high pile carpets.
The two best options for your carpet material are those made with polyester fibers and nylon fibers. Polyester fiber is an affordable carpeting option that is resistant to fade, stain, and abrasion, making it durable enough to withstand high traffic hallways.
Like polyester, nylon fiber carpets have an excellent resistance to stain and are very durable. It bounces back up when bent or stepped on, keeping its form.
Hardwood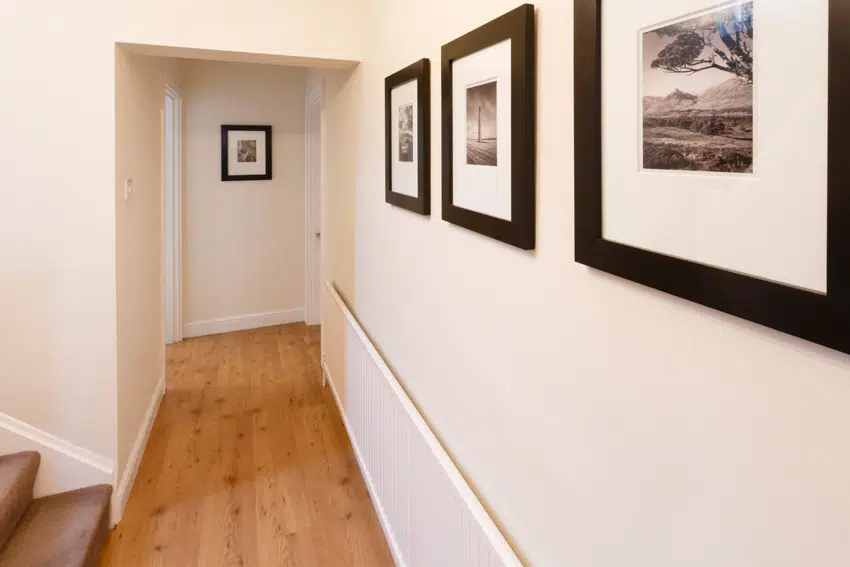 Nothing matches the real thing, and hardwood is still a much-coveted flooring material in both residential and commercial use, where the visual impact and feel of natural wood can make an impression in any hallway.
Depending on the wood species chosen there are a wide variety of beautiful colors, graining and wood floor patterns to use.

Hardwood floors can work well in both contemporary and traditional homes. If you're concerned about dust and dirt, choose a dark or mid-toned finish that hides scuffs better. Lighter shades require more maintenance, but they can make your hallway visually larger.
Hardwood flooring is durable, so you won't have to replace it or upgrade it anytime soon. It can be refinished multiple times if damaged from scratches or dents, so you'll have a flooring material that can last decades.
Limestone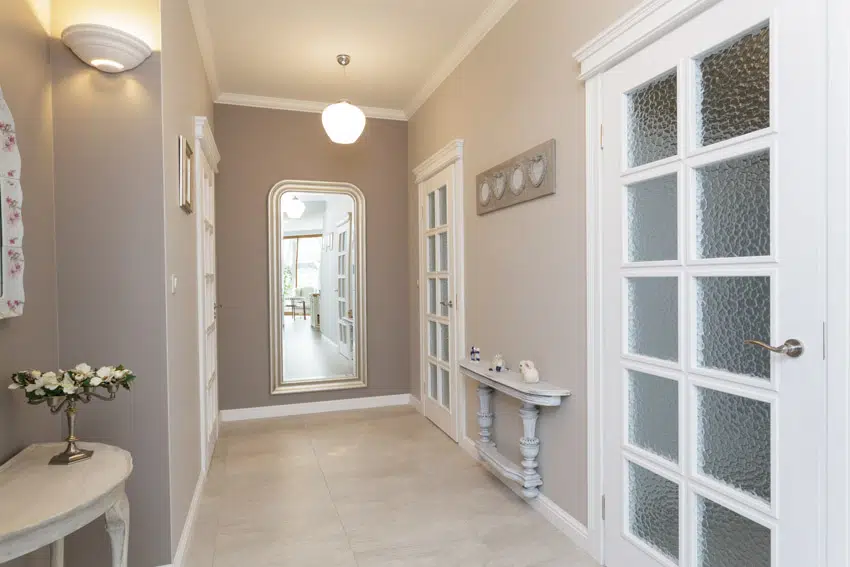 The limestone is a suitable hallway flooring choice if you want a more rustic appeal. As a natural stone material, each piece of limestone has its unique veining and striations.
The naturally texturized surface is also very durable for high-traffic areas. The traditional white to the earthen coal-black hues are perfect if you want to hideaway stains or dirt in busy homes.
When choosing limestone flooring material for your hallway, remember that they come in a range of textures, from smooth to coarse. It is best to choose coarser surfaces for your hallway with a higher density as it is more durable and stain-resistant.
Travertine flooring is another option which is quite similar to limestone with more color variations, but is more porous meaning it will need to be sealed.
Polished Concrete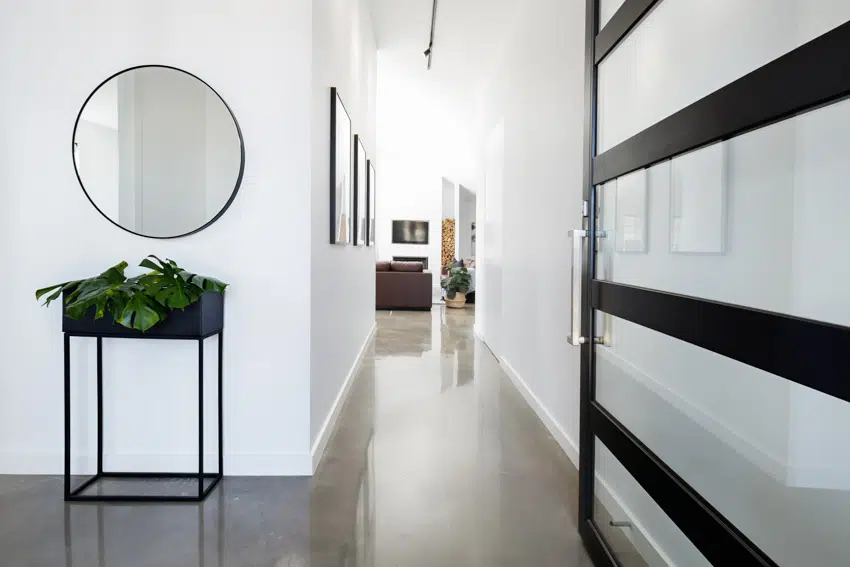 For an exquisite and posh look, polished concrete floors may be a great fit for your hallway, thanks to its glossy mirror-like finish. And if you're worried it might be a slippery surface, contrary to the notion, polished concrete is not slippery even when wet. Polished concrete has non-skid additives applied with a concrete sealer or anti-slip conditioners.
Polished concrete has a wide range of design options. Before polishing, you can choose almost any color, make patterns with saw cuts, or embed aggregates or interesting objects into the concrete.
Different levels of concrete polishing can also be used to control the reflectivity of the floor. Since polished concrete is easy to maintain, it is popular in commercial buildings. Dust mopping and a cleaning product on occasion are required to keep polished floors clean.
What Is The Best Flooring For A Hallway?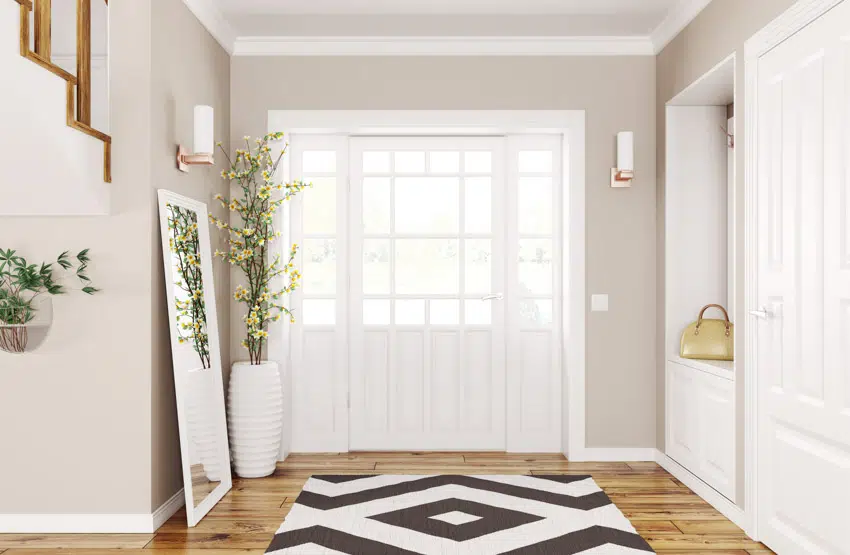 Your hall's flooring is entirely up to you, but we always make sure you're well-informed before finalizing. The main priority in this room should be to fit a hallway flooring that is super durable and easy to keep clean it also pays to pick a flooring that is good at hiding dirt brought in on muddy shoes and clammy paws. And sometimes overlooked is how safe is your hallway flooring?
The most recommended and considered best flooring materials for a hallway are:
• Luxury Vinyl Tiles
• Wood Finishes: Both hardwood and engineered wood flooring
Considerations when determining what is the best flooring for a hallway are Lifestyle, budget, installation requirements, theme/style required, and ROI (Return of Investment).
Where To Start Laying Laminate Flooring In A Hallway?
When laying your laminate flooring in a hallway, start laying length ways in this way. It will make your hallway appear visually longer.
Other considerations:
• It is often recommended to install laminate flooring in the same direction throughout the house. All of the rooms of the house will have a unified look and feel as a result. Determine your home's longest side and install laminate flooring in a direction that runs parallel to it.
• Lay your laminate floor along the direction of your line of sight from your front door or the main point of entry in a room.
The laminate's direction will essentially become perpendicular to the door. As you enter the house or room, this will help guide your eyes smoothly inside. This will also draw attention to the laminate tiles' length.
Which Direction To Lay Vinyl Plank Flooring In The Hallway?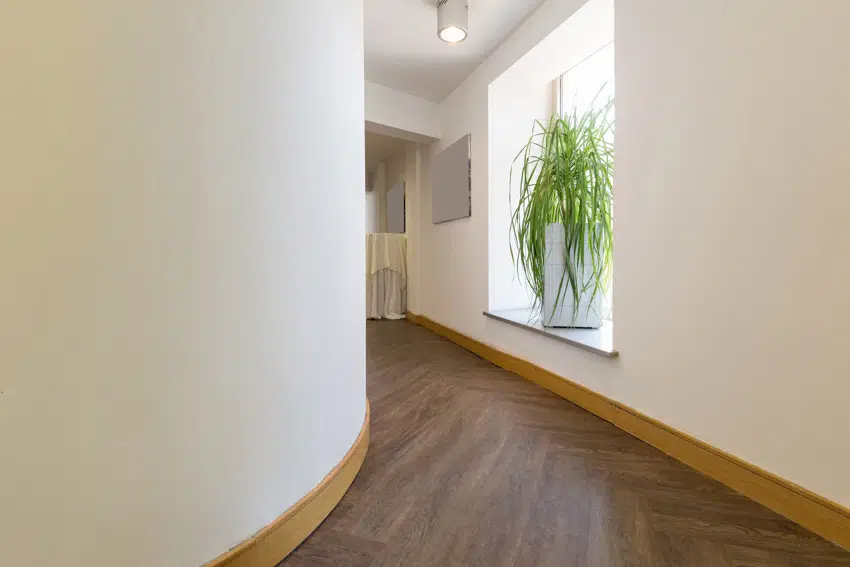 Vinyl planks are recommended to be installed along the length of the hallway. In this way, the sightlines of your floor and walls match, which makes your hallway appear more spacious.
How To Measure The Hallway For Flooring?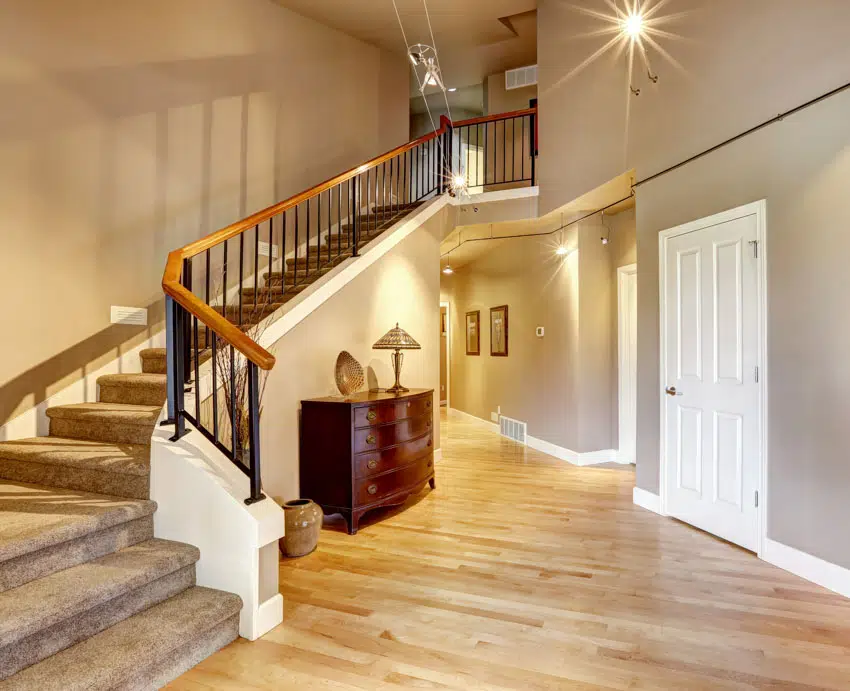 1. Start off with the widest length of the room. This is for rectangular or square-shaped hallways that are quite easy to measure. At its widest point, measure the room's length and width. This includes entering and exiting through the doors. Multiplying the two measurements yields the size of the floor surface.
2. Don't forget to add a minimum of 10 cm to your measurements for wastage. It's preferable to have a little extra carpet on the sides than too little. This 10 cm may not be enough if the hallway is not square, which is the case in many hallways.
3. It can be more challenging to measure for irregular shapes, so it's best to start with a sketch, but don't forget to add an extra 10 cm on each measure.
See more related content in our article about hallway paint ideas on this page