Here we share a variety of paint colors that go with dark wood floors including some of our personal best picks.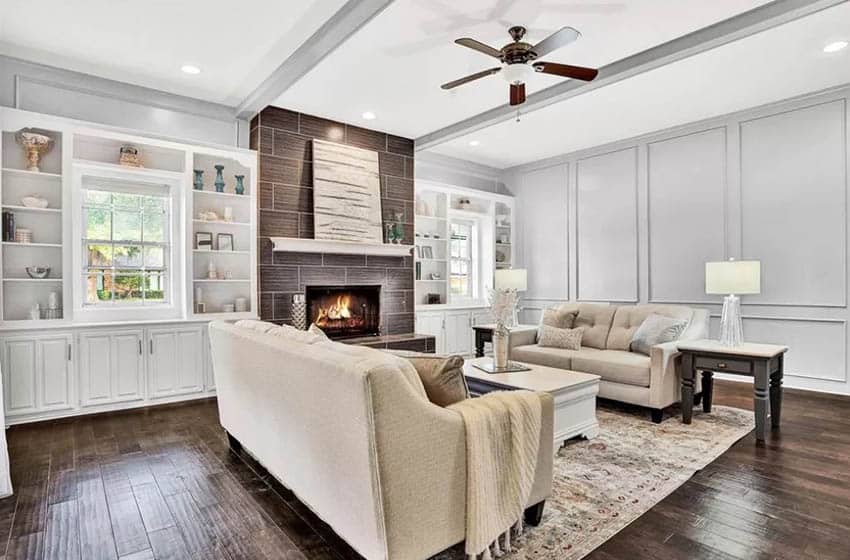 Dark wood flooring has been and still is very popular in homes. With the flooring selection comes painting color selection to coordinate. Lucky enough, there are not too many wrong answers when it comes to dark wood, because it is pretty neutral (depending on the red or brown tones that can be mixed in).
The only thing you really need to know is the tone you want to set for the area: light, cool, playful and airy, or heavier, cozy, warmer and sophisticated. This gives the range of colors you should be considering.
Below are some paint recommendations (Broad and specific) for darker wood flooring based on those two considerations.
Green
– Specifically Sherwin Williams Haven: Going full color on the walls is a bold choice, and selecting a calmer paler green, like Haven, you can avoid the color punching you in the face when you walk in, but instead gain a comforting feel.
Another option is to just use the green color as one or two accent walls, depending on the space.
With a color on the wall pairing the furniture and finishes with it can be fun, picking blues or a contracting warm color, or even a darker version of the green walls can make them pop and bring some excitement to the space.

Blue – Specifically Sherwin Williams Respite: As mentioned above with the green it is important to not go too crazy with color. Respite is a calming light blue that brings contrast to the dark wood, and brightening up the space.
With the dark wood it is important to not select anything too dark or the room can seem small and uninviting.
Similarly to the green color on the wall, the color blue can also make pairing the furniture and finishes fun, picking contrasting or complimentary colors to the fabrics and finishes in the space can add the last needed thing to a room.
Since the walls take up the color it is also good to add neutrals to the rest of the finishes. Read more about using neutrals while matching wood floors with paint colors here.

Gray – Specifically Sherwin Williams Gray Screen: Using gray lets you embrace the cool and modern feelings. Using a neutral wall allows you to use vibrant blues, greens and purples in accent finishes and fabrics while still having the structure of the neutral walls.

Beige – Specifically Sherwin Williams Accessible Beige: Beige is where you can enact the warmth and the cozier feelings. Using a neutral wall allows you to use reds, yellow and oranges and the brighter warmer colors without overwhelming the room by placing it on the walls.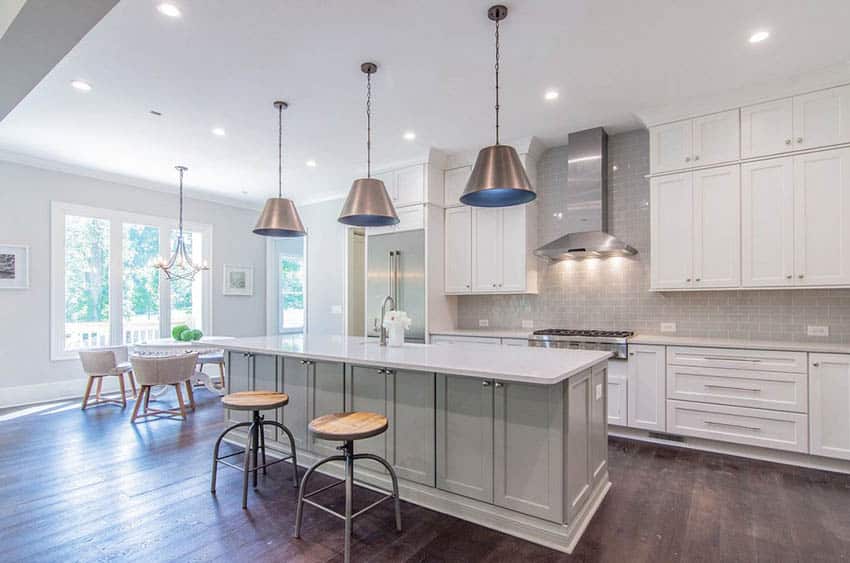 Gray wall paint is a popular choice for many contemporary kitchens. This kitchen with dark wood floors utilizes several different shades to provide interesting contrast and character to its design.

Beige has been to go-to neutral color for interior designers for many years and we don't see it going out of style any time soon.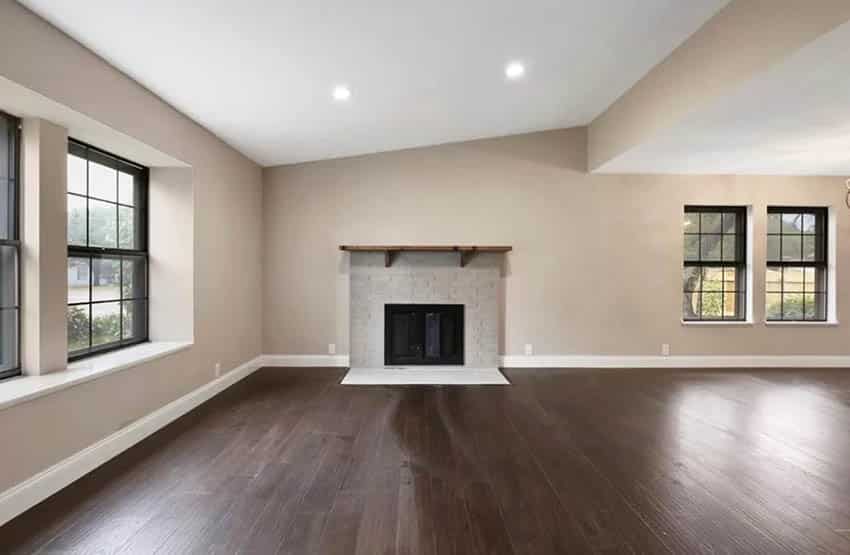 Greige – Specifically Sherwin Williams Perfect Greige: This is my TOP PICK, the best thing about greige is it is a mix of gray and beige, meaning it matched virtually anything. This can go with any color flooring you have, no matter the undertone of the wood.
If it is redder or browner, the greige color appears more beige. If a gray or black undertone it appears more gray. This also plays into the selection of furniture finishes, giving flexibility to accent the room there by keeping the walls neutral.

What are your favorite paint colors that go with dark wood floors? Let us know in the comments and visit our gallery to see more living rooms with hardwood floors.