Welcome to your ultimate guide to the most popular types of hardwood floors. Here we will answer many of the questions you may have before purchasing and/or installing hardwood flooring!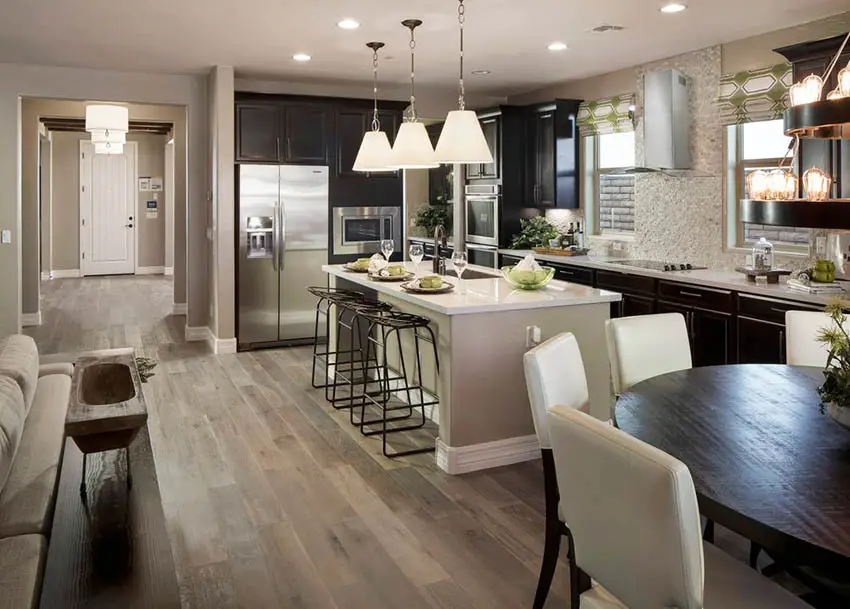 While interior design trends have come and gone, installing beautiful hardwood flooring has never gone out of style. Hardwood flooring has that natural warm look that homeowners love. It continues to remain popular through the years in large part due to the abundance of grain patterns, colors and textures available.
Wood floors are easy to clean, durable and highly sought after by potential home buyers making them great investment. When you are looking for a new house, or visiting someones house, the biggest impression the house makes is the floor. This is what your feet touches. It also brings out the color of the walls, the furniture, and sums up the overall feel of the house.
There are different types of floors that can be used in houses. Every single one has pros and cons and preference really relies on the homeowner. The most common types of floors are hardwood, laminate, tiles, stone, and carpet. Hardwood floors remain the top choice for floors due to its variety, low maintenance, durability and beauty.
Below we cover some of the best types of hardwood floors including including details about grades, cuts, finishes and more to help you for your next remodel project.
Solid Hardwood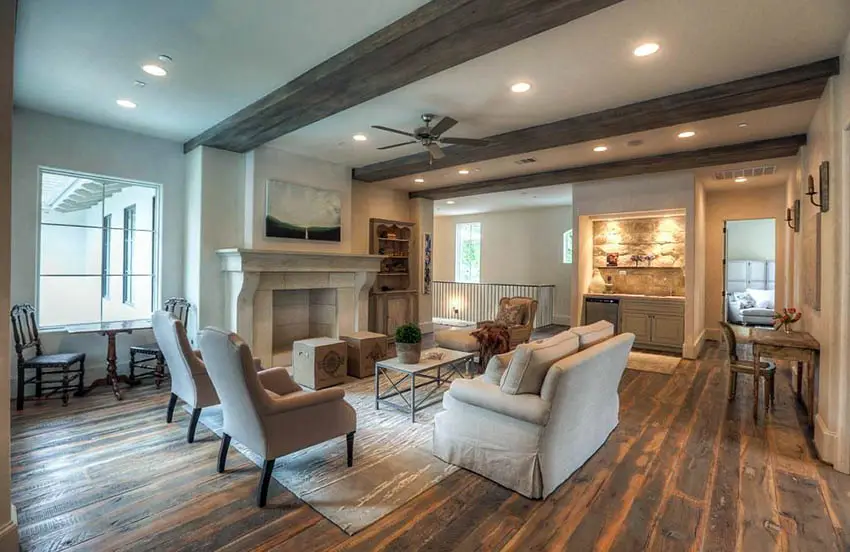 One of the best qualities of getting solid hardwood flooring is that is can be refinished time and time again, this creating an extremely long lifetime. Its natural look is something that is timeless, so the long lifetime is very important.
There are some things to keep in mind about the product when deciding the best space to use solid hardwood flooring.
Solid hardwood is not typically recommended for basement flooring or any place below grade. This is because the boards are nailed to the floor sub-floor, therefore not suitable for concrete, as well as below grade spaces have increased humidity and moisture and can create warping, cupping, or gaps in the wood.
Warping is when the wood is no longer flat, as a result of stresses and shrinkage, typically caused by moisture. Cupping is a warp that causes the sides of the wood to come up, creating a cupped effect. Gaps can be created by the shrinking and expanding of the wood causing the pieces to move and create gaps.
Hardwood Styles
When considering the types of hardwood floors for your home its important to consider the three most popular styles: strip flooring, plank flooring, and parquet flooring. Each style has its own species, color, and sizes so there is a lot to choose from.
Plank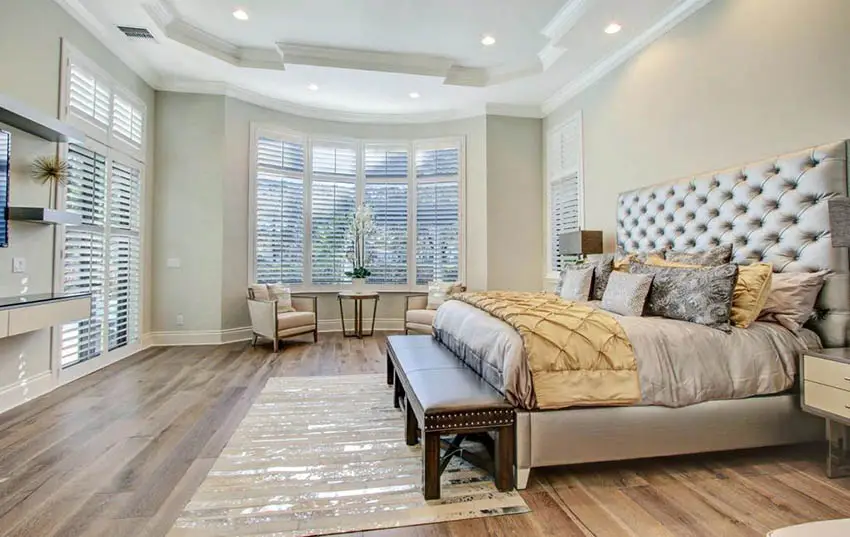 Compared to strip flooring, there is more heartwood in this style. Plank flooring is wider with as much as 20 to 30 inches wide. It gives a more casual look compared to strip flooring which showcases a more linear look.
Plank flooring is flooring available in the thickness of 1/2" and ¾" while the widths can range anywhere from 3" to 8" for regular planks.
Strip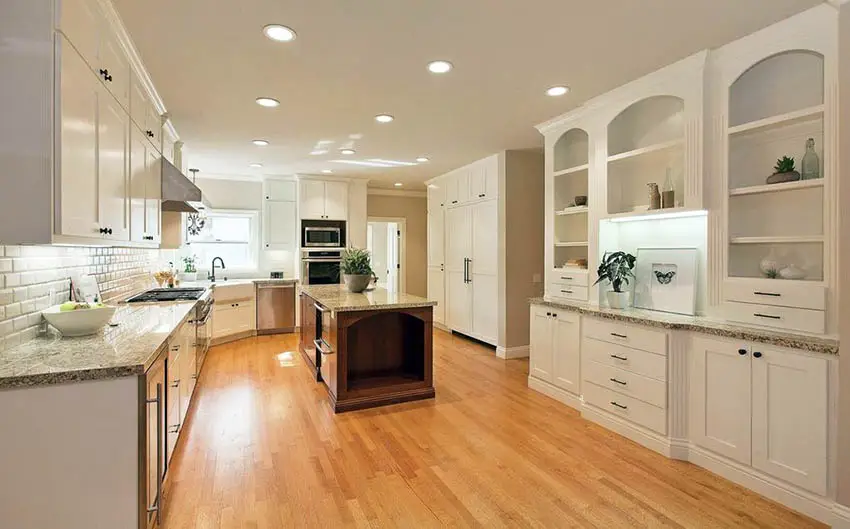 Strip flooring is considered the traditional style of hardwood floors. To be specific, the wood used for this style is cut from the less desirable part of the tree. The wood is cut into shorter lengths and narrower widths. Strip flooring is commonly 3 inches wide.
Strip flooring is distinguished by the thickness of the boards, and it will have a set width. These can range in thickness from 5/16th of an inch to ¾", but the only widths it comes in in 1 ½", 2" and 2 ¼".
Parquet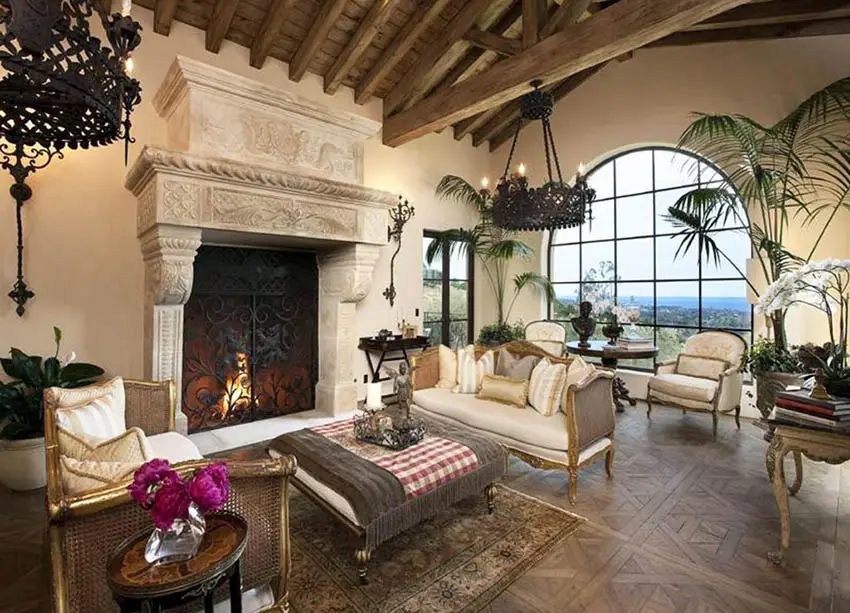 Parquet flooring is mosaics of wood put together to create a specific design or pattern. Parquet flooring is an atypical design from usual hardwood. This flooring type is made from geometric patterns that are held together by premade adhesives or mechanics. This is a very unique and creative way to add interest to flooring.
The most popular pattern is the herringbone. Although it is harder and takes longer to install, these floors are durable and low maintenance. However, there are instances when blocks of wood are unglued and pop out. These pieces just need to be glued back to the floor.
Engineered Hardwood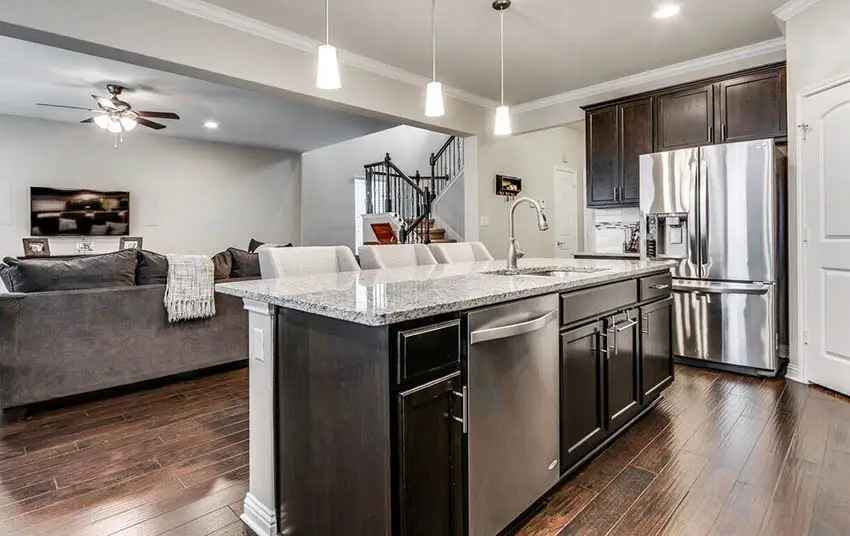 Engineered hardwood flooring is basically a bunch of layers of wood pressed together to create flooring tiles. There is a layer of true hardwood on the top and bottom surfaces that will give a very similar look to the real thing while still giving a better resistance to moisture.
This allows the product to be installed in almost any setting. In the picture above you can see how beautiful engineered hardwood flooring in the kitchen looks.
Solid vs Engineered Wood Floors
Solid hardwood flooring is a solid piece of a single species of wood from top to bottom and side to side. This type of flooring is roughly ¾" thick so it can be sanded and refinished over and over again. Due to its nature, solid hardwood expand and contracts depending on changes in moisture levels and temperature.
These types of flooring are recommended for rooms at ground level or above. It is not wise to use solid hardwood flooring in basements and bathrooms. There are numerous species of wood to choose from compared to engineered wood. These floors are extremely durable and hard making them a great investment.
Engineered floors are made up of solid hardwood or plywood with layers of hardwood veneer. Contrary to popular belief, engineered floors are made from real wood and not laminate. This type of flooring is easier to install.
There are less options in terms of wood species, but these floors are still very durable. They can be placed in moisture-prone areas like basements but problems should be checked for proper precautions.
Since engineered floors are thinner that solid ones, they can only be sanded and refinished a few times before the upper thin layer wears off. It is more practical than solids, but will not last as long.
When beginning the search or the perfect hardwood flooring there is a lot of information that needs to be gone through. A big takeaway is that solid hardwood flooring is the natural wood boards, while engineered hardwood is (as the name suggests) engineered to look like hardwood with a layer of real wood on top, but has added applications and is a less expensive than solid wood.
Acrylic Impregnated Wood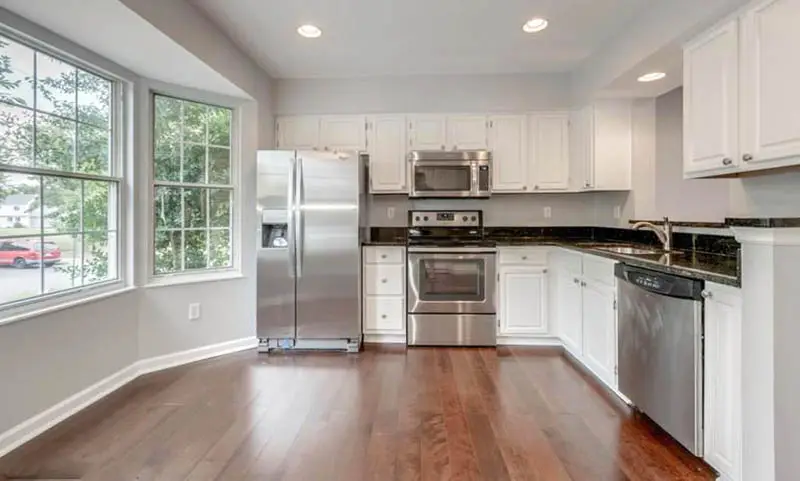 Acrylic impregnated flooring is a unique flooring that has the sealant and color infused throughout the wood. This is most commonly used for commercial projects due to its extreme resistance to moisture and abrasions.
Types of Wood Species
Scientists have documented over 60,000 species of trees in the world. Of course, not all of these trees can be used as hardwood floors. The most commonly used species of wood used for floors are tested for their quality and longevity.
Since wood comes in a large variety of species each type haves its own distinct look, feel and characteristics. Whether you're looking for a light wood such as maple, a medium color like oak, or a dark color wood such as walnut there are many kinds to choose from.
Each of these wood species has natural attributes that help signify its species. Common attributes are graining, patterns and knot holes which can help identify a type of wood and set it apart.
Here is our list of the most popular types of hardwood floors used for interior design today:
Oak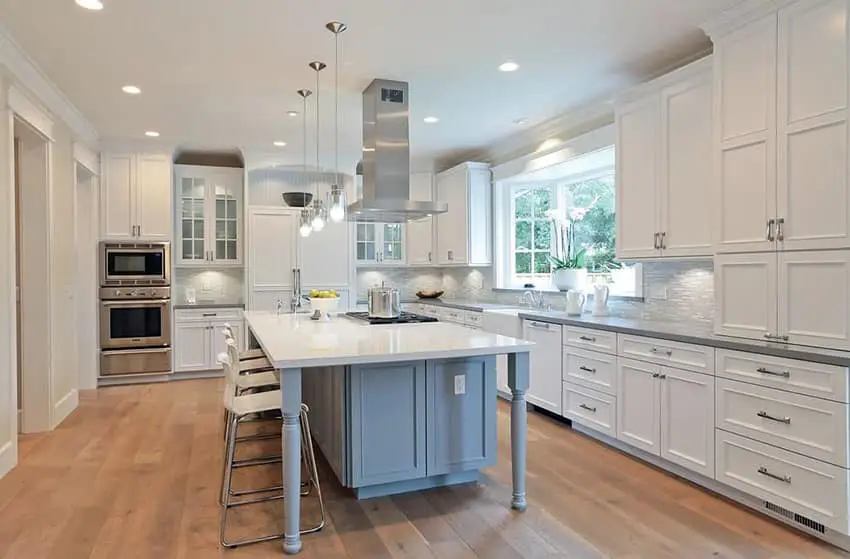 There are over 600 species of oak found all over the Americas, Europe, Asia, and Africa. They bear fruits known as acorns which houses nuts inside its hard shell. Their leaves and nuts contain tannic acid that protect them from fungi and insects.
This quality makes them one of the most popular species of wood used for construction: floors, beams, and frames. Oak is also used to make furniture, wine barrels, and musical instruments.
Oak wood is typically light brown with pinkish or grayish tints. Oak is readily available and a very popular choice as hardwood floors. Visit this page to see our oak hardwood flooring gallery.
Oak wood flooring is far and away the most popular wood species used for flooring for interior design projects. Oak flooring is a true a classic that has many pros. Oak is in between a soft and hard hardwood.
Mid-rating, mid-price, oak is a reasonably priced wood for the qualities it possesses. There are two main types of Oak flooring which are white oak and red oak. However, for the more exotic oak lovers there is imported European oak.
White Oak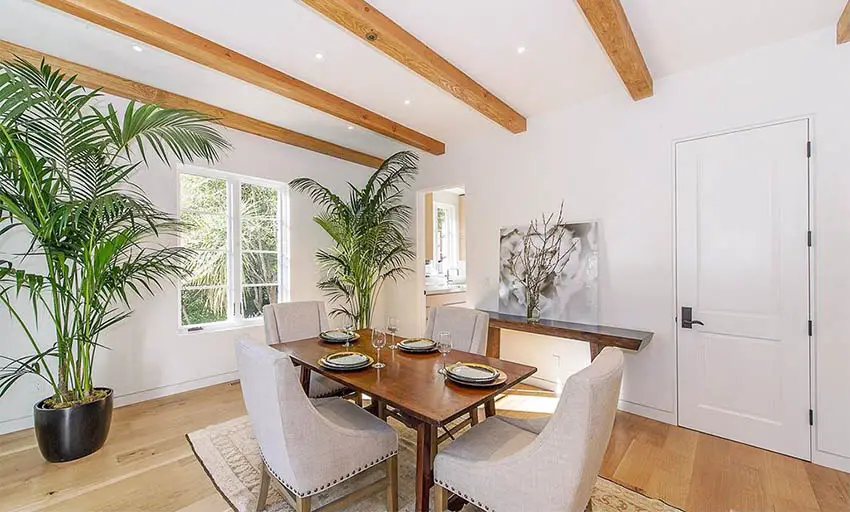 White Oak is a frequently pale brown in color with pink or gray hues, this is a color that is easily paired with different furniture pieces due to its paleness in color. It is rarer than red oak, generally straight grained and has medium to course texture.
Red Oak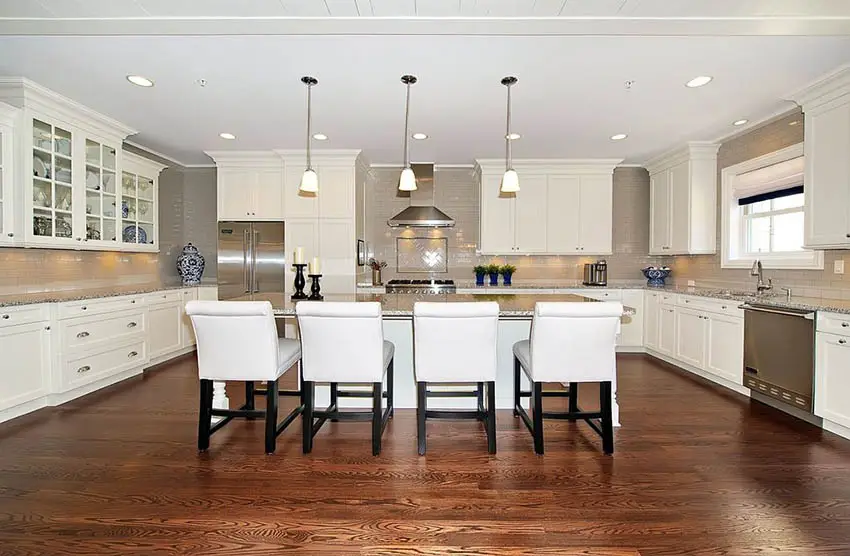 Red Oak is also a very light wood with an extremely traditional red hue, also making it easy to pair with other items. In terms of hardness the red species is slightly less hard than it white counterpart.
European Oak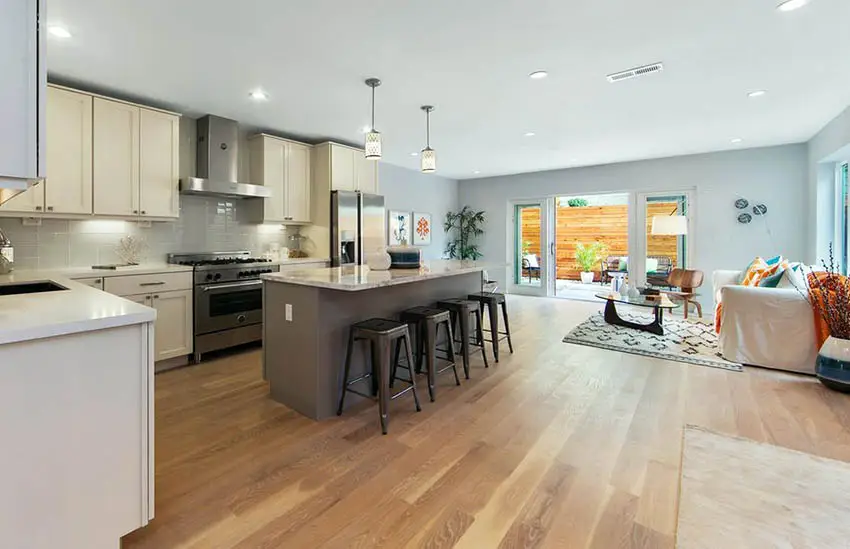 European Oak is generally imported from France or Germany and has a tighter grain than other oak species. The European process of cutting their oak ,called canting creates wider plank overall which typically range form 7″-10″.
Walnut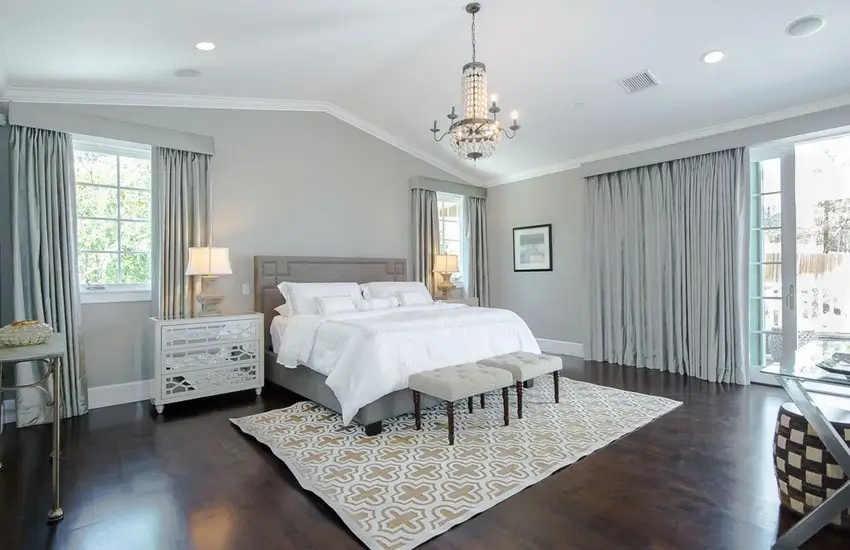 The walnut is a large and sturdy tree that is native to Central Asia. It is now widely grown across North America and Europe. Its wood is heavy, hard and open-grained. Walnut wood is considered high-end which is why it is often used for guitars, furniture and floors.
Its color varies from deep dark brown to purplish black. When used on floors, it gives a darker and richer feel to the house. Since this is a high-end type of hardwood, it is more expensive but it lasts a lifetime.
Pros of walnut hardwood are many, making it a popular flooring choice. Though there are multiple varieties of walnut wood, and it is known for its lavish brown color, with almost a purple hue. Walnut contains dark, swirling grains that add to the beauty of the natural wood. Visit this gallery page for more walnut hardwood flooring ideas.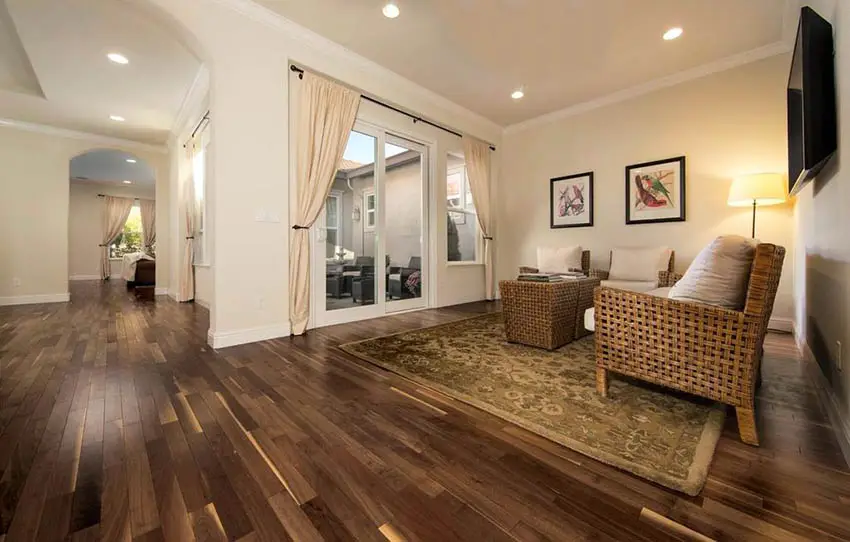 Walnut is also very light resistant. This means that it will not likely become sun-faded or sun-bleached and would work well in a room with direct sunlight, unlike some other woods.
Walnut is also a lightweight wood, meaning upper level installations are manageable. The wood does have a few cons though, due to all the pros it is a very expensive wood.
Walnut is not a durable wood, it is a soft hardwood, meaning heavy furniture or constant traffic could cause damage and wear to the wood.
Ash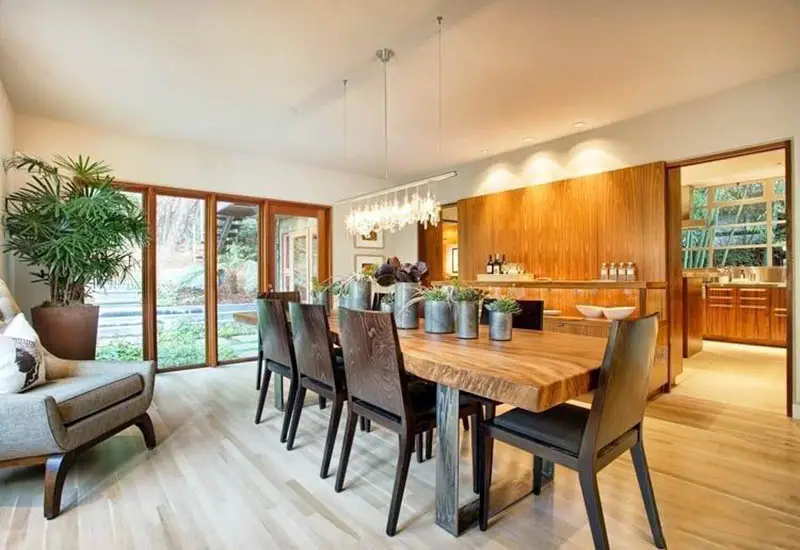 Ash trees grow across North America, Europe and Asia. They are usually medium to large trees that grow in subtropical climate. This wood is a favorite among woodworkers because it is hard, dense, and extremely strong but still very elastic.
Because of these qualities, ash wood is made into bowls, handles, and baseball bats. Commercially, the wood is also used for staircases, high-end guitars, and vehicle structures such as cars and aircraft. It is usually light to dark brown in color.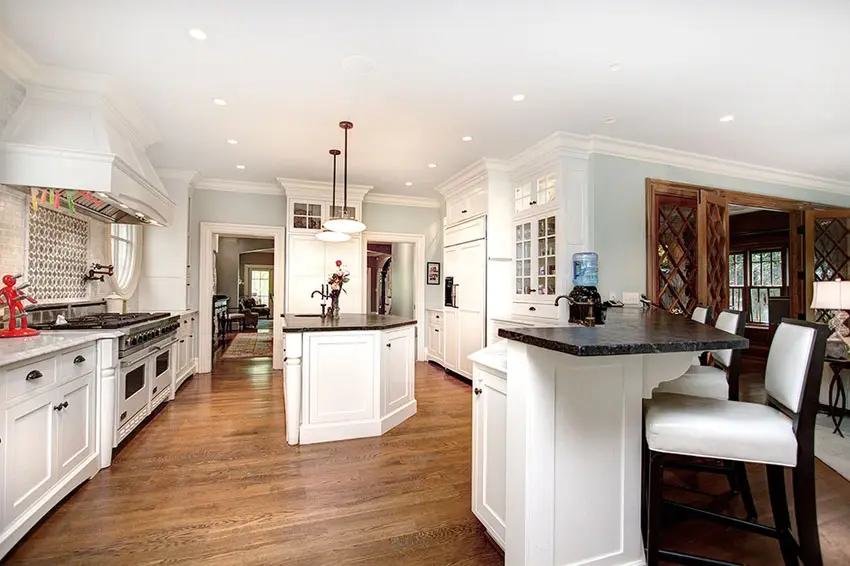 Ash wood has a lot of pattern to its grain, and is pretty light in color, it often has a white hue about it. Ash ranks somewhere in the middle on the hardness scale. It is durable enough to handle traffic but is not as hard as Hickory and gives a warm, comfortable feel.
Ash takes to staining well, so there are a variety of colors that you can choose this wood to be. The downside is that it is typically a light colored wood and will require maintenance as well as regular cleaning.
Mahogany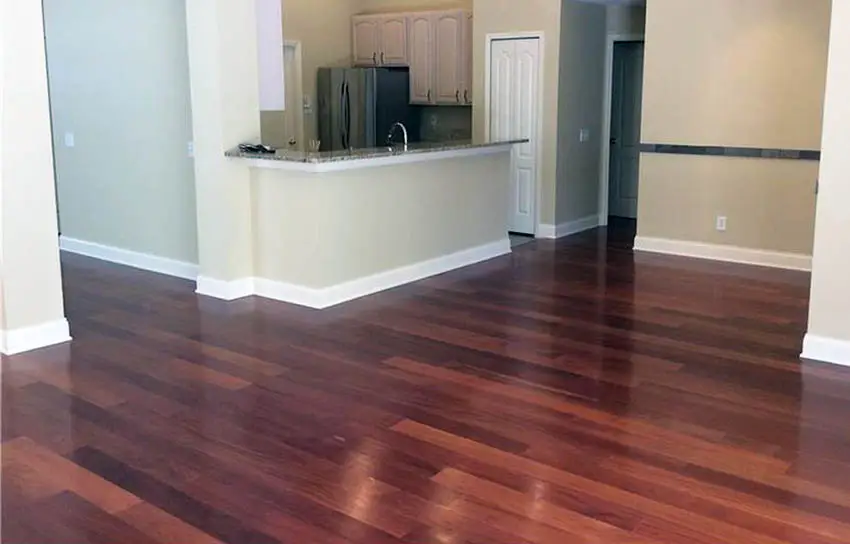 Pros of mahogany include its hardness, beautiful grains and color variety. Mahogany is harder, more stable and durable than both types of oak with a Janka hardness rating of 2200. Mahogany comes in all sorts of hues from orange to dark brown with a constant color of medium brown through pieces.
The colors or mahogany become darker and richer as time passes and the wood is exposed to the light. The grain of mahogany is that of wavy striped grains. Mahogany is an expensive material due to these qualities and it needing to be imported.
Hickory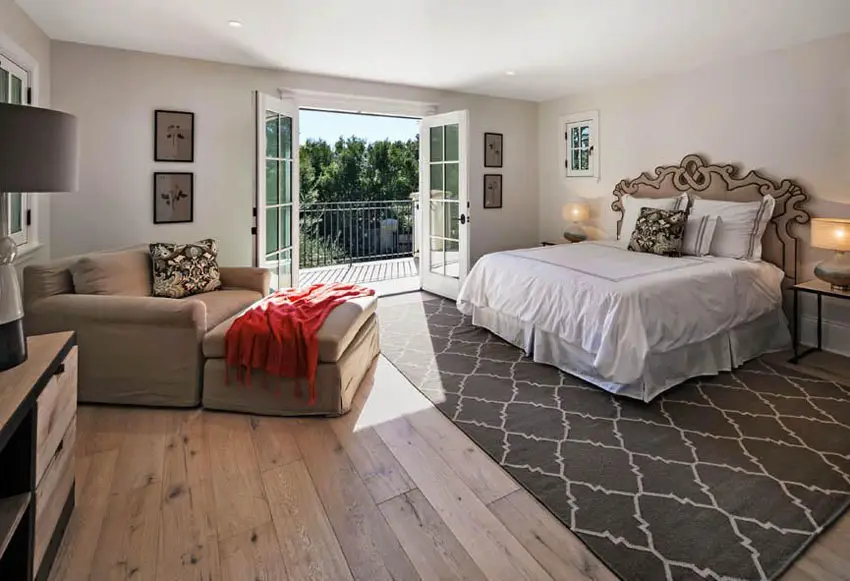 The hickory tree has about 17 to 19 species spread out over Asia, North America, Mexico, and Canada. Hickory wood is popular for being shock resistant, stiff, and dense.
There is a wide range of commercial use for hickory wood: tools, musical instruments, and sports equipment. Their wood is durable to resisting wear and character which makes them a good choice for flooring.
They are usually reddish brown in color. Hickory is harder than oak wood, but they are not popular for their resistance.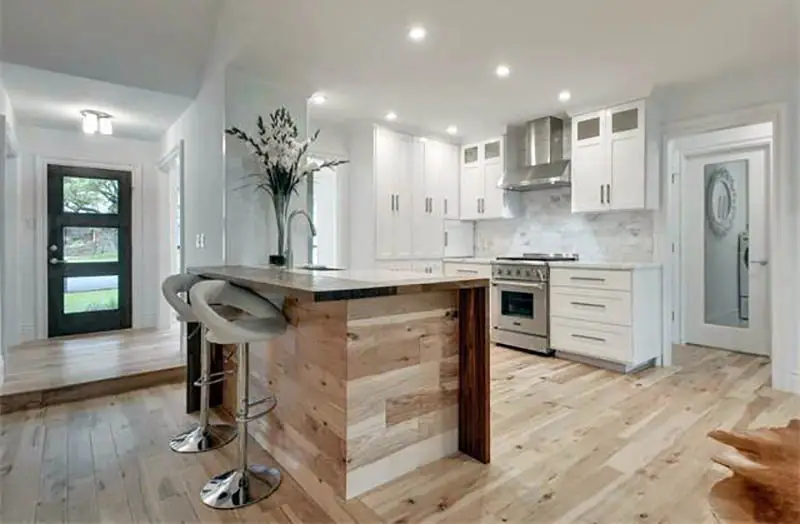 If properly maintained Hickory's biggest pro is its extreme durability. This wood can last a lifetime if taken care of. Hickory has a very distinct, dramatic grain and is commonly seen in a light reddish-brown and medium tan color, it is also occasionally available in a very light brown.
A con to this highly beautiful and hard as nails flooring is that it is on the expensive end for flooring, especially due to installation costs.
Maple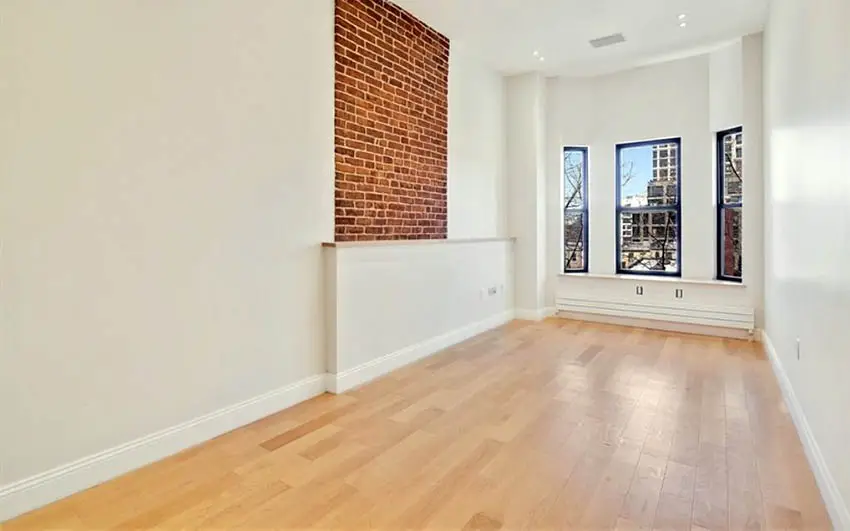 With over 128 species of maple hardwood, its leaf is popularly recognized on the Canadian flag symbolizing strength and endurance.
The majority of the species is native in Asia, but a variety of species are found across Europe, northern Africa and North America. Aside for its wood, maple trees are widely used for maple syrup derived from their sap.
Maple floors are not colorless or characterless. The wood is fine grained, of close, even texture, and should be treated with a filler only when a wax finish is to be applied. – Sweet's Catalogue of Building Construction, 1915
Maple wood is used to make baseball bats, bowling alley lanes, butcher blocks, pool cue shafts and archery bows. Commercially, maple wood is used for floors and furniture. It is usually creamy white to light reddish brown in color.
Although maple originated from Southeast Asia, maple flooring is readily available in most stores. It is a popular choice due in large part to its natural beauty and high durability with a Janka hardness score of 1450 for the hardest types.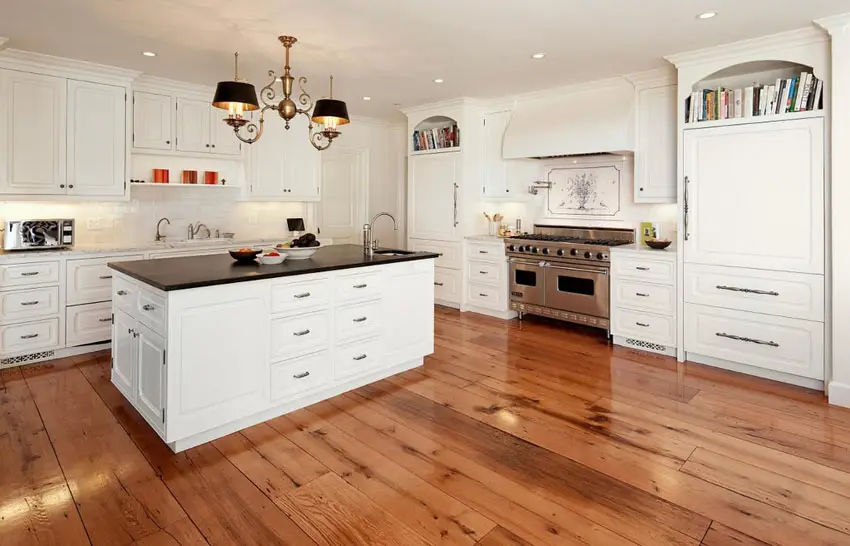 Pros of maple are how very different it is from other wood. This is due to its unique grain and uniform texture. This is a light-colored wood as well, all three factors making it an appealing option to hardwood floor buyers.
Maple is also a very durable wood that can handle heavy furniture as well as is pretty resistant to scratching or scuffing. Maple is also easy to stain, and is commonly stained to look like other, more expensive looking woods.
The only con there really is that when stained it needs to be properly sealed to avoid blotching. The price on maple is extremely affordable.
Birch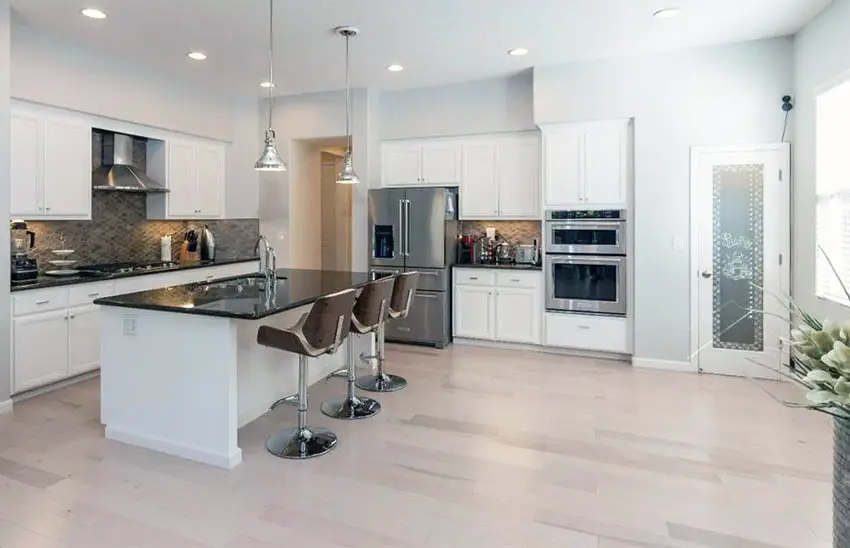 Birch is a hardwood tree with thin leaves that is closely related to the beech-oak family. They grow in the northern hemisphere and subarctic climate spread out over Europe and northern Asia.
Due to its hardness, birch wood needs power tools to shape them. The wood is commercially made into plywood. Birch tree extracts are transformed into leather oil and turned into soap and shampoo. Its leaves are made into tea.
Native Americans used birch wood to make into canoes and bowls due to its waterproof feature. Speaker cabinets use birch wood specifically for its natural resonance. Its wood is usually light or yellowish in color.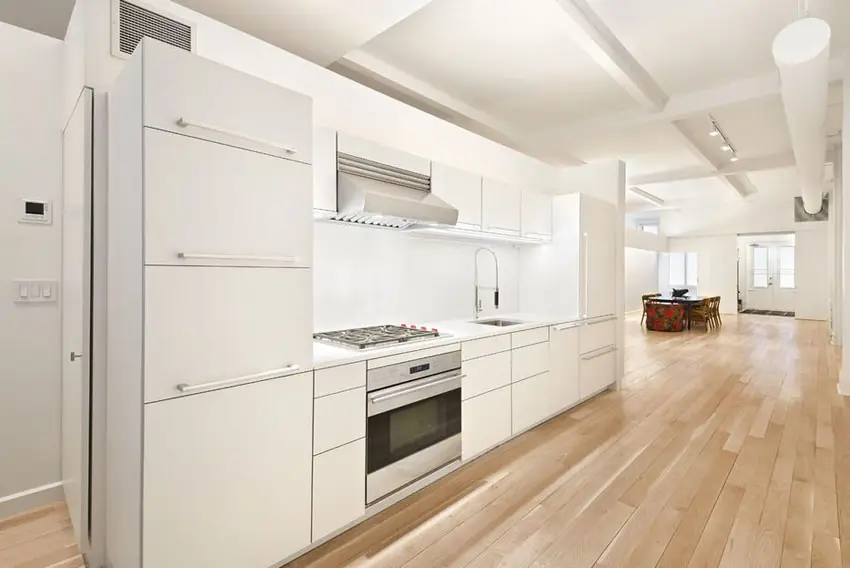 Pros of Birch hardwood includes its basic wood grains, its light white & yellowish color, as well as its ability to stain. This allows for a variety of colors and looks for the wood. Cons include that due to it being a softwood, it does scratch and dent easily.
Unfortunately birch also susceptible to moisture, meaning it will contract and expand, making it unstable. Birch is an affordable material and as long as care and thought of placement are taken then birch can be used in a home.
Teak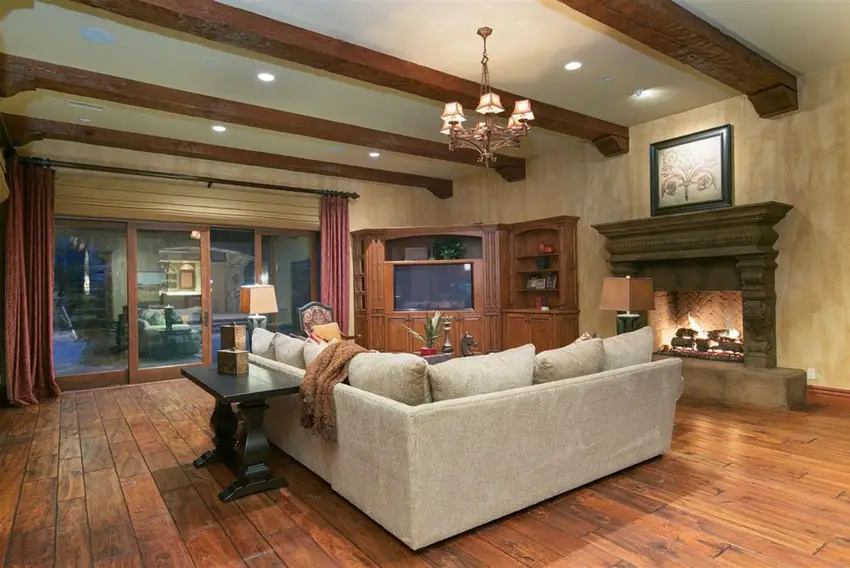 The teak tree is a large tree that originates from south and southeast Asia. It is sometimes referred to as "Burmese Teak". When the wood is freshly cut, it sends out a leather-like smell.
Its wood is yellowish brown and turns dark brown as it ages. Considered as hard wood, Asians have been using them for construction, boats, furniture, and carvings.
Teak wood is durable and water resistant. Many Asian houses have teak wood as their outdoor furniture, boat decks, indoor flooring, countertops, cutting boards, doors, window frames, beams and columns.
Because they are water resilient, they are most popular for building boats. (Visit this page to get more details about teak wood flooring)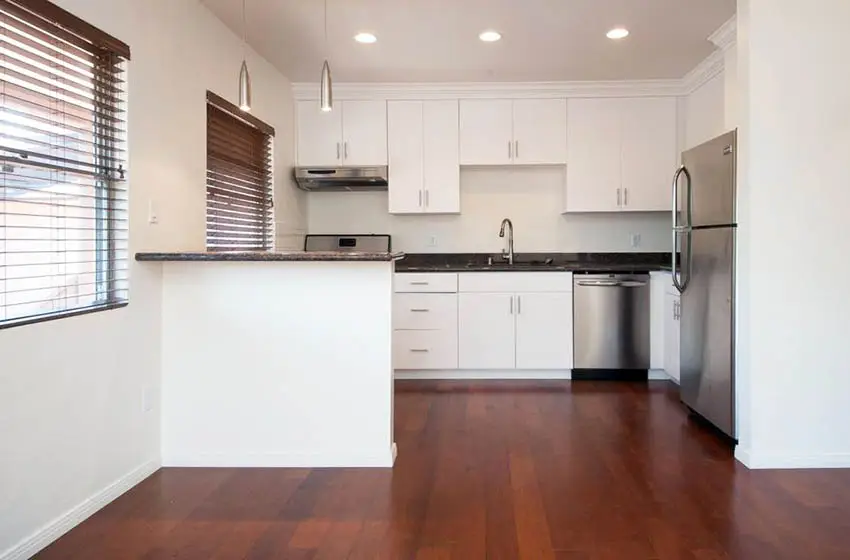 As mentioned teak is a highly durable wood, in fact it is one of the hardest. Another great pro of teak is that when left unsealed it will hold its natural oils and age beautifully as the time passes. If that's not the case it still takes to stain and sealing to keep the same great color.
There are a few cons when it comes to teak, it does require a bit of maintenance as well as buyers need to be aware of where they are purchasing this material. Teak is an extremely expensive wood due to needing to buy from a FSC certified teak dealer.
Some retailers will use teak from the endangered species which is a great danger to the plant. This product is not made in the United States; therefore, costs are driven up again by the cost to import the materials.
Bamboo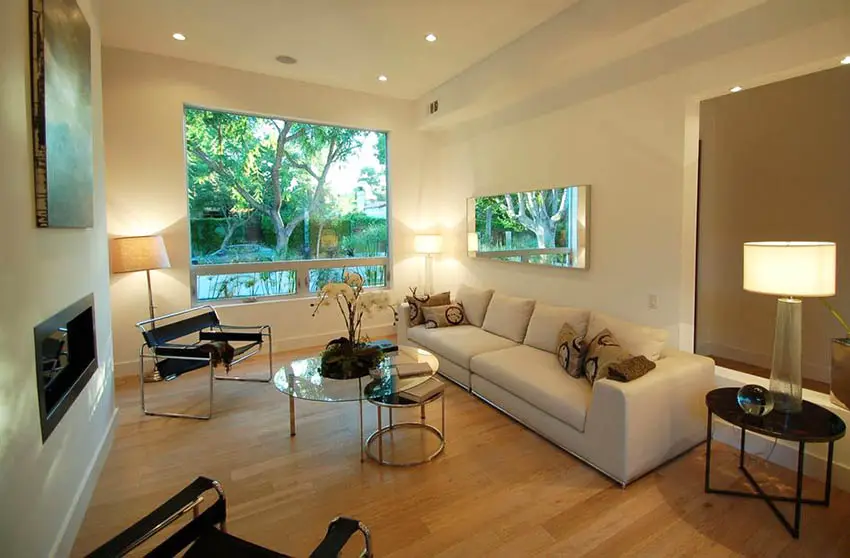 Bamboo is actually not a real wood, but a grass, sliced and pressed together to make planks. Due to this, a bamboo floor typically has a uniform vertical striped look.
There are other types as well, such as horizontal and strand woven, which become more expensive with level of intricacy. To change the original light color of bamboo it must be carbonized, which will make the flooring softer.
A downside to bamboo is that it is another product that is not often manufactured in the US meaning that it could potentially have toxic VOCs and shipping overseas contributes to the carbon footprint as well as adding to the total price of the material. Read more about the pros and cons of bamboo flooring here.
Cherry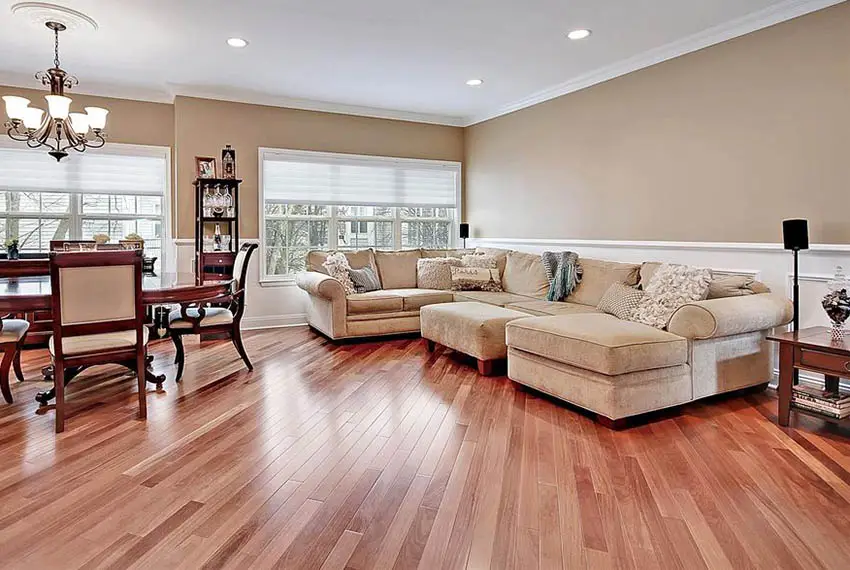 There are different varieties of cherry wood, but the most commercially used is the American cherry. As its name dictates, it is native to North America. Its wood is popular among woodworkers because it is a well-rounded species.
It is easy to manipulate and looks beautiful so it is often used to make cabinets and furniture. It is usually light to dark reddish brown in color. It holds stain and glues very well and also more affordable that other species of wood, which makes it a popular choice for furniture and floors.
Pros of cherry wood and some of the reasons it is one of the most popular species has most to do with its visual beauty. Cherry wood comes from cherry trees but ironically the most popular color of cherry wood comes in red hue, sort of like cherries.
Another beautiful quality of cherry wood is its grain, which is typically a tight and wavy pattern. An interesting thing to note is that American cherry is a pretty softwood with a hardness rating of 950. However, it still does a good job maintaining dimensional stability. Visit our gallery of cherry wood flooring for more ideas.
Brazilian cherry hardwood is also called Jatoba and is highly sought after for quality flooring with a much higher hardness rating of 2820. This type is one of the most popular of the exotic hardwoods used for flooring.
There are a few cons for cherry wood to keep in mind, cherry can easily be damaged by sunlight due to its low photosensitivity. To avoid sun damage, it is recommended this wood be installed somewhere where it will not get direct sunlight.
Over time with exposure to sunlight cherry floors will become darker. Price wise, cherry is on the higher side.
Pine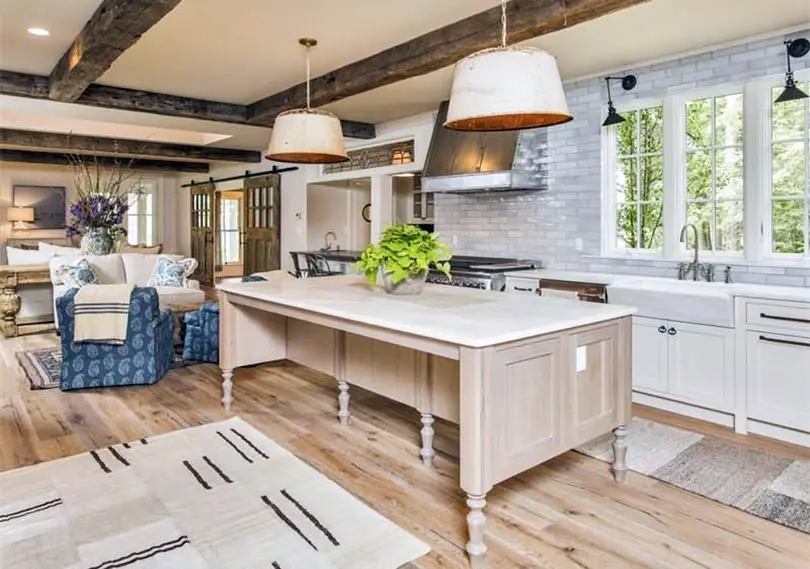 Pine is one of the traditional types of hardwood floors commonly used and is rich in color, easy to stain, and has a great grain with knots.
Pine is also and environmentally friendly option due to the vast amount of pine trees available. Another great feature about pine is that is ages phenomenally, changing appearance over time.
The only real downside it that pine is on the softer side of wood so is susceptible to dents and scratches, therefore requiring more maintenance and care over time. Looking at price though, thanks to the abundance is one of the most affordable wood available for hardwood flooring.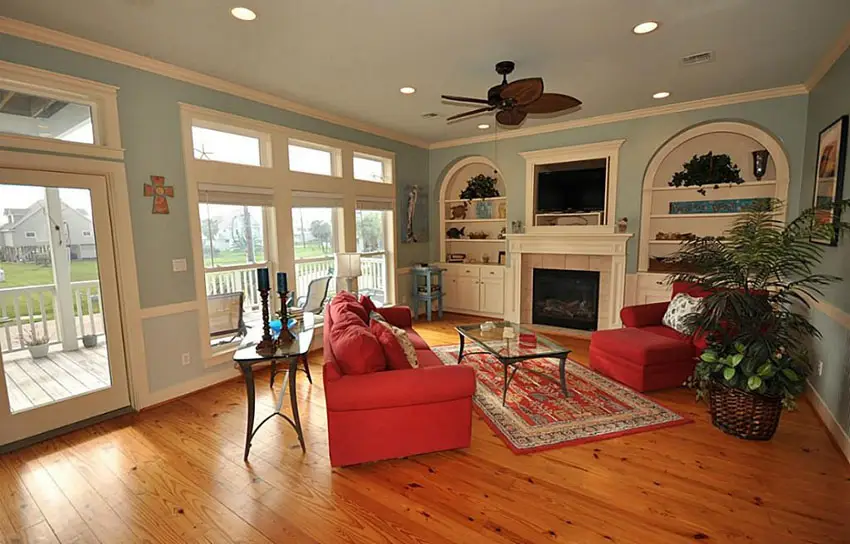 Heart pine is the term used to call the beautiful wood of the pine tree. Woodworkers love to use this species of wood for its strength, durability, and reddish gold color.
The pine tree is native to North America. Because of its qualities and requires 30 years to grow, the pine tree is not readily available.
Deforestation and over harvesting since the colonial days have greatly impacted the pine tree. Right now, only 3% of the original Longleaf Pine tree forest remains in the United States.
Cypress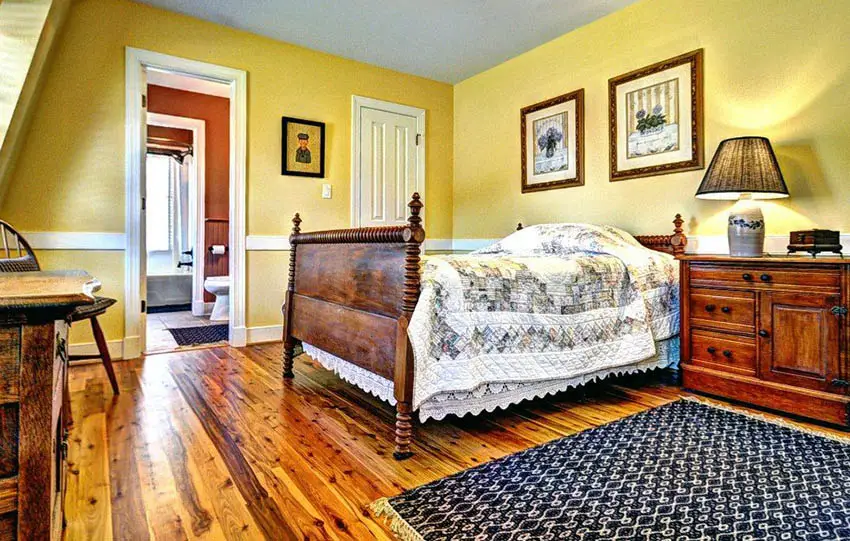 Cypress is a certain species of pine, giving it many of the same qualities. The main difference is that cypress has earthier tones. This makes it easy to pair with any other wood.
Cypress also has more knots and swirls in its grain, hiding more of the scratched and dents that are sure to come due to the softness of the wood.
Beech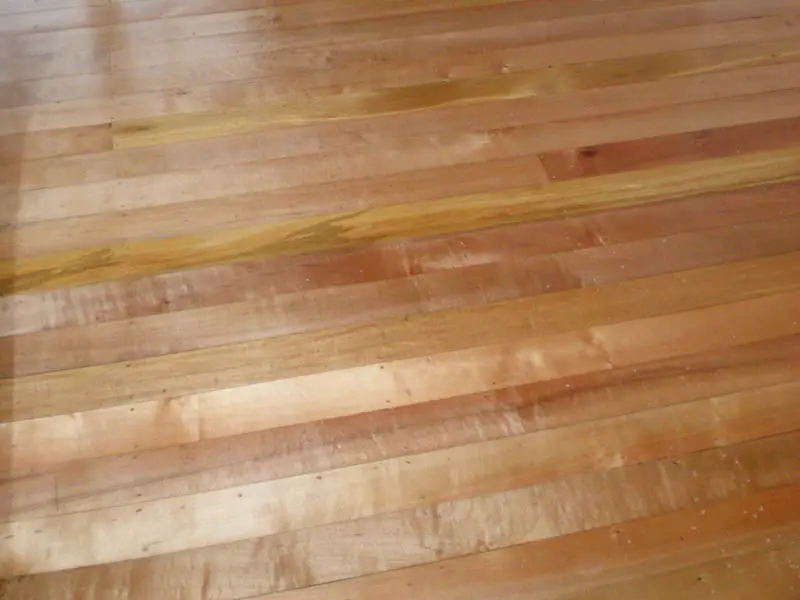 Some pros of Beech wood is its great finish when it is stained and polished. Compared to Red Oak wood, Beech is right below it on the hardness scale, putting it on the middle of soft and hard wood.
Unfortunately, this means that it will require some upkeep, but that is the price you pay to keep the price low. The price of beech wood is right below maple, being extremely affordable.
Douglas Fir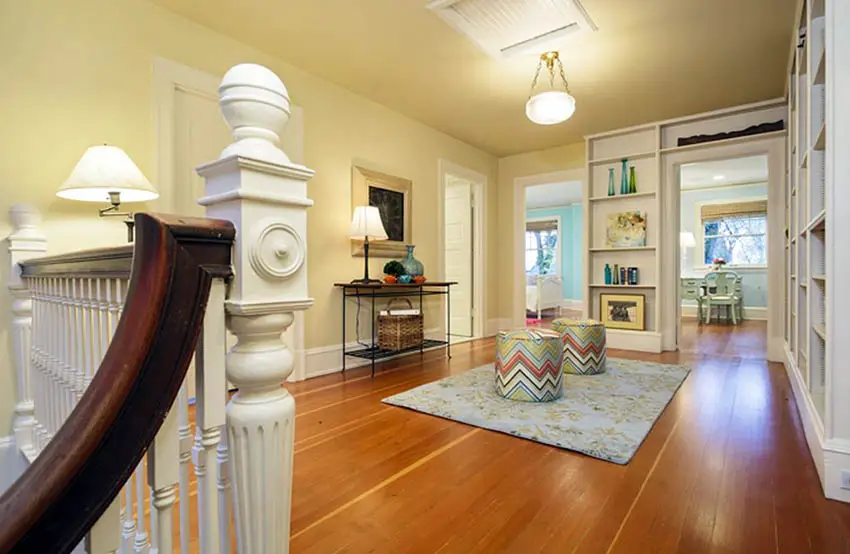 This tree is native to western North America. It is known for being a large tree. In 1995, a Douglas fir tree was named the second largest in the world trailing behind coast redwood. This species was named after a Scottish botanist David Douglas who was the first to report on their extraordinary features.
Douglas Fir is a warm wood that is rich and color and often is used in traditional designs. All the pieces of Douglas Fir will be extremely similar if not identical.
This wood will be a orange-brown color to light yellowish color with a straight grain. It is commonly used as lumber and plywood. The pieces will be very long due to the height of the trees.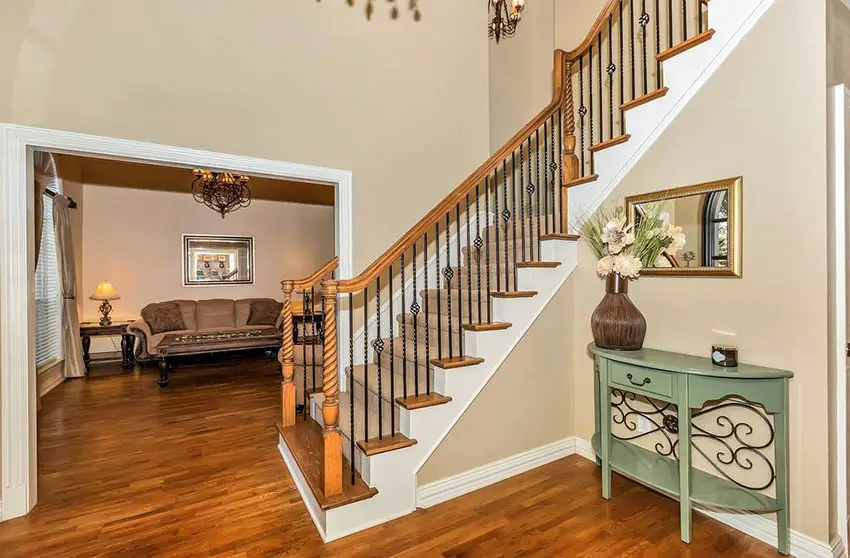 A large con of the Douglas Fir is it is one of the softest hardwood flooring available with a U.S Janka rating of 660. This means it will be damaged easily and will require regular maintenance and upkeep. Due to this Douglas Fir is a very lowly priced wood for flooring.
Hardwood Cost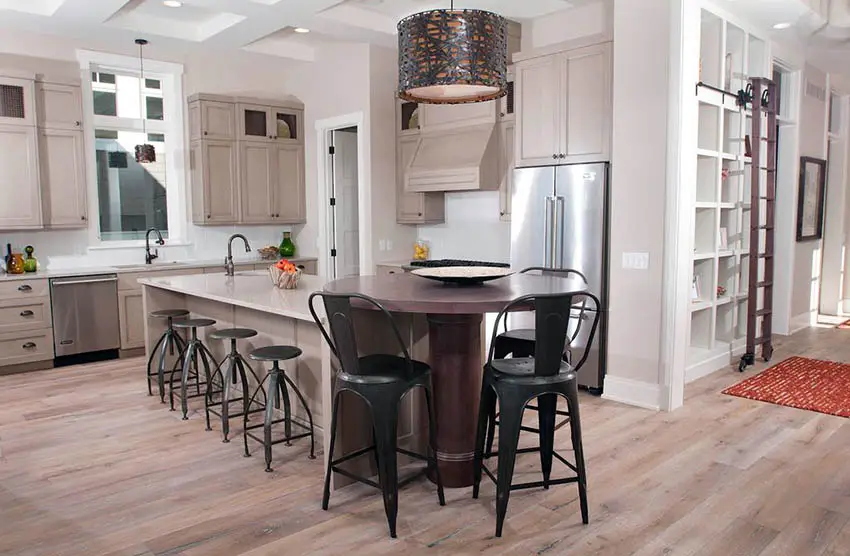 When thinking about the cost of the flooring materials that need to be purchased remember that this is just a guide. Prices will vary based on availability, place of purchase, quantity, sizes, thicknesses, and location of use.
Check your your local flooring company for exact prices in your location. Below is an estimation of how much each flooring type typically costs.
Hardwood Price Guide
White Oak – DIY install: $8- $12 per square foot. Professional install: $12- $15 per square foot.
Red Oak – DIY install: $7- $9 per square foot. Professional install: $11- $14 per square foot.
Walnut – DIY install: $11-$13 per square foot. Professional install: $15- $17 per square foot.
Ash – DIY install: $6-$9 per square foot. Professional install: $7- $10 per square foot.
Mahogany – DIY install: $8- $14 per square foot. Professional install: $14- $16 per square foot.
Hickory – DIY install: $3- $5 per square foot. Professional install: $5- $8 per square foot.
Maple – DIY install: $11- $13 per square foot. Professional install: $15- $18 per square foot.
Birch – DIY install: $9- $12 per square foot. Professional install: $13- $16 per square foot.
Teak – DIY install: $10-$13 per square foot. Professional install: $12- $17 per square foot.
Bamboo -DIY install: $2-$6 per square foot. Professional install: $4- $8 per square foot.
Cherry – DIY install: $14- $ 18 per square foot. Professional install: $18- $23 per square foot.
Pine – DIY install: $3- $6 per square foot. Professional install: $5- $8 per square foot.
Beech – DIY install: $5- $8 per square foot. Professional install: $8- $10 per square foot.
Cypress – DIY install: $5- $8 per square foot. Professional install: $8- $10 per square foot.
Douglas Fir – DIY install: $2- $5 per square foot. Professional install: $5- $7 per square foot.
Cost to Refinish Hardwood
One of the best parts of hardwood flooring is their lengthy life, but to keep the wood going strong they will need to be refinished at one point or another. The frequency will depend on the care you take of the floors as well as the amount of use they get.
Depending on the quality of floor and floor finish left of the flooring before refinishing will be a large determination factor when it comes to refinishing hardwood flooring.
Typically. A refinish job will run you anywhere from $2 to $5 per square foot to refinish the floor.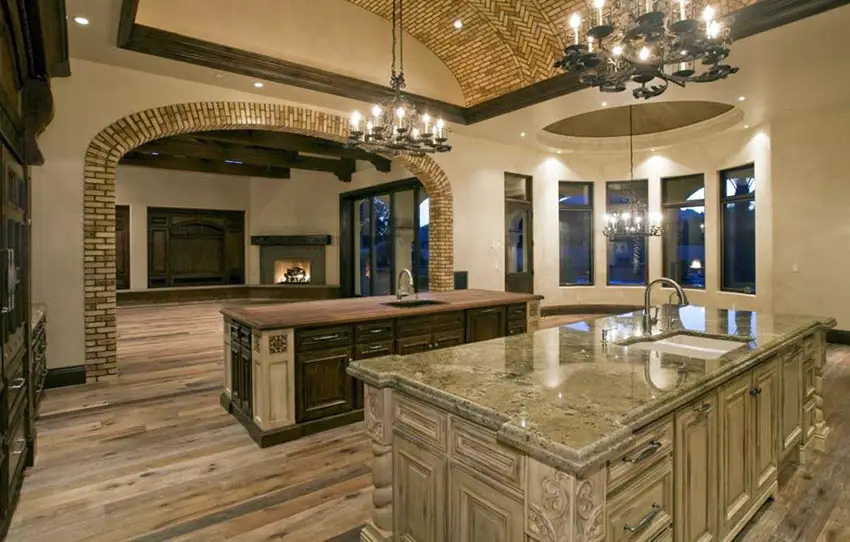 Hardwood Grain Patterns
The appearance of hardwood floors depend on how the wood was cut and the characteristics of the grain depending on its species. When choosing hardwood floors, this is the first thing that buyers consider. They want to make sure that the floors will match the look that they want for specific rooms. First impressions are indeed important.
When choosing the hardwood flooring for your home a large factor will be the grain of the wood. One option is a smooth grain, this offers a very low texture that is one of the most popular wood grains for hardwood flooring.
Smooth grain gives a smoother, softer feel without too many hard bumps. Another option is an open grain, this is commonly found with oak and hickory woods. These woods have larger pores, making it more visual in the grain.
When cutting the wood it also cuts the pores creating rifts and valley to the piece of wood in contrast to the smooth grain. Each piece completely unique based on how the wood lived. Another choice could be an echo grain, which is a knot with an 'echo' of the shape repeated in larger forms outside of it.
Hardwood Board Sizes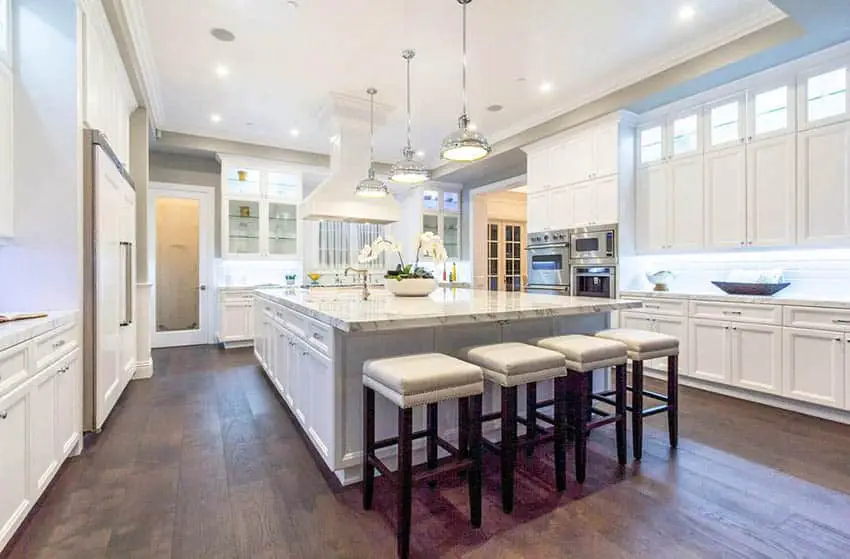 The selection of the width of hardwood flooring boards is essential to the atmosphere you are trying to create. Wider boards will be better for larger, more open room, but will not be as beneficial in smaller areas, as well as the opposite of smaller boards making a smaller room look a little larger.
Typically, there are only a few width selections being strips and planks. Strips are boards under 3" (usually 1 ½" – 2 ¼") while planks are over 3" (usually 3"- 8") wide. There are other options available as well including but not limited to: parquets squares, rectangles and squares.
Another option is wide plank floors which usually measure up to 10″ in width. In addition to being wider these types of wood planks also tend to run longer in length. Wide plank floors that are longer and wider can cut down on the amount of seams by up to 80% over regular sized boards.
Darker shades of wide plank flooring is a good choice for more traditional style rooms. While lighter color wide plank floors are suited for a more contemporary or modern interior design.
Hardwood Grades Used for Flooring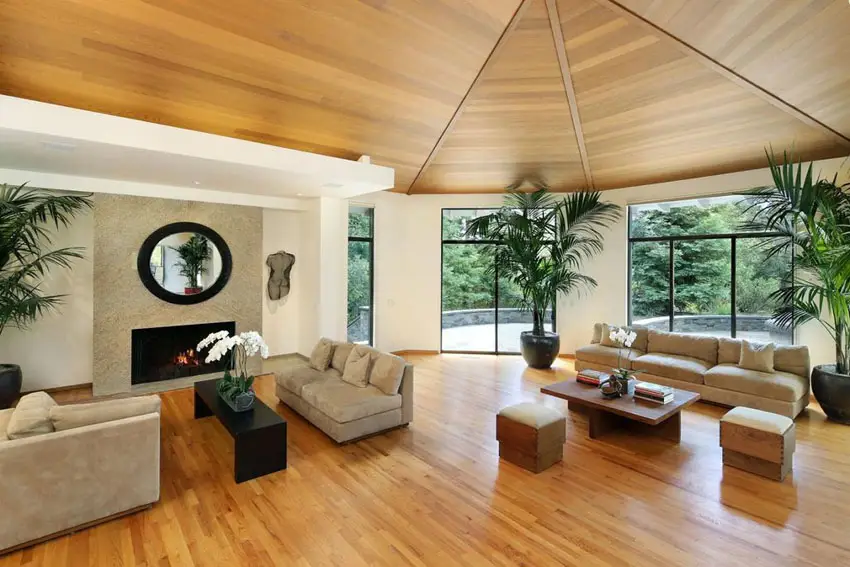 The grade refers to the actual appearance of the wood. When wood is being graded, these are the features being taken into consideration: the number and size of knots, the amount of sap present in the wood, and the color variations found.
Simply put, the smaller the knots, the less amount of sap, and the more uniform in color, the higher the grade is and thus higher in terms of price. Visit our page about the cost of wood flooring for more information about price differences between different types of hardwood floors.
Commonly Used Hardwood Grades
Clear grade, select and better, #1 common, #2 common and cabin grade. These factors can only be used in regard to solid hardwood flooring.
Engineered hardwood flooring does not use a grading system, they go by more of a product name and brands, each will be put into categories based on their veneer, finish and milling.
Clear Grade
Also known as prime grade, this is the highest grade of wood flooring. The characteristics of this grade include minimal knots, grade is uniform in appearance, and the sap content is very low. It is cut from the very center of the log. It has minimal color variation so it looks uniform overall.
Select Wood
Also dubbed as ABC grade, select wood is the second highest grade. The characteristics are a few knots, some sap amount, and some color variation. It has minimal streaks and natural color variations.
Number 1 Common
Other names associated with this grade include low select grade, natural grade, and ABCD grade. The wood has bigger knots, more color variation ranging from light to dark, mineral streaks and wormholes. This grade is only available on a accumulations basis as a small percentage of the grading when trying to produce clear wood or prime grade.
Number 2 Common
Also known as rustic grade, there is a larger variation on color, sap amount and number of knots. It shows a very natural and traditional vintage look.
Unfortunately grade is a varying standard, based on each manufacturer or different associations. Most standards are based on how the floor looks versus its serviceability.
This means that even if the flooring is a higher grade does not mean it will be a higher quality product, just a different visual appearance.
For example, whether a piece of wood has more mineral streaks, more color variation, or character marks will change the grade. This happens due to the way the wood was cut whether it be plainsaw, rift or quartersaw. Grades can also distinguish the length of the boards, lower grade as shorter boards and higher to longer.

Hardwood Cuts
Just as the name indicates, cut refers to how the lumber is cut from the logs. This is important because it determines the figure in a piece of hardwood.
It also defines the orientation of the growth rings on the end grain and determines the type of lumber. There are four different types of hardwood floor cuts: plainsawn, quartersawn, riftsawn and livesawn.
Plainsawn
This is the most common cut of lumber. It is also called flat sawn. It is also the least expensive cut. The results show a cathedral pattern on the face of the board.
Quartersawn
This cut is more expensive than plainsawn, but it has a beautiful straight grain pattern. Its name is derived from the fact that the wood is sawed at a radial angle into four quarters.
Riftsawn
Out of all the cuts, riftsawn is the most expensive and the least common. It is similar to quartersawn without the ray flakes, and it is even used to compliment it. The method to produce riftsawn is considered wasteful which is why it is priced high compared to the other cuts.
Livesawn
This cut is a combination of plainsawn, quartersawn and livesawn. The logs are sliced directly without turning the log. Unlike the other cuts, livesawn utilizes the entire log so there is no waste. This cut lasts a lifetime and look more natural.
Popular Wood Colors for Flooring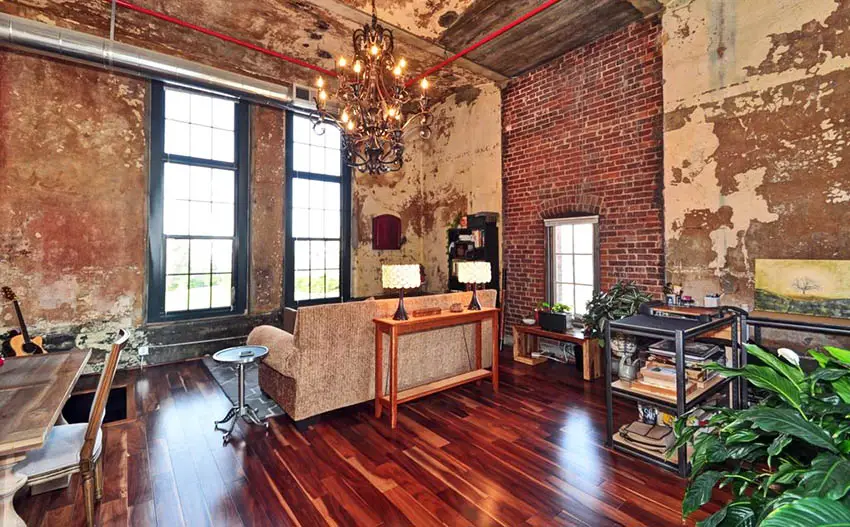 In the category of types of dark hardwood floors there are these available: Walnut is full of dark rich colors with a purple hue. Wenge is a color that is nearly black, use when needing to add a dramatic contrast. Other dark woods include: rosewood, acacia and teak.
There are also many types of light hardwood floors: Oak is one of the main light hardwood floors including both white oak and red oak, white oak is heavier and denser while red oak is naturally redder and has stains of many colors.
Yellow birch is typically a creamy yellow but can vary anywhere from there to a light reddish brown color. Other known light colored hardwoods include: ash, beech, hickory, maple and bamboo, further descriptions can be found above.
Wood Finishes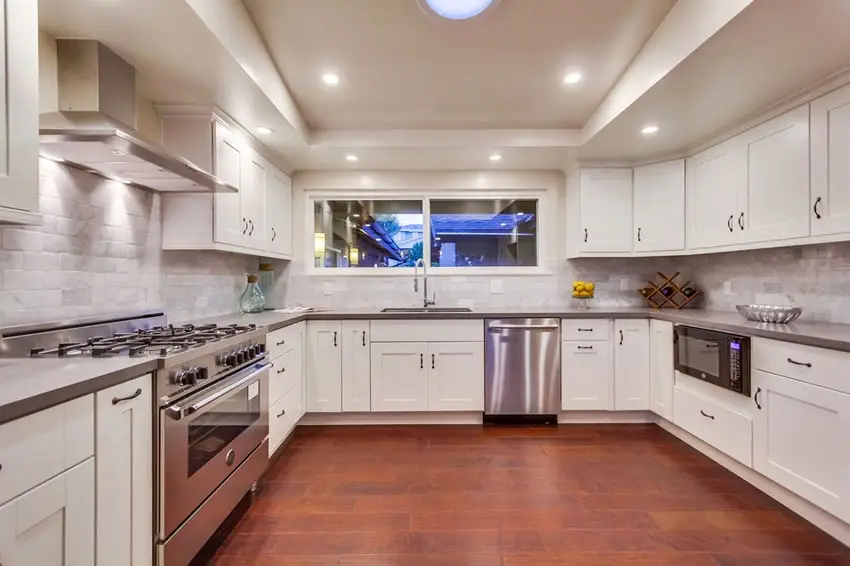 The two primary wood finishes are unfinished or prefinished. Wood finishes basically details how they come from the manufacturer. Not to be confused with surface finishes, which we will cover in more detail below.
Unfinished Floors
Unfinished hardwood flooring means that the wood is in its raw form. The floors will be sanded and finished onsite. The advantage of using unfinished hardwood floors is you can bring different options of stains to match the room and decide on what works best.
Unfinished hardwood flooring is one of the smoothest flooring options that can be chosen because after it is installed it is immediately sanded, causing all boards to be the same height.
They are also more affordable and more flexible in terms of what finish you want. You can choose the best quality of finishes to make the floors look amazing.
For large construction projects, a lot of contractors prefer to finish the floors towards the end. This way, they don't need to take extra precautions when hauling in equipment or materials in and out of the site.
The disadvantage is that it may take days or weeks before the floors can be walked on because they need time to dry. In the meantime, the site will also smell of solvents that were spread out on the floors.
Unfortunately, unfinished flooring can become a time consuming task, as it can take days to install, sand, stain and finish the wood, especially waiting for the floor to dry and avoiding any toxic fumes the process could emit. This can be a cost savings method especially if you plan to do the staining and sealing as a DIY project.
Prefinished Hardwood Type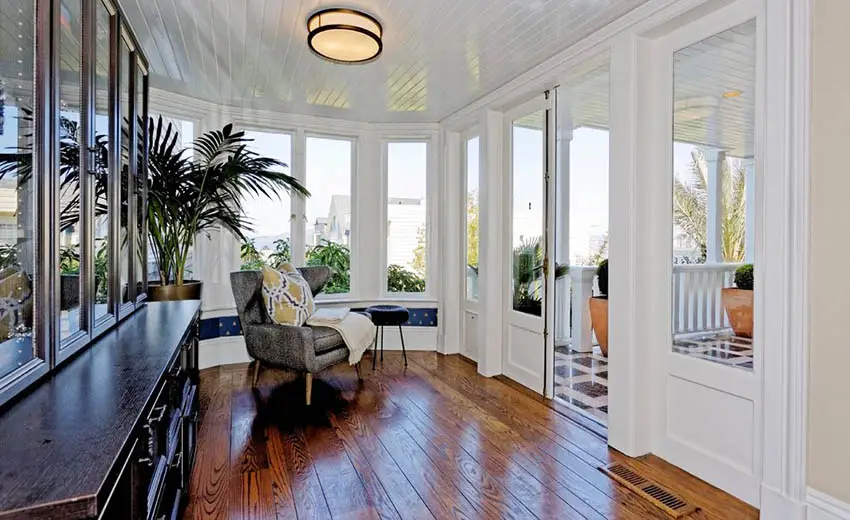 Factory finished hardwood floors are already finished by the manufacturer. They are easier and faster to install because there is no need to sand or finish them. Once installed, the floors can be walked on immediately.
However, they are more expensive because they are all set for installation. Most installations can be finished within the same day depending on how big the site is.
There are no issues with moving in furniture right after installation. Since they are finished at the manufacturer's, there are no undesired vapors that can be smelled once installed.
Prefinished hardwood flooring will have a quicker installation due to taking out the steps of coloring and sealing the product. Another plus to prefinished wood is you know the exact color it will be when you pick it out, versus waiting to see if you used the right amount of stain or whatnot. This will help when needing to coordinate the rest of the finishes for the home.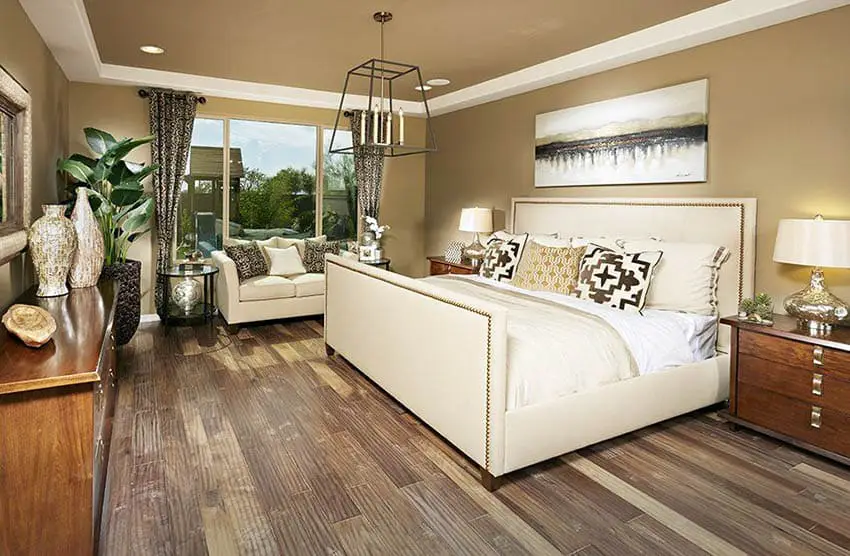 What is Hand Scraped Hardwood?
Before the era of engineered flooring, hardwood floors were all done by hand. Hand-scraping the hardwood floors is a technique that made sure the planks are even and gap-free.
Traditionally the blade of a drawn knife is used to scrape the wood into smoothness. Because this is done by hand, it is the most expensive option and requires an experienced hand.
This technique showcases the natural look of the wood and hides any minor blemishes. This is a perfect option for rooms filled with activity.
Hand scraped hardwood flooring is meant to give a distressed look to the wood flooring. This unique flooring is purposely made to look old and worn. Typically, the floors are not actually scraped by hand, but by a machine.
Some is still done by hand, but it will be a costly choice, but you will be paying for the uniqueness of the pieces of wood. This method can be done on both solid or engineered flooring types.
Distressed Finish Wood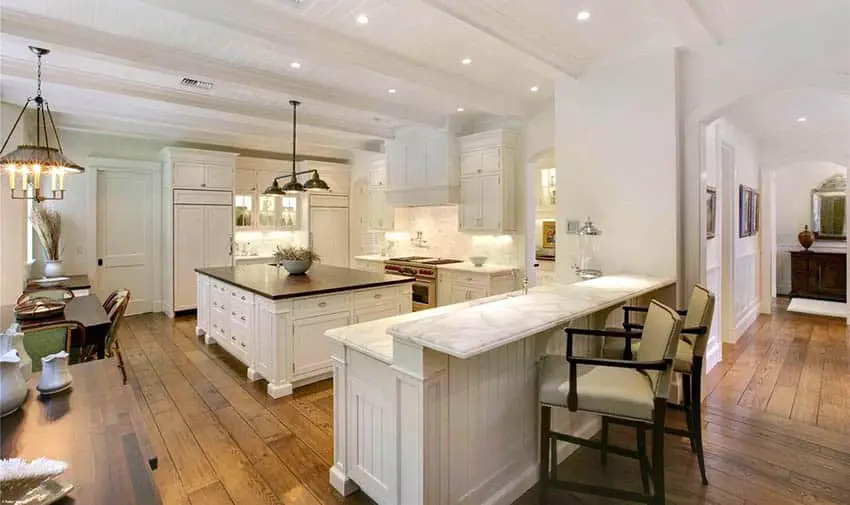 A distressed finish is achieved by deliberately roughing up the appearance of the wood surface by hand to give it a worn and aged look. Some woods can be distressed easier than others. Less dense woods such as pine, oak and some types of bamboo are good candidates for distressing.
Stay away from denser woods such as Brazilian cherry or maple as these do not take to the process as well. Once wood is distressed you can stain and polish it to protect it and keep it looking beautiful.
Distressed wood flooring is a great way to achieve the look of reclaimed wood without paying top dollar. Wide plank distressed wood floors are available for those who want a more traditional look. In addition distressed wide plank flooring can help create the illusion of a bigger space, and showcase the characteristics of the wood.
Hardwood Surface Finishes
Surface wood finishing is the last step in the manufacturing process to give the desired appearance and also to protect the wood from moisture and environmental damages. Finished hardwood floors are easier to clean and sanitize.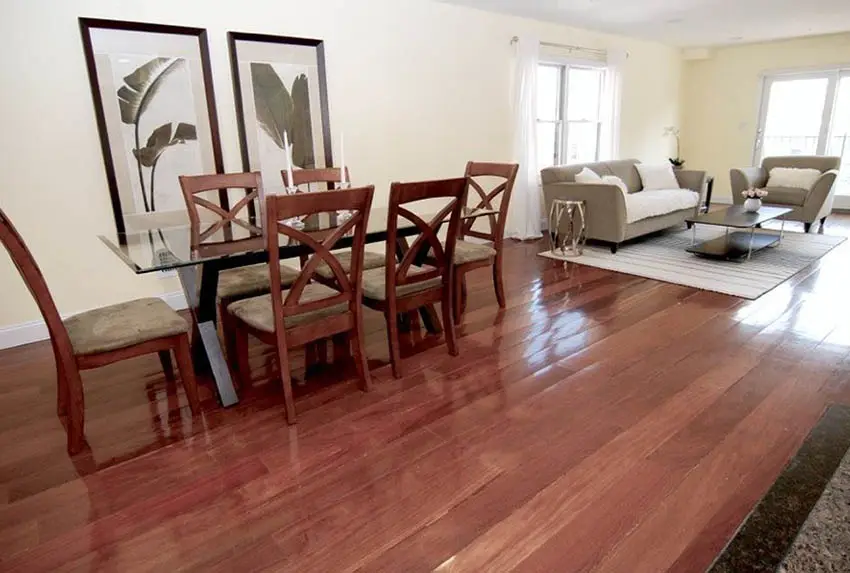 Water Based Urethane
Water-based finishes are the most popular ones among the different types of finishes available for hardwood floors. It gives the floors a shiny and signature wet look. This finish makes hardwood floors very low maintenance because it is easy to clean and lasts a long time.
The hardwood stays in its traditional color and does not turn yellow over time. Water Based Urethane is a product that is low odor, easy to clean, and quick drying. This make it perfect for a DIY project.

Oil Based Urethane
Oil based urethane is one of the most common choices for surface finishes. This is because it had options of gloss, semi-glass and satin sheens. Also called oil-sealer finish, this is the best choice for those who prefer to DIY their hardwood floors because it is easy to do.
The penetrating process enhances the wood color and showcases the grains. The floors can be re-finished in the future. It is also considered extremely durable and protects your wood to last a long time. This is the best finish for traditional and antique rooms because of the traditional finish it brings. These finishes are usually amber in color.
Oil based urethane takes about 3 coats each with 8 hour drying periods. This product will need ventilation and since it is oil based will have yellowing over time.
Moisture Cured Urethane
Moisture Cured Urethane is a product that is highly durable, therefore used a bit more on commercial projects and less DIY friendly.
Acid Cured
Acid cured finish is also called a Swedish finish. It is very durable and perfect for smooth-textured flooring as well as exotic woods. It provides extra protection to the wood. The disadvantage is that this finish has high toxicity levels during the curing process which can last up to a month.
Conversion Varnish
Conversion Varnish is a product with very high odors and fumes which will require extremely adequate ventilation. This is also not recommended for DIY projects.
Hard-Wax Oil
This type of finish is considered old-fashioned and outdated by some, but it slowly regaining its popularity. Great for DIY fans, it is easy to apply even for inexperienced homeowner.
Hard-wax oil gives the hardwood floors a warm look and a low luster finish. It is not as durable as oil sealer and water-based finishes, so it is recommended to reapply the finish every 2 to 3 years.
Aluminum Oxide
The most long lasting and durable of all finishes, aluminum oxide can last up to 25 years. This finish works best with engineered hardwood floors because of their thinner veneer.
However, if you decide on this type of finish, your only option is pre-finished planks. This option is best if you want immediate installation.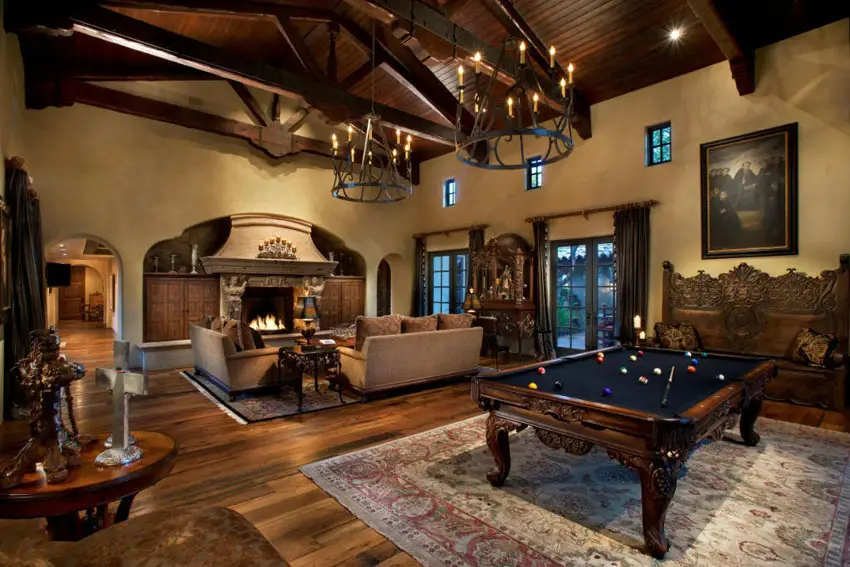 Penetrating Finishes
Penetrating finished are finishes that seep deep into the wood that surface finished. This is typically applied followed by a wax for a low-gloss sheen look. This will need to be kept up with as the wax needs to be reapplied as well as having cleaning restrictions.
Finish Sheens (High Gloss, Low Gloss & Satin)
These finishes will have a certain sheen, High gloss, low gloss and stain. High gloss will give a shiny professional look but will be susceptible to visible scratches.
For residential settings it is commonly recommended to use a low-gloss or satin finish. This will need to be selection when finishing the material or if pre-finished when purchasing the material.
Typically when it comes to the gloss level, the glossier a finish it's the more light it will reflect as well as the more scratches it will show.
Types of Flooring Detail
Besides just the physical finishes of the material, the way you lay it out can make a large design different types of flooring details are available.
Inlays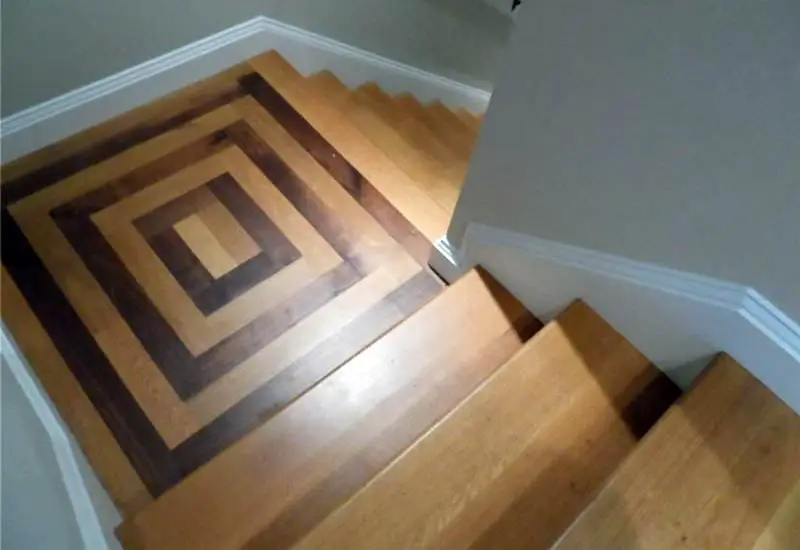 Inlaying is a technique that uses different colors and sizes of wood to create decorative art pieces within the floor. These can be premade and predesigned or can be custom made per project. The more intricate it gets, the pricier it will become.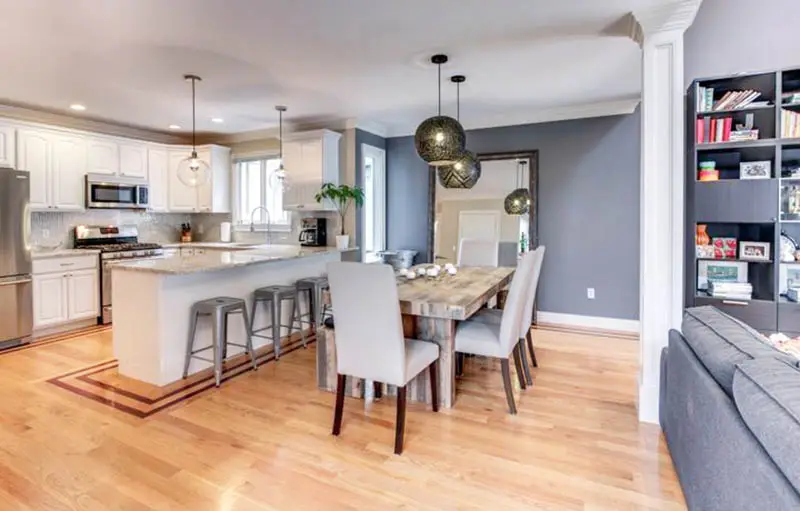 Borders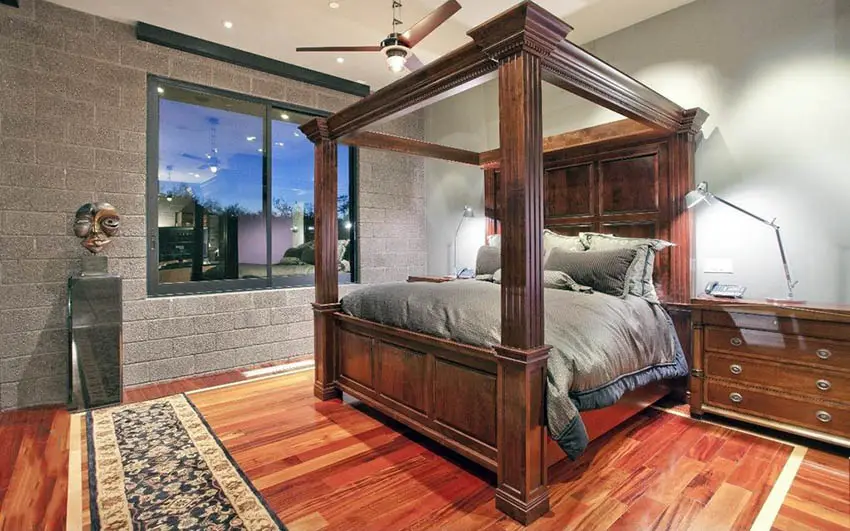 Borders are exactly how they sound, and as one of the most commonly used designs in wood flooring it is relatively easy to accomplish. A border is when there is a main floor in one color or shape, which the (border) surrounding area a different color, shape or style, sort of outlining the room.
Medallions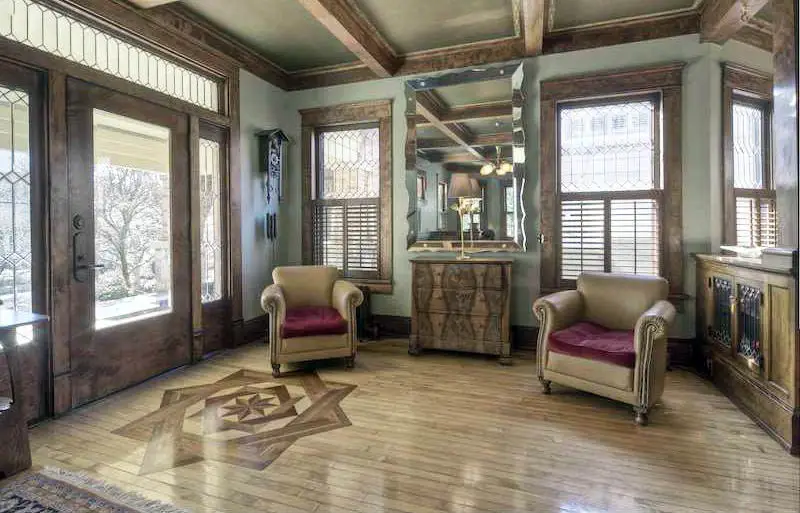 Medallions are a type of inlay that is ages old and created by having a circle (medallion) inlay put into the flooring. See more living room with hardwood flooring ideas here.
Should You DIY or Hire a Flooring Professional?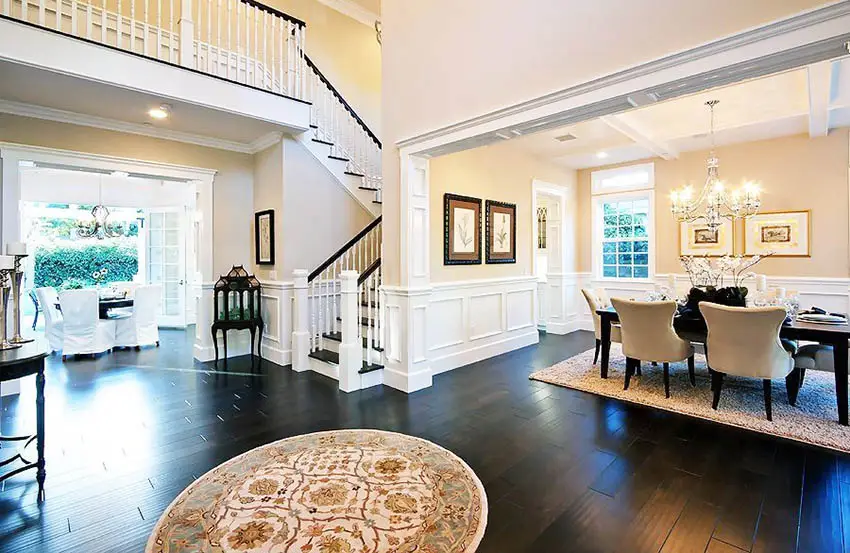 DIY vs Professional Installation? When deciding whether to tackle your hardwood flooring project yourself or hire a professional, there are a few things to take into consideration.
First off, some types of flooring will be harder to install than others based on their width, thickness and species. There are some options that will not require glue, staples or nails.
However most options require one of these, take into consideration your ability to use these tools in a way that will make the flooring look straight.
If you are unsure of your ability, pick an easier product to work with, or hire a professional contractor. Sometimes hiring a professional will save money in the long run, and sure will save time and stress.
Types of Hardwood Underlayments & Insulation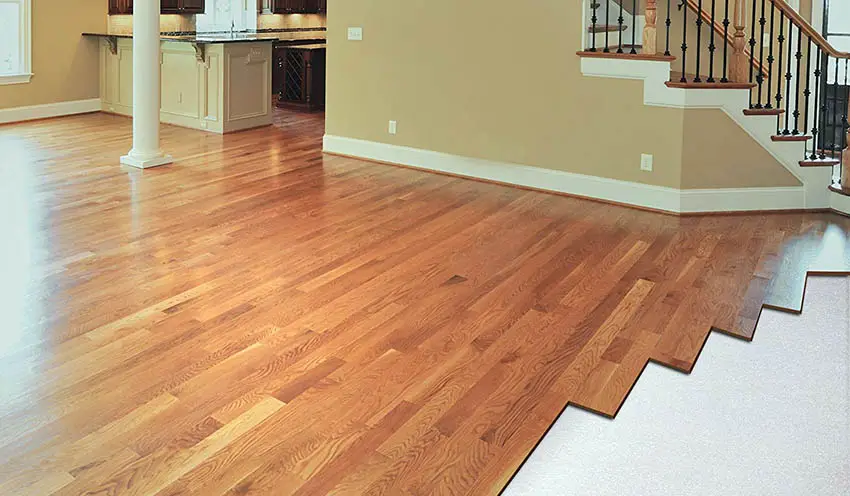 There are many options for underlayments that can be chosen to go underneath hardwood flooring, there are the basic foam pads, foam pads with moisture protection, felt pads with sound protections, the more qualities you want the pricier and thicker the product will become.
There are some manufacturers that will create their own underlayments to go with their flooring, or just make recommendations for which to used based on their products.
Frequently they will require you to follow their recommendations to keep their warranty valid. In addition to the previously mentioned underlayments, laminate flooring occasionally has underlayment already built into the boards, but typically it is just the basic one, it is still recommended to put down a moisture barrier.
Cork is another very valid underlayment option and has gained popularity in recent times. Cork is a natural product and is a renewable resource. With its water resistant (not waterproof), sound deadening and anti-microbial qualities it makes for a great insulation piece.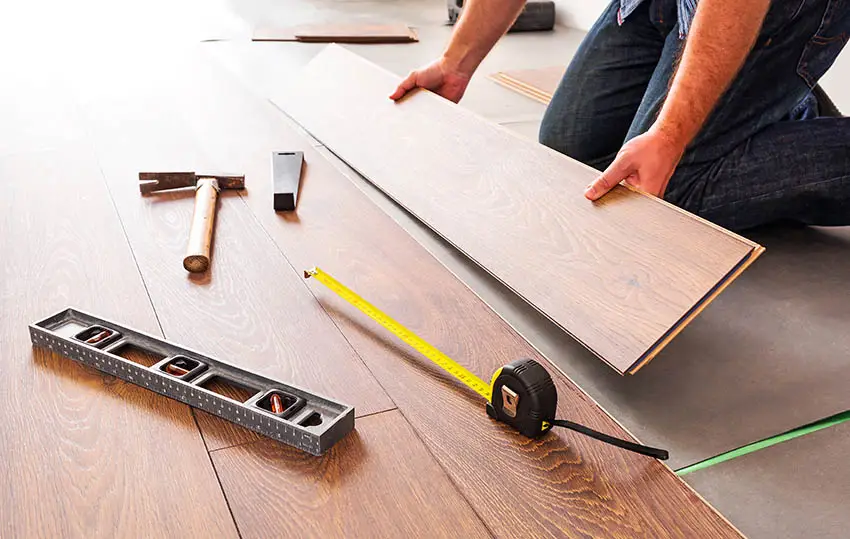 Floating Floor Installation
To create a floating floor underlayments are essential. These will go over either wood or concrete subflooring and will require the use of engineered or laminate flooring.
The underlayment is needed because the floor will be "floating" meaning it will not actually be touching the subfloor.
There is space left so that the flooring can expand and contract, the underlayment giving a sort of cushion, moisture barrier, and even a sounds barrier for the flooring on top of it. The moisture protection is especially important when having a concrete base.
Nail Down and Staple Down Installation
To use the nail down or staple down installation technique you will first need to have a wood subfloor. You can use this method for either solid or engineered hardwood flooring.
Over the wood subfloor it is recommended that you put down an underlayment. This can be a 15 pound black felt paper, this will help avoid any moisture coming up from below the flooring.
Typically installing the felt paper is and easy and inexpensive task, the paper comes in a large roll that can just be spread out on the subfloor.
Glue Down Method

The glue down technique can be used in most settings but is required when you have concrete subfloor. This is because nailing or stapling into a concrete floor has been proven to be less than beneficial. This method can be used for engineered hardwood flooring as well as parquets.
There are often certain warranties on the flooring that can be affected by the types of glue you can use so make sure to check that before purchase and installation.
Hardwood Expansion Space
As mentioned, the boards will expand and contract with temperatures so there needs to be space left to account for that.
When installing it is recommended to use a tapered removable shim against the walls to keep about 3/8" to ½" of space around walls and columns. Since the baseboard will be placed here it will allow the boards to move slightly without causing a disturbance.
Preparing the floor for installation
Some things that slip the mind when deciding to take on a new DIY project is the prep work that comes along with it. Manufacturer instructions will become your best friend or worst enemy, let's make it best friend by reading them thoroughly and following their instructions.
Make sure they subfloor is clean and free of debris. The subfloor will also need to be level and even, if it is more than ¾" off then you will need to get some self-leveling joint compound to fix it. Final step to prepping is to decide which way to lay the floor and get the proper tools, equipment, and manpower.
Tools Needed to Install Hardwood
Depending on if you have decided to nail, staple or glue your hardwood flooring will greatly affect the materials and tools you will need for installation, as well as the size of your boards.
¾" solid flooring will require a larger nail gun and will also need a steel mallet. There are also air assisted pneumatic nail guns and compressors. This will need a rubber mallet.
Thinner flooring will be able to use easy pull trigger staplers and smaller nail guns. For the first few rows though, the guns mentioned will be to powerful, in this case you will need to hand nail, which will require a hammer and nails, or use an air assisted nailer.
Other things that may be needed are a saw, pry bar, nails, spacers, chalk lines, carpenters square, a drill and drill bits.
Watch a video on Installing Hardwood Flooring Underlayment:
Installation Process
Usually the outside walls will be the straightest line you have in the home, so will be the best place to begin after all prep work has been completed. Begin by using the longest boards (to avoid having to cut more pieces that you need to).
Typically, you will want to keep the felt paper back 4-5 inches and glue the first few rows down as well as face nailing every 8 inches on he top back edge of the boards.
This is important because if these rows are not straight, none of the flooring will be. It is recommended to attach a string or something to make sure the first boards stay straight throughout the installation.
Using shims will help create the gap as mentioned earlier. While installing it is suggested to mix up the boards from each carton since the colors and grains can vary slightly and this will create a more natural look.
Floor Acclimation
An important part of installing hardwood flooring that most people don't think about is letting your flooring acclimate. After bringing the flooring to a new environment with different temperatures and humidity levels it is good to not install the floor boards right away.
This will let you avoid the extra movement of expanding or contracting that the wood will need to do in the new environment. This can actually take 4- 14 days to let the wood fully acclimate.
DIY Hardwood Process & Installation Tips
When starting a DIY hardwood flooring project there are a few good tips and tricks that will keep the process moving along smoothly. When ordering materials for this project, make sure you order about 10% extra, this is for when pieces need to be cut and there will be scrap.
Using painters' tape when cutting to avoid any chips or dents in the flooring. Working from left to right is commonly recommended.
Always follow the manufacturer's instructions and recommendations and check all warranty instructions before you begin anything. Whatever you do, do no hit the hardwood flooring directly, use tapping blocks when moving hardwood into place.
When cutting hardwood flooring pieces make sure to use a carbide tipped blade. Laying your flooring perpendicular to the joist will give the strongest flooring against warping of the pieces and the pieces of wood separating.

Hardwood Maintenance
Maintenance of your new hardwood floors is not too intimidating of a task. Wood flooring will last a lifetime if it is not abused. One of the most important things that can cause a problem for hardwood flooring is not cleaning up spills immediately.
Water causes hardwood to rot, warp and move, lose luster, and other less than desirable things. The easiest way to avoid this is to clean up wet spills and not use water to mop the floors. Brooms and vacuums will do just fine for cleaning hardwood flooring.
Hardwood flooring isn't immune to scratches, so putting felt protectors on the bottom of furniture will help protect and avoid damage. The sun can also be harmful to some types of wood flooring in homes.
Some simple hacks to no letting this ruin the floor is getting blinds or curtains in areas that receive over amounts of direct sunlight on the hardwood flooring. Following these preventative measures will make it so the only maintenance your flooring will need is a periodic refinishing.