Discover the best industrial paint colors including what they are, the ideal styles for living rooms & bedrooms, and suggested paint options for industrial interior designs.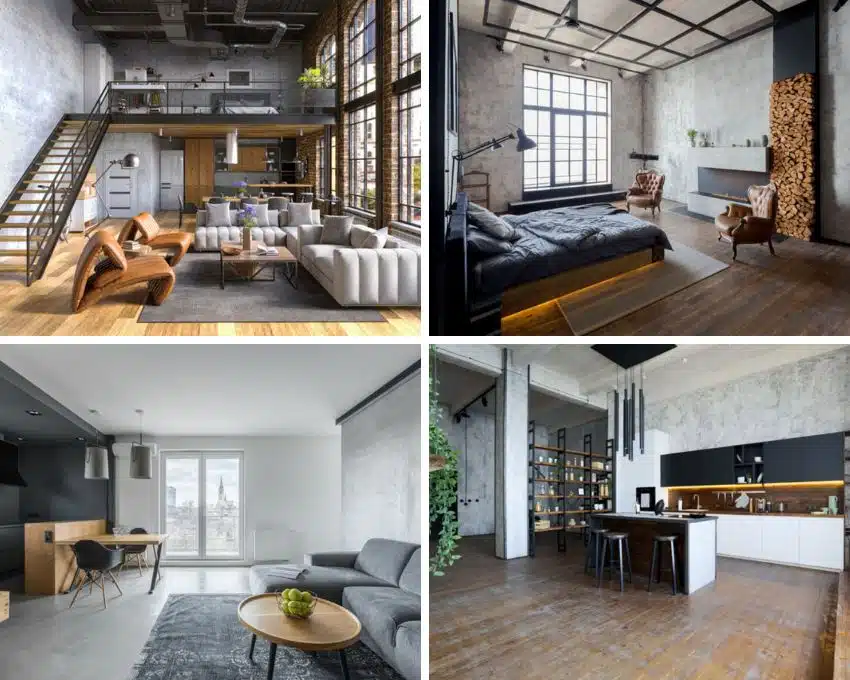 Industrial style is usually associated with natural elements and exposed architecture, which is why showing ductwork and old bricks will fit nicely into the mix. The most common elements of an industrial home are exposed brick walls, stained natural wood floors, and ripped laminate flooring.
There also needs to be this feeling of openness, along with the minimalist appeal that looks simple yet classically beautiful. When styling with industrial style in mind, colors also play an important role in turning a space more realistic and in theme.
While some styles go for bold and popping, industrial style is popular for the lack of colors. This does not mean though that the style is plain black and white.
There are still other colors you can use for your industrial-style home, as long as you maintain some of its main elements, which means the right balance of the old-world ambiance and the modern style's sleek and smooth look.
What Are Industrial Colors?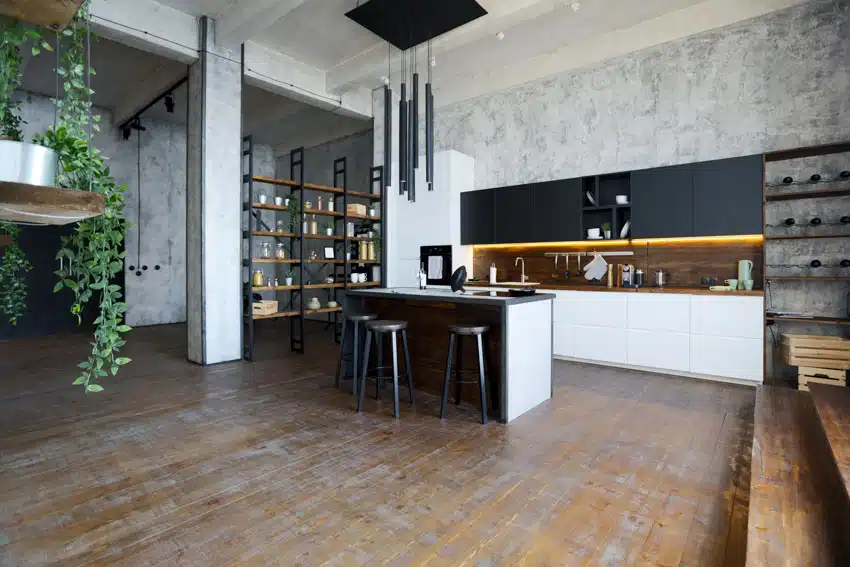 Industrial colors are normally associated with nature-related and neutral shades. This is one of the reasons why the industrial style is often described as bare or natural. Many industrial-style homes and buildings are dominated by natural materials so it's only obvious that they carry natural colors too.
The style offers a clean and harmonious combination of earth and neutral colors, including the following:
• Black: This classic color adds drama and sophistication to a space. It is a color that will work well for your trims and light fixtures with placements that are carefully planned. If you don't want to directly use this color, you can use it as inspiration instead of other materials, including dark wood for your flooring.
• Gray: This color is what's considered to be the true neutral because it can easily be paired with any color. This is the reason why the color became a favorite among designers and homeowners and a great color option for industrial style.
In fact, it is a staple industrial color used today. It is capable of creating both warming and cooling effects, depending on whether the undertone is a warm or cool color.
• Brown: Another industrial color to use, this tone delivers a balance of comfort, stability, and security. This color will pair well with sharp black-and-white contrast.
• Beige: This neutral color is often used because it works well when combined with other shades within the industrial style color palette. It can be utilized to help keep the space from feeling to drab and provide needed warmth.
• Green: To inject a sense of the outdoors into an industrial space, green tones can be used to balance out harsh finishes and elements such as metal and concrete.

• Black and White: When these two colors are used, their contrast with each other offers a solid look to any space, making it look cleaner, bigger, and more spacious than it actually is.
• Bright Yellow and Orange: While these two colors are not the typical industrial colors, they can be used in small portions so as to not be overwhelming. These colors add warmth and comfort to any space.
When using industrial colors, sticking with the ones that imitate nature and the common materials used for the style will still be the best option. From the black shade of iron to the brown of natural wood, go back to the authentic colors if you are hesitant and want to be sure.
Industrial Bedroom Paint Colors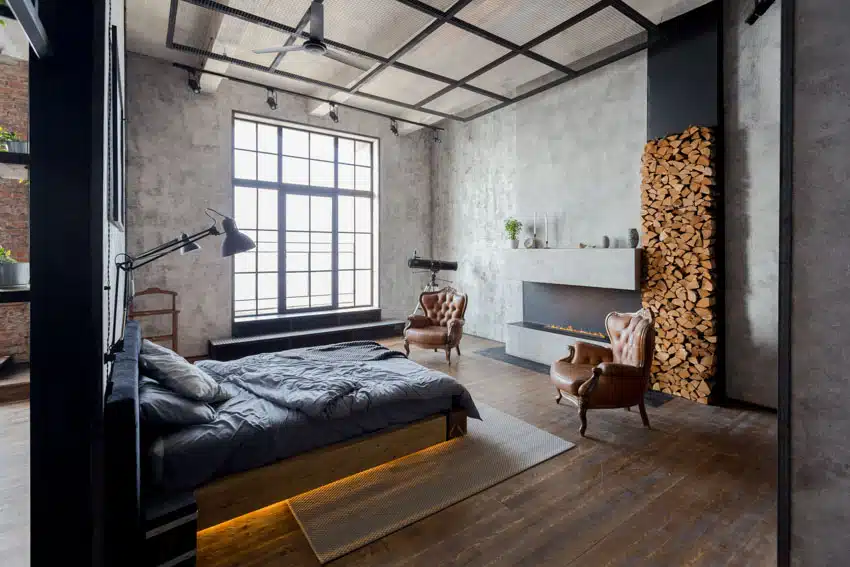 If you're going to transform your bedroom into an industrial masterpiece, you need to be careful of the materials you use and the colors you allow to dominate the space. You don't have to stick with the factory or workshop atmosphere and instead add a more inviting and comfortable vibe instead.
For a safe choice, crisp white walls always work as an incredible backdrop to set the mood right. You can then incorporate dark and rich neutral colors for accent and furniture, as well as low types of lighting fixtures for a more personal feel to your bedroom. Using these colors is very important if you won't be using industrial materials like concrete, metal, and wood.
If you want a safe and sophisticated approach for your industrial-style bedroom, you can choose the standard neutral palette. Include charcoal gray, beige, and greige in order to create texture and later the colors.
To add a touch of color and liven the design you can try adding colors such as navy blue, olive green, forest green, dark brown, deep red, and rust orange.
Industrial Living Room Paint Colors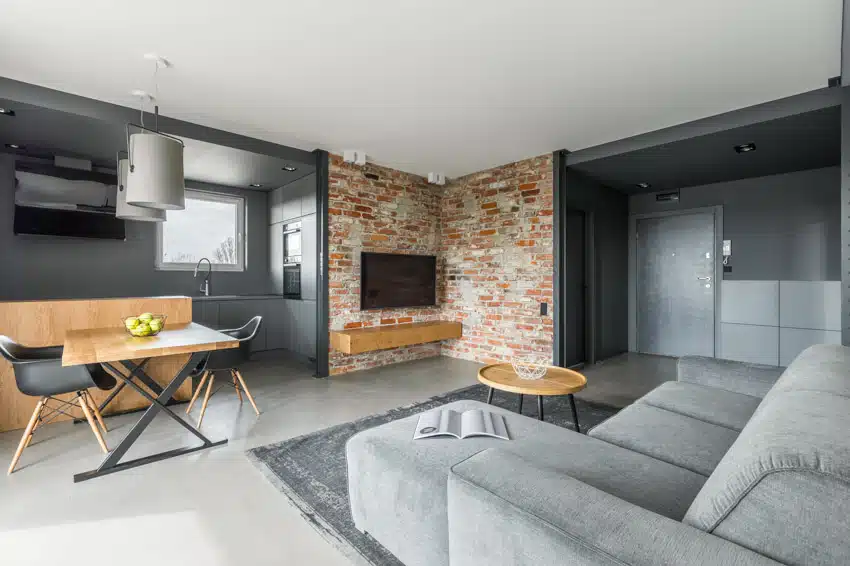 The living room is a common area that would usually have more space. If you want an industrial-style living room, one thing you can do is choose an open floor plan. This can immediately make the area feel industrial.
The most common obstacle to opening up the floor plan is the presence of a special feature such as a fireplace or built-in buffet that's strategically located on the wall separating kitchen from dining or living room, or some apparently indispensable kitchen cabinetry or appliance. – Not So Big Remodeling: Tailoring Your Home for the Way You Really Live, Sarah Susanka, Marc Vassallo
For homes with small living rooms, choose light-toned neutral colors to dominate the space so as to make the area appear bigger than it really is. You can use dark neutrals for accents and decorative elements. Black and white prints for decoration will also work well in your industrial living room.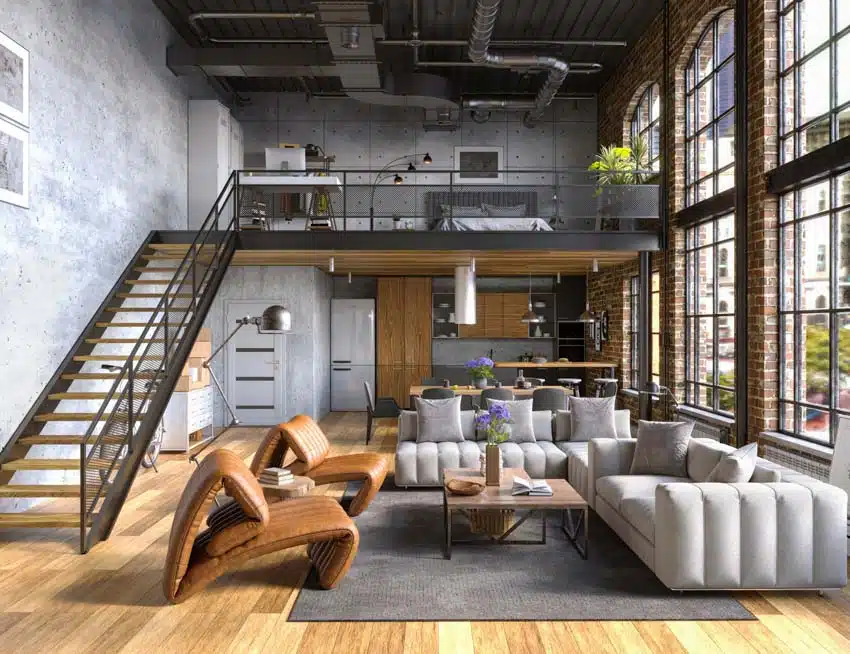 If you're looking for a color palette to follow, choose natural and neutral colors including black, gray, brown, and green. Black and gray can easily be associated with the industrial style and you can use these colors for your sofa, coffee table, and even walls if you want a darker look for your living room.
Brown and green add warmth to the palette, which is why you can always bring in an indoor plant for a refreshing feel.
Best Paint Colors For Industrial Look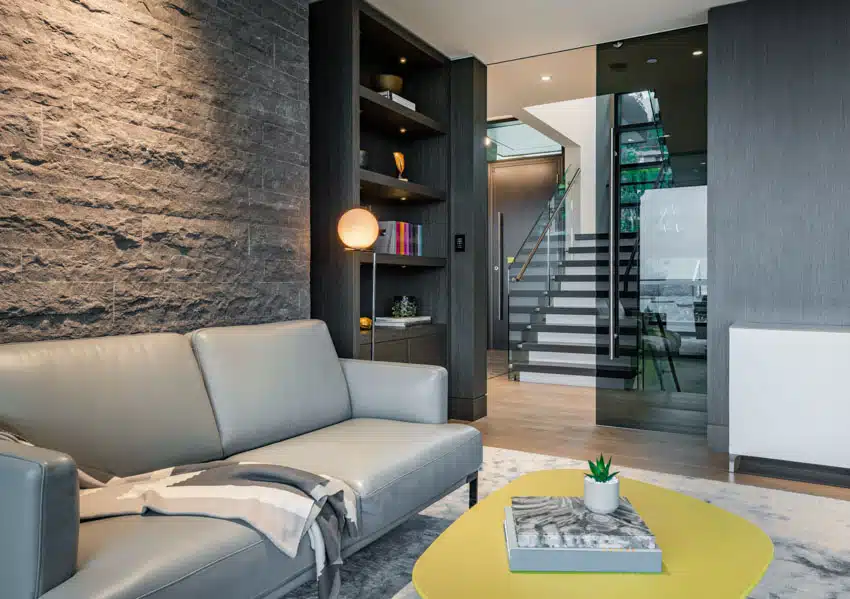 The best paint colors for the industrial look will be shades and tones that mimic natural materials and elements. Brown will always be associated with wood and black can be associated with iron. Gray also features the color of metals in general and green will always be the color of nature.
To get a safer yet modern industrial look, you can choose brown, gray, white, and black paint colors. You need the right balance of the old look and modern aesthetics, which can offer a combination of comfort and style.
Pull off the right colors and this will be possible, along with great types of furniture styles and the right lighting fixture for creating the right mood.
Sherwin Williams Industrial Paint Colors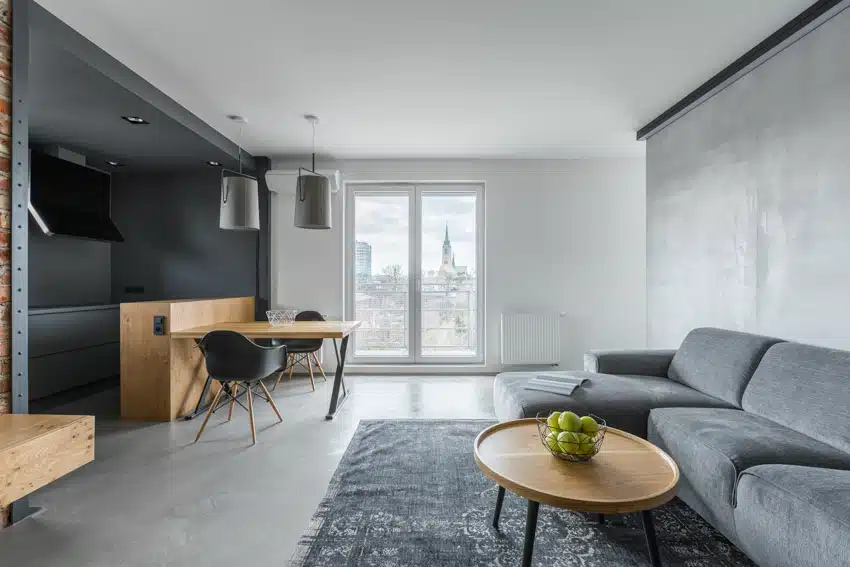 Sherwin-Williams is one of the top and most popular brands for paints used in homes. And if you're choosing this brand, there are many paint colors that will fall under the industrial style. Some of the best industrial paint colors offered by this brand include the following selections with color codes: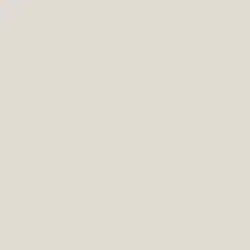 Sherwin Williams Simple White (SW 7021): Simple White is one of the white shades of Sherwin-Williams that offers a vibrant and more saturated look. It has this distinct cool purple undertone that makes a great and versatile backdrop. It has this solid presence that offers a gentle yet stable look for your room. Sherwin Williams Light French Gray (SW 0055): The Light French Gray of Sherwin-Williams is a neutral light gray paint color that can be used both for interior and exterior projects. The tone is subtle and adds a soft touch to any space it's applied to.
Sherwin Williams Mindful Gray (SW 7016): Mindful Gray is another Sherwin Williams gray shade that showcases this light and mid-tone gray shade that's become a favorite for many homeowners and popular for different applications, including industrial-style homes and spaces.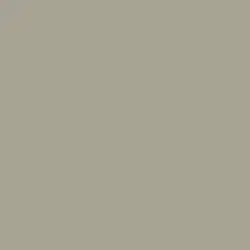 Sherwin Williams Intellectual Gray (SW 7045): Intellectual Gray is a stunning gray shade with a distinctly green undertone that makes it different from other grays under this brand. This stunning green and gray combination delivers a beautiful mixture of neutral and earthy colors that would easily be used for industrial-style spaces.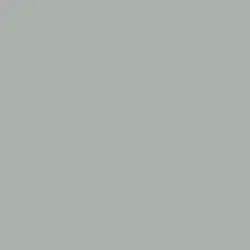 Sherwin Williams Mineral Deposit (SW 7652): Mineral Deposit, with the code SW 7652, introduces this cool gray shade that features green and cyan undertones. The combination o the neutral gray and natural green colors can produce a restful and refreshing feeling that will look good for an industrial bedroom style.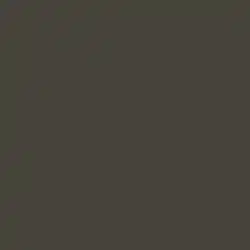 Sherwin Williams Sealskin (SW 7675): Sealskin is a neutral paint color that carries this stunning and bold deep brown color. The dark shade of this color offers an inviting and warm ambiance that will be ideal for the living room.
Benjamin Moore Industrial Paint Colors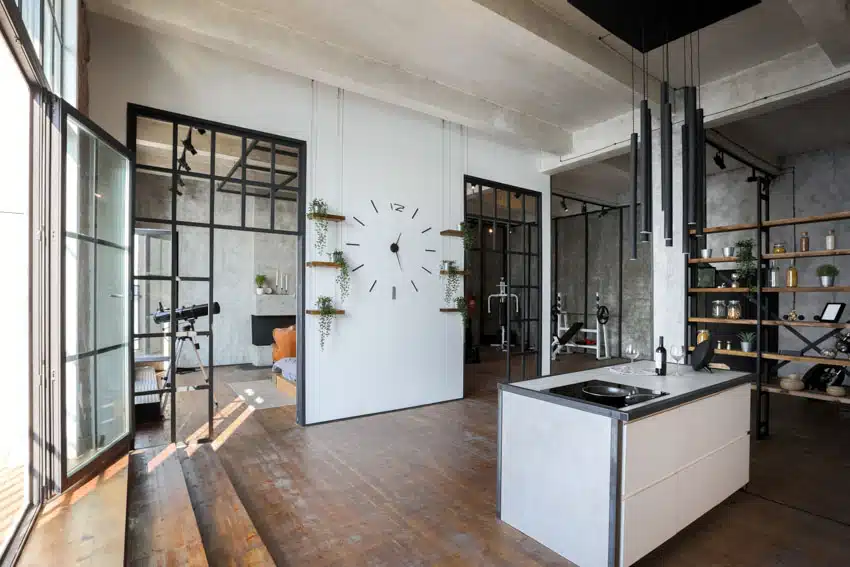 Besides Sherwin Williams, Benjamin Moore is the other top brand that many homeowners prefer to use. Benjamin Moore also offers stunning industrial paint colors you can consider for your home, including the following:

Benjamin Moore Balboa Mist (OC-27): Balboa Mist is a pale gray shade that usually comes with a slightly warm vibe. This Benjamin Moore paint color can go with anything and is also considered to be the go-to neutral color. And this warm feeling is made possible because the shade falls between beige and gray and can even be considered as the ideal pale greige. Benjamin Moore Classic Gray (OC-23): Benjamin Moore's Classic Gray is a muted and soft shade that sits between off-white and warm gray. The undertones that this paint color has can be described as slightly feminine, where the tone can sometimes be soft pink or lean towards purple. The color of this undertone depends on the environment the paint is applied.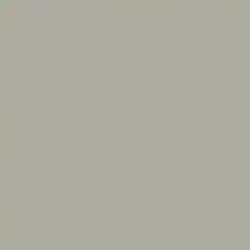 Benjamin Moore Cape May Cobblestone (1474): The Cape May Cobblestone from Benjamin Moore is versatile in its own right, showcasing subtle elegance with its cool gray shade. This gray paint color is considered a classic and can be used if you want to make an area appear bigger, perfect for small bedrooms and common areas like mudrooms and hallways.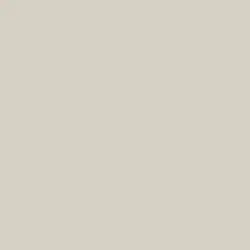 Benjamin Moore Sea Salt (CSP-95): Sea Salt is a light gray paint color offered by Benjamin Moore to the market. It showcases warm undertones that take you to a sandy beach in the summertime. The neutral light gray delivers a relaxing vibe that would fit perfectly for open-plan industrial homes.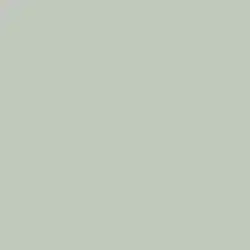 Benjamin Moore Gray Wisp (1570): Benjamin Moore's Gray Wisp is another light gray paint color your can use for your industrial-style home. This gray shade has a hint of aloe green, which offers a cool undertone to the space. This soft gray-green shade can spruce up your home in a stunning and refreshing way.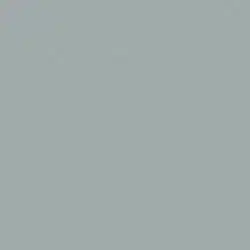 Benjamin Moore Adagio (1593): Adagio is another versatile gray paint color offered by Benjamin Moore to the market. This particularly gray paint falls under mid-tone and with a subtle blue undertone that creates a cooling and refreshing feel to any space.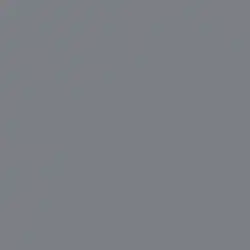 Benjamin Moore Dior Gray (2133-40): An iconic color that's associated with Dior, Benjamin Moore Dior Gray features a dark gray shade with notable blue undertones. This cool-toned paint color adds a fresh mood to the area and home you apply it to.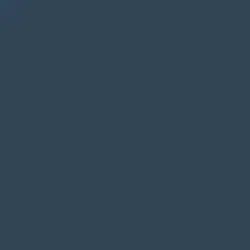 Benjamin Moore Gentleman's Gray (2062-20): Benjamin Moore's Gentleman's Gray features a blackened teal that shows a stunning balance of simplicity and richness. This means that this paint color has a dark gray shade with a solid blue undertone that makes it different that other gray options.
Do you have experience using any of the industrial paints found on this page. Please share any information you have about your design process in the comments. See more related content in our article about industrial kitchen ideas on this page.