Here's our gallery of fireplace accent wall ideas including the different materials for your home's living room fireplace designs.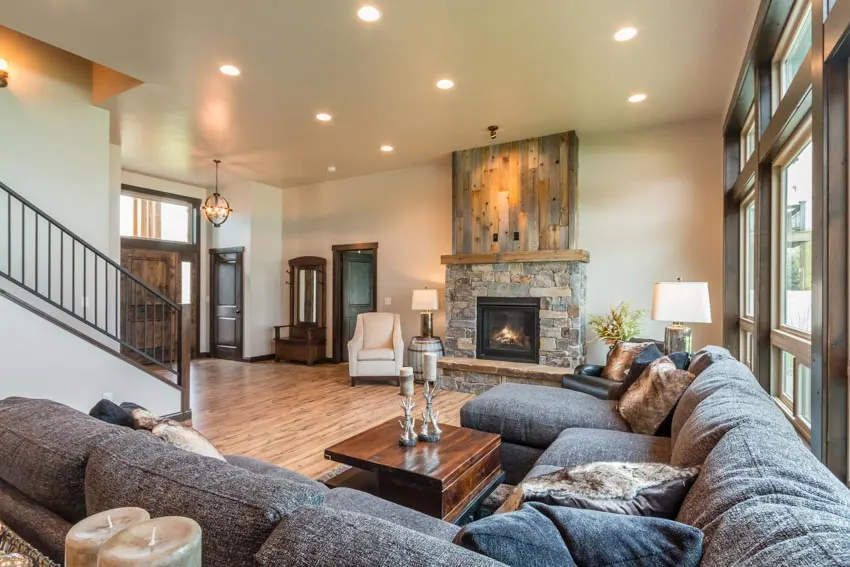 Due to modern home heating systems, traditional fireplaces have slowly gone down in popularity. Traditional fireplaces often required a lot of maintenance and occupied quite some space in the house, so in contemporary homes where space is a premium, true wood burning fireplaces have slowly lost popularity as modern technology rose.
But of course, as technology progressed, so did fireplaces. Modern technology also brought about different types of fireplaces to adapt to modern times.
Although centralized heating systems have become popular, they cannot replicate the special ambiance and warmth a fireplace gives.
Here are the different types of contemporary fireplaces you can get in the market:
• Electric Fireplace: these are basically like electric heaters that mimic traditional coal/wood-burning fireplaces. They don't actually produce smoke and simply plug into a wall so they are easy to maintain and safe.
• Gas Fireplace: if you want a fireplace to look like a traditional fireplace that actually burns wood, a gas fireplace is a good option. They look like real wood fireplaces, but instead of wood, it burns gas. It does require venting, unlike electric fireplaces, so keep that in mind
• Gas Log fireplace: if you have an existing traditional fireplace, using gas logs is a great alternative for real wood. They are made from ceramic and can be fashioned to look like real wood, but it doesn't produce soot and is easier to maintain
Apart from the cozy ambiance, adding a fireplace into your home instantly elevates the look of the space, giving it a more posh and cozy feel.
Because there are dozens of choices for fireplaces, it has become easier to install one in any modern home, and they also don't require much space. You can add an electric fireplace even in small nooks or corners of your home, and it will instantly become a conversation piece.
Depending on where you place it and how you style it, you can transform the fireplace as the main feature of the space. Here are some great examples that you can look at.
Fireplace Feature Wall

If you want your fireplace to become a feature wall of your home, you need to place it in a distinct position that will emphasize the fireplace and help make it the focal point of the space.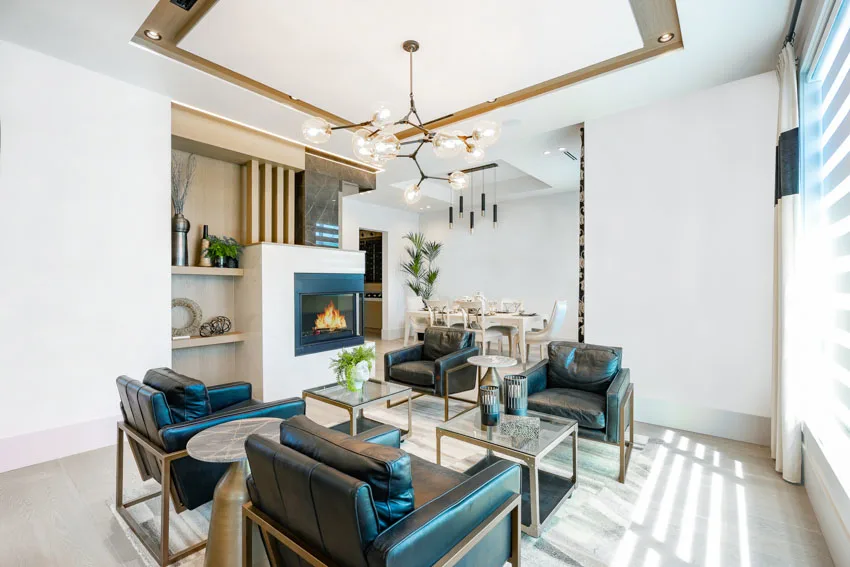 For this modern living room, the fas fireplace is placed on the corner edge of an accent wall. The fireplace is placed near a combined living and dining room, so it can be enjoyed and viewed from both spaces.
The addition of built-in shelves and other materials surrounding the fireplace also help make it stand out.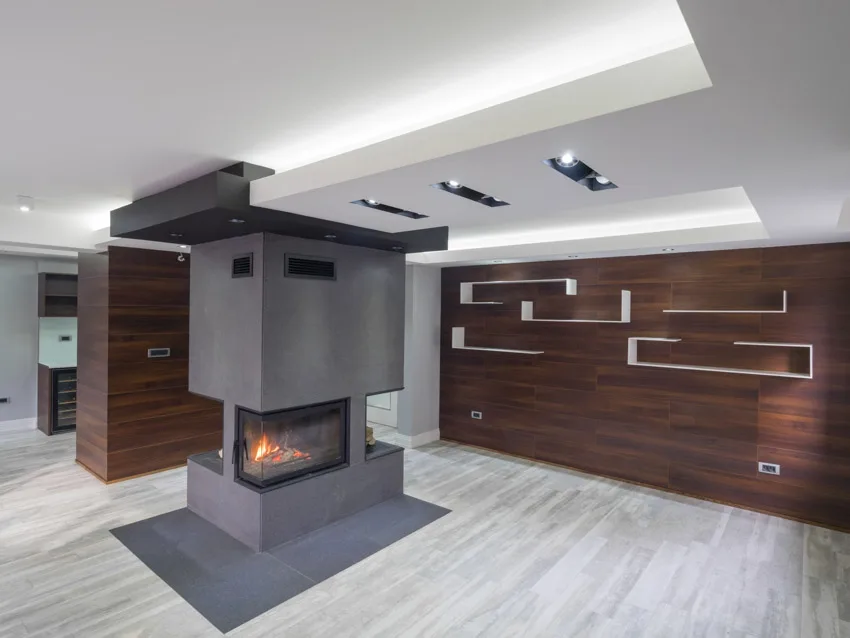 The placement of this gas fireplace really helps it stand out in the space. It is placed at the center of the room in a column-like structure, which allows you to appreciate it from many different angles.
Additionally, the gray finish also helps it stand out from the rest of the space.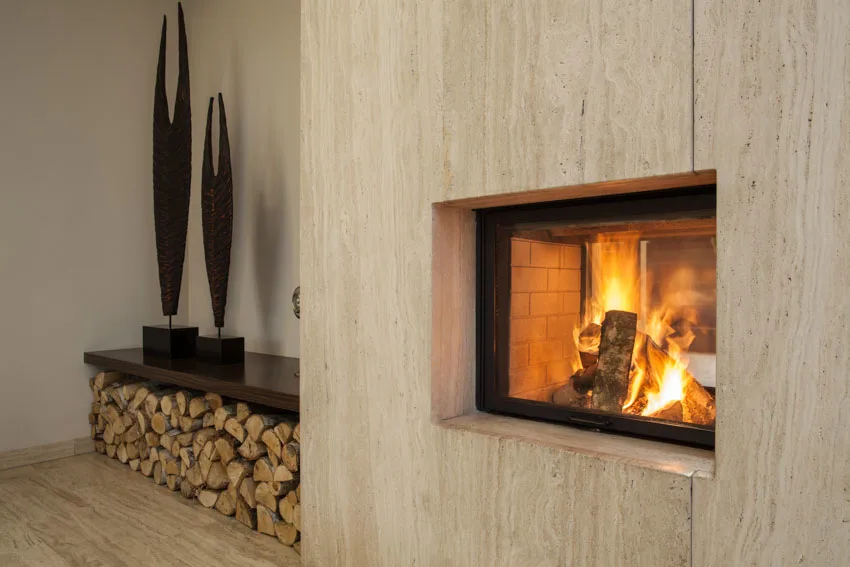 This fireplace has gas logs displayed on the sides to recreate the feel of traditional wood fireplaces. The small fireplace is clad with cream-colored onyx stone giving a subtle yet elegant appeal.
Accent Wall Around Fireplace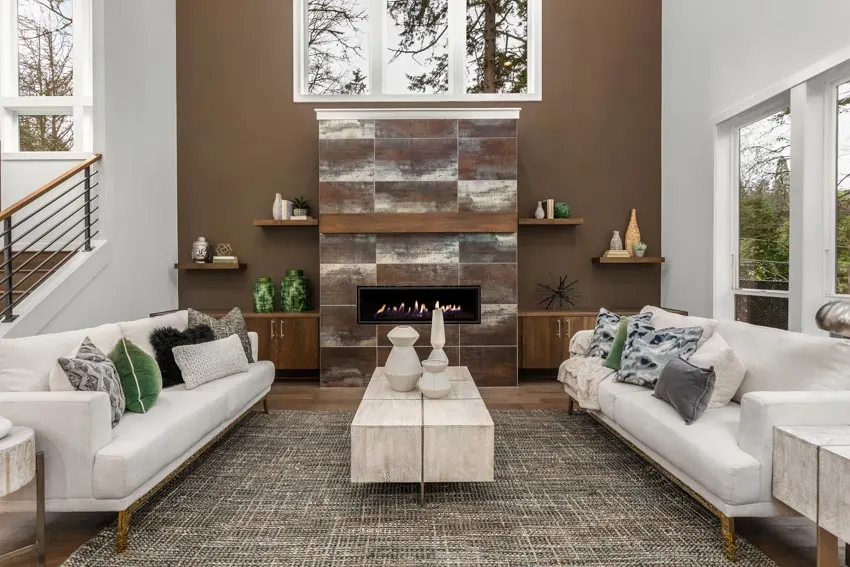 Symmetry is the key in this formal living area. By placing it at the center of the living room and surrounding it with storage and display on each side, it creates a beautiful balance that helps frame the simple electric fireplace installed.
The large wood fireplace mantel features the same type of wood as the shelving on either side of the fireplace. This also matches the finishes of the built-in storage cabinets and wall paint.
Accent Wall With Fireplace And TV
Because most electric fireplaces don't require vents like traditional types, you can easily install them to an existing wall with ease. You can also install a TV right above it with no worries because of how it works.
This is great for spaces that only have one living room – this way you can enjoy both entertainment and a good, warm ambiance of a fireplace.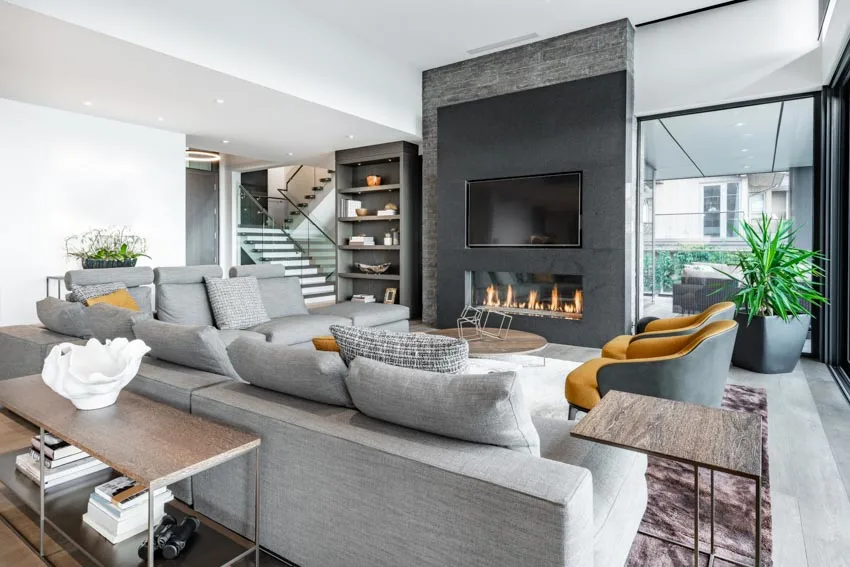 For this contemporary living room, the electric fireplace and the TV were built-in on the same accent wall, making it the focal point of the space. The TV and the fireplace were made to be the same width as well to create good symmetry and balance.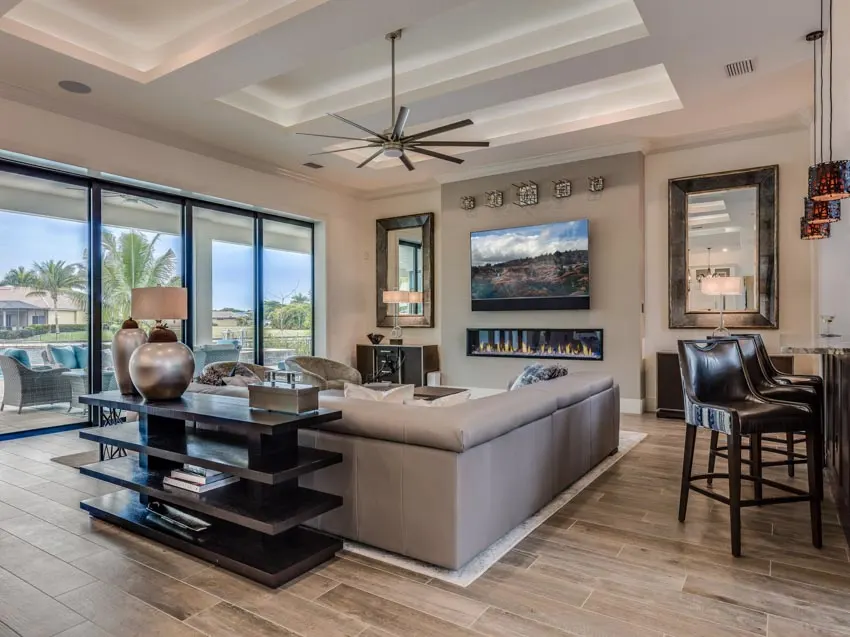 For this cozy living room, a narrow and long electric fireplace is installed right under the wall-mounted TV, keeping it subtle but also easily visible from the sofa. This is perfect for modern spaces that don't have much space.
Fireplace With Wood Accent Wall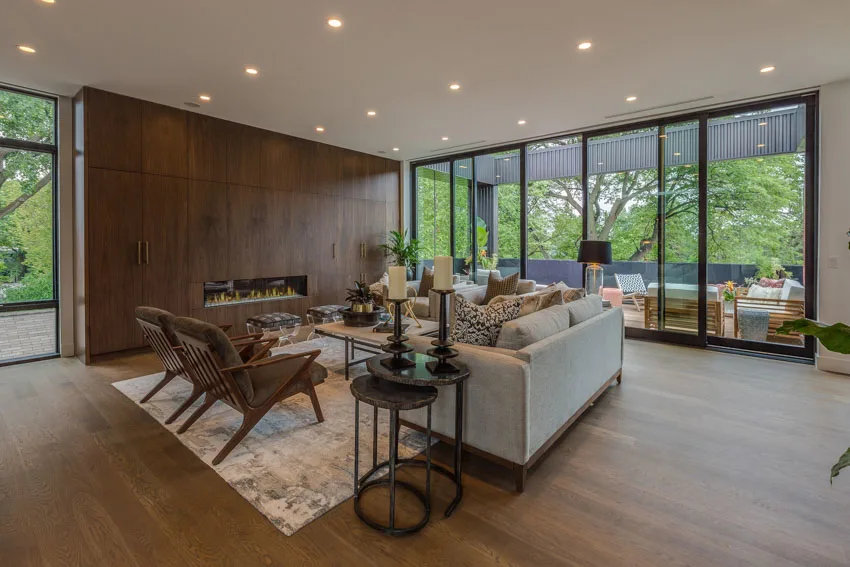 If you want to keep your fireplace low-key and blend it into your modern interiors, you can consider placing it with your built-in cabinetry.
For this living room, the wood not only adds to the warm atmosphere but also helps keep the fireplace very low-key.
Gray Accent Wall With Fireplace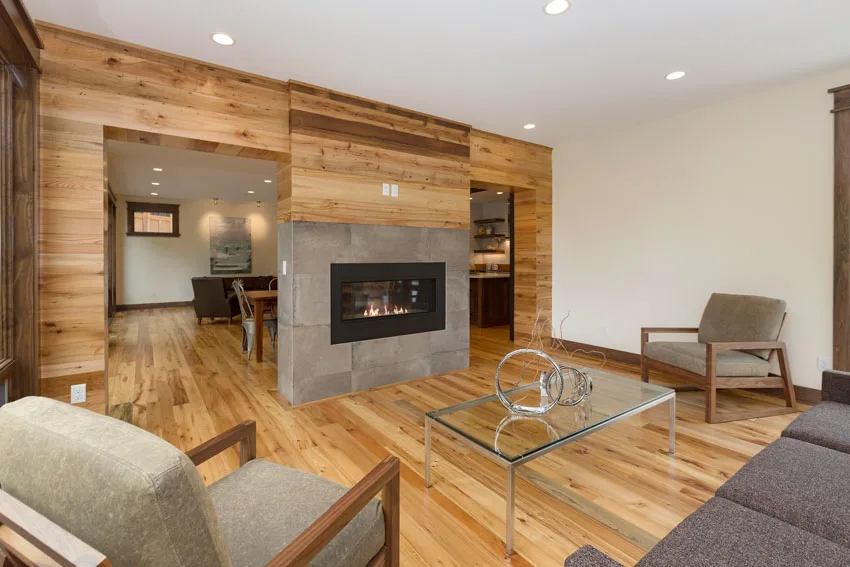 This gas fireplace is placed on the wall separating the living area from the dining area. This was designed for the fireplace to be viewable from both sides of the space.
The wall surrounding the fireplace was clad with gray tiles to make it stand out against the wooden walls and flooring, helping take your eye's attention to it.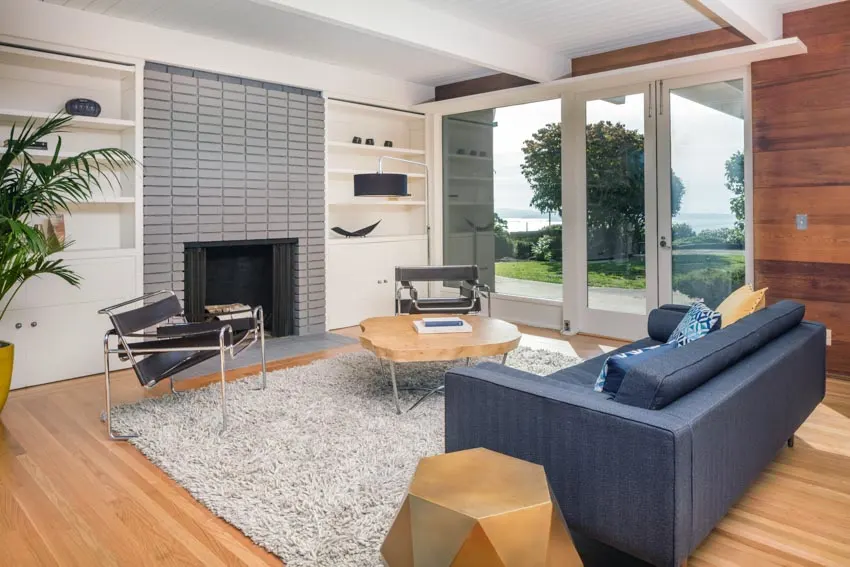 This fireplace has been repurposed into a gas-log fireplace. To match the mid-century modern look of the space, the brick cladding surrounding the fireplace was painted in gray to match the modern aesthetic of the space. Read more about painting a brick fireplace here.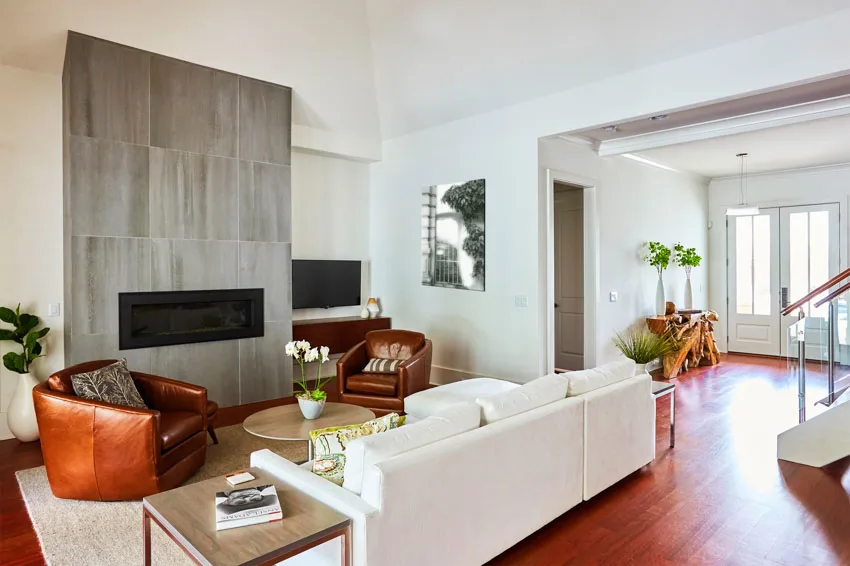 The wall where the small gas fireplace is installed is clad with stone tiles, making stand-out, and adding more texture to this contemporary space.
The gray tone of the stone tiles helps make it subtle enough to blend in with the other finishes in the space.
Black Accent Wall Fireplace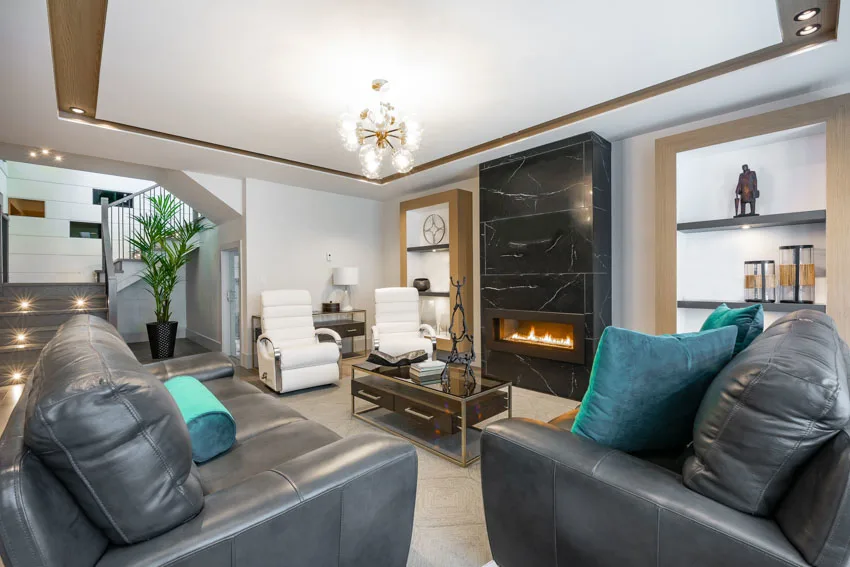 Black marble gives any surface an instant luxurious look. This gas fireplace clads the fireplace wall with polished black marble from floor to ceiling, making it the main feature of the space.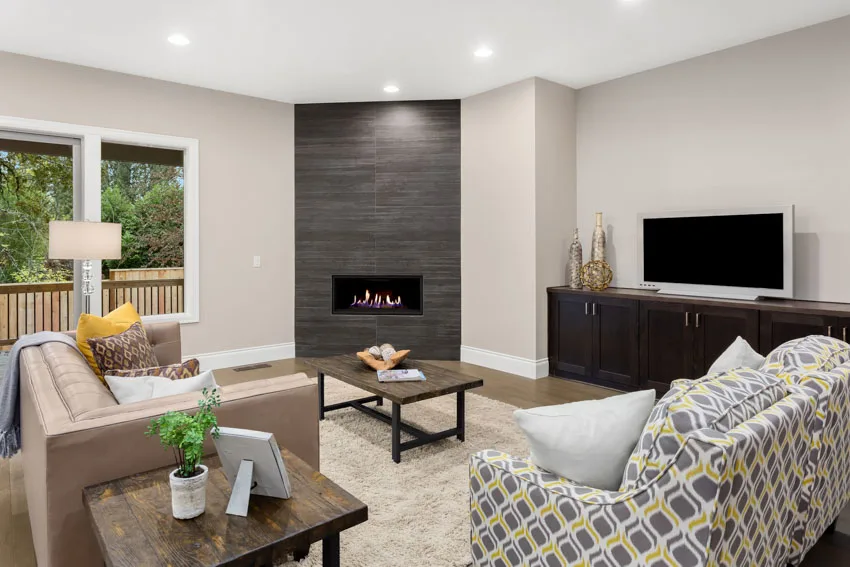 Because modern fireplace dimensions are available in a multitude of sizes, you don't need a large wall to place it in.
Just like in this living room, a very small electric fireplace was installed in the corner of the room. The wall was clad in black stone tiles to make it stand out, but it doesn't occupy much space.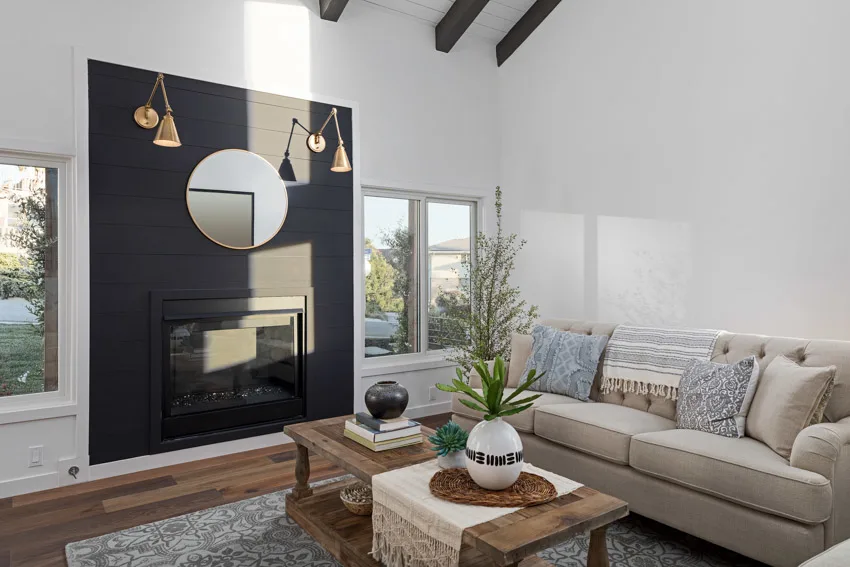 For this contemporary rustic home, the gas fireplace wall was clad with horizontal wood slats painted in black to give it a more modern look, and at the same time helps the golden accessories placed above the fireplace to pop out more.
Accent Wall Brick Fireplace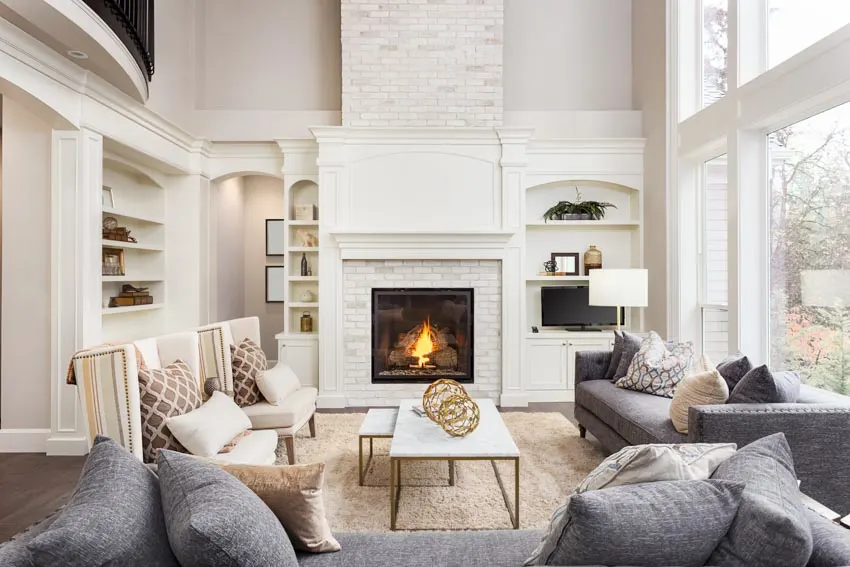 This traditional whitewashed fireplace was converted from wood to a gas log fireplace. To match the classic aesthetic of the space, the fireplace wall is clad in white bricks with a matching white mantel to complete the classic look.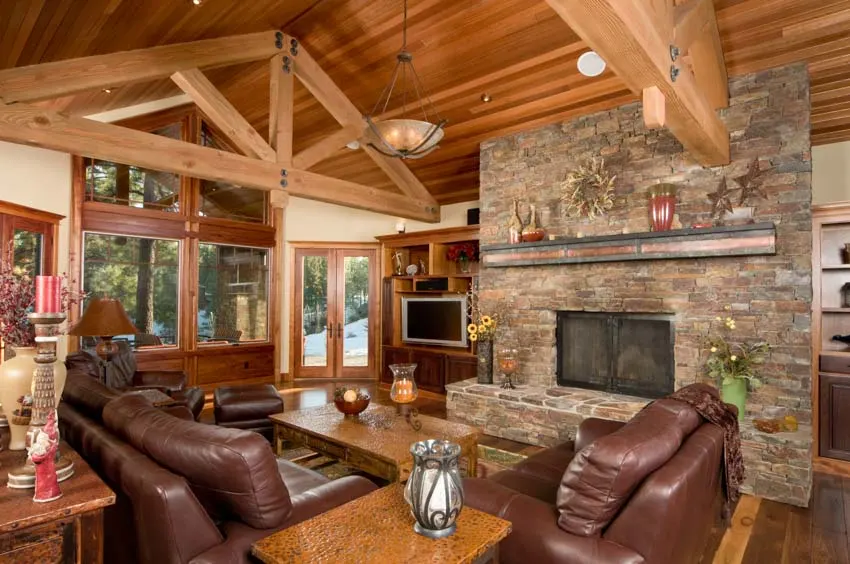 To match the cozy cabin aesthetic of the space, the fireplace wall is also clad with bricks, giving a sturdy finish that adds texture to the space and complements the wood finishes in the space. A floating fireplace mantel is a nice touch for displaying decor items.

Painted Fireplace Accent Wall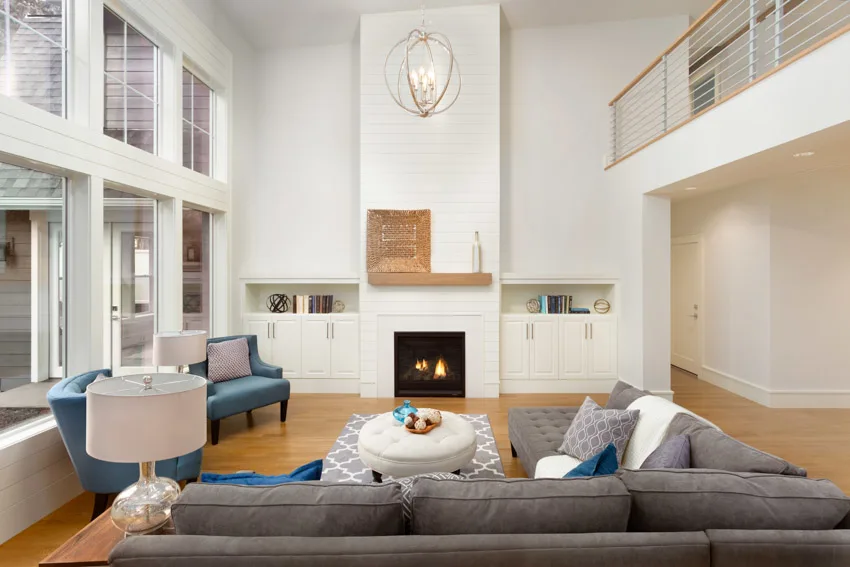 You don't always need fancy finishes to surround your fireplace. Sometimes, a simple painting will do.
Just like this contemporary living room, the fireplace wall is simply painted in white to match the rest of the walls and cabinets, giving a really clean look, making it very easy on the eyes.
See more related content in our article about contemporary living room ideas on this page.