Here we share the best paint colors that go with honey oak trim including the perfect wall paint colors that match with floors and cabinets.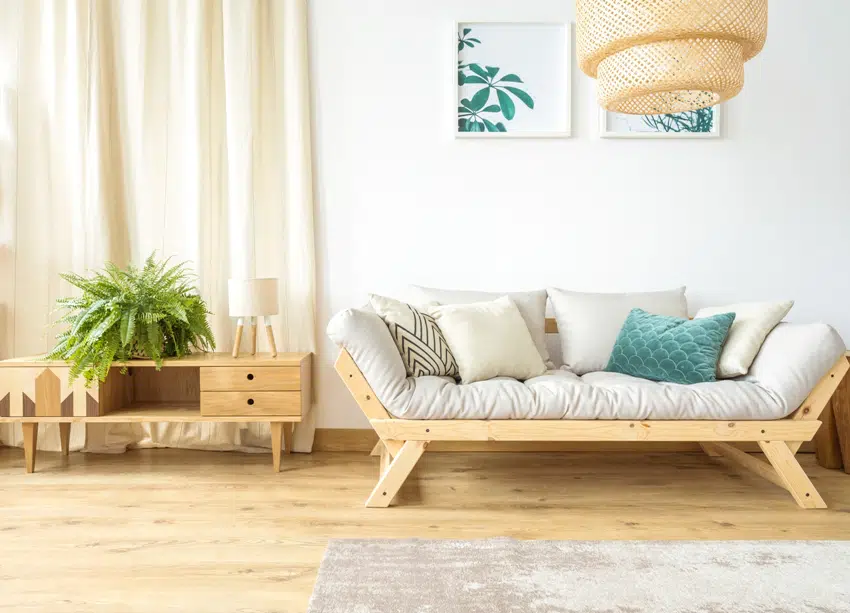 When it comes to knowing which colors are going to pair best with certain wood tones you need to look at the undertones of the colors versus the specific colors. Instead of a blanket statement, green and blue look good with a certain wood.
It will be noted that a warm color or green undertones are best used. This opens up an entire section of colors to pick from instead of limiting it to one base color.
Paint Colors That Go With Honey Oak Trim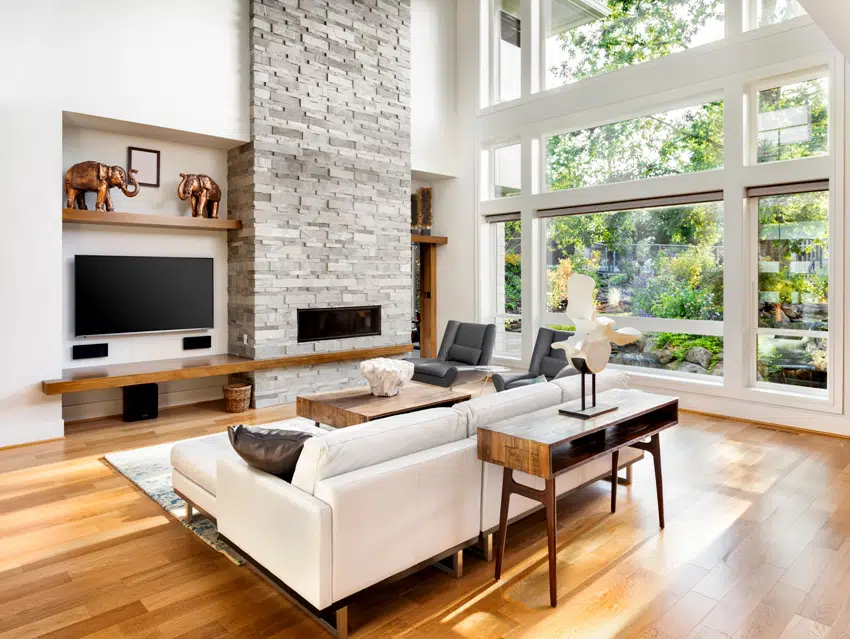 Honey oak trim has a few categories of colors that are best used with. Sticking with a warmer palette of beiges and grays will give the best results when using honey oak trim.
With the slight orange yellow tint in the honey oak, it can be easily offset with blues and greens to avoid the room feeling too warm and stuffy. Using a warmer beige color can embrace that warmth without overwhelming the space too much.
Red and yellows can be used, but are best used in moderation as a type of accent piece to keep the focus on the wood instead of the walls. In the case where only the trim is this color, it may not be as big of a deal since the trim is not the focal point of the space.
Below we go into detail and list specific paint colors you can choose from in each of these categories.
Sherwin Williams Paint Colors That Go With Honey Oak Trim
While there are a ton of great colors that can be used when a honey oak trim has been selected, there are a few that stand out in particular.
Based on the different types of feel desired for a certain space, as well as the other items being placed in said space, one may lean closer to one color option than another.
The recommended colors are described below, if you like the color, but it is just a little too light or dark, you can check on Sherwin Williams website to find the same color choices, just a little darker or lighter per your specific taste.
Neutral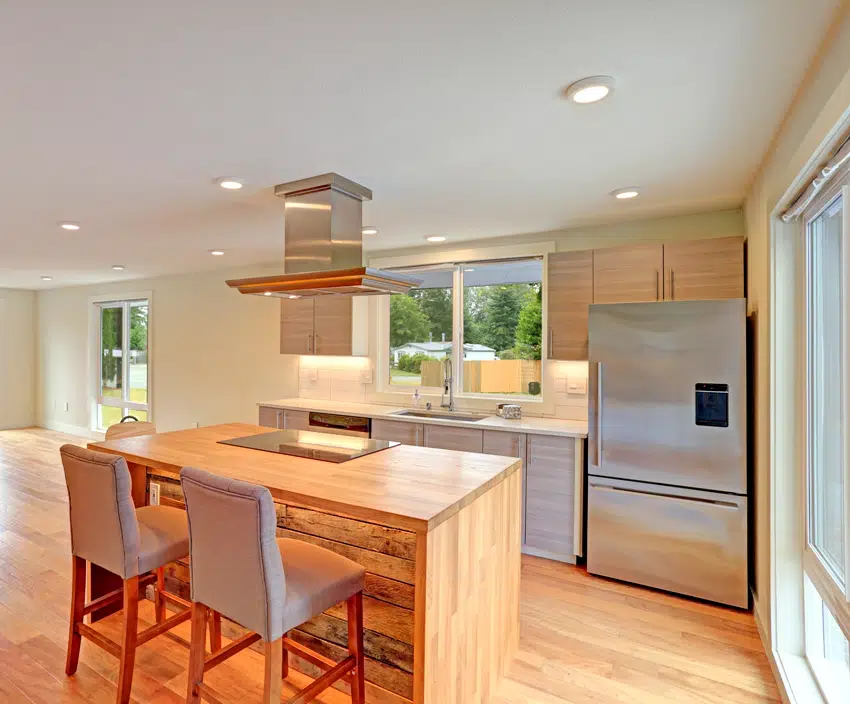 The best neutral Sherwin Williams paint colors to pair with honey oak trim are:
Steamed Milk (SW 7554) by Sherwin Williams gives a light slightly beige and offwhite aesthetic that lets that honey oak do a lot of the talking in the space. It is a warm, light color that can pair with both the honey oak as well as any chosen accent accessories. Rare Gray (SW 6199) by Sherwin Williams gives a slightly darker, cooler feel while still tying in with the honey oak trim.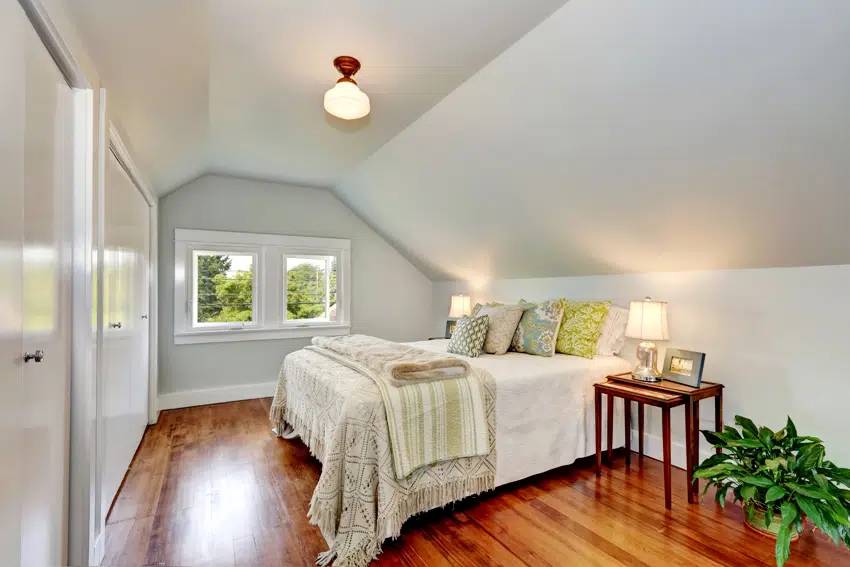 As another neutral, it too fits with the wood and lets you choose another color as an accent for furniture and accessories in the space. See more ideas on accent wall colors for your home.
Blue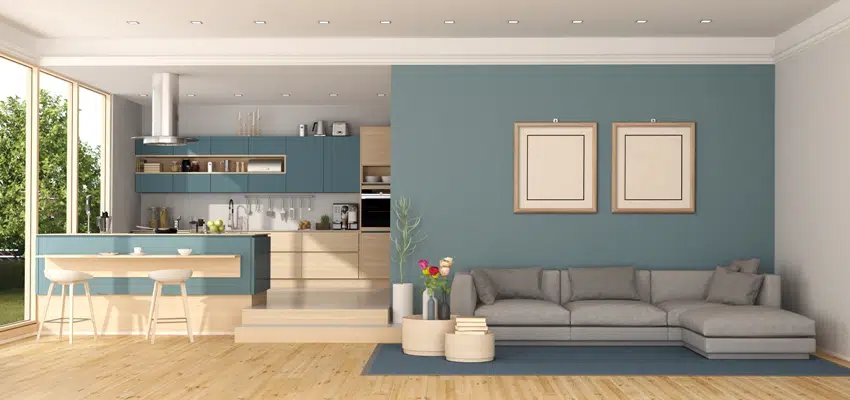 The best blue to pair with honey oak trim is the Resolute Blue (SW 6507) This color is bright and welcoming for any room. This color is best used with honey oak when aiming for a coastal or beachy feel. Paint recommendation: Resolute Blue (SW 6507) by Sherwin Williams – a medium light shade of cyan that is bright and welcoming for any room.
Resolute Blue and honey oak can combine with neutrals, darker blues, and greens for accents and furniture in the space.
Green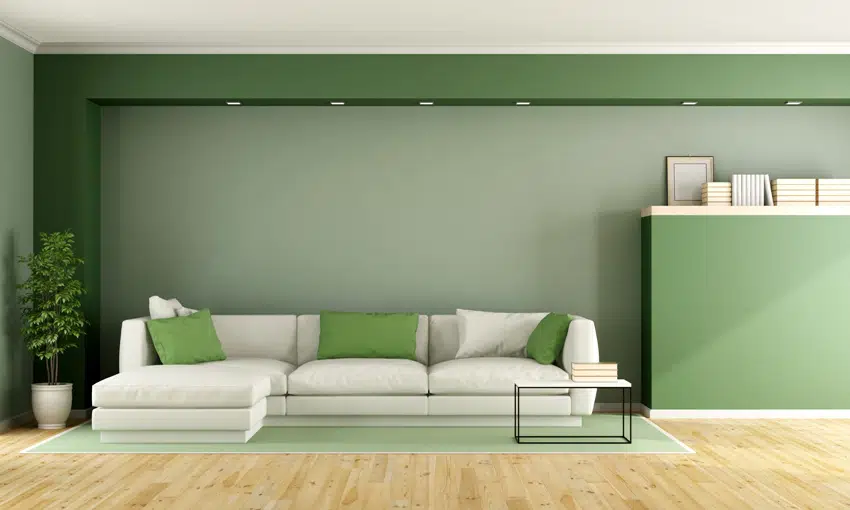 When it comes to greens and honey oak wood the best combination is with Sherwin Williams Seawashed Green (SW 9034). Seawashed Green (SW 9034) by Sherwin Williams is slightly muted, while still shining through with a light and natural color.
This color and honey oak together best pair darker neutrals for furniture pieces within any space to give an earthy aesthetic. Plants are a great accent when using this shade of green and a honey oak wood trim.
Best Wall Paint Colors To Go With Honey Oak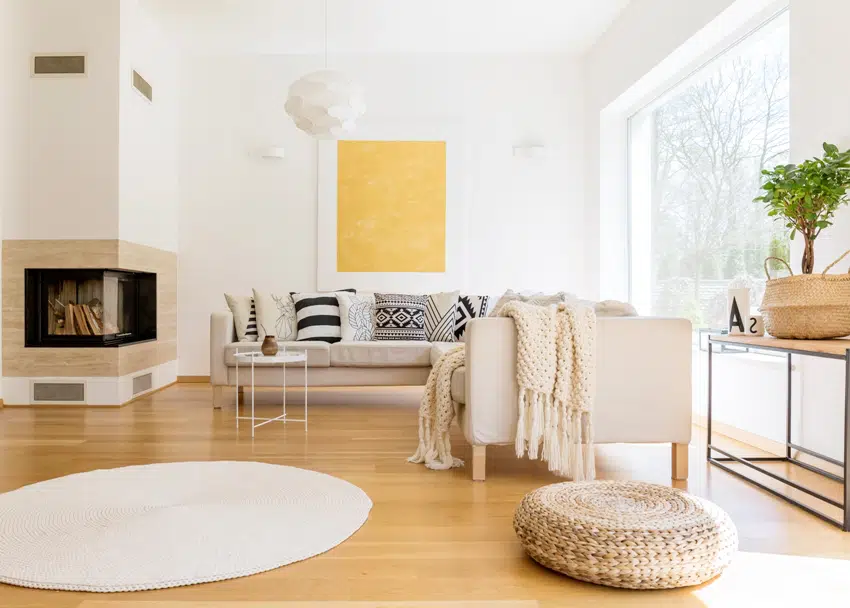 There are a few initial sections you should start with when venturing into what you should paint a wall with a honey oak trim, floor or cabinet connected to it. The categories to start with are:
Neutrals – You should be looking for something to contrast the wood, either extremely light or medium dark.
You will want to avoid using the same color of tans or browns that are spoken for in the wood you have. A for neutrals you can choose from warmer grays and greiges, or some soft beiges and browns.
Blues – Accenting honey oak gives off a coastal or beachy feel, if that is the intention, you are in the right spot. Blues can be either extremely pale or a middle ground brighter blue. Using a darker navy blue can be a little too much contrast when using honey oak wood.
Greens – When accenting with green color, almost all of them are on the table. Honey oak is a very natural looking wood and pairing with any shade of a nature friendly color such as green will give an earthy, natural look to the space. Read more about our guide on colors that go with green here.
Paint Colors That Go With Honey Oak Floors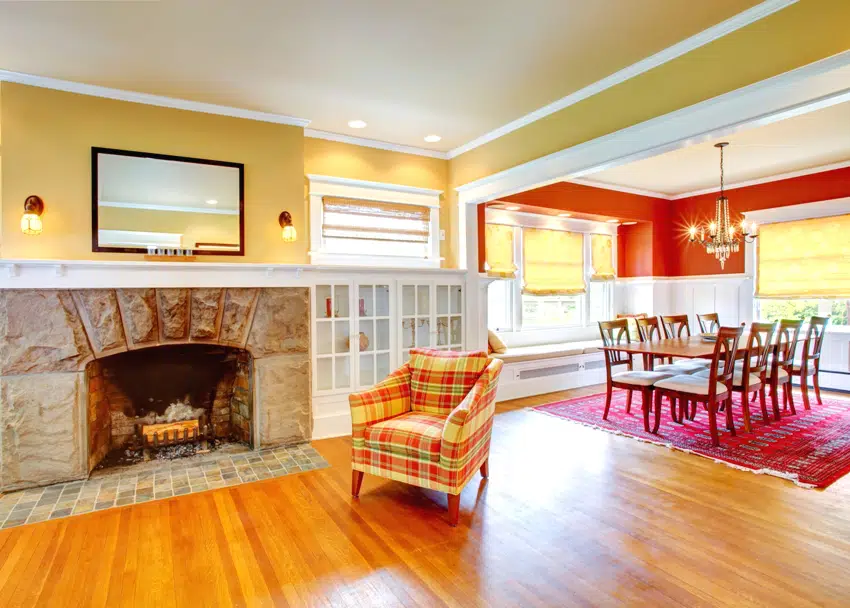 As mentioned above when discussing what colors to choose when there is wood trim, red and yellows can be used, but are best used in moderation. This is particularly important when it comes to honey oak flooring, as it can become extremely overwhelming if there are too many warm colors in a space.
Flooring covers the entire base of the space, and the walls take up the rest, it is best to include a neutral or a cooler color to help the space breathe.
The honey oak wood floors can be easily offset with blues and greens. Using a nice neutral with a blue or a green as an accent can be one of the best solutions to even out the tones in the room.
Paint Colors That Go With Honey Oak Cabinets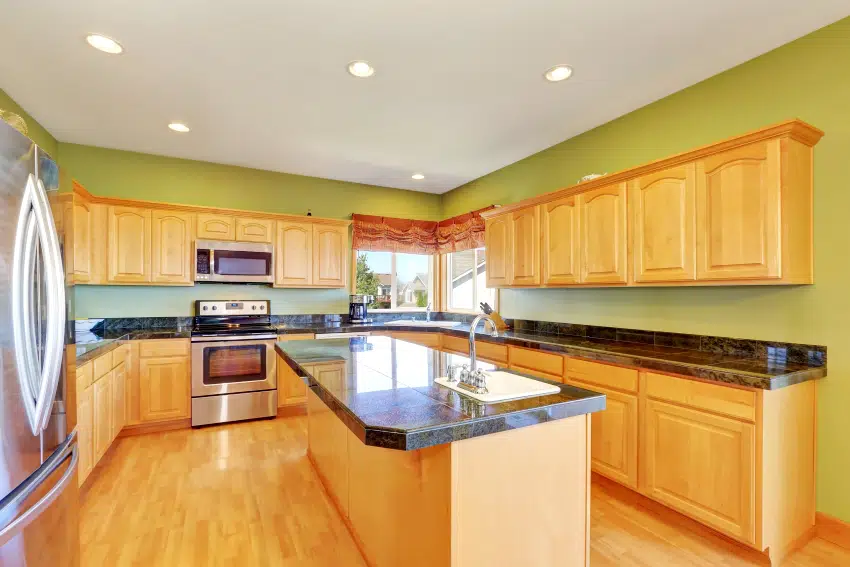 In contrast to the above mentioned flooring, honey oak cabinetry takes away painted space, making for less overwhelming an accent if you choose to go with a bolder color.
Often these honey oak cabinets are in a kitchen, which can come with the creation of a backsplash, appliances, the work. Read more about kitchen paint colors with oak cabinets guide here.
This is where it is best to use a bright blue or green to keep it exciting if you are choosing milder finishes on the rest of the equipment, or using darker neutral and letting the accessories do all the talking.
For more related ideas visit how to match wall color with wood floors page.