Welcome to our Dutch door design guide where we discuss popular types and the styles to use for your interior design projects.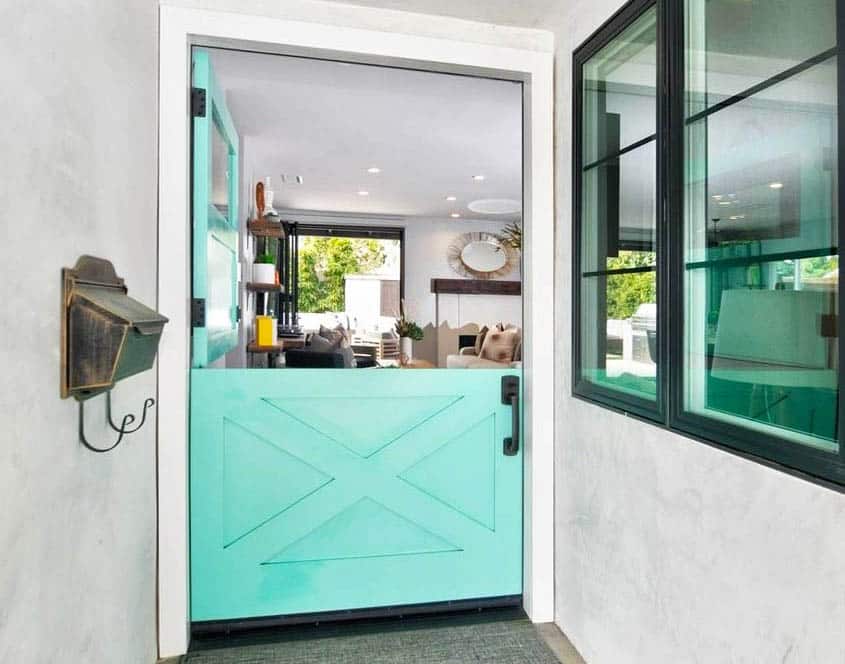 When you're creating a picture-perfect home with the interior and exterior design of your dreams, the last thing you want to do is overlook any detail whether it's as large as the paint job in your living room to something as targeted as the type of door you use. If you want to make a splash with your doors, one of the best options is to deviate from the modern norm a little and opt for a Dutch door.
What Is a Dutch Door?
A Dutch door may also be referred to as a double-hung or half door. These are the doors you see that you can open in one, single piece like a traditional door, or you can choose to only open the top or bottom half of the door.
There are plenty of benefits to Dutch doors such as an ability to keep an eye on children and pets or even just to add to how visually dynamic your home is.
Types of Dutch Doors
While wood is the most common type of Dutch door there are many other materials to choose from. Here we discuss each of the most popular types and their most useful applications.
Wood
When it comes to wood Dutch doors, you have a few different options that will offer different appearances and benefits. The main types of wood you can choose for are cherry, mahogany, alder, oak, walnut, or a multi-wood option.
You can also choose from a variety of finishes and styles to amplify or alter the natural appearance of the wood in your door. Paint is also an option although some woods take paint better than others.
In addition to solid wood there is also MDF which stands for medium density fiberboard and is basically an engineered wood product commonly used for interior door.
Glass
Decorative glass is another common facet of visually engaging Dutch doors. These types of Dutch doors use glass panels for a couple of reasons. On the more practical side, it offers more visibility through the door and is often an energy-efficient choice. Yet, on a more aesthetic side, the glass can be tempered, tinted, or a whole host of other options to make sure your Dutch door looks like no other.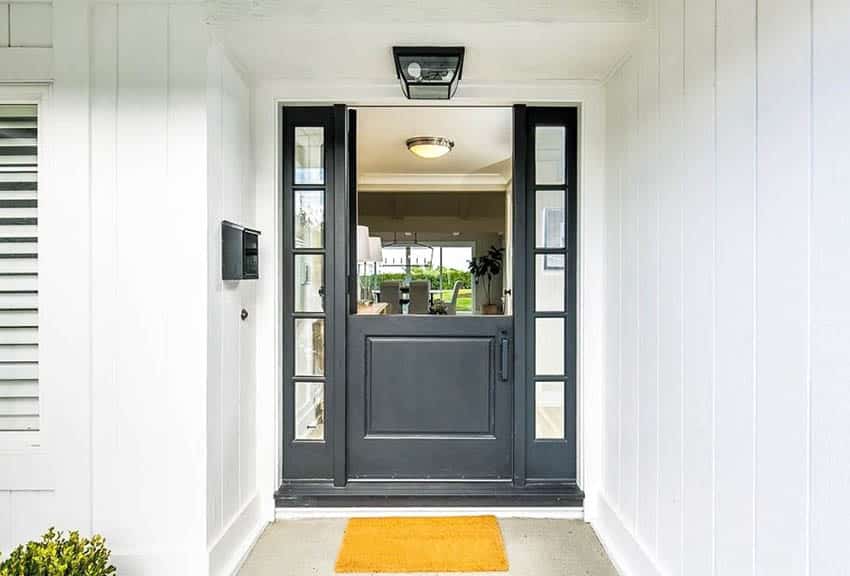 This Dutch front door has decorative glass sidelights that enhance the amount of natural light in to the home.
Fiberglass
Fiberglass has a lot of the same benefits as a Dutch door that uses glasses but with a few extras thrown in there. For one, fiberglass is incredibly strong – you won't have to worry about the door or its windows breaking easily. However, it can still offer a variety of design styles to give you a one-of-a-kind appearance alongside a reliable level of durability when you're renovating your home.
Metal
Metal doors may sound industrial to many people but they're actually a highly versatile and common choice. Because of their material, they aren't likely to suffer from structural damage over time aside from a higher risk of rusting if not taken care of properly. Plus, you can paint and treat metal doors so that they take on any appearance or style you might want them to have.
Dutch Door Styles
Exterior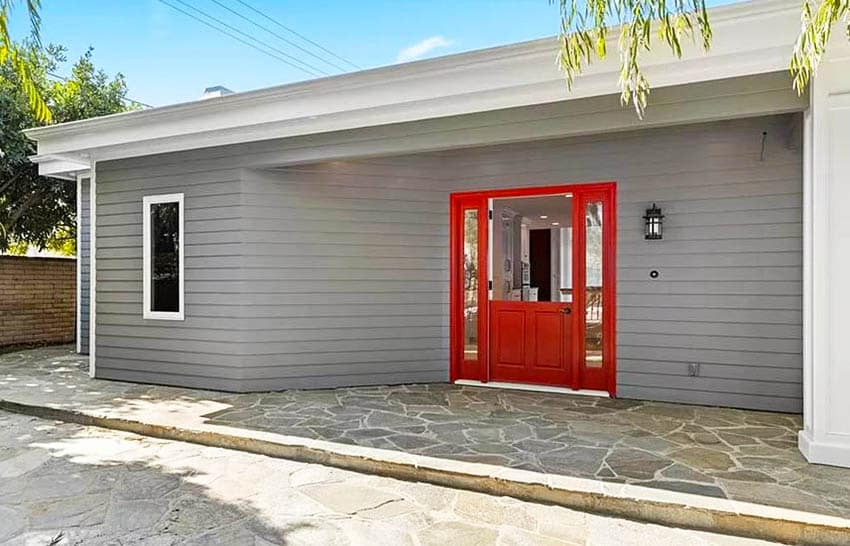 Exterior Dutch style doors have the same general concept as a standard door but they're made to be a little stronger. After all, they have to withstand the elements that they'll be exposed to such as rain, snow, sleet, and more.
However, they're still made to be attractive and eye-catching. This way, you can rely on the door to serve you well both as an elegant entrance to your home while offering you all the beauty and functionality of a Dutch door.
Interior
Interior Dutch doors aren't made to be quite as heavy-duty as an exterior Dutch door but that doesn't mean that they aren't built to last. Even better, you can get them in a variety of designs that will help you stay on track and find something that works for your style specifically in everything from style to material and even to color. See more types of interior doors here.
Bedroom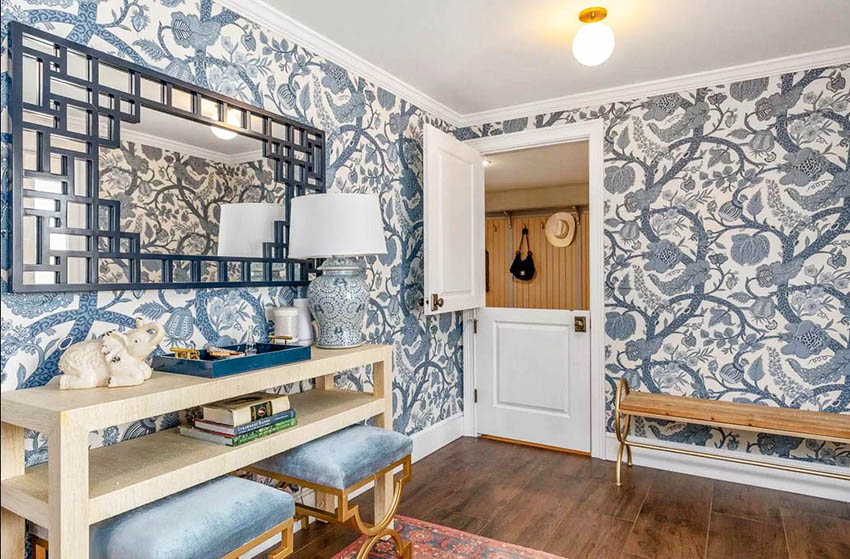 A Dutch door in a bedroom is a great tool if you want a little privacy but need to know what's going on in the outside world as well. It also works as a great way to adjust to situations where you need an option such as an open door with a baby gate. This will help you to pay attention to what's happening outside of the room while making sure kids and pets don't go places they shouldn't.
Double Dutch Door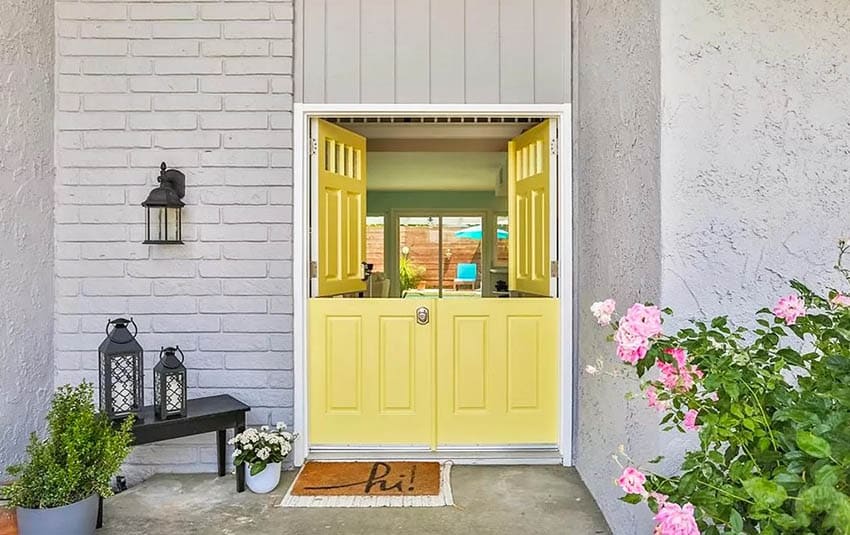 Double Dutch doors are another concept that is pretty self-explanatory. Rather than having a single door in the frame, there are two side-by-side doors. This is a great choice when you have an area that has a lot of horizontal space as well as receives heavy traffic flow such as transitioning into a living room or den. However, in a smaller space, these might prove to be more cumbersome than helpful.
Dutch Door with Window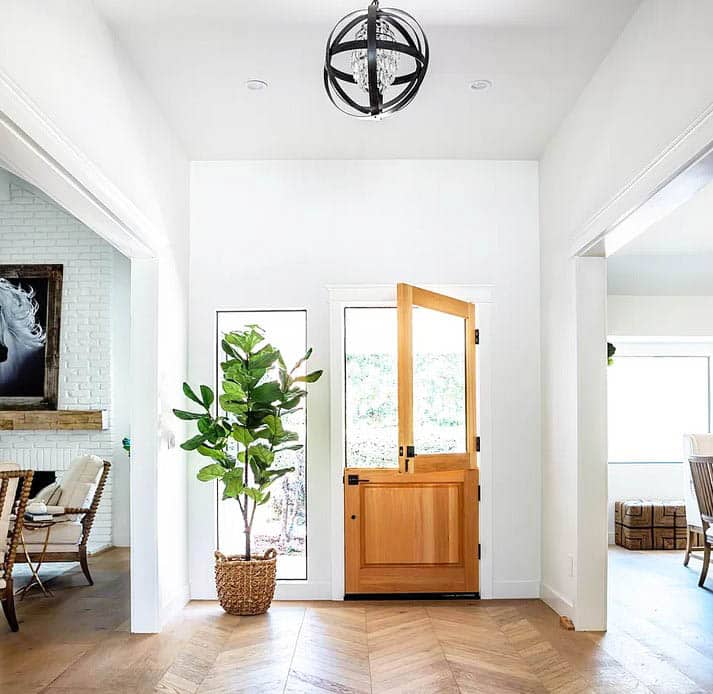 A Dutch door with a window is an especially useful tool when it comes to the visibility aspect of a Dutch door. This way, even if you have both the top and bottom of the door closed, you can still see what's happening on the other side.
You can also use a window as a creative measure. There are plenty of different ways to utilize glass that will help you stand out from the crowd when it comes to Dutch doors.
Barn Door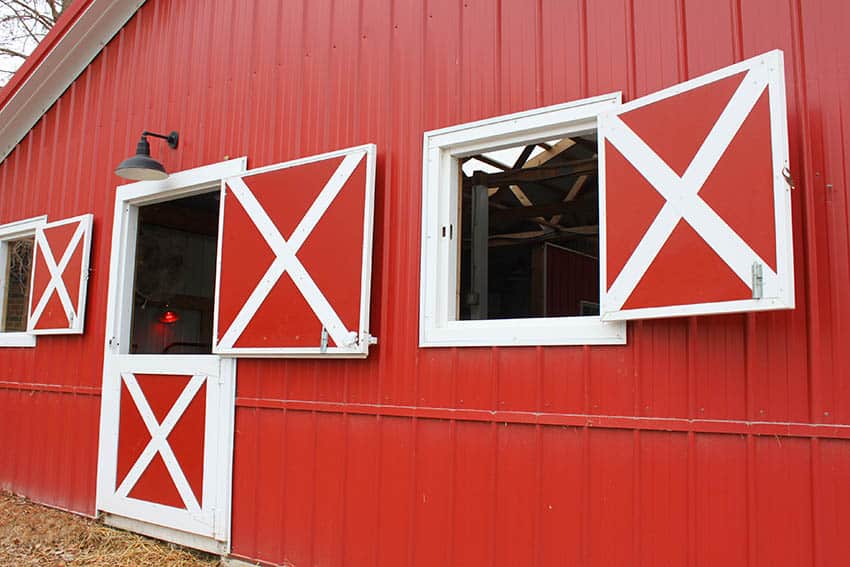 Barn Dutch doors are among the most traditional uses for Dutch doors. After all, they're pretty helpful at keeping animals in where they belong without completely obstructing you from interacting with them. Even if you don't have a barn, this style is great for rustic design.
Pocket Door
A pocket Dutch door is a great space-saving option because it doesn't swing open one way or the other. Instead, it slides into a pocket in the wall so that when the door is open, there isn't a door sitting in the walkway or obstructing a path.
Modern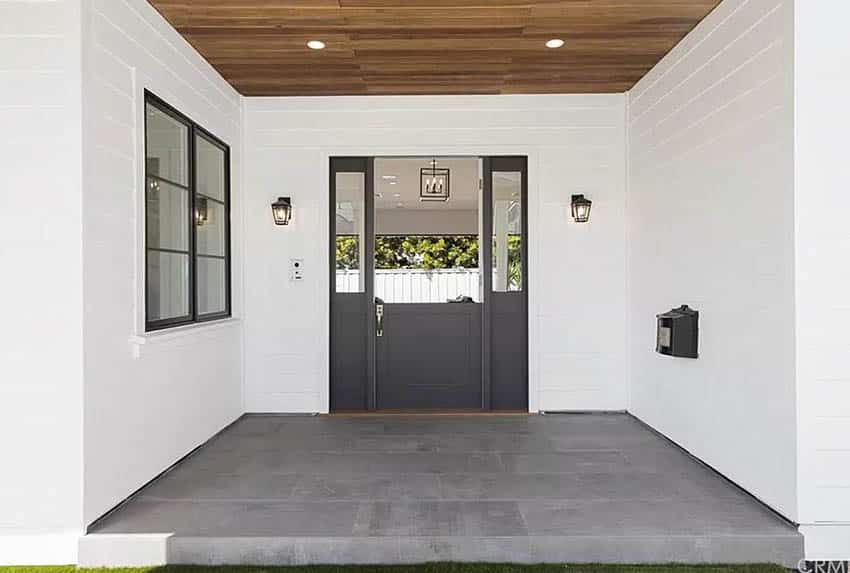 Dutch doors have been around for a long time but that doesn't mean that they haven't been updated. You can opt for a modern Dutch door which often has a less raw material appearance and comes with a sleeker, slimmer overall design to save space and reduce clutter.
French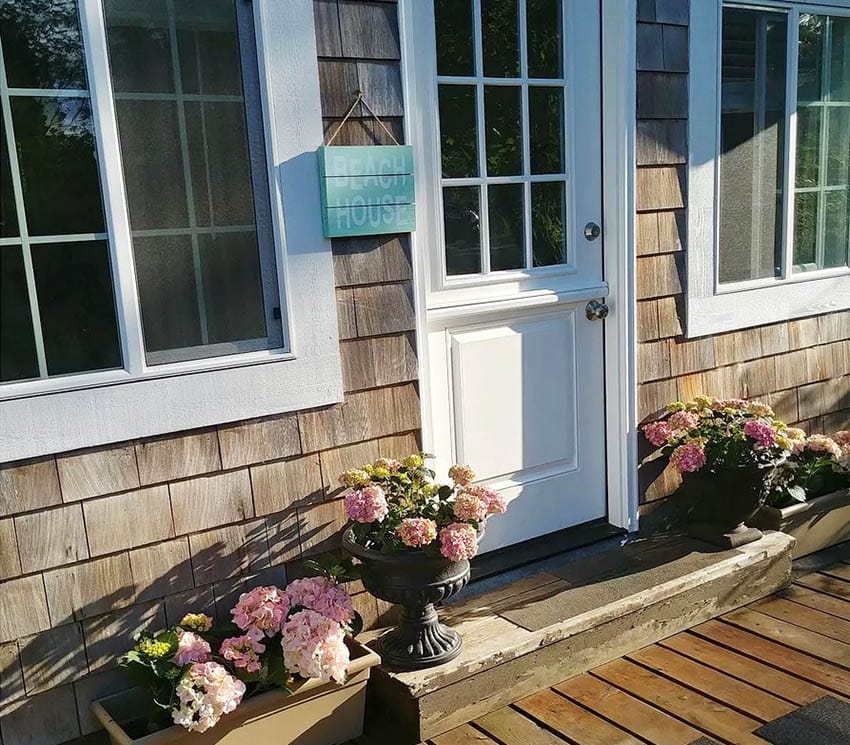 A French Dutch door is interesting because it combines two styles of doors. A French door itself is characterized by a pair of doors with extensive glass parts, allowing you to either see through the other side or to simply serve as aesthetic purposes. With a Dutch door in a French style, you still have these glass portions but you have the added benefit of these doors splitting horizontally across the center.
Farmhouse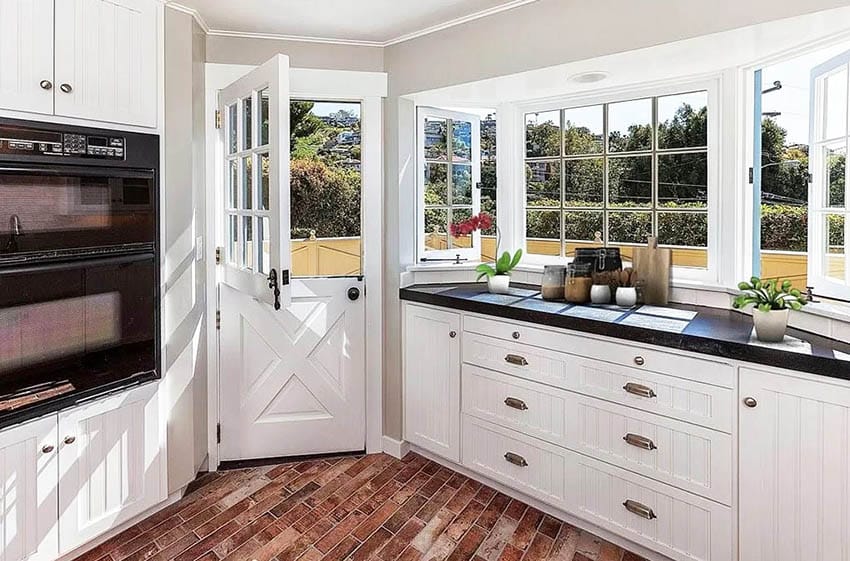 Since these types of doors are so practical, Dutch doors are a common choice when it comes to rustic and farmhouse design. These are often styled one of two ways, although the full list of options is endless.
Sometimes, they're painted to work as an accent door wherever they are, creating a pop of color. Other times, the doors may just be allowed as their bare wood appearance, drawing on the natural tones that these decor styles love. For more related ideas take a look at our gallery of kitchen pantry doors.
Modern Farmhouse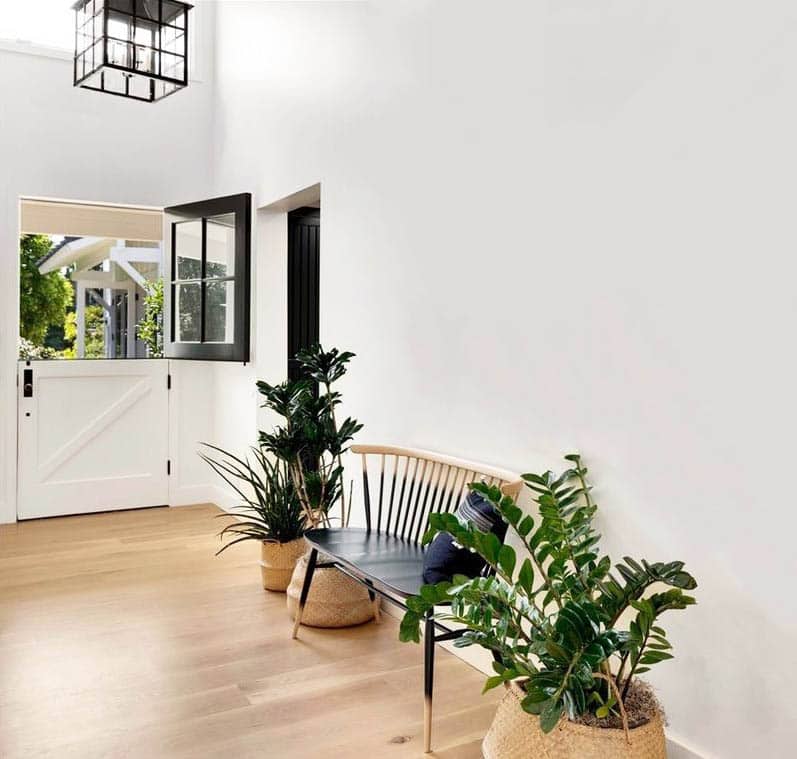 With a harmonious blend of traditional Scandinavian & minimalist style combined with contemporary finishes the modern farmhouse design has gained much in popularity in recent years. This Dutch door features an exterior that's painted black with a white interior, creating visual interest when the upper half is opened to the entryway.
What Hardware Do You Need for a Dutch Door?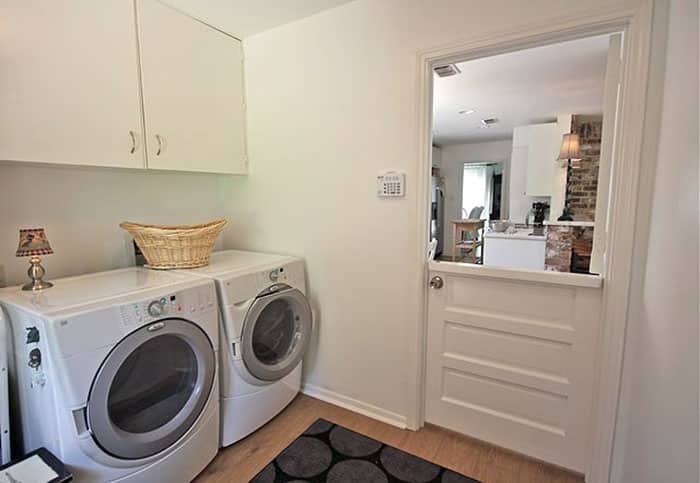 Dutch doors are pretty simple when it comes to hardware. While it might seem like a door split in two would call for a lot of extra hardware, you really only need one more thing than a standard door would call for. While you need the basics like knobs and hinges, you'll also need to purchase a simple latch to lock the top and bottom parts of the door together when you want them united like a traditional door.
Types of Dutch Door Hinges to Use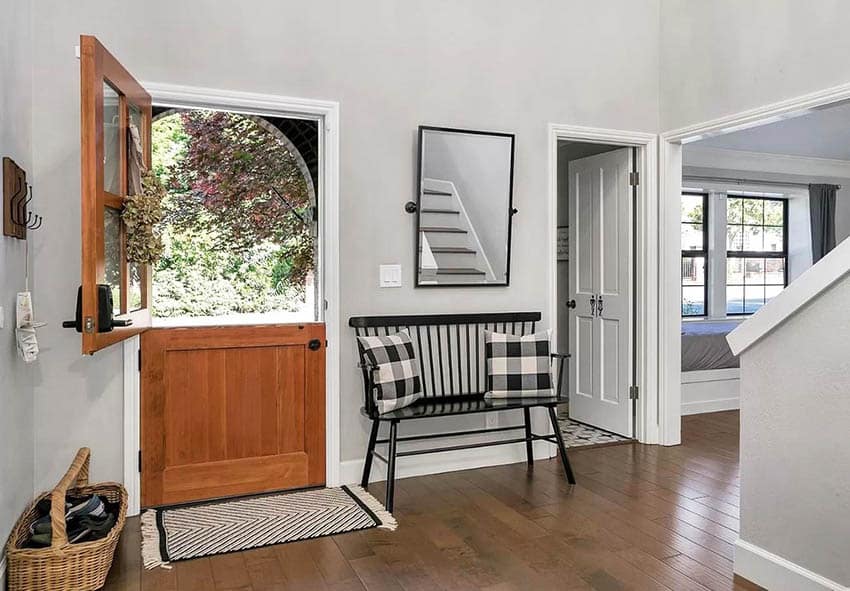 In all, Dutch doors require four hinges broken down into two for the rather than the standard three hinges on a traditional door. This puts two hinges on the top half of the door and another pair of hinges on the bottom half of the door.
You aren't very limited as to why types of hinges you can use either. You can even use standard hinges if they meet the weight requirements. Yet, the most popular choice is to opt for Colonial strap hinges.
Why Are Dutch Doors So Expensive?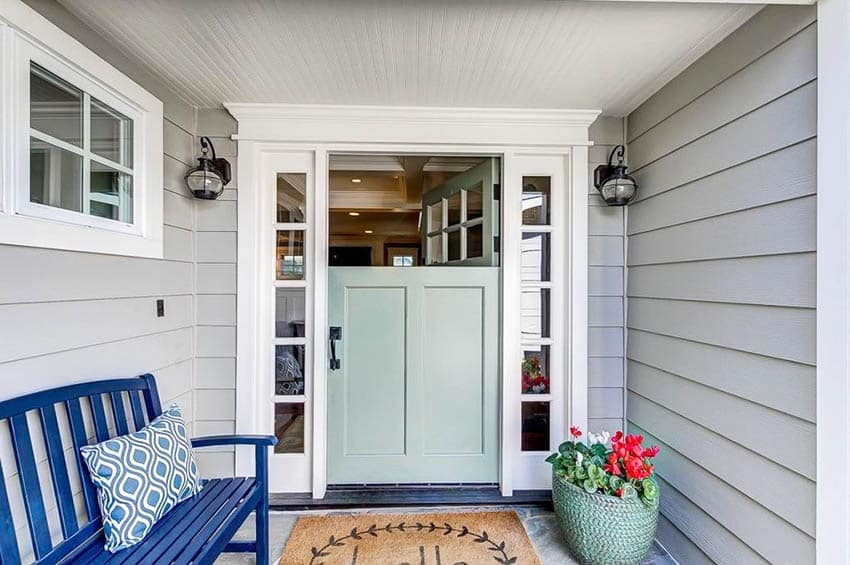 Dutch doors tend to be more expensive because they require more intensive hardware. For instance, you'll need more hinges alongside additional tools such as an extra latch to secure the bottom and top halves of the door together.
It also takes extra effort to properly seal a Dutch door. As with most doors, it needs sealing along the bottom, as an example. With a Dutch door, you also have to worry about weather-sealing the dividing line between the top and bottom half of the door too.
Where to Buy Dutch Doors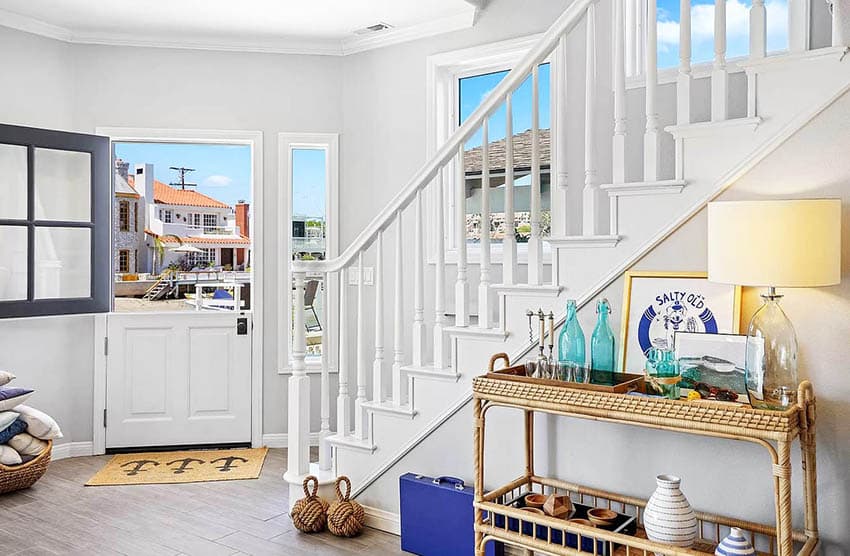 There are a variety of places that you can go to find a Dutch door to fit right into your dream home. One of the best places to look around, though, is to check out sites such as Rustica, Simpson Door, Etsy, Wayfair and other options online. You can get just about anything online no matter if you want a stock option or something custom-made.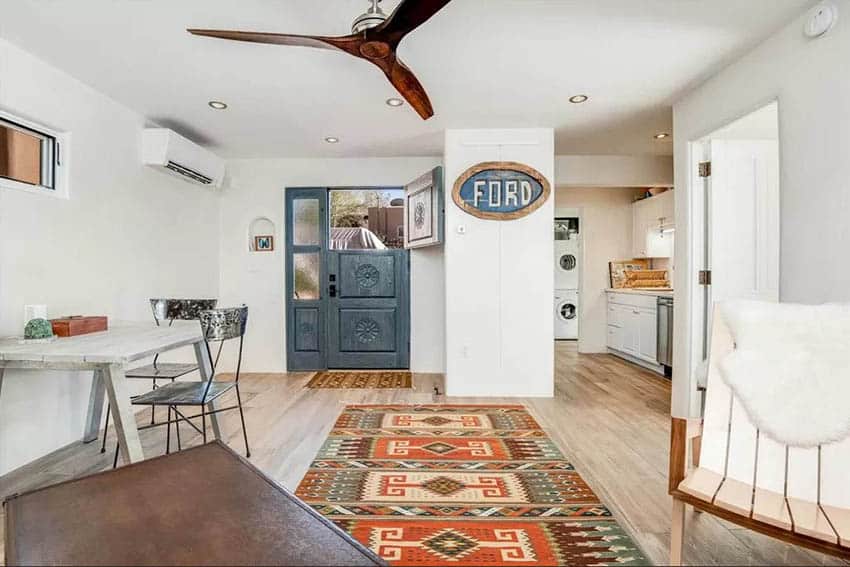 This 70's style mid century modern Dutch door with glass sidelight gives the home's entry design a retro feel.
You can also look around at local hardware stores where you'd get other home improvement and door options. Two that come to mind are Lowes and Home Depot. However, for a more custom Dutch door design check out your local door and window company in your area.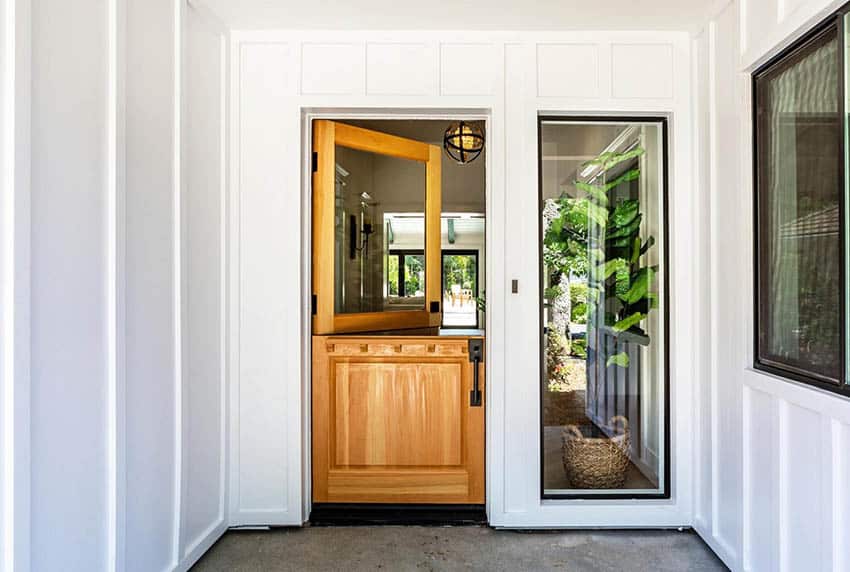 Wood Dutch door with large single pane window.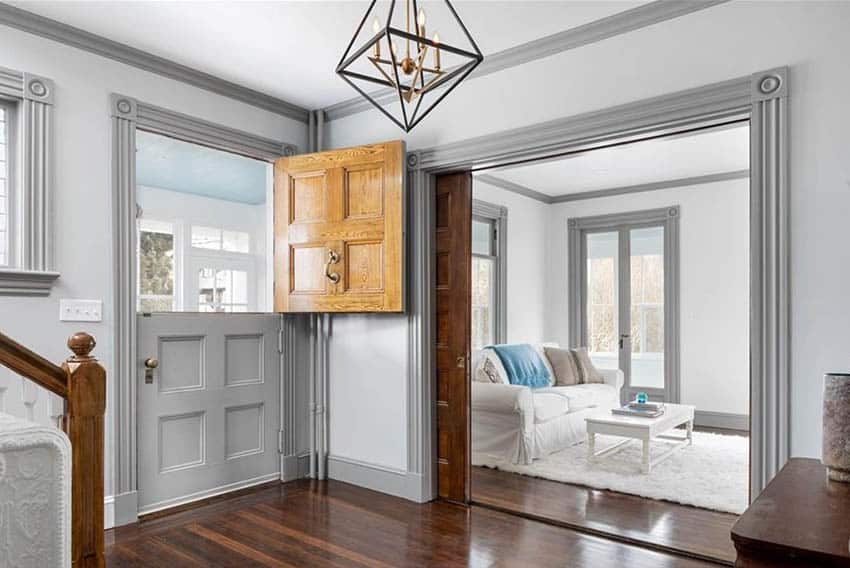 Dutch door with wood stain front and gray paint interior.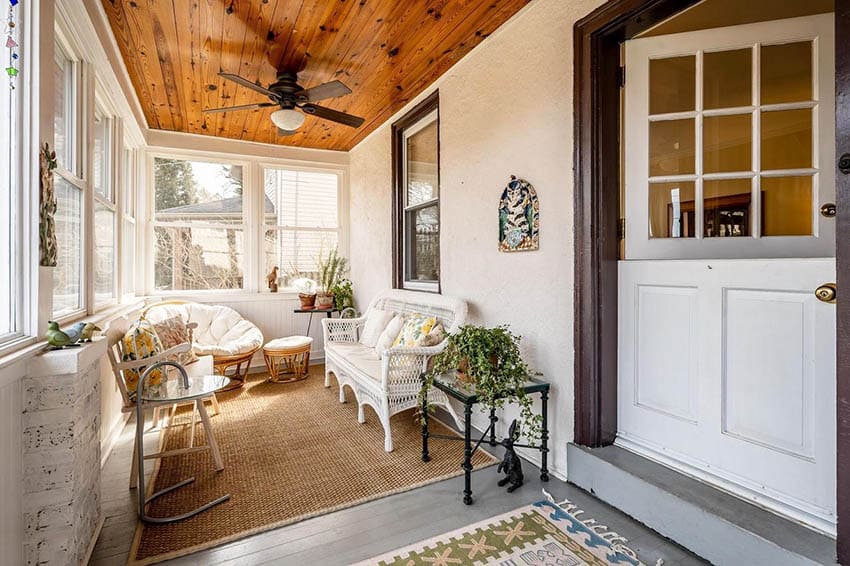 Sunroom with farmhouse style Dutch door.
For more ideas we have put together a related gallery of front door colors that may be useful for those looking to add some curb appeal to their home.