Here's our gallery of vaulted ceiling ideas including living room, kitchen and bedroom designs.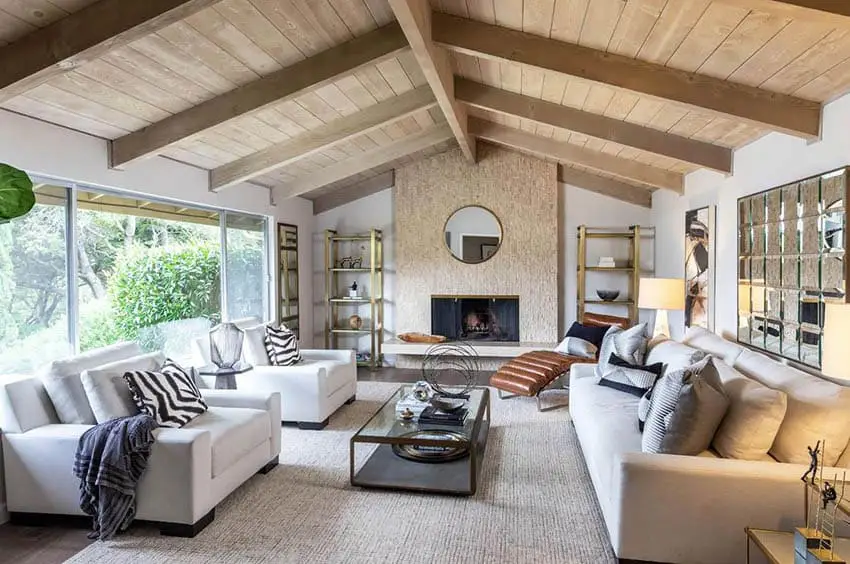 Looking to make the most of the natural light and air in your home? Consider installing a vaulted ceiling in your home's living room , dining area, bedroom or kitchen. A vaulted ceiling is a great way to make a room seem more spacious, adds grandeur and will really make an impression on visitors.
What is a Vaulted Ceiling?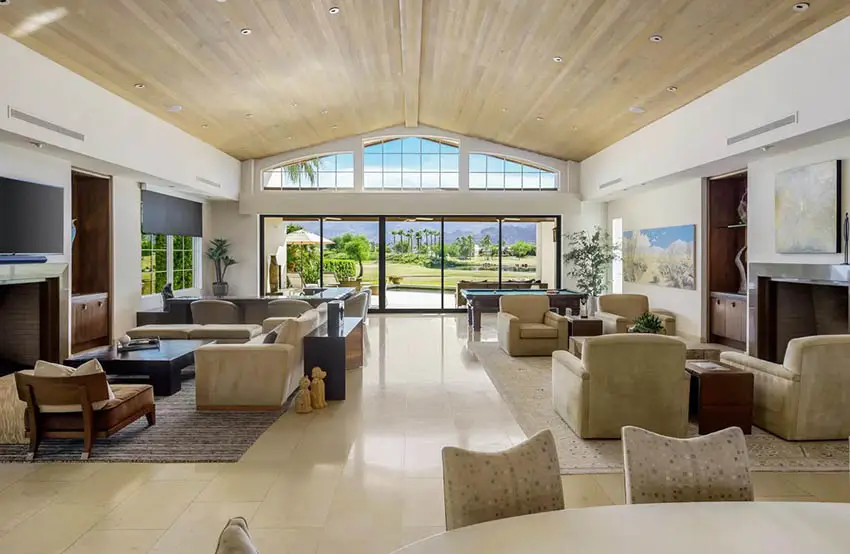 A vault is an architectural term that refers to a self-supported arch that, in turn, supports a structures ceiling. So a vaulted ceiling is designed to create an high covering for a room or other structure.
Another common term for a vaulted ceiling is cathedral ceiling. As the term suggests, these types of ceilings are commonly seen in churches and cathedrals. A vaulted ceiling makes a building seem spacious and airy and, as is was considered an architectural feat – something that wasn't easily replicated, it was supposed to fill the parishioners with awe and make them think about the wonders of God's grace.
The difference between vaulted ceilings vs cathedral ceilings is that vaulted designs do not need to have two equal sloping sides that are parallel to the roof's pitch. Cathedral ceilings always have two equal sloping sides with a ridge in the center that runs the full length of the room.
These days vaulted ceilings are much more common but they are still meant to make a space feel larger and also grander. Usually, if we are talking about residential or commercial spaces, a vaulted ceiling is about 11 or 12 feet high at the peak of the arches. A flat ceiling is usually around 8 to 10 feet.
Cost to Vault Ceiling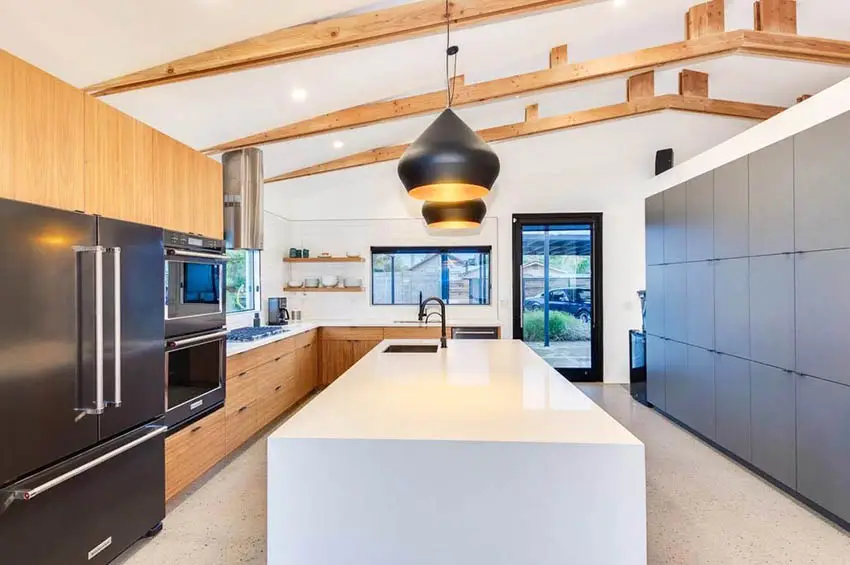 While building a vaulted ceiling is no longer as labor intensive or as time-consuming as it used to in the medieval times, a vaulted ceiling is still a bigger project than a flat ceiling. It will require more labor and more materials. Just building the arches alone will be a little harder than installing ceiling joists.
Another reason why a vault ceiling could cost more is because of certain considerations that you need to think about when installing one. For example, a higher ceiling will need more insulation and a better heating system as heat rises so it will take longer to warm the room. A room with a vaulted ceiling will also be a bigger and longer paint job as there is more space to cover.
Say you have a room that's about 20 by 20 feet, with a flat ceiling and you want to install a vaulted ceiling. First you will have to plan your ceiling and for this you will need to hire the services of a structural engineer and maybe an architect. You will also need to get the necessary building permits.
Planning and permits : $1,000-5,000
Next you will need to demolish your roof and properly dispose of your old roofing material,
Demolition and disposal of materials: $3,700-4000
After you will need to reinforce the roofs frame and remove the old ceiling joints.
Reinforcing the roof: $3,600-4,500
Finally, you will need to install new wiring, insulation, and dry wall before painting.
Electrical wiring: $2,900-3,000
Installing insulation: $1,300-1,500
Drywall: $3,900-4,000
Painting: $1,600-2,000
With this, the total estimate of installing a vaulted ceiling will be around $18,000 to 24,000
Vaulted Ceiling Lighting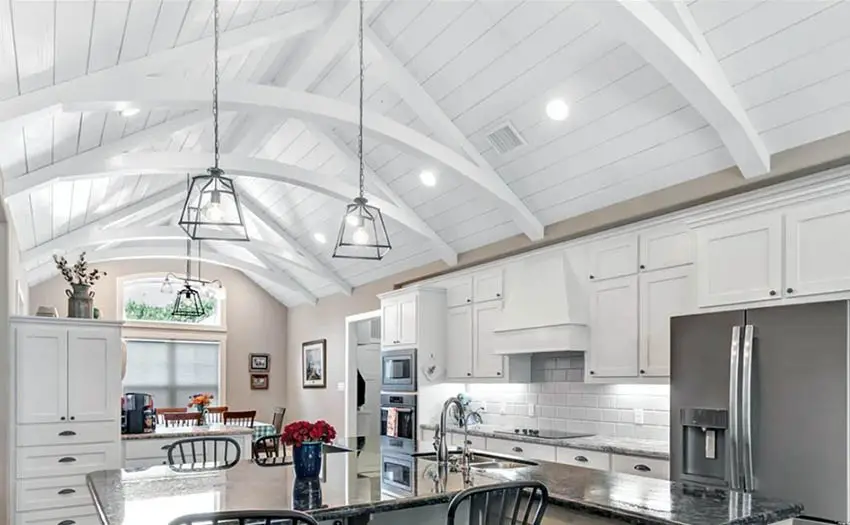 Vaulted ceiling lighting by day is easy. By its design, it's mean to take advantage of natural light and let a lot of it into a space. However, what if there is no natural light?
How do you light a vaulted ceiling?
As we mentioned before, vaulted ceilings can cost more than flat ceilings because of the cost of electrical wiring. As these ceilings are higher and take up more "space" there needs to be more wiring connecting the light fixtures to switches. There's also the fact that you might need stronger and brighter light sources to adequately reach an illuminate all the corners of your room.
Below are three of the best options for vaulted ceiling lighting features. You can also choose to layer your lighting features and use a combination of two of these types of fixtures, just make sure that they fit the overall look you are going for.
Vaulted Ceiling Recessed Lighting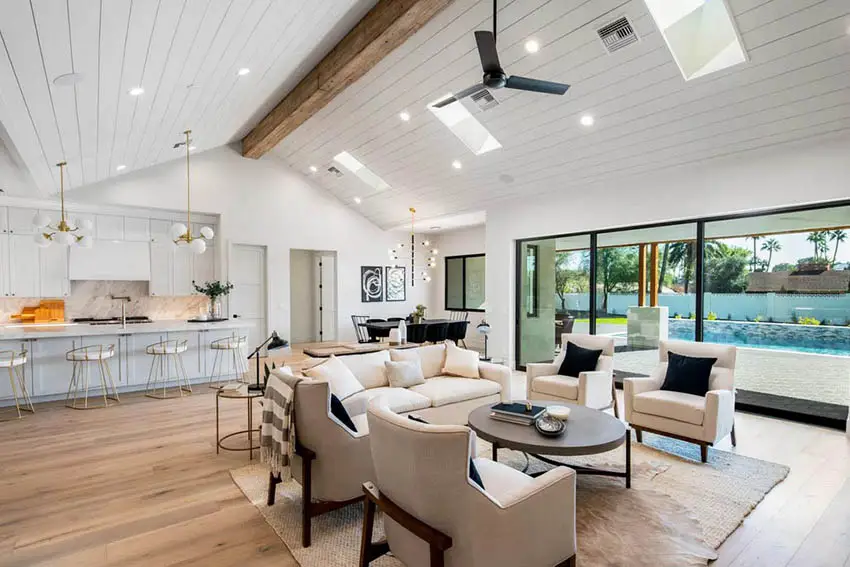 A vaulted ceiling can used recessed lighting fixtures, as long as you make sure that they were designed for sloped ceilings. This means that they are designed to shine light down at an angle rather than just straight down. They must also be spaced strategically in order to ensure that they direct the light where they are needed.
These types of recessed lights are also referred to as sloped ceiling recessed lighting or shovel cut can.
Vaulted Ceiling Chandelier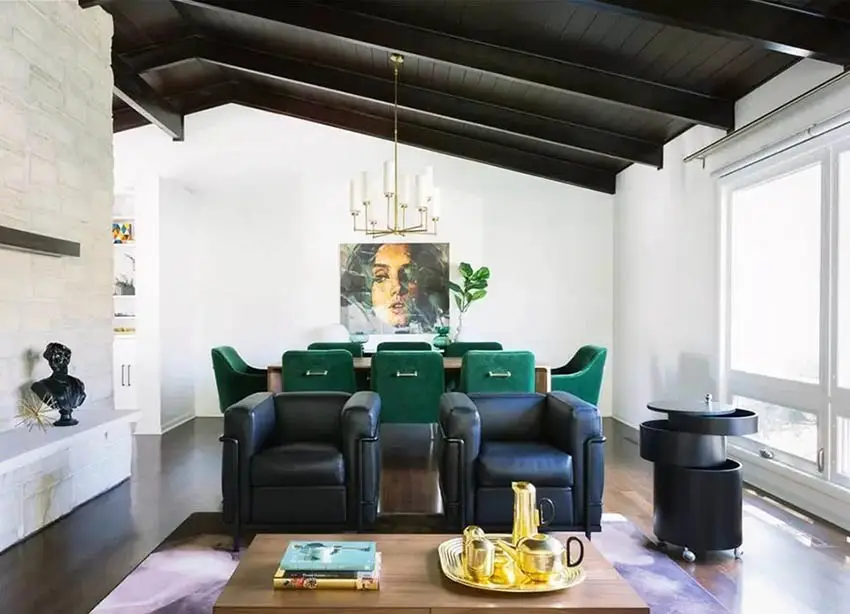 If you totally want to take advantage of the spacious and airy interiors of a room with a vaulted ceiling, you should really consider installing a vaulted ceiling chandelier. These can strategically be placed in the center of the room so that the light beams down strongly directly overhead. Meanwhile, the rest of the room will be lighted by the soft glow of the other lights on the chandelier's arms.
When it comes to hanging a chandelier at the proper height for vaulted ceilings it's recommended to suspend it around 8 feet high from the floor. There should be at least 7 feet of distance between the fixture and the floor to avoid bumping into the light. A general rule of thumb if your ceiling is higher than 8 feet is to install the chandelier 3 inches higher for each addition foot of ceiling height.
Vaulted Ceiling Pendant Lighting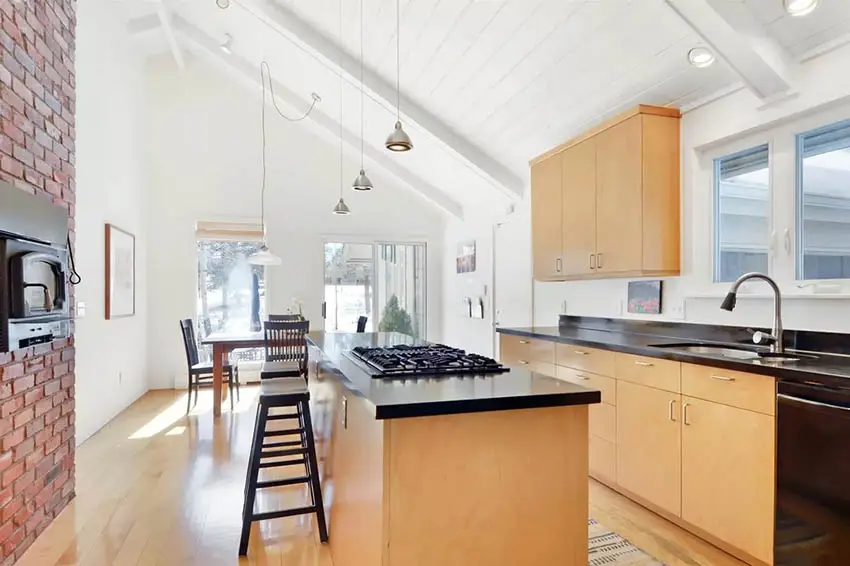 You can also use pendant lighting on a vaulted ceiling. A room with a vaulted ceiling gives you a lot of room to have dangling pendant lights without worrying about them hitting people's heads.
The best place to hang pendant lighting on a vaulted ceiling is to have them on your rooms center beam or arc. Make sure they are strong and maybe use a shade to ensure that the light is cast down on a wide angle. You can also strategically hang pendant lights on various parts of the room where you want the most illumination.
You can find lighting manufactures that create pendant light fixtures specifically for sloped ceilings that can ensure they are compatible for this type of ceiling.
Painting Vaulted Ceilings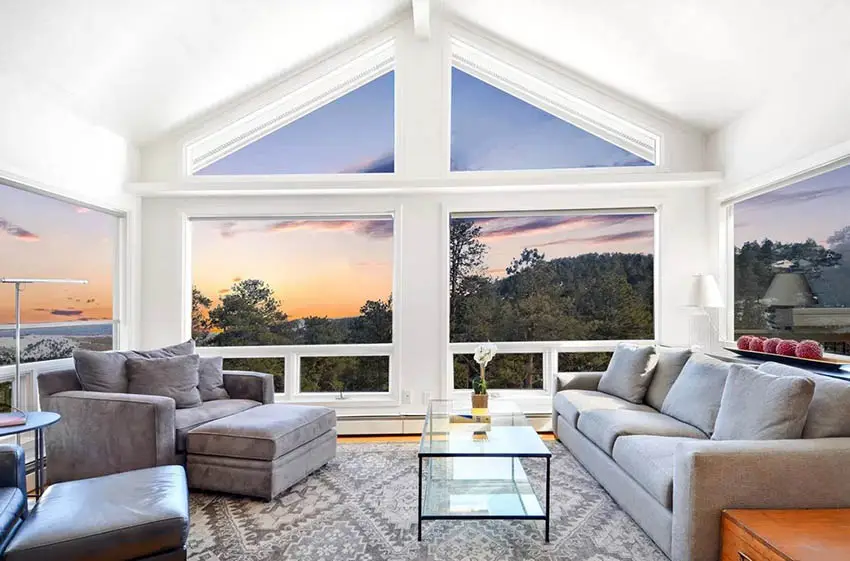 Painting vaulted ceilings can be a challenge. The cost of painting a room with a vaulted ceiling is a little higher as there is more space to cover, this means you need more paint and even more labor.
It also requires a little more specialized equipment such as longer ladders and brushes or rollers. If you hire a professional they might need to set up special platforms instead of ladders to make the job easier.
Some tools tips to keep in mind when painting is as follows:
Use an 18" roller with an extension pole
Use a paint brush with extender attachment
Have painters tape to tape off areas you don't want painted
Have rags and water bucket for cleanup
Have plenty of drop cloths to lay down to avoid paint damage to floors
Have 2 ladders of different heights
How To Decorate High Vaulted Ceilings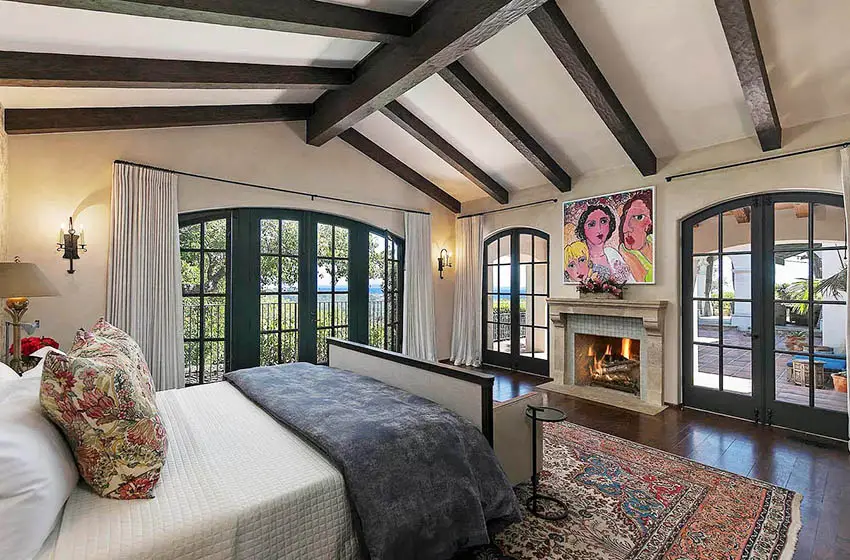 Aside from a nice coat of paint, there are other ways that you can decorate high vaulted ceilings. You need to think about how you can decorate your ceiling so that it matches the overall décor of the room and helps create the atmosphere you are looking for.
Vaulted Ceiling Beams
Ceiling beams are a necessary part of a vaulted ceiling. They are what make up the arches that hold the entire roof up. They are also a design element.
Most vaulted ceiling beams are made of wood or faux wood and you can have them in a variety of finishes. They make a nice dramatic contrast to a painted ceiling.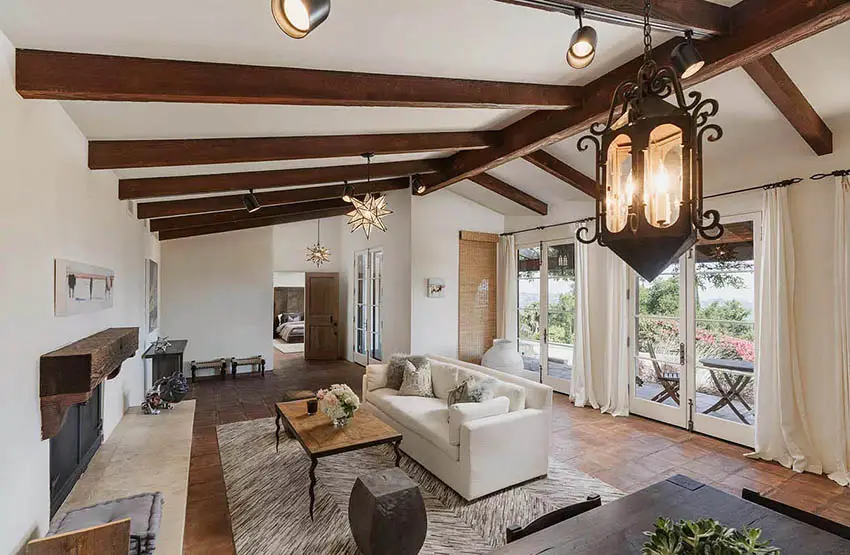 Picking the right type of vaulted ceiling beam can make or break they style of your room. For example, if you are going for a country or rustic look, you should pick ceiling beams that either are wood or look like wood. They should look rough, not painted or polished to add to the old-fashioned and rustic feel of the room.
If you want a contemporary type look, go for painted beams. You can either paint the beams to match the rest of the ceiling or paint them a different color to accentuate the room and add some texture. Tip, if you really want to enhance the airy and spacious feel of a vaulted ceiling, consider light paint. Read more about different types of ceiling texture here.
There are also ceiling beams that can come in metal or steel or that are fabricated from fiberglass to look like metal. These beams will look great if you want to create a room with a modern or industrial feel. Wood beams are also often used to create coffered or box beam ceilings which can add a sense of elegance and sophistication to a room design.
Vaulted Ceiling Kitchen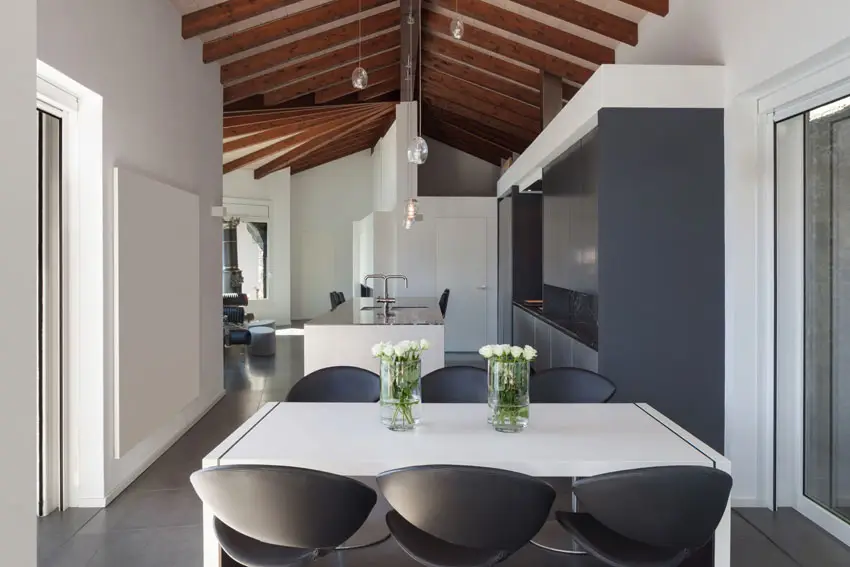 As we've mentioned, a high or vaulted ceiling allows much more natural air and light to circulate in a room. That's one reason why a vaulted ceiling is an attractive design element to incorporate into a kitchen. It ensures that the room is easy to cool and also keeps the space from feeling cramped. See more pictures of wood kitchen ceilings here.
What to Do With High Kitchen Ceilings?
A high kitchen ceiling, is an important design element for those looking to have a rustic or country style kitchen. This homey and cozy design evokes memories of home-cooking and creates a space that's not just good for preparing meals, but also to hang out and enjoy each other's company.
You should also make sure that you take advantage of the natural light. It might be good to install big windows or even a skylight to ensure that your vaulted kitchen ceiling is always well illuminated.
High kitchen ceilings also ensure that you have plenty of storage space. You can install top to bottom cupboards and cabinets. Some of course, are of practical use, but many can be decorated. A few glass door cabinets or even open shelves will be a nice place to place decorative items that will help personalize the room.
Vaulted Ceiling Bedroom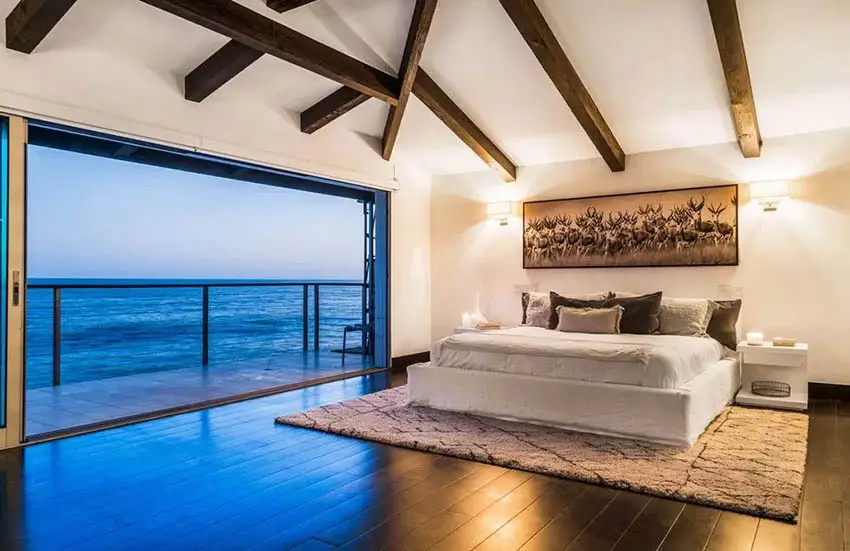 Adding a vaulted ceiling to your bedroom is a great way to create a relaxing and calming space where you have room to breathe. They can help your bedroom feel much more spacious and create visual interest. In addition, a vaulted ceiling bedroom can allow you to get create with interesting light fixtures such as an elegant chandelier to add more character to the design.
How to Make a Room With Vaulted Ceilings Cozy?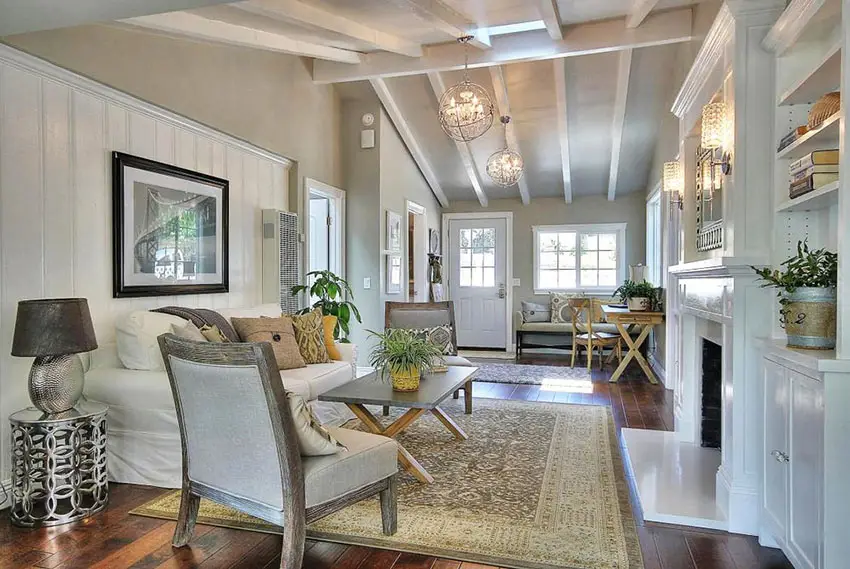 While having a lot of space and light is usually seen as an advantage in any room, for some people, it might be a bit intimidating. Some people prefer a cozy, more enclosed feeling in their bedroom. Here are a few ways you can make a room with a vaulted ceiling seem less intimidating and more inviting.
One way to enhance the coziness of the room has to do with the furniture you use. Surrounding yourself with furnishings and room accents in plush materials and warm dark colors helps create a soft feeling space. A plush rug and generous use of draping fabrics or throw pillows will also help.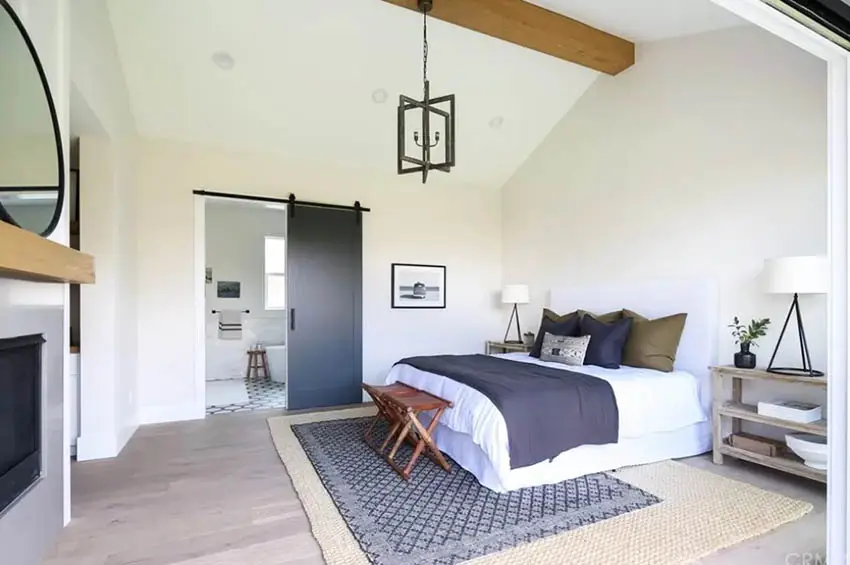 Furnishing should also be placed close together, with just enough space for you to traverse the room easily but give you the feeling of being surrounded and protected.
Don't leave the walls bare. Surround yourselves with bookshelves and open cabinets filled with your favorite things. Hang paintings, artwork, and pictures of things you love and people who are important to you to make use of the space and make the room truly reflective of your personality.
The key here is to use the abundance of space that a room with a vaulted ceiling has to make sure you create an atmosphere that is welcoming to you and that makes you feel safe. That is how you make a bedroom a cozy sanctuary and a retreat from the outside world.
Shiplap Vaulted Ceiling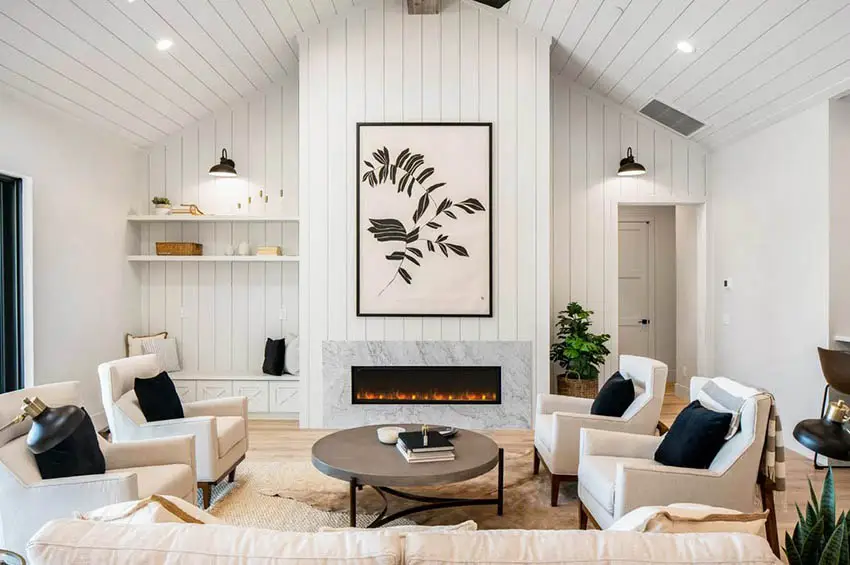 Shiplap is an interior design style where wooden boards of planks are mounted horizontally on a surface so that there is a slight gap between the boards. Historically, shiplap is used for the exteriors of structures, houses, sheds, barns, and even ships as the way that the board's fit together protect the interior materials of a structure from the elements. It also creates an interesting, textured surface that many find attractive.
A shiplap vaulted ceiling can be used for almost any room in a home. Traditionally it is made of wood so it can be a bit expensive. However, you can also opt to use faux wood or remolded beams to cut costs. There is also wall paper that can be bought in a shiplap ceiling design.
It cost between $3.00 to $7.00 per square foot to shiplap a ceiling with real wood. For most ceilings this will cost a total of about $900 to $2100 for a 300 square foot room.
Beadboard Vaulted Ceiling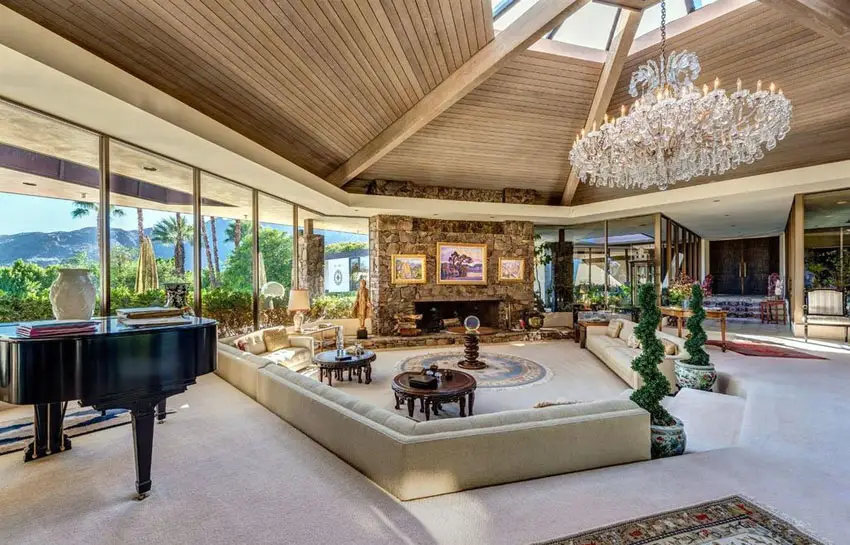 Beadboard is a type of decorative panel. It is made to look like narrow wooden planks placed one after another in a vertical row. In between each plank is a small ridge that is called the "bead" which gives this type of paneling its name. They usually include a strip of molding placed horizontally on the top and the bottom of the panel.
Beadboard is most commonly used on walls, but can also be used on a ceiling. Installing a beadboard vaulted ceiling is a great way to add some interesting texture to the room. Many designers like to install beadboard panels on a vaulted ceiling that are a different color or material from the ceiling beams as the resulting contrast helps add an element of interest in what might otherwise be a dull part of your room.
Tongue and Groove Vaulted Ceiling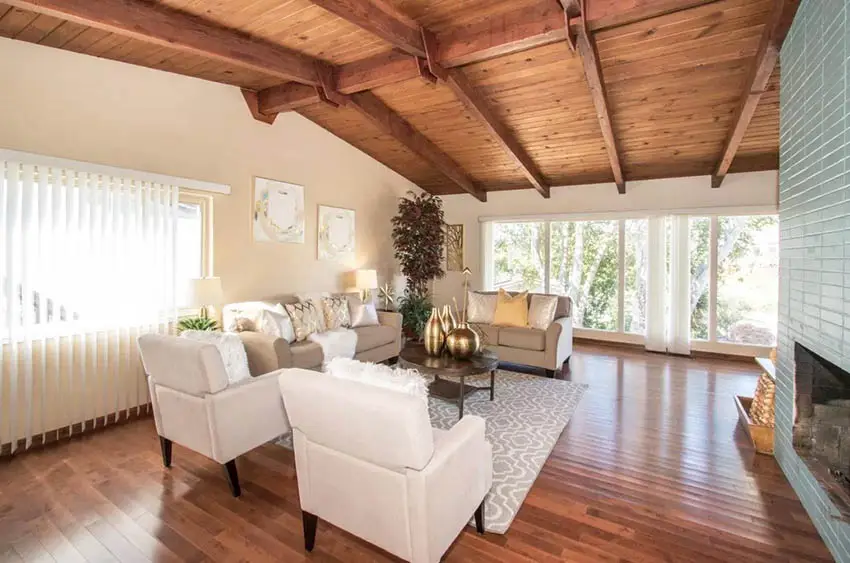 Tongue and groove paneling traditionally consists of planks with different edges along their lengths. One edge has a tongue, while the other has a groove and they are installed by slotting the tongue edge into the groove edge of another board. This makes a tight, easy to install panel.
Of the three types we've mentioned here, a tongue and groove ceiling is the most versatile. You can install it over drywall or plaster and can either be left as is or painted. The cost to install tongue and groove wood planks on the ceiling is approximately $2.50 to $4.00 per foot.
Vaulted Ceiling Designs
This large living room features cathedral ceilings with painted beams and iron ring chandeliers.
The vaulted ceiling in this transitional living room and dining room space keeps things light with its bleached wood and white walls.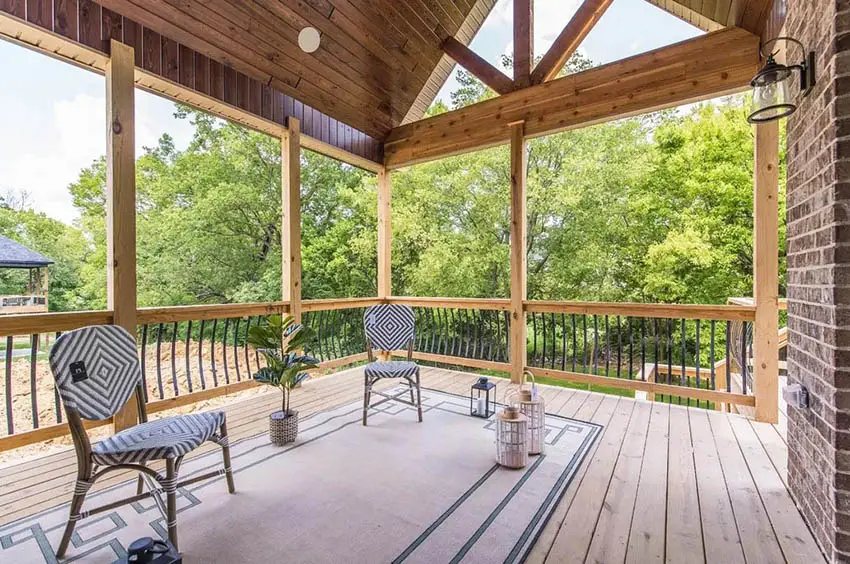 This inviting outdoor patio with high vaulted ceiling provides a great place for relaxing and entertaining.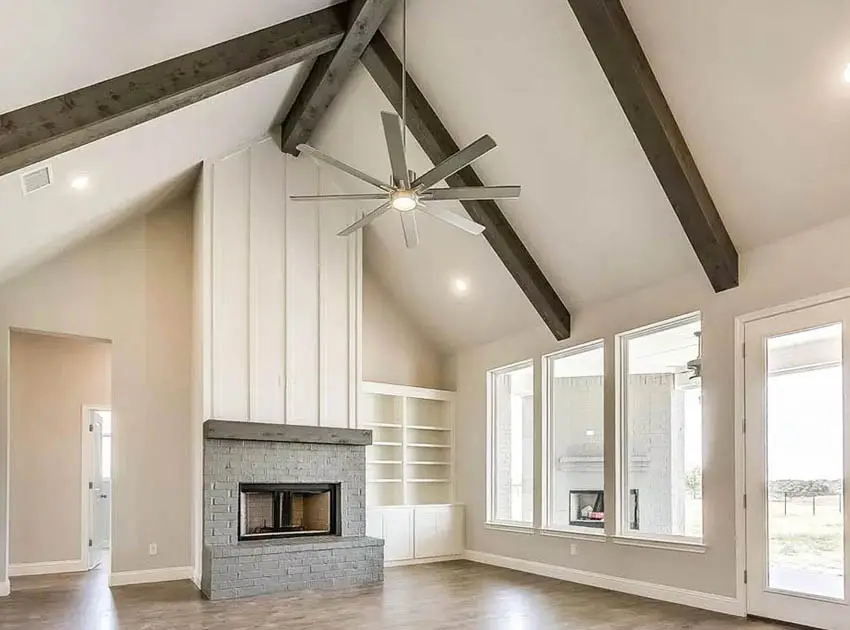 This steep living room with wood vaulted ceiling has dark beams that gives an interesting contrast to the light beige wall paint.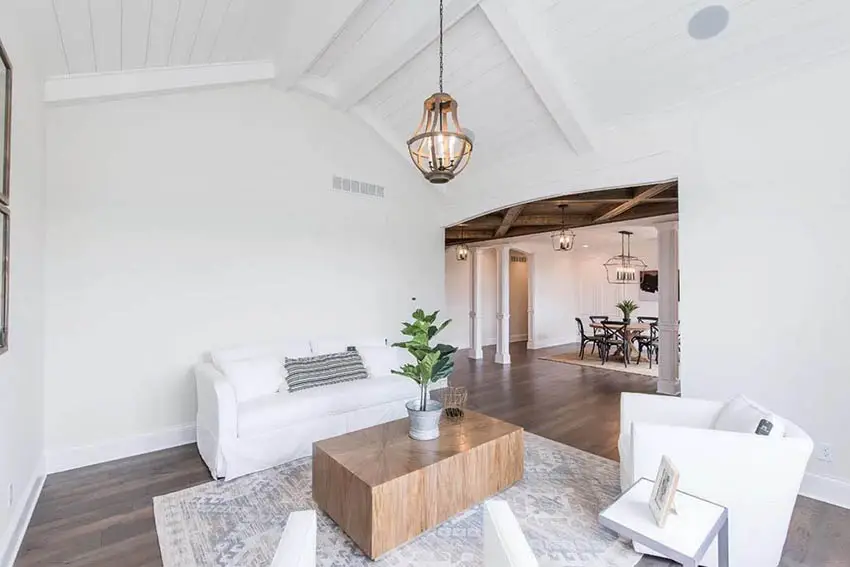 White living room with painted shiplap ceiling.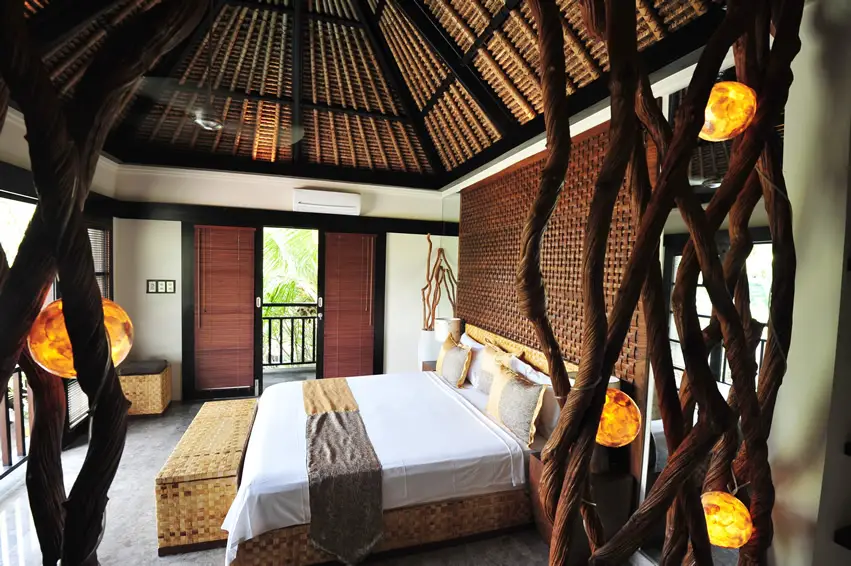 Tropical bedroom with bamboo vaulted ceiling.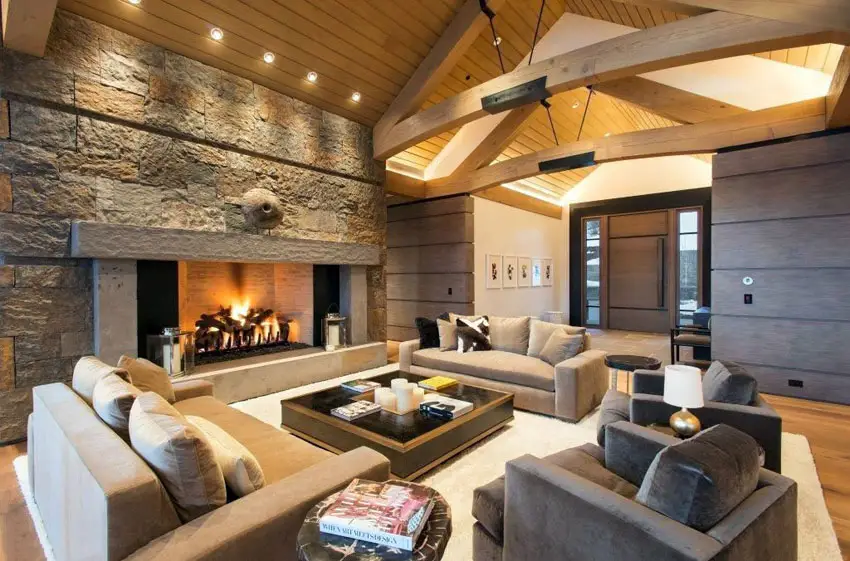 This brown themed living room design offers an warm color theme with earth tones, stone fireplace and natural wood beam ceiling.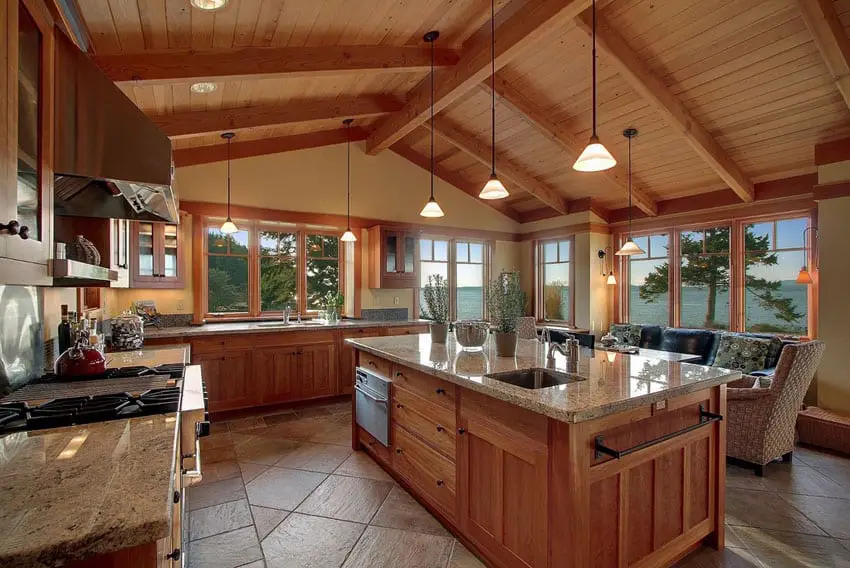 This beautiful craftsman kitchen has a wood vaulted ceiling and wraparound windows to enjoy the panoramic water views.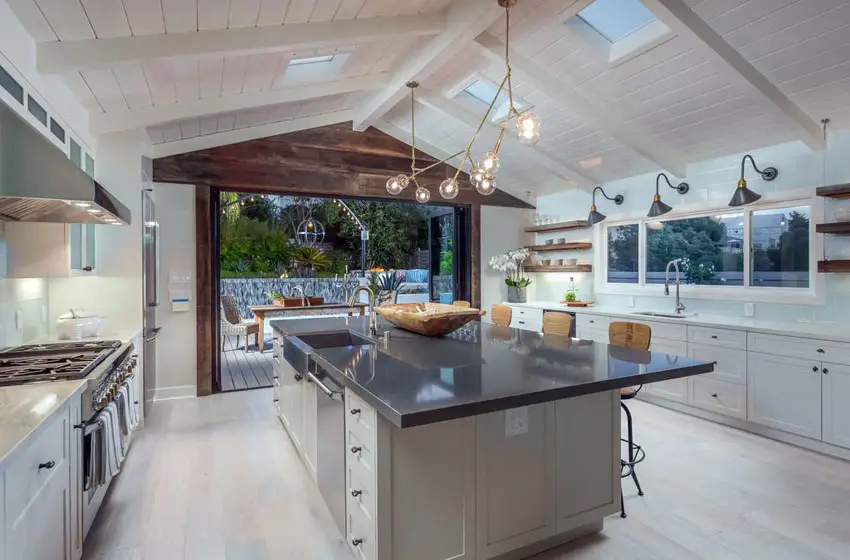 Adding skylights to the ceiling can bring in plenty of natural light to safe on energy bills, improve the ambiance and add character to the interior design.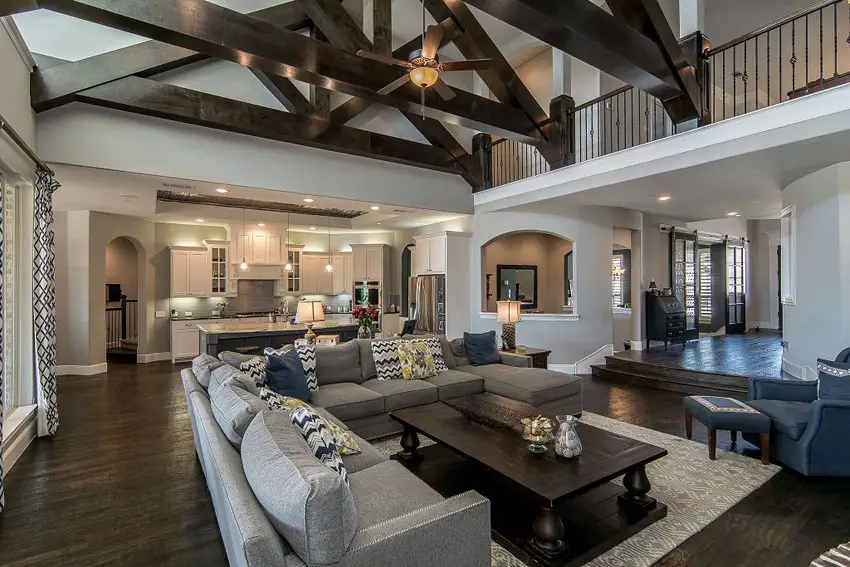 A wood beam vaulted ceiling makes a grand impression in this luxury living room design. Inside the adjoining kitchen is a recessed tray ceiling feature that is used to create an interesting focal point.