Here we share our curtain colors for white walls guide including choosing the best shades, how gray curtains work with white walls, and modern curtain color matching options to consider.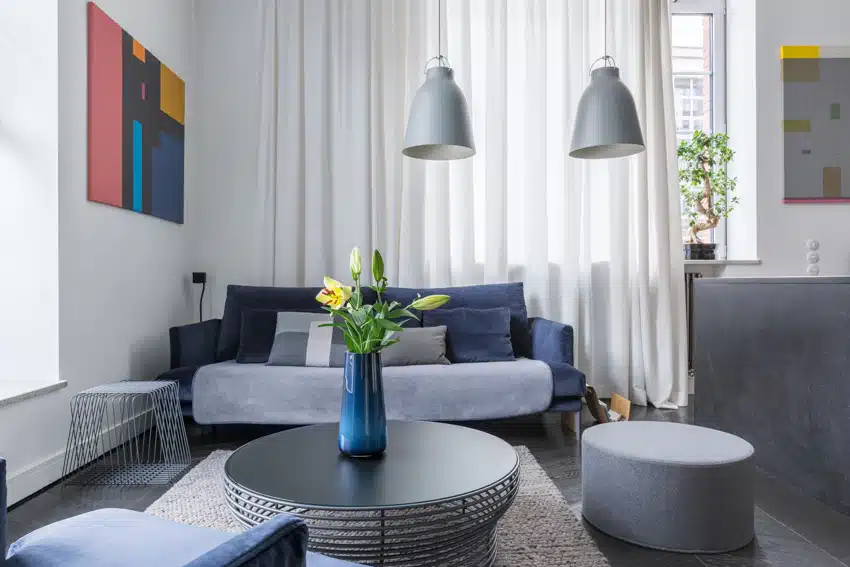 White, while some may refer to as boring and too common, is a popular color choice for walls because of its clean and neutral look. This seamless and neat aesthetics of white walls makes it a magnificent canvas you can splash on colors with.
And what's even more amazing is the fact that you can follow any style you wish to use in your home using these white walls just by simply adding different elements, materials, and colors to the mix.
One of the elements you can use to spruce up a room in your home is by adding curtains. These curtains can come in a variety of materials, textures, and colors, which can help set up the ambiance you want a specific space to have.
What Color Curtains Go With White Walls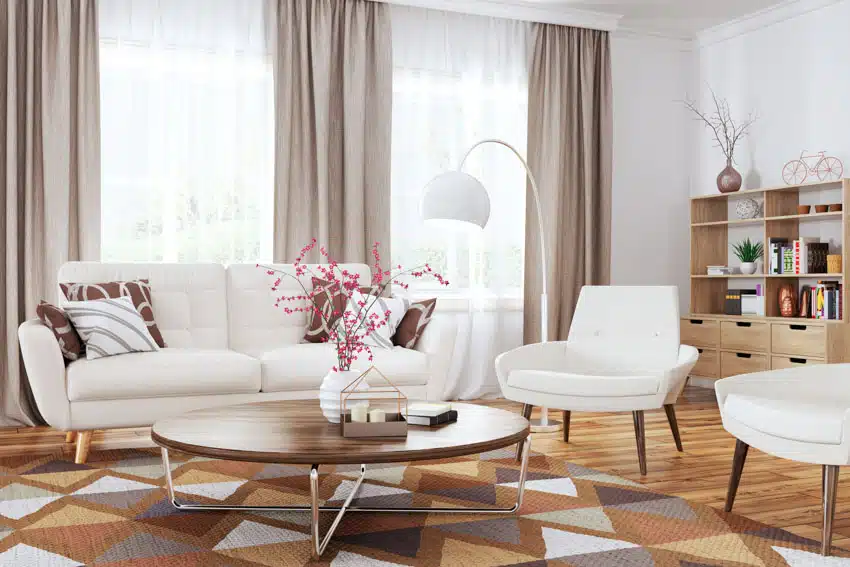 There are many trends you can explore when in interior design, from a clean and minimalist look to a colorful and glamorous one. This flexibility is the reason why many homeowners, designers, and beginners choose white walls to decorate with.
If you're in the process of choosing the color of the curtains to install, here are some suggestions worth looking into.
Neutral Colors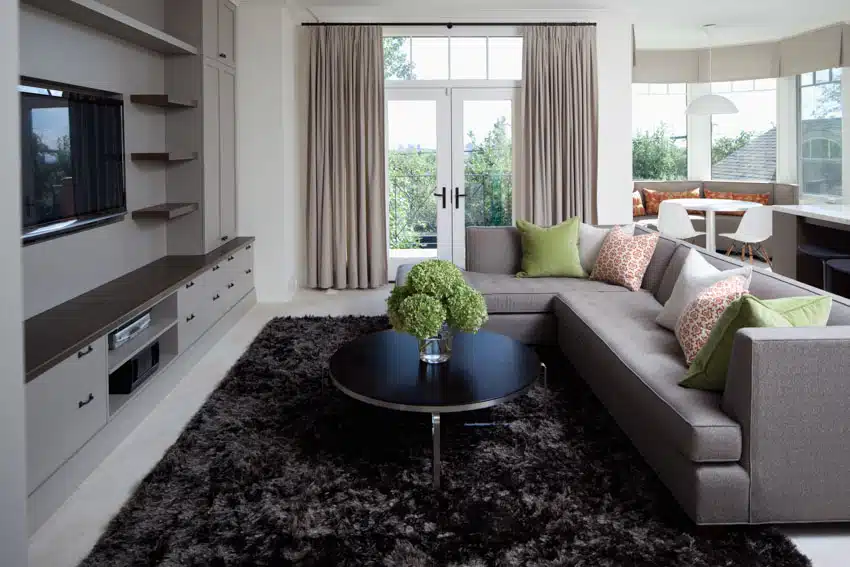 White is a neutral color and if you want a safe color to pair it with, choosing neutral colors for your curtains is also an easy option. While the white walls can be an empty canvas, other elements in the room can influence the style you're going for and the color of the curtains you choose.
With neutral colors though, this is not an issue since they easily match with any other colors and materials.
Some great neutral colors for your curtains are the following.
• Taupe Curtains: The soft combination of white and taupe offers a well-balanced look with the color white providing a cool tone and the taupe is responsible for the warmth that balances the look. This combo offers a comfortable and classic aesthetic to most types of rooms in a house.
• Dark Brown Curtains: Adding an elegant touch to the room, dark brown curtains deliver an earthy and strong look that can stand out from the white walls. The dark color can turn the monotonous white walls into more welcoming ones.
Bright Colors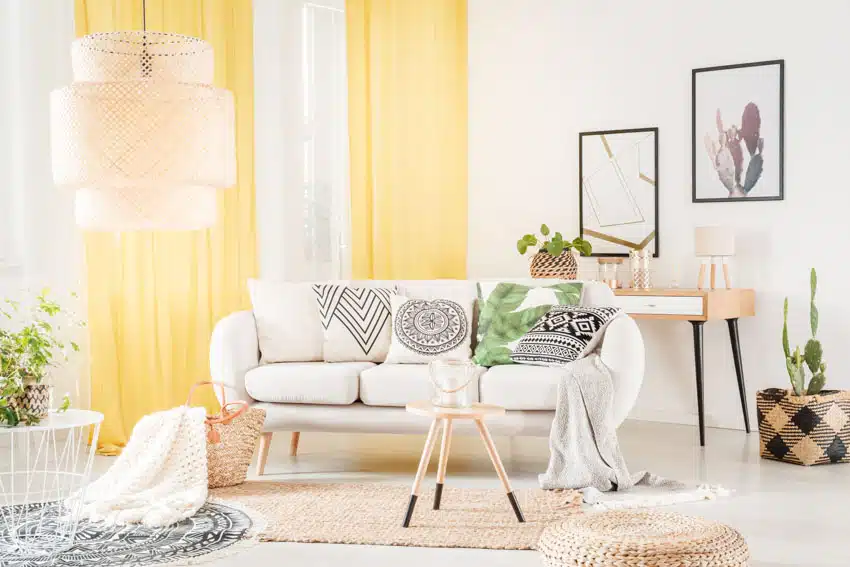 If you don't want to go the safe route, turn to the opposite side and choose bold and bright colors. When they are paired with white walls, these bright-colored curtains can easily stand out and be used as an accent in the room.
Some of the colorful and bright colors you can consider are the following:
• Orange Curtains: For a bright and bold color easily distinguishable from white walls, these orange curtains can be a refreshing addition to the room. The color will add a sense of sophistication and boldness that can easily be seen when coupled with your white walls.
• Canary Yellow Curtains: Similar to orange, yellow is a bright color option that can add character to a room. Canary yellow curtains are particularly stunning and vibrant to look at but not overwhelming that they can be too much for your eyes.
Cool Colors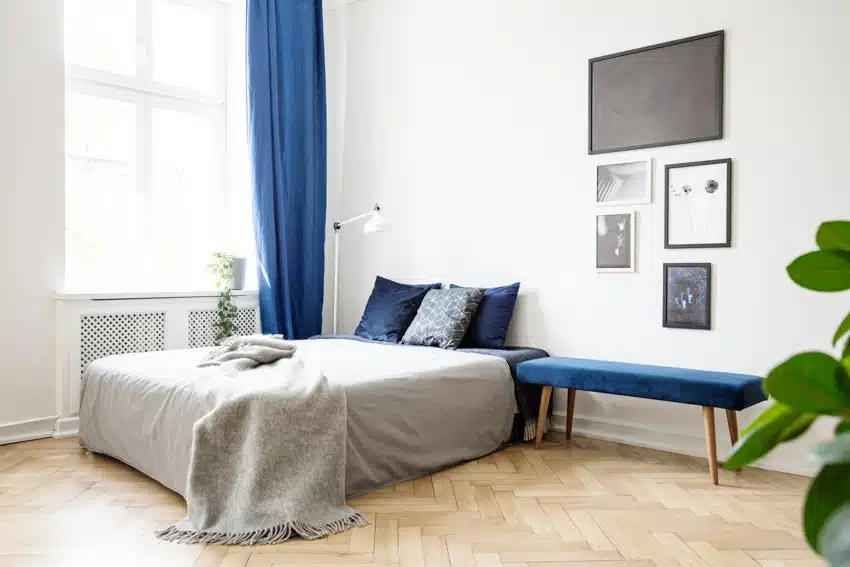 Warm and bright rooms can be very inspiring but it's the cool ones that are soothing and peaceful. If you're sprucing up your bedroom with white walls and want to design it in a way that can help you rest and sleep well, the cool-colored curtains can help.
• Green Curtains: More than just the color of nature, green is a cool color that can introduce a soothing atmosphere in the room.
If you choose a specific shade of green for your curtains, you can go for teal for a sophisticated look, sage for a fresh and natural vibe, and mint or light green for a serene and calming ambiance.
• Muted Blue Curtains: If you're not into green, blue is a good cool color to consider for your curtains, particularly, muted blue curtains.
With a gray undertone, muted blue offers a more neutral appearance similar to white and so can blend well with your walls.
White Curtains On White Walls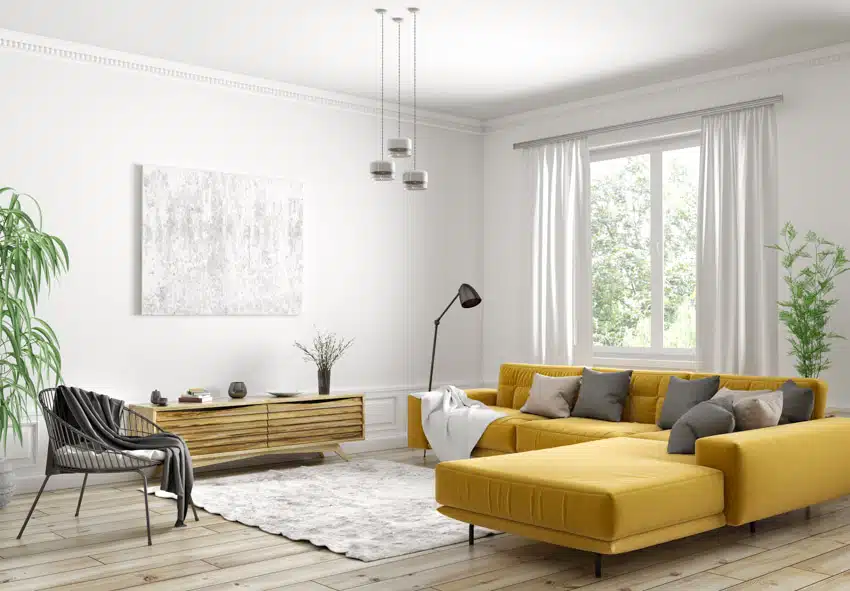 White is a flexible and versatile color and matches well with other colors. And surprisingly, it also works perfectly when paired with itself.
This means that if you have white walls, you can also consider white curtains, especially if you want to introduce an elegant look to the room.
The combo will produce an airy and clean look that can brighten the room and make it appear bigger. Pairing these white elements in the room with wooden furniture and flooring will make the space luxurious and sophisticated to look at.
White curtains are an elegant and classic option you can go for, especially if you want your room to look clean and fresh. You can choose sheer white curtains and other materials if you choose to.
You can even have some combinations for your white curtains, including the following options:
• White and grey striped curtains
• White lace overlay curtains
• White embroidered types of curtains
• White curtains with yellow accents
• Warmer Ivory curtains
• White and gold curtains
Gray Curtains With White Walls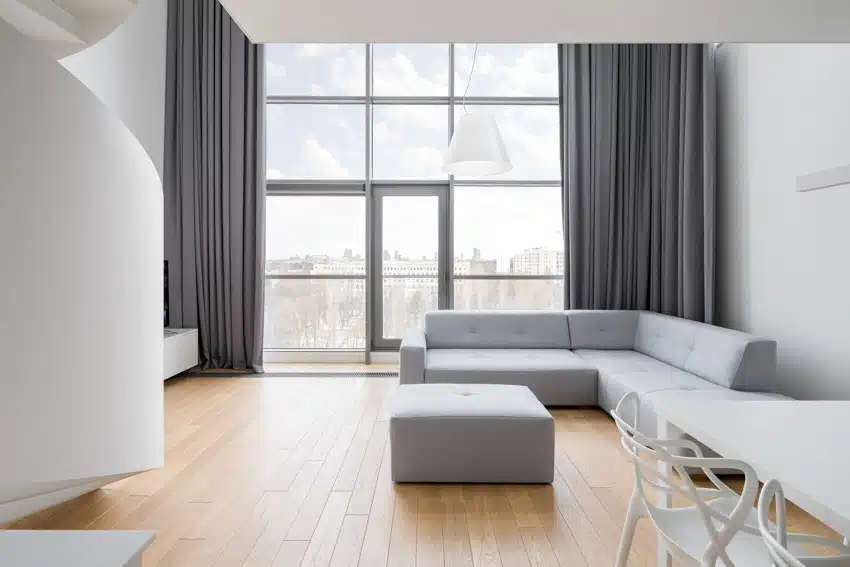 Besides white, gray is another flexible and versatile color you can match your white walls with. Gray curtains add a layer of texture to the room's aesthetics, especially when you have white walls to work with.
This is accomplished in a decent and classy way, adding a moody vibe in a neutral-vibed space. These curtains can be used for a clean and seamless modern style or a trendy and chic style, depending on the shade of gray your choose from them.
Gray curtains easily suit your white walls, and you also have a range of color shades and hues to take into account with your choice.
Some of the options for gray curtains are the following:
• Light gray patterned curtains
• Gray-embellished curtains
• Light gray curtains
• Charcoal gray curtains
• Gray and white striped curtains
If you're going for a chic look, your white walls will look trendy when you pair them with light gray curtains that have trellis patterns on them. You can make use of the pattern and apply it to the different parts and elements of the room.
You can also use layered curtains to include two different color panels to create more visual interest and blend the two colors harmoniously. this works well when you want to include a sheer curtain with a heavier privacy shade.
Another option is to opt for a double sided curtain that allows you to choose from two different colors or patterns.
Modern Curtain Colors For White Walls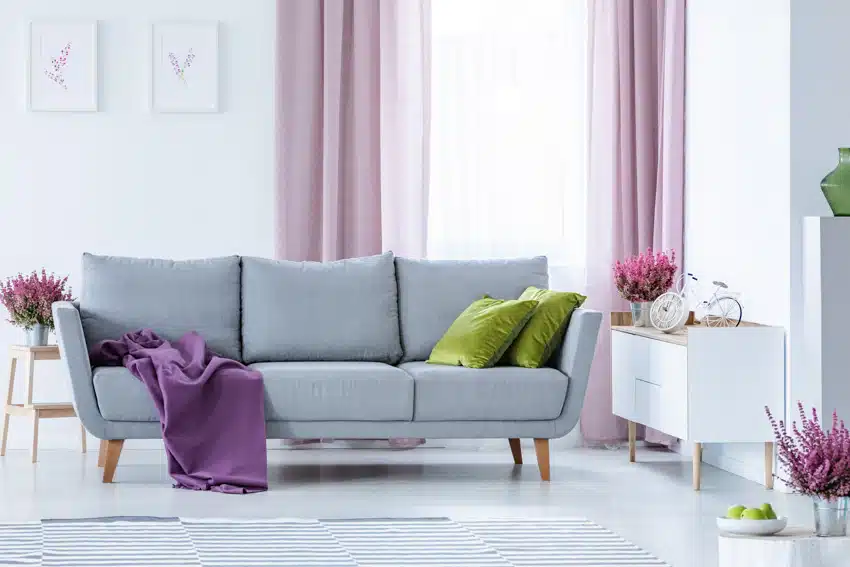 In choosing modern-style curtains, you are going for seamless and clean lines, along with bold and unapologetic colors. If you want to build a modern room with white walls, you have a bit of freedom to do so.
Modern curtains are usually simpler in color and can come in either one or two colors, but not more than that and not with patterns.
If you're deciding on what colors to use for your modern curtains on your white walls, some incredible choices are the following.
Blue Curtains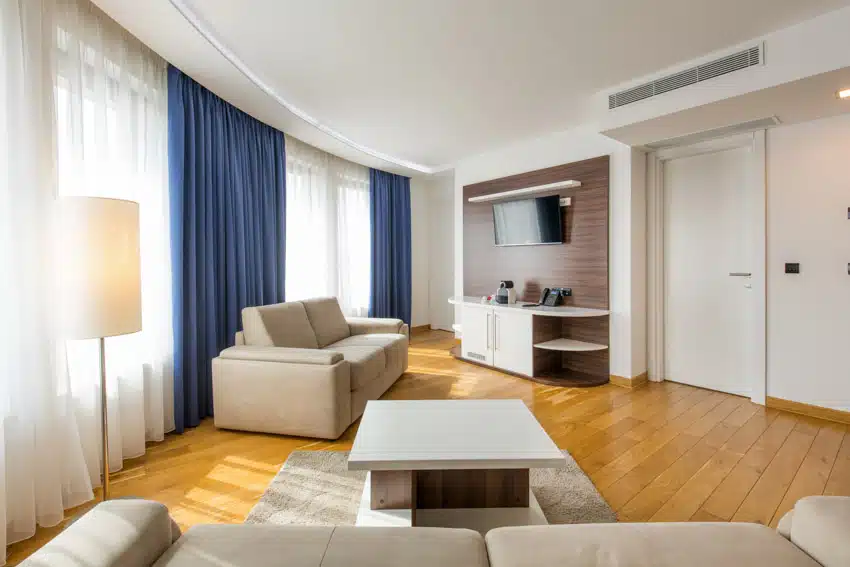 Blue is a color that creates incredible contrast with your white walls and balances the visual value well. Adding blue curtains is similar to stimulating deep emotions and a vibe to the room, where you can create the specific feeling you want to induce simply by choosing the right shade of blue.
Some of the blue shades you can choose for your curtains include the following:
• Turquoise blue curtains
• Powder blue curtains
• Sky blue curtains
• Electric blue curtains
• Air force blue curtains
• Baby blue curtains
• Steel blue curtains
• Hydrangea blue velvet curtains
• Navy blue curtains
Pink Curtains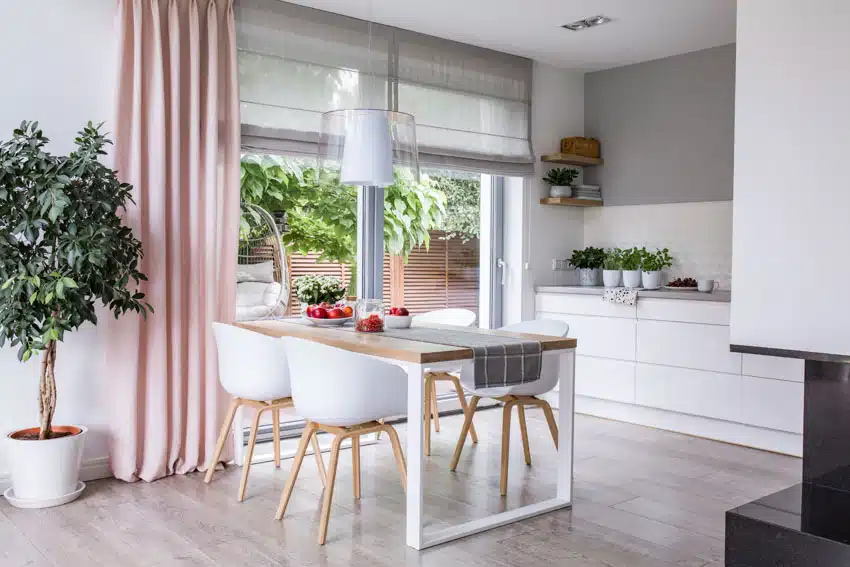 If you want softer and more feminine modern curtains to pair with your white walls, pink is an ideal color to consider. While not as bold as many would consider for a modern style, pink has a depth and touch of luxury that will elevate the look of your room.
The pink and white combo is a smooth match that the pair will look like a pearl necklace. This is advisable for your baby girl's bedroom or any other room that you want to feel comfortable and welcoming.
Some of the pink options to consider are the following:
• Dusty pink and tulle curtains
• Powder pink curtains
• Fucshia pink curtains
• Sheer light pink curtains
Best Curtain Color For White Walls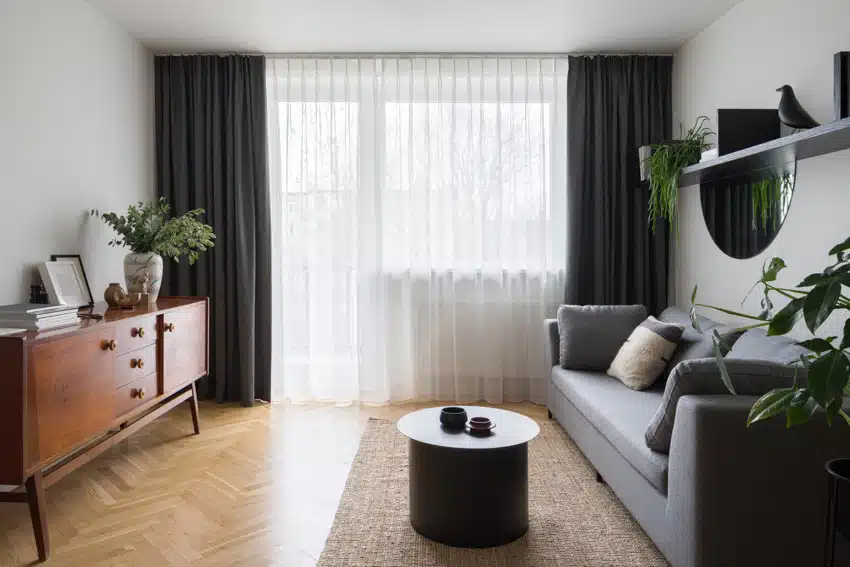 White and gray are two neutral colors that work well with white walls and can be considered safe options if you're a bit overwhelmed with the range of colors you can choose from.
If you want other color options, you can also go for black and yellow, which are two colors that can both easily stand out.
Black Curtains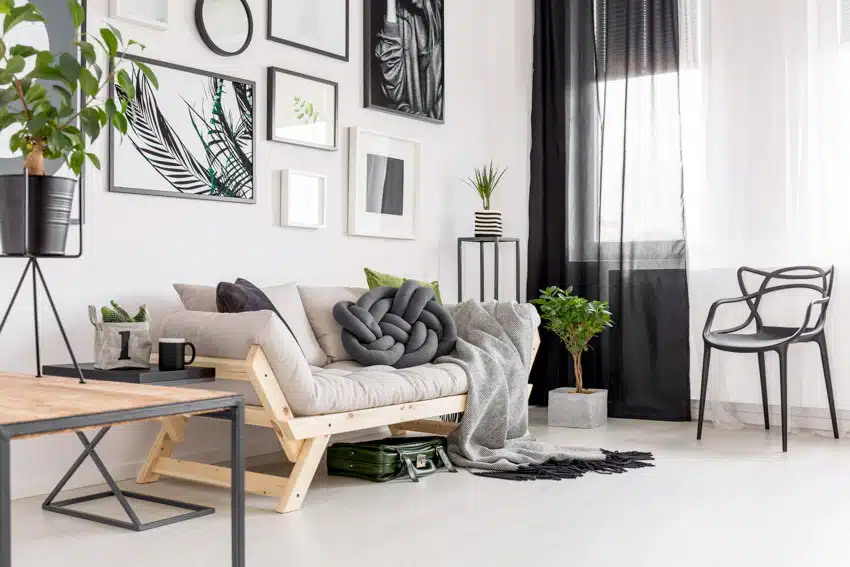 Black can obviously create a striking contrast on your white walls. More than just standing out and using white walls as a background, black curtains can add sophistication to the room.
They can give you the option of blocking out natural light when necessary. They can also perfectly frame the window area and appear as the perfect border for most types of windows.
Black and white combination is a classic option for modern and minimalist interior decor so if you want this in your home, go for black curtains paired with your white walls.
Yellow Curtains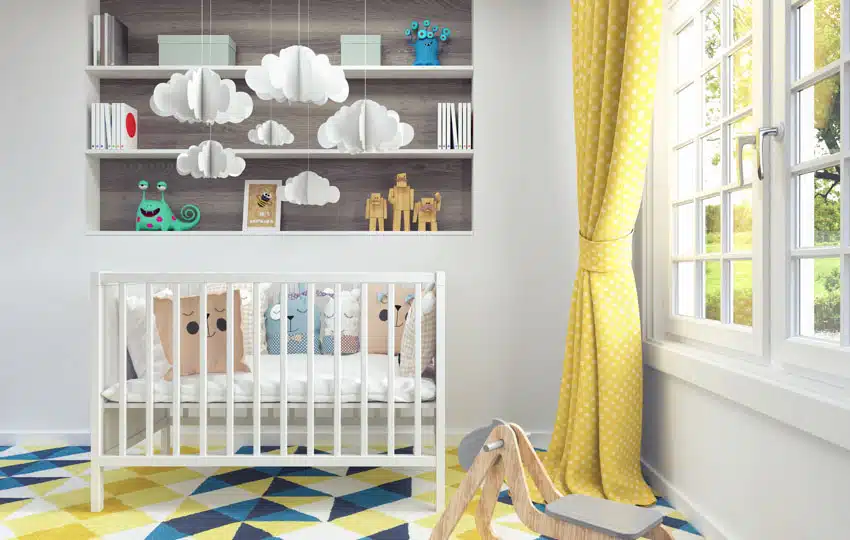 Yellow may not be dark as black but it stands out easily in the same way. Yellow curtains can add a bright and fresh look to your home and inject a bit of liveliness into your white walls.
The curtains can add brightness to the room and add a sense of joy and warmth to the mix. And you even have a wide selection of yellow shades to consider, from beige and light yellow to mustard and bright yellow.
Are White Curtains A Good Idea?
Yes, white curtains can be a good idea if you want a bit of an angelic and heavenly look in your room and home. You can use other elements to support the style you are trying to achieve, from the flooring and ceiling to the wall decors and pieces of furniture.
White window shades or curtains on white walls will be an elegant combination and from there, you can just add the pieces that will complete the look that you're imagining.
See more related content in our article about curtain panel sizes on this page.