Here we share our mission style kitchen cabinets guide including what they are, how to integrate a craftsman design, and the hardware to consider using on them.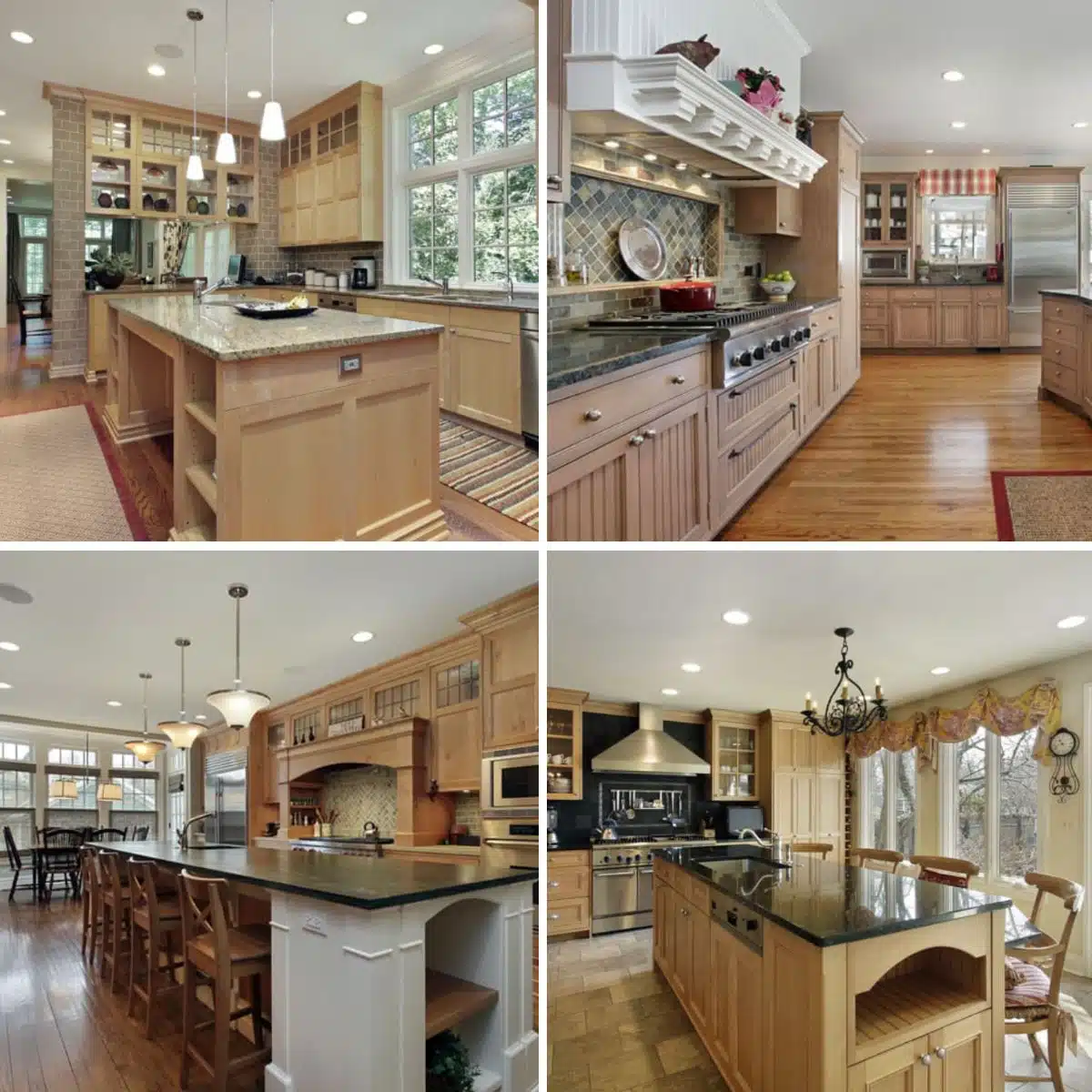 The mission style was heavily inspired by another famous design approach seen in kitchen cabinets recognized as the Arts and Crafts movement, while it also incorporates other designs prevalent in the Spanish and American Southwestern areas.
Mission-style kitchen cabinets have a unique appearance that originated in the United States at the beginning of the 20th century. Although the mission style originated in furniture construction, it immediately became a widely known design among cabinetmakers.
Indeed, mission-style cabinets are ideal for homeowners searching for a minimalist yet elegant kitchen cabinet. This cabinet type has clean lines and is usually composed of durable wood. It can be used in both contemporary and traditional settings
Mission Cabinet Features at a Glance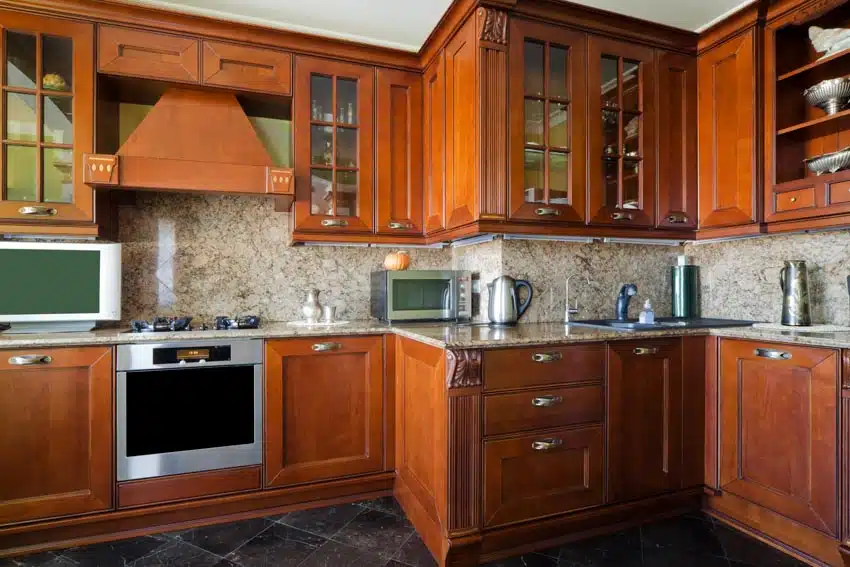 Here are the most important details about mission-style kitchen cabinets.
• Cabinets often have rectangular or square profiles with minimal curves or ornamentation.
• Emphasis on vertical and horizontal lines with simple and clean lines. Straight edges with straight edges and flat panels.
• They are primarily made of wood, usually stained to highlight the natural grain.
Popular Wood Species
• Cherry: A popular choice due to its color and natural patina, cherry wood ranges from light pink-red to a deep brownish-red coloring using dark heartwood and lighter sapwood. Over time the wood darkens into a rich patina.
• Oak: Water resistant, the color ranges from light tan to deep reddish-brown.
• Mahogany: The straight-grain lumber does not contain pockets or grooves, which makes it impervious to water damage. Color comes in an attractive reddish-brown color.
Popular Stains for Mission Kitchen Cabinets
• Golden Brown Stain
• Cherry Stain
• Oak Stain
• The typical dark wood stain helps showcase the wood graining.
• Dark metal hardware is usually black in color in a matte or brushed finish. The sturdy hardware usually is brass or iron.
• Mission-style cabinets prioritize functionality and practicality, with generous use of space for storage.
• Sometimes employ glass doors that showcase the contents of the cabinets.
• Open shelving is a hallmark of mission-style kitchens, as it allows for easy access to dishes and other items. Use reclaimed wood for open shelving to add to the traditional rustic feel.
• Mission style is associated with the Arts and Crafts movement, so it can employ accents like stained glass or tile work into the kitchen design to add to the overall feel.
What Are Mission Kitchen Cabinets?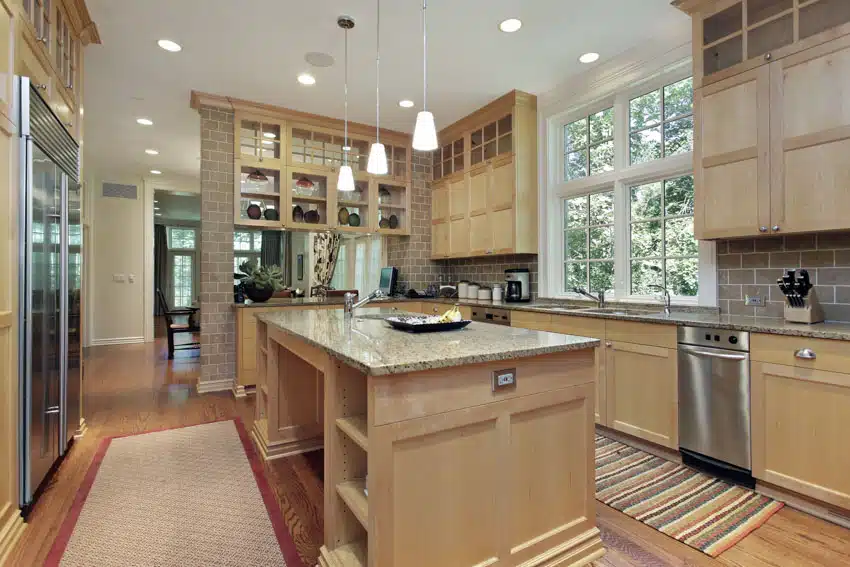 Mission kitchen cabinets are often characterized by clean and straight lines as well as panel-faced doors with minimal to no decorations. Oak, specifically American white oak, is the most popular material utilized in mission-style kitchen cabinets. Cherry, which is regarded as a more exquisite and long-lasting type of wood, can also be employed on occasion.
Due to their distinctive structure, mission-style kitchen cabinets are typically manufactured by professional woodworkers, resulting in a more structurally sound, reliable, and long-lasting set of kitchen cabinets. However, a mission-style kitchen design might be expensive due to the increased focus on custom-made woodwork.
The price of both the wood as well as the labor reduces the possibility of establishing a budget-friendly mission-style kitchen; nevertheless, the aesthetic and long-lasting results could be worth the extra expenditure.
Moreover, mission-style kitchen cabinets are typically kept in their original wood form instead of being painted. Homeowners can stain these wood cabinets to carry out a richer color, although the wood is usually kept in a warm honey tint.
In the majority of mission-style kitchen cabinets, black is a popular color for decorative hardware. These types of cabinet hardware are normally made out of wrought iron, polished brass, or bronze steel.
Craftsman Style Cabinets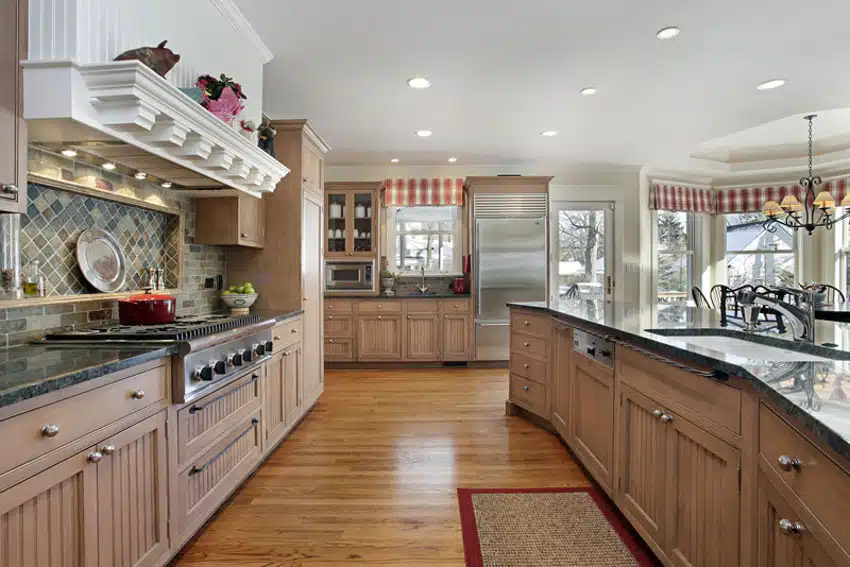 The Craftsman style does have its origins in the late-19th-century English Arts and Crafts Movement, which was spearheaded by visionaries such as William Morris. It began as a response to the Victorian fascination with adornment, which had been spurred by industrialization. Ancient designers contributed to the growth of the style by using robust American woods such as white and red oak.
Craftsman mission-style kitchen cabinets are frequently created by extremely competent carpenters who employ the finest craftsmanship and construction technologies. As a result, the finished product would be functional, long-lasting, and reliable, and it should last throughout successive generations.
In a renovated Bungalow kitchen in San Francisco, the slate tile and Craftsman-style cabinetry create a pleasing rusticity among the modern appliances. – The New Bungalow Kitchen, Peter Labau
Although numerous marketers and household stores advertise replicated 'mission-style' cabinets, we think that only a particular cabinetmaker is truly capable of carrying on the Craftsman movement's emphasis on the mission-style kitchen cabinet's quality.
The combination of craftsman and mission style generally includes shaker-style doors, iron or oil-rubbed bronze hardware, and quarter-sawn hardwood cabinets. Vertical grain fir, oak, cherry, and mahogany are also suitable woods.
To give the unique mission-style kitchen cabinets a twist, homeowners and designers can embellish their kitchens with a variety of decorative items to produce a craftsman-style mission-style kitchen. Additional types of lighting fixtures with golden tones and frosted glass can be incorporated for an added sense of style.
Decorative lighting systems, whether used as pendant lighting over a kitchen countertop or as a lamp positioned on the kitchen island, may add warmth and brightness to your kitchen, making it a genuinely appealing space, which reflects the balance of traditional and modern mission styles.
Craftsman mission-style kitchen designs are distinguished by their careful use of space and décor. Built-in storage shelves or breakfast nooks made of the same wood as the cabinets are common in craftsman-style mission-style kitchens too.
Mission Cabinet Doors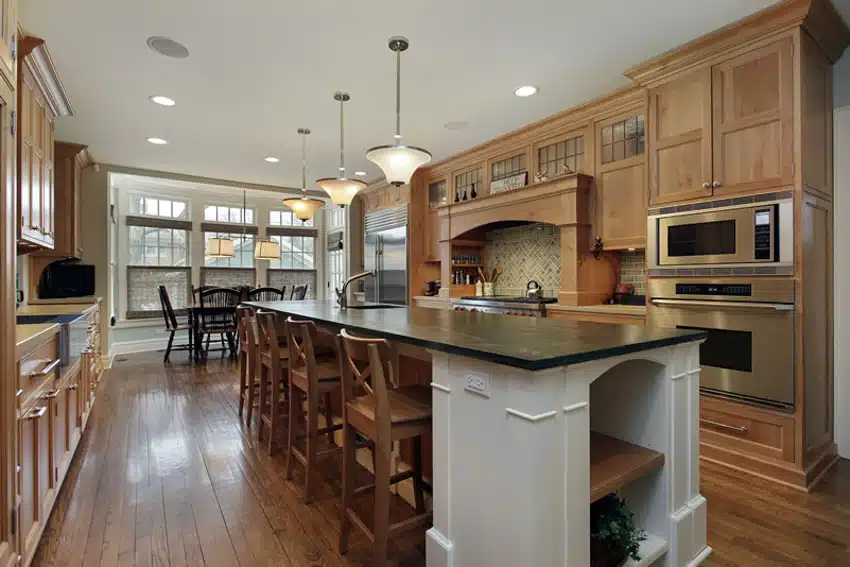 Mission-style kitchen cabinet doors are widely known among homeowners nowadays. Given the variety of cabinet door types obtainable at the moment, mission-style doors have piqued the interest of homeowners since they look stunning in red or white oak, with lovely panel doors and straight lines. The color scheme is often in keeping with the genuine nature of your kitchen design concepts.
The majority of households disregard their kitchen cabinet doors and drawer front sections. Nevertheless, you must know they are important aspects of a craftsman or mission-style kitchen, and shaker cabinets with mission-style kitchen cabinet doors can provide a visually pleasing component.
A mission kitchen cabinet door is distinctive and appeals to purchasers who search for a return to well-made, long-lasting kitchen furnishings, fixtures, and other components. The mission style, like other typical cabinet door designs, is perhaps the first option someone can consider when it comes to kitchen cabinets.
Mission-style doors for cabinets generally feature a minimalist design and a versatile design that is ideal for both contemporary and traditional kitchens. The mission-style door is normally a preferred choice for upper kitchen cabinets.
The arched design adds a sense of height to a kitchen that might not be as high as intended. Nevertheless, the routing arrangement also matches the door style precisely, which is ideal for the lower cabinets as well.
In addition, the mission style usually includes wonderfully made cabinet doors with a classically fashioned arching door front and sunken panel in your kitchen. Such cabinet doors would appear fantastic in any of the glass-included kitchen cabinets and will enhance your kitchen design.
To add a hint of extra appeal and elegance, you can replace the flat central panel and bordered panels that are usual in inset door types with a glass door. The actual beauty of mission-style cabinets resides in the natural hue and quality of the wood, which is most typically produced from oak. Even if you rearrange the area, these stunning cabinets with mission-style doors will appear and feel completely at home in your kitchen.
Furthermore, the materials selected as well as the arrangement of the molding are what distinguishes mission and shaker style cabinet doors. Furthermore, the mission-style cabinet doors' wood door mold trimming is wider and thicker.
Cabinet Hardware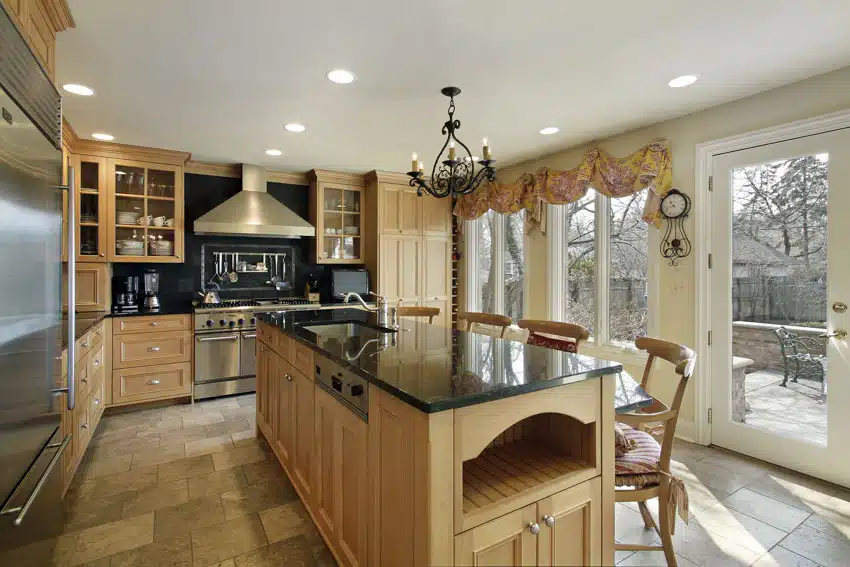 Below is a wide selection of various cabinet hardware you can incorporate with your mission-style kitchen cabinets.
Mission Cabinet Handles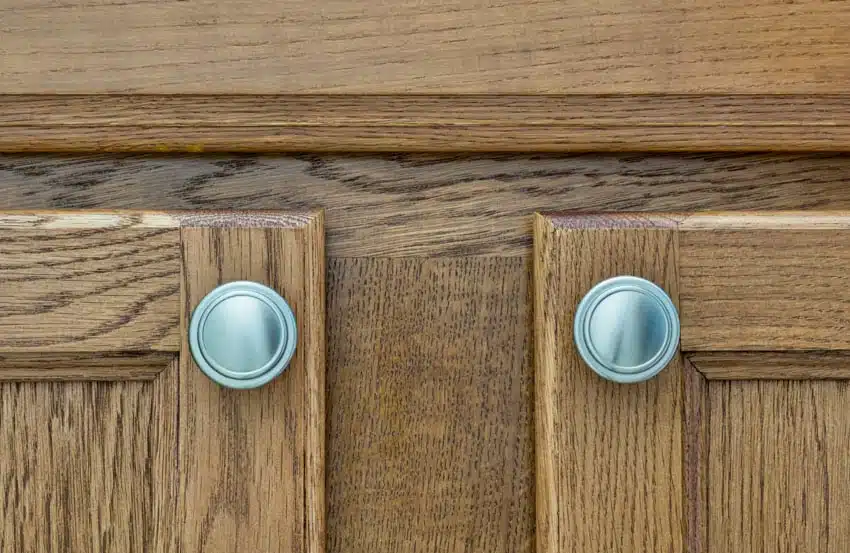 Minimalist-Style Handles or Knobs: Using minimalist knobs or handles on all of your mission-style cabinet drawers and doors is indeed the easiest technique to complement your mission-style cabinetry. Round glass or porcelain handles are ideal for achieving a classic or vintage aesthetic.
You can pick knobs in chrome, stainless steel, or another metallic material to achieve a more streamlined and contemporary design. To provide aesthetic appeal, square-shaped metal knobs can further accentuate the mission door style's symmetric rectangular structure.
Combination of Knobs and Pulls: If knobs alone are not interesting enough for you, you can consider pairing them with some pulls. The knob-and-pull combination adds diversity without overpowering the classic mission door style.
Using intricately designed pulls and knobs may lead your kitchen décor to appear disorganized. However, the thickness, size, and material of the hardware you select can be customized to your kitchen design and style choices. So if you will use this hardware option, you have to make sure that it looks well-positioned on your mission-style cabinet.
Mission Cabinet Pulls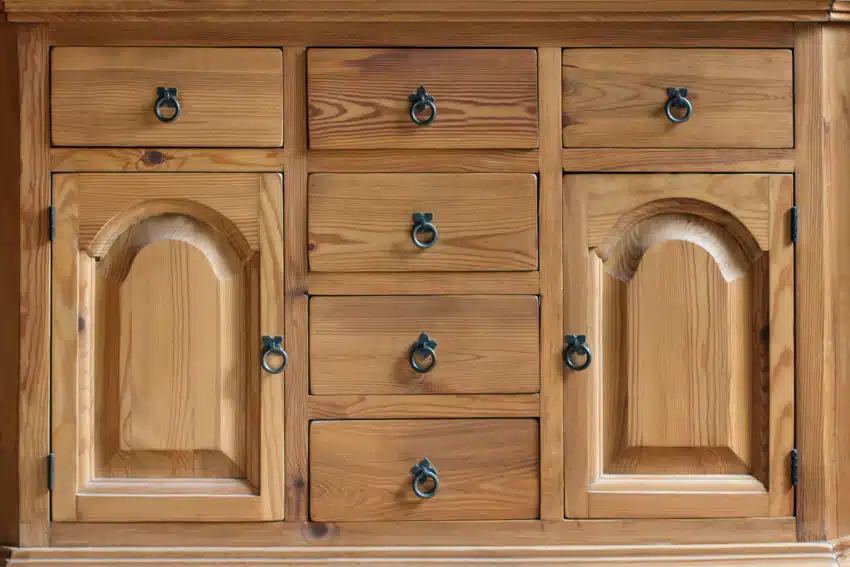 Bin Pulls: The distinctive design of bin pulls will provide your mission-style cabinets with a touch of a vintage appearance without requiring much effort. If you like the traditional white kitchen cabinets' appearance, bin pulls in polished chrome or stainless steel are a terrific way to jazz up the aesthetic.
Tubular Bar Pulls: The tubular bar pull is a popular piece of hardware for mission-style cabinets. This kitchen cabinet pull is maybe as straightforward as it comes, being quite thin, circular, and metallic.
The straight line exactly complements the mission-style door designs, providing a smooth, geometric effect that is ideal for a very modern kitchen design. Tubular bar pulls come in a range of lengths and shapes. If you want a more classic style, shorter bar pulls are a terrific option to add a contemporary look.
Long bar pulls offer a more dramatic appearance, bringing emphasis to modern design approaches. Although chrome, stainless steel, or even other stylish steel pulls look wonderful with darker mission cabinets, brass or copper pulls look well with lighter-colored mission cabinets.
Arc Pulls: If you want to attain a more contemporary or minimalist appearance in your mission-style kitchen design, you can adhere to the concept of clean and parallel lines. If the strong sharpness of consecutive squares and rectangles is overwhelming to you, you can try softening the effect with arc pulls.
These pulls, as the name implies, are shaped like an arc and are available in a variety of styles and sizes. Small arc pulls are ideal to maintain the style as simple and classic.
Even though there are arc pulls with subtly flared ends and other types of ornamentation obtainable, the design is generally simple enough to complement your mission-style cabinets without being overly ornate. If you like the round appearance that the arc shape adds to the mission style but want a bolder look, you can choose tubular arc pulls that are a bit longer.
Flat Bar Pulls: Similar to tubular bar pulls, flat bar pulls go well with mission-style doors. Flat bar pulls are often thicker and rectangular rather than circular. This modern hardware is obtainable in a considerable number of sizes, designs, and finishes. If your kitchen's design and your mission-style doors are mainly characterized by straight lines and crisp, square edges, flat bar pulls might be the ideal option.
Wire Pulls: Conventional wire pulls are thin, tubular pulls with a curved shape, but they can also be encountered in a variety of more complex styles like with arc pulls. They are available with or without a flat underside as well as with or without subtle and decorative accents.
This form of cabinet pull is appropriate for a more vintage kitchen than a modern one, but it is normally basic enough to match the elegance of the mission-style cabinet.
Plated Drop Pulls: Basic bar pulls, arc pulls, or wire pulls might not be suitable for you if your own style is more creative. If this is the case, you might want to think about a drop pull with a backing plate. A hanging handle is linked to a square rear plate in this design.
Mission Cabinets Vs Shaker Style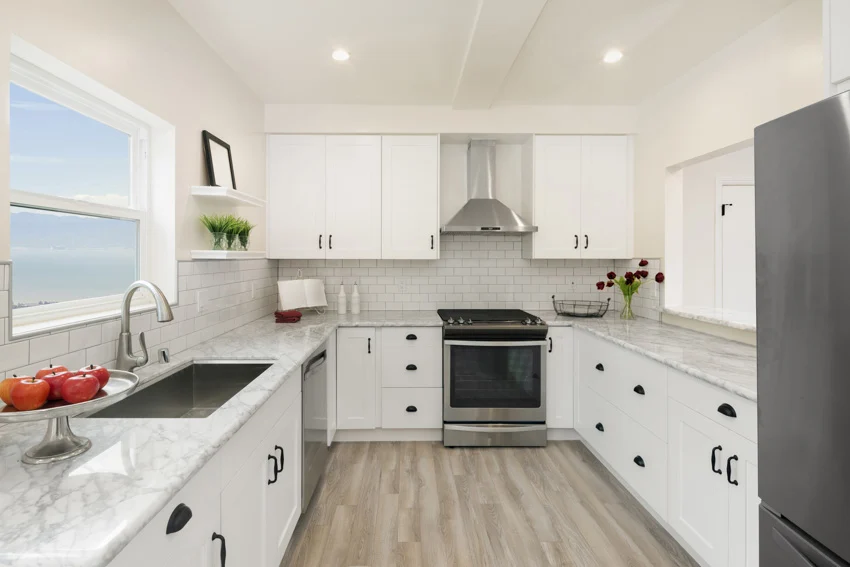 In Terms of Wood Used: Mission-style kitchen cabinets are often made of oak, and while they can be coated to safeguard the cabinets against wetness and stains, they are not usually painted or stained, henceforth the natural pattern and hue of the wood get to be the focal point.
Real Shaker-style kitchen cabinets, on the other hand, are often constructed from native wood species. Most mass-produced Shaker-style kitchen cabinets are often constructed of cherry or maple, even though other types of wood such as walnut, may also be used.
In Terms of Kitchen Cabinet Appearance and Design: Mission-style kitchen cabinetry is straightforward, with substantial rectangular lines and handcrafted hardware. Visible woodwork and flat panels highlight the inherent beauty of the oak pattern in mission-style cabinets.
The shaker style is equally straightforward, but the ultimate purpose of this form of kitchen cabinetry design is not workmanship or beauty. Shaker style emphasizes functionality and longevity, with square flat surfaces and little adornment.
In Terms of Craftsmanship and Longevity: Since mission-style kitchen cabinets are often made from oak, which is a strong, hefty wood, they are, without a doubt, durable.
However, since Mission-style furnishings have been mass-produced since 1910, their craftsmanship and performance vary greatly.
The artistic or visual attractiveness of the cabinets' clean lines, instead of longevity and durability, seems to be the primary focus of Mission-style kitchen cabinets.
However, shaker-style cabinets are a little different in this aspect. Shaker-style cabinetry was initially produced by furniture manufacturers who were influenced by their religious convictions to strive for perfection in terms of usefulness and longevity. Instead of focusing on its looks, they designed a cabinet that could be used for generations.
Why Choose Mission Cabinets?
Built for a Lifetime. Most custom-made cabinets are known to last more than 50 years, given high-quality craftsmanship and materials.
Mission kitchen cabinets feature a sturdy build with stable legs, and the common use of mortise and tenon joinery makes it a very stable wood construction.
Mostly made from dense wood such as oak and cherry, these materials make a mission kitchen cabinet last significantly longer than your average wood cabinet.
It can hold heavier countertops. While added structural framing can help hold up heavy countertops such as granite, the sturdy mission kitchen cabinet helps in having a stable base for the quarried stone.
Gives an Inviting and Domestic Feel. Due to their wood construction and warm hues, mission kitchen cabinets can easily project a homey vibe while providing a positive and energizing mood.
Timeless and Versatile. Along with their long service life, mission-styled kitchen cabinets have simpler and cleaner lines with a formal appearance, often emphasizing horizontal and vertical lines.
This rhythm of contrasting lines and appreciation of artisan work remains attractive in stylized homes.
Perfect for Busy Households. With its sturdy build and a dark finish, the mission kitchen cabinets show less dirt and wear.
Some common joinery techniques used in mission-style furniture and cabinetry include:
Mortise and tenon joints. A common joinery for mission kitchen cabinets are mortise, and tenon joints. These involve creating a rectangular hole or mortise in one piece of wood and a corresponding rectangular projection, known as a tenon, on the other piece, which fits snugly into the mortise. This joinery creates a stable connection between wood pieces.
Dovetail joints. Dovetail joinery is constructed using two pieces of wood joined at right angles to each other, such as the sides and front of a drawer.
This joint involves cutting a series of interlocking, wedge-shaped projections, known as tails, on one piece of wood and corresponding notches or pins on the other piece, creating a strong and durable joint.
Tongue and groove joints. This technique involves creating a tongue (a narrow projection) on one piece of wood that fits snugly into a corresponding groove (a narrow channel) on the other piece, creating a tight and stable joint.
Butt joints. A butt joint is assembled when two pieces of wood are joined end-to-end or edge-to-edge. This technique involves simply joining the two pieces of wood together, often with the addition of glue or dowels for extra stability.
See more related content in our article about craftsman kitchen cabinets on this page.